It's not truly Christmas without a tree, so if you want your holiday to feel complete, make sure to check out the Christmas tree farms in North Carolina! The best thing about these trees are the simple variety: whether Douglas, Fraser, or White Pine, the true magic of Christmas comes from the tree decor, presents underneath, and experiences with loved ones.
Visiting one of the Christmas tree farms in North Carolina may be a perfect way to start a new tradition! Getting a tree is a memorable experience for all involved. Many people haven't ever seen a Christmas tree farm!
But just because you may have never done it before, doesn't mean you shouldn't. Visiting the Christmas tree farms in North Carolina can really add more magic to your holiday, so take a look at our list and get planning! Christmas is closer than you think! Don't forget to check out our list of the best places for Christmas In North Carolina!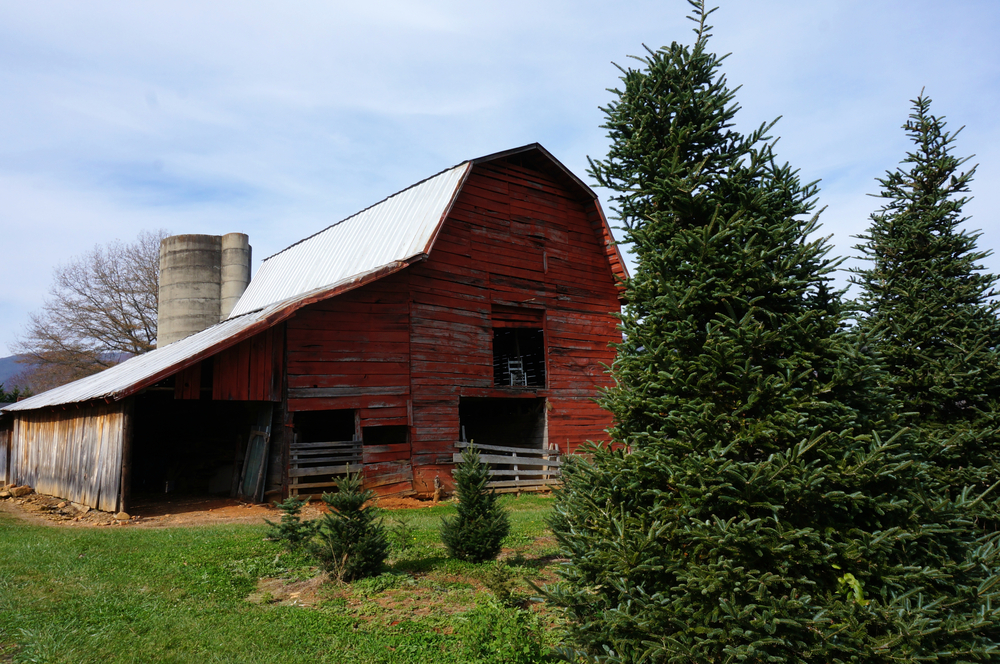 Does North Carolina Have Christmas Tree Farms?
Yes! In fact, most people may be surprised to learn that Christmas tree farms in North Carolina are pretty common! North Carolina has approximately 1,300 growers that produce the Fraser Fir Christmas trees in particular.
These trees exist across 40,000 acres. So this means there are tons of firs for your picking! But if you have your heart set on another type of tree– maybe a Douglas Fir for example– you may have difficulty finding one. The Fraser Firs just grow better in this region. Counties like Mitchell, Swain, and Ashe are known for their tall Firs, in fact. With the higher elevations of these regions, the Christmas farms in North Carolina will produce tons of tall trees!
Looking for more Christmas fun? Here are the best places to see Christmas Lights In North Carolina!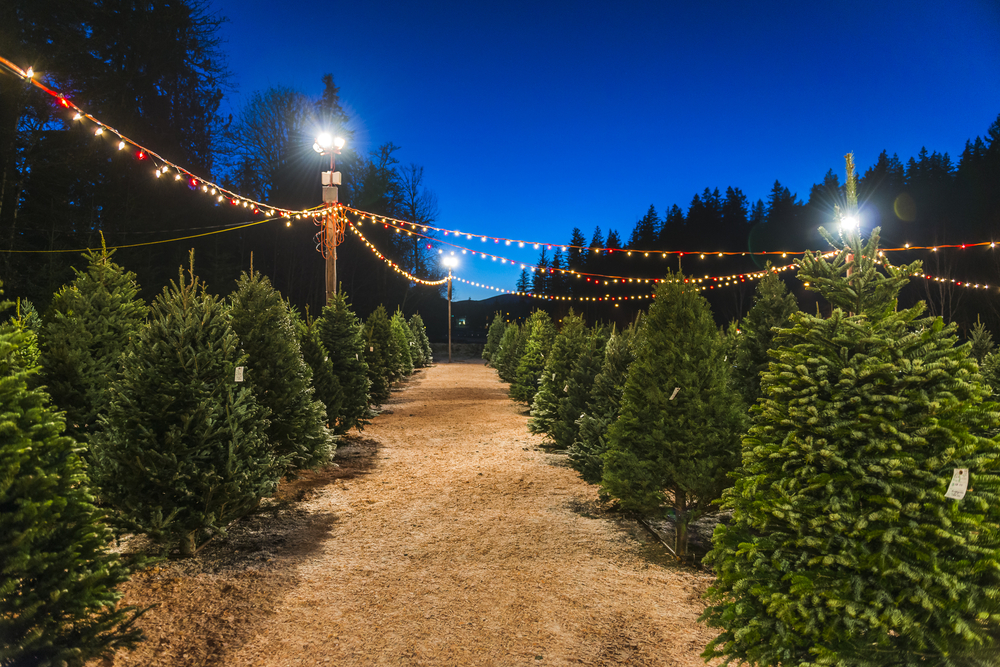 Benefits to Cutting Your Own Christmas Tree
There are tons of benefits to cutting your own Christmas tree, especially at Christmas tree farms in North Carolina! First, some of the most cherished holiday memories come from cutting down a Christmas tree! When you pick and cut your own tree, this is also YOUR tree! You make all the decisions in regard to it
Plus, from a sustainable perspective, forests get crowded. Cutting down trees can help reduce overcrowding and removing older trees from heavily populated areas allow younger trees to develop vaster root systems. This, in turn, helps them gain more nutrients and grow taller.
At the end of the day too, you aren't just walking into woods and cutting down any random tree. By going to Christmas tree farms in North Carolina these are not traditional "woods." Therefore, there is a smaller risk. And you can help improve habitat for wildlife in the area by clearing more space fo species coexisting! So please! We encourage you to cut down your own Christmas tree in NC!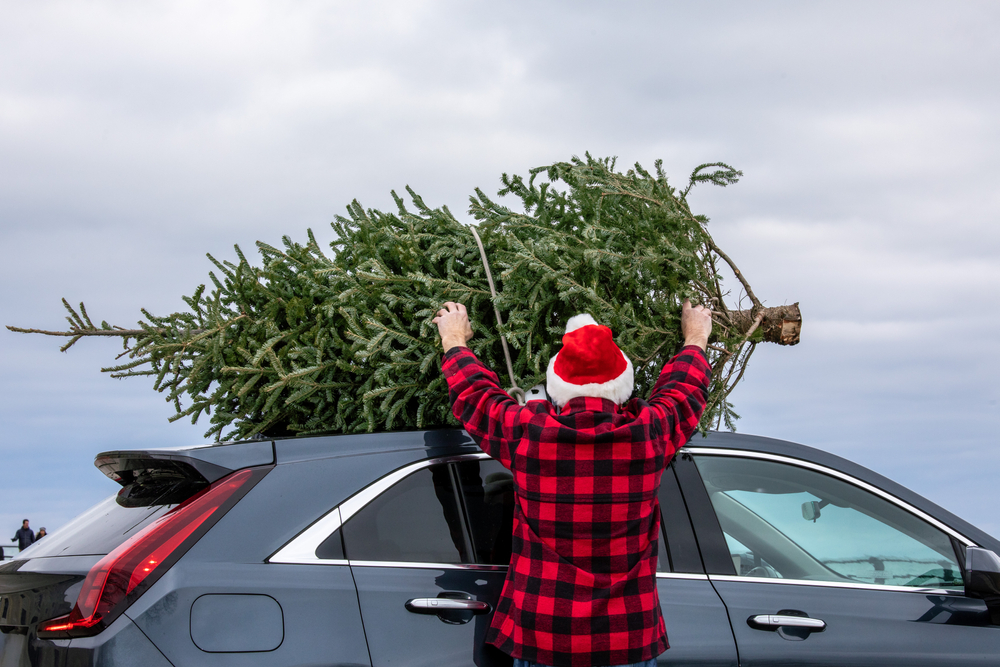 Best Christmas Tree Farms in North Carolina
1. Appalachian Christmas Mountain Farms
Looking for Christmas tree farms in Boone? Choose one of those choose and cut Christmas tree farms in NC! Appalachian Christmas Mountain Farms is one of the many Christmas farms in North Carolina that lets you pick your own tree and get the experience of cutting it down!
This farm features Fraser Firs. They are grown up to 18 feet, and in addition, you can also purchase Fraser Fir wreaths and garland here too! They are typically open 7 days a week starting mid November. Their hours run from 9 a.m. to 5 p.m.! It is one of our favorite things to do in Boone during the holidays!
Boone is truly one of the best Mountain Towns In North Carolina!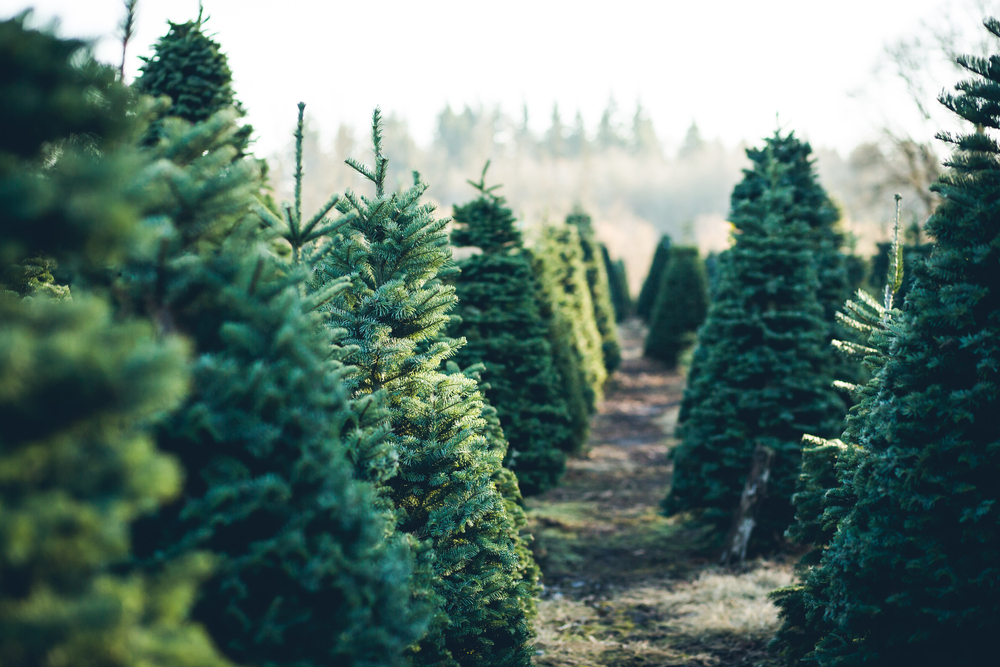 2. Panoramic View Christmas Tree Farm
If you're looking for one of those Christmas Tree farms in North Carolina that offers more than just trees, try Panoramic! This is truly one of the best Christmas tree farms in North Carolina because the whole experience is an outing for loved ones.
Not only do you get to choose your perfect Christmas tree and wreath here, but family members and friends can enjoy feeding and petting new born calves! There are also group hayrides that are offered and horse rides for children! Food and drink are available, but check dates after Thanksgiving for the perfect time to enjoy this outing! We promise you won't be disappointed with this farm.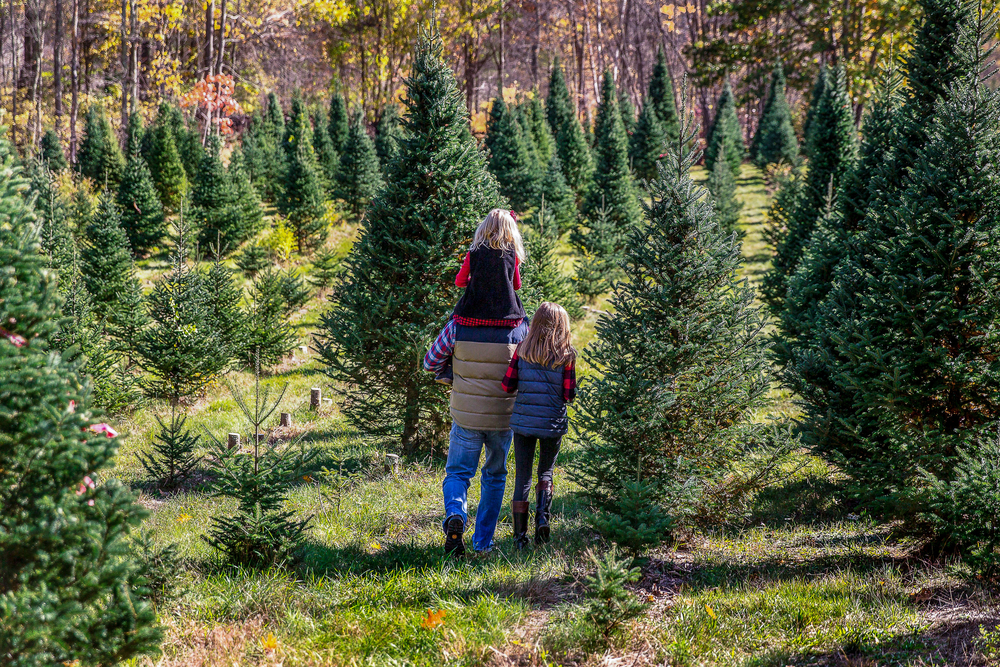 3. Bear Valley Farm
Located in western North Carolina near the smokies, this is one of those North Carolina Christmas tree farms you do not want to miss just because of the stunning location! The nearby crystal springs, mountain air, and rich soil help this farm grow some of the best Fraser Firs around! Can you believe it is possible to get to Christmas tree farms in the North Carolina mountains?!
This farm is home to traditions and hospitality. When visiting, you can cut your own Christmas tree of course, but you can also stop and sit by the fire. Enjoy a coffee or hot chocolate! Relax, meeting some friendly donkeys, a great staff, and take a photo at the iconic red caboose!

4. Red Barn Tree Farm, Linville
Red Barn Tree Farm, Linville is hands down one of those Christmas farms in North Carolina you don't want to miss! The iconic and famous farm offers hayrides, a chance to choose your own tree, complimentary treats, wine, and more!
Families love to come here. They gather measuring sticks and trek out to the different areas of the farm itself. Please note that Red Barn ensures that only their healthiest trees will be marked for you– you cannot choose a tree that is not marked with a colored tag. But that's okay! Because the complimentary hot cocoa, cider and cookies will make both the hayride and decision process all the better. Plus the winery for adults is alway a win!
Make sure to check out our favorite Christmas Towns In North Carolina for more holiday cheer!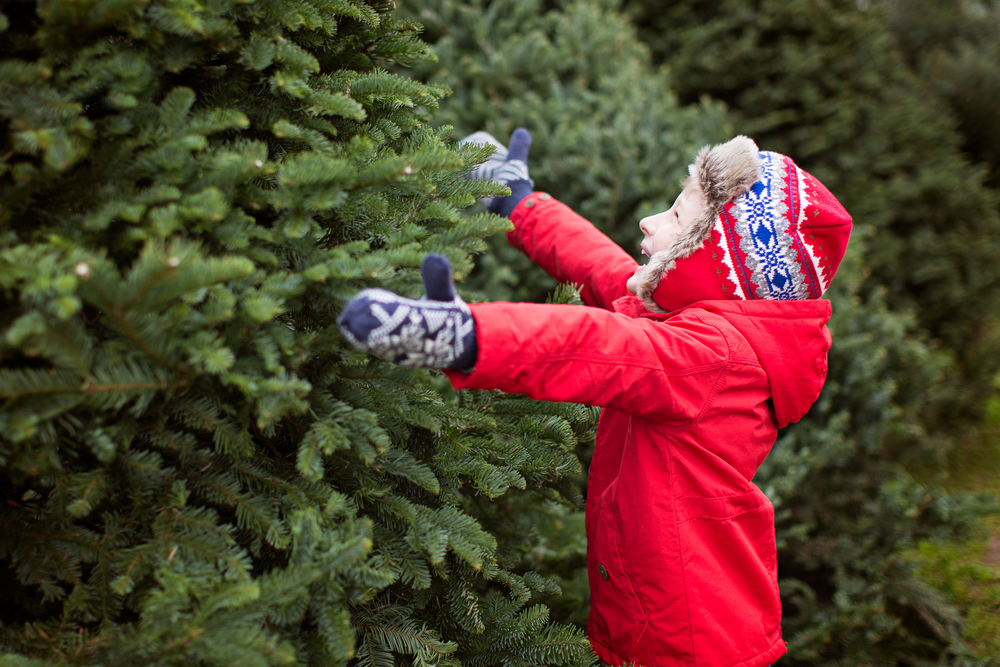 5. Grace Tree Farm
Looking for Christmas Tree farms near Charlotte? Thankfully there are lots! You can stay local this holiday season with places like Grace Tree Farm. This farm is about 37 minutes from Charlotte. It is located in Denver, NC, but we promise it is worth the drive and one of the best things to do near Charlotte during the winter.
First Grace Tree Farm offers stunning trees and has a HUGE timber pavilion that is also perfect for Holiday pictures. Maybe you can take your Christmas card photos here too! Either way, this farm also offers a variety of species– four in fact! This is pretty uncommon, so you can pick from White Pine, Leyland Cypress, Green Giant Arborvitae and Carolina Sapphire. Pick your tree after the season opens on Black Friday!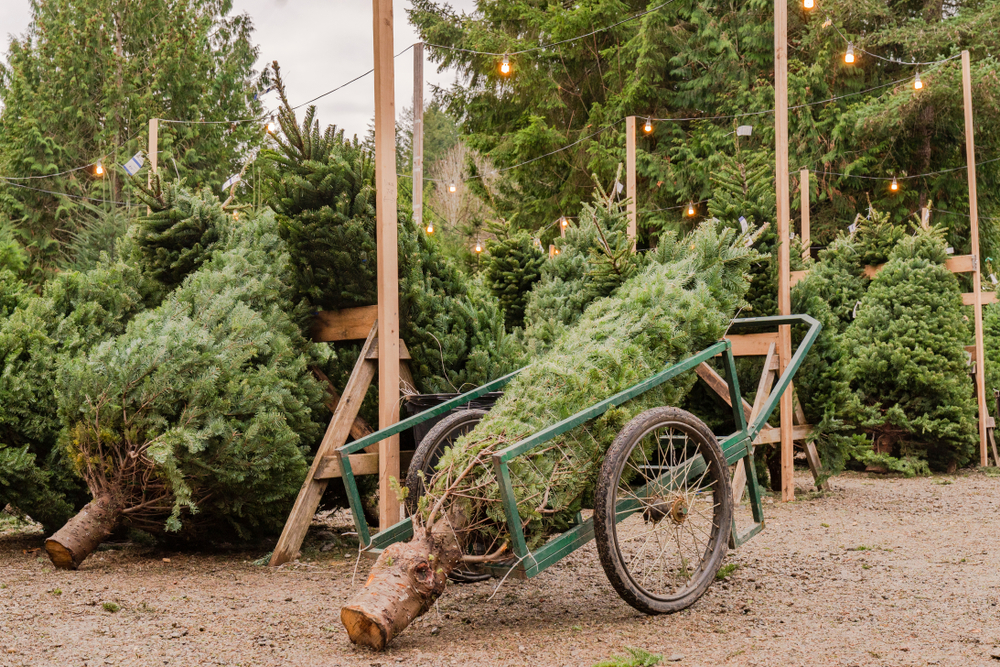 6. Boyd Mountain Christmas Tree Farm
There are also tons of Christmas tree farms near Asheville too! This is a choose and cut farm that offers great mountain views. The best part? It is only a few miles from Asheville so you won't have to travel far! It is truly one of the best holiday activities in Asheville!
Boyd Mountain is one of those Christmas tree farms in North Carolina that is prepared: they have easy paved access, tons of parking, restrooms, and even handicap facilities. They also offer free refreshments like cider and hot chocolate in a heated tent so you'll stay warm! Aside from trees, wreaths, ropes, and tree stands are also being sold, and if you want, you can rent a cabin to stay the night on the farm!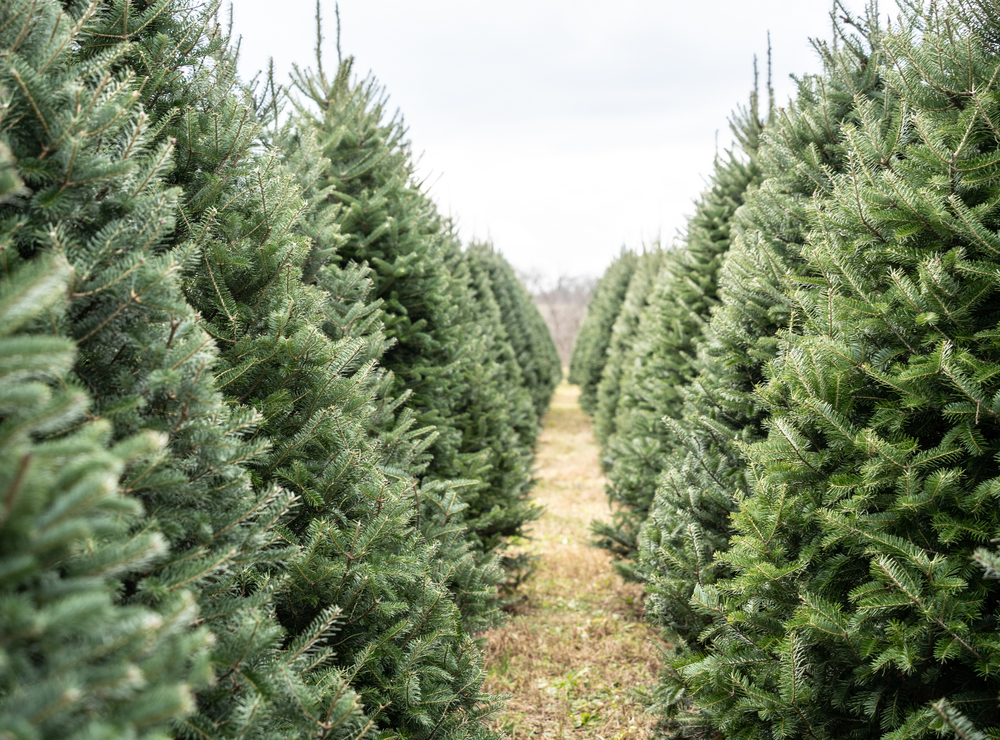 7. Mehaffey Tree Farm
Mehaffey is one of those Christmas tree farms in North Carolina that is highly rated. And considering it is only open to the public for a few weeks each year, this says a lot about their tree quality! With easy parking, restrooms, and gorgeous 6-10 Fraser Fir trees, families come here all the time!
Be careful though, sometimes this farm sells out! So make sure to go early! And don't be afraid to take a fur baby with you– this farm is pet-friendly as long as your dog is on a leash! Mehaffery is close to Asheville as well, so you won't travel far for this iconic place!
8. Pine Top Farm
Pine Top Farm is one of the few Christmas tree farms in NC that are open before Thanksgiving! So, if you are a holiday lover, you can serve up some tree alongside your turkey traditions! Deck those halls early!
Pine Top is also popular because of the variety of trees it offers: White Pine, Scotch Pine, Leland Cypress, Blue Ice or Fraser Fir are the options to choose from. Fir wreaths and White Pine garlands are also available for purchase. Most trees grow up to at least 8.5 feet tall in this region, so choose your giant carefully!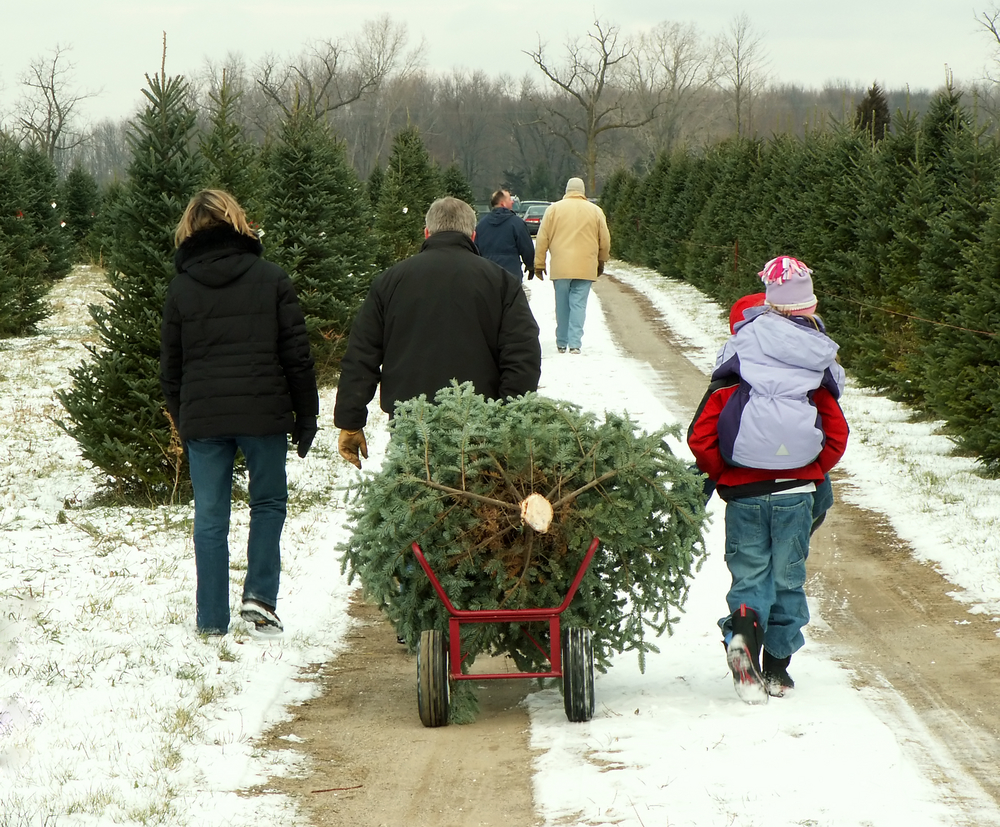 9. Almond Christmas Tree Farm
Almond Christmas Tree Farm is located in Albermale, NC, which puts it at about 52 minutes away from Charlotte. This could be a bit of a trek if you are looking for Christmas tree farms near Charlotte, but it may be worth the trip! Just know that this farm is only open from Thursdays to Sundays. So plan accordingly!
The holiday wreaths at Almond Christmas Tree Farm are always a popular selling point in addition to the trees itself. However, most guests love to come try the foodstuffs! Honey, herbs, and BBQ sauces that have won tons of awards are popular gifts here too. Way to knock out Christmas shopping and getting your tree in one swoop!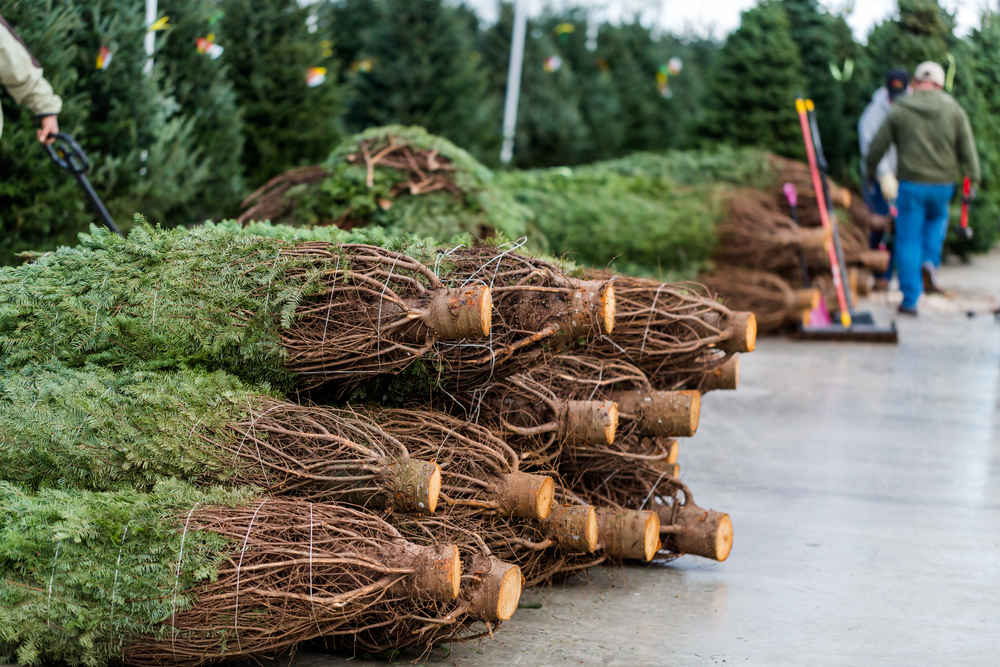 10. Sandy Hollar Farms
Located in Sandy Mush Valley in Leicester, North Carolina, Sandy Hollar farms is one you do not want to miss! It is, like most farms, a Choose and Cut farm. They are SUPER family friendly because they are family owned.
During the holiday season, this farm offers hayrides for all ages. And there is a killer Christmas shop. Plus, fresh wreaths and garlands are a popular "add on" to your Choose and Cut experience. But we also know that the Christmas shop is a perfect place for any last minute gifting, or unique shopping time!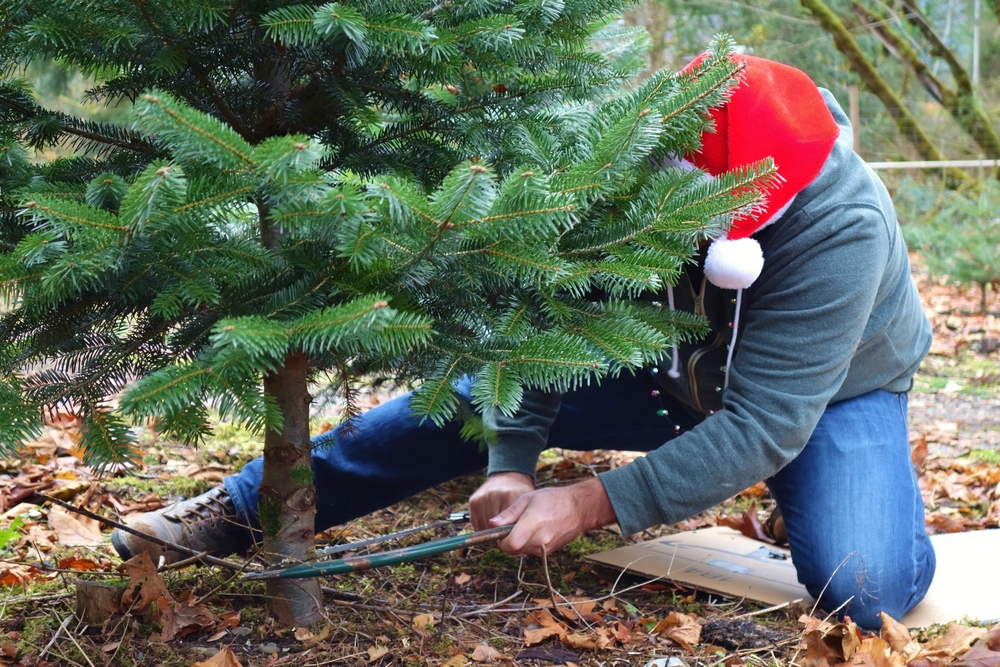 11. Mistletoe Meadows
With a name like Mistletoe Meadows, who couldn't love one of the best Christmas tree farms in North Carolina? In their "little part of the world" this farm stresses that they are "farm fo family." Each tree is trimmed and tended by hand so your family can enjoy it!
Mistletoe mainly grows Fraser firs, but they also offer White pines, Blue Spruces, and Leyland cypress trees. Their wreaths are primarily Fraser firs as well, but there are also boxwood wreaths and mixed greenery wreaths for sale too! Either way, Mistletoe offers the finest firs from the Blue Ridge mountains. And if you're in the area of Laurel Springs, you can always visit Stone Mountain.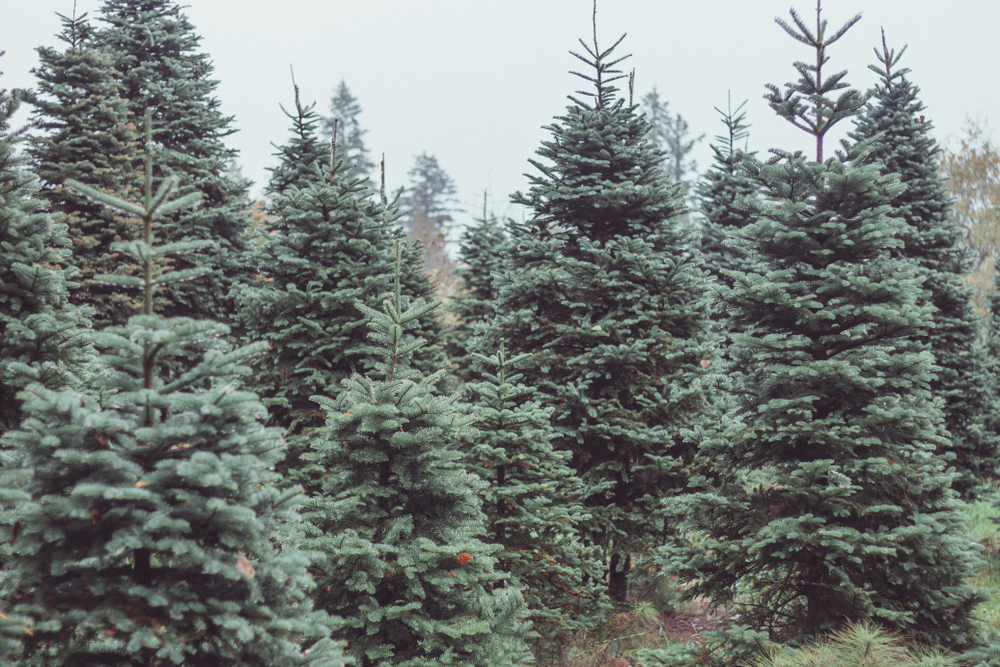 And there you have it! 11 of the best Christmas tree farms in North Carolina that you have to check out this holiday season! Keep traditions strong and enjoy family cheer during the most magical time of the year. And don't forget to check out our article on 15 festive vacation destinations in the South: you never know, North Carolina can pop up on there!