Ready for some incredible horseback riding in Maryland? The OId Line State is a stunning example of the natural beauty that the United States has to offer, giving you an incredible landscape to go horseback riding! The various regions of Maryland give you mountains, valleys, coastal plains, and more to explore on horseback.

There are many amazing things to do in Maryland, from historical sites and museums to beaches and national parks, this is a small state that packs a powerful punch. If a horse trail ride in Maryland is on your bucket list, then be sure to check out these exciting riding opportunities while you are in the Old Line State!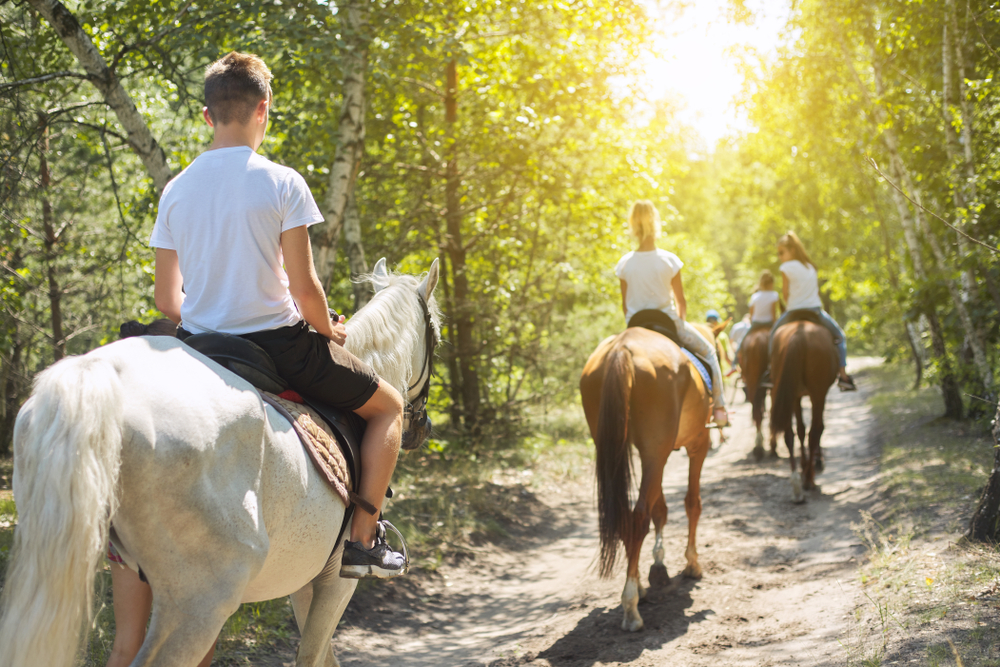 10 Best Places For Horseback Riding In Maryland
Holly Ridge Farm
Are you wanting to go horseback riding in Ocean City? The lovely Holly Ridge Farm near Ocean City, MD is a great option as it is only twenty-five minutes away. Other than being the home to some of the best beaches in Maryland, Ocean City is idyllic for horseback riding as well.

This scenic farm is the perfect place to take a trail ride at any time of the year! Horseback riding in Maryland is made better by the wildlife you can see while you are at Holly Ridge Farm. Deer, foxes, bald eagles, and more can be seen on this beautiful farm in Willards.

Holly Ridge offers a couple of options for travelers looking to go on a trail ride. First is the Adventure Trail Ride which is for visitors aged twelve and older. This adventurous trek through the farms' wildlife sanctuary is ideal for those looking for a longer and more exciting ride as the adventure trail ride is an hour and a half long.

The next option is the Family Fun Ride. This gives visitors Horses 101 and it is great for those with younger kids as little ones as young as five can participate. An hour-long experience, you can groom the horses, play games, and ride the horses!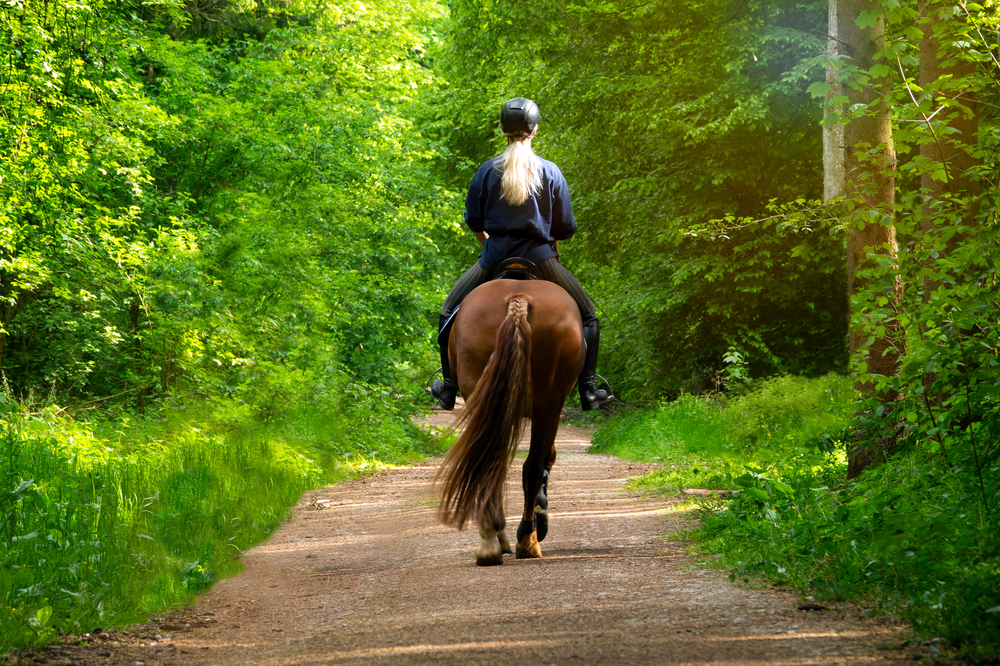 Hoof Prints Trail Riding Center
Eastern Shore trail rides, Maryland horse trails, horseback riding in Maryland
Plus, Hoof Prints Trail Riding Center is near many of the best small towns in Maryland that you can check out while you are in the area! Located in Parsonburg, MD, Hoof Prints Trail Riding Center serves the Ocean City, Chincoteague, Salisbury, and Rehobeth Beach areas.

The riding center offers an On Farm Youth Riding experience that lasts for one hour. This is for the instruction of children from four years old to eleven years old. There are themed trails that kids love and it acts as a therapeutic riding experience for little ones.

There are also family group rides, couple rides, individual rides, and two-hour trail rides. Trail rides that take place on Mondays, Fridays, and Sundays require reservations so keep this in mind when you are planning your visit.

The couples rides start in the Hoof Prints covered arena before going outside, the individual rides can take place in the arena as well and act as a one-on-one lesson for you, and the two-hour trail rides include instructions, rooming, tacking, and of course handling before your ride. Depending on the time of year, the two-hour trail rides may be shortened or unavailable due to the weather.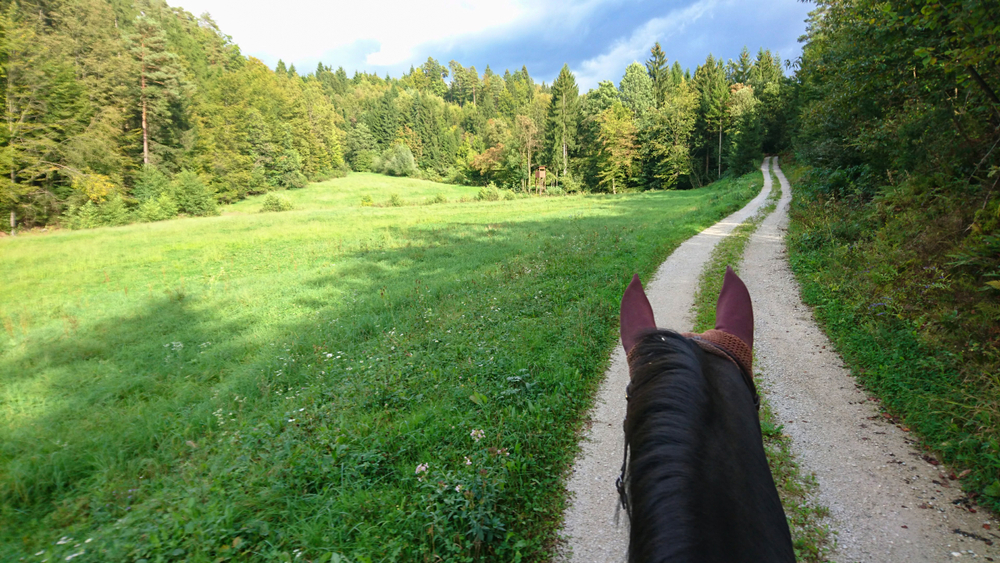 Misty Manor Riding Stables
Going horseback riding near Baltimore is among the top weekend getaways in Maryland! If you have been looking for horse stables in Maryland, consider checking out MIsty Manor in Marriottsville as it offers visitors some of the best horseback riding in Maryland.

At Misty Manor, there are thousands of acres of picturesque land that gives you access to miles of stunning wooded trails. Some of the trails go through the Patapsco River or follow along trickling springs. Plus, the woods give visitors a dreamy display of flora and fauna to add to the experience as you ride through the pine tree-surrounded trails.

Trail rides are available most days of the week and in the spring and fall months, they offer an exciting five-hour ride that goes out to a restaurant for lunch. Then, in the summer and fall months, they offer a ride that heads out at dusk and allows riders to enjoy a bonfire upon their return.
Painted Horse Ranch
The Painted Horse Ranch offers incredible horseback riding in Elkton. One of the best places to go horseback riding in MD for budget travelers, this ranch offers amazing prices on their trail rides. You can choose between a one-hour ride, a two-hour ride, or a half-day trail ride that includes lunch.

If you are looking for a more in-depth experience that offers more of a teaching experience, you can book a less for anyone aged four years old and up where you can be instructed on everything from the basics to advanced riding techniques. This family-friendly ranch is very community focused and loves to offer equestrian fun to visitors of all ages.

This laid-back and welcoming ranch in Maryland is perfect for those looking to add some fun to their MD itinerary. Plus, while in Elkton, you will be near to one of the best places for apple picking in Maryland so if you are visiting during the apple season, be sure to check it out!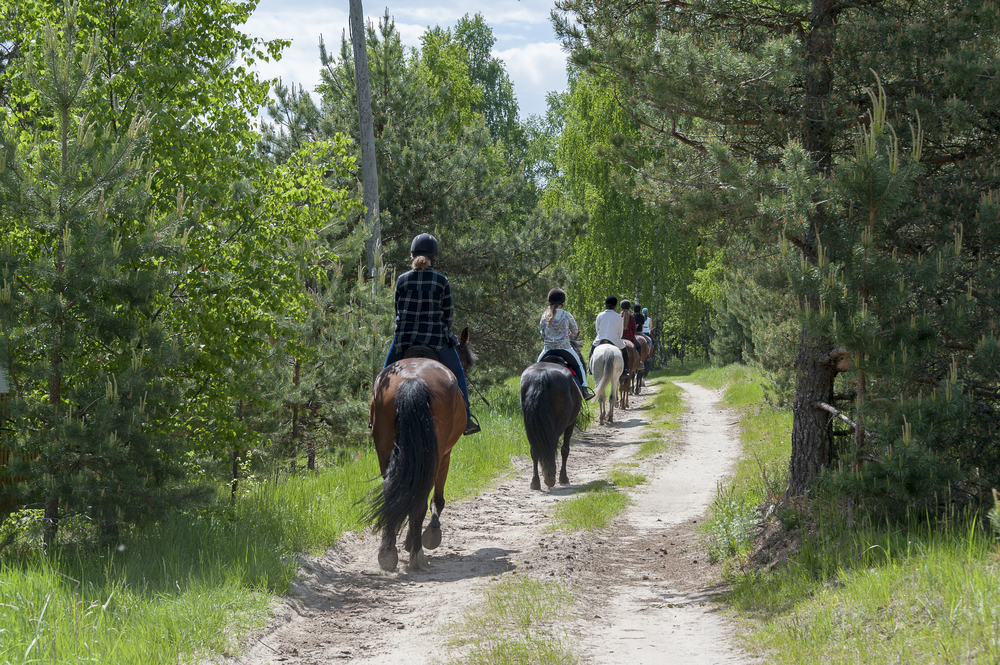 Maryland Therapeutic Riding
Ready for some Annapolis horseback riding? Perfect! Because horseback riding is one of the best things to do in Annapolis, MD! Something a bit different than the typical recreational trail riding in Maryland, you can enjoy revitalizing rides at Maryland Therapeutic Riding in Crownsville, MD.

While this organization focuses on supporting veterans and those with special needs that can benefit from the therapeutic effects of horseback riding in Maryland, they also extend their service to anyone looking to go riding for wellness.

Riding for wellness is for anyone that is looking to improve their mental and emotional well-being or their overall physical health. This gives visitors the opportunity to learn something new, be physically active, and use riding as an outlet for their stress. If you are a little wary of riding, they offer unmounted horse experiences as well.
Piscataway Trails
No matter what season you choose to go horseback riding near Waldorf, it truly is a treat. However, going trail riding during the autumn months is a treat and one of the best ways to experience fall in Maryland!

Formerly called the Piscataway Horse Farm, this organization in Clinton offers incredible horseback riding trails in Maryland. The farm offers walk-in visitors on Saturdays and Sundays from ten in the morning until three in the evening. Weekends are on a totally first come first serve basis so keep this in mind as you plan your day in the Clinton area.

Piscataway has been around for more than seventy-five years and is a great place to relax and unwind while enjoying nature during your time spent in Maryland. This welcoming and unpretentious farm is perfect for those who want a chill way to spend the day while in the area. If you are traveling with kids, anyone aged ten and up can ride or younger if they are able to steer the horse.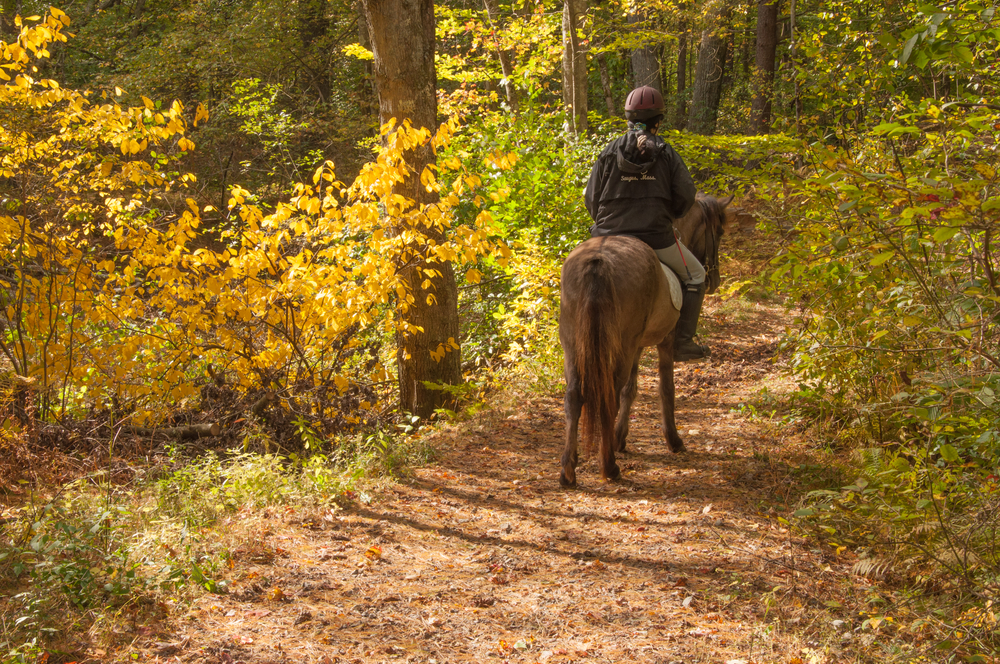 Wheaton Park Stables
For all those travelers enjoying a weekend in Washinton DC, Wheaton Park Stables provides a fantastic little excursion to go horseback riding near DC. There's nothing like spending some time in DC, but the city can get a bit hectic. You can enjoy a reprieve from the fast-moving nature of the city to relax on horseback with Wheaton Park Stables.

This organization allows for an incredible experience of horseback riding in Silver Spring. For those traveling with young ones, pony rides are available for those aged three to seven. Children must wear closed-toe shoes and long pants for the ride along with the helmet that they are provided.

If you visit Wheaton Park Stables on a Sunday, you can enjoy trail riding. Reservations are required for trail rides as walk-ins are not accepted. When horseback riding in Maryland, the family focuses organizations that have been around for generations are always a treat to visit and Wheaton Park Stables are just that!

Having been around for more than sixty years and focuses primarily on pony rides, summer camps, lessons, and trail rides. While you are there, you will have a selection of stunning horses at a variety of ages, temperaments, and heights so you are sure to find one that will fit your needs as a rider.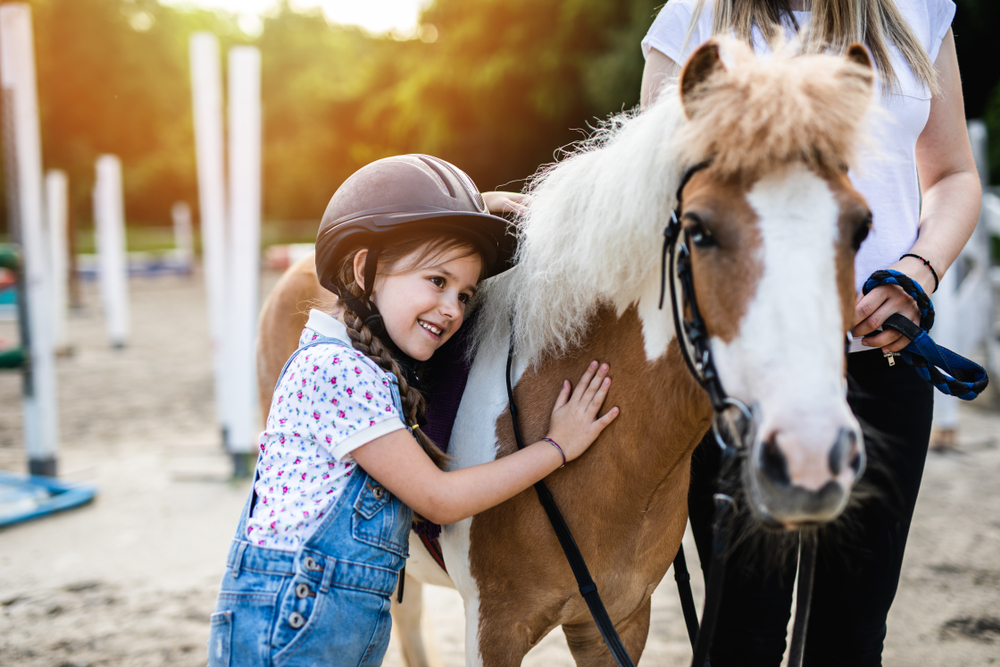 Circle R Ranch Deep Creek Lake Horseback Riding Stables
Some of the best horseback riding in Oakland can be found at Deep Creek Lake Horseback Riding Stables at Circle R Ranch. They offer an incredible horseback riding in Maryland experience for visitors. The trail winds into hillsides, through woods full of Maples and Oaks, along streams, and through old apple orchards. Making for a beautiful and memorable ride!

A few different options exist for you at the stables including a short fifteen-minute hand-held pony ride for little ones, a half-hour trail ride, a one-hour trail ride, and private trail rides. You will enjoy your ride through the gentle Appalachian mountain range when you go horseback riding with Circle R Ranch at Deep Creek Lake Stables!

You can get a free barn tour and meet the horse up close and personal during your visit which really adds to your riding experience. And if you find yourself in Oakland in the winter, keep an eye out for Christmas activities in town visiting this small Maryland town is one of the festive ways to celebrate Christmas in Maryland.
Fairwinds Stables
Fairwinds Stables is a dreamy place to visit if you are looking for the best horseback riding in Maryland. This is especially true if you are visiting nearby Baltimore. It is less than an hour from Baltimore, so you can enjoy a quick trip out of town for horseback riding in North East while you are enjoying a getaway weekend in Baltimore!

Fairwinds offers pony rides, riding lessons, and trail rides. Plus, you can find camps and horse shows at the farm during certain times of the year as well. If you are traveling with kids, you should know that kids must be at least eight years of age to go on the trail. If you are traveling with younger kids, Fairwinds Stables offers pony rides for the little ones!

Reservations are required and there are a few things that you should know before you arrive for your ride. Cash or check only are accepted at Fairwinds and waivers must be filled out before you arrive and there are a few clothing requirements as well. Be sure your shoes are not flat, you need at least a little bit of a heel to use the stirrups and you will be required to wear a helmet as well.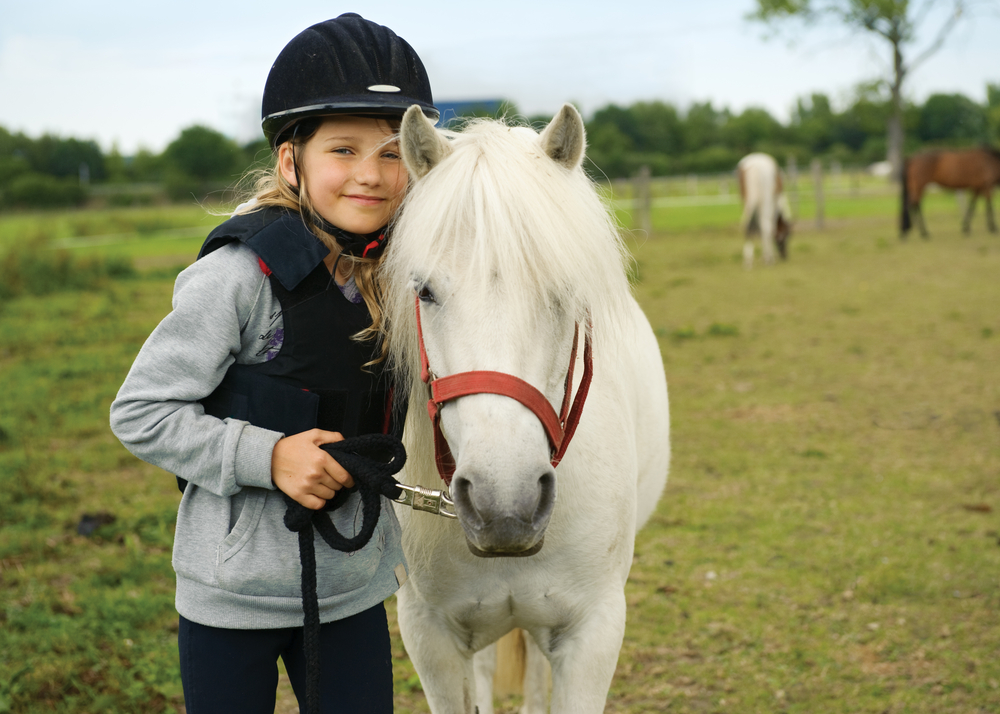 Southern Grace Farm
Do you have plans to visit southern Maryland? This part of the state has some of the best horse trails in Maryland as a whole and it offers many other fun experiences in the area as well. Southern Maryland is a treat for golfing, seafood, and natural beauty is plentiful in this dreamy corner of the United States as well!

Southern Grace Farm is a real treasure for those looking to go horseback riding in Bel Alton. Other than English riding and Western riding lessons, Southern Grace Farm offers a three to three-and-a-half-hour breakfast or lunch trail ride. This ride takes you around the beautiful Southern Grace farm and the neighboring farm.

Another trail ride option is the one-hour around-the-farm ride. This one-hour ride goes through the woods and across a creek while you enjoy the natural beauty of the farm. Additionally, the Texas Ribs Trail is a super fun ride that you should check out if you have the time,

Johnny Boy's BBQ trail ride takes around three to three and a half hours to complete. You will travel north from the Southern Grace Farm along the wood line until you reach Johnny Boy's. You will tie up your horse for forty-five minutes while you eat lunch before heading back to the farm. This is some of the best horseback riding in MD!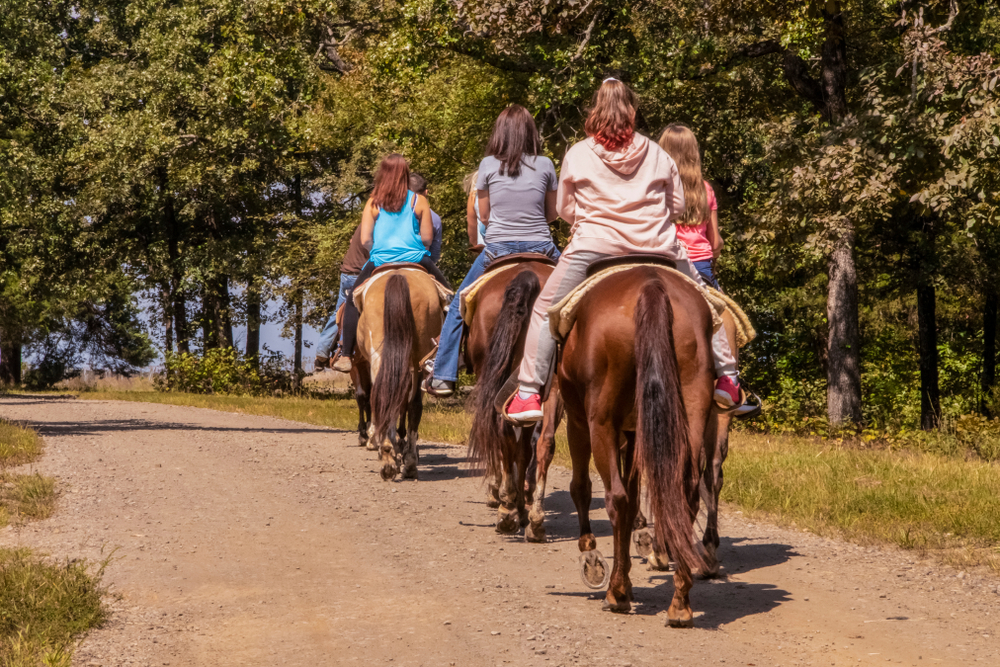 From coastal treasures to wooded escapes and field rides, you can choose which dreamy landscape piques your interest for a ride in the Old Line State. Now that you have taken a look at some of the best places to go horseback riding in Maryland, which do you think you will visit first?