Are you looking for festive ways to celebrate Christmas in Washington DC? Then you've come to the right place! One of our favorite cities in the south to visit is Washington DC. The Nation's Capital is beautiful all year round. However, it really shines during the holiday season. Whether you're there for just a weekend or have a whole week to explore, a trip to Washington DC at Christmas time is worth it!
Planning your trip to Washington DC last minute?
Hotels and tours sell out fast! Make sure to book in advance to ensure availability. Here are our top picks for Washington DC:
Top Experiences And Tours To Book In Advance:
Best Places To Stay In Washington DC:
Of course, many of the best things to do in DC are available all throughout the year. However, Washington DC during Christmas means an abundance of special activities and events. Many of the museums have special seasonal displays or events happening. You'll get to take part in everything from holiday movie nights, candlelight tours, and Christmas light mazes.
Another great perk about visiting Washington DC for Christmas is that most activities are free. Because so many of the best Christmas in DC activities take place in the museums, they are generally free to attend.
That's not the case for everything, but a vast majority of the Christmas activities in DC are free or relatively cheap. So, you could splurge on an amazing hotel or vacation rental in DC and still be able to participate in a ton of fun events. With all that in mind, let's take a look at some of the most festive ways to celebrate Christmas in Washington DC! Don't forget to check out our list of the best boutique hotels in Washington DC to plan your visit!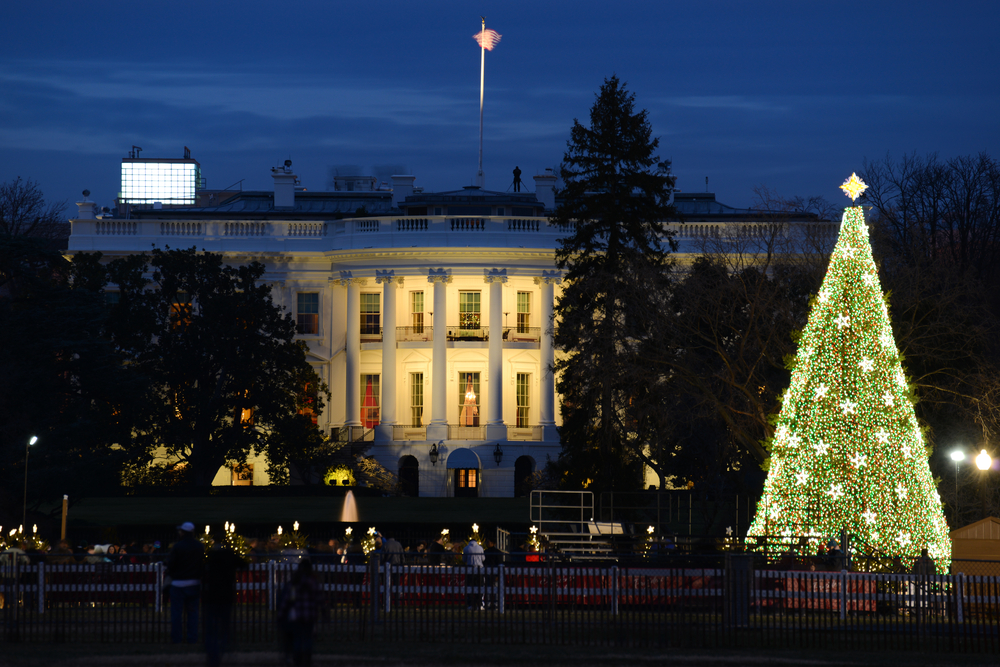 Is Christmas A Good Time To Visit Washington DC?
Christmas is an excellent time to visit Washington DC! In general, the weather is typically fairly mild. Plus, there are tons of Christmas activities in Washington DC to enjoy. There really isn't a bad time to visit Washington DC.
It just depends on what you want to do and see while you're there. However, we think one of the best times to visit Washington DC in winter is in December! That way you can partake in all the fun Christmas things to do in Washington DC.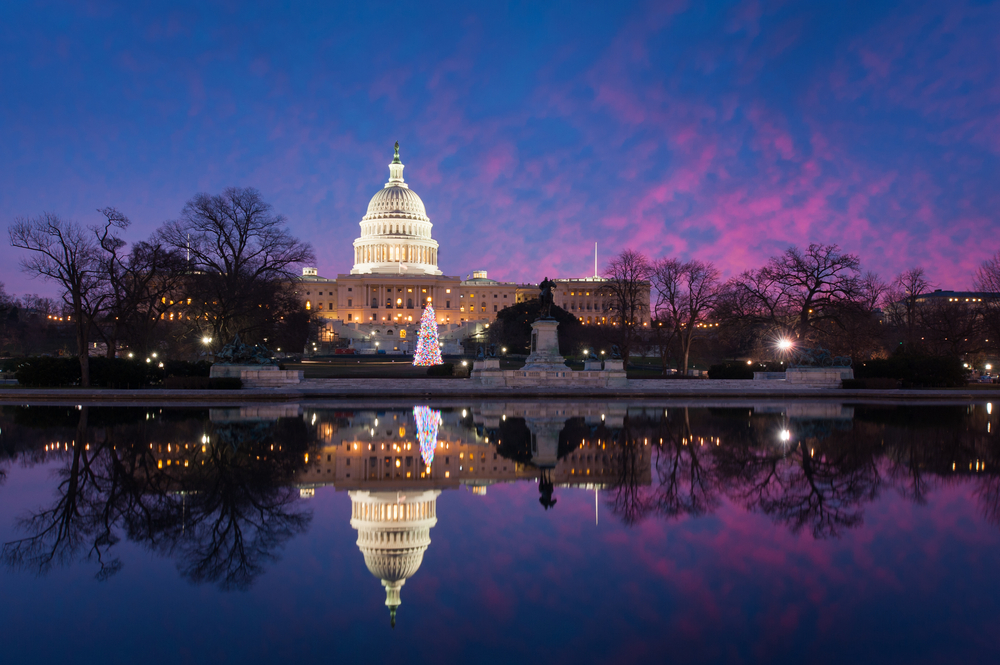 Washington DC Weather In December
As we said, the weather in Washington DC in December is typically fairly mild. However, you can expect it to get a bit cold. During the day, the highest temperature is around 50 degrees and at night it can drop to about 30 degrees.
So, if you're walking around the city, you'll definitely want to wear layers or pack a nice coat. Make sure to dress warmly, and remember that most of the museums offer coat checks.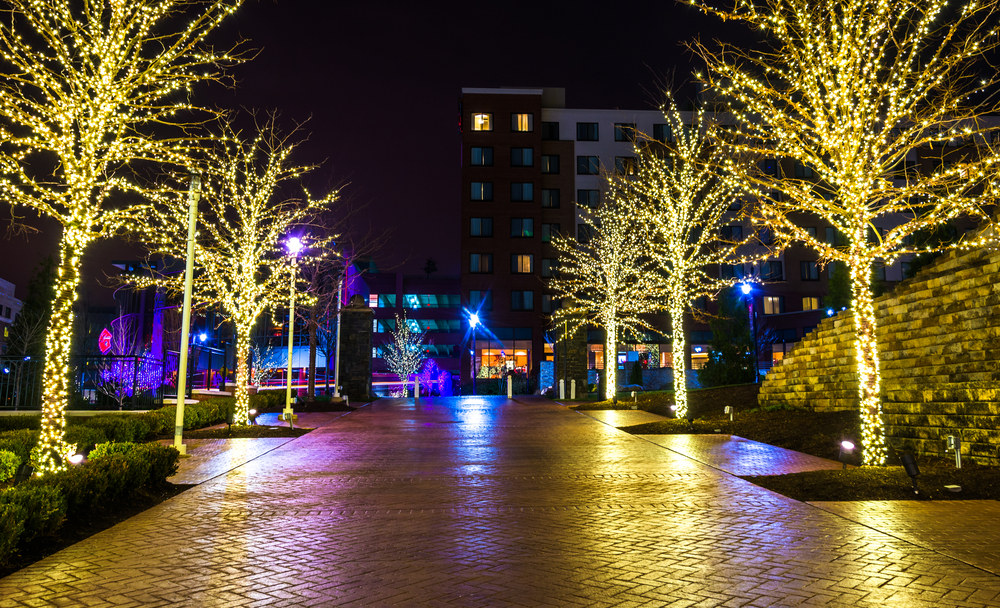 Does It Snow In Washington DC At Christmas?
Yes, it can snow in Washington DC in December. However, December is often the first month it snows in Washington DC. That means that there is a good chance it won't snow at all. If it does snow, it typically snows towards the end of December. If you're visiting in late November or early December, you most likely won't encounter any snow.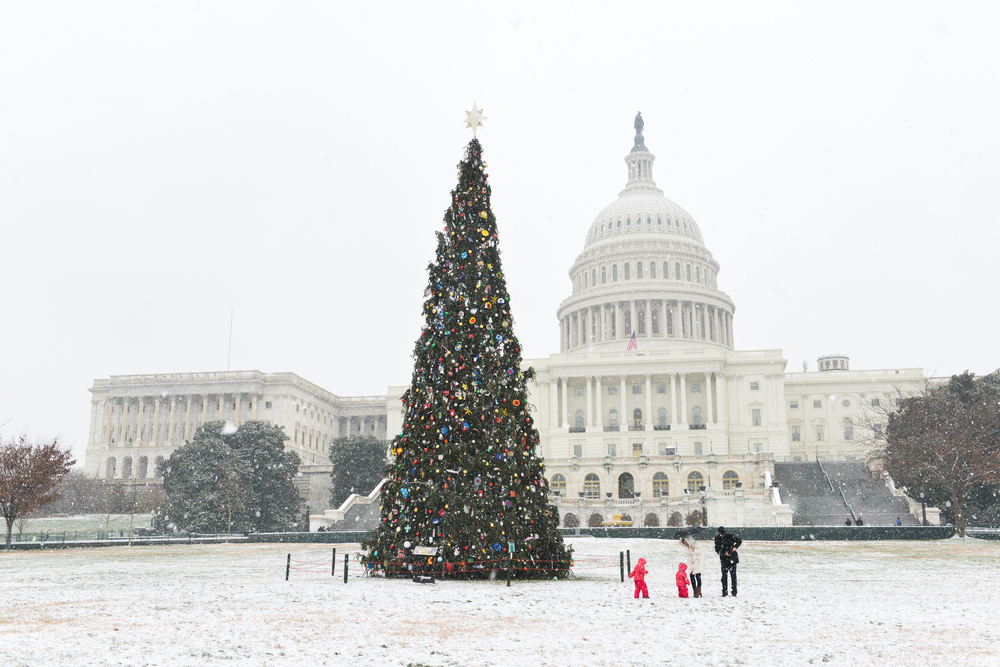 Best Christmas Things To Do In Washington DC
Go Ice Skating
There are several places throughout Washington DC during Christmas that have ice skating rinks set up. The most popular temporary ice rink is probably the one on the National Mall. You'll find it outside of the National Gallery of Art. It's set up in their sculpture garden, which is super pretty. Plus, how often do you get to ice skate surrounded by National Monuments? Another popular ice skating rink is located in Georgetown. Georgetown is one of the coolest areas of DC to explore.
If you have the time, we highly suggest exploring Georgetown before you go ice skating there. You'll find tons of cool restaurants and cafes to enjoy afterward too. You can also find ice skating rinks set up in the Navy Yard, the Southwest Waterfront, and Pentagon Row. They are all great, it just depends on what area of the city you want to be in. Outdoor ice skating is one of the best Christmas activities in Washington DC though.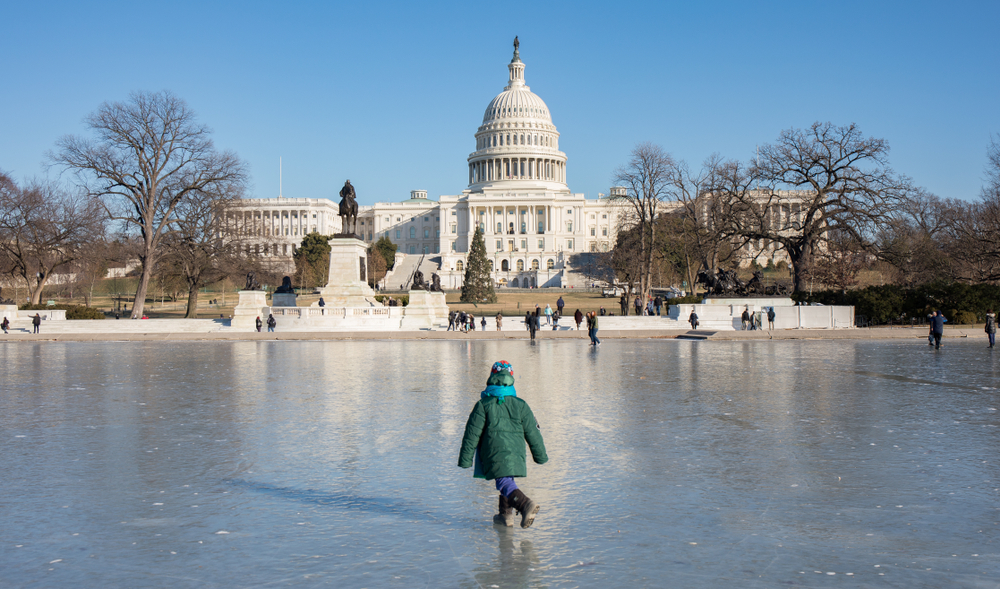 See The National Christmas Tree
You can't spend Christmas in Washington DC and not go check out the National Christmas Tree. You'll find it near the White House, near 15th St NW and E St NW. It is a large evergreen that is actually planted there. So, unlike the Christmas Tree in NYC, it's permanent and the same tree every year. Every year since 1923 the massive evergreen has been decorated for Christmas.
If you're visiting early in December, then you won't want to miss one of the coolest Christmas events in Washington DC. Every year, in early December, the President and the First Lady host the Lighting Ceremony for the tree. If you get to attend the Tree Lighting Ceremony, you'll get to hear the President give a short speech and, of course, light the tree. It's one of the most unique Christmas activities in Washington DC.
This is truly one of the best things to do in Washington DC at night!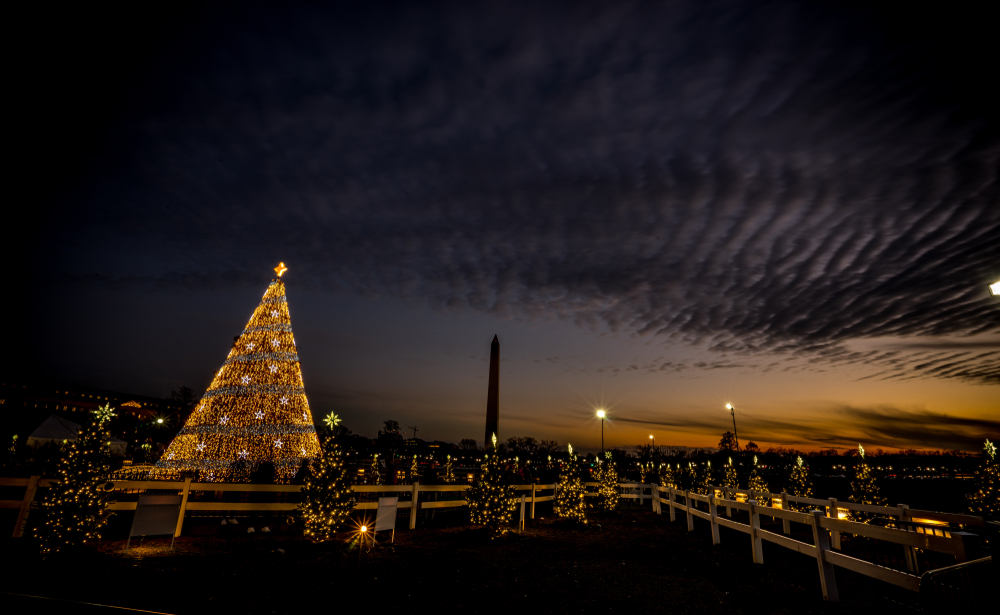 ZooLights
Every year, the National Zoo holds its ZooLights festival. It's one of the best places to see Christmas lights in DC. There are over 500,000 LED lights on display during this Christmas activity in Washington DC. The ZooLights festival typically opens up in late November and lasts through the beginning of January. It's a free event that is perfect if you are bringing little ones with you on your trip to Washington DC during Christmas.
Throughout the festival, there are nights where they have live performances. They'll typically announce the schedule for them right before the festival returns. Along with the lights, the National Zoo also has a variety of stalls set up. You can do some Christmas shopping or just grab a cup of hot cocoa. It's one of the best Washington DC Christmas markets to explore. If you're looking for one of the best displays of Christmas lights in Washington DC, this is it!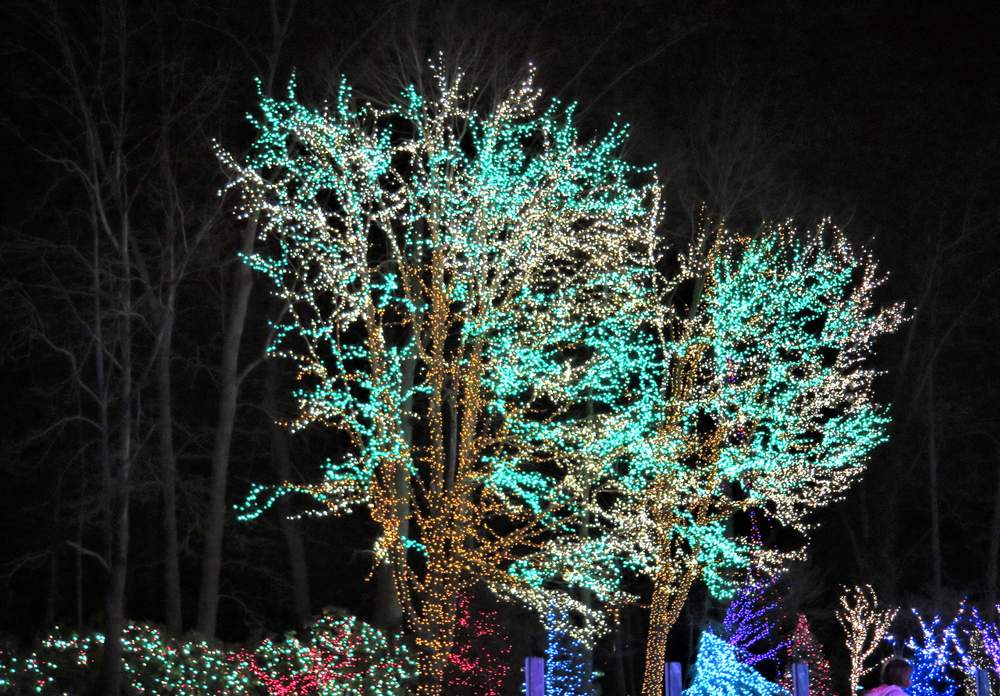 Tour Mount Vernon By Candlelight
Mount Vernon is President George Washington's private residence. He moved there after his presidency ended. It's actually located in Virginia, but it's very close to DC. So close that it's typically considered one of the top DC activities. During Christmastime, you can explore Mount Vernon by candlelight. It's one of the best Christmas activities in Virginia.
Tickets for this candlelit tour go on sale in early October, and they often sell out. You'll walk through the estate with a lantern and learn more about its history. As you walk, you'll learn what Christmas would have been like for the mansion's original residents. Included in your ticket are light refreshments, the tour, and a period-accurate performance by carolers.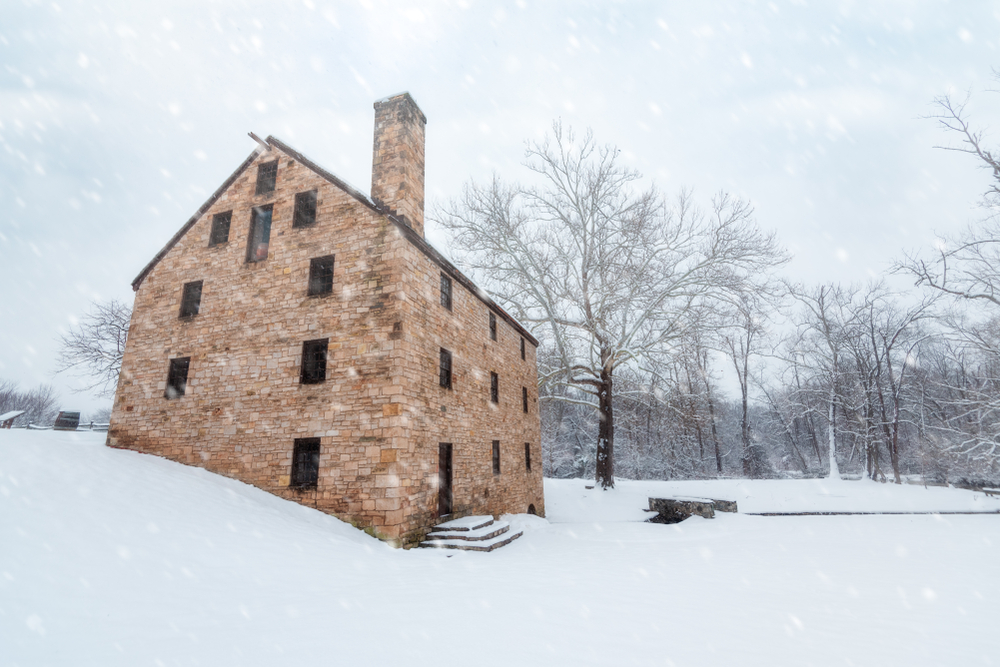 Go Window Shopping In CityCenter DC
CityCenter DC is a huge shopping district in Washington DC. Every year, they decorate the entire district for Christmas.
However, you won't find stores like Macy's or American Eagle. Instead, you'll find designer stores like Burberry, Chanel, and Tiffany & Co. Even if these stores are far outside of your price range, we suggest stopping by CityCenter DC.
All of the stores go all out with Christmas decorations and it's fun just to admire all the window displays and decorations. It's a really cool Washington DC Christmas market with an upscale twist.
Within CityCenter DC there are also a number of restaurants and cafes. These are fine dining restaurants, which makes sense with the designer stores in the area. The restaurants also go all out with their decorations. If you're wanting to splurge on a nice dinner while you're enjoying Christmas time in DC, this is the place to go. It's a really cool area to visit in Washington DC during Christmas, even if it's a little outside your budget to actually buy anything.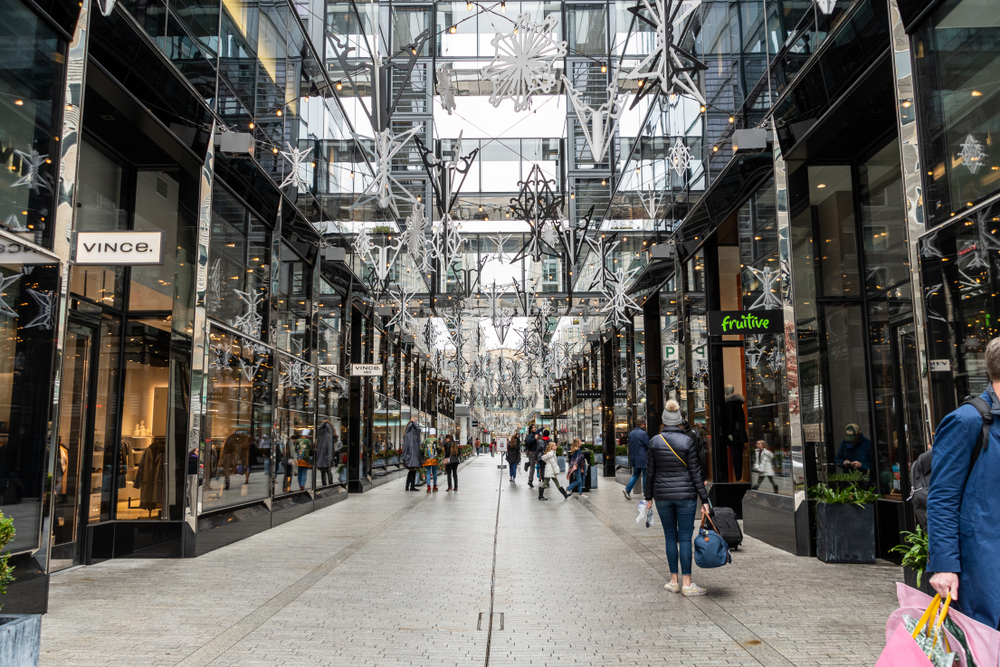 Visit Union Station
Union Station is the main train terminal in Washington DC. Every year during Christmas in DC, Union Station hosts a variety of events and exhibits. The holiday season starts at Union Station with the Annual Norwegian Tree Lighting Ceremony. For over 20 years, the train station has hosted a traditional Norwegian Christmas tree. The ceremony typically includes performances by local musical programs, the tree lighting, and even an appearance from Mr. and Mrs. Claus.
The train station also typically has a display of model trains set up during the Christmas season. You'll find the train display in the West Hall. It's a super intricate scene with Norwegian elements to pair with the station's tree. Kids in particular love to spend some time enjoying these unique and fun Christmas things to do in Washington DC. Like so many other activities in DC, it's completely free to enjoy!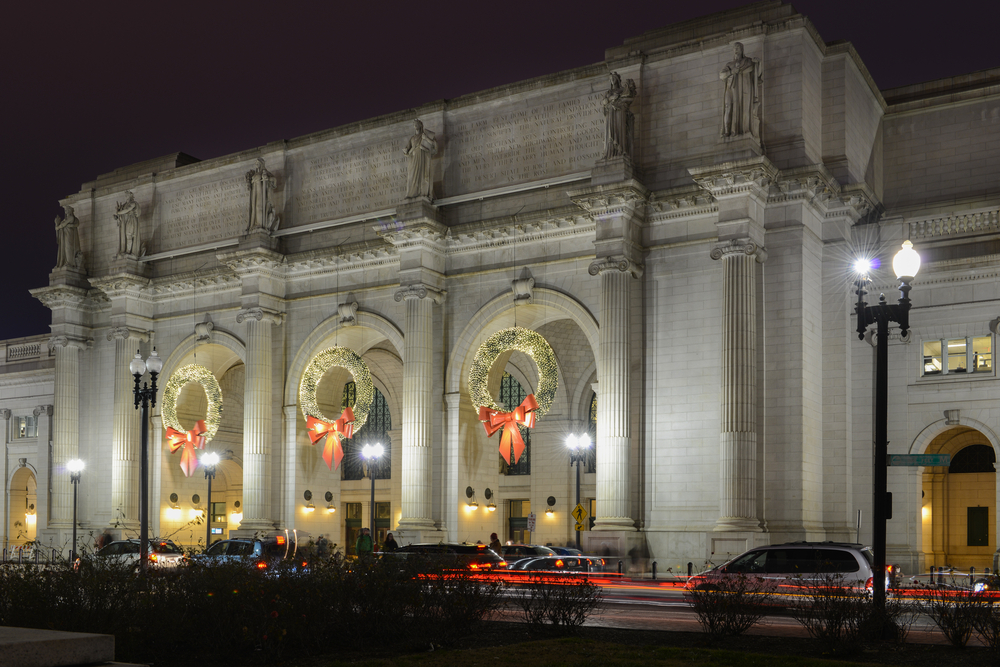 The United States Botanical Garden Holiday Display
Each year the United States Botanical Garden puts on a themed display for Christmas. In the past, themes have been National Parks, Pollinators, and Roadside Attractions. The theme for the year is typically announced in the fall. Starting after Thanksgiving, you'll be able to visit the botanical garden and see their holiday display. The display is typically up until the first weekend in January. It's open every day except for Christmas.
Outside, you'll find a train display that pairs with the year's theme. Inside the different conservatories, they have another set of displays. They typically include hundreds of poinsettias and recreations of historic landmarks in the city. Even if you don't love exploring gardens, this is one of the best Christmas things to do in Washington DC. It's certainly one-of-a-kind!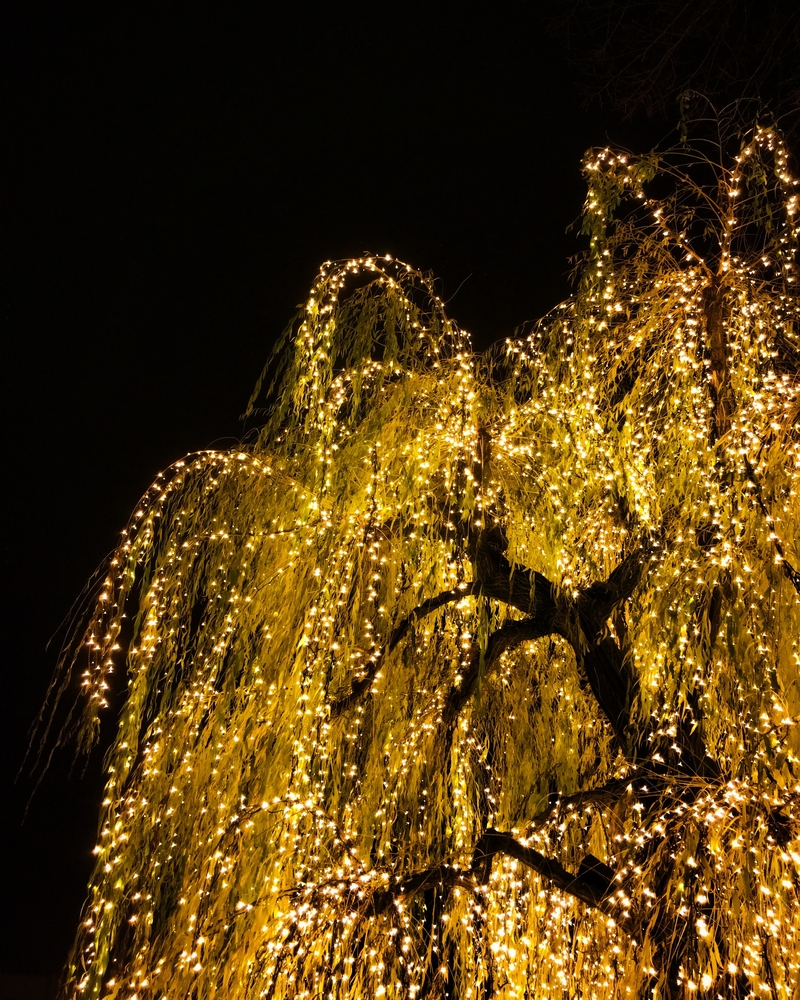 The Holiday Boat Parade
One of the more unique Christmas events in Washington DC is the Annual Holiday Boat Parade. Washington DC is actually on the water, so it's only fitting that they'd host a boat parade. The Holiday Boat Parade takes place in the District Wharf. You'll be able to see the boats float along the Washington Channel.
The Annual Holiday Boat Parade traditionally happens on the first Saturday in December. It lasts about two hours and is at night. That's because the boats are decorated with tons of Christmas lights on the outside. During the parade, you'll see over 60 boats decorated with an abundance of Christmas lights. On land, you'll be able to visit Mr. and Mrs. Clause and enjoy live entertainment. It's a really fun way to celebrate Christmas time in DC.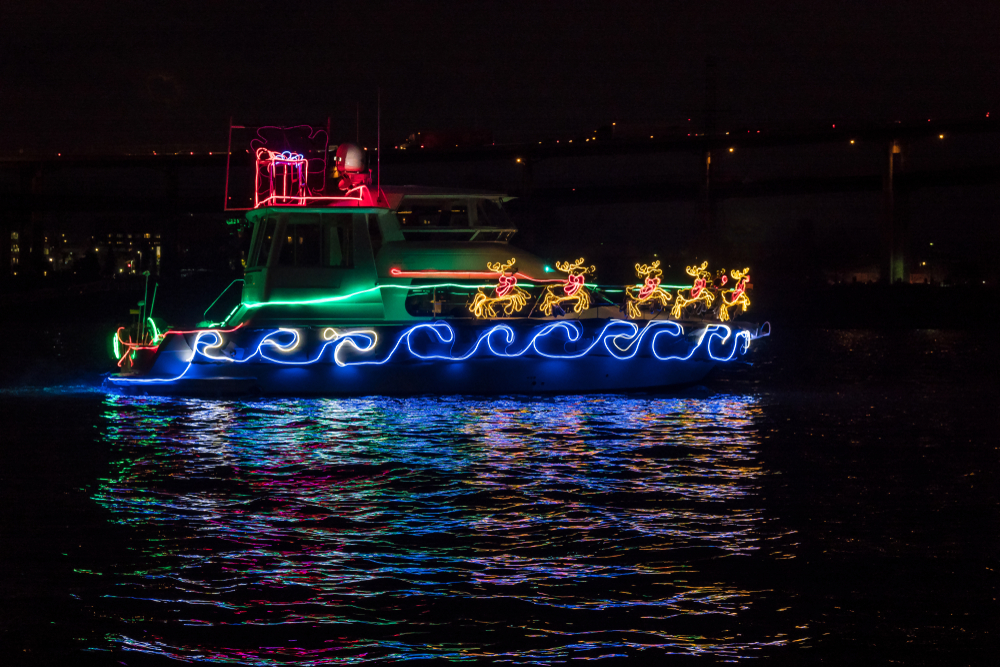 Stroll The Downtown Holiday Market
Starting in the middle of November, you can stroll through the Washington DC Christmas Market. The Downtown Holiday Market, as it's called, is located on the corner of 8th and F Streets, NW. It is open from the middle of November until December 23rd. The only days it's closed are Thanksgiving and December 6th. With over 70 vendors, you'll easily be able to leave with a few gifts for your family and friends.
The Downtown Holiday Market is a great way to support local and small businesses in DC. All of the vendors at the Washington DC Christmas market are hand-picked. That means it's not full of things you may find at a swap meet. Instead, it's all well-made or handcrafted goods. There are also food vendors, so you can get something to eat or hot cocoa while you shop.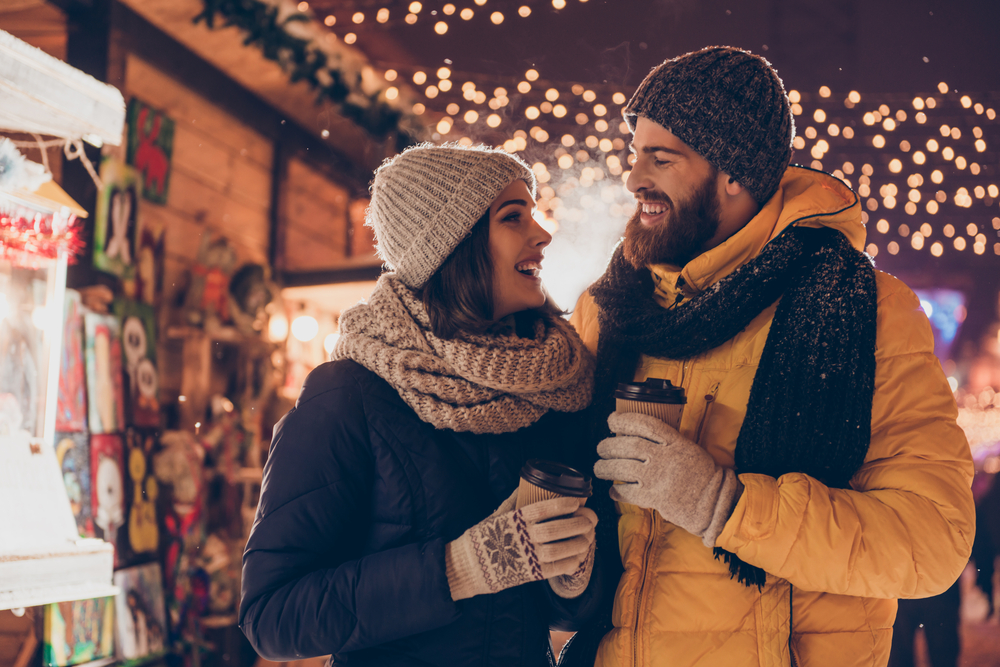 ICE! At The Gaylord
At the Gaylord National, you'll find a huge Christmas celebration. The Gaylord National is a luxury hotel, located in the National Harbor. Every year they host ICE!, which is their Christmas festival. It's open from the end of November until New Year's Eve.
You can rent a room at the hotel and they have special packages that include a variety of ICE! activities. However, you don't have to be a guest at the hotel to partake in all that ICE! has to offer.
It's one of the most popular Christmas activities in Washington DC for a reason. There are tons of things to do at this massive Christmas festival.
There is snow tubing, snowman building, ice bumper cars, live performances, and plenty more. If you're traveling to spend December in Washington DC and you have kids, you won't want to miss ICE! at the Gaylord National. This is truly one of the best places to stay in Washington DC!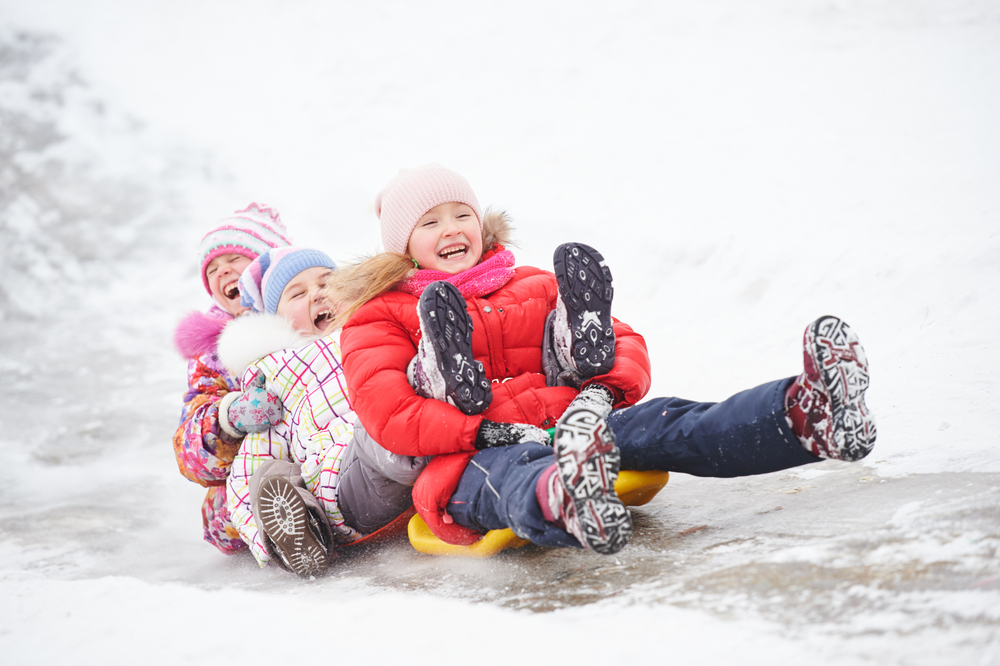 Enchant
At Enchant you'll get your fill of Christmas lights in Washington DC. Enchant is the 'World's Largest Christmas Light Maze' and one of its locations is in DC. When you visit Enchant, you'll be able to explore over 10 acres of Christmas lights in DC. The main feature of this Christmas light festival is the huge maze. However, there are a few other attractions at Enchant as well.
After you make it through the maze, there is still plenty more to do. In the magical Christmas Village, you'll find ice skating, shops, dining, and Mrs. Claus. Enchant opens in DC right after Thanksgiving and lasts until December 26th. You'll want to book your tickets ahead of time because this super cool Christmas event in Washington DC can sell out.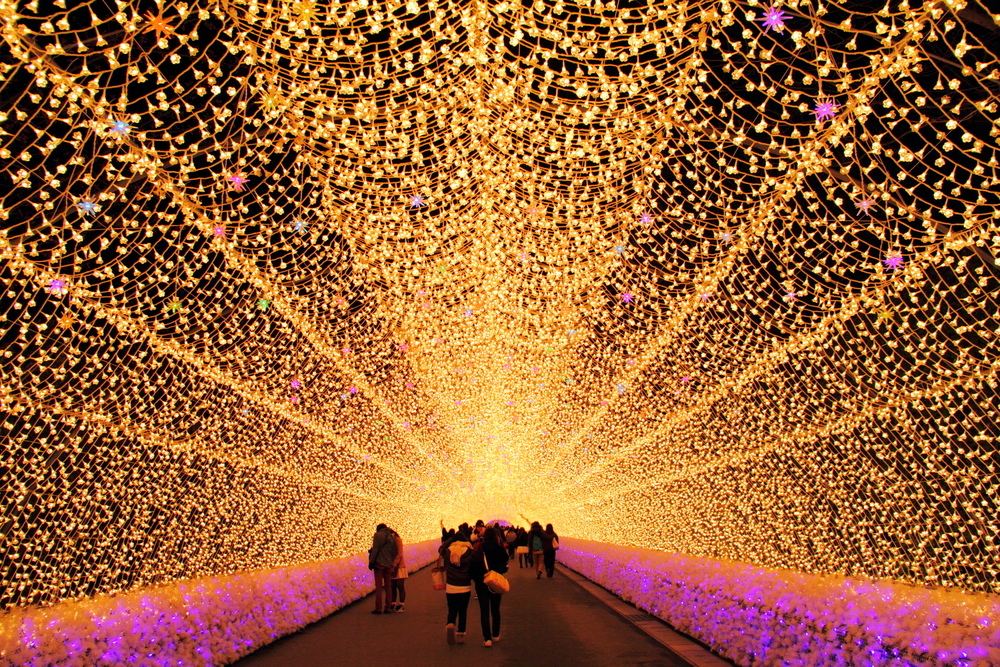 See The Nutcracker At The Washington DC Ballet
One of the most iconic things to do in December in Washington DC is to go see a performance of The Nutcracker. The Washington DC Ballet Company puts on one of the best performances of this classic Christmas ballet. For this particular performance, the classic play is set in Georgetown, in 1882. The main players are George Washington and King George III, to give it a slight twist.
You won't see a performance of The Nutcracker quite like this anywhere else. The Washington Ballet performs the show starting in late November and all the way through December. Throughout the month, they also have special performance nights. Like Military Appreciation night or Family Night. They also have a few extras like a tea party after the performance on select days. You can't go wrong with seeing a performance of The Nutcracker if you're in Washington DC during Christmas.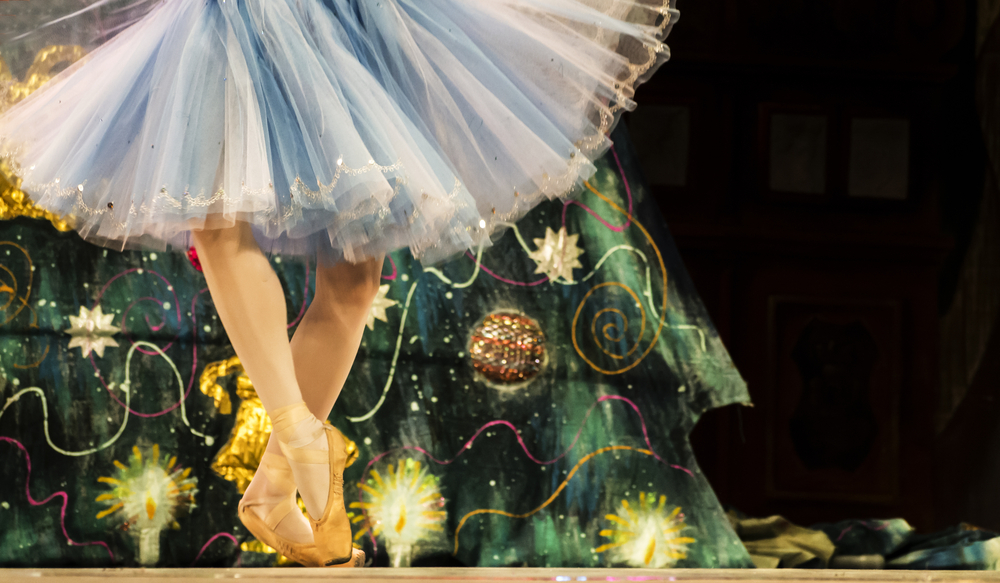 Christmas in Washington DC is truly a magical experience that everyone should get to enjoy at least once. Whether you're strolling through the Christmas markets, seeing a performance of The Nutcracker, or spending the day at one of the many festivals. December in Washington DC is a great time to visit and experience the charm and magic of the Nation's Capital City.