Are you looking for all the best places to celebrate Christmas in Virginia? Well, you have come to the right place! Here we have found you so many things to do during December in Virginia that you will be able to plan your whole month out. Virginia is one of those states that no matter what time of the year it is you can always find something fun to do. But during the holiday season, this southeastern state goes all out.
There are so many Christmas activities in Virginia no matter where you are there is something festive going on. You will be able to find theme parks that completely transform into Christmas towns.
Plus outdoor ice skating rinks, and you can even drive through miles of Christmas lights on the beach. You may even want to visit one of the Best Christmas Tree Farms In Virginia! No matter what age you are the magic of the season can make you feel like you are a kid waiting for Santa to come.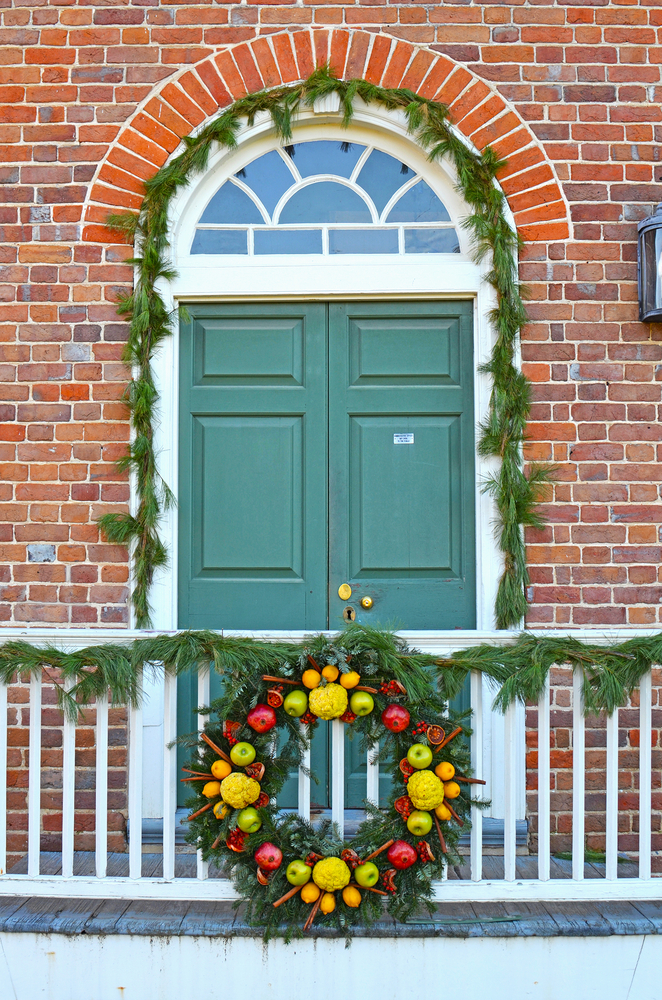 12 Festive Places to Celebrate Christmas in Virginia
Busch Gardens Williamsburg Christmas Town
Busch Gardens is one of the most visited Christmas attractions in Virginia. Every year they transform the entire theme park into a giant Christmas town with over 10 million twinkling lights. And yes, they do keep most of the rides open during Christmas town so you can enjoy riding the roller coasters. Don't forget to stop by the 50-foot Christmas tree and take a photo in front, it is one of the most recognizable features of Christmas town.
There is fun for the whole family. They have everything from meeting Santa in his workshop to drinking festive beers in the German section of the park. Enjoy the outdoor vendors all over the park serving up yummy Christmas treats in heated tents for you to take a break and enjoy them under.
This is defiantly something you do not want to miss while celebrating Christmas in Virginia. You can always purchase your tickets online or at the door. Sometimes if you purchase online you can find discounted codes for entry into the park. Don't forget to check out our list of Best Restaurants In Williamsburg for your visit.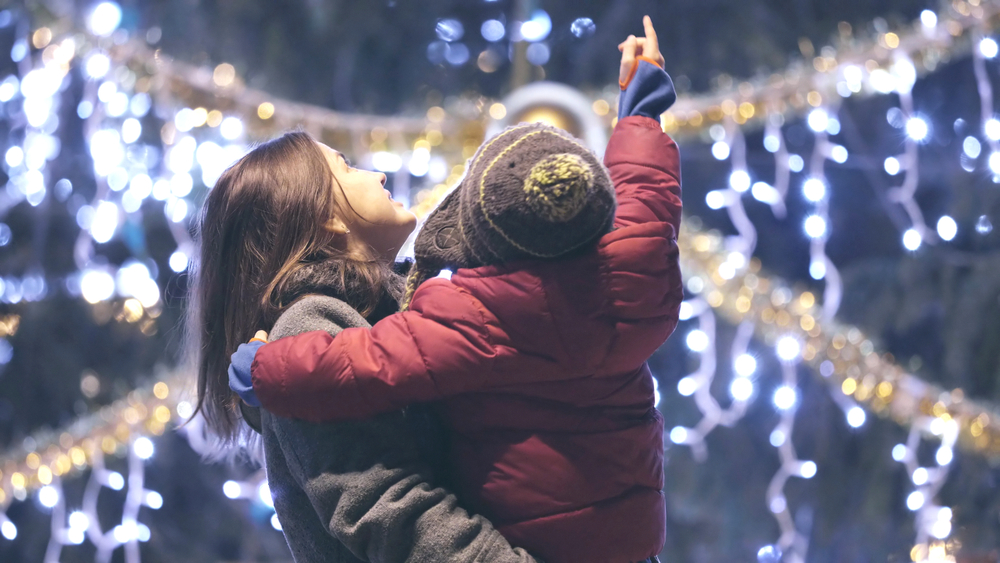 Celebrate Holiday Lights at Virginia Beach
There is so much fun going on during December in Virginia Beach. Down at the oceanfront, you can drive on the boardwalk at look at the Holiday Lights on the Beach. Imagine setting your radio to a special local station where the music links up perfectly to the blinking light displays. The theme is always nautical, but they do try and change up the light displays every year. So even if you have been before you should always go back.
Pack the car up, stop for some hot chocolate and get ready to drive on the Virginia Beach boardwalk, this is the only time of the year you will be able to. If you wanted to walk or ride your bike down the boardwalk you can do it right during the day or before dusk and still be able to see the lights. Do not miss out on one of the best ways to celebrate Christmas lights in Virginia.
Christmas in Norfolk
Norfolk is one of the most festive Christmas towns in Virginia. There is plenty to do in downtown Norfolk including an outdoor skating rink right outside of Macaruthar mall. They usually open during the middle of November and stay open until mid-January. Almost all of the skyscrapers in Norfolk decorate with bright lights that will turn on during the Grand Illumination Parade which is always the first Saturday after Thanksgiving.
You can also go and tour the Norfolk Botanical Gardens where you drive your car through the wonderfully festive displays. Another one of the best ways to celebrate Christmas in Virginia is by visiting the USS Wisconsin. This giant battleship in downtown Norfolk transforms into a winter wonderland with over 250,000 that can be seen floating in the harbor.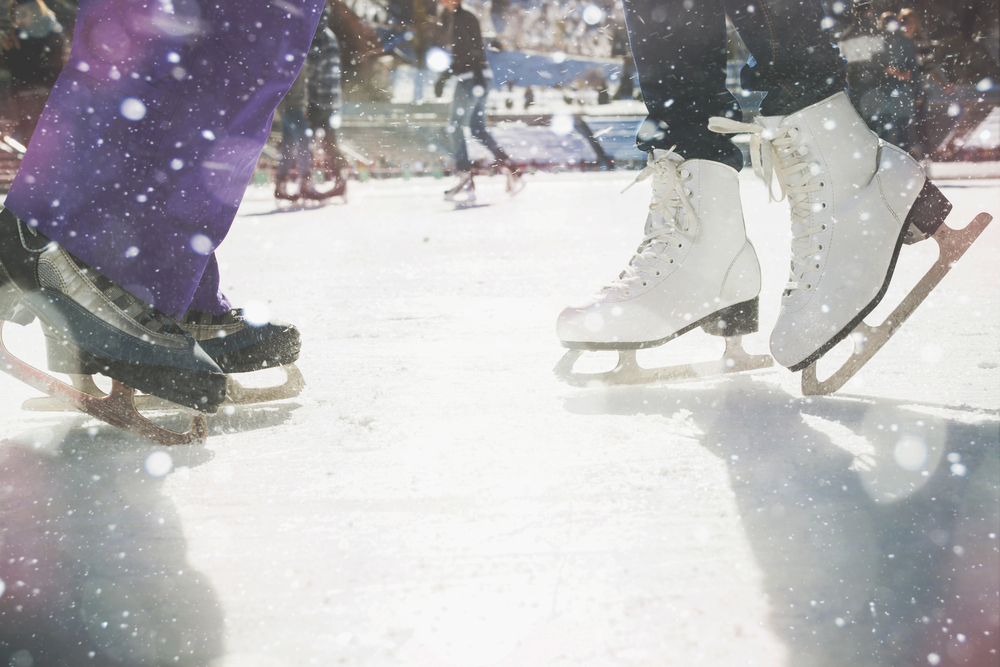 Christmas in Richmond
Head to the state Capitol to enjoy some of the best Christmas in Virginia. If you are into an old-fashioned Christmas check out the market at Maymont Park. Or if you are into a more classy Christmas in Virginia you can always go and watch the wonderful Richmond Ballet perform The Nutcracker. There is also always a Charlie Brown Christmas Play to see.
Another of the best things to do while celebrating Christmas in Richmond is to go and check out the Tacky Lights Tour. Do not let the name fool you there is nothing tacky about how these residents decorate their homes. If you are looking for somewhere to stay during your trip to Richmond the Jefferson Hotel is a great place. It is a famous 5-star hotel in the center of Richmond that always takes its Christmas decorations to the next level.
Celebrate Christmas in Washinton D.C.
If you are looking to celebrate Christmas in Washington D.C. one of the first things you need to do is go and check out the National Christmas Tree. Located in President's Park right by the white house, there is a live Evergreen. Every year the tree is decorated with ornaments from artists all around the country. Another festive thing to do would be to visit the downtown Christmas markets in Virginia, they also set up right outside of the Smithsonian American Art Museum.
The National Zoo also transforms into a beautiful winter wonderland display every year right after Christmas. You can walk through the grounds of the Zoo and enjoy over 500,000 twinkling lights. If you are visiting during the right time you can also catch what the National Zoo calls Brewlights where you can enjoy local craft beer from local breweries while you walk around the park.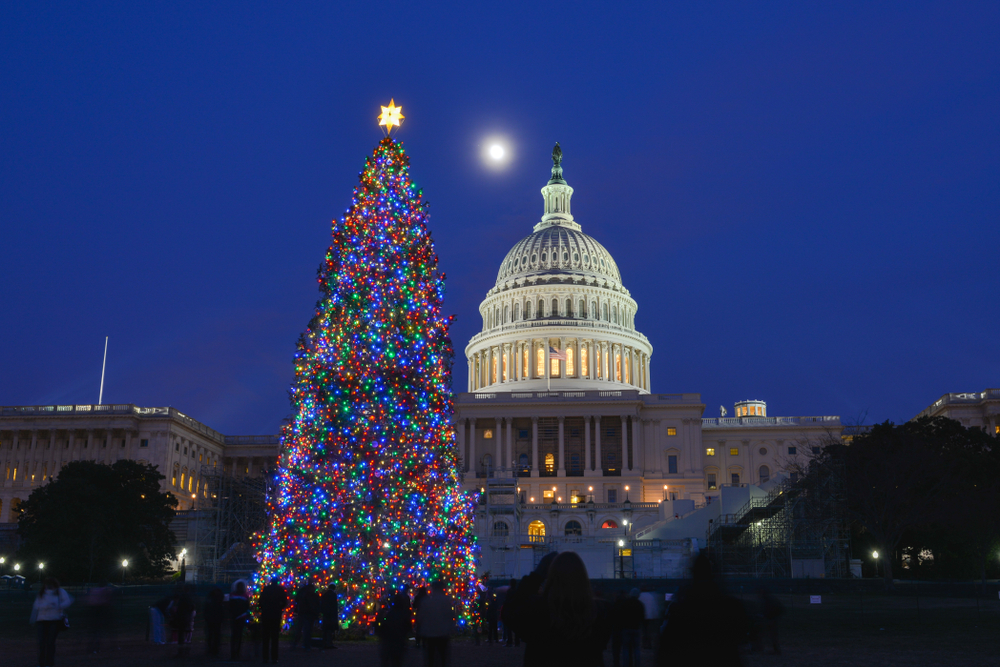 Williamsburg Christmas
Williamsburg is one of the most popular Christmas towns in Virginia to visit. They have so many different things to do here. If you are a history buff you will enjoy going to Colonial Williamsburg. Try listening to the band Fife and Drum Corps play while strolling through the beautifully decorated cobblestone streets. While you are in Colonial Williamsburg stop by the Museum there is a Christmas tour that includes making an ornament to take home.
Another one of the best things about spending Christmas in Williamsburg is that they have one of the best outlet malls in the country. So while you are there you can find everything you need for your loved ones. If you are visiting in early December be sure to check out the annual Christmas Parade it is a tradition that has been going on since 1965 there is always live music, festive floats, and a visit from Santa.
Virginia Beach Christmas
Virginia Beach always goes all-out Christmas. There are so many different ways to celebrate that it may be hard to fit them all in. One of the best things to do during December in Virginia Beach is to go and visit the Virginia Aquarium. Every year there is a holiday display they call the Holi-Rays. They decorate the whole museum for Christmas and you may even spot Santa or one of his elves scuba diving in the tanks. This is one of the best places to visit during Christmas in Virginia.
If you are interested in running off those Christmas cookies every year the ocean front puts on a 5K called Surf-n-Santa where all the runners dress up in their best Santa costumes. Even if you are not a runner it is so much fun to head down to the oceanfront to see hundreds of Santa running around. You cannot go wrong by stopping by the Town Center section of VB and enjoying the Snow Spectacular. And while you are visiting the Town Center stop by the fountain plaza where every weekend where you can find magical dancing elves and visits from Santa.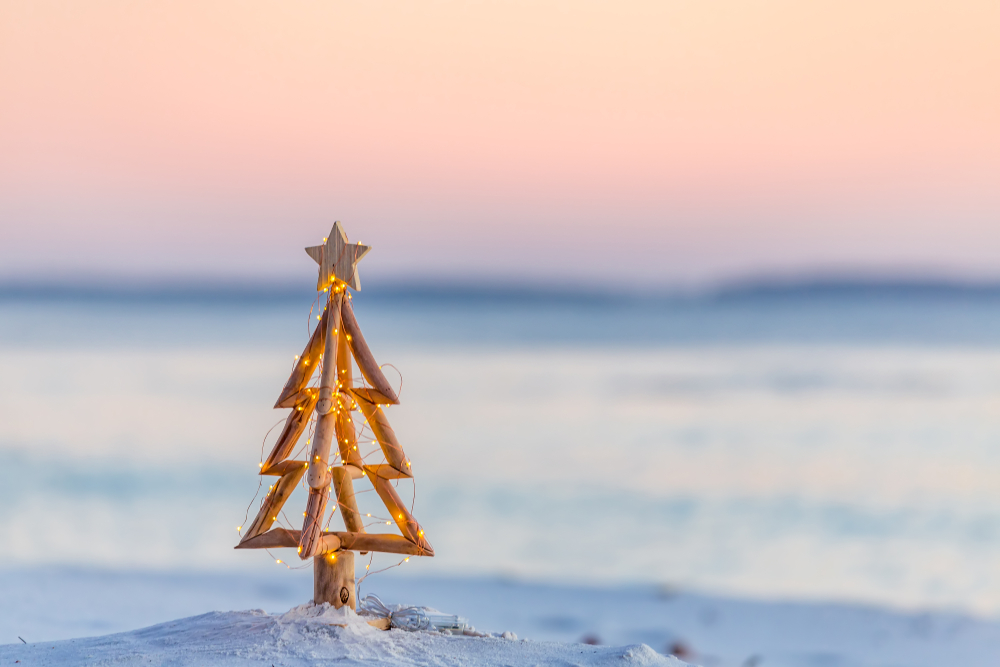 Go Skiing in Wintergreen
Head to Wintergreen to enjoy all things snow and family fun. They have some of the best Christmas events in Virginia. You can enjoy the 26 different slopes and trails and Virginia's largest tubing hill. They offer private lessons for a small fee for everyone in the family. Be sure to check out their website so you can see all the current activities and pick the best time to visit. Yes, there are ski resorts in Virginia, and this is one of the best!
There are plenty of options for staying in the resort. You can also find yourself a cozy cabin right outside the town if that is something you prefer. Every year they put on different Christmas activities in Virginia and Santa always visits. It is recommended to buy your pass and lift ticket before you arrive so that you do not miss out on the slopes while you are there.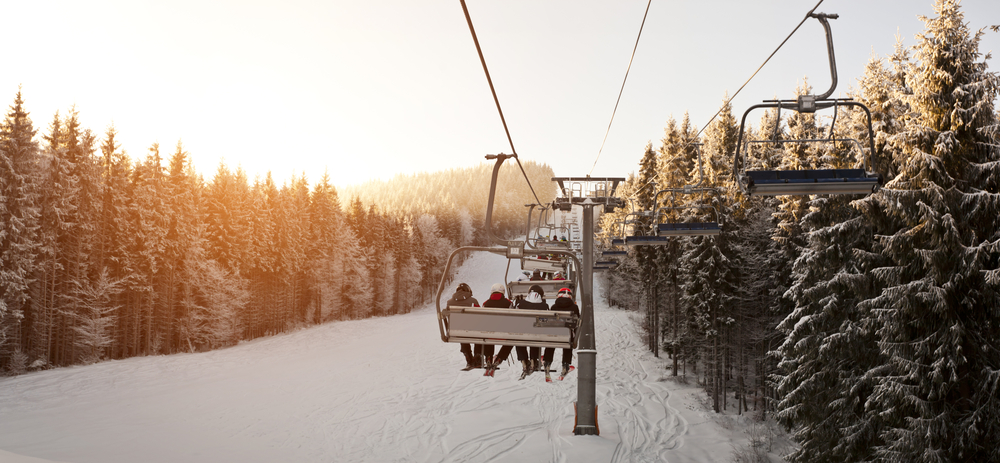 Visit the Festive Town of Bedford
When you first arrive in the town of Bedford you will find at the welcoming center the Festival of Trees. If you follow the magically light trees you will see some of the best Christmas lights in Virginia at the Liberty Lake Park. Every year in the center of Bedford they have a tradition where they light the town Christmas tree and that is the signal for the Parade to start. The Parade is a long-standing tradition in the town of Bedford and every year they have a new theme.
Another festive thing to do in Bedford is to take the horse-drawn carriage to visit Santa in SantaLand. Every year the residents of Bedford compete to see who has Christmas lights in Virginia. You have to check the displays at the English Meadows Elks Campus are some of the best. Make sure to put Bedford on the list of places to visit for a wonderful Christmas in Virginia.
Christmas in Charlottesville
If you are looking to celebrate Christmas in Virginia Charlottesville is a perfect destination for you. This year will mark the 21st year of the Lighting on the Lawn. This is an event that takes place at the University of Virginia south lawn and all of the nearby buildings. With a flick of a switch and thousands of led lights turn on and light up the city. Another wonderfully festive thing to do while visiting Charlottesville is to check out the events at Paramount Theather.
Every year they have wonderful live performances. Last year they had a hilarious play about the movie Elf and they are always having A-list starts stopping by to show how they celebrate Christmas in Virginia. And do not forget to visit one of the best Christmas markets in Virginia while you are in Charlottesville. Every weekend the town comes to life with pop-up Christmas markets all over town. The most popular one is the Holiday Market on Walter Street in the center of town.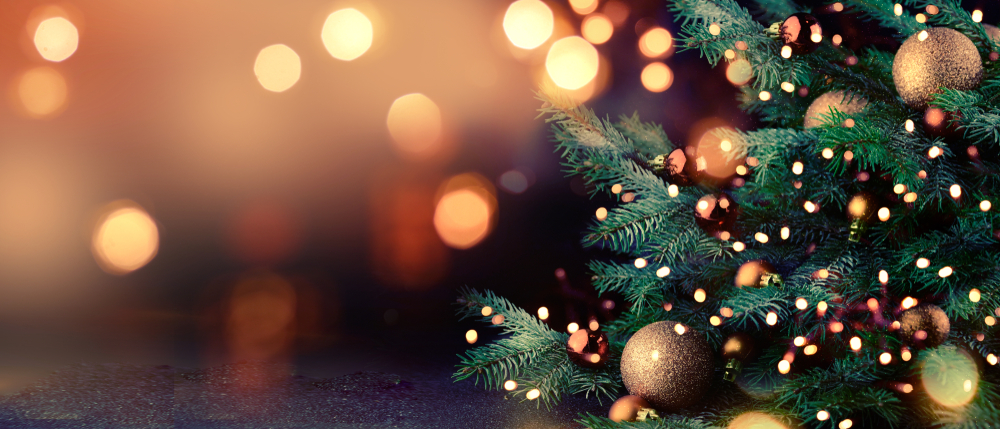 Visit the town of Abingdon for Christmas
Located in the southwest part of the state Abington is one of the best Christmas towns in Virginia. The Barter Theatre is the most popular place to go when visiting Abington. Every year they put on magical Christmas plays. If you are looking for a place to stay during your trip the Martha Washington Inn & Spa always goes the extra mile when it comes to decorating for Christmas.
You can take a stroll down the historic Main Street and do your Christmas shopping and enjoy all of the beautiful decorations. Another very popular destination is the William King Museum of Art which is in an old restored school, they always have the lights and garlands on display. Add Abington, VA to your list of the best Christmas getaways in Virginia.
Alexandria's Festive Christmas town
Alexandria has been described as one of the most magical Christmas towns in Virginia. The first weekend in December is always the best time to visit Alexandria for the Christmas spirit. They have a wonderful Scottish Christmas Walk Parade and a Holiday Boat Parade of Lights on the Potamic River.
During this time you can also find pop-up markets and vendors all around the city. Old Town's historic King Street always looks festive and there are plenty of boutiques to get all your Christmas shopping done. Alexandria is always one of the best places to go in Virginia in December.