There are so many fun and interesting things to do in Georgetown. This historic district of Washington D.C. is a wonderful place to explore when you come to the United States capital.
Georgetown University is probably the most famous part of this area, but even if you are not a student, this is a must-visit place in Washington D.C. There are so many fashionable shops, tasty restaurants, beautiful parks, and historic homes to discover.
If you love learning American history, walking cute streets, eating delicious food, or having unique experiences, then make sure to add Georgetown to your D.C. itinerary. You will not regret it!
Like most of Washington D.C., Georgetown is very walkable so it is easy to get around. As well as being great exercise, walking will help you to see more of the area and really experience it like a local.
If you are not able to walk or do not have time, you can utilize the public transport system. Bus fare is cheap and there are plenty of stops in Georgetown. You can also rent bikes or drive yourself.
Now let's look at some of the best attractions in Georgetown D.C. in more detail! This is truly one of the best places to stay in Washington DC!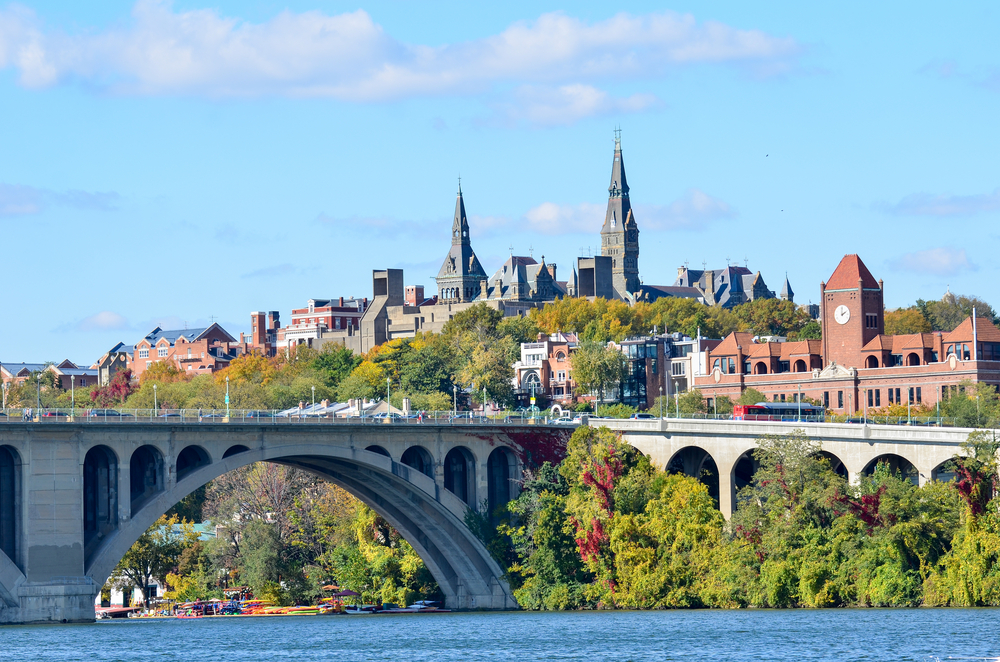 15 Best Things To Do In Georgetown D.C. You Shouldn't Miss
Go on a Spooky Walking Tour
Like any other deeply historic place in America, Georgetown has its fair share of ghostly activities. From haunted houses, churches, cemeteries, and railroad tracks, it is hard to avoid a chill going down your spine.
If you are interested in paranormal activities or a cool spin on historic stories, you need to book a spooky walking tour. You will gain a whole new perspective on the pretty Georgetown streets as an informative guide leads you to many of the district's most haunted places.
Book Here: Georgetown: Ghost Story Walking Tour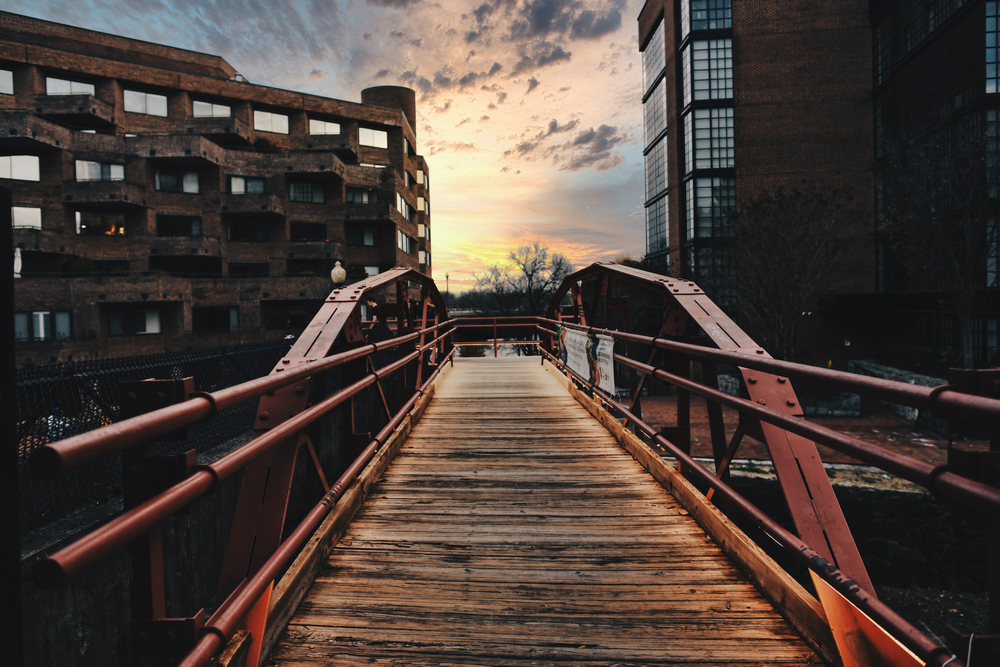 Take a Tasty Food Tour
Foodies will want to take a food tour while in Georgetown because there are so many yummy restaurants and cafes to taste test. This walking food tour is a great way to see the city as you learn about the history and food scene all while enjoying delicious food.
This is truly one of the best things to do in Washington DC at night!
This tour hits up some of the most iconic eateries in lively neighborhoods. Make sure you bring an appetite and a camera to capture the scenic streets.
Book Here: Taste of Georgetown Walking Food Tour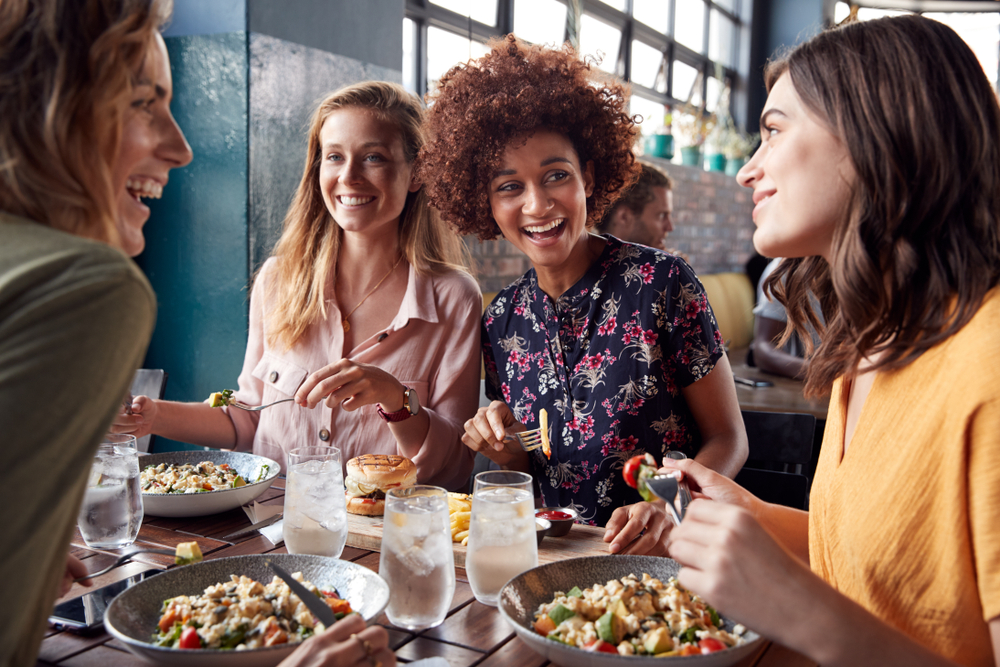 Visit the Dumbarton Oaks Museum
The Dumbarton Oaks Research Library and Collection is one of the best places to visit in Georgetown for anyone interested in history, art, or architecture. The library is open to any researchers who wish to expand their knowledge.
Visitors can also enjoy the museum and gardens. The museum holds a world-class collection of art that includes Byzantine and Pre-Columbian art. There is also a Renaissance-inspired music room and a rare book gallery.
The gardens are over fifty acres of landscaped beauty. This is a wonderful place for a photoshoot among flowering trees or admiring contemporary art installations mixed among the plants.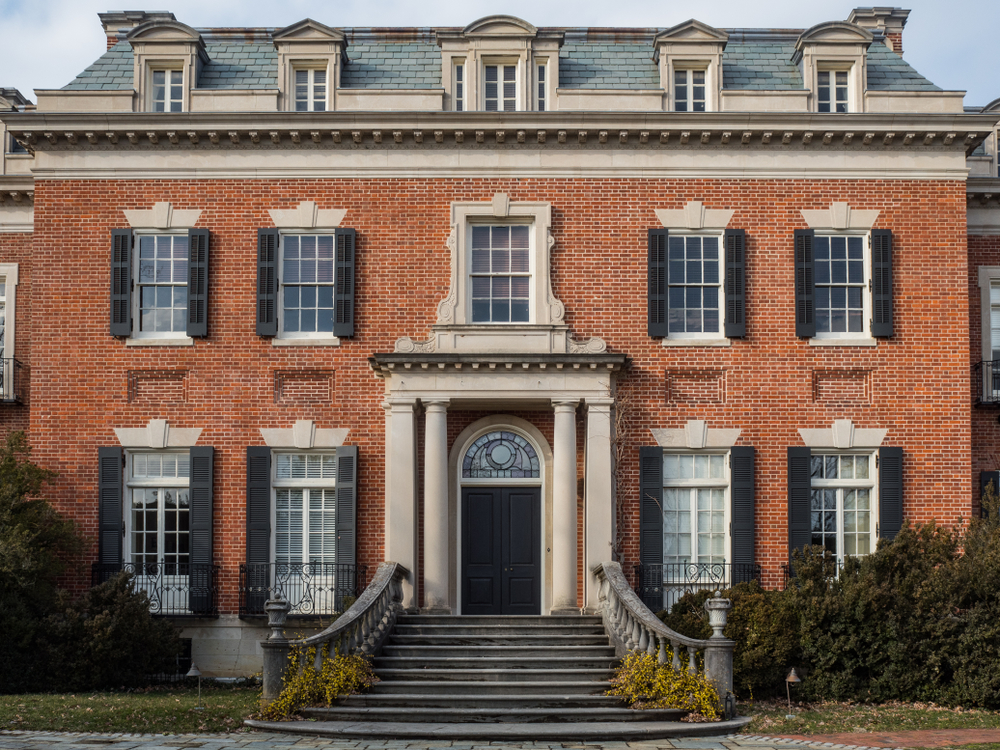 Marvel at the Tudor Place Historic House
Another of the best things to do in Georgetown for architecture lovers is a visit to Tudor Place. This pretty, neoclassical mansion is a beautiful sight on a five-and-a-half-acre estate.
The historic property was built in 1816 and was the home of Martha Washington's descendants. The inside holds over eighteen thousand decorative objects and furnishings. This is where you will find the second-largest Washington collection, the first being at Mount Vernon.
The garden is a beautiful place to walk as well, especially in spring when there are flowers blooming around every corner. This is a peaceful area that will make you forget you are in a big city.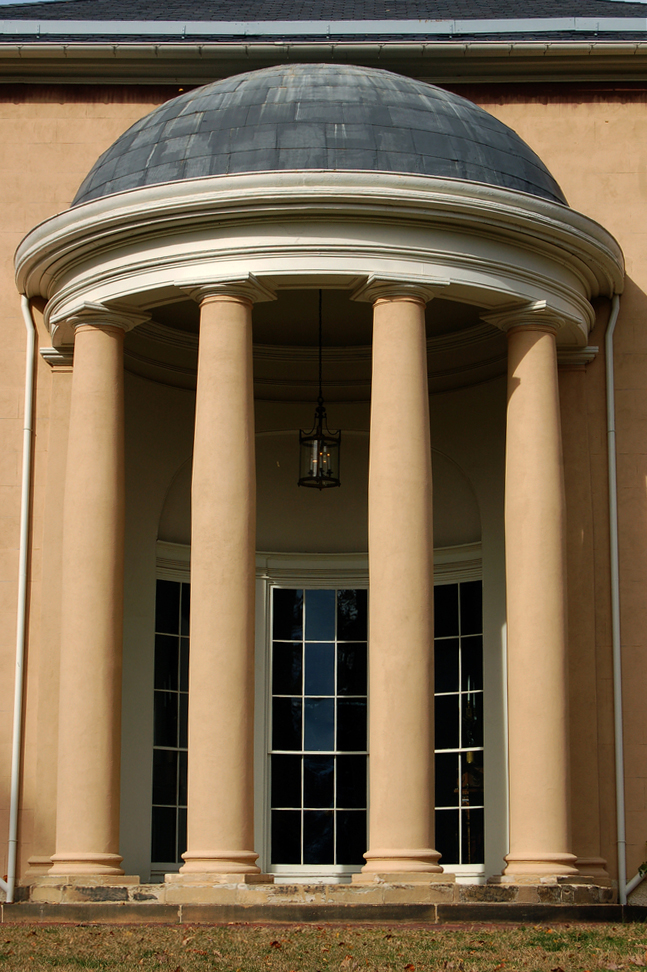 Walk Around Georgetown Campus
You can't go to Georgetown without visiting the campus of the famous university. As well as being one of the oldest colleges in the U.S., Georgetown is also regarded as one of the best. It dates back to 1789 and is a staple in Washington D.C.
The campus is beautiful and the architecture is amazing. The school overlooks the Potomac River so get ready for some awesome views.
Healy Hall is one of the most popular places to visit on campus. This building sticks out because of its distinctive Flemish Romanesque style and the inside is just as beautiful as the outside.
Interestingly, it was designed by the same architects who designed the Library of Congress. It is named after the college's first president of African-American descent, Patrick Francis Healy.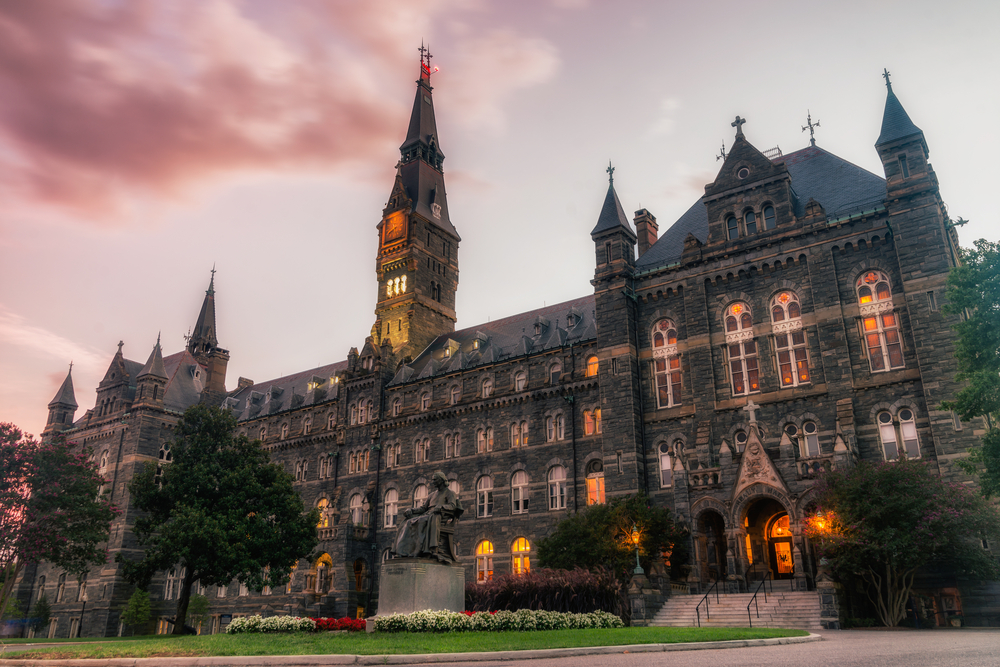 See the Exorcist Steps
Film buffs will want to see the famous Exorcist Steps in Georgetown. This innocent-looking staircase was a filming location for the 1973 horror classic The Exorcist.
The steps connect Prospect Street and Canal Road. They are easy to recognize because of how narrow and steep they are. There are seventy-five stairs total and many joggers like to run up them for the exercise.
If you dare to claim the stairs, you will see the house from the movie as well. Just be sure not to trespass, since it is a private residence.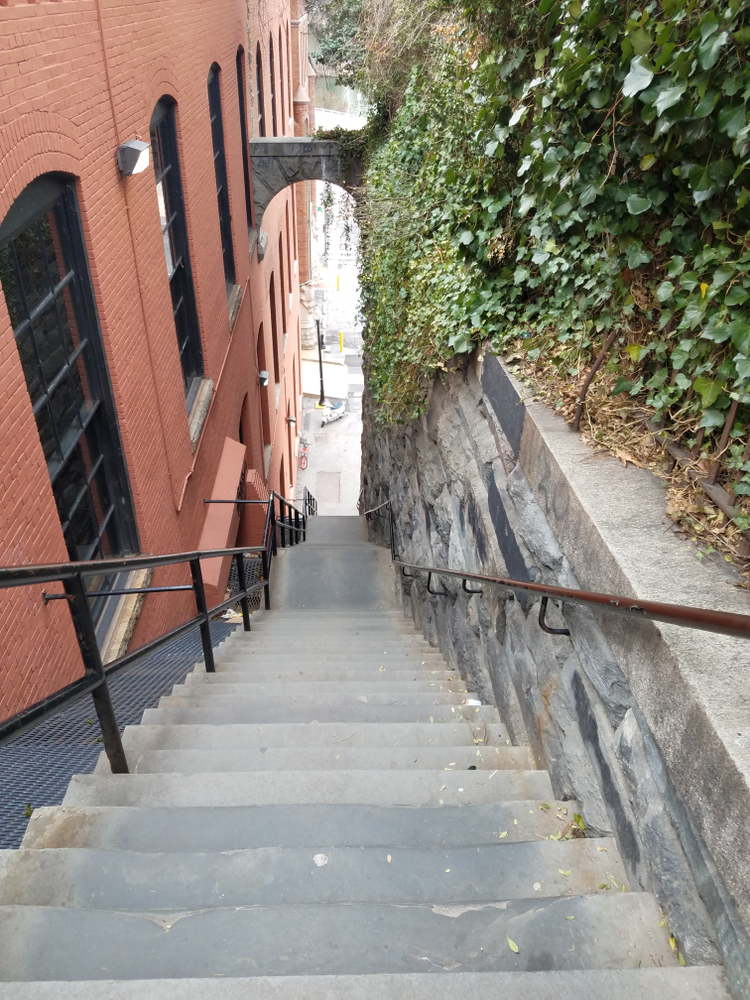 Stroll Along the Georgetown Waterfront Park
The Georgetown Waterfront Park is on the Potomac River and offers amazing views of Roosevelt Island and picturesque bridges. This ten-acre park is a great place for a romantic stroll or an adventure with your kids.
Speaking of kids, they will have a blast splashing in the refreshing fountain or twisting their way through the labyrinth path. The path creates a scenic nature walk that will make you forget you are in the city. There are beautiful, native plants and rain gardens.
Bring a picnic to the popular river steps to watch ducks swim in the water or boats cruise by. You might even be able to watch rowers practice for the Olympics.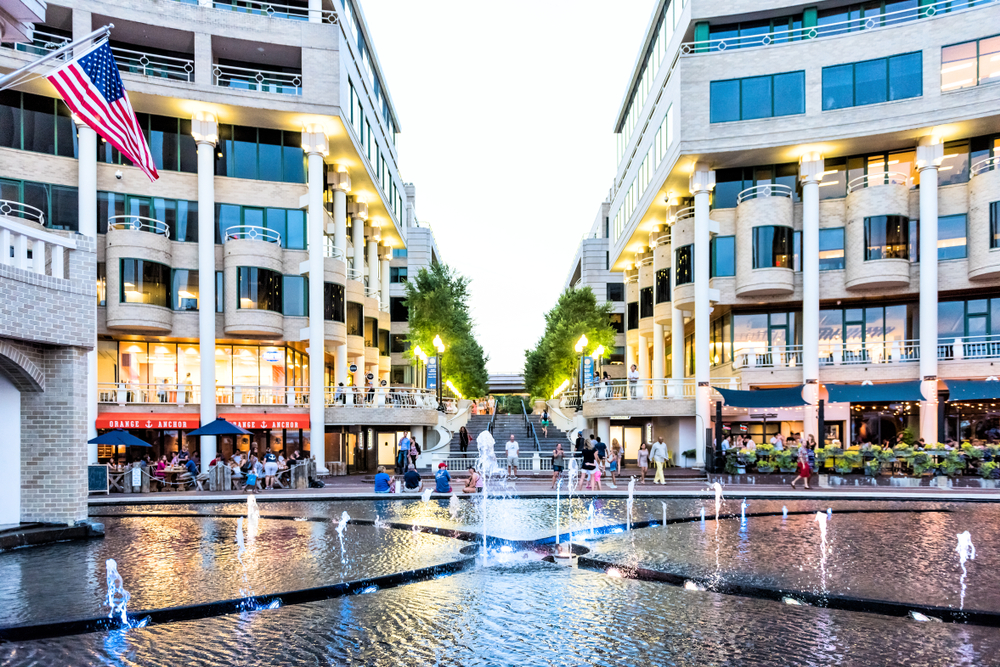 Stroll the Cute Streets and Canal
The best way to see Georgetown is by walking everywhere. Georgetown is known for its large number of pretty homes. The historic townhouses are surrounded by pretty plants and are all worthy of an Instagram photo.
There are also many homes of famous people found here. Along with many politicians, these buildings have also been the homes of people like Julia Child, Elizabeth Taylor, and Alexander Graham Bell.
The Chesapeake and Ohio Canal, or C & O Canal, is also a fantastic place for a stroll. Construction of the canal began in 1828. While it was once important for transportation, it is now a scenic place to walk, bike, or boat.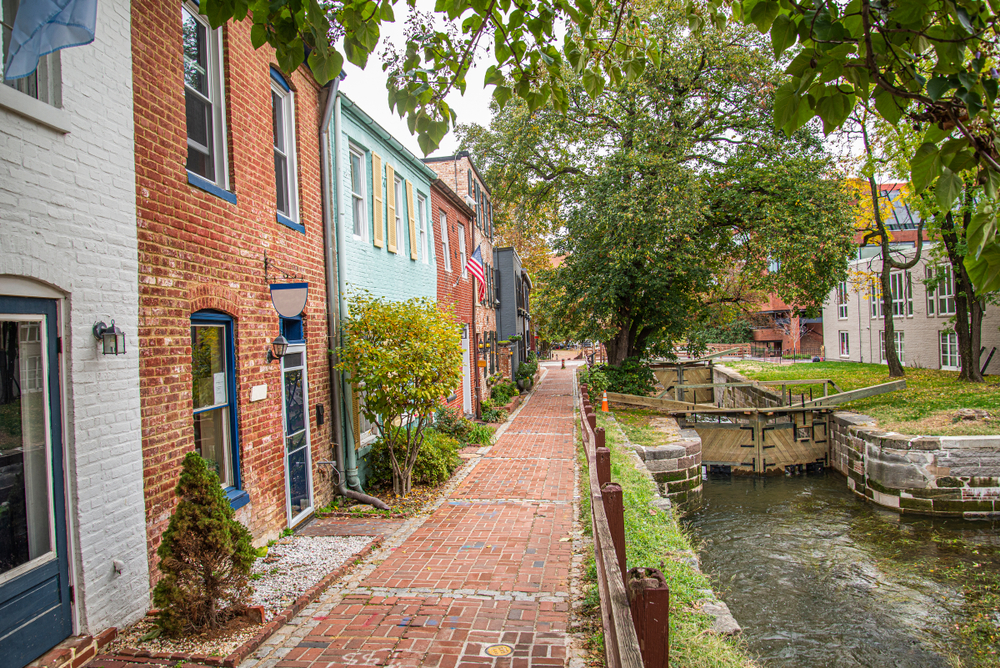 Take a Photo in Front of Call Your Mother
Call Your Mother is a super cute deli that specializes in tasty bagel sandwiches. This eatery is one of the best Instagram spots in Georgetown, and you simply must come to take a photo here.
Found on the corner of O and 35th Street, this shop stands out among the other cute buildings because of its bright pink color and light, green trimming. The doorway is covered in flowers, only adding to the beauty.
Snap a few photos and grab a bagel to go. It is just a few blocks from Georgetown University so you can eat as you walk to the campus.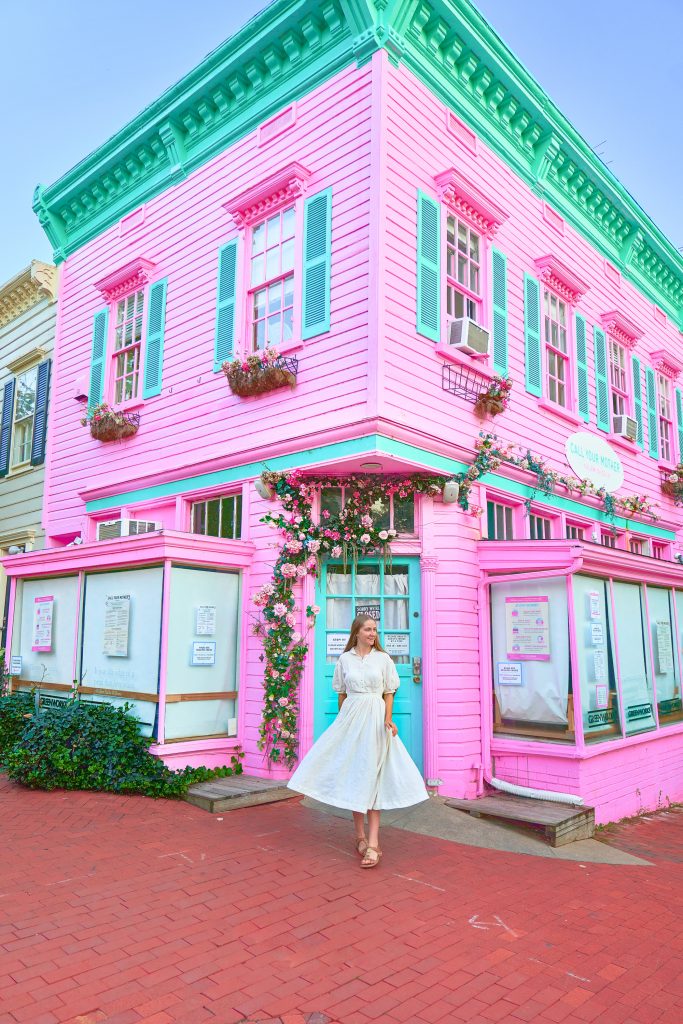 Visit the Francis Scott Key Memorial
The Francis Scott Key Memorial is near the Francis Scott Key Bridge and the C & O Canal. Key is most famous for writing the U.S. national anthem, "The Star-Spangled Banner". He was also the fourth United States Attorney for the District of Columbia.
The bust of Key sits in a small park next to a pergola covered in wisteria. The park also features an American flag that is a replica of the one that flew over Fort McHenry during the War of 1812. That was the flag that inspired Key.
If you want to see the actual, preserved flag, you can head to the National Mall and visit the Smithsonian Museum of American History where they have the Star-Spangled Banner on display.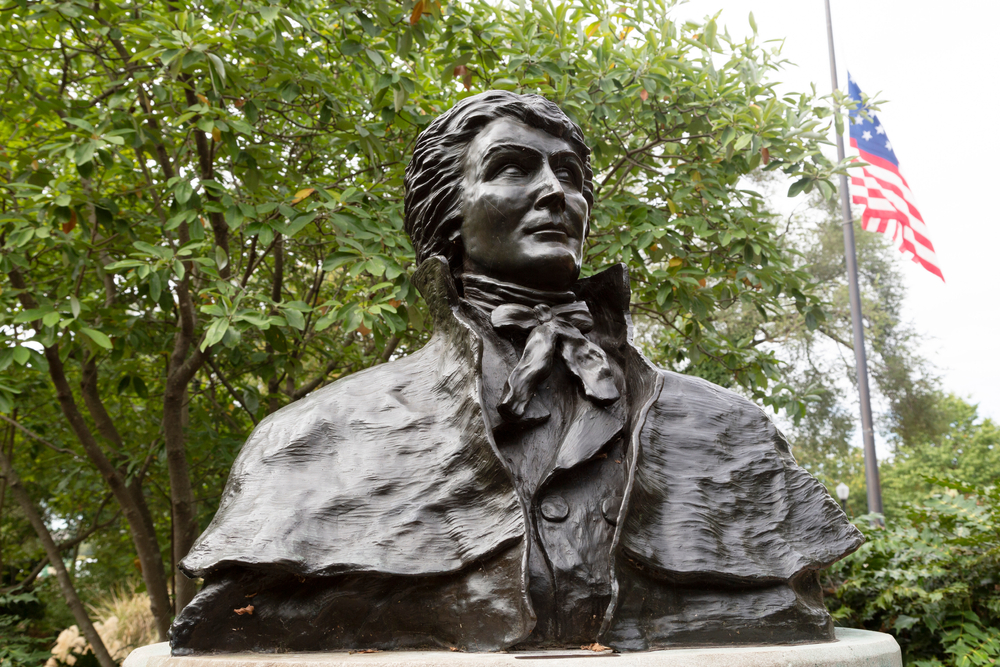 Eat at Fiola Mare
If you are looking for some of the best places to eat in Georgetown, you should reserve a table at Fiola Mare. This classic restaurant is found on the riverfront. It is near the ferry terminal, so if you eat outside, you can watch the boats.
As an Italian restaurant specializing in seafood, you are in for a delicious meal. You can come to dine for brunch, lunch, or dinner.
Meals include delicacies such as caviar, oysters, prawns, pasta, and so much more. There is also a great adult beverage menu with drinks inspired by the Italian coast. Don't forget to save room for dessert, too.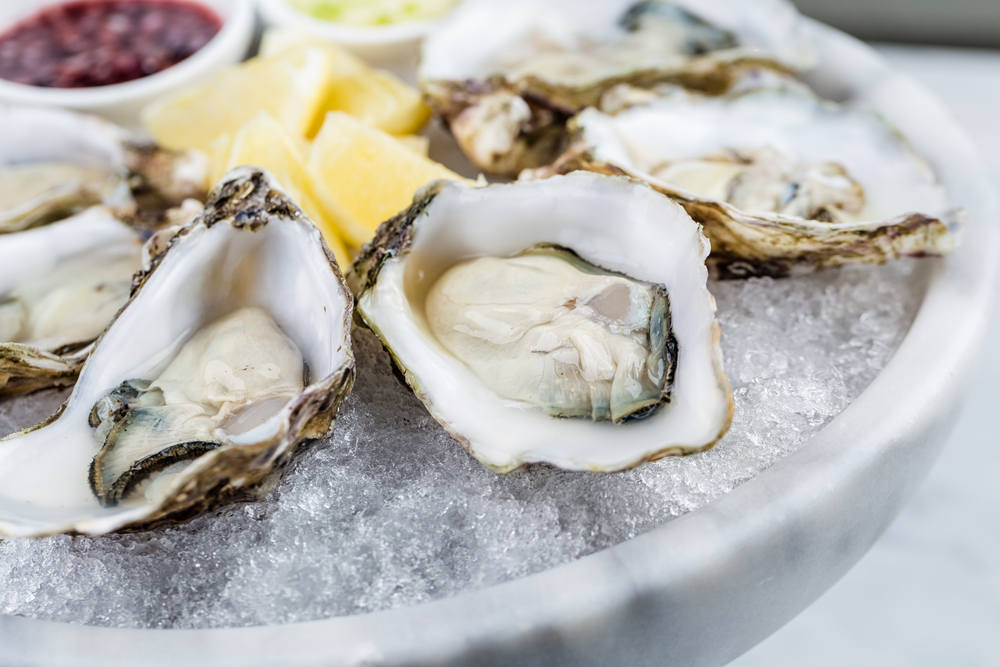 Step Back in History at Old Stone House
The Old Stone House on M Street is the oldest building in Washington D.C. still on its original foundation. You can't really get more historic than that. The home was built in 1765, so this unassuming stone building is even older than the country!
If you want to step back in time, you can do a self-guided tour of the property. Each room is furnished as it would have been when colonials lived there.
This is one of the best free things to do in Georgetown since admission is free, though you might end up spending some cash at the gift shop. There has been a shop in this spot since the 1800s.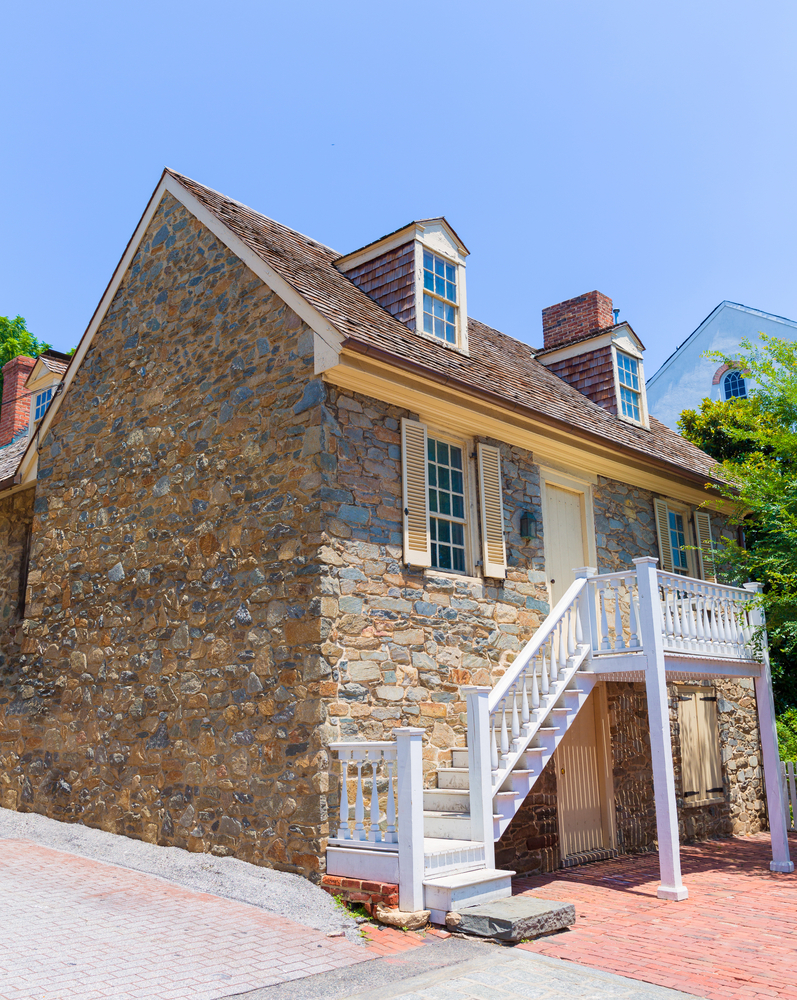 Buy Locally in Historic Shopping Districts
There are many historic places to shop in Georgetown. Whether you buy anything or simply window shop, you will have a great time soaking in the lively atmosphere.
Cady's Alley is super trendy with fashionable stores. The shops are just as cool-looking as the clothing they hold. There is a courtyard and alleys where shoppers can walk. The buildings have exposed brick, lofted ceilings, and cool design elements.
The Book Hill shopping district is named after the nearby Book Hill Park. This area has many independent stores that sell things like clothes, home goods, antiques, and art. Even celebrities have been spotted shopping here.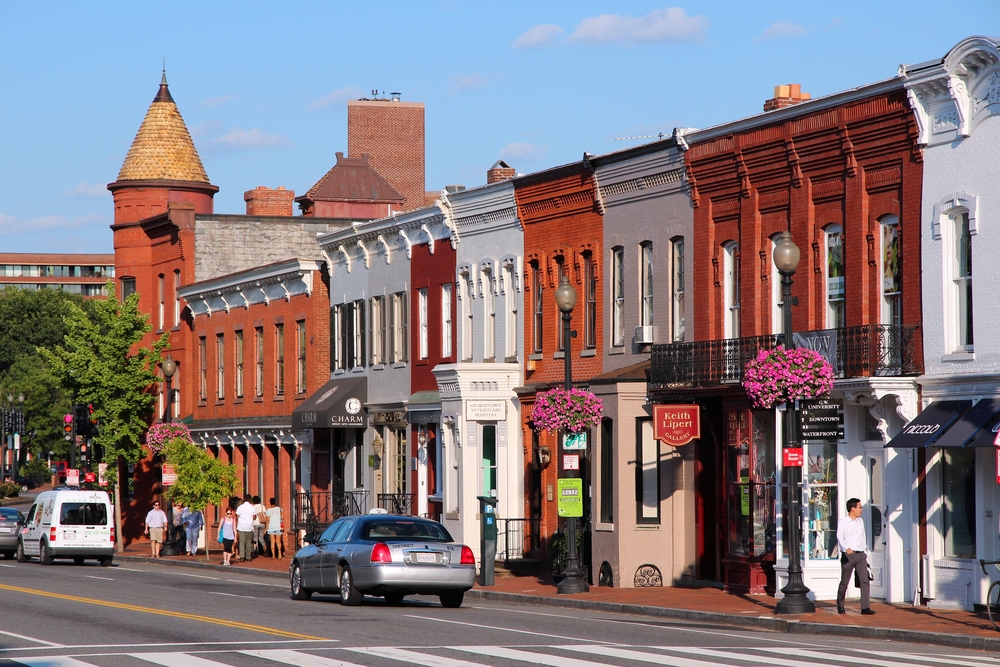 Walk in JFK's Footsteps
If you are a fan of the Kennedys, then you will be happy to learn that John and Jackie have quite a history in Georgetown. If you want to see the places in the area where this beloved couple lived and worked, then you can take a self-guided walking tour.
A quick Google search will bring up all the addresses you need to see. Make sure to only admire the homes from the sidewalk and respect the owners.
Along with places where they lived or JFK worked on his presidential campaign, you can also see more personal locations. They attended services at the Hold Trinity Church. JFK proposed to Jackie at Martin's Tavern. If you eat there, you can dine in the "Proposal Booth." How cool is that?!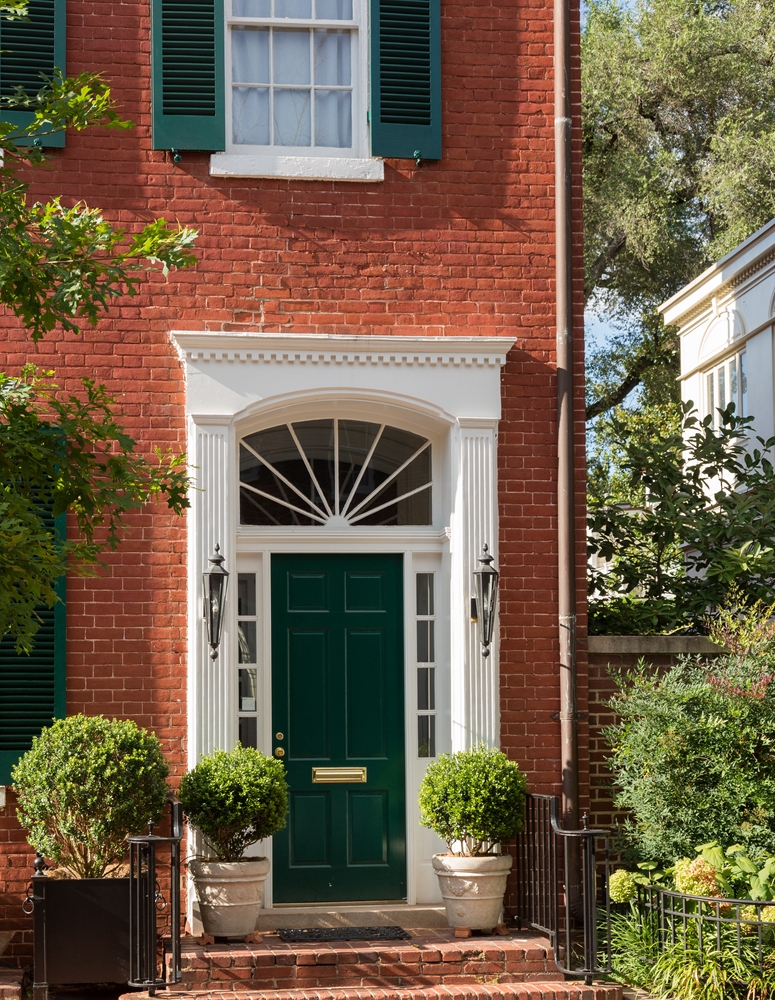 Hear Some Jazz at Blues Alley
Music lovers will find that listening to jazz at Blues Alley is one of the best things to do in Georgetown at night. This iconic, jazz club was founded in 1965 and has hosted many famous musicians.
Eat a delicious Southern meal like blackened catfish or jambalaya as you enjoy live jazz music. The club is hidden down a little alley right around the corner from the C & O Canal.
This is a great date night idea for Georgetown as well since you get dinner and a show. After supporting the historic business, you can go for a moonlit stroll along the canal. How romantic is that?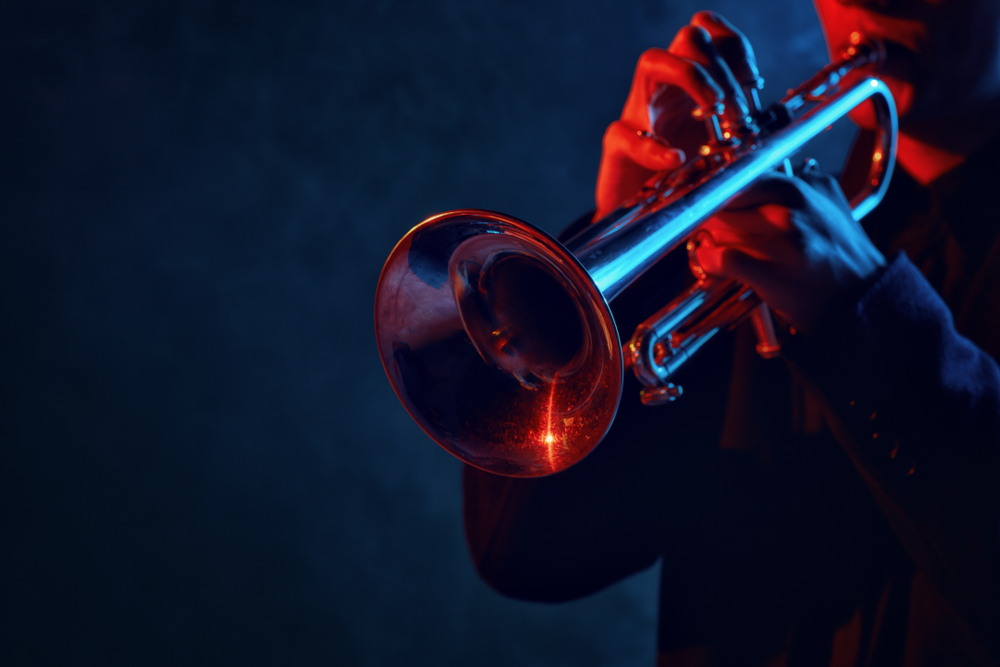 If you are coming to Washington D.C., there is no excuse not to enjoy some of the best things to do in Georgetown. This is such a historic and beautiful district in the capital.
There are so many things to do in Georgetown for adults and kids alike. This can be a romantic getaway or a fun family vacation. No matter what, you will make great memories!
With so many historic buildings, informative museums, pretty parks, and yummy restaurants, you could easily spend a few days here exploring. Do not forget to add Georgetown to your Washington D.C. itinerary.