Christmas in North Carolina is simply something magical. The lights, the music, the food, the shows, the events, and the overall atmosphere of the state at this time of year are just unforgettable. If you are looking for ways to get the most out of your time spent in The Tar Heel State during December, these activities are sure to wow!

There are certain events and activities in NC that take place every year and have become principal affairs. From parades and performances to train rides and lighting events, you can find so many exciting things to do in North Carolina at Christmas time. Whether you are a solo explorer or a family adventurer, you will be please with all the state has to offer you during the most magical time of the year.

Which of these exciting things to do at Christmas time will you do first? Don't forget to check out one of the many Christmas Tree Farms In North Carolina while you are at it!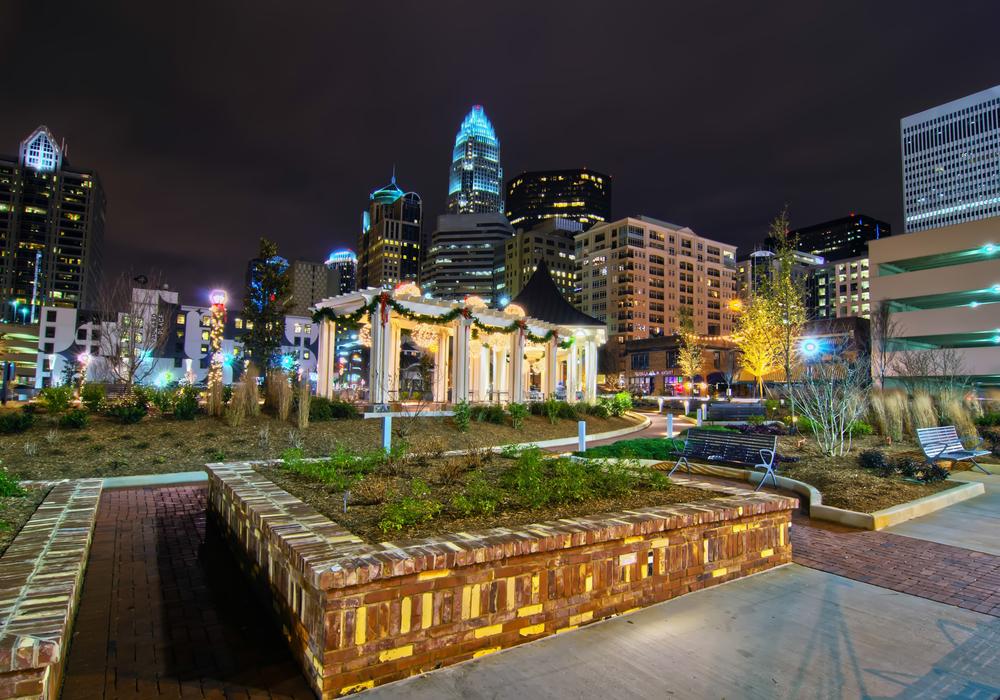 12 Festive Places To Celebrate Christmas In North Carolina
Christmas in McAdenville
North Carolina Christmas is something that you won't want to miss out on. One of the best places to experience Christmas in North Carolina is in McAdenville. The town is referred to as Christmas Town USA, and for a good reason. There's so much joy and frivolity to be found in McAdenville. Some of the events in the town have been around since the 1940s!

In the common areas of the town, you can find things like the historic bell tower that was built in 1883 covered in lights, more than one hundred homes decorated with Christmas lights and decorations, a large nativity scene, and the town lake circled with evergreen trees that are decorated with Christmas lights. The best way to experience the beauty that is Christmas in McAdenville is on foot. When you take off on a walking tour of the town, you feel the Christmas atmosphere at its fullest.

The longest-lasting Christmas event in town is the Yule Log Ceremony which has been happening since 1949. At this event, there is a small parade and the lighting of the Yule log. Another annual event is the Tree Lighting Ceremony which marks the official start of Christmas Town USA. Keep in mind that parking for walking through, driving through, and parking in Christmas Town is always free!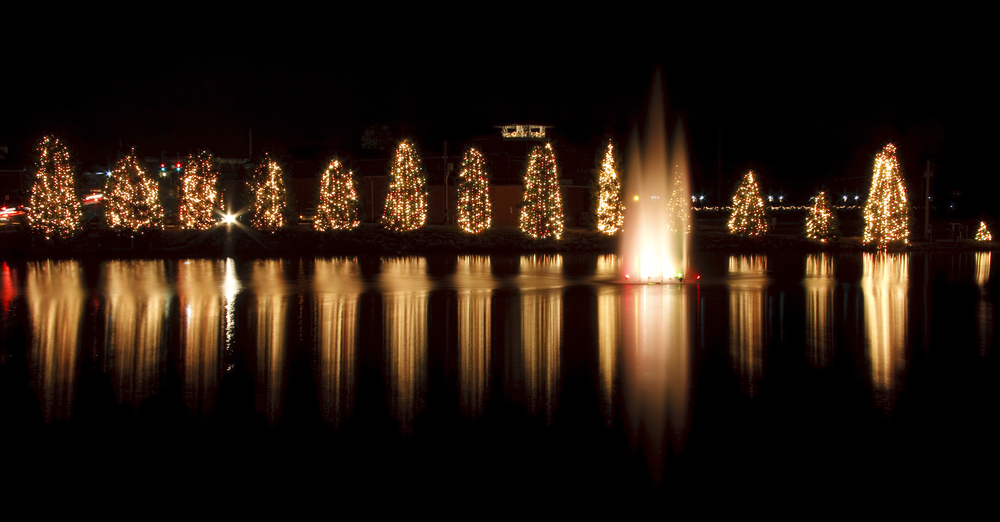 Christmas in Forest City
Forest City is one of the best Christmas towns in North Carolina. In fact, Forest City was voted the #1 place to see Christmas lights in the western part of North Carolina and the #1 Christmas town in the greater Asheville area. If you want to truly experience what Christmas in North Carolina is like, be sure to visit Forest City this year.

Hot chocolate, cider, and Christmas lights, oh my! The town continues the tradition of having over one million Christmas lights light up the historic Main Street each year. You can enjoy the lighting ceremony where there's singing and other festivities, the Christmas parade, carriage rides, ice skating, and other fun activities during your visit to Forest City at Christmastime.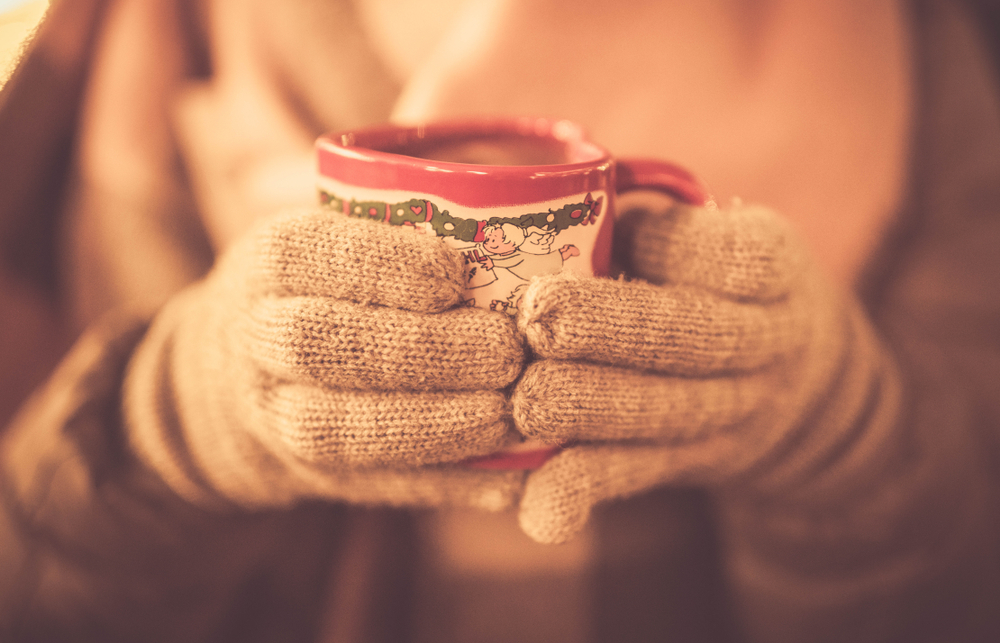 Ride the Polar Express Train.
A Bryson City Christmas is a must-have on your list of things to do at Christmastime this year! Bryson City has one of the very best Christmas events in North Carolina, the Polar Express Train. This is one of the best things to do in Bryson City!
The Great Smoky Mountain Railroad turned into the train from Polar Express around Christmas, and taking a ride on it is one of the most unique things to do at this time of year.

The train is for passengers of any age. Passengers wear pajamas, can visit with Old Saint Nick, listen to the iconic Polar Express story and Christmas carols, and sip on warm cocoa. For family travelers, you won't want to miss this opportunity to experience some Christmas joy with your little ones!

Bryson city also has many other Christmas events and activities like Christmas shopping, taking a stroll through downtown, seeing the huge Christmas tree put up near the Vistors Center each year, the Christmas Parade, and more. All of these fun things to do in Bryson City make it a perfect place to spend Christmas in North Carolina.
Make sure to check out our favorite Christmas Towns In North Carolina for more holiday cheer!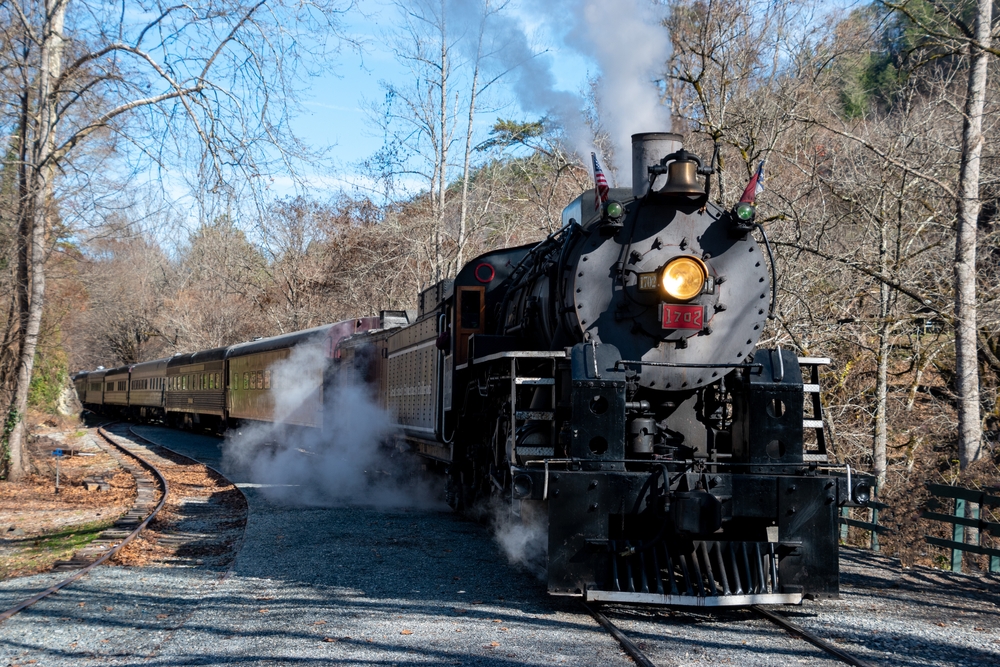 St. Nick Nacks Christmas Shop
Have you ever heard of the Calabash Christmas store? It's called St. Nick Nacks Christmas Shop, and it is one of the top Christmas attractions in North Carolina. Over the year, St. Nick Nacks has grown to include more than one hundred and fifty Christmas trees and more than four million ornaments in their store!

There's a room dedicated to displays, Christmas cards galore, and even a section for other holidays as well. You will also be able to find many brand names in the shop, like Mark Roberts Fairies and Snowbabies. Simply visiting the shop just to look around is an adventure in itself. The colors, lights, music, and smell all scream Christmas, and it makes for a great place for a photo op.

Experiencing Christmas in North Carolina simply wouldn't be complete without doing some Christmas shopping. If you are going to experience the holiday season to the fullest, why not visit what is arguably the most iconic Christmas shop in the Tar Heel state? You can't go wrong with a visit to St. Nick Nacks Christmas Shop.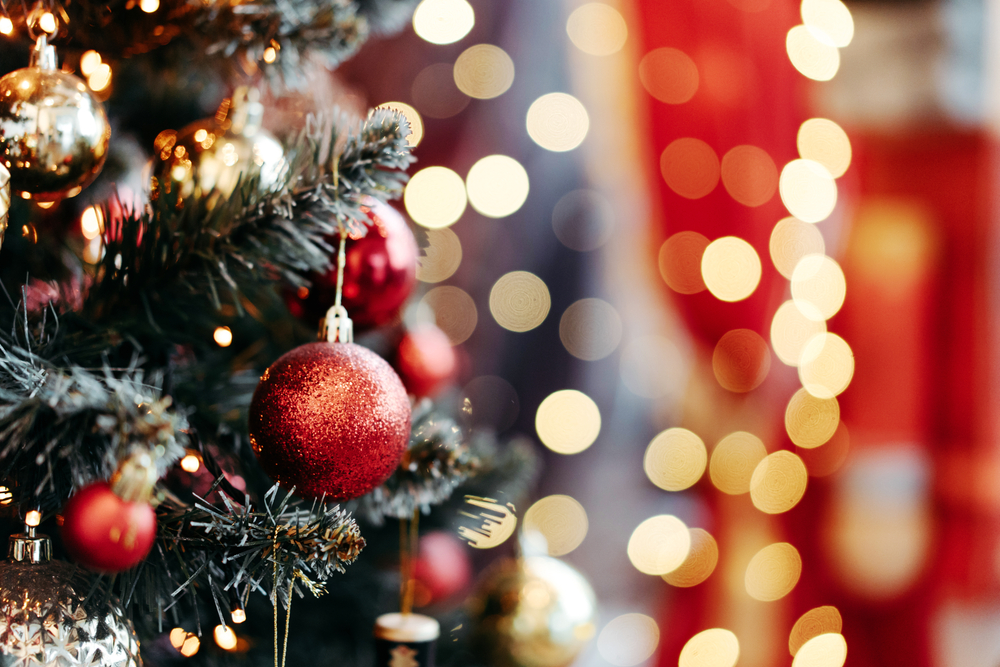 Christmas in Charlotte
One of the best places to see Christmas lights in North Carolina is in Charlotte. The town has a history with deep roots in the Old South. The architecture and way of life in Charlotte were shaped by being a cotton mill hub and a major railroad junction. Over time, the town became a super popular place to visit in NC for the food, historical sites, and city life.

By far, Charlotte is also one of the best places to experience Christmas in North Carolina. The town has many events and activities that you are your travel companions will fall in love with. Every year, the town has a Light the Knights event where you can watch the Charlotte Knights ballpark light up with thousands of lights.

The Christmas Village in Charlotte is the place to be during the holiday season. There are amazing shopping, Santa Claus photo ops, German-themed music and food, dancing and music, and more. Of course, you can find kinderwein, hot chocolate, apple cider, strudel, pretzels, and all your favorite Christmas refreshments as well. European gifts and holiday decorations are plentiful in the village so you will have plenty of shopping opportunities when you visit.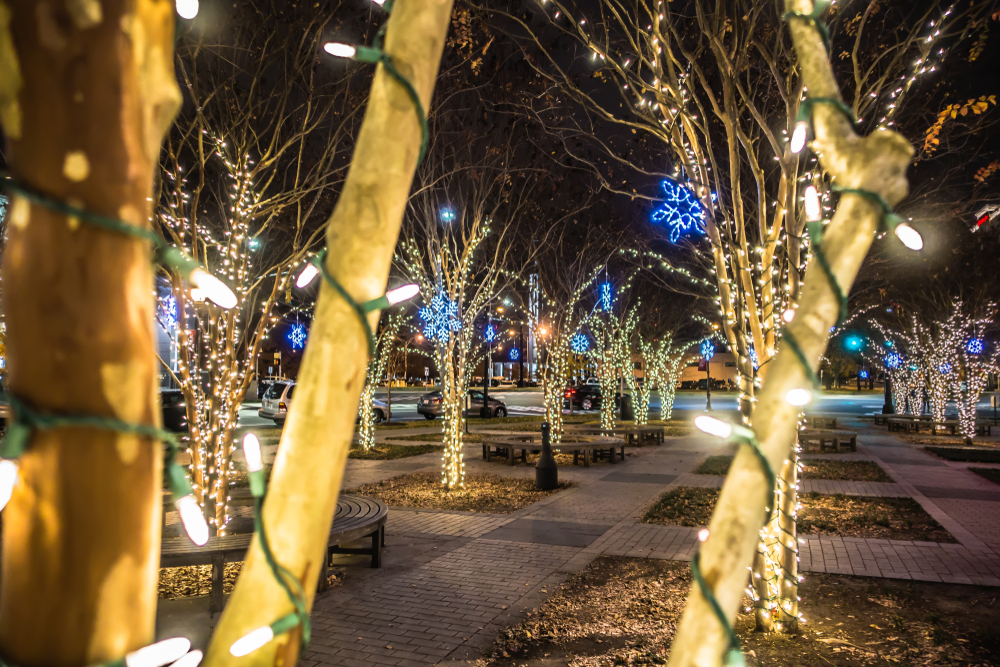 Downtown in December
You have a lot of options for Christmas activities in North Carolina; one activity that is full of fun for people of all ages is visiting Greenboro's Downtown in December. Every year in December, the town of Greensboro holds Downtown in December. The streets are decorated beautifully, and there is so much to see and do.

The first light weekend, called Light The Night is always a blast, and the streets are filled with onlookers excited to see the lights for the first time. Then, there is an array of experiences and events held downtown all month long. Some of the past activities include Peppermint Alley, Tinsel Town, and Sonic Forest. There are events held at the Carolina Theatre as well.

You will be able to try delicious food, listen to Christmas music, see Santa Claus, see festive window displays, go shopping, and more when you visit Downtown in December. Family travelers will find this to be their favorite way to spend Christmas in North Carolina. While many of the displays and activities are catered to children, adults will find plenty that they can enjoy as well.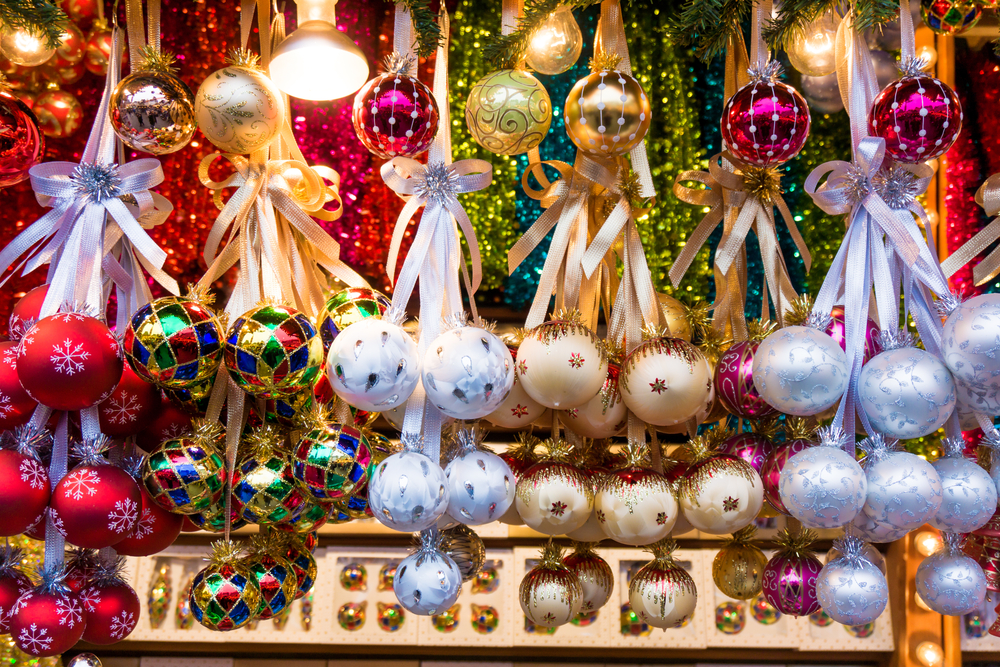 Go Skiing at The Wolf Ridge Ski Resort
One of the best things to do in December in North Carolina is to visit the Wolf Ridge Ski Resort. This is one of the best ski resorts in North Carolina, and it is super fun to visit around Christmas time. Visiting the resort allows you to enjoy the natural beauty of the state and all of the shimmery snow that comes along with December in the Blue Ridge Mountains.

If you have plans to visit Asheville this year, consider elongating your stay and spending a night or two at the Wolf Ridge Ski Resort. The peaks in the area reach 4700 feet of elevation, and they sit in the shadow of Big Bald Mountain. There are fifty-four acres at the resort that are home to fifteen lighted runs with a double lift, a quad lift, and two surface lifts.

There are also two black diamond runs for more experienced winter sports enthusiasts. Everyone knows how hot the southeast can get, so it is super cool to experience a cold and snowy area where you can ski and enjoy the winter weather. If you are traveling with young kids and aren't sure if this is the right place to visit for your family, you will be happy to know that there are plenty of testimonials of families with young kids enjoying the resort!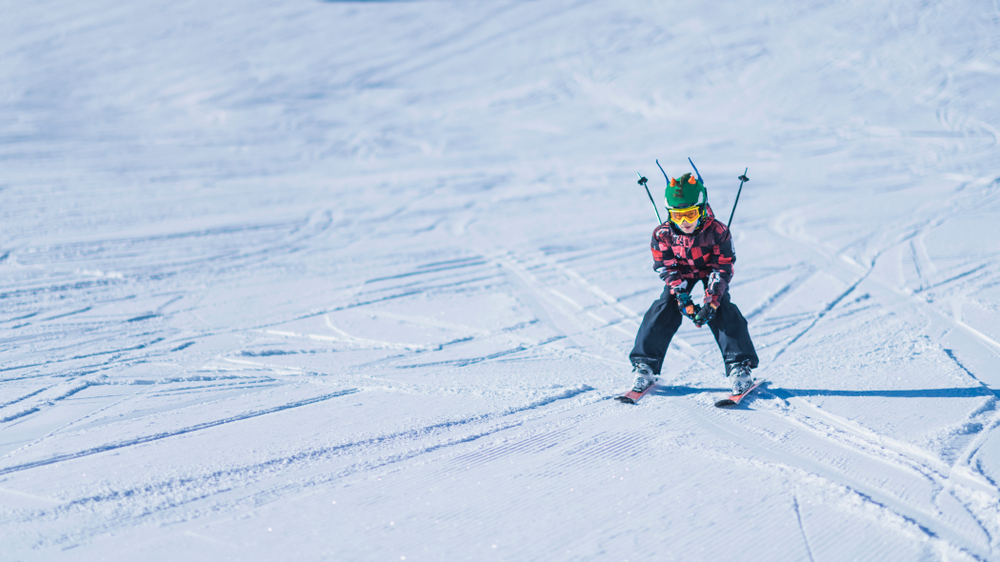 Asheville at Christmas
Visiting North Carolina in December is loads of fun! You won't want to miss Asheville as it is one of the best Christmas towns in North Carolina. There are truly so many things to do in Asheville.
If you are traveling in North Carolina in December, you are bound to see tons of Christmas-y locales. Visiting Asheville guarantees you will see stunning decorations and an amazing and festive atmosphere as it is one of the best places to enjoy Christmas in North Carolina.

Christmas in Asheville is characterized by old-time charm, over-the-top elegant Christmas decor, and appreciation of the snowy mountains. You will have many opportunities to buy unique Christmas gifts and decorations, try delicious winter specialties, and enjoy the natural beauty of the Blue Ridge Mountains in December.

One of the annual events you will want to visit in Asheville is Winter Lights which is an exciting light display at the North Carolina Arboretum. Children will especially live the light show at the arboretum. Keep reading below to learn about the most stunning Christmas event of all in Asheville.
This is truly one of the best Mountain Towns In North Carolina!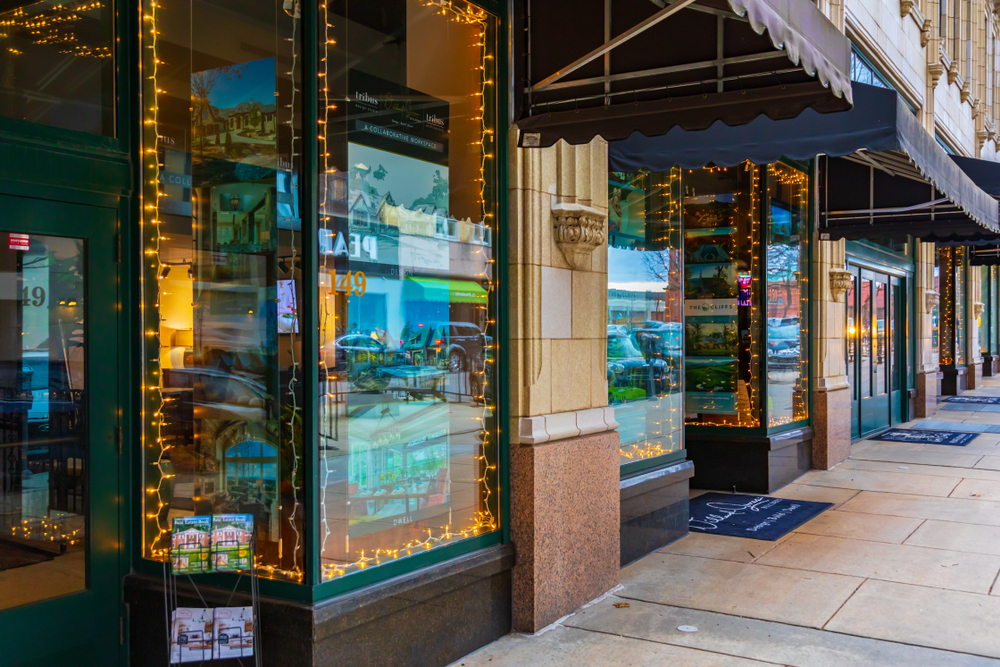 Christmas at Biltmore
An Asheville Christmas wouldn't be complete without visiting the stunning Biltmore estate. This popular site in the Tar Heel State is transformed for the holidays each year. The decorations are elegant and sophisticated, just like the Biltmore house. Hosting Christmas celebrations at the Biltmore is a tradition that goes back all the way to 1895!

You can experience Christmas displays, Candlelight Christmas evenings complete with flickering candles, live music, and glowing fireplaces, as well as daytime celebrations in the elegant rooms of the Biltmore. Ribbons, garlands, and thousands of twinkling lights adorn the halls, rooms, and doors of the estate in a truly remarkable display of Christmas spirit.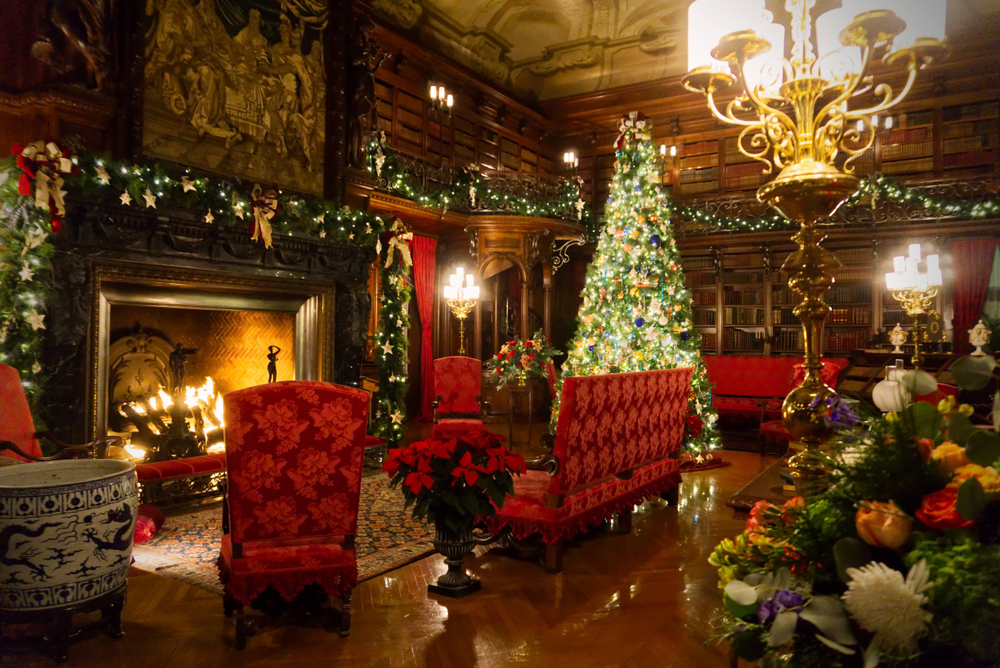 Blowing Rock's Christmas in the Park & Lighting of the Town
Christmas in Blowing Rock is an exciting adventure thanks to Christmas in the Park and the Lighting of the Town. This annual has games, caroling, visits with Santa, music, and of course, hot chocolate! You can shop from local vendors and enjoy the Christmas-y atmosphere during your visits. This is a super fun-spirited event perfect for everyone from solo travelers to couples and family adventurers.

While the Lighting of the Town and Christmas in the Park is something that you will love, there are also other Christmas events in Blowing Rock that you can check out. The Christmas Parade on Main Street is super fun and allows you to see so many fun decorations and people celebrating the holiday. While you are in town, you will be able to visit many amazing restaurants and attractions as well. These sites make Blowing Rock one of the best small towns in North Carolina!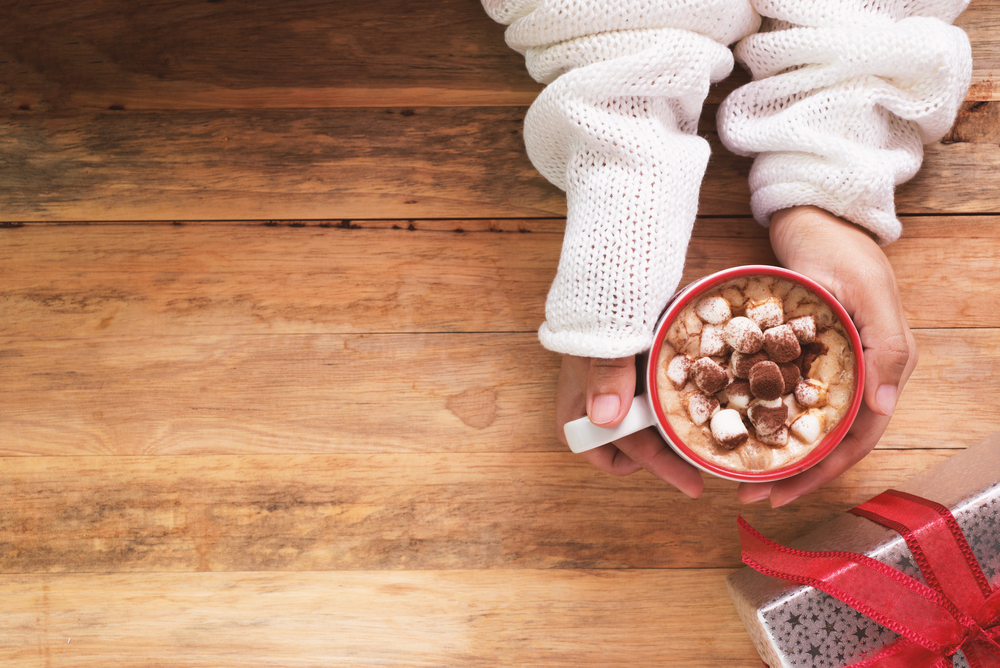 Festival of Lights & Luminaries
Dillsboro is home to an event that makes it one of the best towns to experience Christmas in North Carolina. The Festival of Lights and Luminaires lights up the small mountain village each year. This event is, without a doubt, one of the best in the state. It has actually been ranked among the Top 20 events in the Southeast in December.

The festival has been adapted from the Scandinavian custom of lighting the way for Christ child. More than 2,500 white bags filled with candles line the streets of Dillsboro, and there are more than a dozen of shops and galleries to explore while you are there.

You will find people dressed as elves, reindeer, Santa, and more. This makes the experience all the more fun, especially for kids! Many of the buildings in town date back to the 1800s, and they get decorated with white lights for the event. On top of all this frivolity, there is also live music, and admission is free!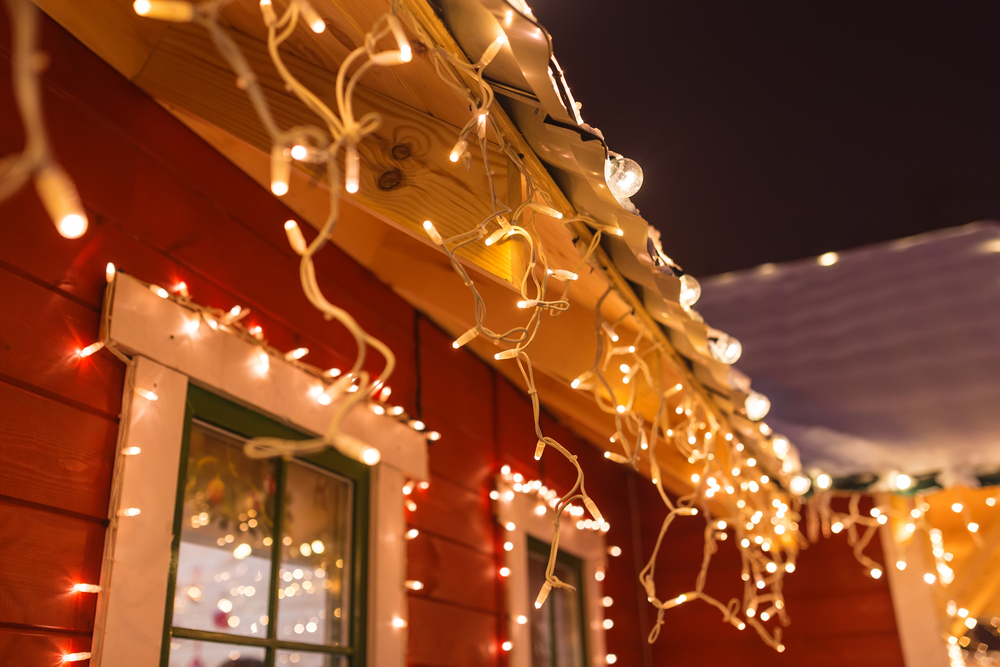 North Carolina Holiday Flotilla
Christmas in North Carolina really begins with the North Carolina Holiday Flotilla, which is usually held at the end of November. In a way, this event opens up the holiday season for the state. It is held in Wrightsville Beach, NC, and is a super fun and unique way to mark the beginning of the most magical time of the year.

This event is basically a Christmas Parade on the water. Boats get decorated with lights, garland, ribbon, and other Christmas decorations for the event. The Lees Cut, Motts Channel, and the Banks Channel are also decorated with lights for the occasion. You can watch the boats pass from many viewing spots along their path.

Wrightsville is one of the best beach towns in North Carolina, and you can find so many cool things to do and places to eat while you are visiting in December. From the beaches and the natural beauty to the restaurants and the sweet shops, you are sure to love your time spent in Wrightsville Beach.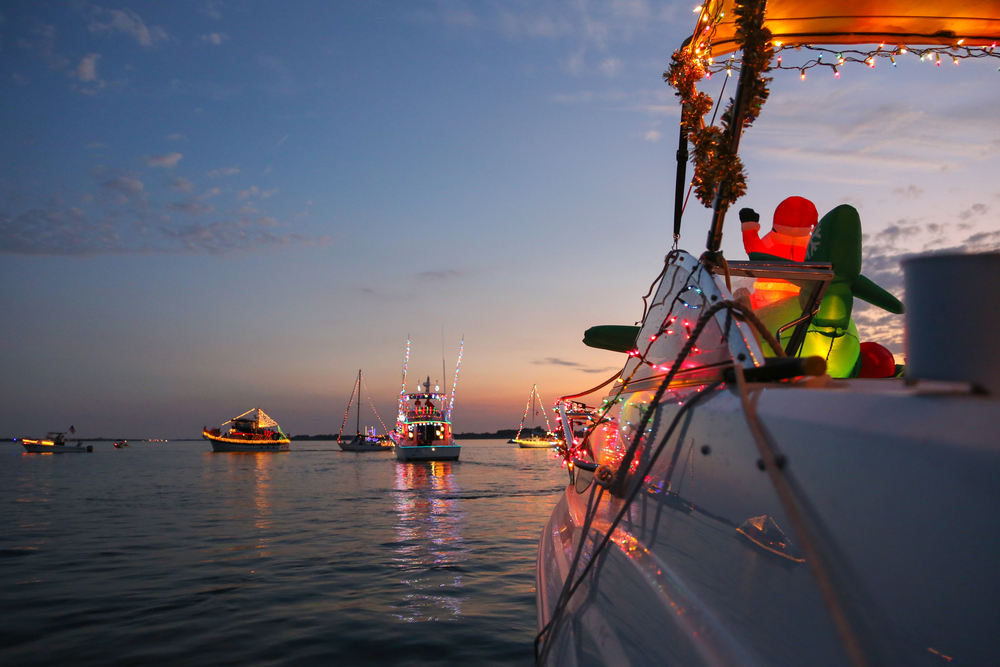 North Carolina is known for many things. When you first think of North Carolina, you may think of the coastline or the stunning mountain ranges in the west. Maybe you think about the good food or all of the fun things to do in the state. Either way, North Carolina is an amazing state to travel through.

Christmas in North Carolina is something that everyone should have the privilege of experiencing. The state does Christmas in an amazing and unforgettable way. If you have the chance to experience it for yourself, don't miss the opportunity! Which of these Christmas activities in North Carolina would you like to do this holiday season?