If you are looking for the best free things to do in Atlanta and don't want to break your bank account, look no further! We've got you covered.
Visiting a large city doesn't mean you have to spend a lot of money. In fact, due to Atlanta being a popular destination for filming, touristy stops (like the Georgia Aquarium), and other big "must-sees", also means there are tons of free things to do in Atlanta too!
So when you are planning your Atlanta Itinerary or even looking for a date night, we promise you don't have to spend all your hard-earned cash just to enjoy your time in good ol' Georgia! Atlanta has tons of free things to offer that are both family-friendly and are overall great attractions.

15 Best Free Things to do in Atlanta Georgia You Shouldn't Miss
1. Centennial Olympic Park
If you are an avid fan of the Olympics, then you may be familiar with Centennial Olympic Park, which was home to the 1996 games! But you may not know that this is one of the best free things to do in Atlanta! And it happens to be smack in the middle of all central access of Atlanta.
First, this park is home to plenty of photography ready stops. From an interactive mural to the Olympic Rings sculpture, these are things you want to see in person! There are also weekly music series at the park! This is truly one of the best things to do in Atlanta.
And for kids, there is a splash fountain known as the Fountain of Rings. You can cool off here, or even see the music program that features synchronized water dances! But lastly, the audio walking tour is free from the website and a great history lesson. So no matter what you do at the park, all things are free, close to more attractions, and just a great place for family fun and entertainment.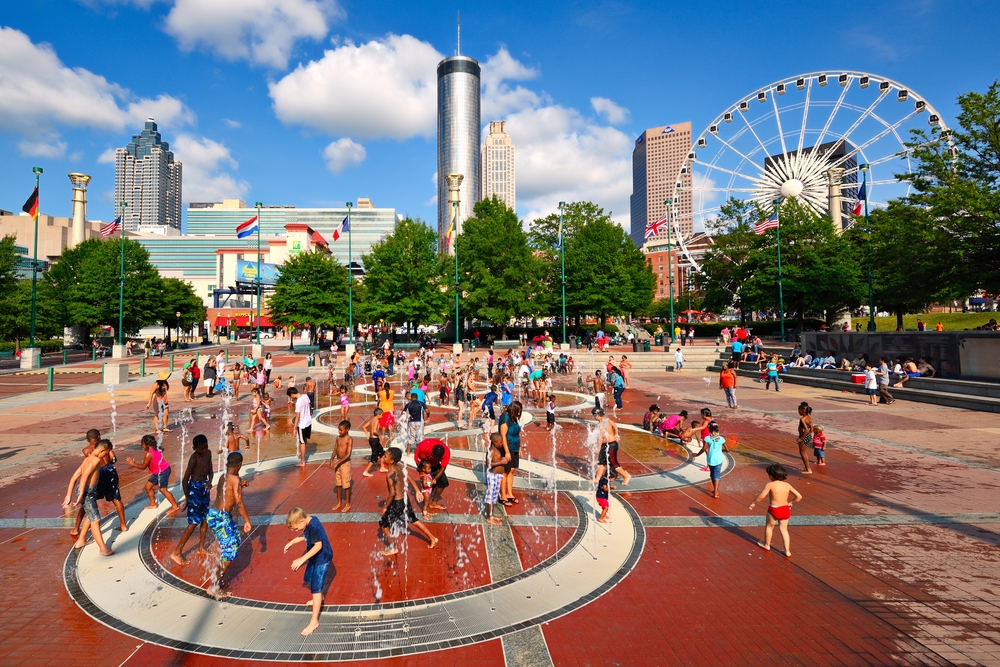 2. MLK National Historic Park
MLK National Historic Park is another one of those free things to do in Atlanta that you don't want to miss! It is a top tourist destination that attracts many visitors each year. And this is because there are tons of mini-attractions within the big attraction!
There are lots to see about Martin Luther King Jr. in Atlanta. First, stop by the visitor center for information about the historic site, and make sure you know what facilities are open. (Make sure to ask about where the nearest restrooms are too!). There is also the "Children of Courage" exhibit here too, which is great for younger tourists!
After the visitor center, visit the BEHOLD Monument, the "I Have a Dream" World Peace Rose Garden, walk by MLK's birth home, and even swing by the King Center to see Dr. & Mrs. King's Tomb near Freedom Hall. Full of history, this is a place you don't want to miss, free or not!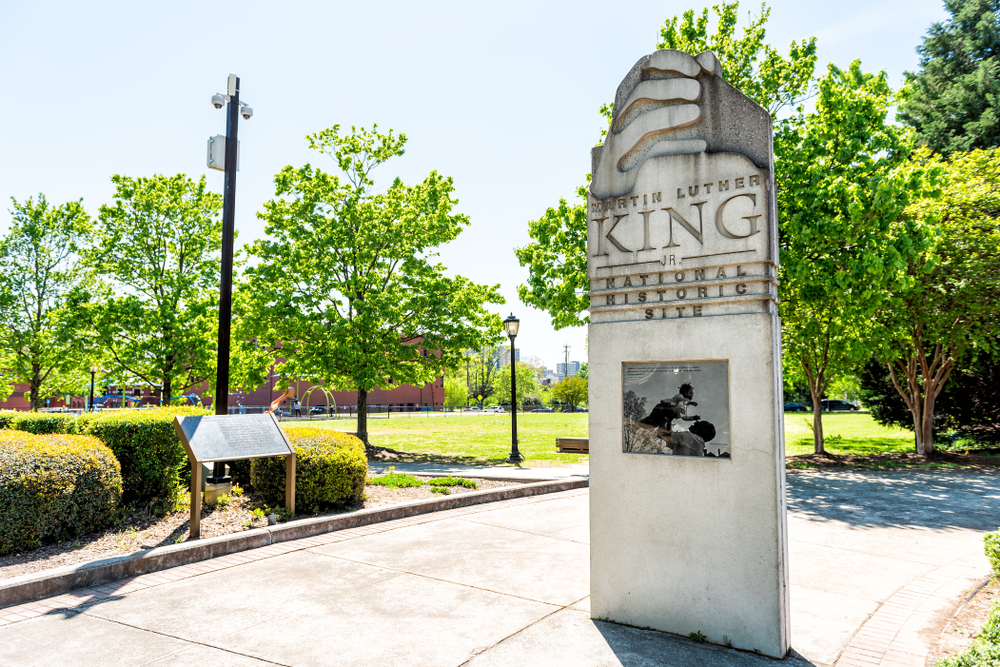 3. Piedmont Park
If you couldn't tell already, Atlanta is a huge fan of parks! And who doesn't love a little green in the city? Piedmont Park is another one of those free things to do in Atlanta that is beyond worth it! The Park is colorful and offers a series of activities each season.
From tours and guides (which some are free and others you pay for), to green markets, playgrounds, camps, dog parks, and pools and splash pads, this place has options for everyone!
Piedmont Park is open from 6 a.m. to 11 p.m. nearly every day. These hours allow for you to enjoy all of the amenities: go fishing in the Lake Clara Meer, or go visit the Active Oval Sports Fields to play bocce and basketball. Tourists often bring picnics here, people watch, play some dogs, and just enjoy the greenery and open spaces! This is truly one of the best areas to stay in Atlanta!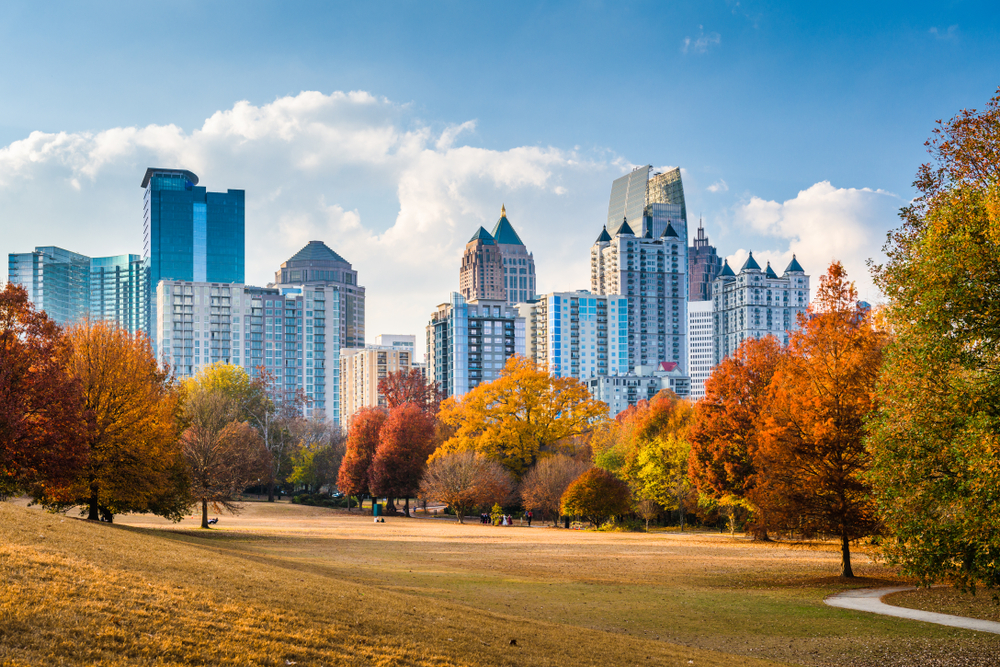 4. Tiny Doors Tour
If you are like us and love unique things that are free, begin looking for the tiny doors! Tiny Doors ATL is one of those free things to do in Atlanta that may not always be here, so take advantage of it while it is available!
Tiny Doors ATL is an Atlanta-based art project. Around the city you can walk and tour and find 7-inch doors. Artist Karen Anderson Singer has made these doors to reflect the spirit and architecture that they are located in.
The doors are also numbered, so you can track the ones you can and cannot see. We suggest starting near 692 Ponce De Leon Ave NE. See the art, and know there are tons of places to explore after you see all the small doors including Ponce City Market, City Winery and more.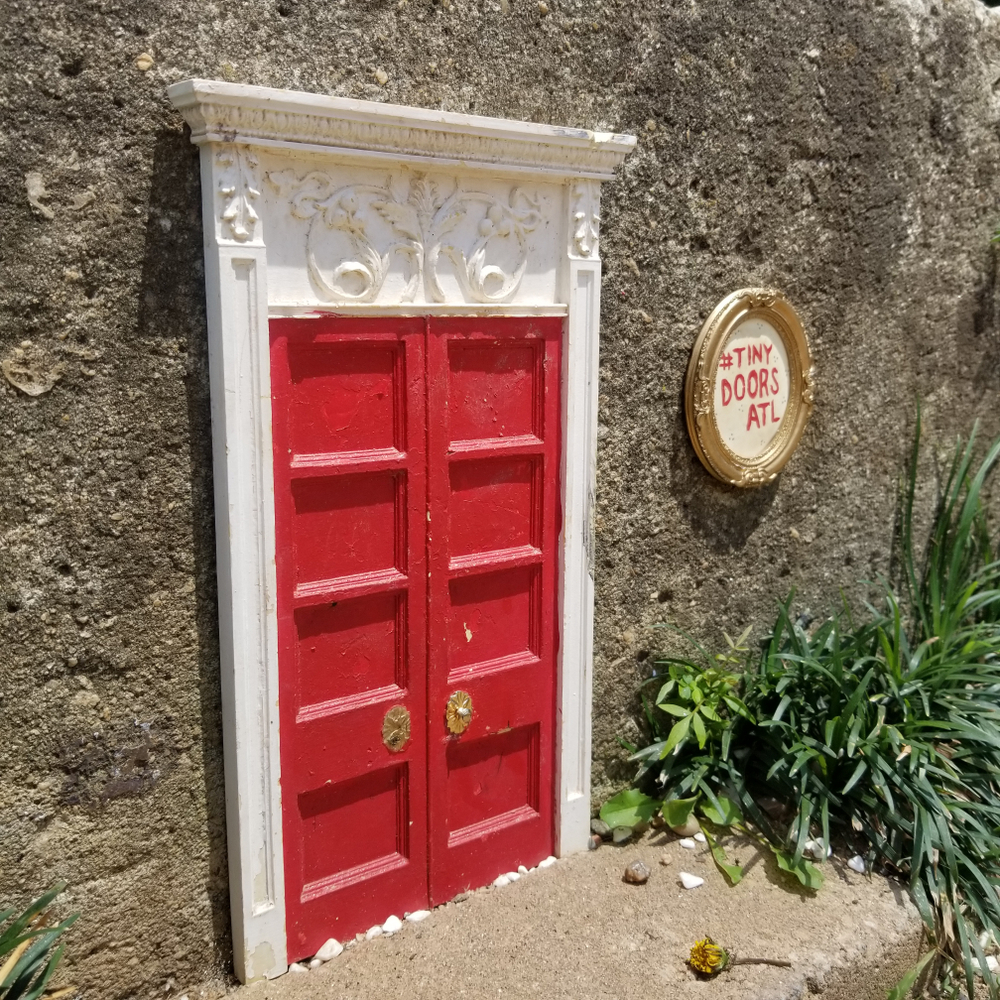 5. Ponce City Market
We debated putting the Ponce City Market on the free things to do in Atlanta list because while it is free to get in, you may find yourself spending some money once you are in there!
Located at the intersection of Virginia Highland and Old Fourth Ward, this market is an epi-center for shopping, dining, and gathering amongst locals and tourists alike. This is truly one of the best things to do in Atlanta at night!
There are always events happening here, from things like blood drives to local artists setting up, and the opening of hew shops and restaurants! You can walk around and absorb all this market has to offer and keep things one of the free things to do in Atlanta, or you can drop some cheap cash on a meal! Either way, this place is totally worth checking out, and is insta-friendly!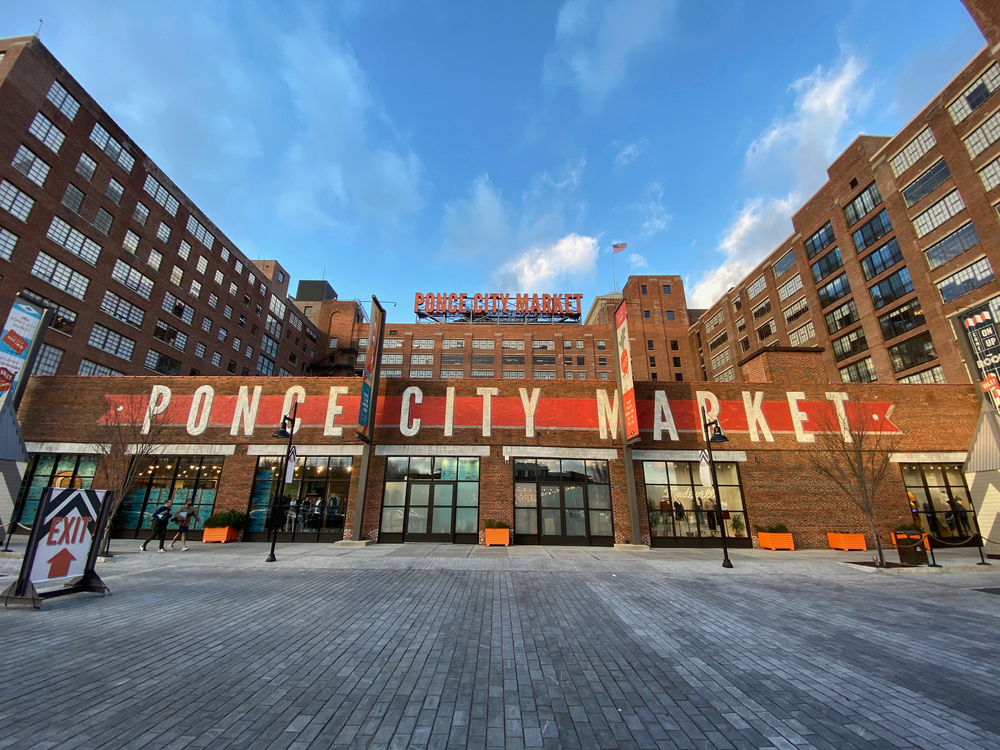 6. The Atlanta BeltLine
Just like many cities have riverwalks, Altanta has its BeltLine! The Atlanta BeltLine is one of those popular free things to do in Atlanta because of how it can take you to all of the amazing surrounding things to do!
The Atlanta BeltLine was redeveloped to provide a network to over 1,300 acres of public parks. The 33 miles of multi-use trails circle down a historic 22-mile railroad of downtown, connecting neighborhoods to one another!
There are currently 4 trails and 6 parks open right now. It is perfect for walking, biking, easy transportation, Segway tours, and more! It is also a great way to experience downtown in an outdoor way. Plus, it is one of the free attractions in Atlanta that can connect you to other free things to do in Atlanta! And you'll see tons of Artwork by the Skate Parks and playgrounds!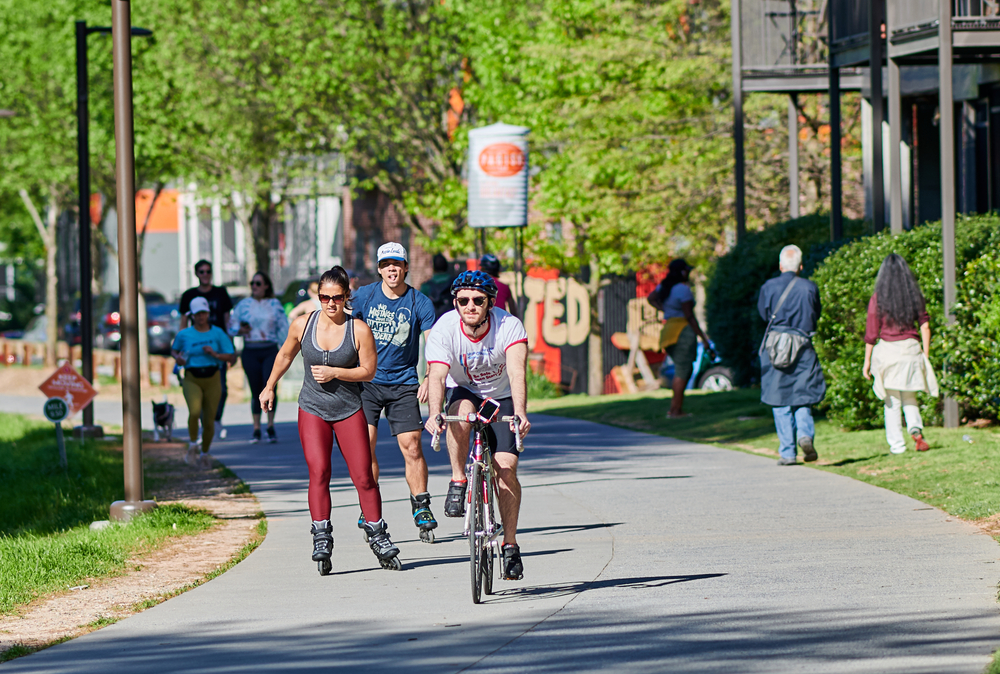 7. Fernbank Science Center
Looking for free things to do in Atlanta with kids? We've got you! We know the tourist traps like the aquarium and zoo can be such fun, but we also know ticket prices can add up. Try something inexpensive like the Fernbank Science Center then! The admission is free, and if you want, you can add on the planetariums how for just a few dollars more.
This Science Center is tucked into a residential neighborhood so keep an eye out for it. It features things all history and science nerds will love, like an authentic Apollo spacecraft. There is also an observatory, which is one of those great free things to do in Atlanta at night!
Now, the Fernbank Science Center isn't as flashy as the Fernbank Museum of Natural History, but it still shows dinosaurs, teaches everyone about science and history, and has interactive exhibits for all ages. It is free, which you cannot pass up, and it is typically a step away from all the crazy crowds!
8. Lullwater Creek
If you are looking for fun and free things to do in Atlanta that won't keep you indoors and can help you avoid crowds, check out Lullwater Creek! Some of the best urban hikes are here (just don't tell the locals that we told you about them!).
Lullwater Park is located near Emory University. It features 154 acres that is full of green space and an insane lake! It truly is a secret oasis, and is one of the best free things to do in Atlanta with kids or for a date night!
It is also fun to explore the mini waterfall and the 210 foot long suspension bridge here. Much of this park is undiscovered. Just make sure to plan for parking. Many people can't find a great parking spot and leave before they get to explore this magical place!
9. Historic Oakland Cemetery
Historic Oakland Cemetery is Atlanta's oldest cemetery. It is also one of the free things to do in Atlanta! Founded in 1850, it is close to downtown Atlanta. This cemetery features a gorgeous sculpture garden, a botanical garden, a wildlife habitat and a public park.
Most people question why you may want to visit a cemetery. But it is fun! Here you can learn Atlanta's history. There is a map for you, and tours on an app! And this cemetery also hosts fun events. Consider running the Run Like Hell 5K. Or stop at the beer festival of Malts and Vaults.
Guests love to learn about the Civil War Tour Highlights here. They also look out for the headstones of the Atlanta elite. So whether you want to take a picnic to the gardens, marvel at sculpture, or learn some history this may be a place to see!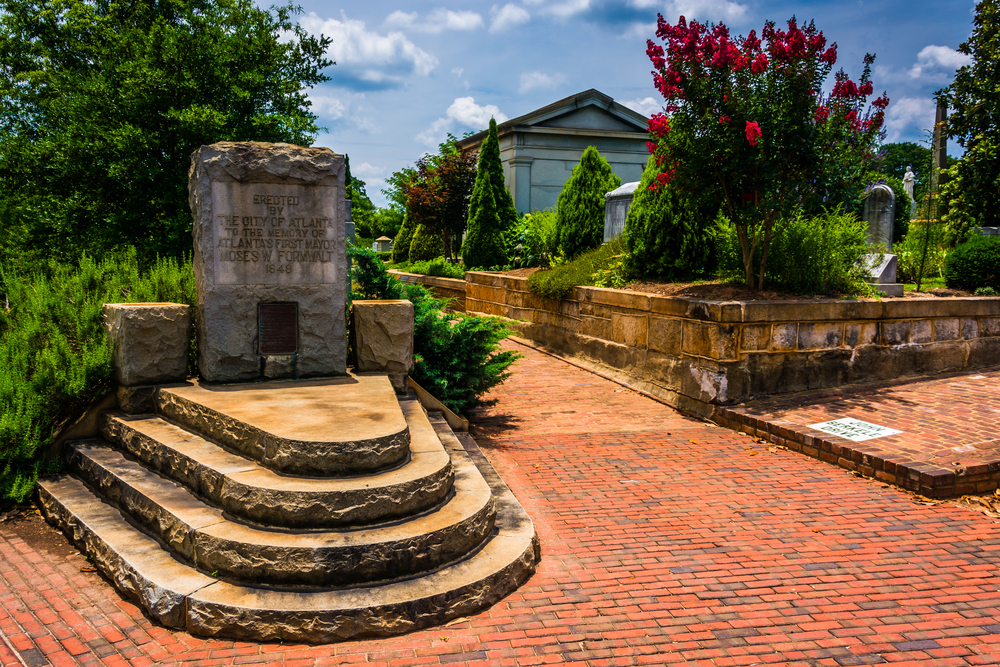 10. Living Walls Atlanta
Love art? Check out Living Walls Atlanta! We already mentioned the tiny doors. But what about murals? Some of the best free things to do in Atlanta is become familiar with local artists through their work.
Many locals and tourists have noticed the new murals popping up around Atlanta. They are part of a new art stroll program. With a goal of changing perspectives about the communities the murals are located in, this street art is to die for.
This art seeks to create conversations. They want viewers to be inclusive and intentional. Their art is thought-provoking. Inspiring. Do what you must to walk through downtown and see these wonderful works come to life! It is free and changing the world!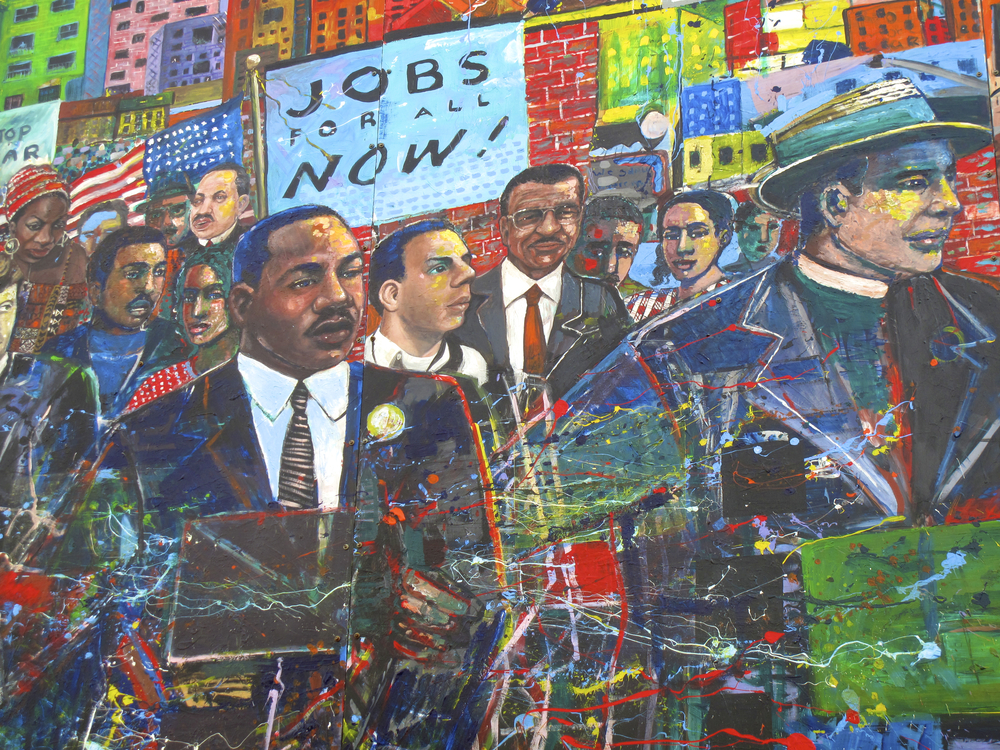 11. CDC Museum
Next, consider the CDC Museum! Although we want to ensure you know when this museum is free! Yes, that is right, the CDC is not always one of those free things to do in Atlanta. In fact, it is only free on WEEKDAYS! So, go then!
The David J. Spencer CDC Museum offers guided exhibition tours. Merge detective work with high-tech science to crack the mystery of diseases. Most exhibits change out, but all focus on public health topics and the history of the CDC.
Parking is included in your visit, and the museum is open until at least 5 every weekday! This means you have plenty of time to read, learn and think at the museum. We do suggest checking out what exhibits will be on display during your planned visit, however!
12. The Goat Farm
What if we told you the Goat Farm had no goats? Well that is right! The Goat Farm in Atlanta has no goats, but it does have some cinematic history! Familiar with The Hunger Games? The Goat Farm served as District 12 in Catching Fire.
But that is not all! The Goat Farm is home to several art studios, coffee houses, and more. Here you can see artists pit together local shows and tributes, get some great coffee, and explore what was once the set to a fantastic movie!
The history here is something you must learn as you go. The old factory site if full of rich stories, and the Warhorse Coffee is to die for. Sit and sip and look at antique books and objects. Just don't forget to snap photos of the old set too! This is one of the coolest free things to do in Atlanta that not many tourists know about. And if you are a photographer, we highly recommend that you go!
13. Stone Mountain Laser Show
We love a good date night! So what better date night than a date night that features free things to do in Atlanta? (Although we admit this is a bit past Atlanta!) Head to the Laser Bunker (yes that is a real thing!). It is located at Sone Mountain Park!
Here, droids and computers are used to put on a laster show. It is the longest running laser show in the world! And it is projected on the largest granite outcrop on the world! This serves as a giant canvas.
Better yet? The show is set to music with fireworks too! It starts at 9:30 so it truly is one of the best free things to do in Atlanta at night. Just make sure to know that it usually only runs from May through October. And just a heads up, while the show is free, parking is not! So bring $15!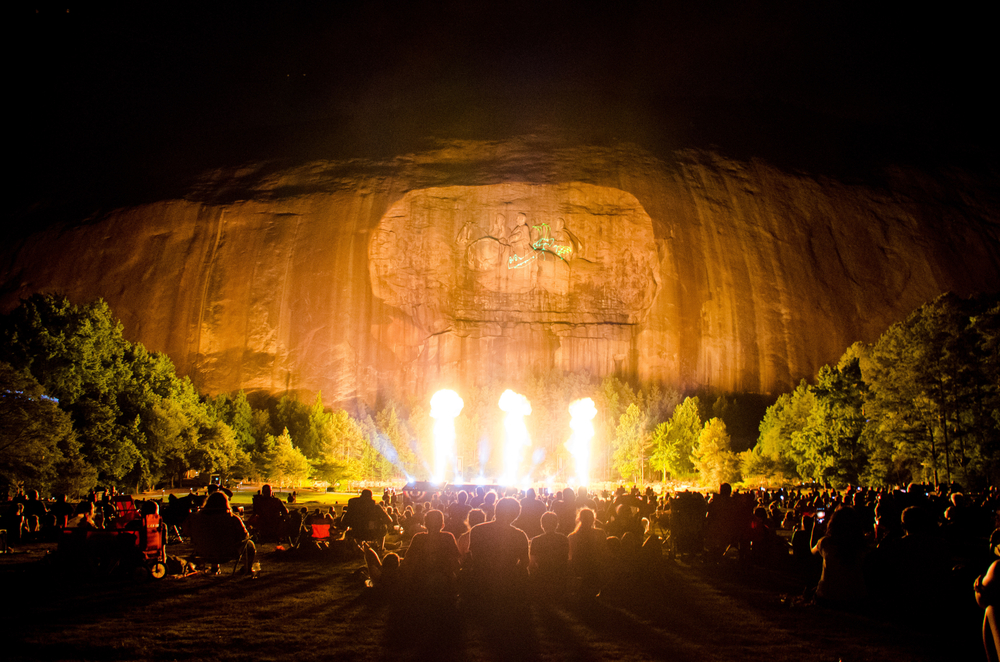 14. Marietta Fire Museum
The Marietta Fire Museum is another one of those cool, free things to do in Atlanta! Come discover the history of fire departments here. As mentioned, this museum is free, although donations are encouraged!
This museum has a huge collection of antique fire apparatus', tools, and gear. Some of the antiques date back to 1854! Here you can learn how the fire department has changed over time. Self guided tours are simple and easy, but you can also call a head to schedule a guided tour if you would prefer!
Keep a close eye out for the 1879 Silsby Steamer, and the other fire helmets from around the world. The main entrance for the museum is on level 1! And free parking is available off of Lawrence Street. So this really is a true free thing to do!
Make sure to check out the best restaurants in Marietta if you are visiting!
15. Noah's Ark
Considering the Atlanta Zoo? But is it too expensive? Consider Noah's Ark instead! We will warn you, however, this is a bit of a drive outside of the downtown area of Atlanta. It is closer to the Metro Area, in fact.
But if this is something that interests you, visit this sanctuary! It is a non-profit for exotic animals and farm animals. They rehab 100s of animals yearly, but have about 1,500 animals there year round.
Visit the welcome center, have lunch in the picnic area , play on the playground, and see the animals! People love to see the tiger and bear that live together here! And when you leave, stop by the gift shop for a souvenir, or consider donating. Remember, even though this is one of the free things to do in Atlanta, it also costs over $33,000 dollars a month to feed and care for these animals!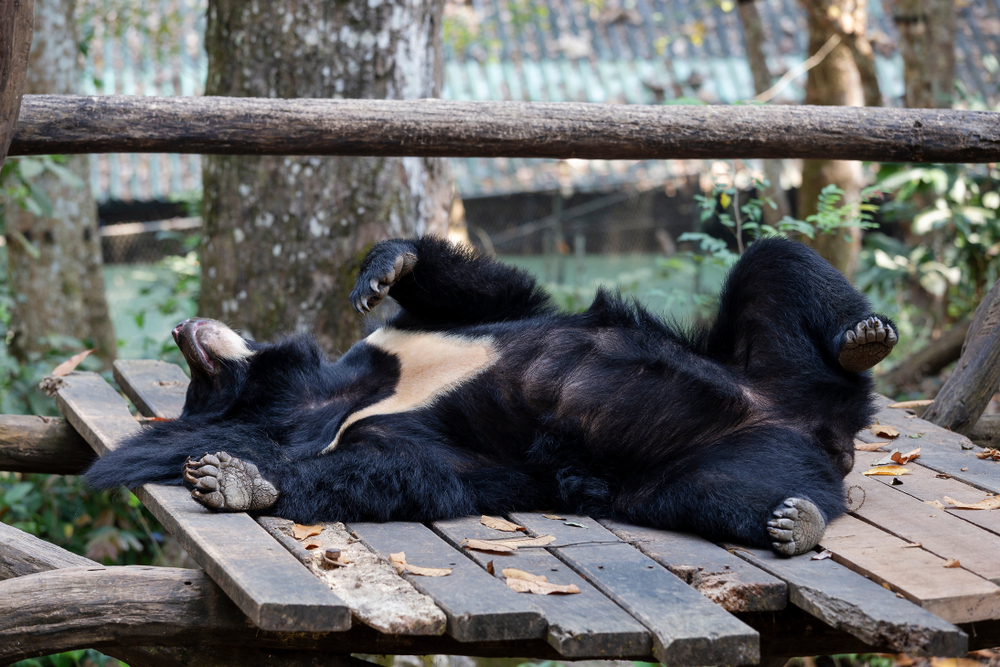 And there you have it, folks! 15 free things to do in Atlanta! So whether you are tired of the tourist traps, on a tight budget, or just want something unique to do, check out this list.
You'll find yourself out in nature, at museums, learning at historic sites and more! Just because these are free things to do in Atlanta does not mean they are not fun. Have a blast exploring!