Are you looking for some ideas for a romantic date night in Atlanta? Look no further! Date night in Atlanta can be super overwhelming to plan because there are so many options to choose from!
So whether you are looking to do something a little more generic, ready to do something locally, or maybe even excited to try something more adventurous, this list is for you! Look through some of the best options for date night in Atlanta!
And don't worry! Whether you are trying to plan this date weeks in advance or trying to do something a little more romantic and spontaneous, we promise there are options for everyone! Keep reading, lovebirds!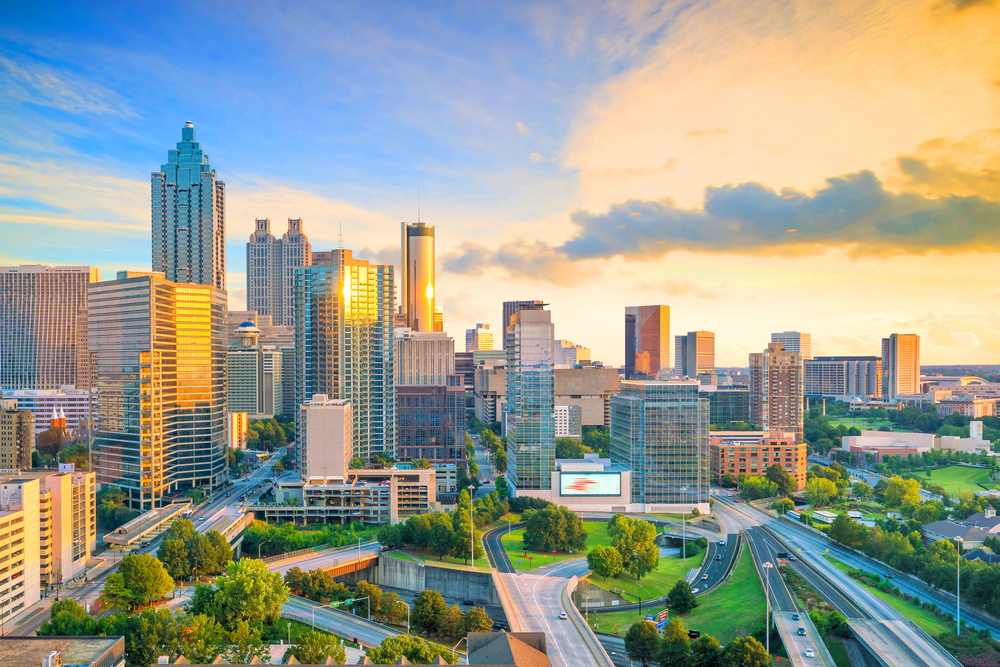 16 Romantic Ideas for Date Night in Atlanta
1. Visit the Georgia Aquarium
Is there truly anything more romantic than holding hands while walking through an aquarium and admiring all our seas have to offer? A date night in Atlanta would not be complete without the suggestion of visiting the iconic Georgia Aquarium!
When purchasing tickets you can skip the lines for the largest aquarium in the Western Hemisphere!
Here you and your partner can enjoy the day and spend time looking through the aquarium's seven different areas AND their interactive 4D theater. Better yet? There is food and drinks available here so it can really be an all-day thing! This is truly one of the best things to do in Atlanta at night!
So grab your partner and learn about whale sharks, manta rays, belugas, and more. We promise that the touch tanks, windows, clear underwater tunnels. and reef exhibits will not disappoint you. It will be a date night in Atlanta to remember!
Book: Georgia Aquarium: Skip-the-Purchase-Line Tickets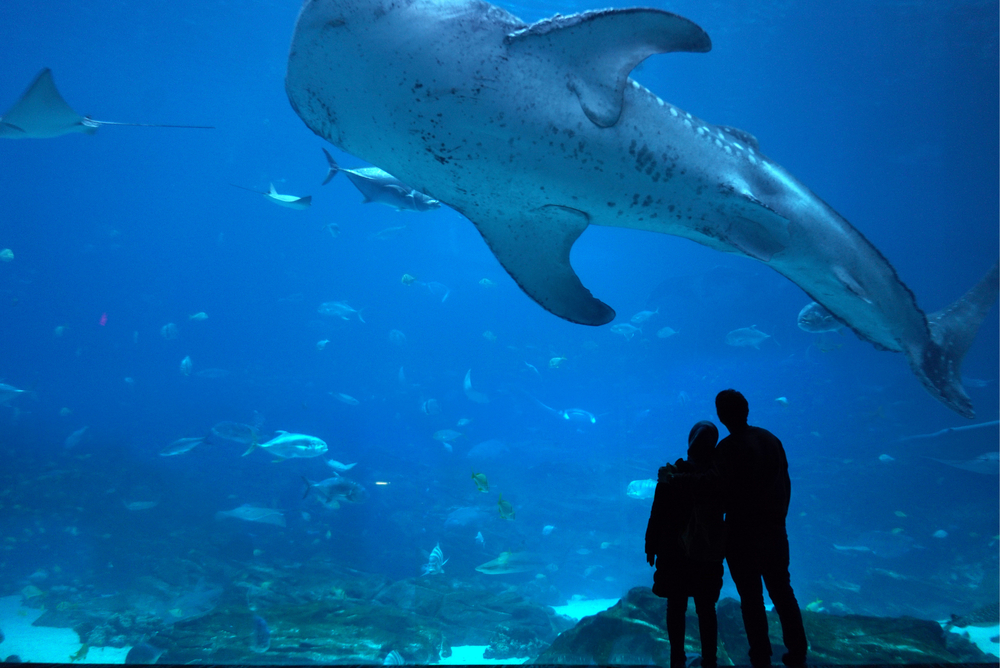 2. Take a Ghost Tour!
What better way to be romantic than to go on a ghost tour together? If you're looking for a date night in Atlanta, try a walking ghost tour that uncovers the darkest secrets of the city. You and your partner will follow a tour guide and listen to the twisted tales of Atlanta.
Date night ideas in Atlanta can be hard to come by, but consider this tour! For an hour and a half, you'll get to explore the most haunted sites in Atlanta. You may even be able to capture a spirit on camera while listening to chilling tails. This is truly one of the best things to do in Atlanta.
Keep your eyes and ears peeled for the spirits of those killed on the MARTA tracks near Sivas Hookah Lounge, and after hearing the entities attached to items at the Goodwill Donation Center, we're not sure this you'll sleep! But enjoy the tales and journey: Atlanta has a rich history and ghosts and you are bound to enjoy it.
Book: Atlanta: Haunted Buildings and Ghost Tour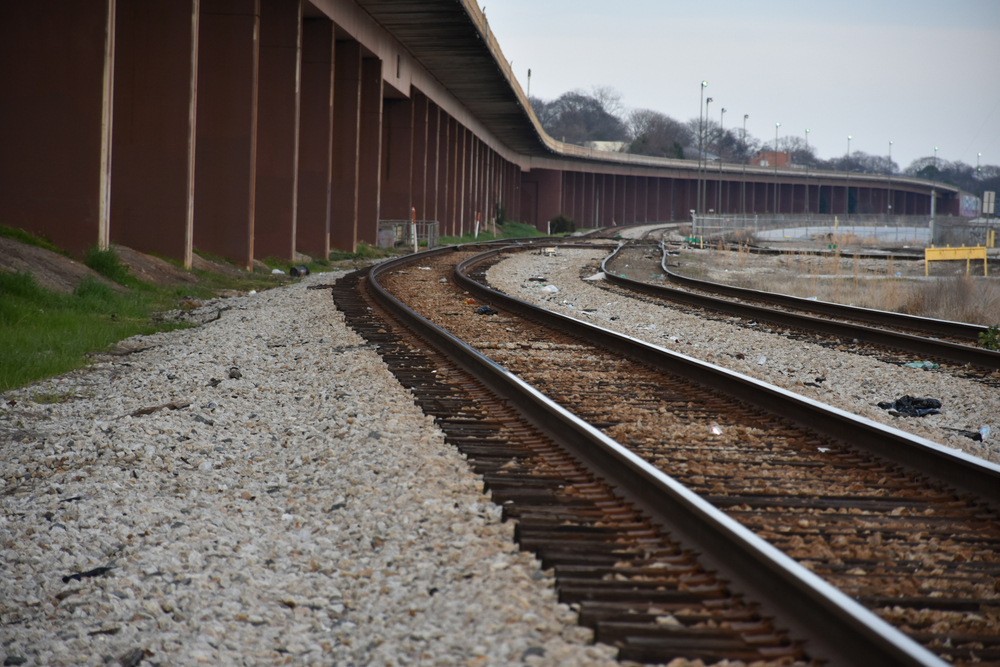 3. Tour your City on a Segway!
If you're looking for a date night in Atlanta to be local, why not explore Downtown, Midtown or Eastside on a Segway tour? This is especially if you're looking for first date ideas in Atlanta: what better way to learn a city and your date? What better adventure!
This segway tour lets you discover some of the city's most historic and eclectic neighborhoods! While riding through, your guide will tell you things about Atlanta's culture, its history, and even suggest some local restaruants you may want to check out later on!
For two and a half hours you and your partner can immerse yourself in Atlanta culture! And better yet? When booking this tour you have options! Choose between three exciting tours, all of which explore different and various lively Atlantan neighborhoods! It is the perfect date night in Atlanta to get to know your city more!
Book: Atlanta: Downtown, Midtown, or Eastside Segway Tour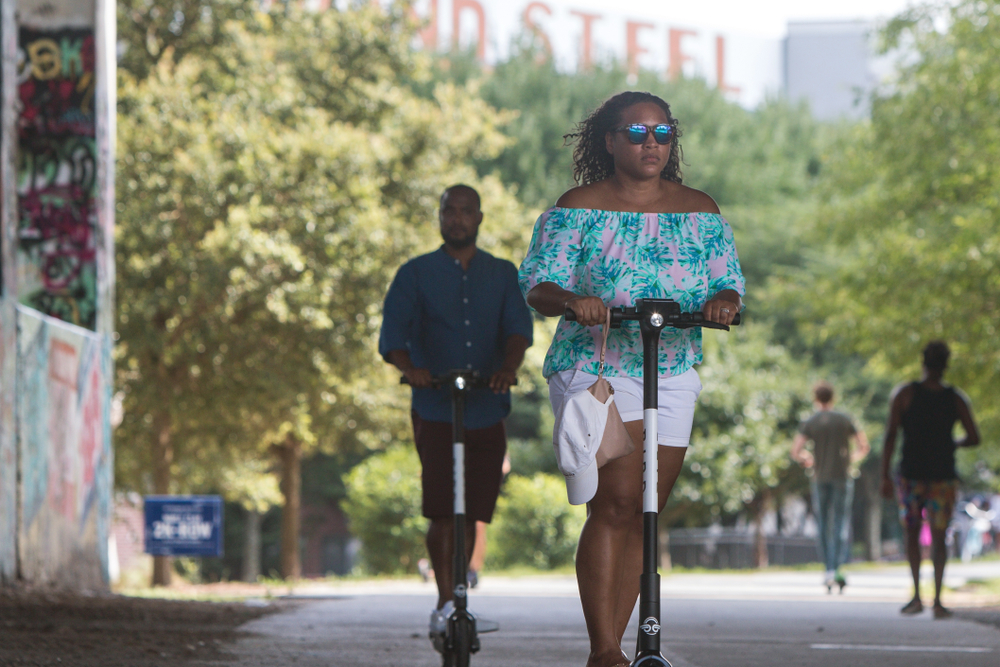 4. Participate in an Escape Room!
What is a better date night in Atlanta than an escape room? It is one of those fun date ideas in Atlanta that you cannot pass up! For an hour you and your partner will put your solving skills to the test to try to escape a themed room!
This fun and the tactile challenge is great for a couples night out! See what you have what it takes to escape, and choose between 6 immersive escape rooms. Warning: you typically will be paired with others to create a team, so this may be one of those things to do as a double date too!
Break out of prison, find hidden gold, and save the day with your team (and the occasional help of a game guide!). Become the hero of this adventure and enjoy this fun night!
Book: Atlanta: 1-Hour Escape Room Adventure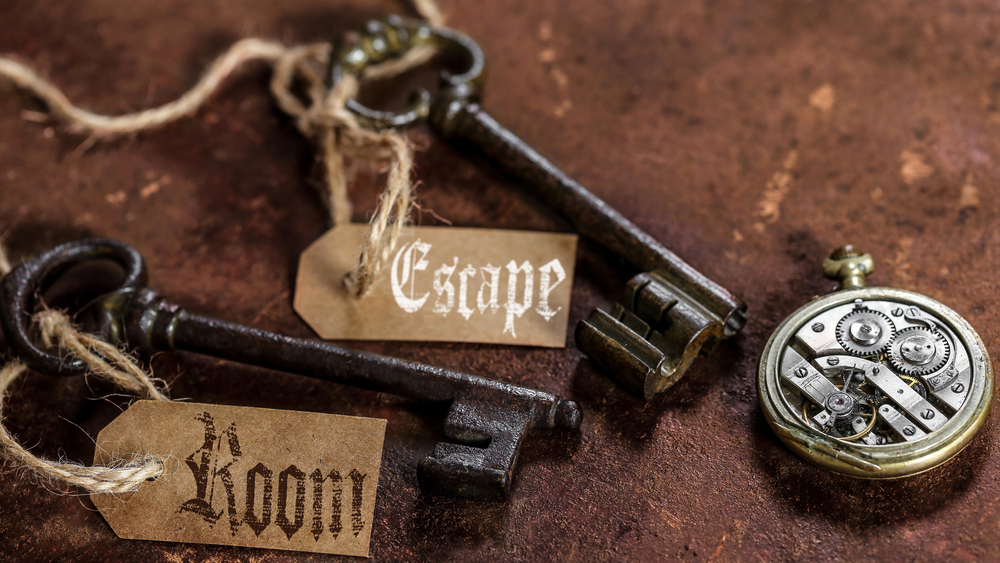 5. Enjoy a Food Tour!
Choosing where to eat is always the hardest part of a date night in Atlanta. But don't worry, now you can take a food tour! This way you don't have to choose, you can satisfy all of your cravings, and get a taste of everything!
Enjoy dining at six locally owned and award-winning restaurants on this tour. Here you will experience some of the best Southern goods over three and a half hours. While exploring the restaurants, you'll also be touring Inman Park and the Atlanta Beltline. This is one of our favorite adult activities in Atlanta.
This means this date night in Atlanta will help you explore places like Krog Street Market and some of the most iconic murals along the Eastside Trail. Make sure you and your partner come hungry for this: things like black pepper biscuits with gravy and Gu's dumplings are things you don't want to miss!
Book: Atlanta: Food Tour of Inman Park and the Atlanta Beltline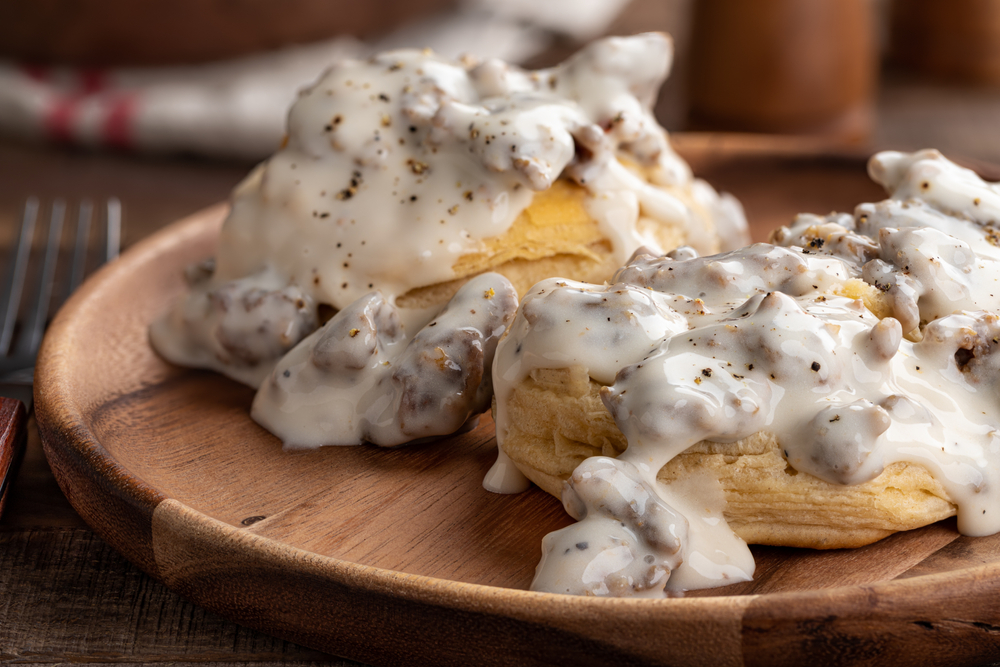 6. Have an Adventure at iFLY
If you are looking for a date night in Atlanta that will be unforgettable, why not defy gravity? iFly Atlanta First Time Flyer Experience takes guests into a wind tunnel in Atlanta that is state-of-the-art. This tunnel simulates a skydive! Talk about fun date night ideas in Atlanta!
For 1.5 hours you and your partner will get the chance to skydive with skill, style, and courage, all without ever stepping foot in a plane. From one-on-one instruction from professional flight instructors to the complimentary gear rental and the flight experience, you'll have a longer "free fall" time than if you actually went skydiving.
This adventure is safe for kids and challenging and exciting for others. You'll leave the tunnel wind-swept but smiling, which means this may be one of the best date spots in Atlanta! And who wouldn't love going skydiving for a first date: consider iFly for first date ideas in Atlanta!
Book: iFLY Atlanta First-Time Flyer Experience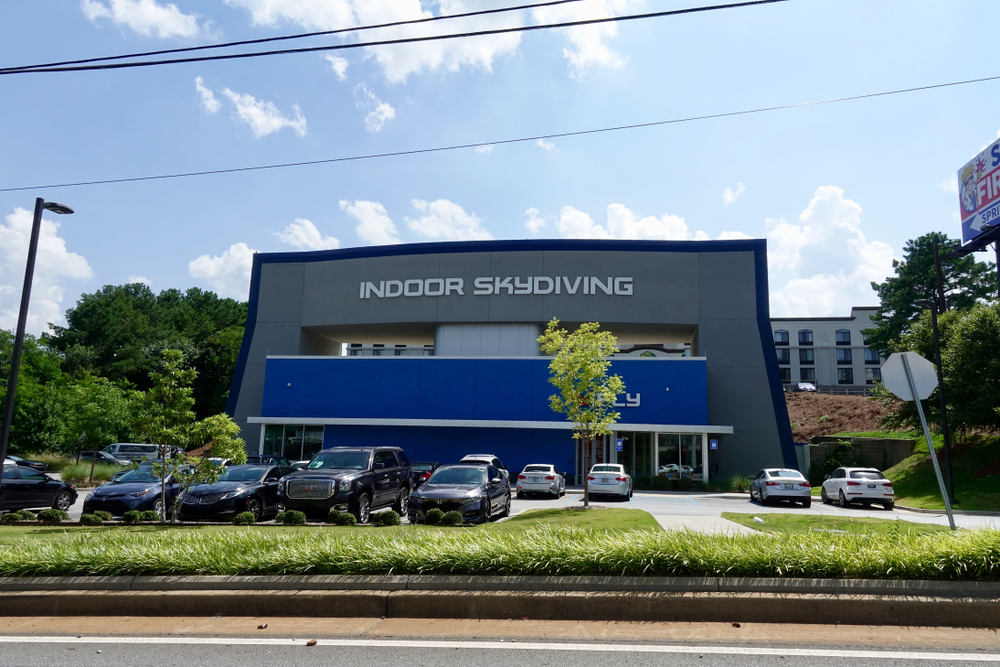 7. Visit Movie Filming Locations
If you and your partner are film buffs, you may know that Atlanta is home to many filming locations: The Walking Dead, Marvel films, and Stranger Things just to name a few! Lucky for you, one of the coolest things to do for a date night in Atlanta includes a tour of the Movie Filming Locations!
For three hours you and your partner will get to go behind the scenes of filming locations in Atlanta. You will get to learn about the locations from your expert guide, and see iconic places from iconic films!
Some places you may see and recognize include the Avengers Headquarters from Captain America Civil War, The Capitol form The Hunger Games, and even Baby's apartment from Baby Driver. You don't want to miss this unique tour. But warning, book far in advance!
Book: Atlanta: Movie Filming Locations Tour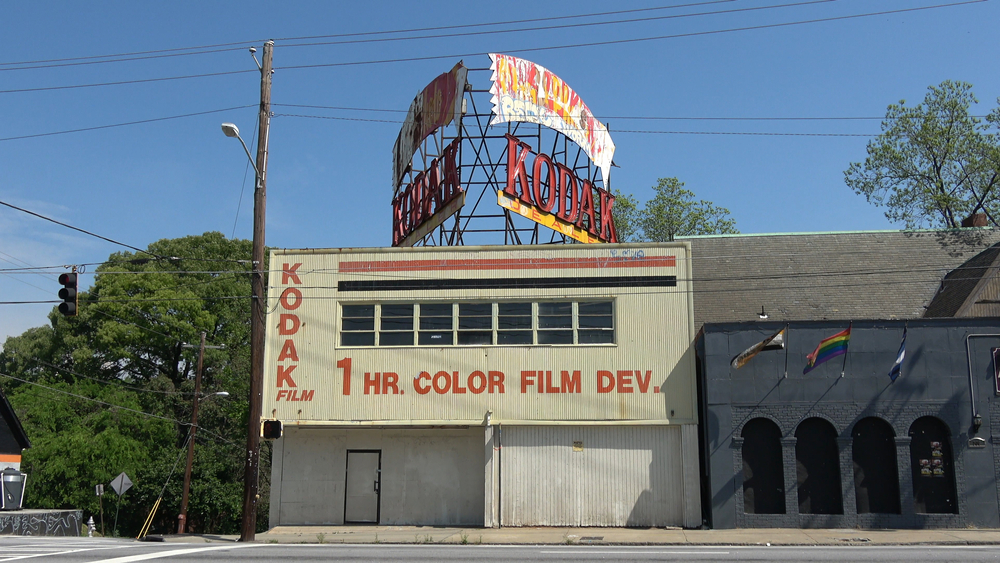 8. Take a Trip to Illuminarium Atlanta
If you are looking for a unique date night in Atlanta, look no further than the illumination! This is the world's first illumination. It is a fully immersive experience that transports you to a different place on an epic scale.
Activating all five of your senses– sight, sound, touch and sent– this hour-long event will let you experience 3D audio, floor vibrations, and visceral smells. The illuminations will surround you. You will experience crystal clear cinematic visuals. This is a great date night if you live in Atlanta!
Take in the majestic landscapes, Savanna sunrise, and Kenyan sky during this event! Travel the world without moving, and be entertained! And know that the show changes several times a year so always be on the lookout to visit again! Despite this being an illumination, we promise it feels so real.
Book: Illuminarium Atlanta: Immersive Experience Admission Ticket
9. Stop by the Center for Puppetry Arts
If you are looking for a nice evening or a date night in Atlanta that is calm and fairly low-stakes, consider swinging by the Center for Puppetry Arts! Enjoy a self-guided tour through the center.
The center is interactive, and your ticket is good for all day, so you can take your time going through this museum! Come and visit your favorite characters here! We promise it is a unique place for a date night in Atlanta, as you get to visit old friends from childhood.
Who doesn't love the muppets after all?? You can see the largest collection of Jim Henson puppets, props, costumes and artifacts here, and even put on your own puppet show with an interactive TV studio. But the best part is definitely learning more about the history of puppetry in The Global Collection! Enjoy the day here!
Book: Atlanta: Center for Puppetry Arts, Worlds of Puppetry Museum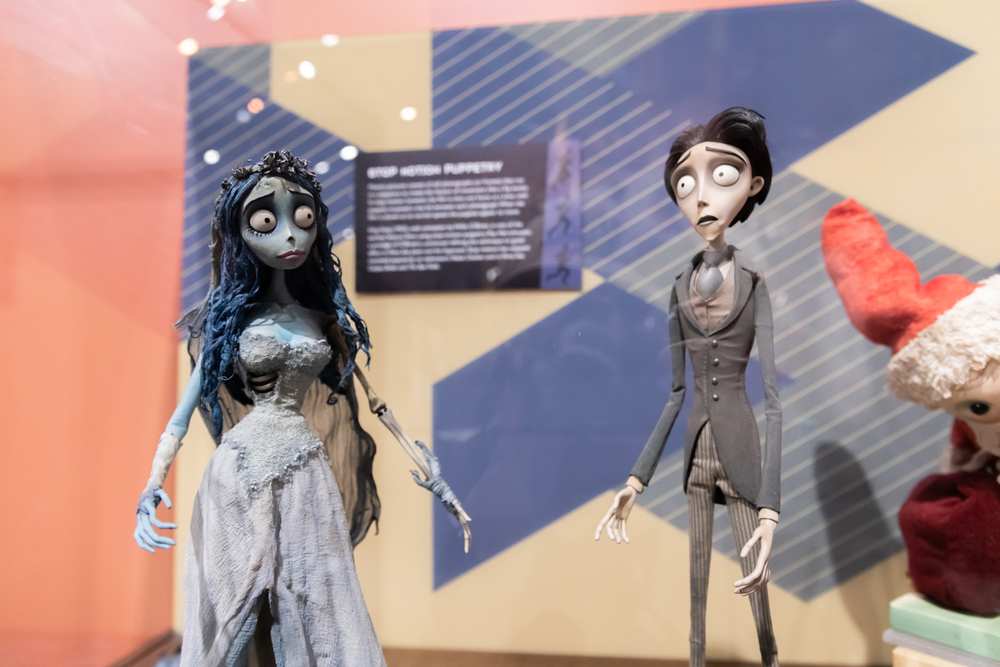 10. Take a Trip to North Georgia Wine Country
If you are looking for a date night in Atlanta that isn't exactly in Atlanta, consider joining a bus tour that will take you from downtown to Georgia's wine country! When booking this tour, you will enjoy 13 wine tastings at 3 local wineries.
For over nine hours you and your partner will enjoy tasting wines from Germany, and have the chance to shop local at Helen, which is North Georgia's famous Bavarian Village.
Enjoy the local wineries of Kaya Vineyard, The Cottage Vineyard, and CeNite Vineyard in addition to the 70 minute stop in Helen. This all day tour come with transfers and a professional drive and guide. Make sure to bring some extra money for food, though! And really consider this tour– it may only start in Atlanta, but we consider it one of the most romantic things to do in Atlanta!
Book: From Atlanta: North Georgia Wine Country Tour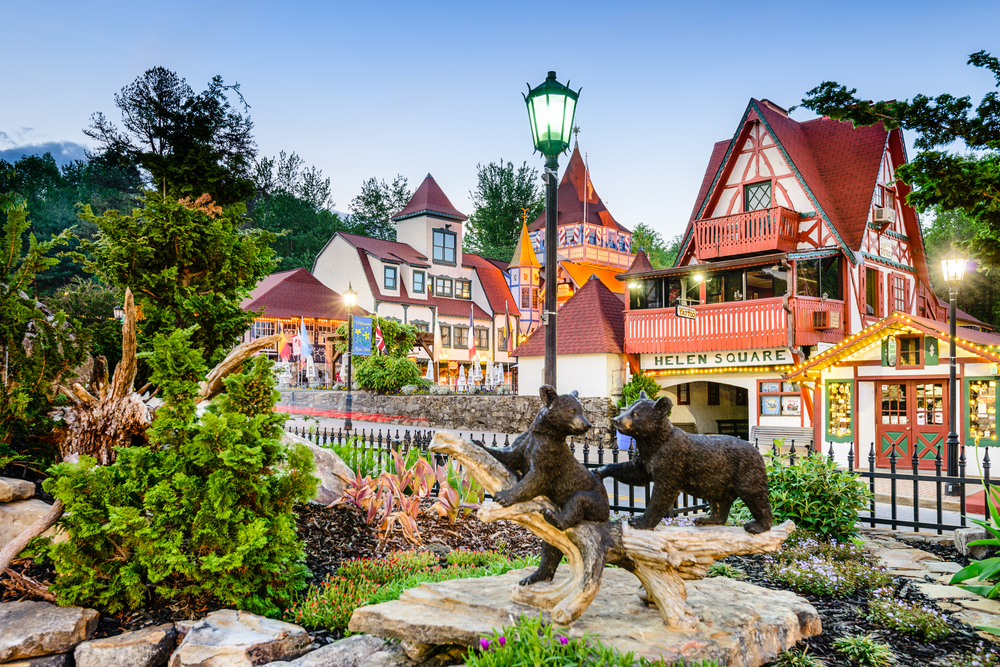 11. Look at some Animals at the Zoo
When considering Atlanta date ideas, you have to at least consider the Zoo Atlanta! This is an iconic stop for both locals and tourists. And if we say so ourselves, it is a perfect romantic date day or date night in Atlanta!
Here you can spend all day at the zoo. One ticket purchase means hours of fun and tons of activities. There are over 1,500 animals at Zoo Atlanta– including giant pandas! What's not to love? Or take a stroll through the African Savanna.
With over 14,000 square feet dedicated to the 70 species of reptiles, and one of North America's largest zoological populations of great apes, you won't be disappointed in this date night in Atlanta! Channel your inner love for each other and animals at the zoo!
Book: Zoo Atlanta: General Admission Ticket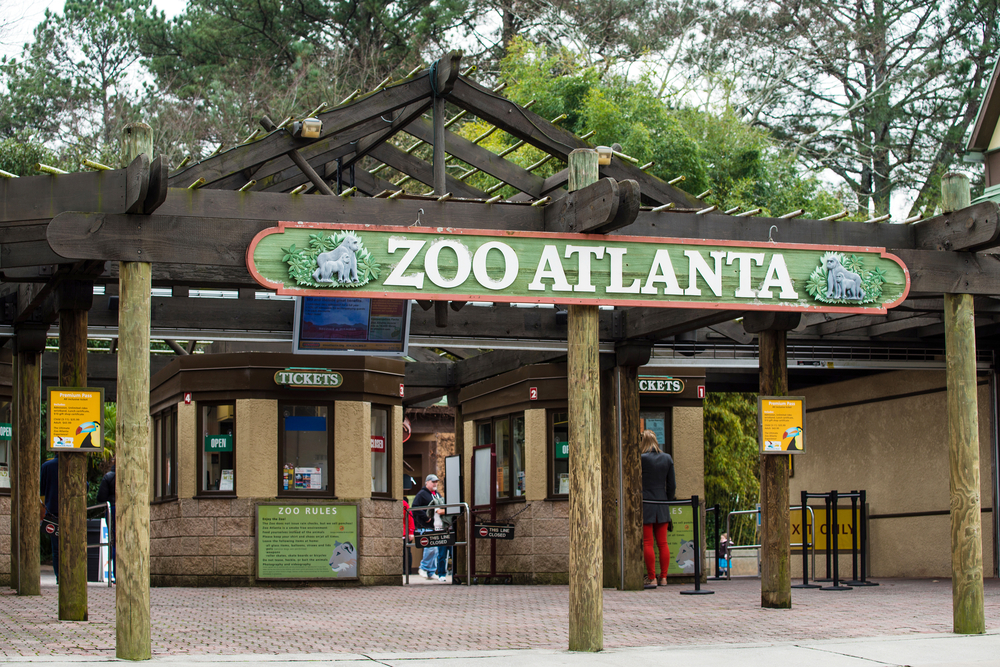 12. Sip a Soda at the World of Coca-Cola
If you or your partner are huge fans of coca-cola, look no further than going to the World of Coca-Cola for date night in Atlanta! Immerse yourself in this rich history of the iconic drink.
You and your date are bound to love one of the best fun date ideas in Atlanta here at the World of Coca Cola, especially considering you'll find yourself surrounded by over 1,200 pieces of memorabilia and archival elements here!
Enjoy the day interacting with multiple exhibits: learn about this history or taste more than 100 samples of different beverages from around the world! Or you can explore the new Scent Discovery exhibit and guess the origin of a variety of scents. But if anything, make sure to find out that secret formula and to take a picture with it's mascot– the 7-foot tall Coca-Cola Polar Bear is waiting for you!
Book: World of Coca-Cola: Skip the Ticket Line Entry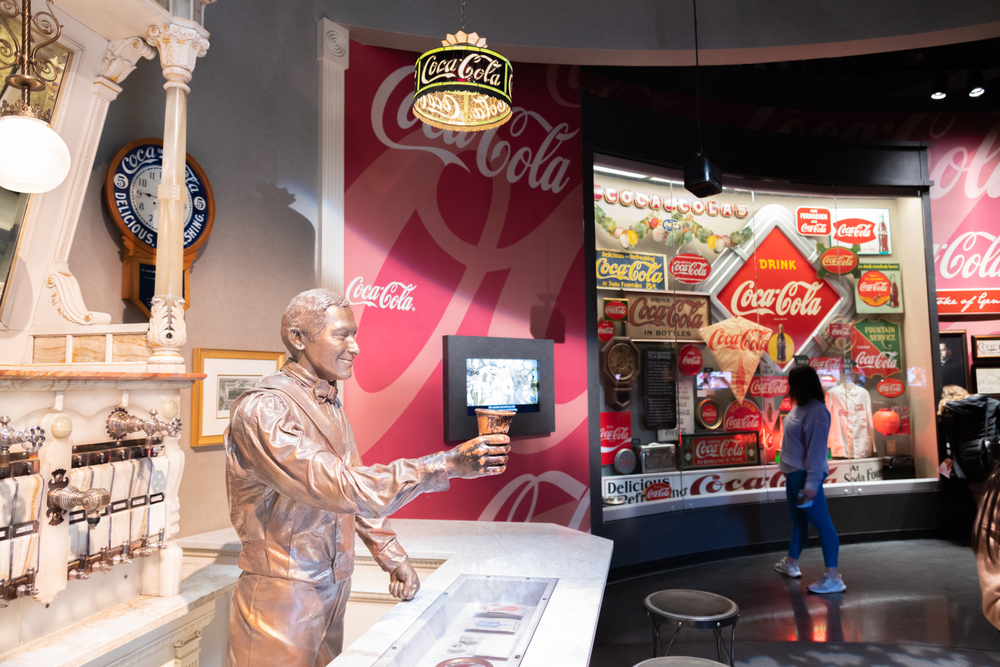 13. Eat at the Ponce City Market Weekend Tour
Need help deciding where to eat? Or need help deciding what to do for a date night in Atlanta on the weekend? Look no further than the Ponce City Market Weekend Food Tour! We all know there are plenty of best date night restaurants in Atlanta, but why choose one restaurant when you can sample tons of food?!
Taste the best of Atlanta's Street Food without the streets! The Ponce City Market is Atlanta's largest food hall. This tour includes generous tastings at 5 different stops in the Market. With the tour you get to skip the lines, and get to taste Oprah's favorite gelato, a boozy slushy and even a grilled Chicken Tikka Naan.
This market is the largest brick structure in Southeast America, so after you're done eating, make sure to explore the colorful murals alongside the Eastside trail of the Atlanta Beltline. It is a fun way to eat lots and enjoy something local. It's truly one of those great Atlanta date ideas.
Book: Atlanta: Ponce City Market 2.5 Hour Weekend Food Tour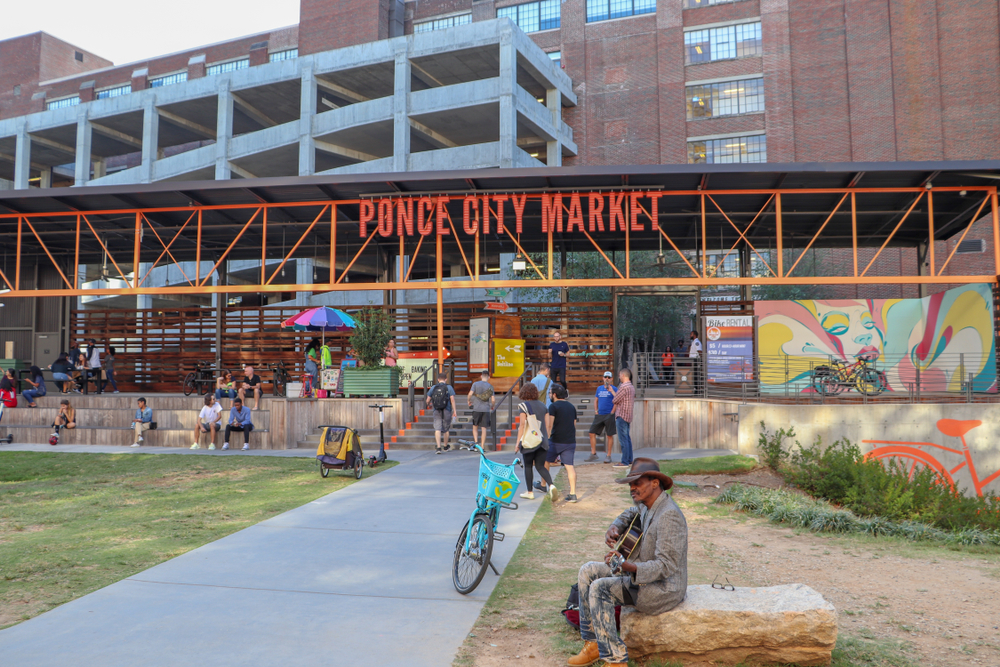 14. Enjoy Lunch or Dinner at Der BierGarten
Der BierGarten is one of Atlanta's German Beer Gardens and it is typically one of the most perfect places to relax after a long day around the city! But we want to recommend it as a date night in Atlanta option as well!
This authentic German beer garden is in the heart of Atlanta. It provides an extensive selection of beers and traditional German food. The space itself is decorated in a German style, so it is bound to stand out!
Couples love the extensive outdoor, elevated patio: the string lights and brick walls bring a cozy yet romantic space! And if you're eating indoors, the dimmed lights truly makes you feel like you are in Germany! You cannot get more romantic or authentic than this, so order that riesenbretzel to split and some spaten marzen to go with it!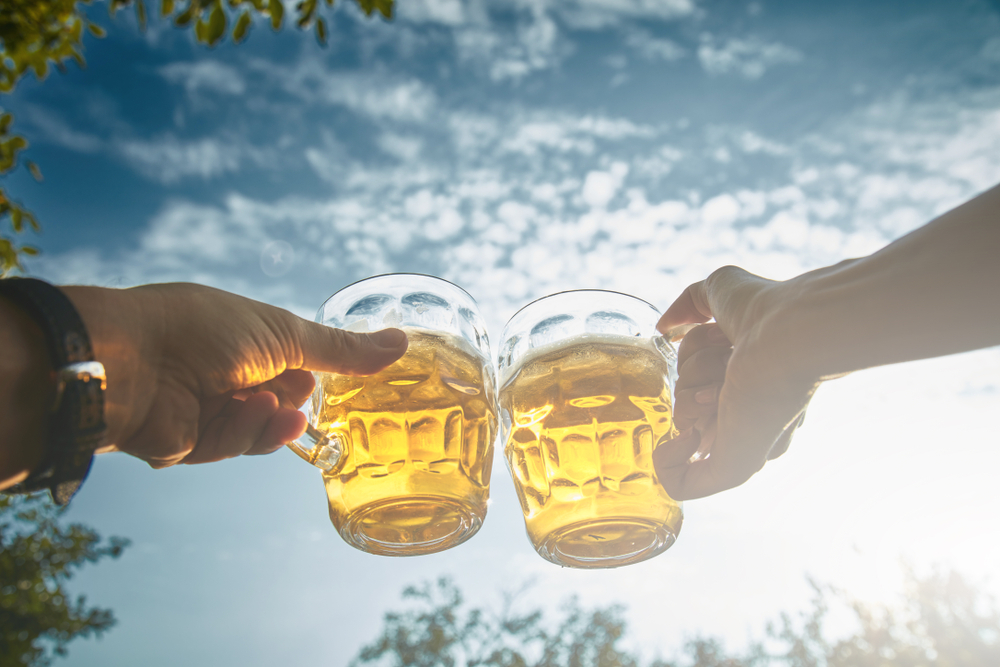 15. Learn about Historical Homes and the City
If you or your date are history buffs and want to learn more about the city as well as marvel at some gorgeous homes, look no further than the Historical Homes and City Highlights Tour!
Atlanta's affluent Buckhead neighborhood is a must to explore, as their stately homes and parks are fully of history and stunning architecture. For over four hours on this tour, you will go between Buckhead and Ansley Park. And make sure to bring a camera for photos! Walking around historical homes is truly one of the best free things to do in Atlanta!
Along the tour, you'll see iconic homes such as the Swan House, as well as stop for lunch at the Swan Coach House for some delicious southern food. You'll also get to see the Margaret Mitchell House too! This tour is wonderful, and for movie fans, the "Gone with the Wind" author lives on through the stunning Greek Revival of this area.
Book: Atlanta: Historical Homes and City Highlights Tour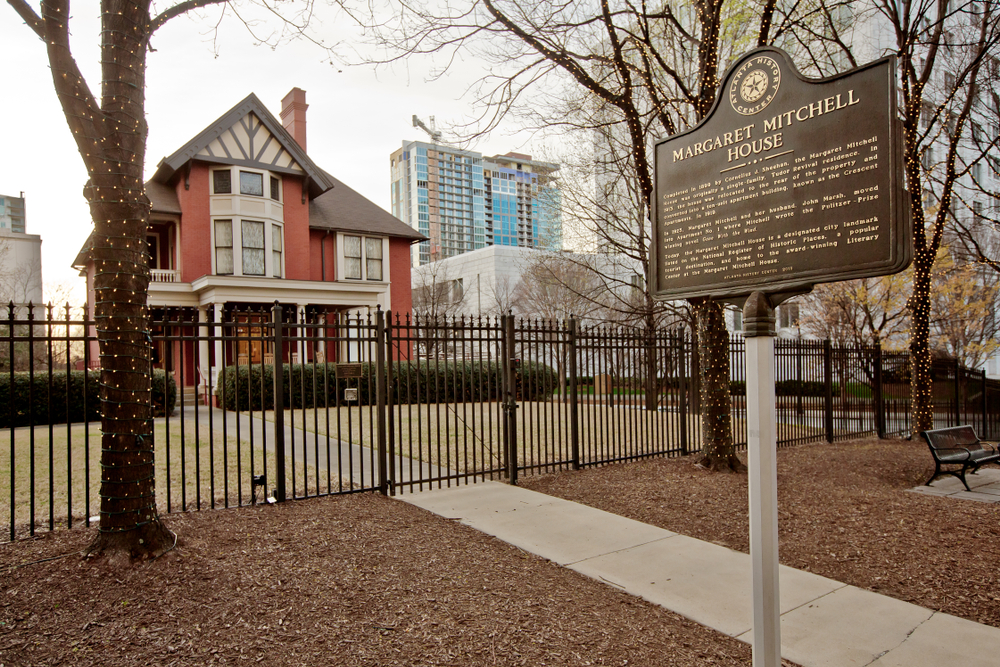 16. Tour Botanical Gardens and the Nature of the City
If you are looking for a wonderful date night in Atlanta (or date day!) try exploring nature. Atlanta is the most forested major city in the United States, making it a perfect place to embrace nature.
Discover Atlanta's largest park that contains the ATL Botanical Gardens on a tour! And after, you'll be awed by the historic landscaped neighborhoods, as well as the another park designed by Olmsted, who is the architect of NYC's Central Park. This is truly one of the best areas to stay in Atlanta!
For over three hours, you will love exploring the 40-foot tall canopy walk through the forest (how romantic!), or strolling through Olmsted Linear Park. You may even consider settling down to admire the large Victorian Cottages that surround Grant Park! Just know that these grounds and gardens spread over 30 acres, so you and your date will be walking a lot!
Book: Atlanta: A city in a Forest Private Nature Tour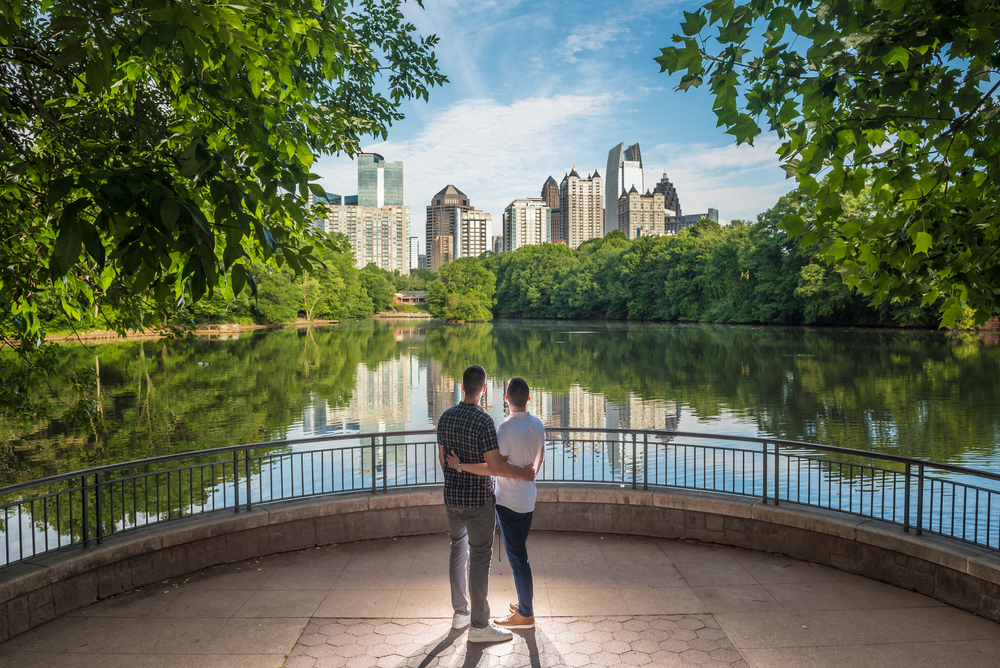 And there you have it folks, 16 romantic date night ideas in Atlanta! Whether you actually want to go out for a date night, or a date day, there are plenty of options in this wonderful city! And don't forget that you can either do something planned well in advance or spontaneous! Either way, we know it will be fun.
And for all you love-birds out there, take a look at our Atlanta Itinerary for more suggestions on places you may want to explore for other date nights! Atlanta date ideas don't have to be limited, so go out, and enjoy!