Get ready to plan to ultimate glamping in Georgia vacation! We are so excited to share these amazing "glamp" sites with you. Glamping is the perfect combination of the comforts of home and camping all in one.
If you love nature, but don't want to fully commit to staying on the ground in a sleeping bag, then glamping is perfect for you! It is the ideal way to unplug, relax, and experience connecting with nature while being fully comfortable.
Georgia is a great location for glamping because the weather is moderate and the sights are absolutely beautiful. You will see wildlife, creeks, rivers, and lakes as well as some mountainous areas.
If you are looking for day trip inspiration, here are 15 Fun Road Trips In Georgia! If you end up staying in or near Savannah, here are the 17 Coolest things to do in Savannah!
All throughout Georgia, you will have opportunities to stargaze, hike, fish, and view waterfalls. Glamping in Georgia places you right in the middle of nature and gives you a fully immersive experience.
Our list will include a wide range of price points, locations, and scenery. So, let's jump right into finding the perfect site for your glamping in Georgia adventure!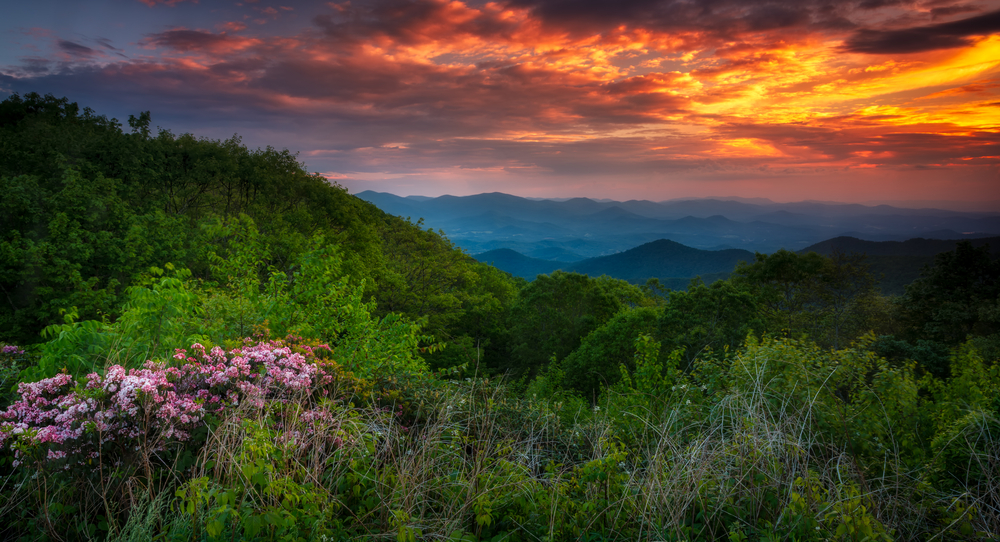 14 Dreamy Places For Glamping In Georgia
Romantic Hand-painted Yurt
The Romantic Hand-painted Yurt is located in Eatonton, which is about one hour southeast of Atlanta. Set in the peaceful woods of Georgia, this yurt is perfect for couples or solo travelers.
The hand-painted yurt is quite stunning at night when the artwork is fully illuminated. Conveniently located within a few minutes of Lake Oconee where guests can kayak and swim.
Inside the yurt, guests will love the full-size bed, small seating area, and vanity/desk. Outdoor amenities include a firepit and kitchenette with a canopy enclosure.
Guests will have access to the community house that provides restrooms, showers, and toilets. It is affordably priced, in a great location, and has a Victorian/Boho vibe.
>>>Check Rates: Airbnb.com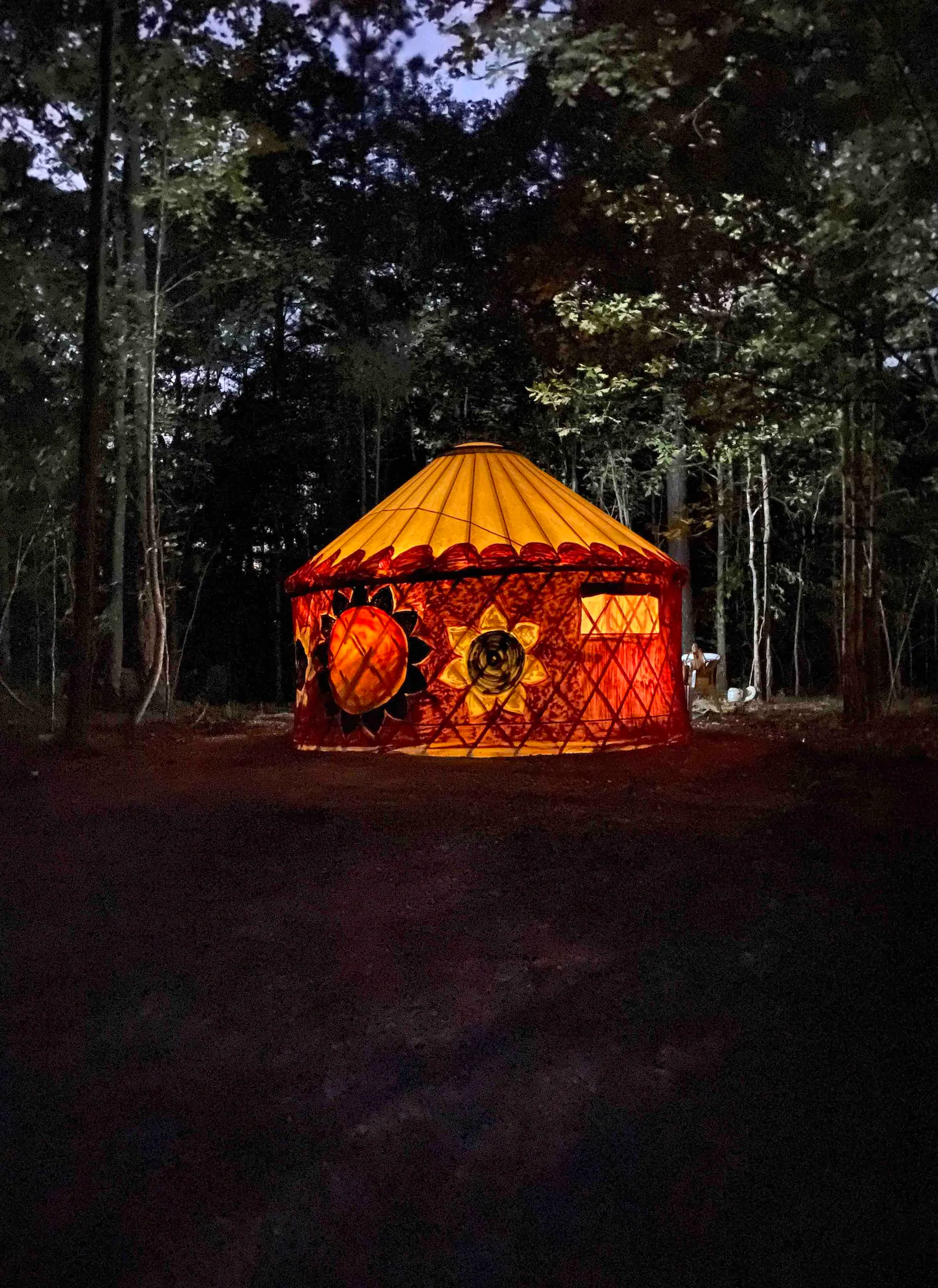 1968 Groovy Camper
The 1968 Groovy Camper is such a fun way to glamp in style! Located only 15 minutes from historic Savannah and the Tybee Island Beaches. The camper is affordable and comes with lots of extras!
The extras include an outdoor fire pit with log seating, an outdoor claw-foot tub with hot and cold water, a hammock, and musical instruments.
The interior and exterior have been fully restored to create a very special retreat. Guests are encourage to bring records with them to play on the Crosley record player.
>>>Check Rates: Airbnb.com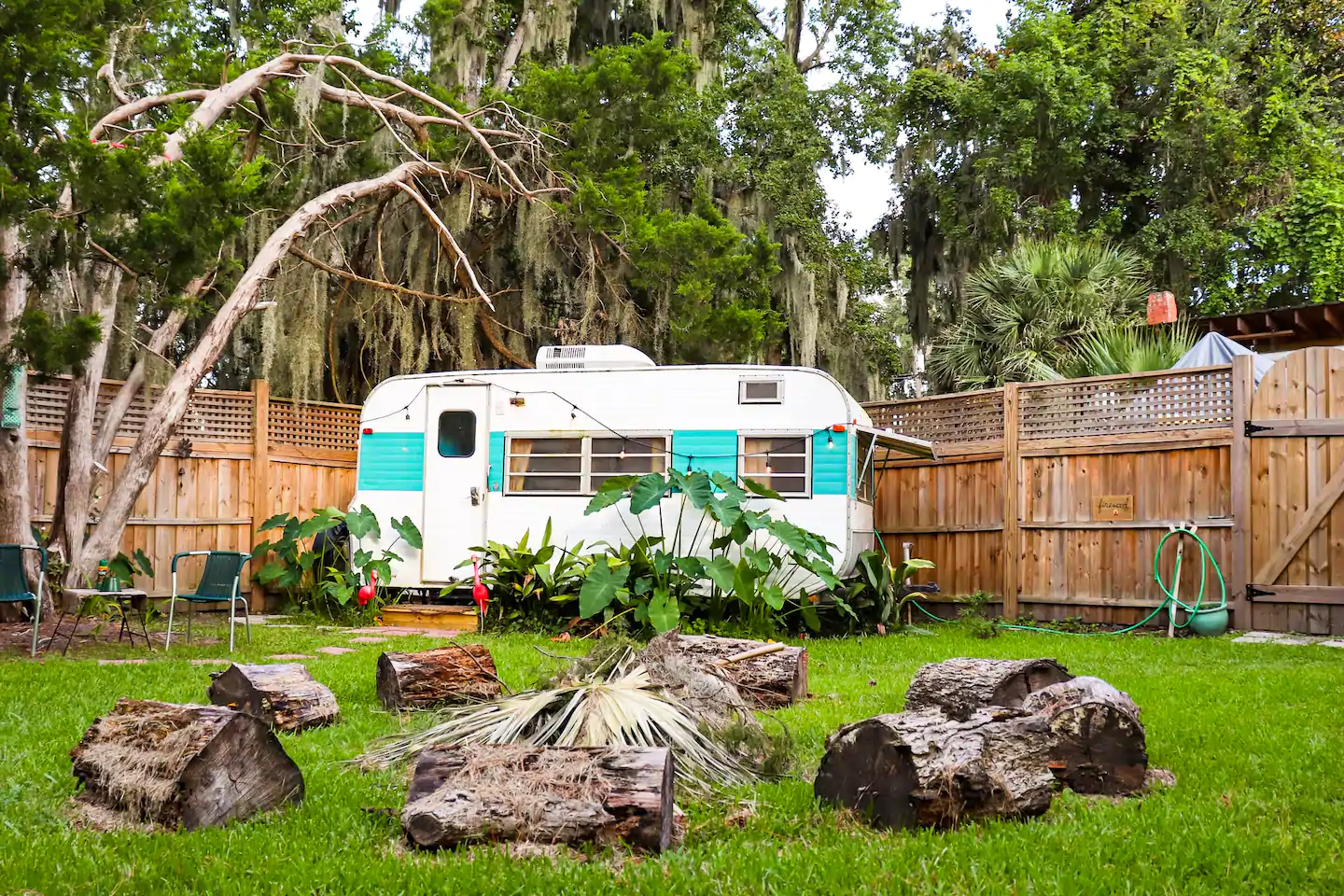 Kaluna Farm Wooden Yurt
The Kaluna Farm Wooden Yurt is great for large parties that want the glamping in Georgia experience. The Kaluna Farm yurt can accommodate up to 8 guests!
The wooden yurt is located in Talking Rock, Georgia, on an organic family farm. It is affordably priced and family-friendly. Guests will love the spacious interior with tons of natural light as well as the nearby spring and farm gardens.
One of the big highlights is that this yurt has a full kitchen with a refrigerator and stove. In addition, guests will have access to an outdoor firepit and charcoal grill.
>>>Check Rates: Airbnb.com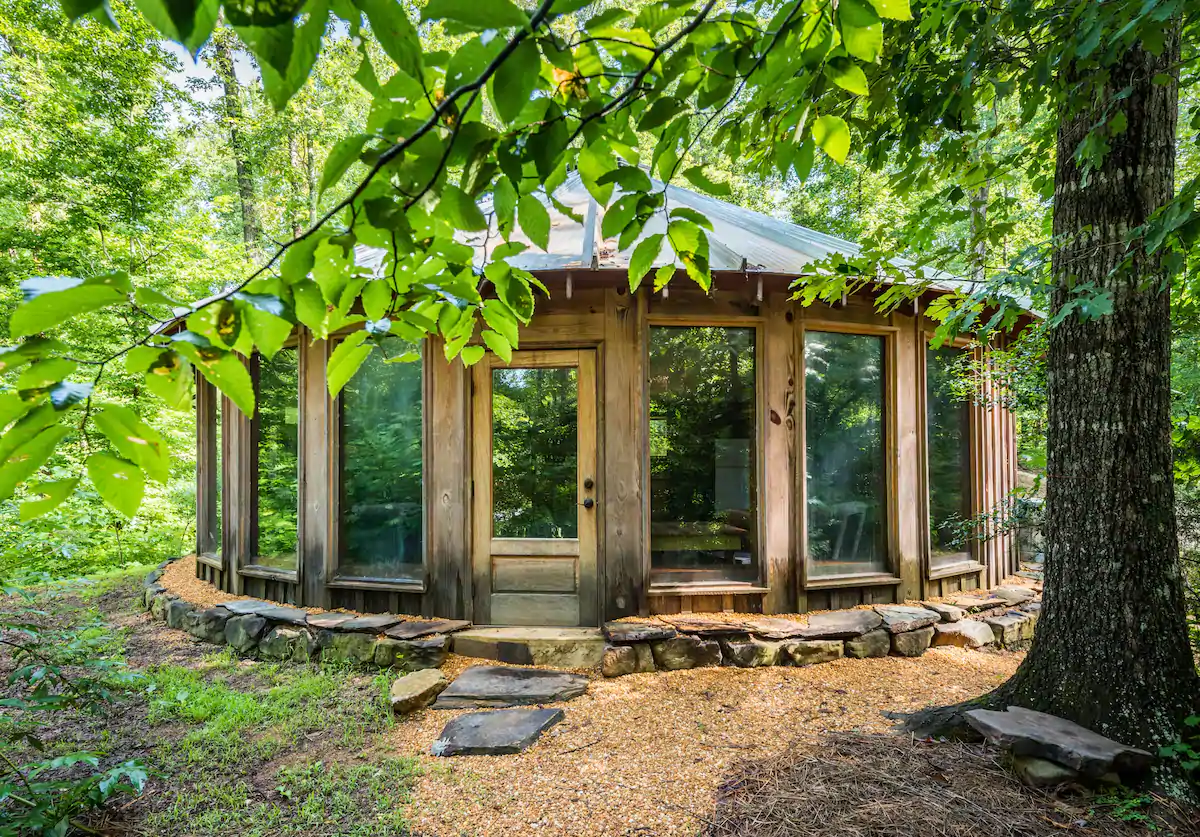 Ellijay Geo Dome
Located just over one hour north of Atlanta, the Ellijay Geo Dome is a beautiful glamping location that was inspired by the desire to seek adventure.
The Geo Dome can accommodate up to 5 guests with 1 bedroom, 3 beds, and 1 bath. The dome is situated on a 7-acre farm in the middle of serene forests, trails, and streams.
Activities include biking, canoeing, hiking, fishing, and viewing the stars from the large wooden deck. Downtown Ellijay is 15 minutes away and Carter's Lake is only 5 minutes away.
The Geo Dome features a fully stocked "cowboy kitchen" that includes farm-fresh eggs whenever they are available. Guests are welcome to explore the farm and meet the owner's Great Pyrenees dog, three goats, and their chickens.
>>>Check Rates: Airbnb.com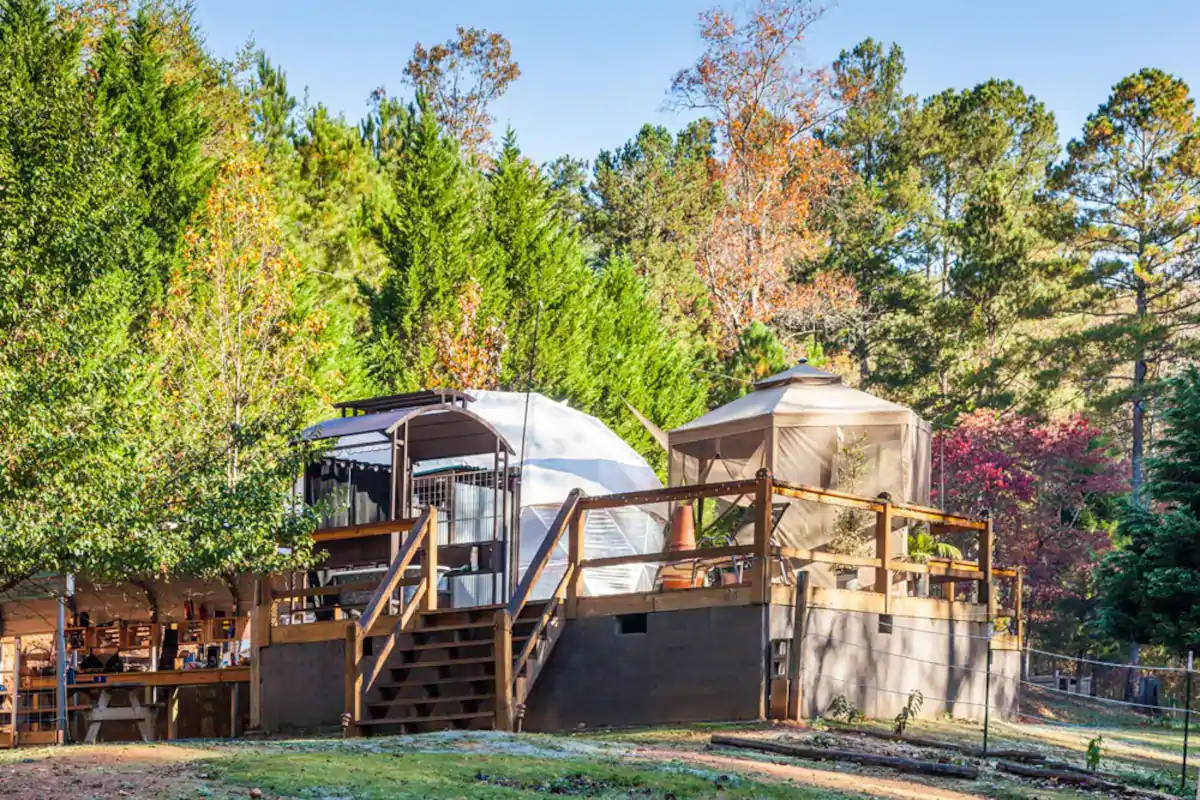 Stone Mountain Luxury Tent
The Stone Mountain Luxury Tent is straight out of a fairy tale! The vibe is enchanting and magical.
The tent is heated, has structured support beams, and can house up to 4 guests. At the front of the tent, there is a covered wooden porch with two swivel chairs.
Be sure to check out the special packages that are available, which include birthday, celebration, coffee delivery, and meet the horses.
If you are looking for secluded privacy, then you will adore the 46 private acres! Highlights include an indoor fireplace, an outdoor fire pit, paddleboards, and kayaks.
>>>Check Rates: Airbnb.com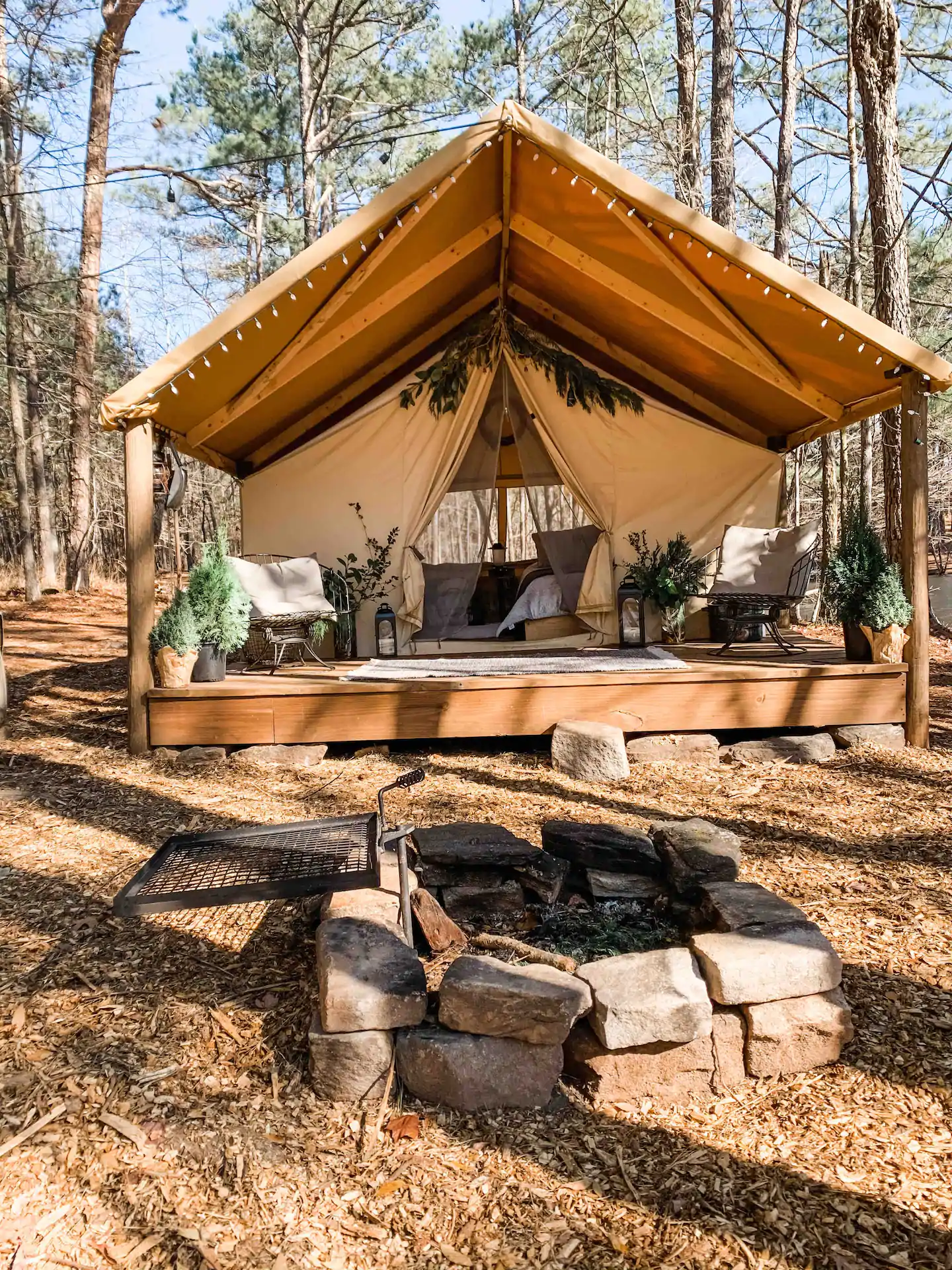 Bed & Bough
Bed & Bough is an elevated twist on the glamping in Georgia experience. Not only is it physically elevated, but it is also elevated in style and comfort.
Bed & Bough is a treehouse retreat that is moderately priced and located in North Georgia. You definitely won't be lacking any comforts of home because the treehouse includes a full bathroom, a living room, and a kitchenette.
In addition to the incredible interior, the outdoor area provides a built-in grill, a picnic table, a fire pit with stacked wood, and a built-in pizza oven.
>>>Check Rates: Airbnb.com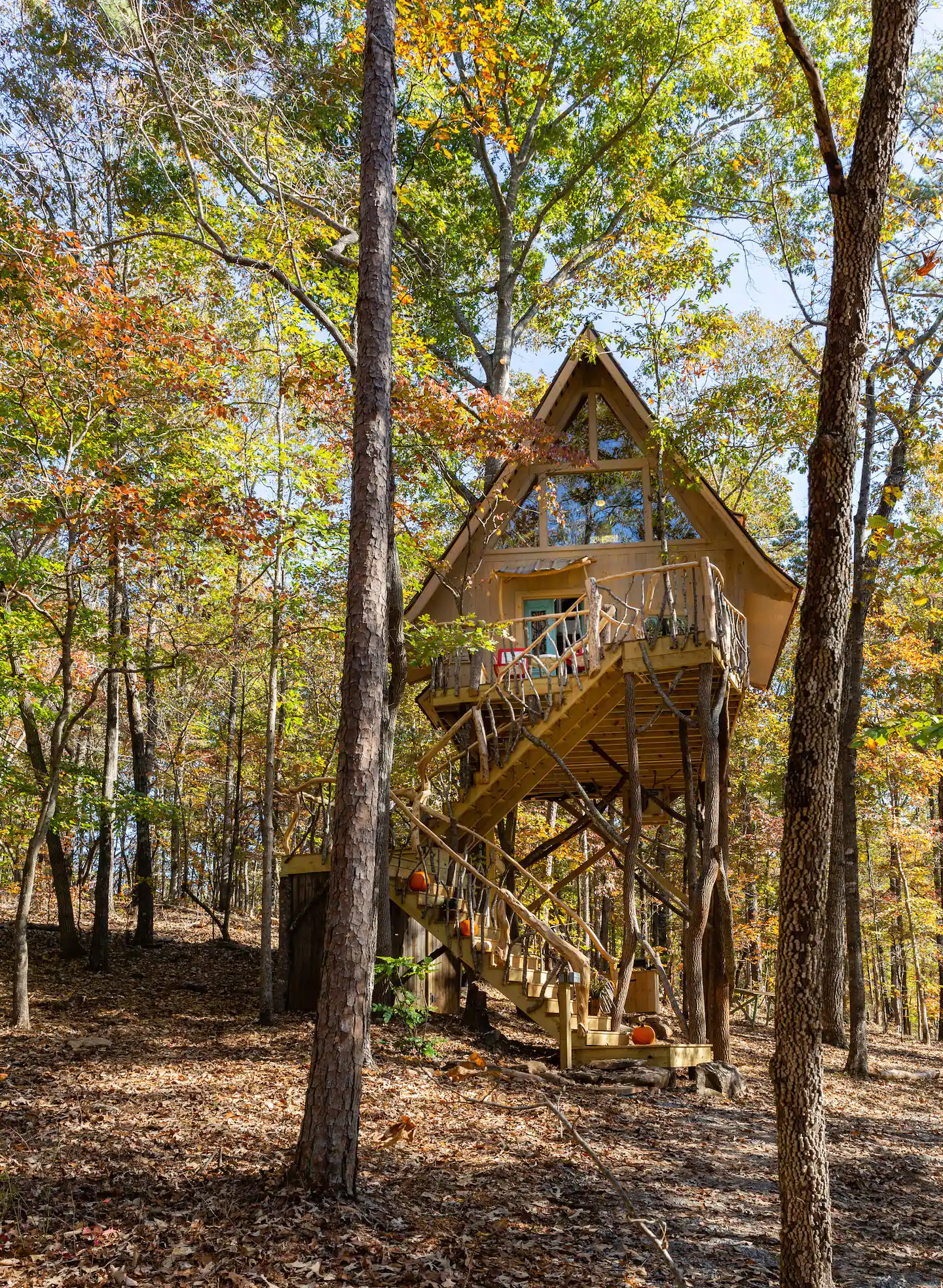 Cedar Sleep Pods
Now, we will visit Wildwood to explore truly unique glamping in Georgia experience. The Cedar Sleep Pods are one of a kind and feature a deck that includes a kitchenette, a seating area with a fire pit, and a dining table.
In addition to all of those amazing features, guests will be happily surprised to find a luxury outdoor bathroom with a hot water shower. The sleep pods are in the moderate to luxury price range and can accommodate up to 4 guests.
>>>Check Rates: Airbnb.com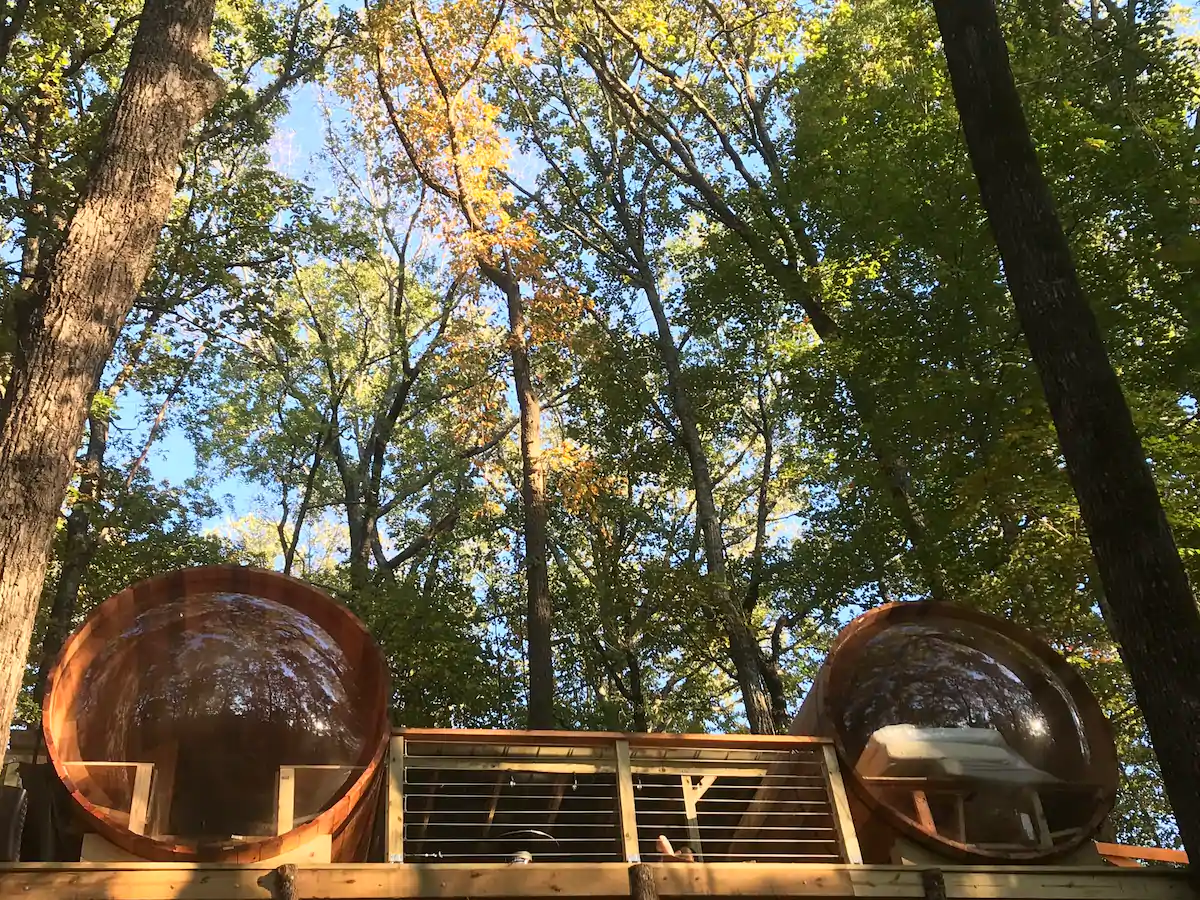 Deluxe Lakeside Yurt
Located in Conyers, the Deluxe Lakeside Yurt can accommodate up to 6 guests with 3 beds and 1 bath. The interior of the yurt is spacious and feels just like a real home.
You will love the modern amenities including electricity, air conditioning, and hot water. Outside of the yurt, you will enjoy the lakeside dock, canoeing, fishing, and relaxing in the hammock.
If you want outdoor fun and adventure right at your fingertips, then this is the spot for you! Staying at this affordable yurt makes outdoor entertainment super convenient and easy!
>>>Check Rates: Airbnb.com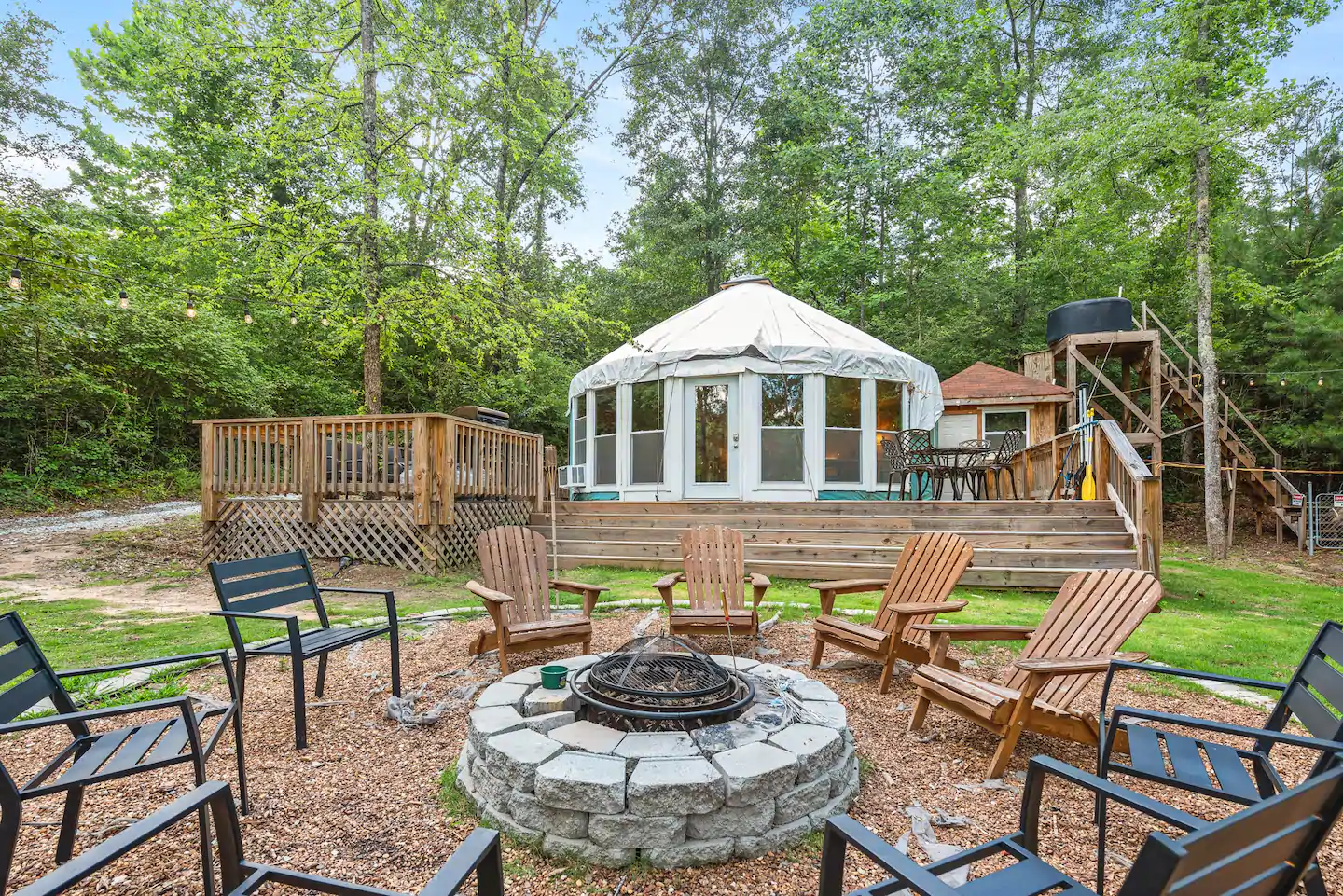 The Happy Shack
Now here is a great opportunity to stay in fully modern accommodation without any trace of rustic living! The Happy Shack is a modern RV camper that is located in Marble Hill.
The RV is affordably priced and it can accommodate up to 6 guests with 2 bedrooms, 5 beds, and 1 bath. The décor is very pleasing with a mostly black, white, and gray color palate.
You will be staying on 27 acres of land at Foothill Farms. Guests are welcome to roam around and visit with the goats and chickens. Nearby attractions include Amicalola Falls, several wineries, and plenty of hiking trails.
>>>Check Rates: Airbnb.com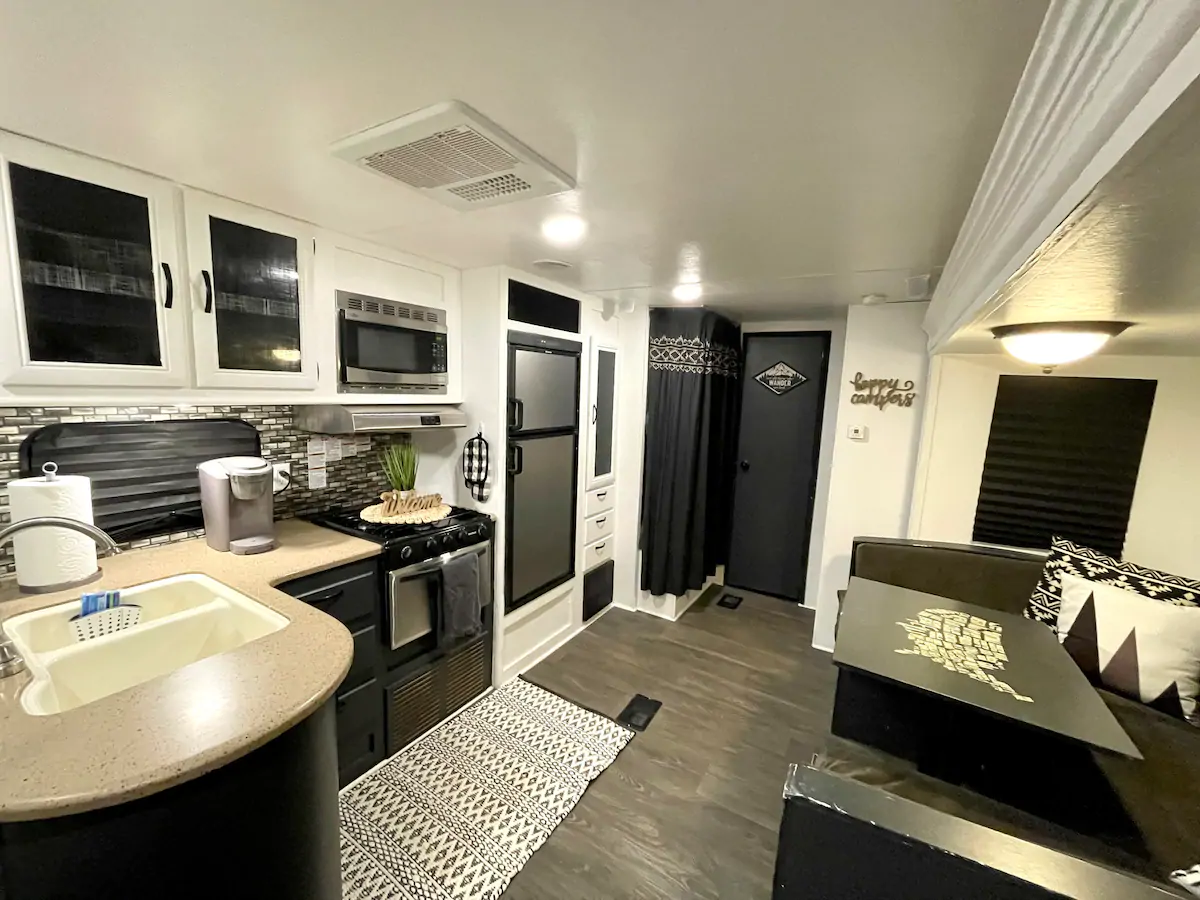 Yurt For 2
The Yurt For 2 is located in Griffin, which is just south of Atlanta. It features a lovely bohemian aesthetic. The vibe is romantic with oversized throw pillows, string lights, and greenery.
If you happen to encounter a chilly evening, the wood-burning stove with come in handy to warm you right up! Immerse yourself in full relaxation on the king-sized bed with luxurious bedding.
Special highlights include an onsite lake, a private bathroom and shower, an outdoor kitchen, and an outdoor dining table. Guests can purchase extras which include fully arranged and prepared picnics as well as floral wreaths and centerpieces.
>>>Check Rates: Airbnb.com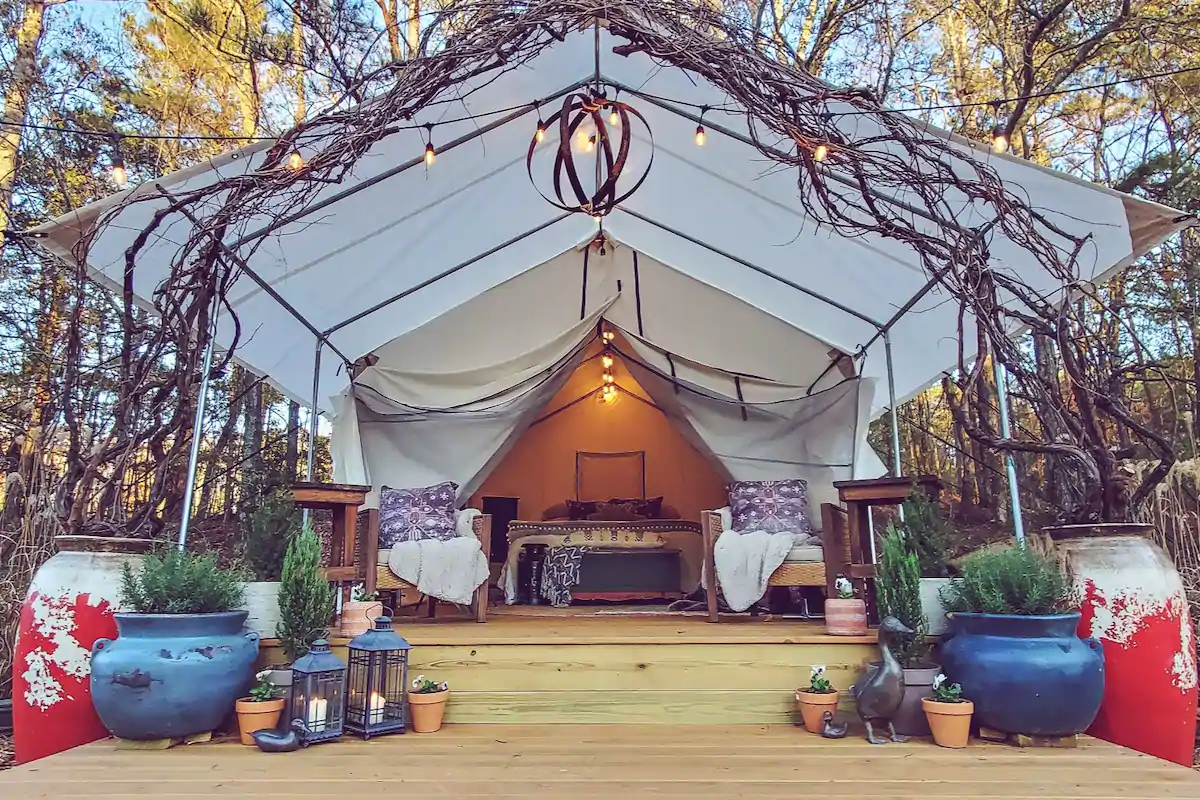 Juliette Riverfront Yurt
The beautiful town of Juliette is where we travel to visit our next glamping in Georgia site. Up to 6 guests can comfortably stay at the affordable Juliette Riverfront Yurt with 4 beds and 1.5 baths.
Stunning views of the Ocmulgee river will help ease you into your morning, then help lull you to sleep at night. The yurt also comes with a bonus private pavilion with extra amenities.
The extra amenities include dining tables, a refrigerator, a fireplace, a TV, a lounge area, an outdoor shower, a toilet, and more!
>>>Check Rates: Airbnb.com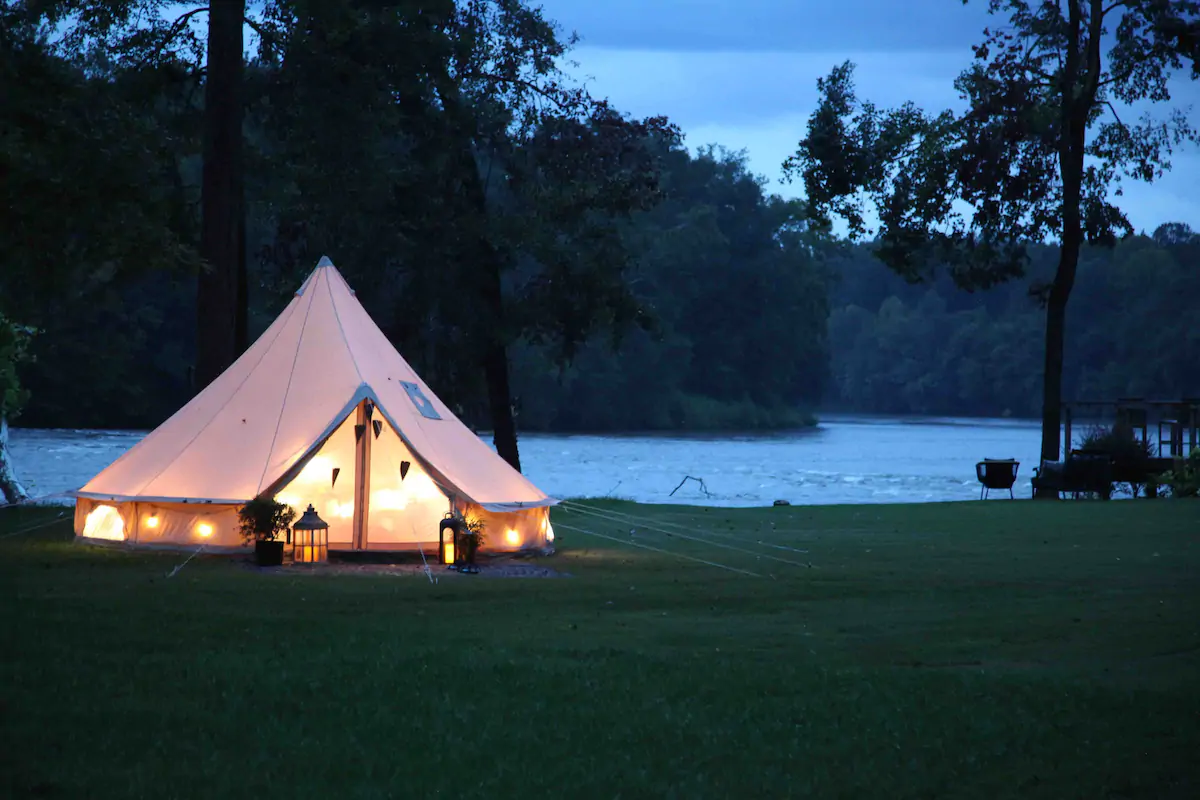 7-Acre Farm Vintage Airstream
Let your wanderlust take you to this special Vintage Airstream. On the 7-acres of farmland in Ellijay, you will find streams, hiking trails, and peaceful forest.
The Airstream is set on a covered wooden deck which includes a seating area and string lights. Picture toasting marshmallows and campfire talks by the brick fire pit.
It is affordably priced and can accommodate up to 4 guests with 1 bedroom, 3 beds, and 2 baths.
>>>Check Rates: Airbnb.com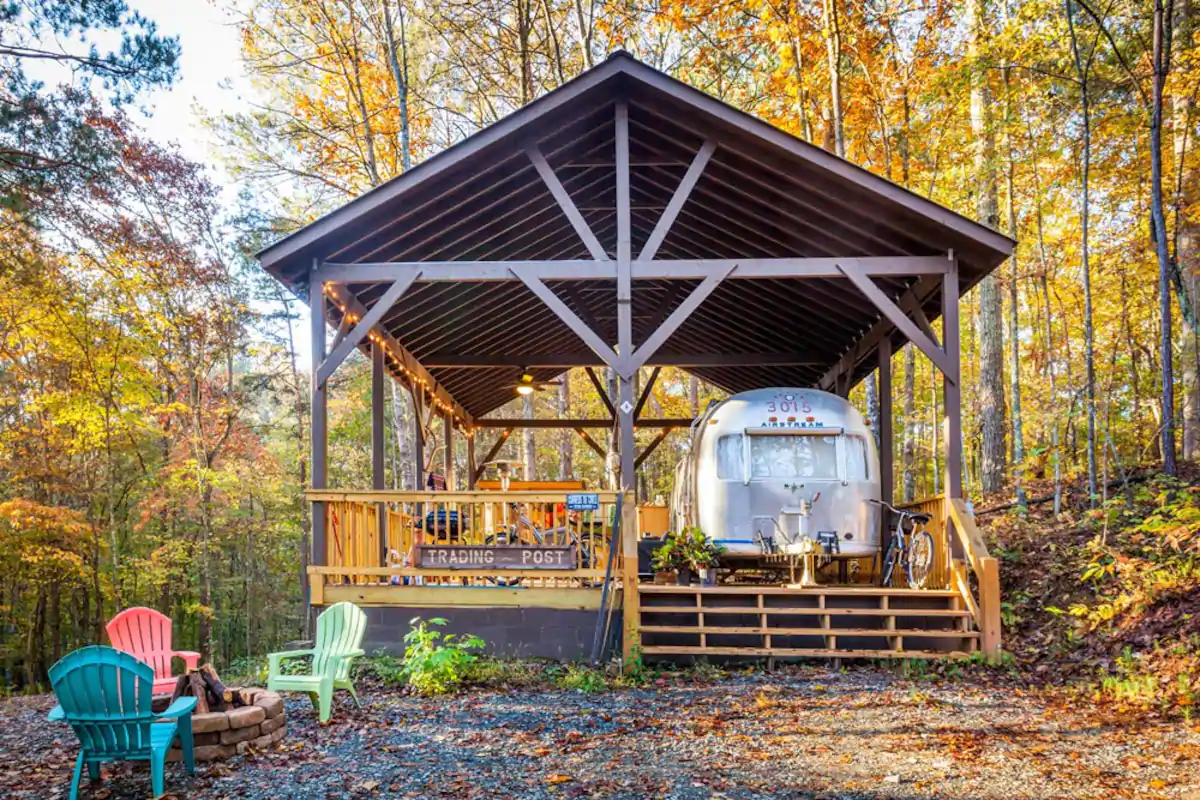 Lookout Mountain Barn Guesthouse
Located right on Lookout Mountain in Rising Falls, the Barn Guesthouse is the perfect blend of comfort and nature. Full-length windows give the illusion of being outdoors, without the heat and bugs.
The décor is rustic cabin meets Home & Garden. In addition to the tall windows, high ceilings and skylights bring a lot of character and light into this space.
After hiking or exploring, you can take a soak in the claw-foot tub or relax on the back patio. The guesthouse is affordably priced and can accommodate up to 2 guests that are 25 years and older.
>>>Check Rates: Airbnb.com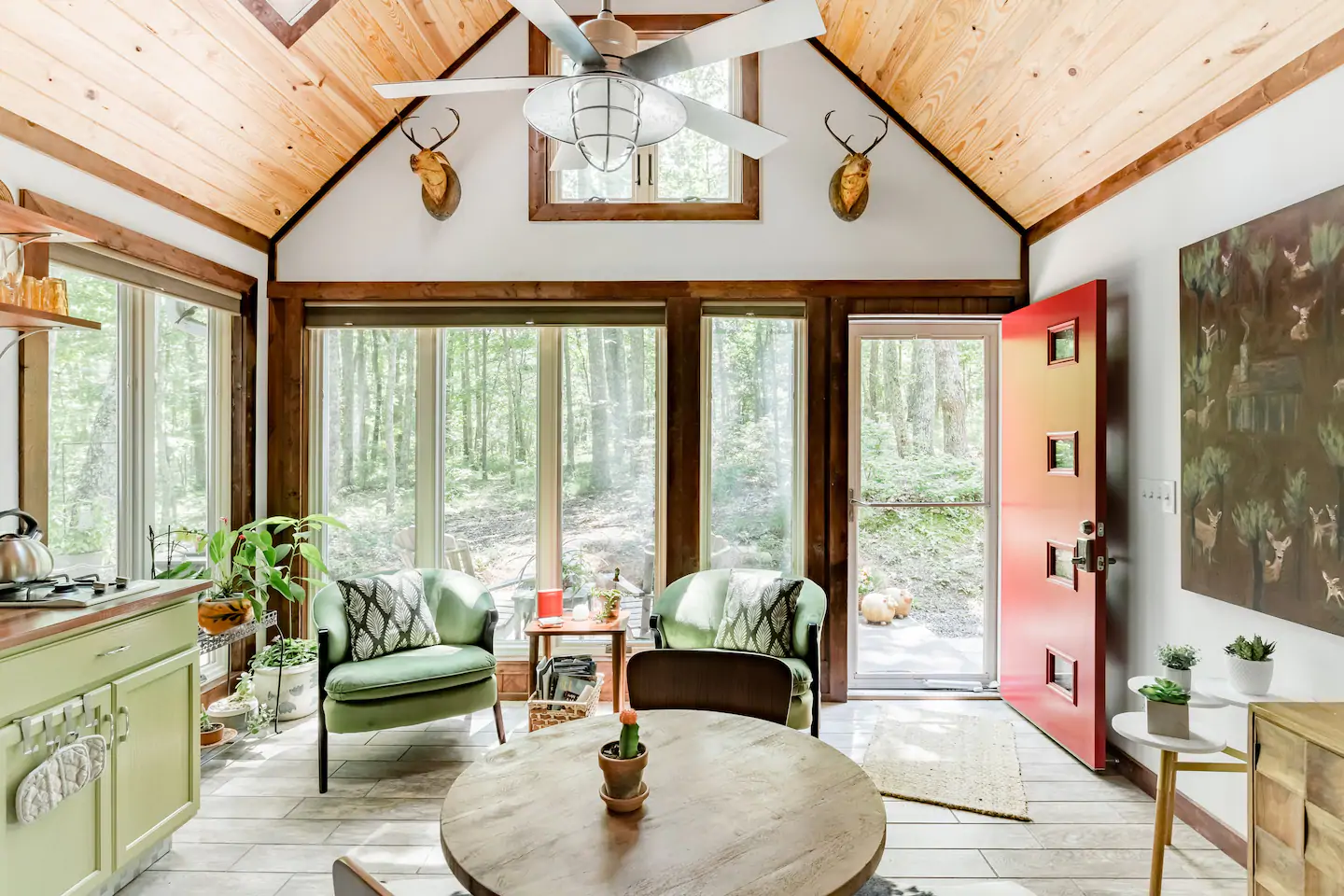 Lovely Little Aloha
Lovely Little Aloha is an adorable RV/Camper that is full of personality and charm. The décor is bright and cheery which creates a wonderful ambiance.
Up to 4 guests can stay in this extremely affordable camper, located in the Stone Mountain/Decatur area. Conveniently close to Stone Mountain Park, Downtown Atlanta, and the Pinelake Community.
Pinelake features swimming, picnic tables, and a playground. Other perks include local farmers' markets and fresh eggs from on-site chickens.
>>>Check Rates: Airbnb.com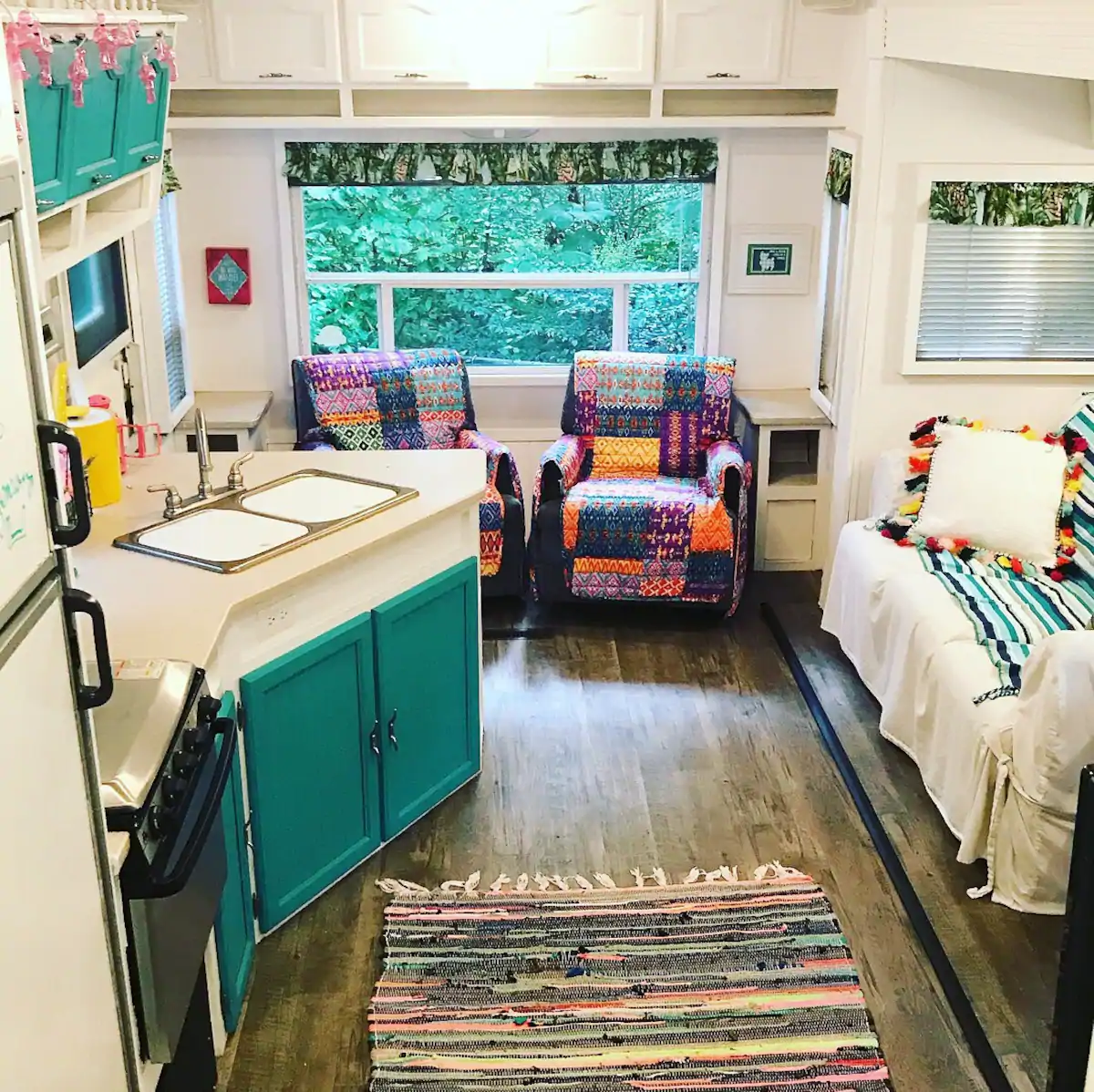 Well, we hope you have a wonderful time glamping in Georgia! If you ask us, this is the perfect way to camp. Don't forget to pack your sunscreen, camera, bug spray, and your sense of adventure!