Get ready to plan to ultimate glamping in Georgia vacation! We are so excited to share these amazing "glamp" sites with you. Glamping is the perfect combination of the comforts of home and camping all in one.
If you love nature, but don't want to fully commit to staying on the ground in a sleeping bag, then glamping is perfect for you! It is the ideal way to unplug, relax, and experience connecting with nature while being fully comfortable.
Georgia is a great location for glamping because the weather is moderate and the sights are absolutely beautiful. You will see wildlife, creeks, rivers, and lakes as well as some mountainous areas.
If you are looking for day trip inspiration, here are 15 Fun Road Trips In Georgia! If you end up staying in or near Savannah, here are the 17 Coolest things to do in Savannah!
All throughout Georgia, you will have opportunities to stargaze, hike, fish, and view waterfalls. Glamping in Georgia places you right in the middle of nature and gives you a fully immersive experience.
Our list will include a wide range of price points, locations, and scenery. So, let's jump right into finding the perfect site for your glamping in Georgia adventure!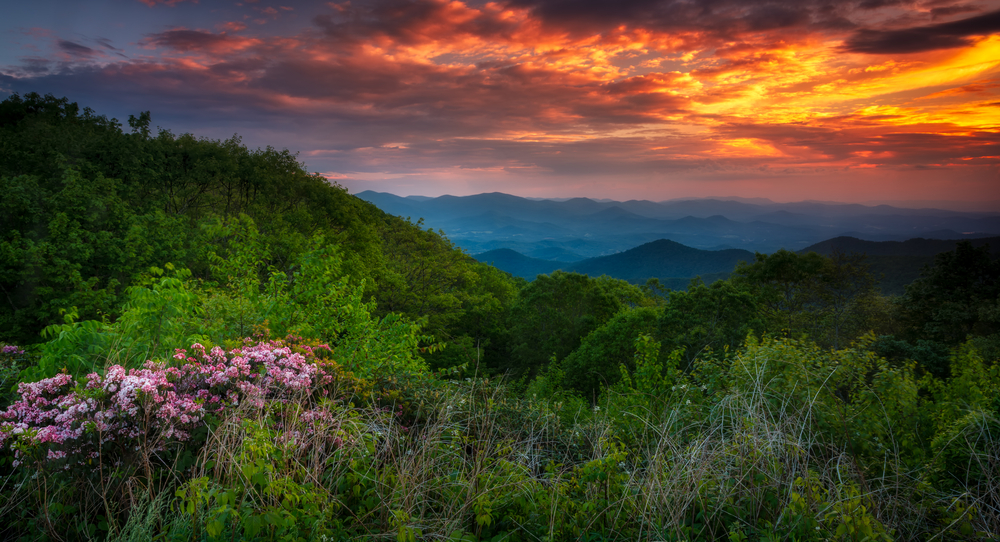 14 Dreamy Places For Glamping In Georgia
Lakeside Glamping
If you're looking for glamping near Atlanta, your search is over! This VRBO is conveniently located just to the east of Atlanta. This tent would make an amazing nature getaway.
Set in the peaceful woods of Rockdale county Georgia, this canvas tent is perfect for couples, small families, or solo travelers. The tent can host up to 4 guests! Pets are allowed to join for a fee of $50 per pet.
Staying here gives you access to a private fire pit, grill, and outdoor bathhouse. The bathhouse has a composting toilet and a shower. The tent is located right on a lake with a dock and canoe!
The inside of the tent is light and bright. Reviewers say the bed is super comfortable and luxurious! Just what you need after a long day of play and exploring the lake and woods. If you're looking for luxury camping in Georgia, this Lakeside Glamping experience has got to be on your list!
>>>Check Rates: VRBO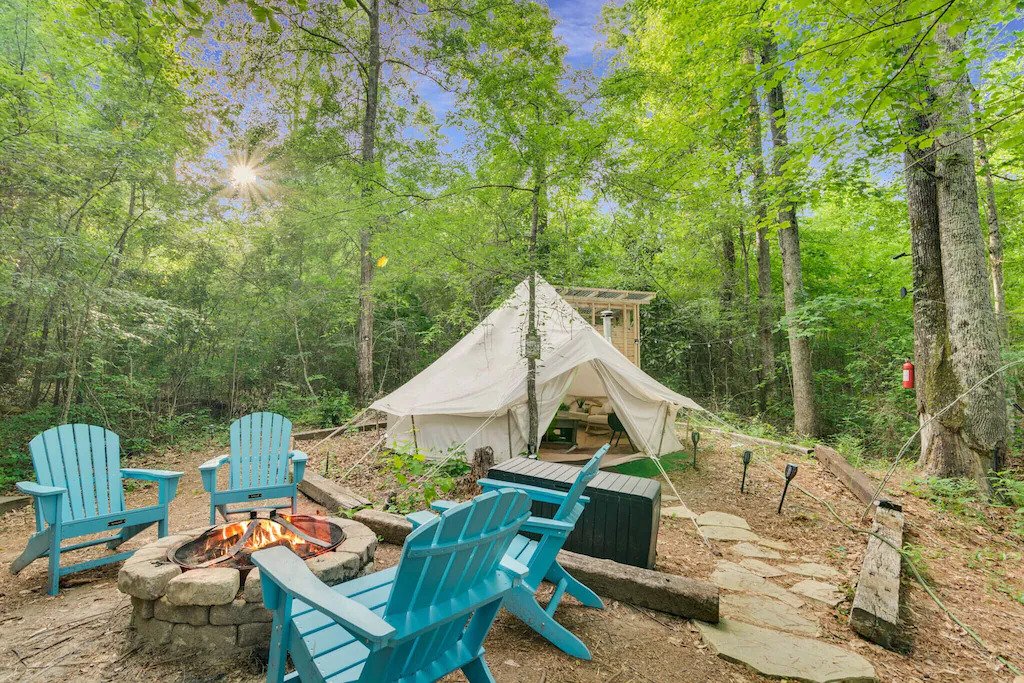 Canopy Blue Luxury Treehouse
This Canopy Blue Luxury Treehouse in Blue Ridge, Georgia is everything you could want and more. There are certainly no compromises in this dreamy home with the most charming modern mountain home decor. This is one of the treehouses in Georgia located near the popular Aska adventure area.
There is 1 bedroom and 1 bathroom, but it can sleep up to 6 people. There is a queen bed for the bedroom, a hanging queen bed in the sofa area and both a sofa bed and bunk beds in the living room, making it perfect for families with children. This home in the trees will give you all the creature comforts for the best glamping experience. It has running water, air conditioning, a kitchen with two burners and a fridge, full bathroom, WiFi, and TV but no cable. Nature will surround you, as the property is located on 4 acres of private woods. There is also the popular Benton MacKaye Trail right out the door!
The outdoor deck area is double the size of the cabin, with ample seating such as rocking chairs, a hammock, an outdoor hot tub, a fire pit, a picnic table, bbq grill making it the perfect place to relax while being surrounded by nature, as the home is built around trees. You can often spot wildlife such as deer!
>>Check Rates: VRBO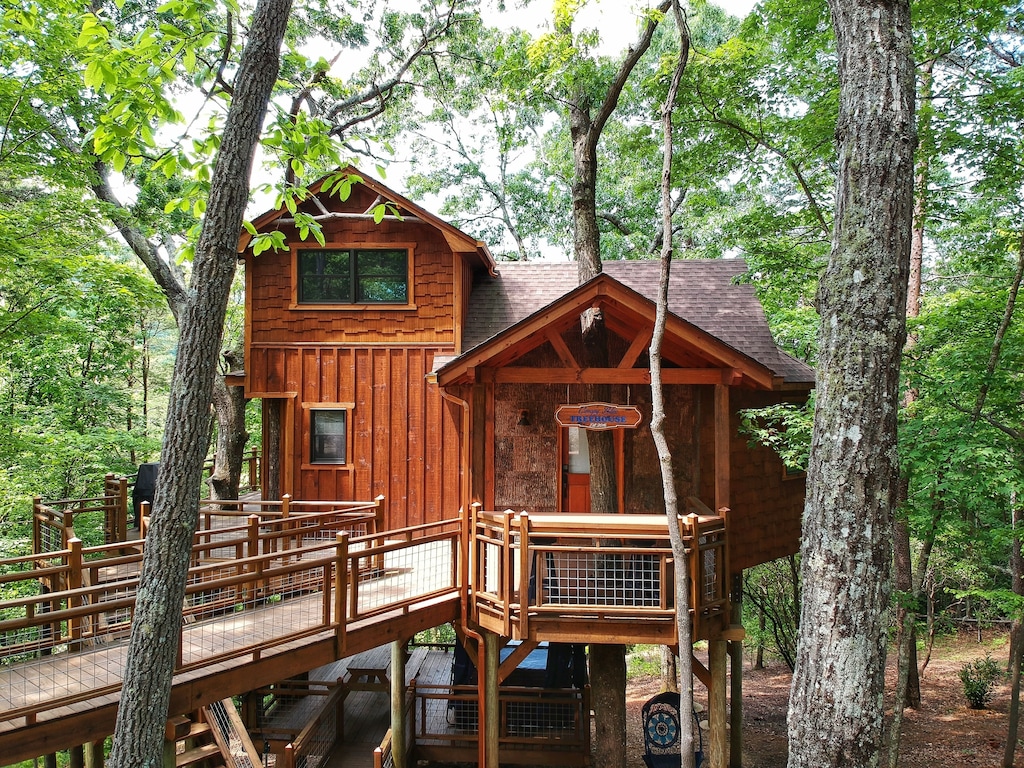 Kaluna Farm Wooden Yurt
The Kaluna Farm Wooden Yurt is great for large parties that want the glamping in Georgia experience. This yurt is bigger than most and can accommodate up to 8 guests!
The wooden yurt is located in Talking Rock, Georgia, on an organic family farm. It is affordably priced and family-friendly. Guests will love the spacious interior with tons of natural light as well as the nearby spring farm, and gardens.
One of the big highlights is that this yurt has a full kitchen with a refrigerator and stove. In addition, guests will have access to an outdoor firepit and charcoal grill. You'll definitely be able to cook up a delicious farm-fresh feast at this gorgeous example of a yurt in Georgia.
>>>Check Rates: VRBO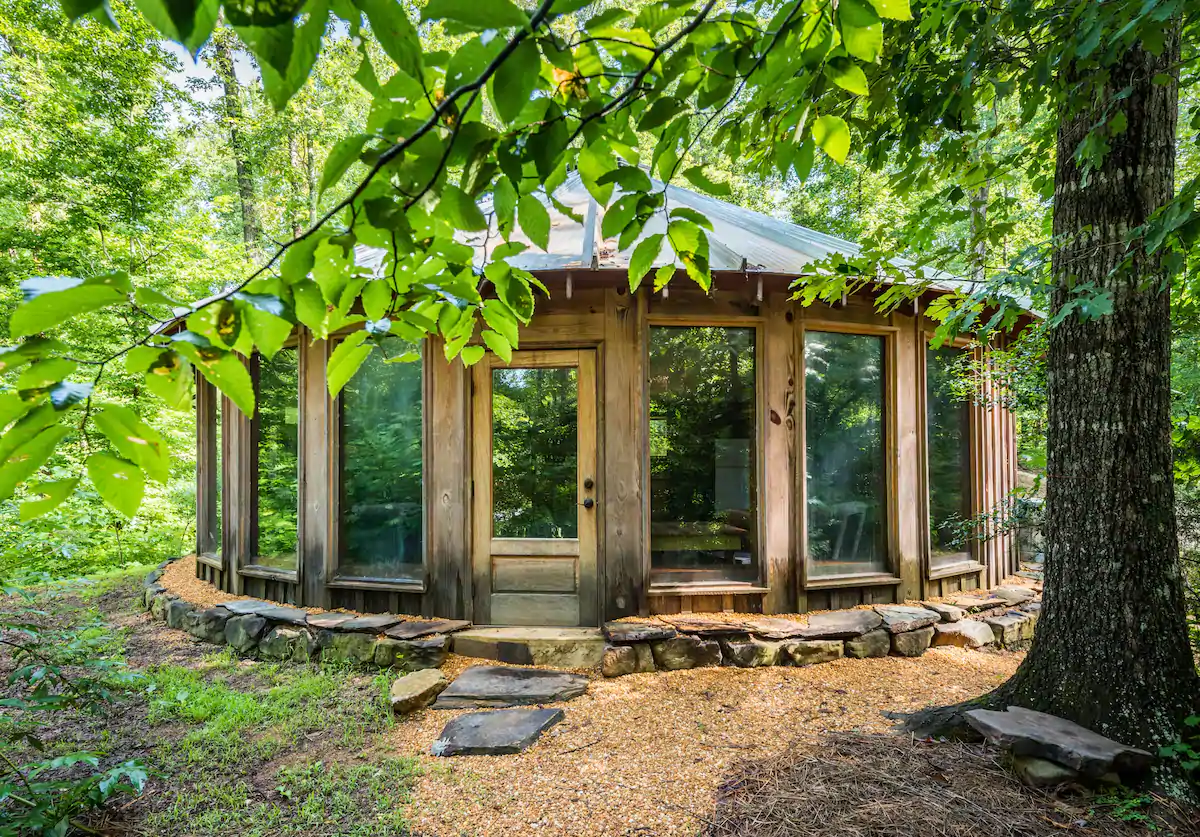 Airstream Glamping with Donkeys
Come check out this roomy and comfortable Avion trailer in Catoosa County, Georgia. It is located in the back pasture of a picturesque farm pasture overlooking a pond. The farm has chickens, donkeys, and goats. The animals are friendly and guests are welcome to interact with them.
The hosts describe the trailer as an adorable time capsule. It can host up to 5 guests. This glamping spot has 2 bedrooms and 1 bathroom. Pets are not allowed and the hosts caution that the deck area may not be safe for active toddlers. This property only has wifi if you use your own personal hotspot or pay extra for it. There's plenty to do outside though, so you likely will enjoy just being "off the grid."
Fancy a stroll? The 31 acres of this farm are yours to enjoy. If you prefer a more traditional hike, Lookout Mountain's plethora of trails is only 30 minutes away. Do you enjoy rock climbing? Check out Rock Town only 25 miles south of the Avion. If you want to visit a sweet Southern town, one of our favorites Chattanooga is just a 20-minute drive away.
This is such a great spot for glamping in North Georgia. You're sure to have a wonderful time on this cozy & fun farm.
>>>Check Rates: VRBO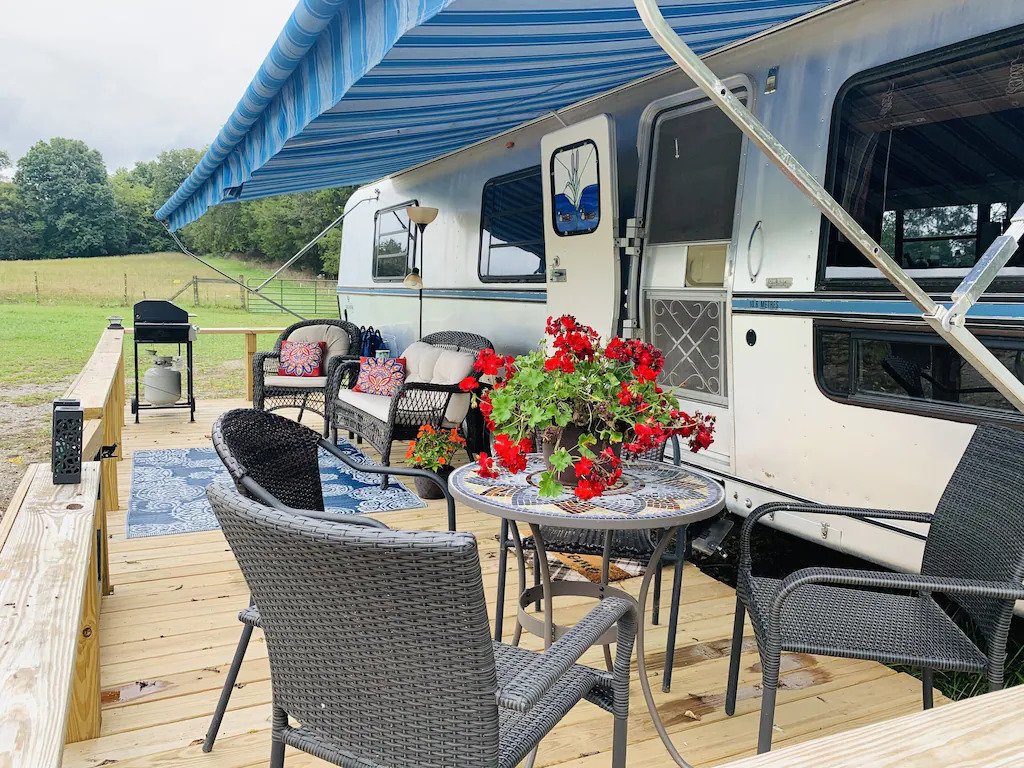 Blue Ridge Glamping
This lovely RV in north Georgia is hosted by an interior designer! The design choices and beautiful private outdoor pavilion really scream a luxurious glamping getaway. This RV is located in a gated community that has access to a saltwater swimming pool, hot tub, basketball court, and outdoor pizza oven.
This RV can sleep 2, so it's perfect for a romantic Blue Ridge getaway. This location can't be beaten if you're looking for North Georgia mountains glamping. It's located less than 20 miles from Blue Ridge Scenic Railroad, The Ocoee Adventure Center, Appalachian Trail Rides, Blue Ridge Marina, Serenberry Vineyards, and Mercier Orchards.
>>>Check Rates: VRBO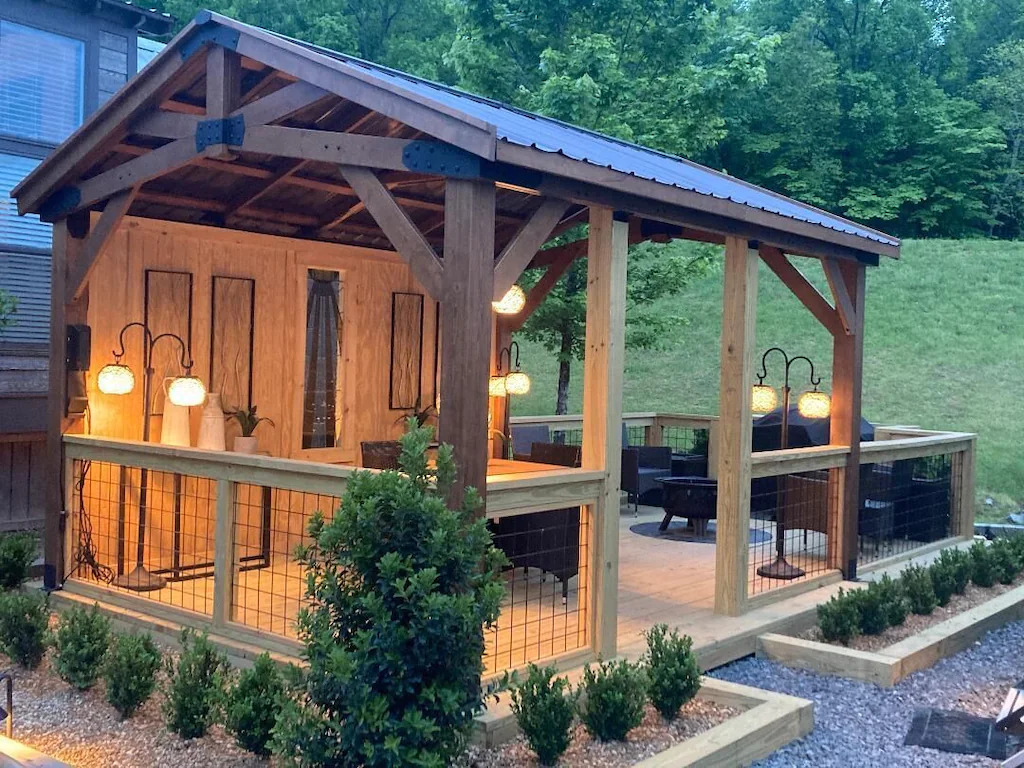 Waterfront Cabin Treehouse
This Waterfront Cabin Treehouse in Dahlonga sits atop a 52 acre protected nature preserve. As you travel down the long driveway you will be transported to your own private oasis at Frog Creek which borders a National Forest.
This treehouse has two bedrooms and two bathrooms and can accommodate 6 guests. This one of the treehouses in Georgia that is situated overlooking a large pond that is filled with bass, and a waterfall. The property features a fire pit and numerous paths along the water.
You'll be just a few feet away from the national forest, where you can hike through the various trails. Just minutes away you can have the once-in-a-lifetime experience of panning for gold in a river.
This VRBO is made up of a treehouse with a queen bed and a sleeper house with 4 bunk beds. The Treehouses do not have running water or electricity. The cabin has three bedrooms each with king beds and a beautiful claw foot tub overlooking the pond in the master bath. The property can sleep 6 guests.
>>>Check Rates: VRBO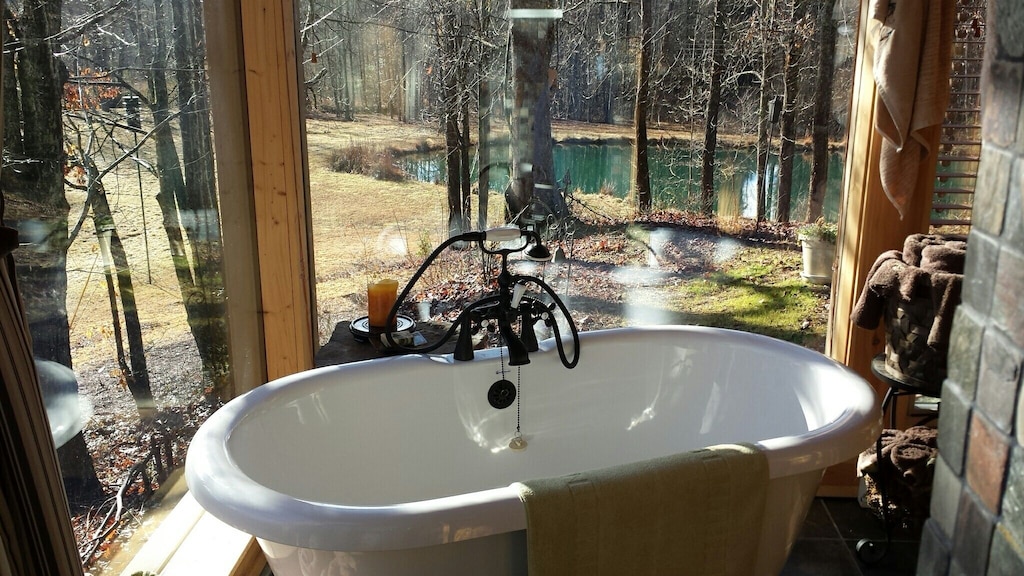 Cedar Sleep Pods
Now, we will visit Wildwood to explore a truly unique glamping in Georgia experience. The Cedar Sleep Pods are one of a kind and feature a deck that includes a kitchenette, a seating area with a fire pit, and a dining table. Imagine waking up to an amazing view of this gently swaying tree.
In addition to all of those amazing features, guests will be happily surprised to find a luxury outdoor bathroom with a hot water shower. The sleep pods are in the moderate to luxury price range and can accommodate up to 4 guests.
>>>Check Rates: VRBO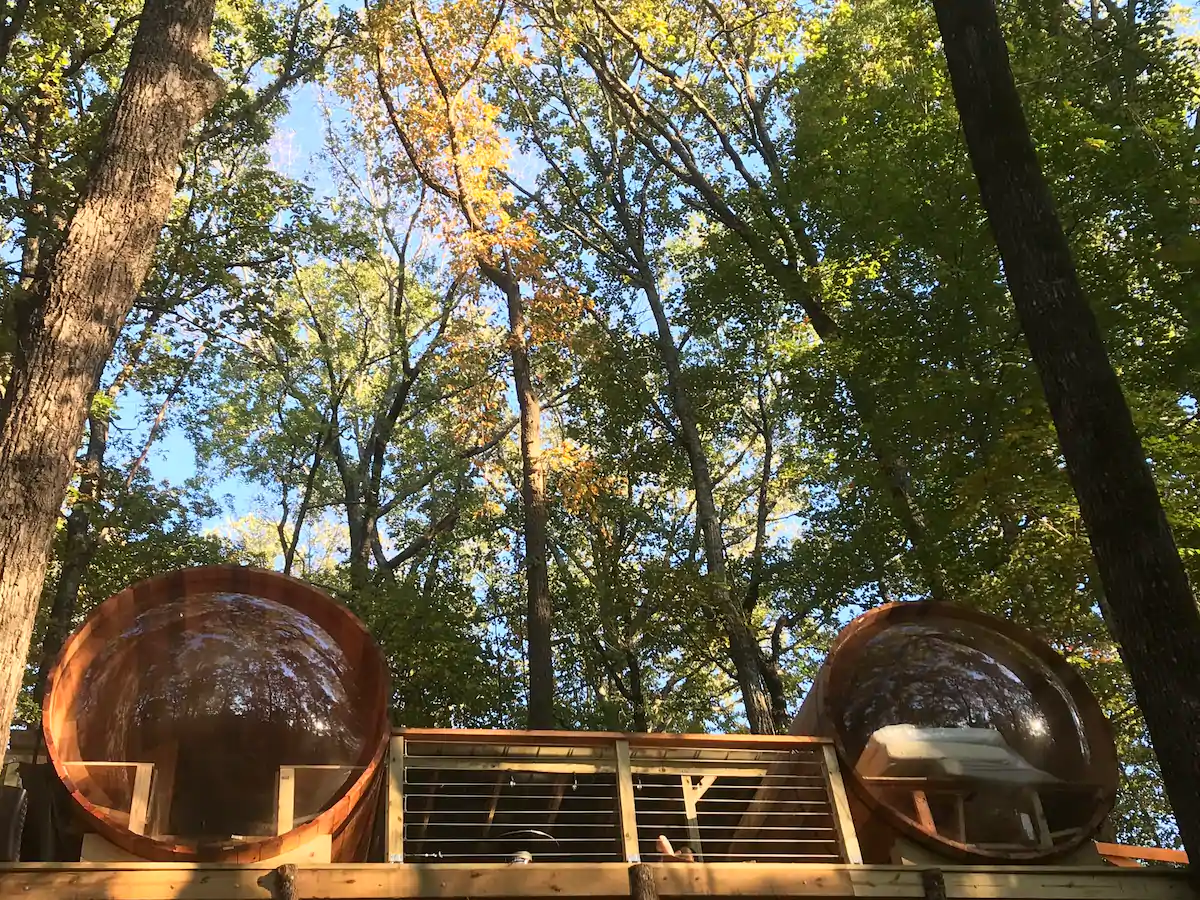 Private Lakeside Yurt
Located in Rockdale County, the Private Lakeside Yurt can accommodate up to 5 guests with 4 beds and 1 bath. The interior of the yurt is spacious and feels just like a real home.
You will love the modern amenities including electricity, air conditioning, and hot water. Outside of the yurt, you will enjoy the private lakeside dock, canoeing, fishing, and relaxing in the hammock. The hosts thoughtfully include a canoe and some fishing supplies
If you want outdoor fun and adventure right at your fingertips, then this is the spot for you. Put this on your list next time you're hunting for yurt camping in Georgia. Staying at this affordable yurt makes outdoor entertainment super convenient and easy!
>>>Check Rates: VRBO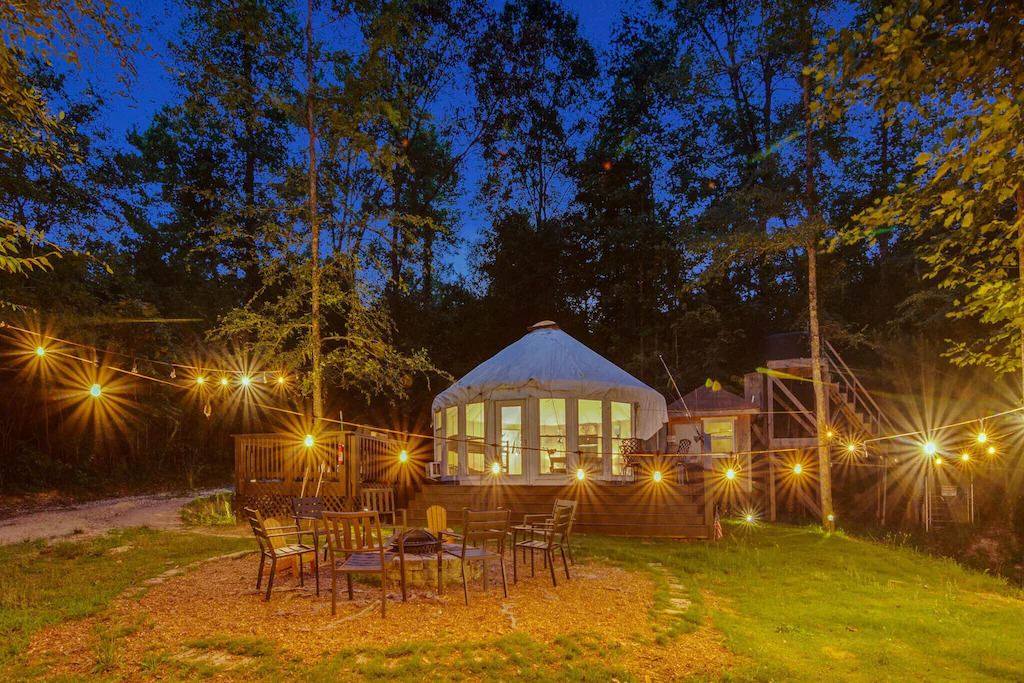 Sweet Retreat
Secluded treehouse rentals in Georgia that are still close to the popular cities can be hard to find, but this Sweet Retreat is a little hidden gem. Just minutes from Helen, Georgia you will be near the Georgia Wine Route, Anna Ruby Falls, Sautee Nacooche, and Unicoi State Park.
On the back patio, you will find an outdoor oasis with a hot tub awaiting you after hiking all day, chairs, and a table. The sleeping arrangements are a little unique, in the bedroom, you will find a full-sized pool table and a king bed, and a queen-sized bed located inside the living room.
The front porch features a dining table, gas grill, and rocking chairs and another deck features a fire pit and chairs. The kitchen is fully stocked, and there is a TV and fireplace in the living room perfect for curling up on the bed to watch a movie.
>>>Check Rates: VRBO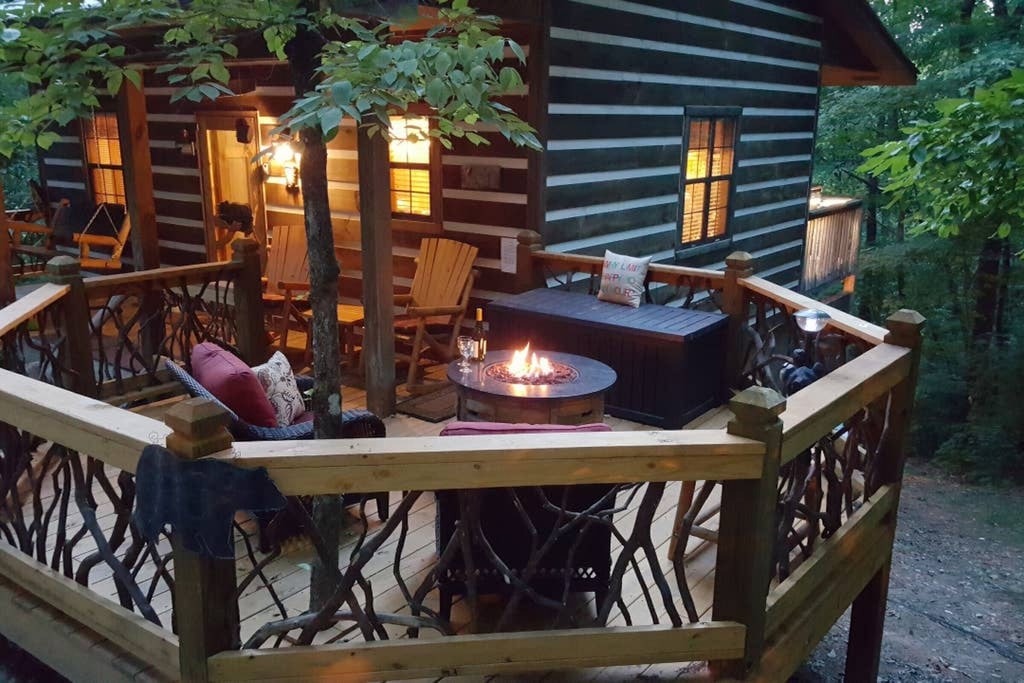 Cherry Blossom Yurt
If you're looking for yurts in Georgia, may we suggest you book the Cherry Blossom Yurt? This glamping spot is located in idyllically named Rising Fawn, Georgia. It features a lovely bohemian aesthetic. The yurt has exposed wood beams, dream catchers, string lights, and greenery. It has a lovely modern indoor bathroom, which can be rare in glamping-style vacations!
While staying here you'll have a private deck with an epic view of the aptly named Lookout Mountain. You've got to check out these listing photos, the view down this mountain is truly breathtaking! You'll love looking down over the Chattanooga valley and stargazing from this beautiful peak. You can even bring your pet along for a $75 fee.
>>>Check Rates: VRBO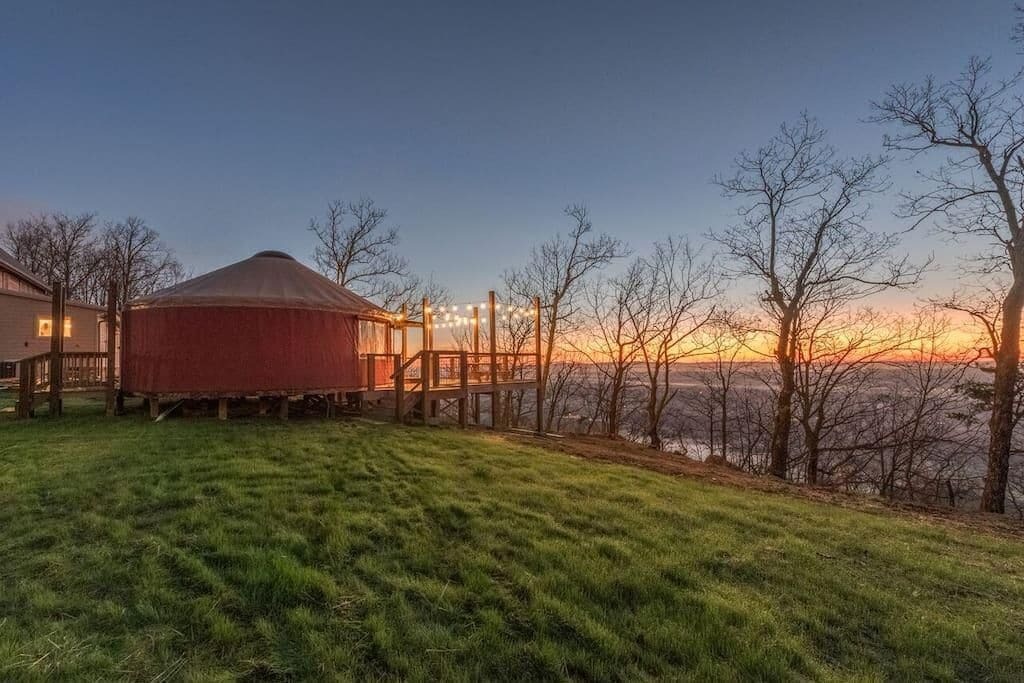 Juliette Tiny House
The beautiful town of Juliette is where we'll travel to visit our next glamping in Georgia site. This adorable yellow tiny home is located only 1.5 miles from Lake Tobesofkee. It's also located only a few miles outside Macon, which is one of our favorite spots to visit in Georgia.
This little house can sleep 4 guests in the loft bed and on the pullout sofa. It has an eco-friendly composting toilet inside the home, an indoor shower, and an outdoor shower. If you're looking for Georgia glamping opportunities, definitely consider booking the Juliette Tiny House.
>>>Check Rates: VRBO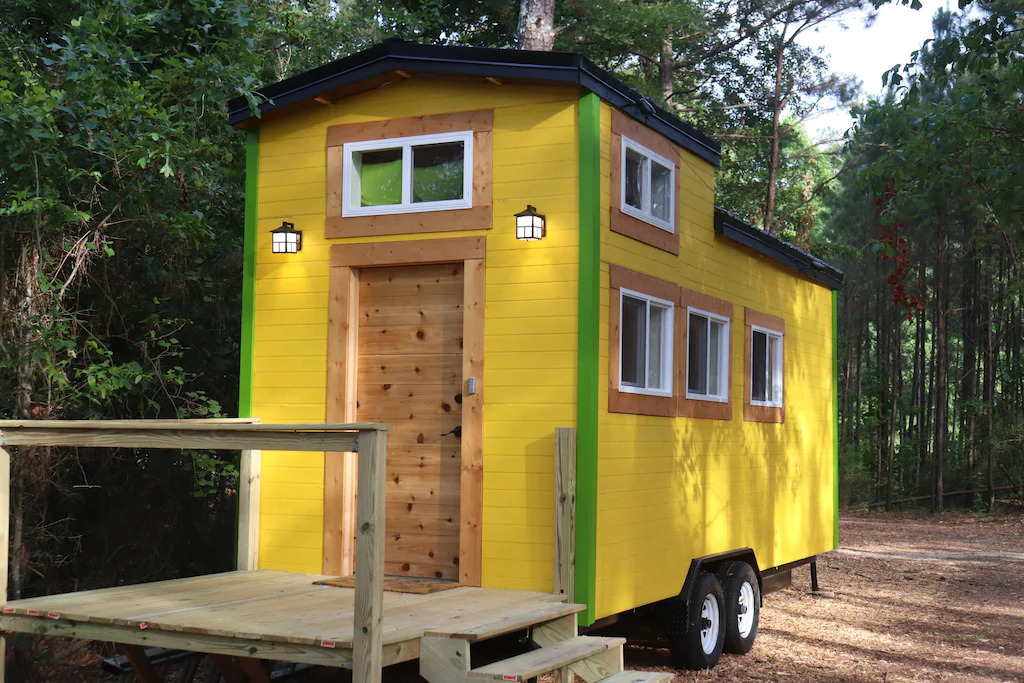 Towaliga River Retreat
If you want your Georgia glamping to come with a river view, check out the Towaliga River Retreat Cabin. This little blue cabin boasts views of the Ocmulgee River, Zellner Island, and the Juliette Dam.
This rustic cabin gets you out into nature and is close to opportunities for gravel biking, fishing, hiking, canoeing, and kayaking. The 190-square-foot cabin can sleep 2 guests. It has a private indoor bathroom and a kitchenette. The wood-paneled walls give a homey and cozy feel to your Georgia glamping adventure.
>>>Check Rates: VRBO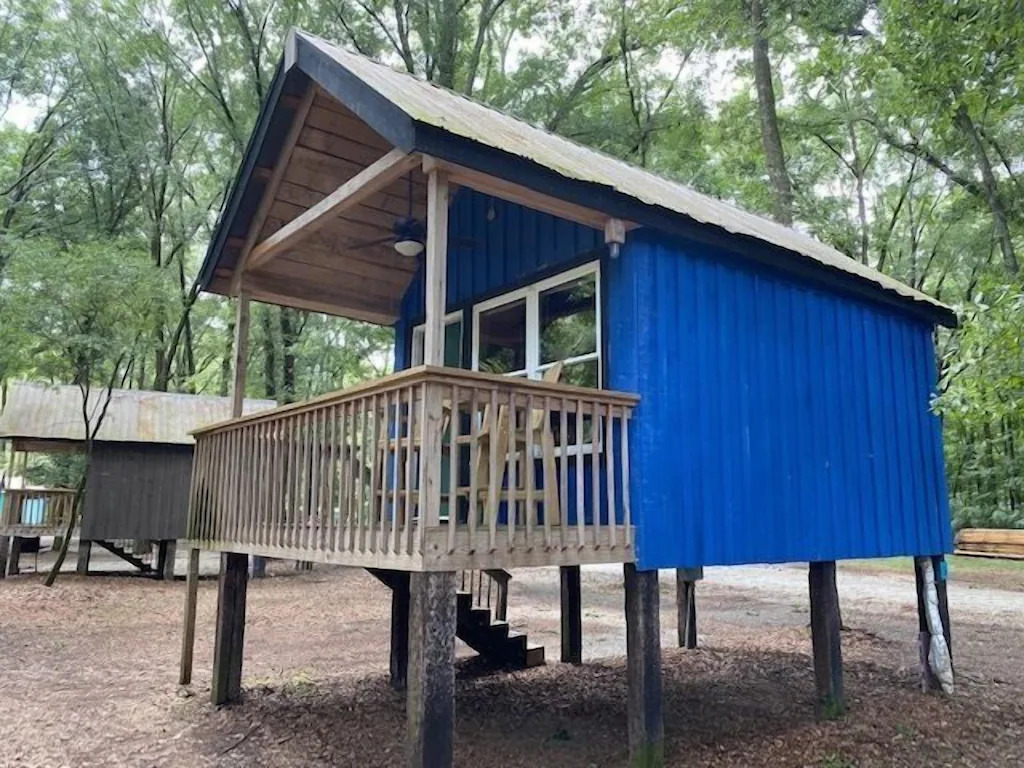 Vintage Airstream
If you're hoping to make some furry friends while glamping in Georgia, you've got to check out this charming vintage airstream on a farm. The airstream has 1 bedroom and can sleep 3 guests. It has an indoor bathroom and a decent kitchen, considering it's in a vintage RV!
The property is a working farm on 31 acres. You'll get to say hi to donkeys, goats, and chickens. The hosts do allow pets for a small pet fee. Imagine settling in around the firepit after a day exploring this picturesque farm.
>>>Check Rates: VRBO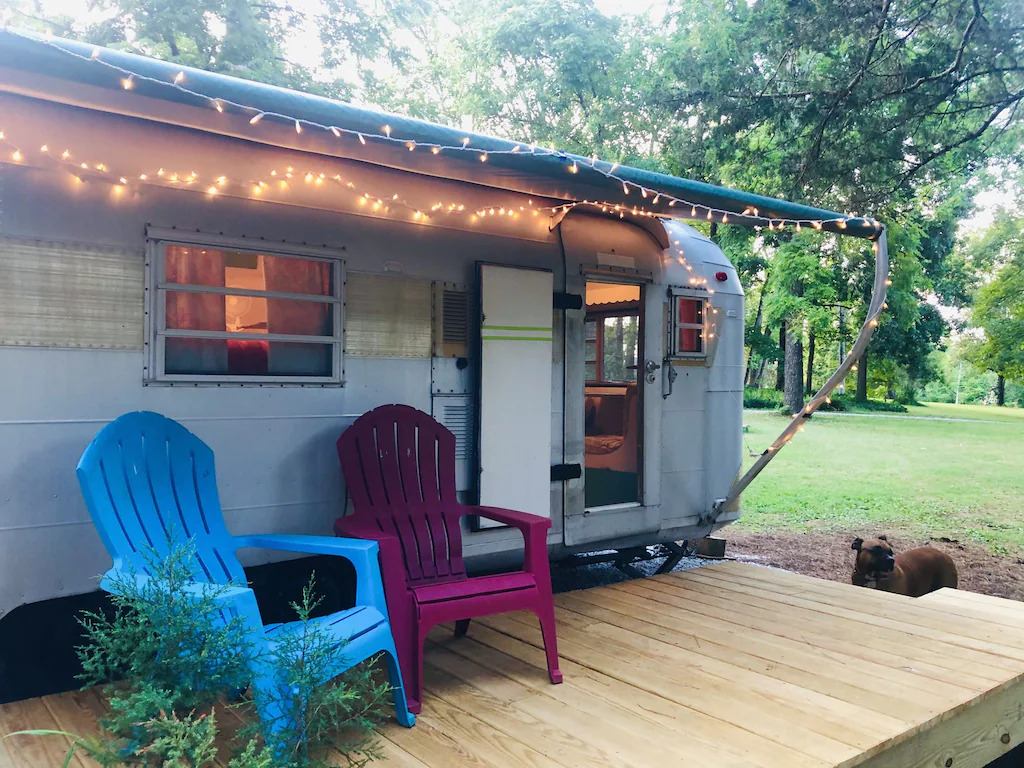 Vintage Cottage
Closing our list of the best glamping in Georgia with this adorable vintage cottage. If you want to go glamping near the seaside, this is the perfect cottage for you.
This 751-square-foot cabin can host 2 guests. It has 1 bedroom and 1 bathroom. It is decorated with beautiful beachy colors and lots of cool vintage touches. Amenities include air conditioning, wifi, and a beautiful outdoor shower! This is an ideal place to stay if you want to be able to walk to the beach and restaurants.
>>>Check Rates: VRBO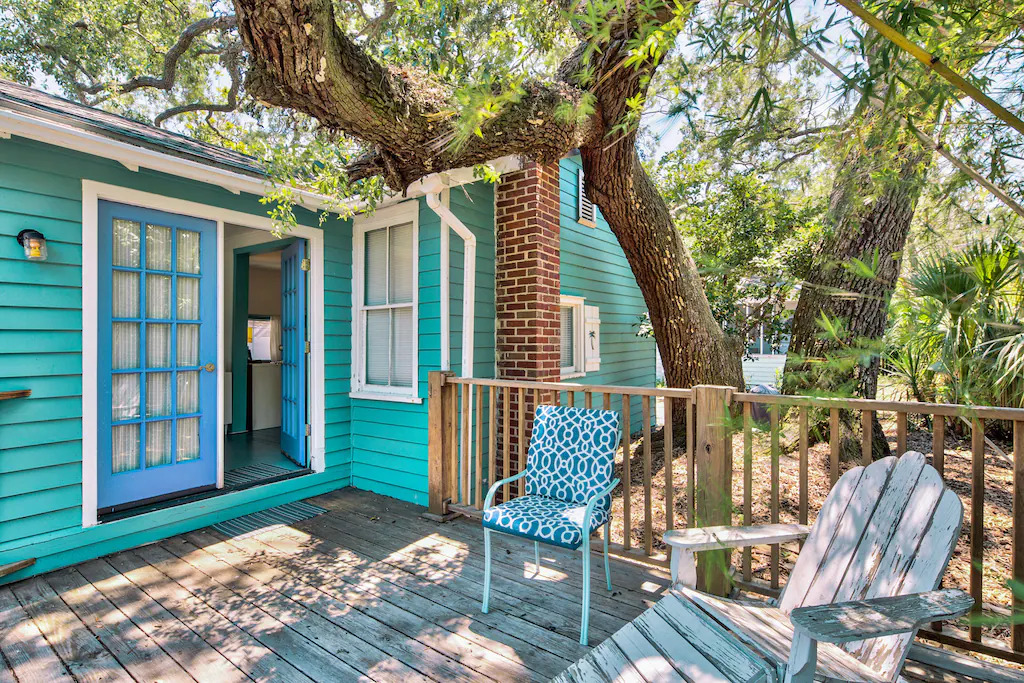 Well, we hope you have a wonderful time glamping in Georgia! If you ask us, this is the perfect way to camp. Don't forget to pack your sunscreen, camera, bug spray, and your sense of adventure!