Are you searching for how to go on the Kentucky bourbon trail? You have come to the right place because here you are going to find all the information you need to have an incredible time. If you did not already know Kentucky is home to some of the best bourbon on the plant. People say that going on one of the Kentucky bourbon distillery tours is like going to Disney World for adults.
What makes bourbon different from whiskey or scotch is that it has to be made with 51% corn whereas the others are made with various grains. It has to be made in America and aged inside a new and charred oak barrel. It cannot be distilled any higher than 160 proof, put inside the barrel at 125 proof, and cannot be bottled at more than 80. Also, the only thing that can be added to the whiskey is water. Once you are on the tour, you will learn so much more about the process!
There are so many things to do in Kentucky from Louisville to Lexington that you will have so much fun on your vacation. There are also many vineyards in Kentucky if you wanted to check out the local wine as well. So get your cowgirl boots and hat out and get ready for all the best bourbon tasting in Kentucky.
Make sure to check out our list of the best resorts in Kentucky for more inspiration for your Kentucky vacation!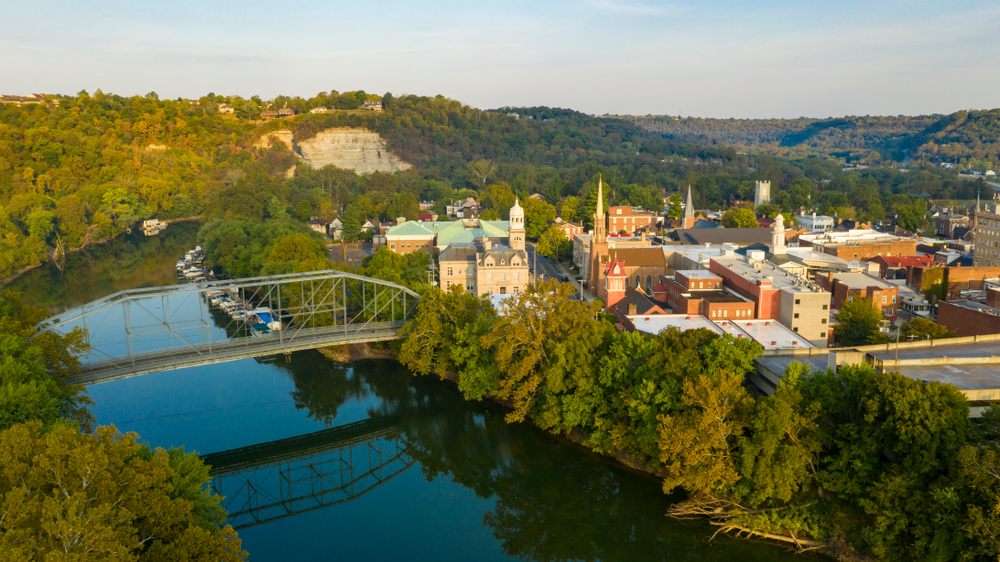 What is the Kentucky Bourbon Trail?
The Kentucky Bourbon Trail or the KBT known to the locals was created by the Kentucky Distillers' Association to help the local distilleries gain recognition. It was started back in 1999 and has been going strong, just like their bourbon, ever since. It is a road trip type of tour that takes you to the different distilleries on the bourbon trail.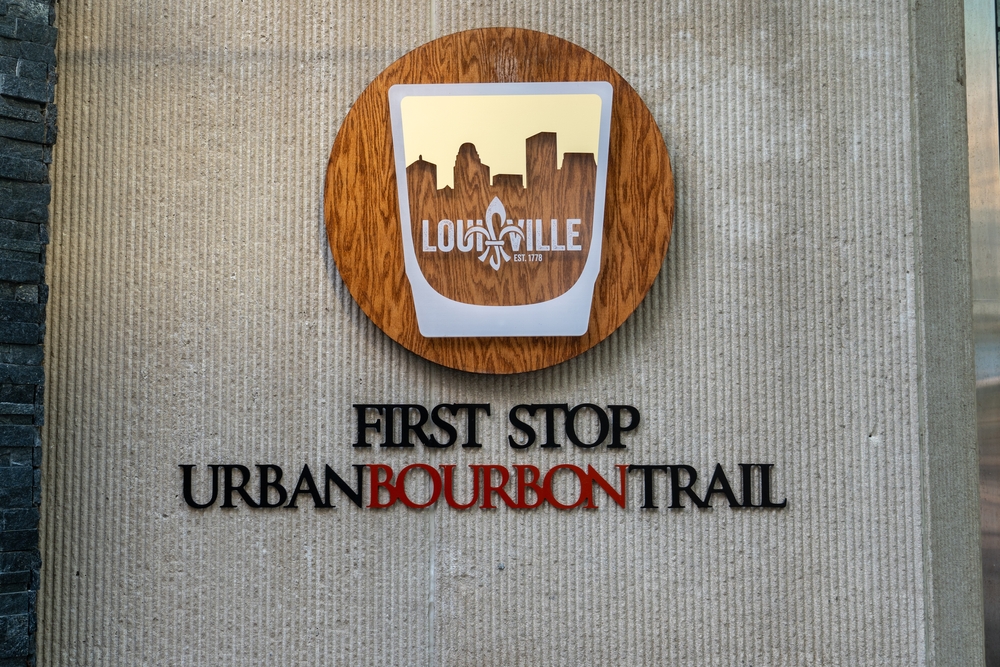 How Long Does it Take to Complete the Kentucky Bourbon Trail?
There are so many different ways to explore the bourbon trail in Kentucky that it all depends on what you want to do. For some people it takes three days, others do the trail for five days, and if you were thinking of visiting all the bourbon distilleries in Kentucky it could take you all week. If you book a bourbon trail guide the two most popular are three, five, and ten-day tours.
Where is the Bourbon Trail in Kentucky?
The Kentucky bourbon trail has an official starting point at the Faizer Museum in Lexington, where it is no coincidence that the official drink of the city is the Old Fashion. Don't forget to check out some of the best restaurants in Lexington while you are here!
From the starting point, there are four different distillers on Main Street that are within one mile. There are at least seven more distilleries on the bourbon trail in Lexington so you may need a few days there alone.
From there you will head to Sheperdsville/Owensboro where you could easily spend a day exploring. The next stop would be in Bardstown, KY which is known as the bourbon capital of the world. There are about three stops officially on the bourbon trail in Kentucky here. After you explore everything in Bardstown you will head south to Lebanon where the very popular Makers Mark is made.
The next day on your bourbon trail tour head to the birthplace of Kentucky, Danville. While you are in Danville, KY you will stop in Lawrenceville for a few distilleries on the bourbon trail. Danville has two historic distilleries where they have been making bourbon for centuries.
The next stop is the Louisville bourbon trail. While you are at it, make sure to check out some of the best distilleries in Louisville!
If you have never been to Louisville you might want to stop here for a few days and take in all the sites. And last but not least is Northern KY where there are so many stops on the Kentucky bourbon trail that many people start here and do the tour in reverse. Make sure to check out our list of the Best Restaurants In Louisville!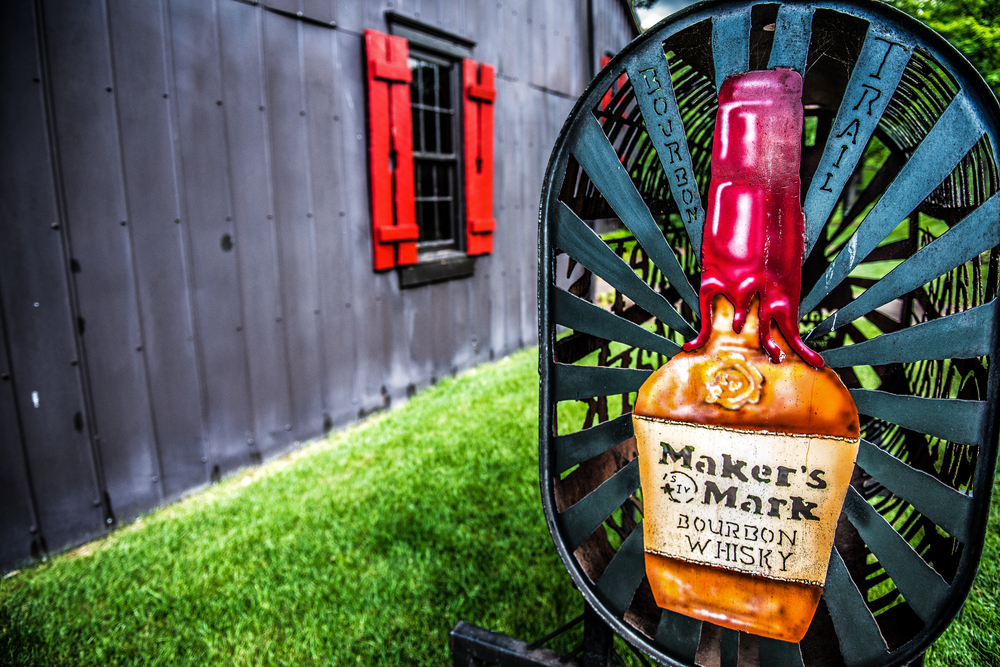 How much does it cost to go on the KBT?
The cost of the KBT depends on a bunch of different things. Each of the distilleries on the bourbon trail charges different amounts for their tastings and drinks. You should expect to pay anything from $5 for a simple tasting to $20 for a specialty drink. It all depends on what you want!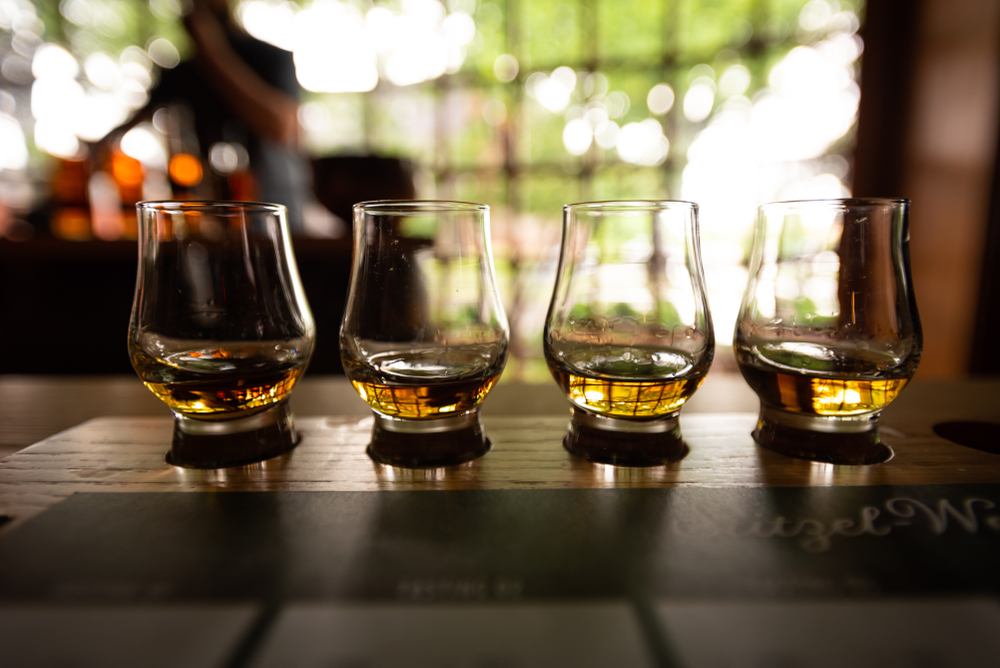 Distilleries on the Kentucky Bourbon Trail
Below you will find the 18 distilleries on the Kentucky bourbon trail. They all have their own unique features and things that make them special. Be sure to enjoy each and every one and do not try to rush through them. You can make reservations for almost all of them online and you will find more information on them in your bourbon trail guide book, which you can purchase at any of these distilleries.
Bulliet Distilling Company
Evan Williams
Four Roses
Wilderness Trail Distillery
Green River
Bardstown Bourbon
Lux Row
Old Forester
Mitchers Distillery
Rabbit Hole
Stitzel-Weller Distillery
Heaven Hill
Jim Bean
Markers Mark
Town Branch
Wild Turkey
Woodford Reserve
Angel's Envy
They are not in any special order here but you will find the best route to visit them all once you start your trip. You may find yourself having a new favorite whiskey after visiting all of these world-class distilleries on the bourbon trail. Try to remember to write down what you had at each place in your trail guidebook so you can revisit it when you get back home. Don't forget to check out our list of the Best Bourbon Distilleries In Kentucky!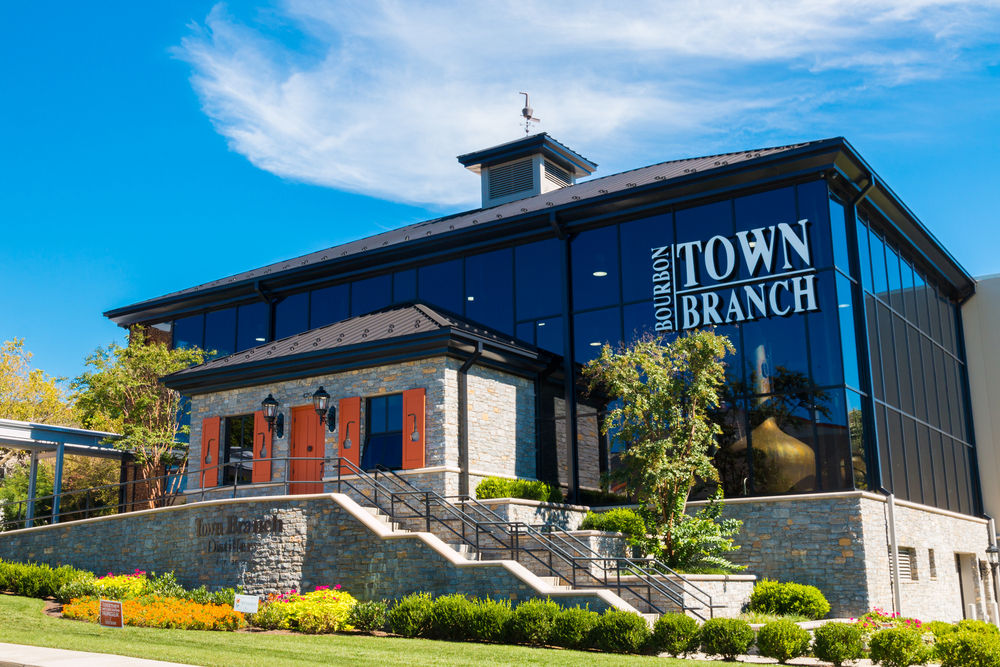 The KBT Passport
You can pick yourself up a KBT passport and field guide at any of the participating locations on the bourbon trail tour. You will receive a stamp everywhere you go and will be able to buy special bottles and receive rewards with each stamp you get. The comprehensive field guide is 150 pages long and will help you navigate your way along the trail. You can also register your field guide online and get updates about all your favorite stops. It is also helpful and lets you know which bourbon distilleries in Kentucky have food, take reservations, and what times they are all open.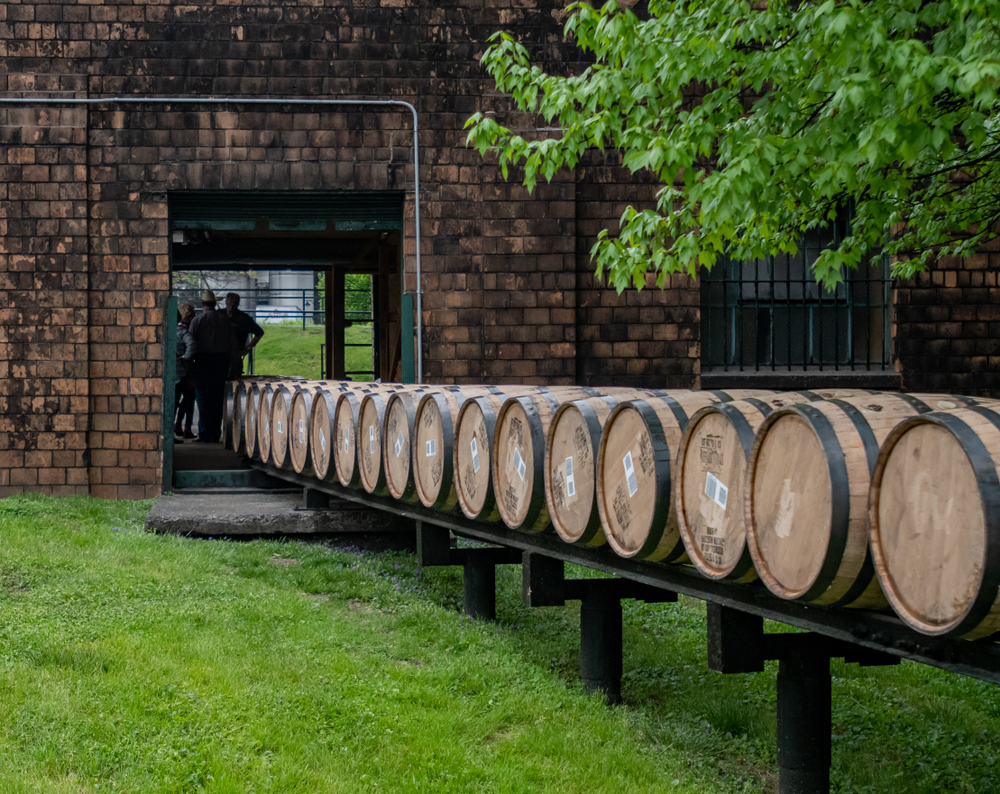 Best Time of Year to Visit the Kentucky Bourbon Trail
It does get hot in Kentucky so one of the best times to complete the trail would be in the spring. This assures that all of the distilleries will be open. If you wanted to beat the crowds and have a little more time at each place then you could also visit anytime from November to March. It would be so much fun to go around Christmas time and see all the displays throughout the cities as well.
Self Drive Vs Bourbon Trail Tour
Driving yourself along the Kentucky Bourbon Trail is an option and most people do decide to do it this way. Most of the distillers only serve you a small amount and many of them also serve food. If you decide to drive yourself and your friends around it is a great way to take the tour on your own time and not have to worry about a schedule. But you have to know your limit and be responsible.
If you wanted to take a self-guided tour then there are plenty of options for that as well. A company called Mint Julip has been awarded the best transportation company for tours many years in a row. This way you do not have to worry about drinking and driving and you can indulge as much as you want, while still being safe. This would be a great way to get the whole gang together and create memories that last a lifetime.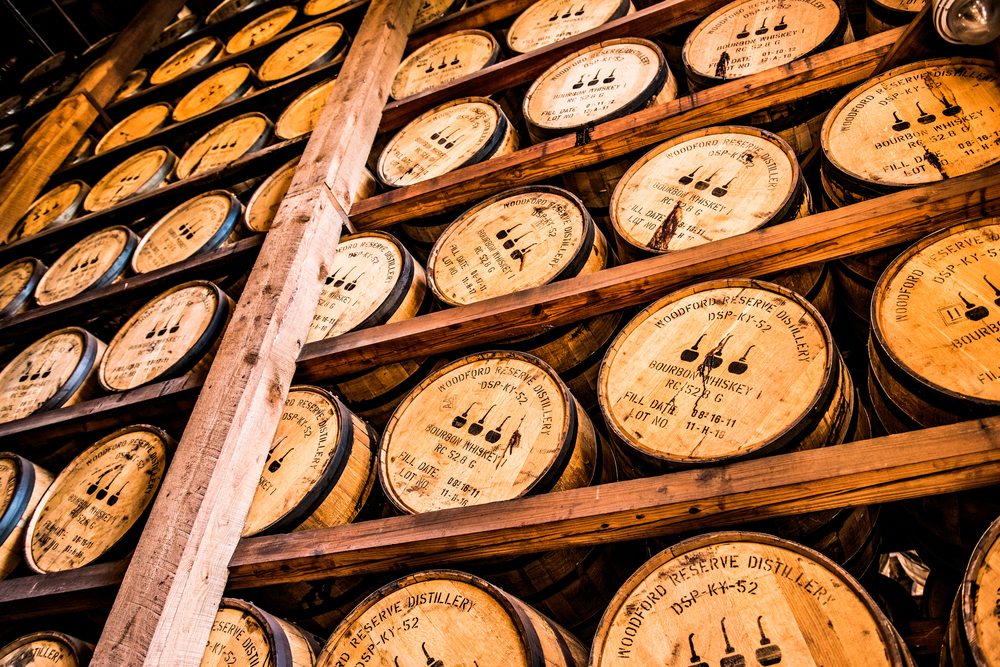 Do You Need a Reservation For the KBT?
Yes, in the summer and the fall you will want to make yourself a reservation. Most of the distilleries on the bourbon trail allow you to make a reservation online. If you decide to go on the guided tour they will handle all of the reservations for you so you can just sit back and enjoy the drinks.
Best Things To Do On The Kentucky Bourbon Trail
Visit Lincoln's Birthplace
If you need a break from the bourbon one of the best things to do would be to visit where Lincoln was born. You will already be in Hodgenville where they have turned his birthplace into a national park. You can tour the grounds and see the log cabin he was born in and the spring where he and his family got their water from. This would be a perfect place to stop and walk around and learn about the place where Lincoln grew up.
Kentucky River Tours
While you are in Frankford hop on the River Tour to learn how the Kentucky River played an important role in the making of bourbon. They can take large groups and the tours can last from 1-4 hours. It is a wonderful way to spend the day on the open water. The Kentucky River Tours are only open Wednesday-Monday so make sure to plan accordingly.
Louisville Slugger Musuem and Factory Tour
While you are on the Louisville bourbon trail you should make a quick pit stop and visit the Slugger Museum. Here you will be able to see the wooden bats being made by hand and learn how they make almost 2 million bats a year. They have a Babe Ruth bat displayed in the museum plus so many other cool things to see. If you or anyone in your party is a baseball fan this is a must-visit.
Buffalo Trace Distillery
The Buffalo Trace Distillery has been making world-class bourbon since 1775 before Kentucky was even a state. Although they are not technically on the Kentucky bourbon distillery tours they deserve a visit when you are in Frankfort. There are quite a few different tours you can take while on the bourbon trail at buffalo trace. The first one is The Trace Tour where you will learn about the history and the science of making bourbon.
Next up is the expansion tour this is a longer tour where you will need to make a reservation. You will see almost all of the distillery and have a few tastings along the way. They also have an Old Taylor Tour and a bourbon barrel tour where you will follow alongside the barrels and see how they play such an important role in making bourbon. You must make sure to visit the Buffalo Trace Distillery while on the KBT it is one of the best distilleries on the bourbon trail.
Where To Stay On The KBT
Moxy Louisville Downtown
If you are looking for a fun and unique stay on the Kentucky bourbon trail the Moxy Louisville Downtown is the place for you. The Moxy is located on the historic Whiskey Row and you will be steps away from some of the best distillers in Louisville. The restaurant on site is the Zombie Taco and they serve up delicious burritos, tacos, and nachos. They are open all day and even stay open late at night so you can fill up after your long day of bourbon tasting.
They also have a vintage game room displaying all of your favorite arcade games, and table games, and they even have card games to play while you enjoy your freshly bought bourbon. They are dog-friendly at the Moxie so you can bring the whole family along on your trip for some bourbon tasting in Kentucky.
Check rates here: Booking.com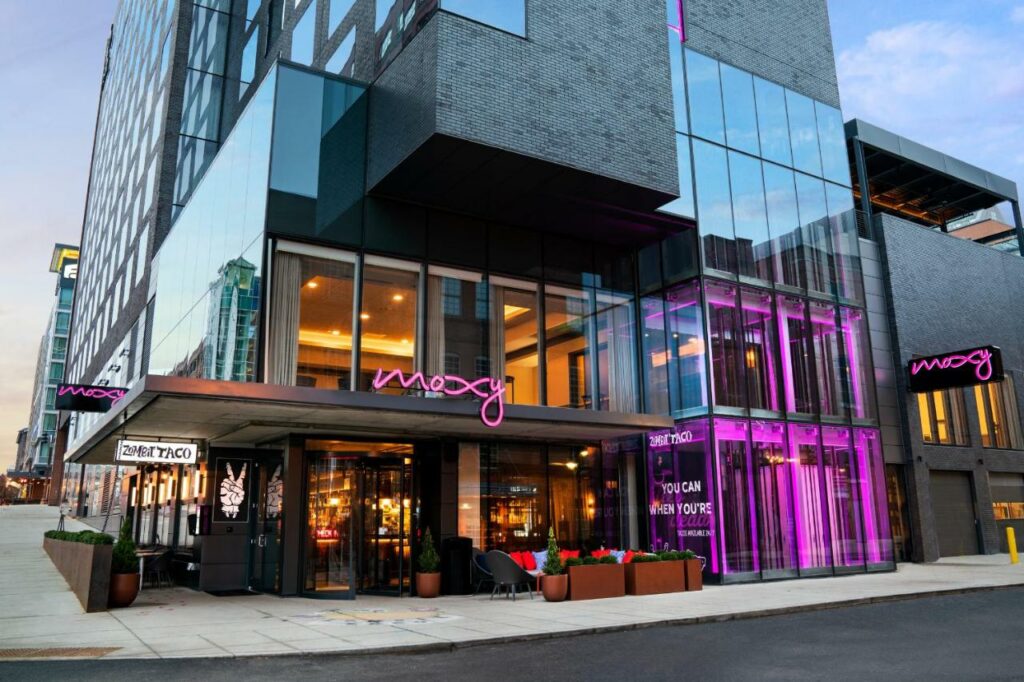 Homewood Suites
The Homewood Suites is located in Downtown Louisville and would be the perfect place to relax after exploring the Lexington bourbon trail. You can relax on the rustic and modern patio with a barbecue grill because everyone knows the best thing to pair your new bourbon with some delicious bbq. There are plenty of options for rooms so you are sure to find the perfect place for everyone at your party. They also have a pool table for their guests to play so could have a games night without even leaving your hotel.
If you are bringing your furry friend along for the ride they can stay with you at the Homewood Suites because they are pet friendly. They are currently located downtown and are only steps away from the best attractions in Lexington making it one of the best places to stay along the KBT.
Check rates here: Booking.com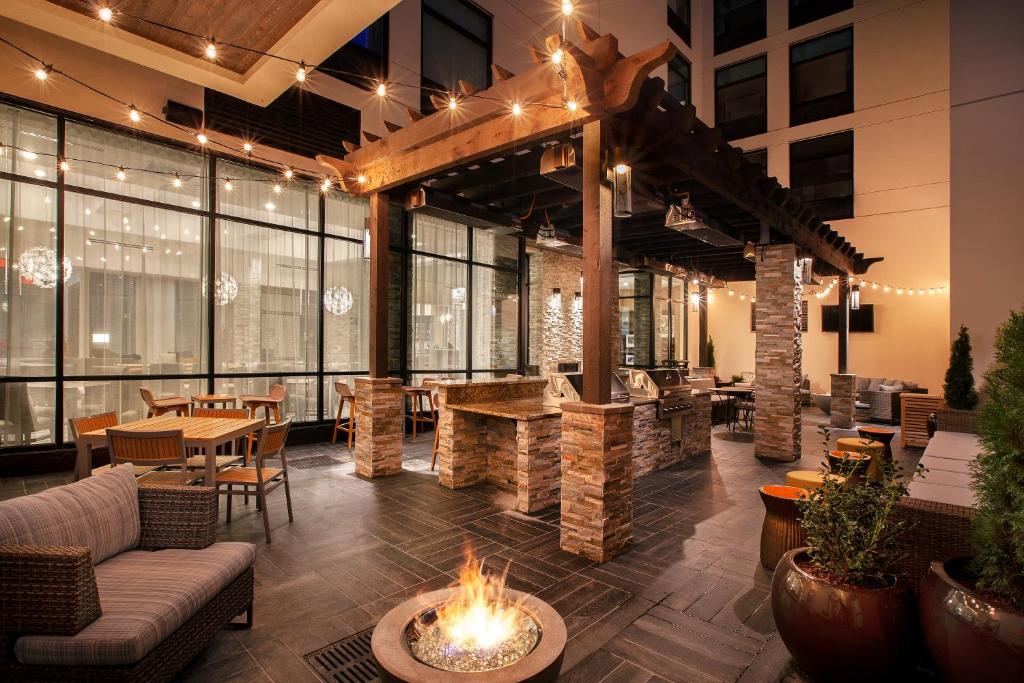 The Campbell House Lexington
The Campbell House Lexington is the perfect place to lay your head down after a long day of exploring the Lexington bourbon trail. This country-chic hotel fits right into the whole vibe of the bourbon trail and has everything you will need. Plus they are only about a mile from downtown Lexington. There is an onsite restaurant and free parking, and they are dog friendly.
You can enjoy your recently purchased Kentucky Bourbon out on the patio with all of your friends or cozy up in the lobby by the fireplace. There are plenty of different rooms to choose from at the Campbell House Lexington making it a perfect pitstop on your tour.
Check rates here: Booking.com