Are you looking for the ultimate list of the best things to do in Kentucky? Look no further! Our bucket list spans the state with so many exciting excursions to try that you'll want to extend your stay to get to them all!
From family-friendly outings to grown-up adventures, there is something for everyone in each corner of Kentucky. Our list will take you to the most outstanding museums, highlighting Kentucky's abundant history, to the most breathtaking landscapes, showcasing Kentucky's natural beauty.
And we didn't forget the food! Many of the stops on this list include a taste test to satisfy any appetite. Here we've got you covered with Kentucky's most famous landmarks and little-known hidden gems.
Read on to find out what to do in Kentucky!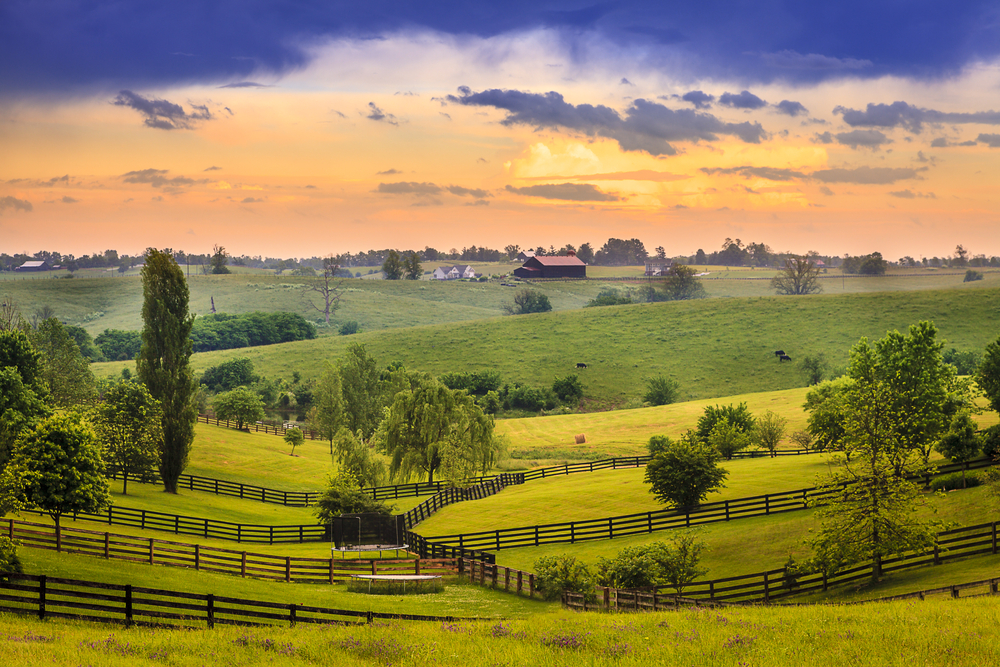 20 Best Things To Do In Kentucky: The Ultimate Bucket List
Head Underground at Mammoth Cave National Park
One of the ultimate bucket list fun things to do in Kentucky is Mammoth Cave National Park. This makes our list of the abundant activities and awe-inspiring natural wonder that exists deep in the heart of Kentucky.
Known as the world's longest cave system, there is so much to explore when you visit Mammoth Cave. Check out diverse ecosystems surrounding the area, and see a variety of animal and plant life above and below ground. Cave tours are the best way to go underground. Tickets are required in advance to reserve your tour, and dates and times are subject to change throughout the seasons, so make sure you plan in advance.
If you'd rather stay above ground, ranger-led tours take you through the forest habitats on the surface. Guests are also invited to take advantage of the 80 miles of hiking trails for solo exploration. Looking to extend your stay? Book a room or a cottage at the Lodge to stay near the entrance to the caves. You can also bring your camping gear to one of the campsites inside the park.
Canoeing, horseback riding, and bicycling are also popular pastimes at Mammoth Cave National Park. With so much to do, you'll agree a visit to this Southern national park is one of the most amazing attractions in Kentucky.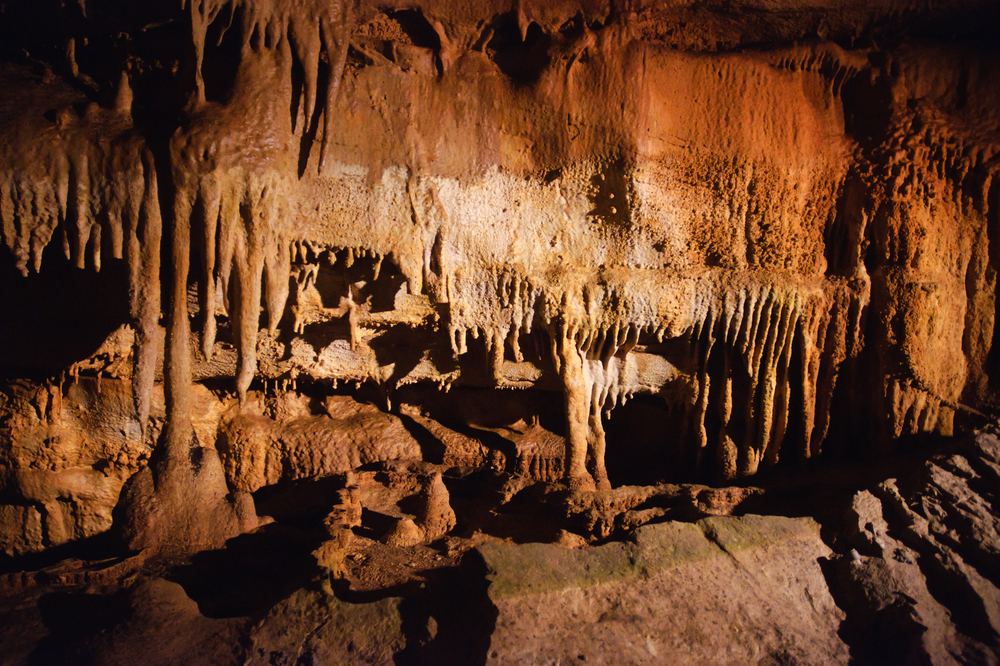 Visit Churchill Downs & the Kentucky Derby Museum
No trip to Kentucky would be complete without a stop at Churchill Downs and the Kentucky Derby Museum. This is one of the most exciting things to do in Louisville. The Kentucky Derby is one of the most celebrated events in the state, and guests are invited to learn about the Derby's origins and its storied history of horse racing.
The Kentucky Derby proudly holds the distinction of being the longest continuously-running sporting event in America. The first Kentucky Derby was held in 1875 and has been going strong ever since.
The museum boasts a wide range of exhibits showcasing the life stages of racing horses, the beginnings of the first Kentucky Derby, and the traditions that have evolved over time to make the race what it is today. Guests can view stories from the jockeys, test Derby knowledge, and observe icons of Derby fashion.
When you've made your way through the museum exhibit, stop at Churchill Downs and take in their Historic Walking Tour, which is complimentary with your museum ticket. This 30-minute guided tour will take you behind the scenes of America's most famous racetrack, and you'll learn plenty of fun facts along the way!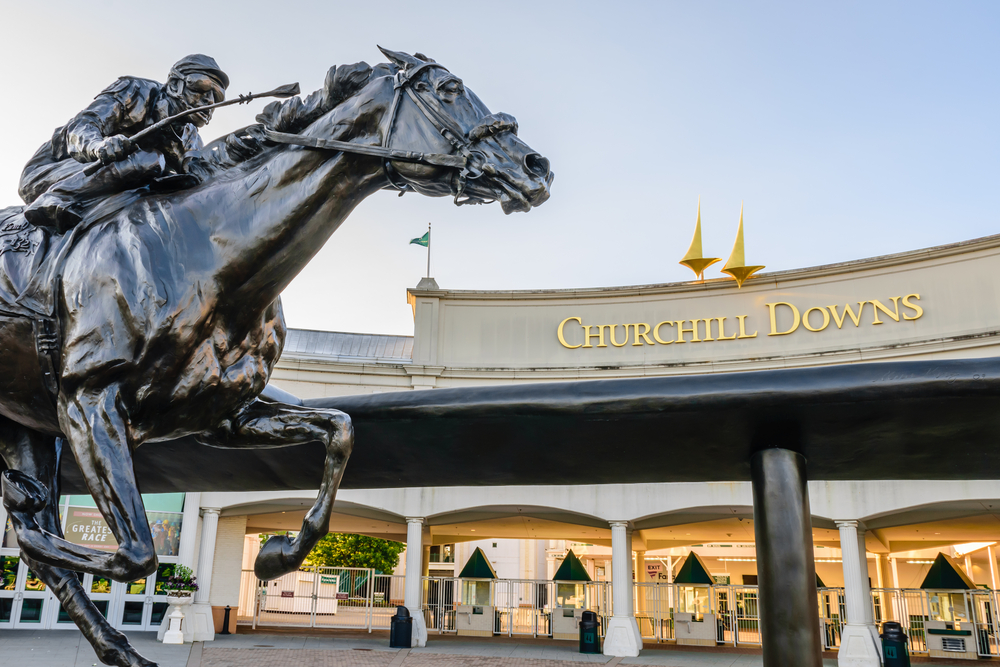 Hike at the Red River Gorge
If you're looking to make the great outdoors the focus of your trip to Kentucky, a stop at Red River Gorge is a must-do. Located in the Daniel Boone National Forest, Red River Gorge is known for its outstanding natural beauty and its many best activities in Kentucky sure to satisfy every traveler in your group.
Red River Gorge is most famous for its many rock climbing sites, some of the best in the country! There are so many places to climb in the area. A guidebook has been published detailing over 1600 climbs. This is a true climbing paradise.
Other adventures include various hiking trails over different kinds of terrain, ranging from easy to difficult. To view the gorge from a different angle, try zip lining across it! Take to the skies, zipping at 55 miles per hour around 300 feet above the gorge. You'll never look at this area the same way again!
Speaking of seeing things in a new way, take advantage of Red River Gorge's Underground Adventure. This kayak trip explores the gorge's caverns in the water. It is a truly unique experience, and one of the best things to do in KY!
Make sure to check out our list of the best resorts in Kentucky for more inspiration for your Kentucky vacation!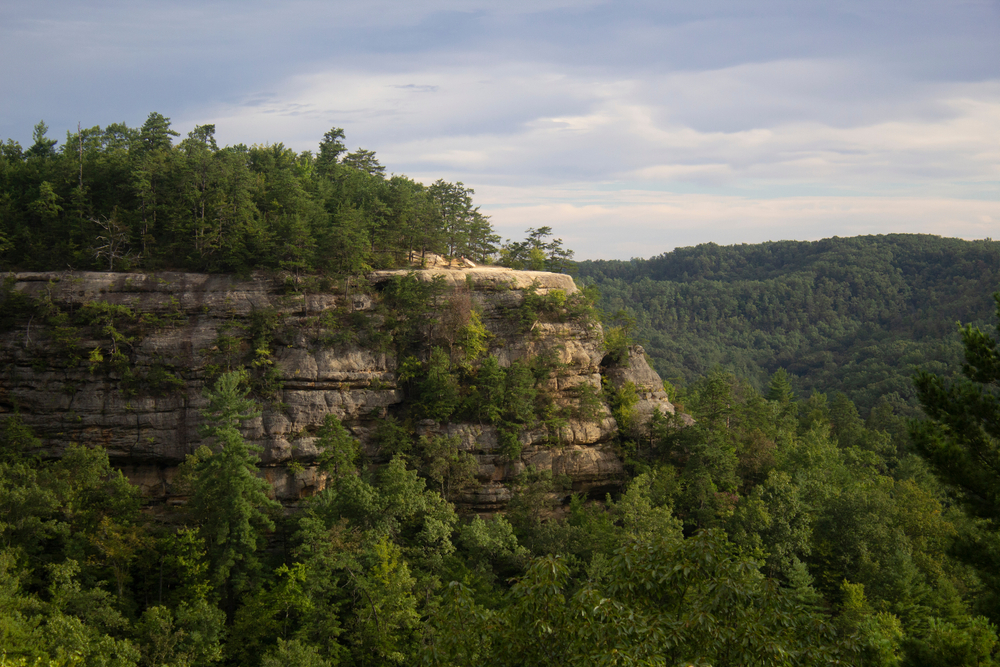 Step Back in Time at the Mary Todd Lincoln House
To step into the early life of one of the nation's most famous first ladies, explore the Mary Todd Lincoln House in Lexington. Mrs. Lincoln grew up in Lexington before she became the wife of our 16th president, Abraham Lincoln.
The Mary Todd Lincoln House has been lovingly preserved and restored to its original splendor and is the first house opened to honor the early life of an American first lady. The home was built in 1803. It was intended to serve the Lexington community as an inn but became the Todd family home in 1832. The family lived here until patriarch Robert Todd's death in 1849, and family disputes lead to the property and its contents being auctioned off in the aftermath. Over the years, the property saw many uses including a grocery store, brothel, and storage facility, before it was reclaimed and opened to the public as the Mary Todd Lincoln House in 1977.
The home is open seasonally, from March 15-November 30, and hosts a self-guided tour to explore the home's 14 rooms dedicated to the life of Mrs. Lincoln. To take in more of Mrs. Lincoln's experience in the city, move from the house onto the walking tour of Lincoln's Lexington, a one-mile journey taking visitors past other locations from Mrs. Lincoln's childhood and highlighting places she brought her husband when they would visit.
The museum also hosts many spectacular special programs throughout the year, so make sure to check the website to make the most of your visit!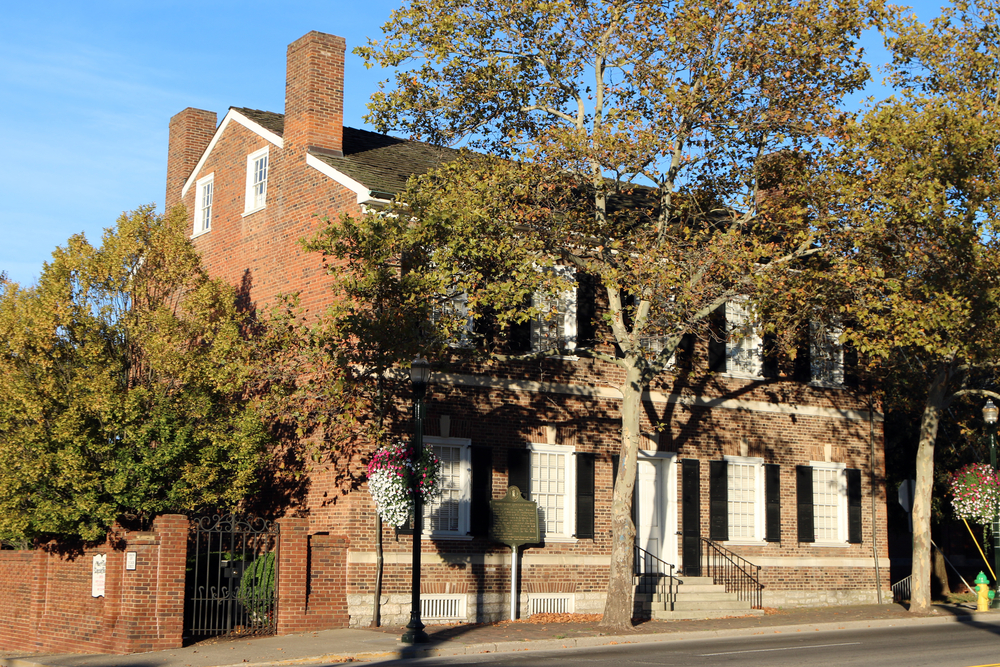 Learn About Baseball at the Louisville Slugger Museum & Factory
If you love baseball, then a trip to the Louisville Slugger Museum & Factory is a true bucket list experience! Because baseball is a favorite American pastime, this museum experiences high traffic year-round. Make sure to book your tickets in advance to ensure your spot to check out the history of the nation's most famous baseball bat.
The Louisville Slugger Factory has been operating and making the best bats in the business for the past 137 years – producing over 1.8 million bats per year. In addition to an exciting bat factory tour, guests are treated to a variety of rotating exhibits featuring many of the epic stories surrounding America's history with baseball.
A trip to the factory is not complete without a stop to see the world's largest baseball bat. Weighing in at 68,000 pounds, and towering over guests at 124 tall, the bat is a replica of the Louisville Slugger used by famous player Babe Ruth.
Finish your trip with a try at the batting cages to test the latest line of Louisville Sluggers, used by today's top players. Called one of the best sports museums in the nation, the Louisville Slugger Museum & Factory definitely makes our list of best things to do in Kentucky.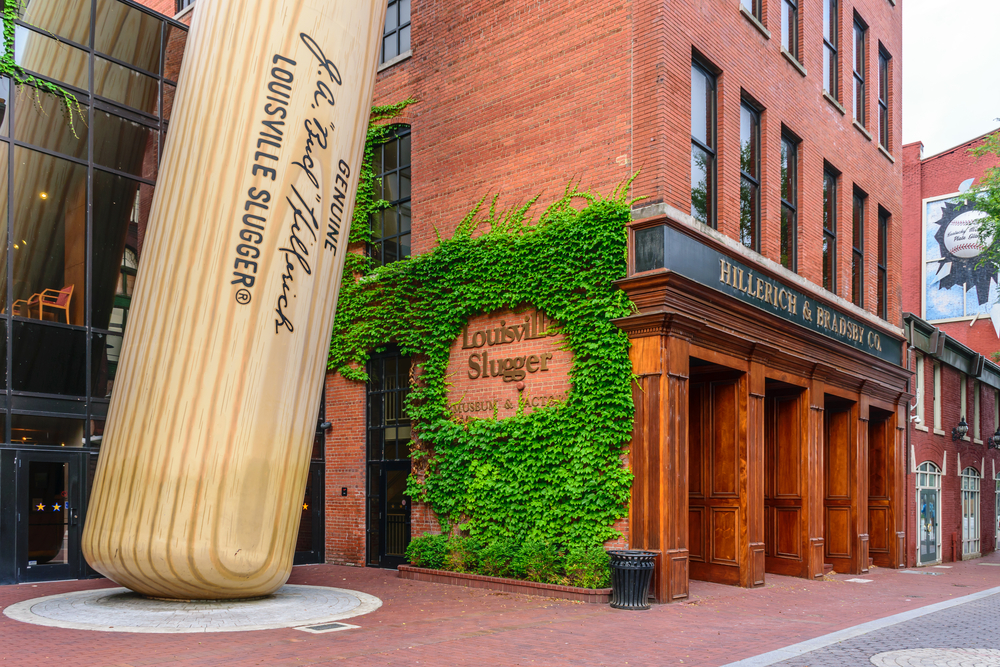 Satisfy Your Sweet Tooth at Rebecca Ruth Candy Tours & Museum
Enjoying an afternoon in Frankfort? Make sure to satisfy your sweet tooth at the Rebecca Ruth Candy Tours & Museum. This is definitely the tastiest thing to do in Frankfort! With a 100-year history of producing the yummiest chocolate in Kentucky, Rebecca Ruth Candy Tours is a truly delicious way to discover Frankfort's history.
It was opened in 1919 by two former substitute teachers, Ruth Hanley Booe and Rebecca Gooch. The women stepped outside of social convention at the time to go into business for themselves without the assistance of a husband. The women experienced much success and hardship throughout their time in business but proved to be resilient and inventive business owners, which is why their enterprise continues to thrive today.
Visitors to the factory are treated to a tour into the candy-making world, with a special focus on Rebecca Ruth's 100-year history. Visitors are invited to join tours on a walk-in basis but can make reservations on their website up to two days in advance.
If you're hoping to witness their candy-making process, you'll want to visit on Mondays-Thursdays. Tours operate on Fridays and Saturdays, but candy is not made on these days. Bring a curious mind and an empty stomach to make the most of your visit to Rebecca Ruth, one of the best places to go in Kentucky!
Visit the Aviation Museum of Kentucky
Take to the skies of Kentucky at the state's outstanding Aviation Museum, located at the Blue Grass Airport near Lexington. In fact, the Aviation Museum is so exciting, it makes our list of best things to do in Lexington!
The museum offers aviation enthusiasts a chance to get up close and personal with many different aircraft like a McDonnell RF-101 Voodoo, a U.S. Navy Blue Angels A-4 Skyhawk, and an AH-1 Cobra Helicopter among others. The museum hosts these crafts in a permanent exhibit, in addition to a library and an aircraft restoration and repair shop.
The museum celebrates the histories of both civilian and military aviation and treats viewers to pictures and histories of some of the greatest aircraft and aviation stories of all time. The Aviation Museum is open year-round but closed on Mondays and holidays. Take your camera, and enjoy the most beautiful historic aircraft in Kentucky.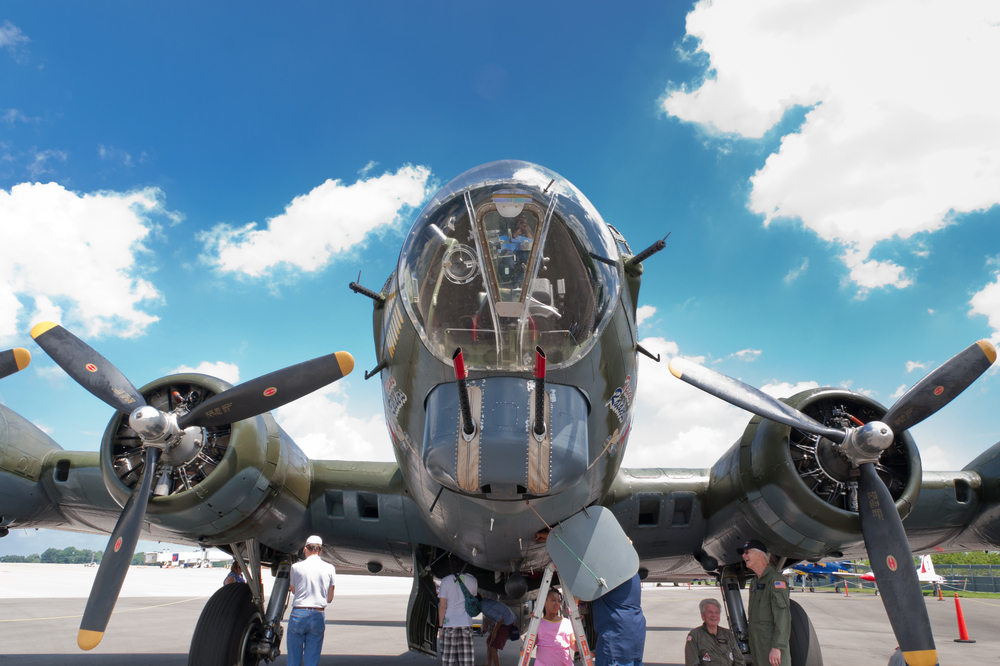 Photograph Creation Falls
Located near Campton, Creation Falls is one of the most peaceful spots to visit and one of the most picturesque things to do in Kentucky. The falls are located off the Rock Bridge Trail, a 1.4-mile hike in Red River Gorge. The hike is easy and dog-friendly including views of the arch (or the "Rock Bridge") so there are many scenic takeaways on a visit to this site.
Hikers have noted that the trail is pretty accessible and safe in all types of weather. Since the trail is near a creek for much of the hike, it can become slippery and muddy in wet weather, so make sure you are prepared. Creation Falls happens to be Red River Gorge's only example of a "waterfall natural bridge."
Many picnic areas exist along the trail, so pack your favorite lunch for a meal surrounded by the scenic beauty of Creation Falls, one of the loveliest waterfalls in Kentucky.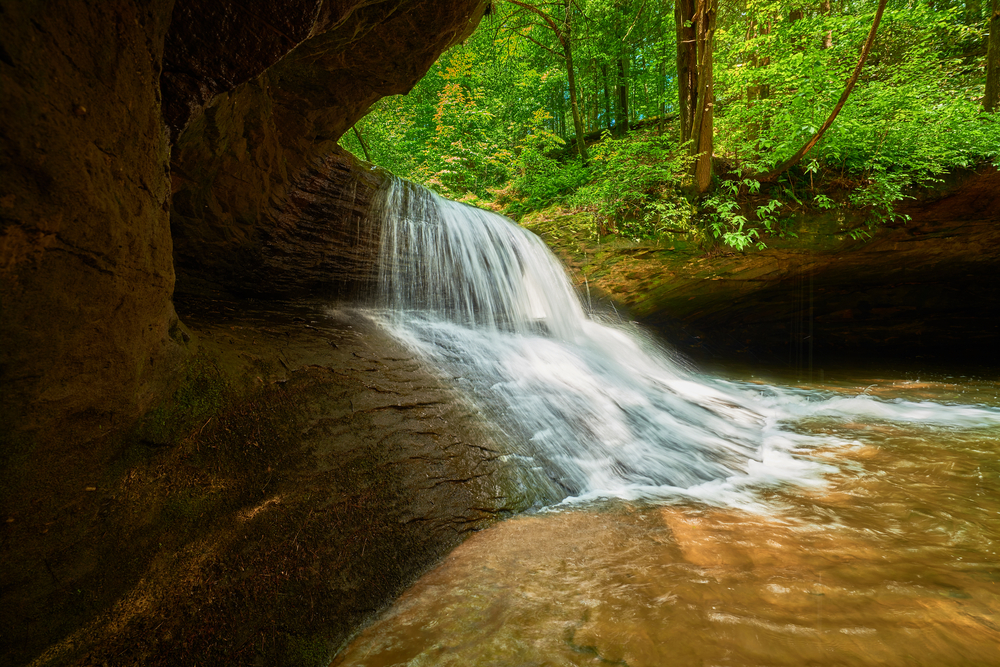 Learn About Boxing at the Muhammed Ali Center
Situated right in his hometown of Louisville, the Muhammed Ali Center is a museum dedicated to the famed boxer's life and legacy. Stroll the museum's many interactive galleries to gain insight into Ali's early life and his impressive career. This attraction is one of the best things to do in Louisville. It is truly one of the best small towns in Kentucky!
The museum employs photos, videos, artifacts, and interactive exhibits to bring Muhammed Ali's story to life for each and every guest. Throughout the museum, visitors will learn about Ali's goals and training sessions, view his work as an artist and poet, and learn about his dedication to the civil rights movement.
The many galleries on display are dedicated to Ali's six core principles: confidence, conviction, dedication, giving, respect, and spirituality. The museum is open to visitors on Wednesdays thru Sundays. Tickets can be purchased at the door or in advance online.
While you're there, make sure to view the museum's rotating exhibitions that connect to Ali's core principles, but highlight other prolific Americans or groups. No matter when you visit, it will be the greatest!
Kayak at Green River Lake State Park
For a family-friendly beach outing, a trip to Green River Lake State Park tops our list for one of the best things to do in Kentucky. This is one of the best beaches in Kentucky! It provides visitors a place to lounge on a sunny afternoon, with an ample swimming area and picnic tables to make a day of it!
While the beautiful beach is the highlight of the trip, Green River Lake State Park also offers a variety of activities for guests to enjoy. With 28 miles of all-purpose trails in the park, you can hike, bike, or horseback ride along all of them. You can also treat your group to 18 holes of mini-golf after your day at the beach.
Guests are invited to fish, kayak, or go boating, with water skiing and tubing all allowed on the lake. You can really make the most of these activities during a beach trip at Green River Lake. If it all seems like too much to pack into one day, RV and primitive camping sites are available within the park to extend the outdoor fun!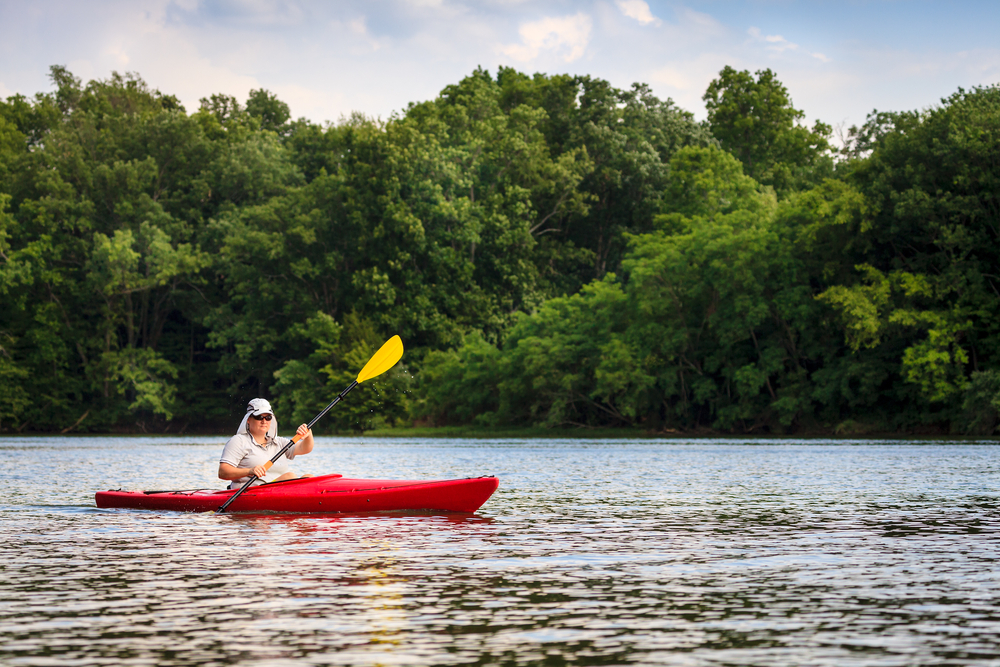 Check Out the Bluegrass Music Hall of Fame and Museum
For one of the most iconic things to do in Owensboro, you must visit the Bluegrass Hall of Fame and Museum. This attraction celebrates the best bluegrass musicians in the business and preserves the history of the genre.
The Hall of Fame hosts live music performances year-round, so no matter when you visit, you are guaranteed to catch an amazing act performing here. Start your tour among the many exhibits detailing the origin of the genre, and learn about the people, instruments, and culture that turned bluegrass into the musical phenomenon it is today.
After checking out the museum, make your way over to one of the many stages to hear bluegrass come to life in a live concert from some musical legends and some bluegrass newcomers. Inductees into their Hall of Fame include Earl Scruggs, the Carter Family, Ricky Skaggs, and New Grass Revival.
The museum is open to visitors from Wednesdays thru Saturdays, though performances are scheduled throughout the week. Make sure to check the calendar prior to your visit so you can make sure to catch your favorite musical act!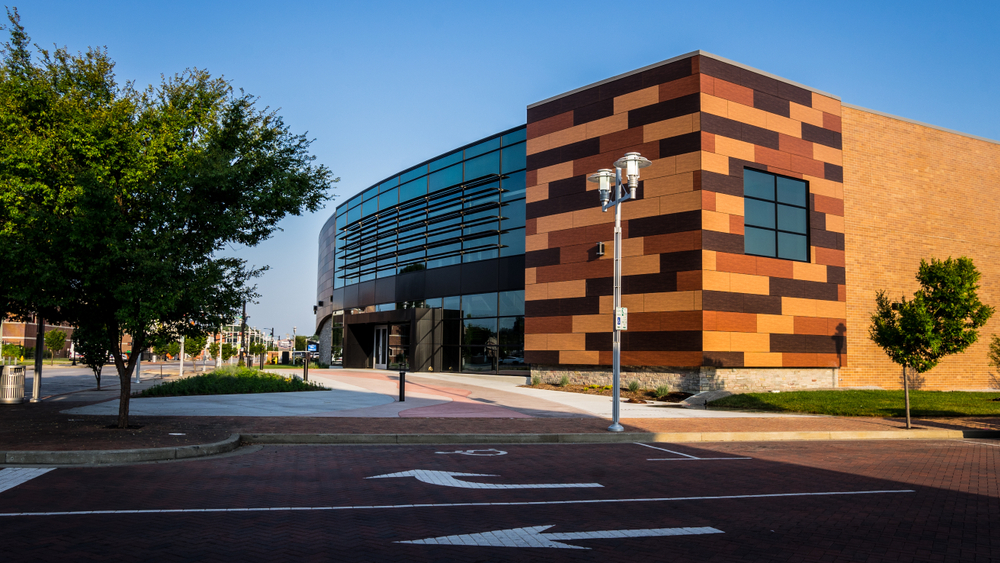 Hike the Chain Rock Trail at Pine Mountain
If you're looking for the best hiking in Kentucky, look no further than the Chain Rock Trail at Pine Mountain. It's an outstanding spot for a nature walk with some stunning views to reward hikers for their efforts!
The "chained rock," from which the trail gets its name, was secured to the side of the mountain in 1933 to protect the city of Pineville down below from disaster should the boulder come tumbling down. A hike up to the summit affords guests panoramic views of Pineville and neighboring mountains as far as the eye can see.
The trail is not terribly long to suit a variety of different hikers, though it's not the easiest trail in the state. Guests should expect it to be around a moderate difficulty level. Chain Rock Trail is open year-round, and is dog friendly, though dogs must be kept on a leash. Grab your folks and enjoy a day on top of Kentucky!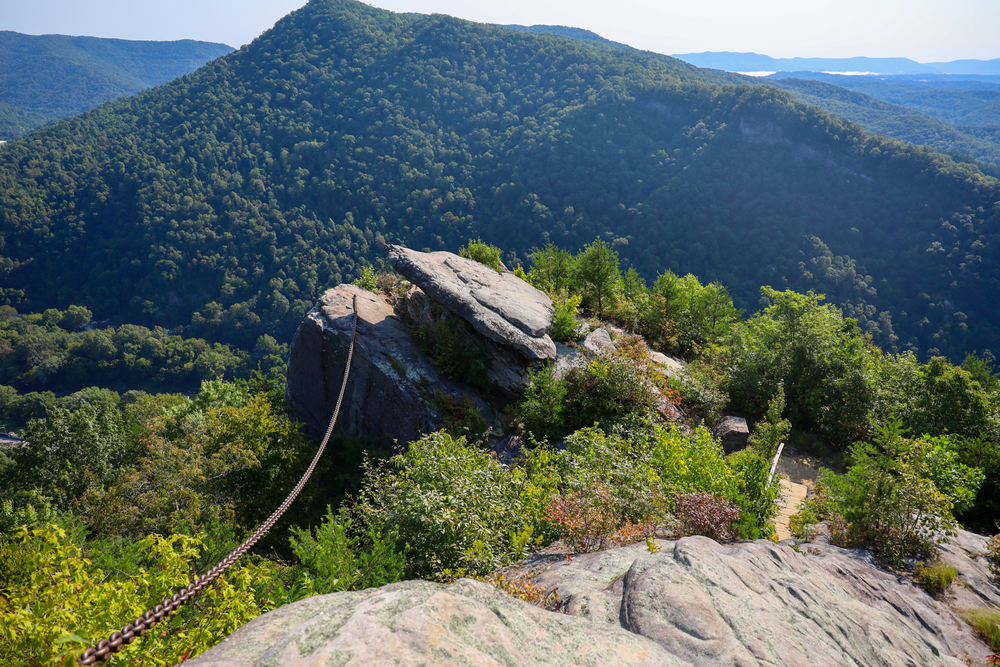 Bring the Kids to Dinosaur World
If you're traveling through Kentucky with little ones, or with dinosaur enthusiasts, then a trip to Dinosaur World is an absolute must. It's one of the most enjoyable things to do in Cave City!
As you step back to a time before people walked the planet, visitors are treated to life-sized dinosaurs on view in a setting that represents what their habitats would have looked like when they were the kings of the earth! Check out the Prehistoric Museum on-site to view real-life fossils, including dinosaur skulls and claws!
After viewing all of the dinosaur displays, make your way over the interactive activities like the Fossil Dig (yes, you can really dig for fossils!), the Dino Gem Excavation, and the Bone Yard, to learn the proper way paleontologists uncover long dinosaur bones from under the sand.
Dinosaur World is open seven days a week, and tickets can be purchased at the door or in advance online. There is no food service inside the park, so guests are encouraged to bring coolers with their own snacks to enjoy during their visit. Dogs are also welcome on a visit to Dinosaur World, as long as they are friendly and leashed.
This attraction is great fun for the whole family and is one of the fun things to do in Kentucky with kids!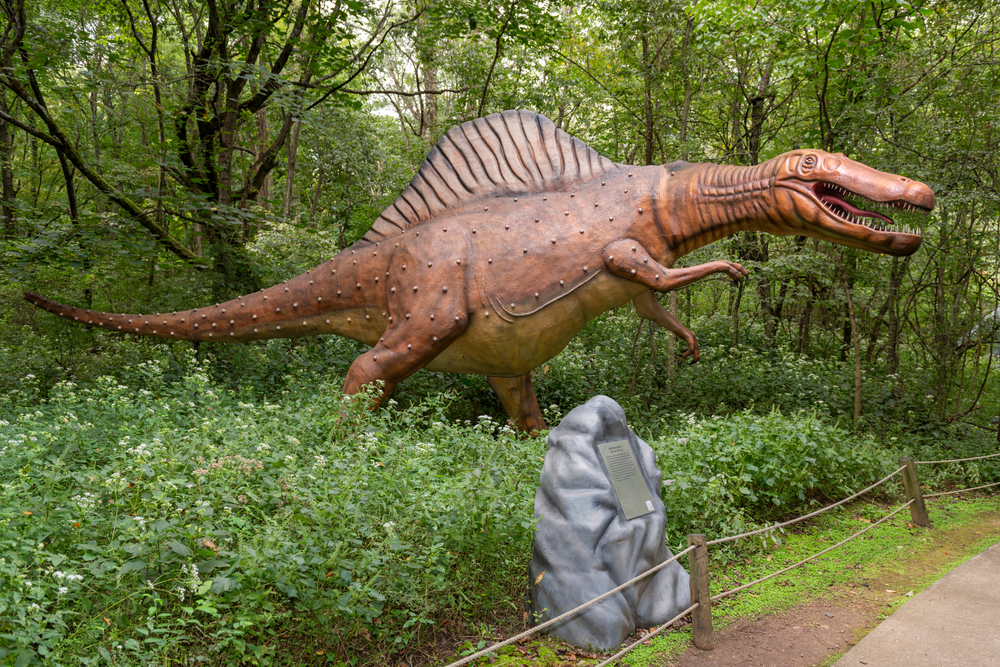 Visit Cumberland Gap National Historical Park
Enjoying a trip through Kentucky in the autumn? There is no better place to view Kentucky's stunning fall foliage than Cumberland Gap National Historical Park. With leaves of every beautiful autumn hue, you can truly appreciate the season, while immersing yourself in Kentucky's rich history.
Cumberland Gap is known as "the first great gateway to the west." Visitors can learn about the many people who walked these trails in search of great adventures and opportunities so many years ago.
The park offers many guided tours for an expert's view of the history of the area. Choose from the Gap Cave Tours, to explore the outstanding underground cathedral, or the Hensley Settlement Tours, to learn about the small town that was inhabited on-site from 1903 to 1951.
Visitors are also free to hike on their own through the many miles of trails throughout the park. The trails range from quick sightseeing tours to multi-day excursions in the Cumberland Gap backcountry.
If you'd like to see the stunning fall foliage at different times of day, consider taking advantage of the park's many campsites, with both drive-in and backcountry hike-in access. Stargazing here is one of the best things to do in Kentucky at night!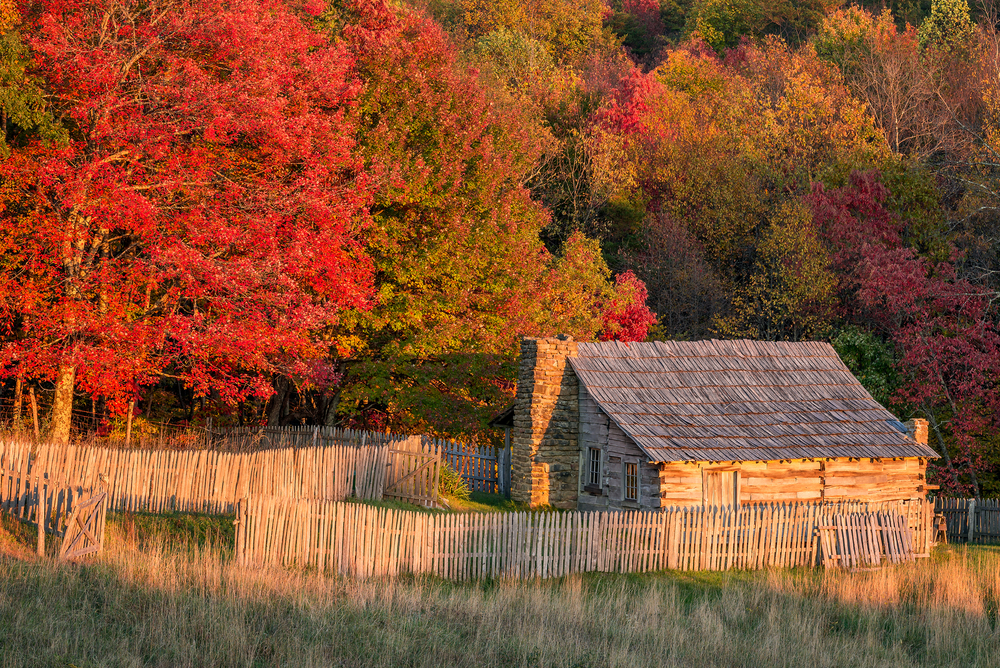 Visit the World of Golf
No matter your golfing experience, World of Golf makes for a wonderful visit. It provides fun activities for golf aficionados to golfing newbies. Its 48-year history serving the community makes it one of the most fun things to do in Florence.
World of Golf features a full 18-hole executive course for avid golfers and an 18-hole mini-golf course for casual golfers and families. It is also one of the only places in the area to host FootGolf. What is FootGolf, you ask? It's basically a combination of soccer and golf – think rules of golf played with a soccer ball. This unique opportunity is open to all ages and is played at World of Golf on Sundays.
If you're looking to learn how to play or practice your swing, guests can book an instruction time with a coach. Visitors can also reserve time to practice on both their indoor and outdoor driving ranges. There is also an indoor simulator, which replicates courses on the PGA Tour.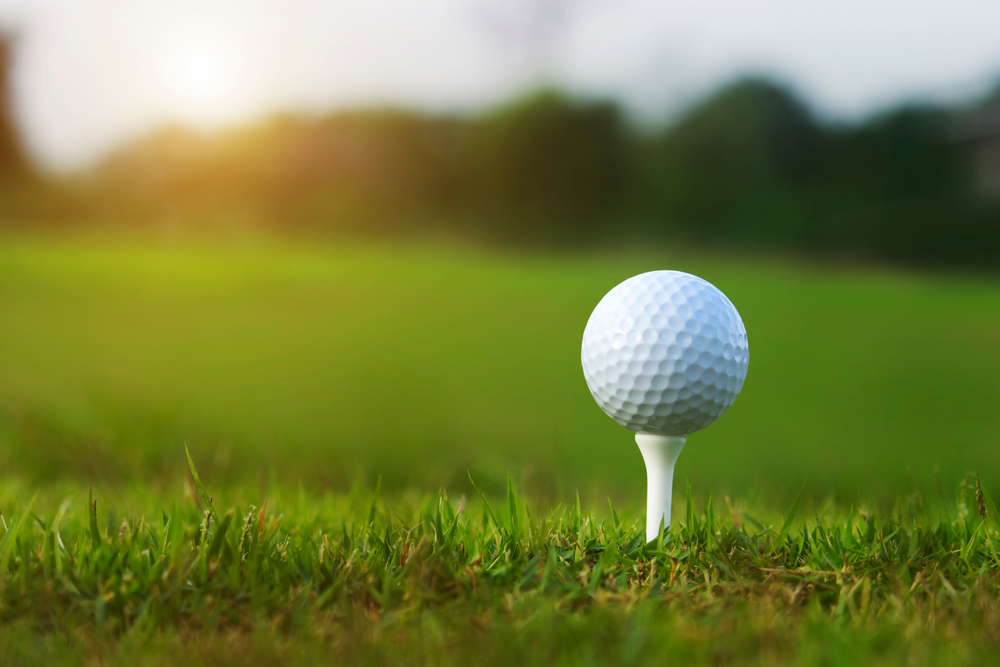 Try Whiskey at Buffalo Trace Distillery
A trip to Buffalo Trace Distillery is an opportunity to witness the timeless craft of producing delicious Kentucky whiskey. For over 200 years, this distillery has been leading the way for true Kentucky bourbon, making a visit here one of the most fun things to do in Frankfort.
With a variety of tours and tastings on-site, there is something here for every palette. The Trace Tour introduces visitors to the history and production of bourbon. The Botanical Gardens Tour offers guests a chance to walk through the distillery's repurposed gardens and enjoy a tasting outdoors. In the mood for something spooky? Try their Ghost Tour, to get to know all the "spirits" aging in Buffalo Trace's warehouses.
For history buffs, Buffalo Trace offers a National Historic Landmark Tour, detailing the company's 200-year history and the success and challenges that come with running a distillery over that time span. The tour dives into topics like Prohibition, and the architecture and technology used by the company over those many years.
And those are just a few of the tour options hosted by Buffalo Trace! A stop at a distillery is one of the best things to do in Kentucky for adults!
Don't forget to check out our post about Visting The Kentucky Bourbon Trail as well as the Best Bourbon Distilleries in Kentucky!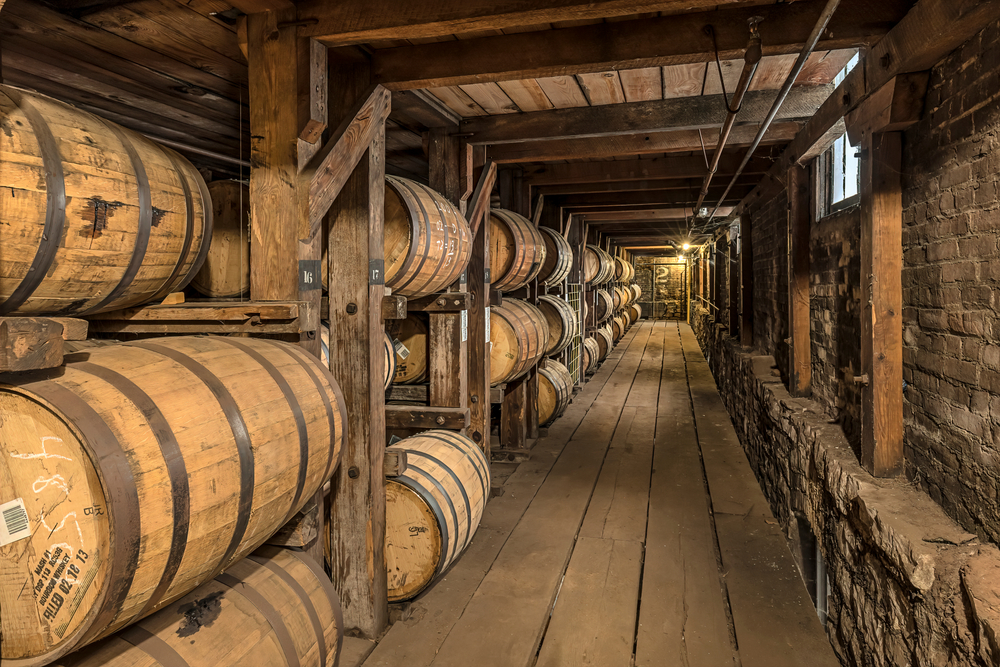 Admire Cars at the National Corvette Museum
Visiting the National Corvette Museum is one of the top things to do in Bowling Green, KY! Vintage car lovers will want to visit the "Home of America's Sports Car."
The first Corvette was introduced in 1953 and it has since become a coveted car type. Tour the museum to see over 80 models from throughout the years including mint classics and one-of-a-kind prototypes.
One of the coolest aspects of the museum is the chance to test drive a Corvette yourself! Get behind the wheel and race around the NCM Motorsports Park track for multiple laps! This is one of the most heart-pumping Kentucky attractions!
The museum also has many events and races throughout the year, so check the calendar before you visit!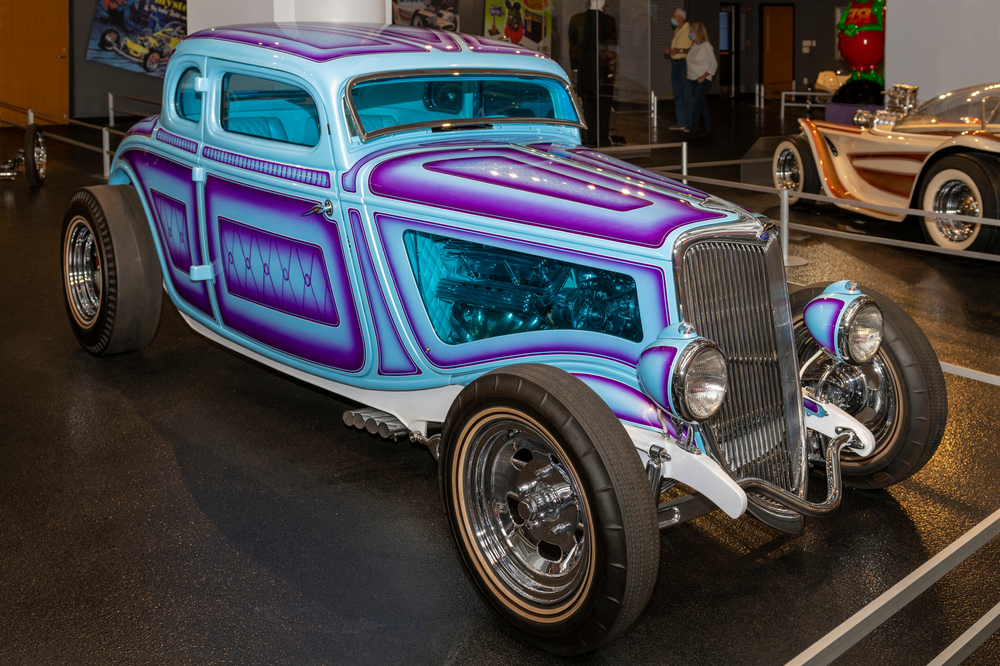 Explore My Old Kentucky Home State Park
The last two best things to do in Kentucky on our list are for the history buffs out there!
Step back in time at My Old Kentucky Home State Park near Bardstown. In the park, you will find Federal Hill, also known as My Old Kentucky Home. This three-story, brick building was built between 1812 and 1818. It was once the home of US Senator John Rowan.
The building was also the inspiration for the song "My Old Kentucky Home, Good-Night!" by Stephen Foster. Written in 1852, this ballad is known for its anti-slavery sentiments.
After touring the historic home, there are many other Kentucky activities in the park to enjoy. There is an 18-hole golf course, tennis courts, and an outdoor theater.
This is also one of the best places to visit in Kentucky for a camping trip! There is a 39-site campground for RVs and tents.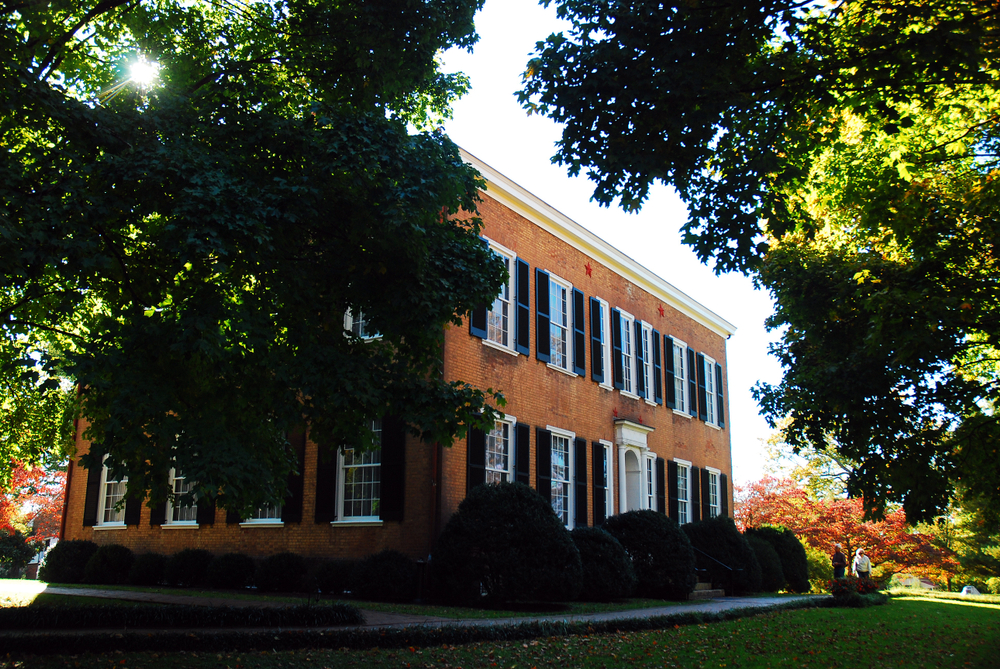 Visit the Abraham Lincoln Birthplace National Historical Site
Abraham Lincoln was born in 1809 in Hodgenville, Kentucky, and spent the first few years of his life on a rural farm.
Anyone interested in American history will want to stop by the Abraham Lincoln Birthplace National Historical Site which honors the early life of the sixteenth president of the US. This attraction is split into two locations, the Abraham Lincoln Birthplace Unit and the Abraham Lincoln Boyhood Home Unit.
The Abraham Lincoln Birthplace Unit is on the site of the Sinking Spring Farm where Lincoln was born. You will find a visitor's center and the First Lincoln Memorial. Similar to the larger one in Washington D.C., this memorial was built in the early 1900s. Inside, you will find the recreation of Lincoln's log birth cabin. On this property, you can also see the Sinking Spring which the family used as a water source.
The Abraham Lincoln Boyhood Home Unit is found along Knob Creek and features historic buildings. Both sites have hiking trails as well.
This is also one of the best free things to do in Kentucky since there is no admission fee for either site!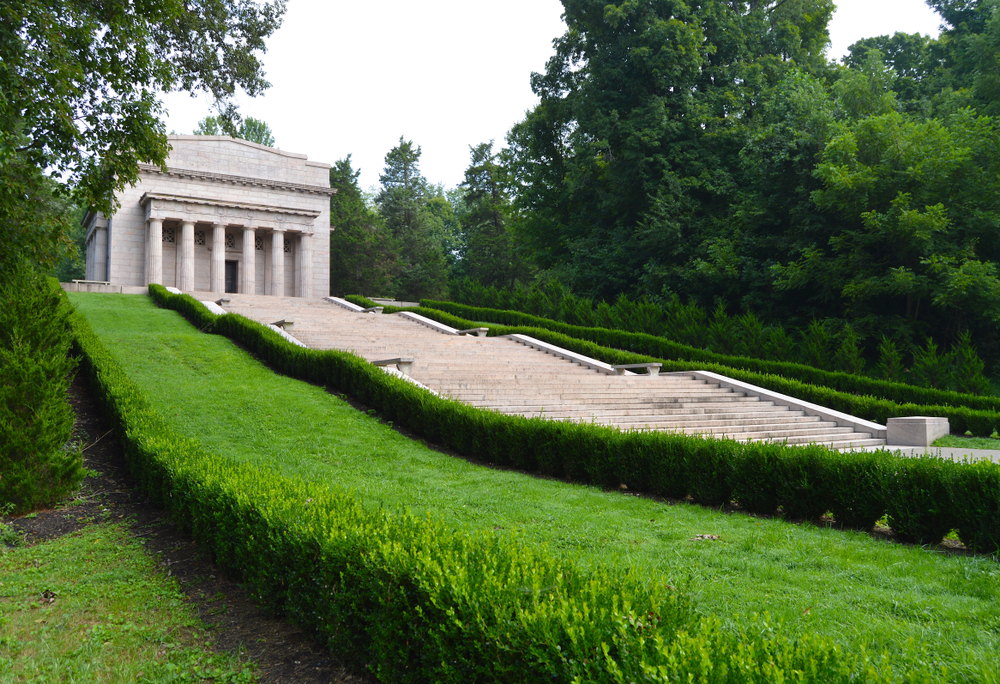 With so many twists and turns around every corner, Kentucky is a great place for any traveler to visit. By starting at Kentucky's most famous landmarks, visitors can often find themselves discovering little-known treasures that are unique to each city in the state.
With so much to suit a variety of preferences, you'll treasure the memories of your visit here for a lifetime. Whether you're looking to explore natural wonders, connect with history, or expand your sports knowledge, there are cool things to do in Kentucky for you.
So, what are you waiting for? Hop in your car, book your ticket, and begin your Kentucky adventure!