There are so many pretty waterfalls near Asheville, North Carolina. This city is found in the "Land of the Waterfalls." With dozens of waterfalls to discover, this is a great place to hike and become one with nature.
The Blue Ridge Mountains, Pisgah National Forest, and Mount Mitchell areas all have great waterfalls and are a short drive from Asheville. With a day trip from the city, you can enjoy many hiking trails near Asheville with waterfalls and find many other pretty nature scenes.
Planning your trip to Asheville last minute?
Make sure to book your hotels and tours in Asheville in advance to ensure availability! The longer your wait, the more difficult it gets. ESPECIALLY during Fall Foliage! Here are our top picks for Asheville:
Top Places To Stay In Asheville:
Top Experiences And Tours In Asheville:
If you want to experience some waterfalls with other people, consider doing a couple of Asheville waterfall tours. There are plenty to choose from that leave from Asheville. Some tours include transportation and there are even some led by a naturalist. Taking one of these nature tours is one of the best things to do in Asheville!
You can also make your own North Carolina road trip itinerary to see as many waterfalls as you can!
Let's check out the best waterfalls close to Asheville, NC!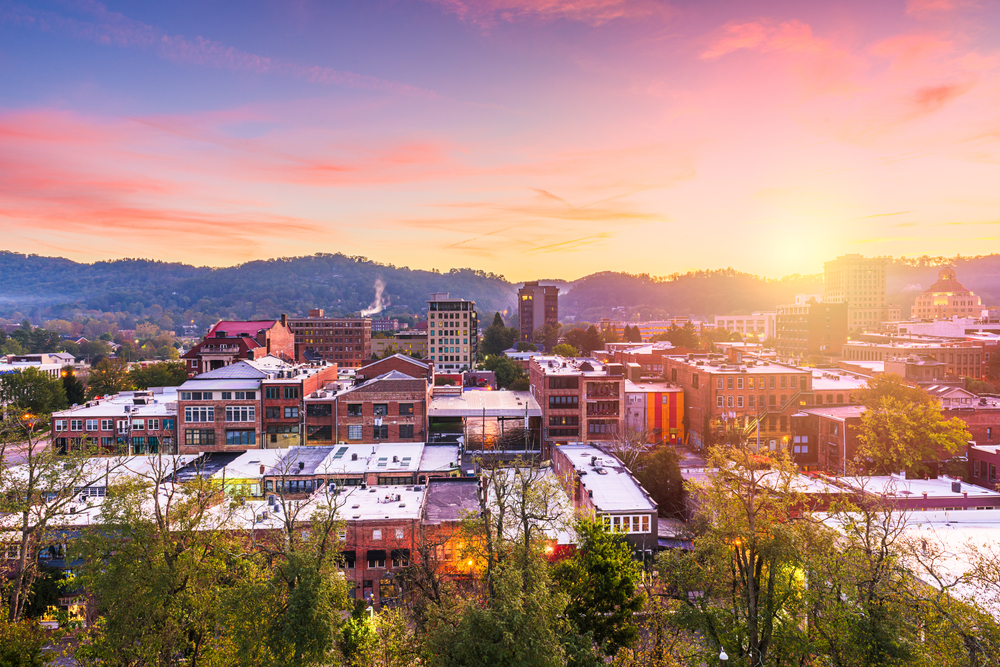 17 Best Hiking Waterfalls Near Asheville, NC You Must Visit
Waterfalls An Hour or Less From Asheville
Catawba Falls
Just a half-hour drive and a 3-mile round trip hike from Asheville, you will find Catawba Falls. This 100-foot waterfall is found at the end of a beautiful, moderate trail. Along the way, you will find views of the Catawba River and some smaller falls on it. A new footbridge makes a great photo op and helps you cross the river without having to hop across on rocks.
If you are an experienced hiker, you can extend your hike to see the Upper Catawba Falls. Even though it is only an extra half mile, the trail is strenuous and involves steep areas and rock climbing. The reward is seeing the pretty 50-foot Upper Falls surrounded by trees.
These are some of the closest waterfalls to Asheville if you don't have time to venture further. Don't forget to check out our list of Best Things to Do In North Carolina!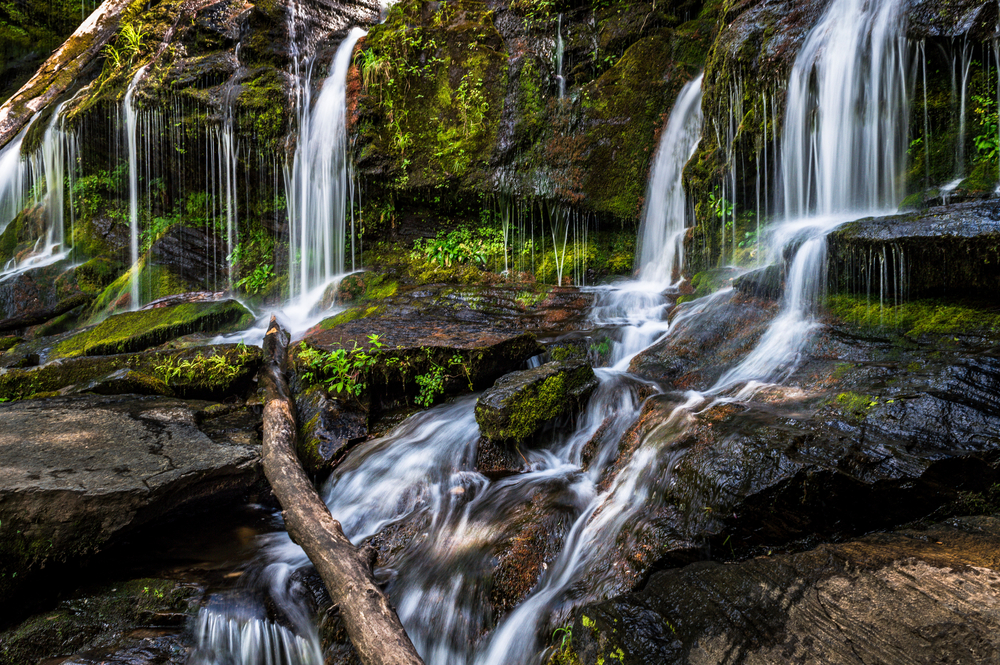 Looking Glass Falls
Looking Glass Falls is one of the best waterfalls in North Carolina and is barely an hour from Asheville in the Pisgah National Forest. This is also one of the most accessible waterfalls since it can be seen from the road. If you want to get closer, a short walk will bring you right up to the falling water.
This 60-foot waterfall is worth a visit no matter the time of year. In spring, the water will be rushing from snowmelt. In the summer, you can cool off in the swimming hole at the base of the falls.
Come in fall to find the falls surrounded by bright foliage. In winter, a lot of the water freezes to create amazing ice sculptures. If you want to photograph Looking Glass Falls, come in the afternoon for the best light.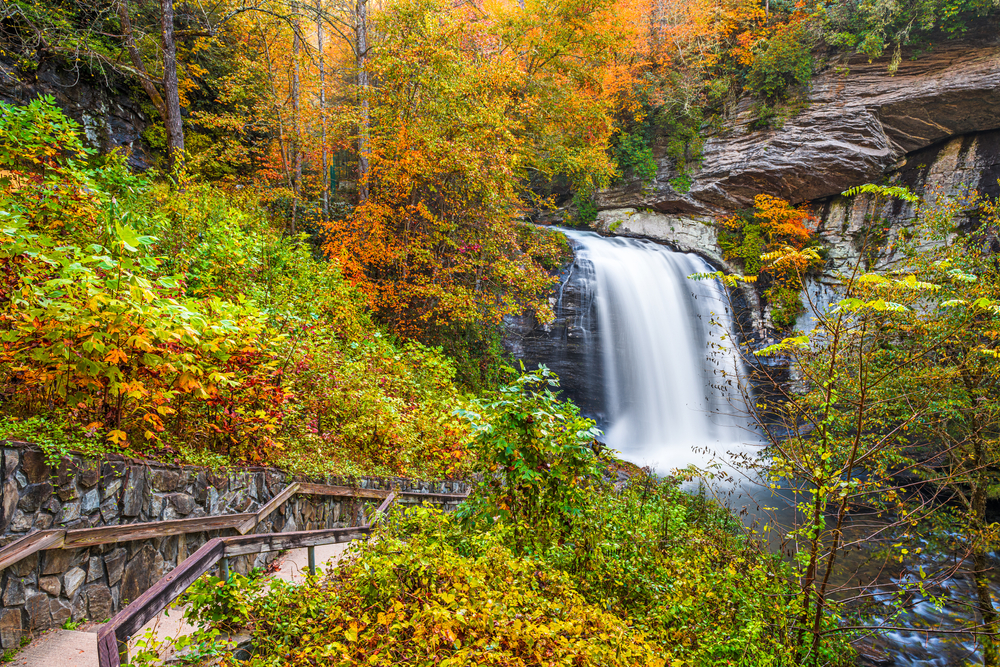 Crabtree Falls
Crabtree Falls is on the Blue Ridge Parkway and is another of the best waterfalls near Asheville. You will need to drive an hour from the city and then hike a three-mile out and back trail to get to this impressive waterfall. This water feature is 70 feet tall and is fairly wide.
The waterfall flows down a rock face and into a creek. A nearby bridge over the creek offers great views or makes a cool element for photographs.
If you make the hike in the spring, expect to be surrounded by wildflowers, though there might be mud from the rain. This is one of the best North Carolina waterfall hikes to see fall foliage as well.
This waterfall hike is also one of the best things to do near Little Switzerland!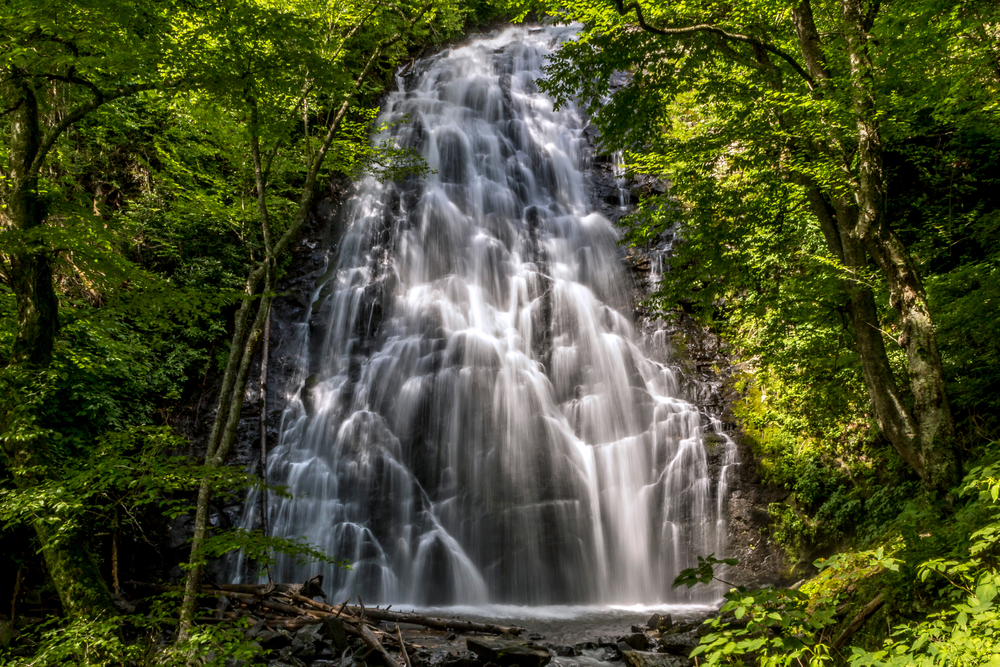 Slick Rock Falls
Another waterfall in Pisgah National Forest and an hour from Asheville is Slick Rock Falls. This 35-foot waterfall flows over a cliff and is best to visit after heavy rainfall. If you visit in the heat of summer, this is a great North Carolina waterfall to keep you cool. You can walk under the falls or behind it and enjoy the refreshing spray.
The trail to this waterfall is an easy .75-mile trek. This waterfall is also near many other falls as well as the Pisgah Center for Wildlife Education. This is another great place to visit in the winter if the roads are passable. The water freezes into awesome ice formations. No matter what time of the year, this is one of the best easy waterfall hikes near Asheville.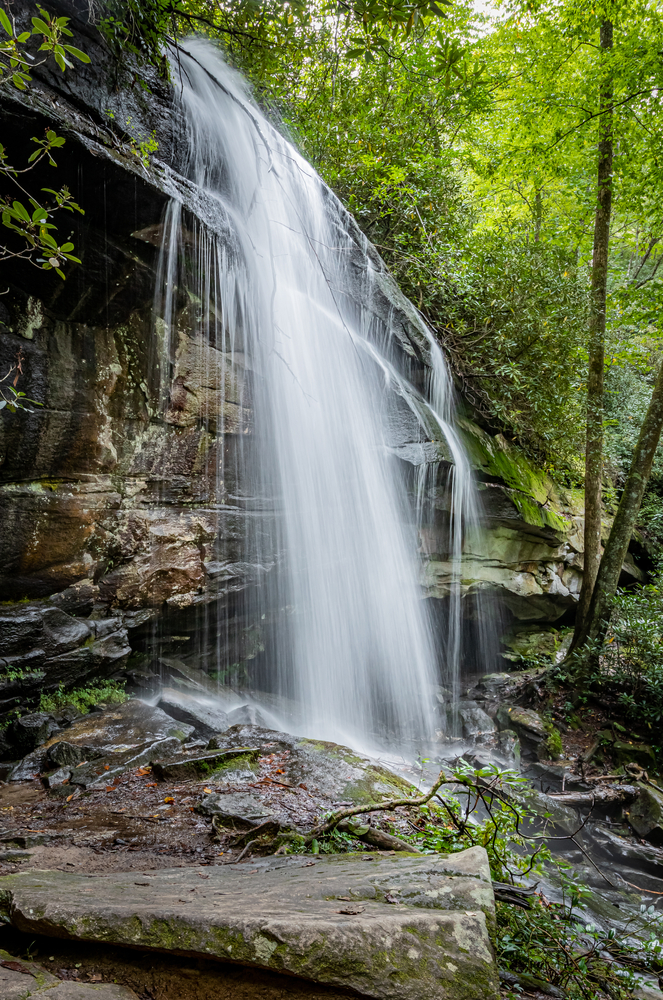 Sliding Rock
Sliding Rock is one of the most popular waterfalls near Asheville for families with young kids. This waterfall flows down a flat rock at the perfect angle to create a fantastic natural water slide. A makeshift ramp with rails leads to the top of the waterfall where you can slide down into a deep pool at the bottom. Even in the summer, the water is a cool 50-60 degrees Fahrenheit, but it is the perfect way to cool down.
It does cost $4 a person to get into Sliding Rock, but there is a lifeguard and open restrooms there during high season to make the visit more enjoyable. There are also shady areas to relax in and observation decks to watch the action. You and your kids will have a blast riding down this 60-foot waterfall.
The hike to Sliding Rock is less than half a mile and is easy enough for all ages. This waterfall is near Slick Rock Falls and Looking Glass Falls among Asheville hiking waterfalls.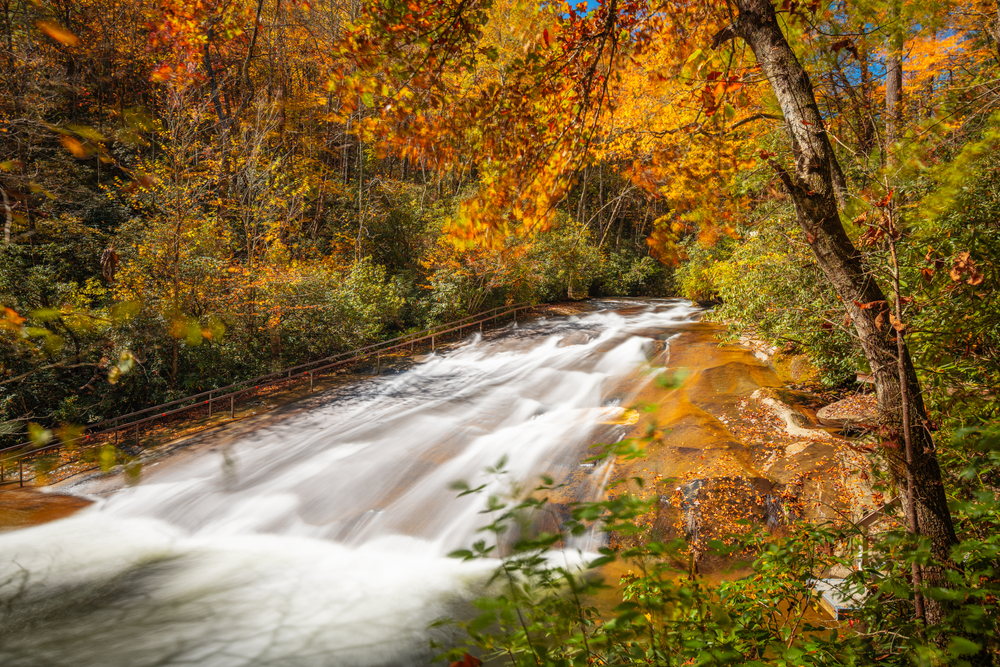 Linville Falls
An hour from Asheville and just off the Blue Ridge Parkway is Linville Falls. Found in a gorge on the Linville River, is one of the most photographed waterfalls in North Carolina. The scene is especially breathtaking in the fall when the trees encircling the waterfall turn fiery.
There are two different hikes around the falls. The first is the moderate Erwins View Trail. This trail leaves from the Visitor's Center and is a little over a 1.5 miles round trip. The trail presents amazing and panoramic views of Linville Falls and the surrounding nature.
The second trail is more strenuous. Undertaking the Linville Gorge Trail will lead you down into the gorge for closer views of the thundering waterfall. You can't swim here because of the currents, but it is a great place for a picnic next to the water. It is easy to say that this is one of the best waterfalls near Asheville!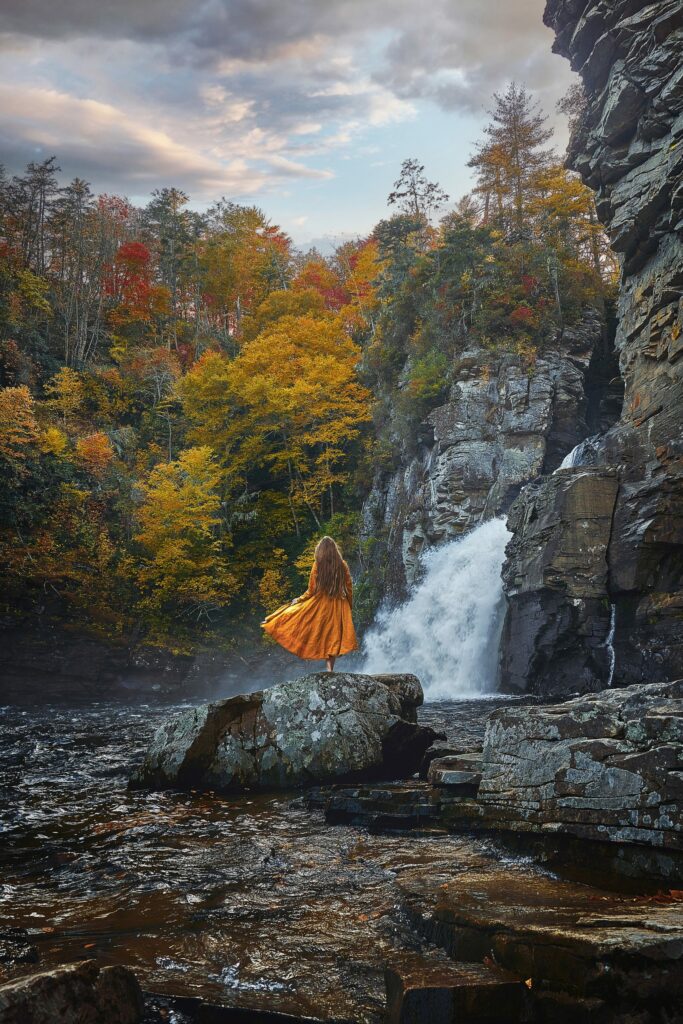 Soco Falls
Soco Falls is just under an hour west of Asheville. This gorgeous, double waterfall is one of the must-visit waterfalls in western North Carolina if you love photographing amazing natural beauty.
From the parking area, it is only a five-minute walk to the observation deck where you can see the falls. From this vantage point, it is easier to see both falls together in fall or winter when there are fewer leaves on the trees.
To get closer to the falls, there is a steeper trail down from the observation deck. Be careful walking here since it can get slippery. There are ropes to help you keep your balance.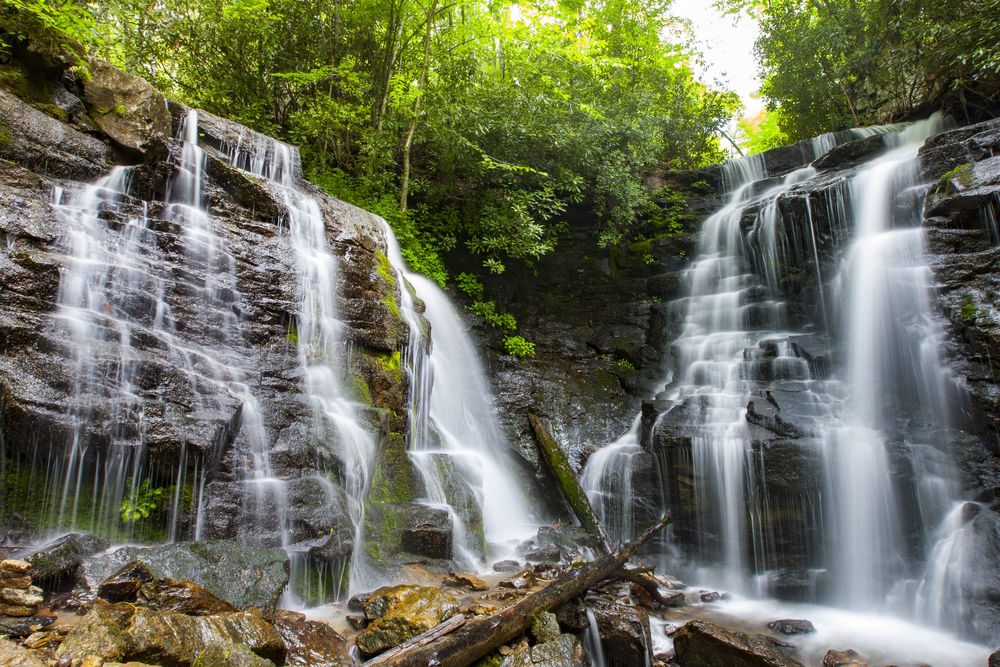 Hooker Falls
Hooker Falls, in DuPont State Forest, is only twelve feet tall, but it is much wider across. The best thing about this waterfall is the big swimming pool at the base. This is the only waterfall you can swim at in this state forest since it is safe and calm.
It is only an easy quarter-mile walk from the parking lot to the falls. There are observation decks and plenty of big rocks along the water to sit on. This is a great place to bring your kids. Pack a picnic, swimming suits, and towels to make the most of your time here.
Hooker Falls is not the only waterfall on the Little River. Triple Falls, High Falls, and Bridal Veil Falls are all found in DuPont State Forest as well. The Seven-Mile Waterfall Hike will take you to all of them. This is one of the best waterfall hikes near Asheville, NC!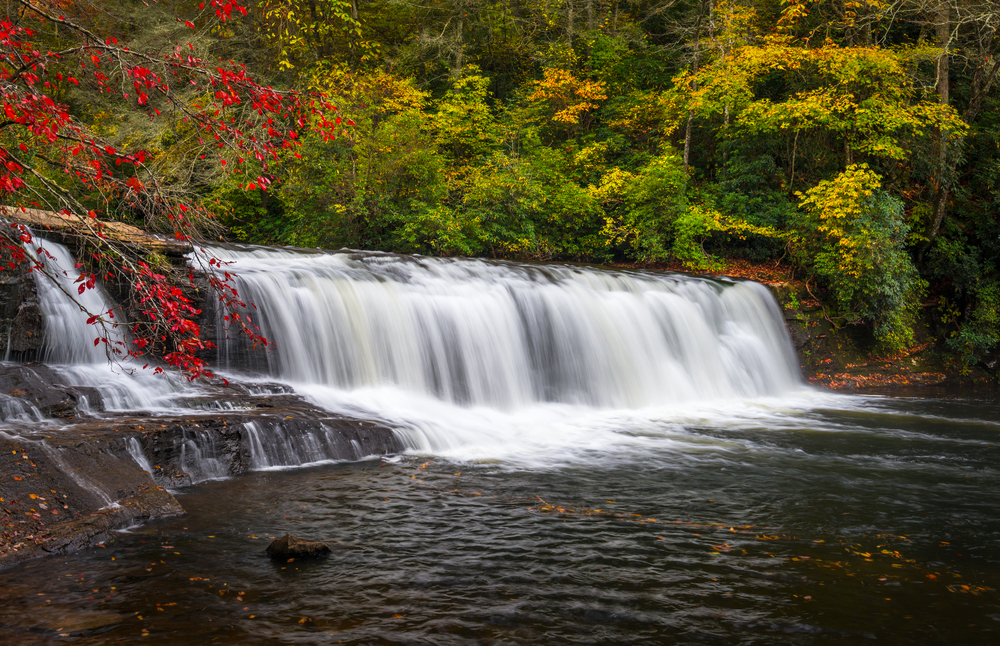 Triple Falls
Triple Falls is just down the river from Hooker Falls and is part of the same hiking trail. This tiered waterfall flows down in three pretty sections adding up to 120 feet.
This waterscape is perfect for anyone who loves nature or movies. Interestingly, scenes from the 2012 movie "The Hunger Games" were filmed here. You can stand in the same spot as Jennifer Lawrence and Josh Hutcherson who played Katniss and Peeta.
Because of the rocky nature of the river, you can walk right up to the waterfalls, but be careful of slick spots. This waterfall is an hour south of Asheville, perfect for a day trip.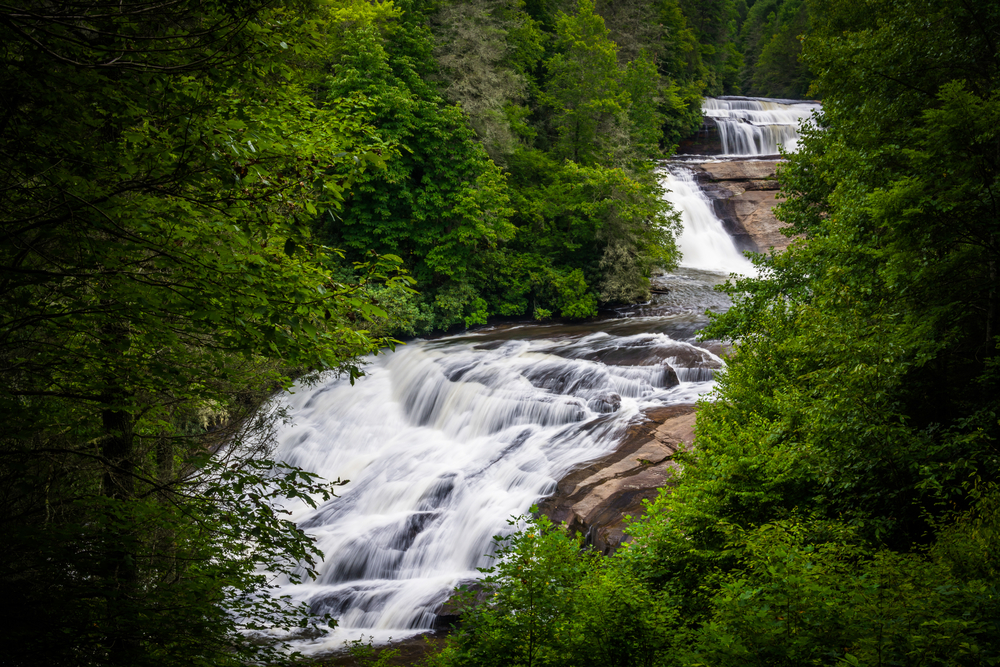 Pearson's Falls
Pearson's Falls is down near the South Carolina border and a couple of cute small towns. From Asheville, drive an hour to the trailhead.
You will only need to walk about a quarter of a mile to the lovely 90-foot waterfall. The path is easy and follows a picturesque brook. It would be a great place for a romantic stroll if you are looking for one of the most romantic Asheville waterfalls.
This waterfall is on privately owned land and there is a small fee to hike here, but the money goes into maintaining the pretty area. There are restrooms as well as benches and picnic tables to relax at surrounded by trees. In the spring, there are thousands of beautiful wildflowers. Pearson's Falls is part of both the Blue Ridge National Heritage Area and the North Carolina Birding Trail.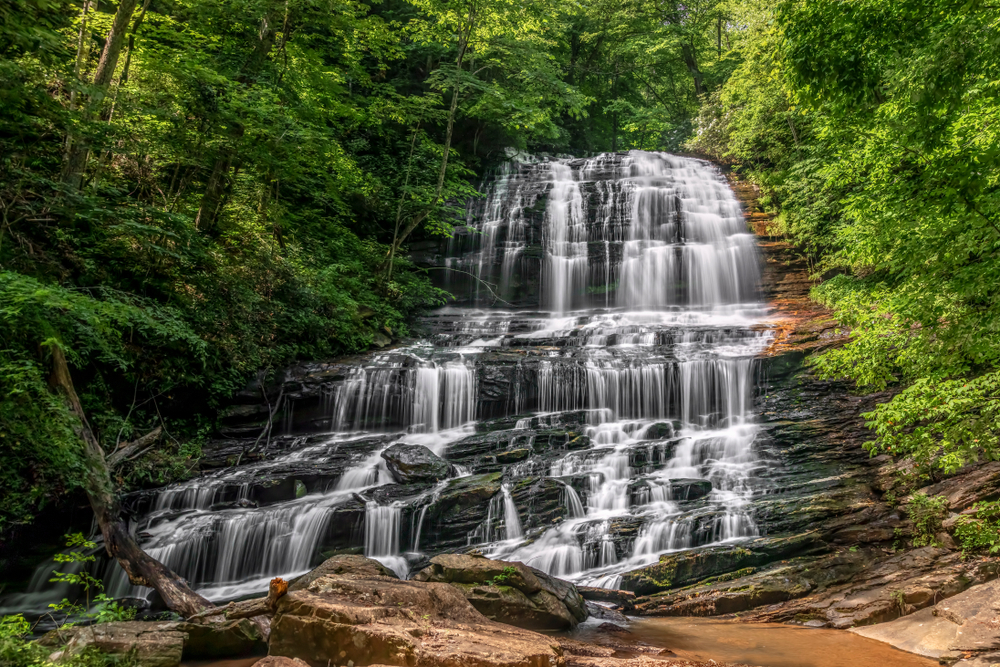 Skinny Dip Falls
If you want one of the best Blue Ridge Parkway waterfall hikes near Asheville, then you might be interested in Skinny Dip Falls, which is an hour from the city.
The trailhead is found at the Looking Glass Rock Overlook. Park at the overlook, then walk across the street to the marked trail. The easy route features stairs and bridges and is a little over a half mile one way.
One cool feature of this North Carolina waterfall is the swimming hole formed at the bottom. Bring a swimsuit since actually skinny dipping might get you in trouble! The water stays cool even in the summer so it will be nice and refreshing.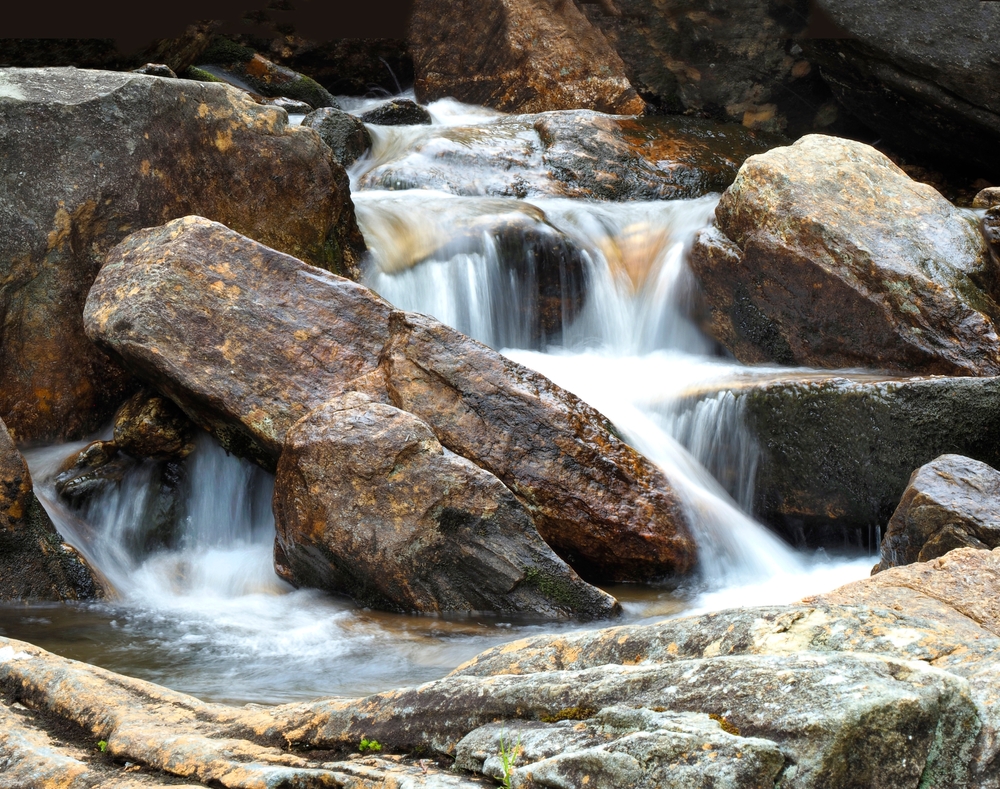 Waterfalls Over An Hour From Asheville
Courthouse Falls
The beautiful Courthouse Falls is about an hour and fifteen minutes from Asheville in the Pisgah National Forest. It gets its name from the nearby Devil's Courthouse rock formation. This narrow, 45-foot waterfall cascades into a small pool where you can cool your feet after your hike. Though the hike is less than a mile, so you hopefully won't be too tired.
This is an amazingly picturesque area. Make sure to charge up your camera batteries before coming because you will want to take a ton of long exposure shots to capture the grace of this waterfall surrounded by lush trees. The drive from Asheville is 100% worth it!
Other waterfalls within a few miles include French Broad, Mill Shoals, and Cathedral Falls.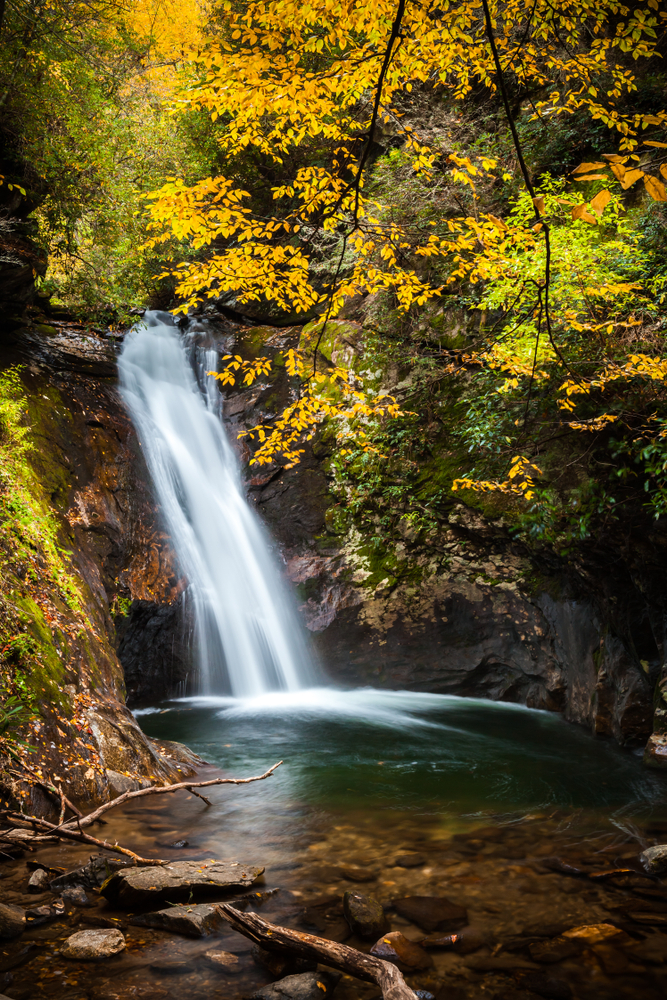 Rainbow Falls
Yet another waterfall in the Pisgah National Forest is Rainbow Falls. Drive for about an hour and fifteen minutes from Asheville and hike for a mile and a half. The moderate hike begins in Gorges State Park before heading into the National Forest. You will get amazing views from the main trail as well as side trails that offer different angles.
This is one of the most impressive waterfalls near Asheville. At 150 feet, it is a sight to behold. On sunny days, you will discover how this waterfall got its name. A gorgeous rainbow will appear in the spray and you will go crazy taking pictures.
You will hike by Hidden Falls on the way to Rainbow Falls and if you extend your hike, you will come across Turtleback Falls and Stairway Falls.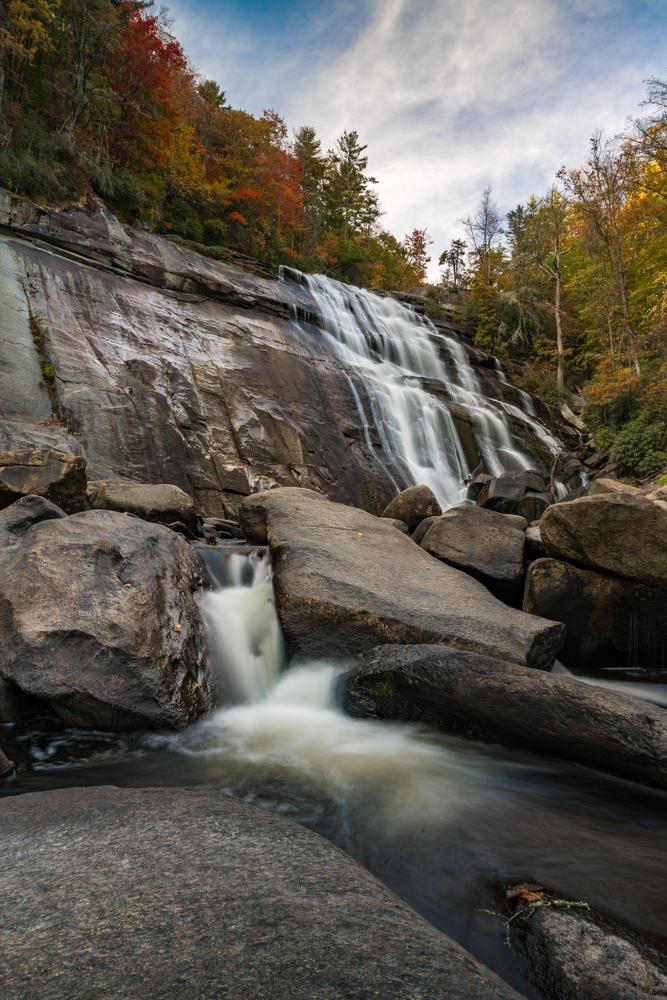 Tom Branch Falls
Tom Branch Falls is around an hour and fifteen minutes from Asheville on the outskirts of Great Smokey Mountains National Park near Bryson City.
To reach the falls you need to hike the first .3 miles of the Deep Creek Trail. This portion of the trail is gravel and flat, so it is easy and accessible, perfect for all hiking skill levels.
The 80-foot waterfall tumbles down a rock face and into Tom Branch creek. You might even see people tubing in the water.
If you want to continue along Deep Creek Trail, it does get more difficult and is 4.6 miles out and back. It also connects to other trails so you can pick your own path. Other waterfalls to spot in the area include Indian Creek Falls and Juney Whank Falls.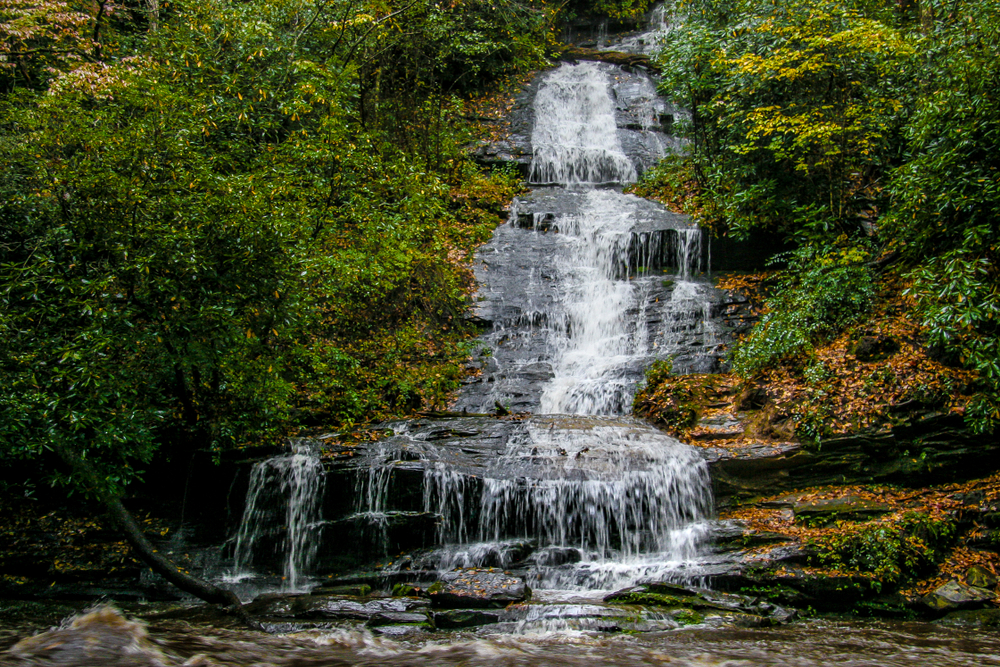 Upper Whitewater Falls
Upper Whitewater Falls is the tallest waterfall east of the Rocky Mountains. Its impressive 811-foot height and powerful force will leave you breathless.
You definitely need to make the day trip from Asheville to see this natural wonder in the Nantahala National Forest. The drive from the city is about an hour and twenty minutes.
From the parking lot, you only need to walk a quarter-mile paved path to the upper overlook. However, if you want an even better view, climb down over 150 steps to reach the lower overlook. Make sure to stay on the marked paths because people have died when they have ventured off looking for other views.
You need to add this spot to your list of must-visit Asheville hikes with waterfalls.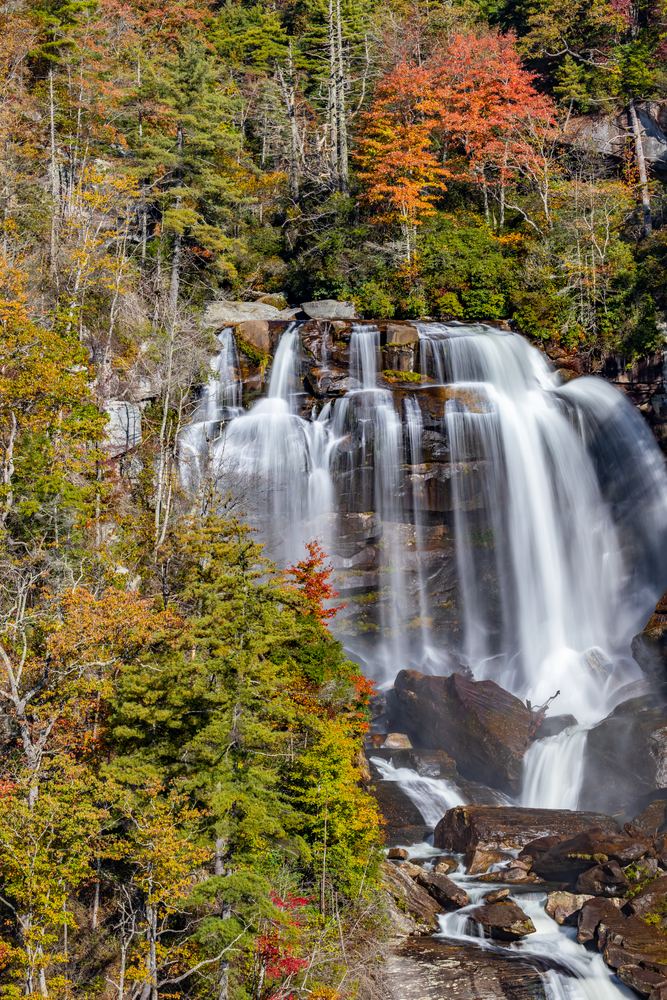 Mingo Falls
An hour and twenty minutes west of Asheville, Mingo Falls cascades down over rock and between trees. This waterfall is near the entrance to the Great Smoky Mountains National Park and the hike to see it is the perfect way to start your trip to this National Park. It might be one of the further waterfalls near Asheville, but it is one of the best!
The hike to the falls is a quarter-mile long and is fairly easy, but there are 161 steps to climb. The viewing bridge provides amazing views of the rushing water. Try to time your trip to Mingo Falls after a rainfall or when there is early morning fog to add even more magic to the scene.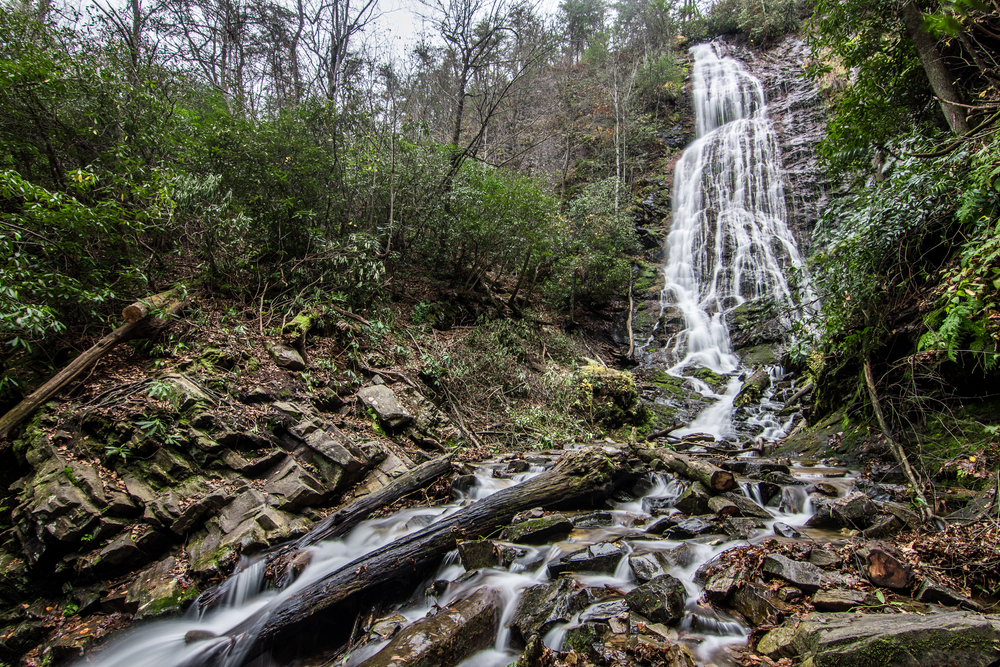 Dry Falls
The last waterfall we will mention, though there are so many more, is Dry Falls down near the Georgia border. The drive here is just over an hour and a half from Asheville but is so worth it. Plus you can see many of the other waterfalls on this list along the way.
Dry Falls is a 75-foot waterfall inside the Nantahala National Forest. It flows over a cliff leaving room for the trail to pass behind it. If you want to stay dry, you can view the falls from the observation area next to the parking lot.
The trail down to the falls is short and will let you get up close and personal to the waterfall. If you are looking to photograph a waterfall at a really cool angle, then Dry Falls is for you.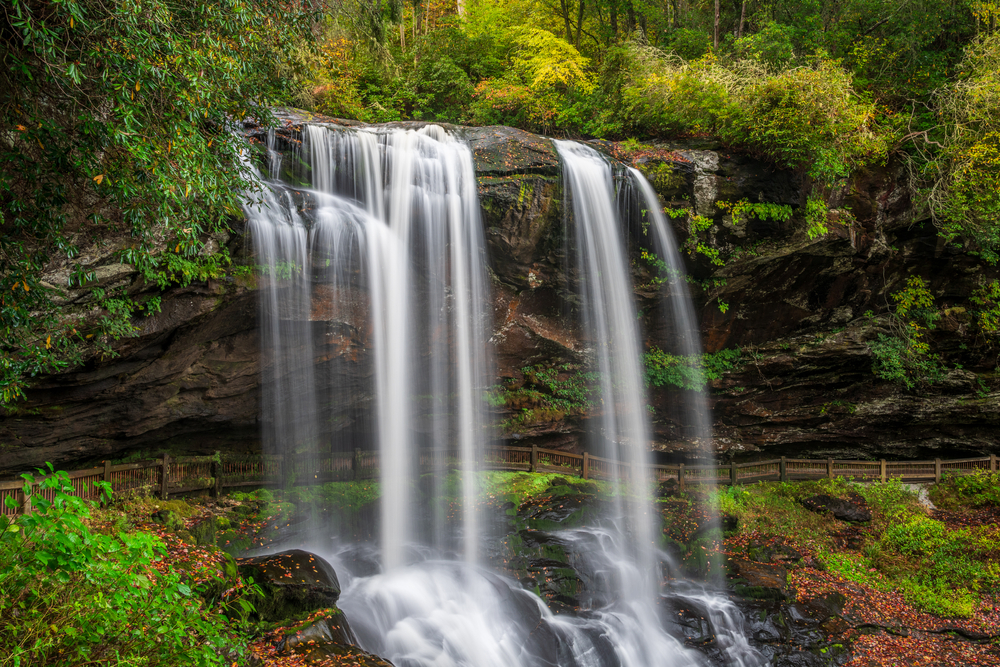 By now, you have realized exactly why this slice of the country is known as the "Land of the Waterfalls." You could spend weeks in North Carolina and still not see every waterfall. There are so many amazing waterfalls in Asheville perfect for a day trip or even a longer weekend road trip.
More tips for your trip to Asheville: