Visiting Western North Carolina and looking for the best breakfast in Asheville? From mimosas to chicken and waffles, here is your go-to list for restaurants to start your morning off right!
Between breweries, hikes, and scenic drives, Asheville is a small town in the Smoky Mountains that is an adventure lover's dream! It is also a foodie lover's dream, especially for those early birds that are looking to grab a bite to eat before hitting the trails.
Brunch in Asheville can turn into an all-day event when there are so many good options, especially at places that feature not only breakfast in Asheville but also lunch and dinner too! There are truly so many things to do in Asheville.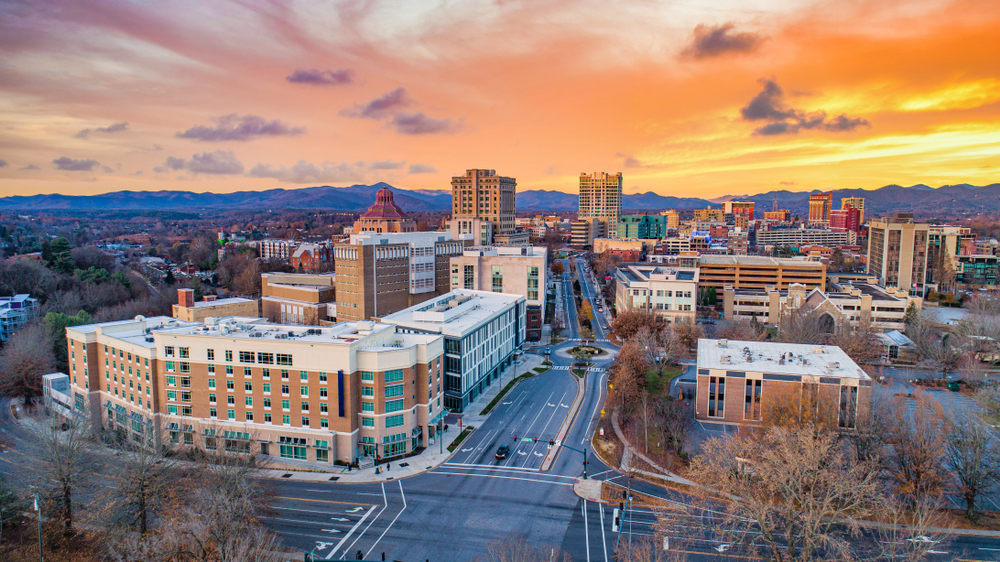 Best Breakfast in Asheville
Mayfel's
Looking for breakfast in downtown Asheville? Look no further than Mayfel's! Opened in 2003 with Louisiana roots, Mayfel's is located on College Street near Pritchard Park and in the heart of town!
Choose to sit in the classic dining area or outside on the year-round, dog-friendly seating on the covered patio. Mayfel's also offers a seasonal courtyard bar, deemed "a little slice of the French Quarter right here in the mountains".
As one of the best places for breakfast in Asheville, menu staples include classic Beignets, Fried Green Tomatoes, and Seafood Gumbo for starters. As a main dish, choose from the Asheville Scramble featuring eggs (or make it vegan with the tofu option!), Smoked Salmon or Crab Cake Benedict, or the classic New Orleans style Muffuletta!
If you're looking for lunch fare, options include Gator Po'Boys, Seafood Etouffee, Chicken Creole Pasta, or the classic Jambalaya. No matter what you choose, brunch at Mayfel's will transport you from the mountains to the bayou! Don't forget to hit up the build-your-own Bloody Mary Bar on the weekends!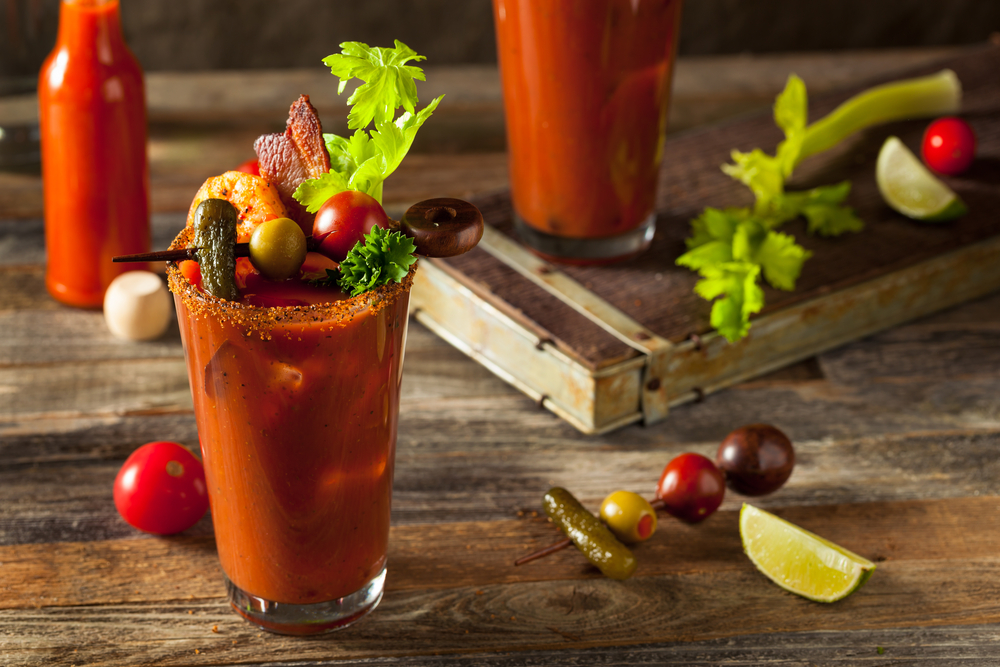 Biscuit Head
Heading for breakfast in Biltmore Village and looking for some southern comfort food? Try the local favorite, Biscuit Head, winning the 2021 Gold for "Best Breakfast" and Silver for "Best Take Out" in the "Best of Asheville" annual competition! With locations in both West and South Asheville as well, Biscuit Head is one of the best places for breakfast in Asheville as it is quick and convenient.
As the name suggest, biscuits are the show stopper at this restaurant and come with all the fixin's. Start with the basics and choose a regular, gluten-free, or vegan biscuit then decide on toppings. If you fancy gravy, options include espresso red eye, fried chicken, pork sausage, veggie sausage, and sweet potato coconut gravies! Take our word for it and try them all — you won't be disappointed!
Looking for something sweeter? Try the Biscuit Donuts tossed in cinnamon sugar and served with lemon curd or the Biscuit French Toast topped with strawberry syrup and powdered sugar.
Biscuit sandwiches also are found on the menu including the classic egg and cheese or the more unique mimosa fried chicken with sweet potato butter, sriracha slaw, and a poached egg.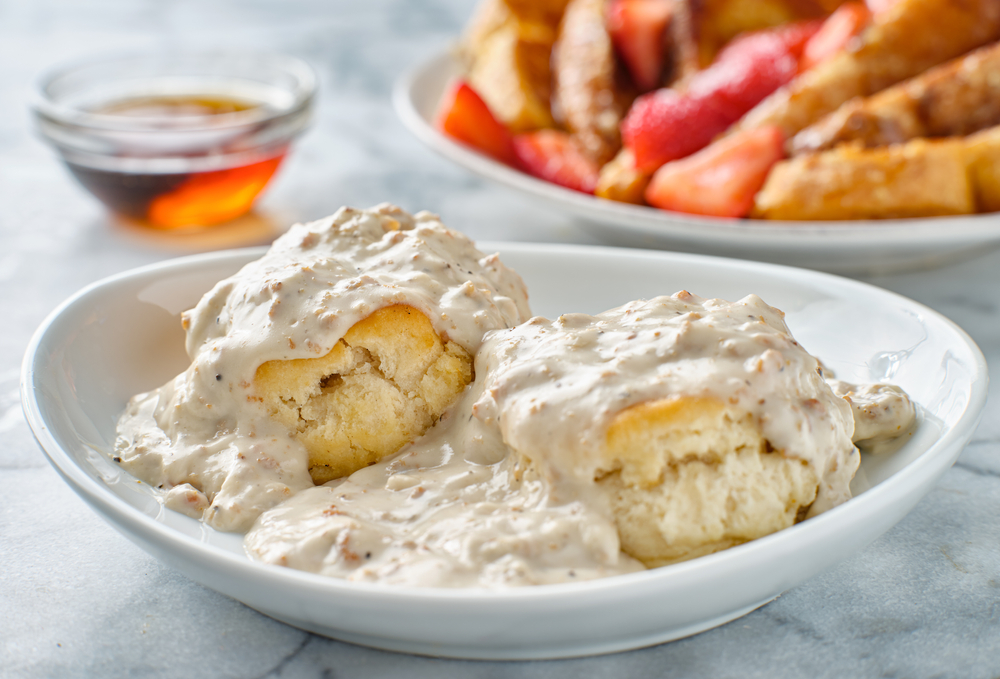 Sunny Point Cafe
Another winner in the "Best of Asheville" competition, Sunny Point Cafe took home the Gold "Best Brunch", Silver "Best Breakfast", and Silver "Best Delivery" for 2021! For breakfast in West Asheville, just look for the blue and orange sign and ample outdoor seating!
Egg-ceptional dishes are the star on the menu. Some standout dishes include Huevos Rancheros or Huevos Fucheros (meatless), Southern Breakfast Benny featuring pecan crusted fried green tomatoes and blackened tomato gravy, or avocado toast with homemade bread!
For sweeter fare, choose from Stuffed French Toast, Carrot Hotcakes made from fresh carrot cake and sweet cardamom cream cheese, or Praline French Toast.
Burgers – including our favorite Wakin' and Bacon topped with hickory nut gap beef burger, cheddar, bacon, arugula, tomato jam, egg over easy, and scallion aioli on an artisan bun – sandwiches, trout pate, biscuits, and a kid's menu round out the offerings at this local favorite.
Early Girl Eatery
Ealy Girl Eatery has three locations in Downtown, West Asheville, and South Asheville, so one doesn't need to travel far for the best vegan breakfast in Asheville! Early Girl Eatery has been serving AVL locals and visitors since 2001, and is truly a farm-to-table experience.
With breakfast served all day, this walk-in only restaurant has both indoor and outdoor seating at all locations. The large menu truly has something for everyone, especially our vegan and vegetarian friends!
One of our favorite vegan offerings is the Veggie Breakfast Bowl featuring organic brown rice, black beans, sweet potatoes, fresh organic spinach, cheddar, and scrambled cage-free eggs, topped with fresh salsa and sliced fresh avocado. Make it vegan – drop the cheese and replace eggs with Smiling Hara tempeh.
Other menu options include Biscuit French Toast, 12-Hour Slow Roasted Porky Breakfast Bowl, Spinach & Potato Cakes, Goat Cheese & Fresh Herb Omelet, Heirloom Organic Grit Cake Stack (vegan!), and the Beet Burger. With ample sides, vegetable plates, salads, and a children's menu, Early Girl is one of the best Asheville brunch places.
Don't forget your morning Vitamin C… order a mimosa flute, MEGAmosa, or flight of four seasonal flavors to add some bubbly to your day.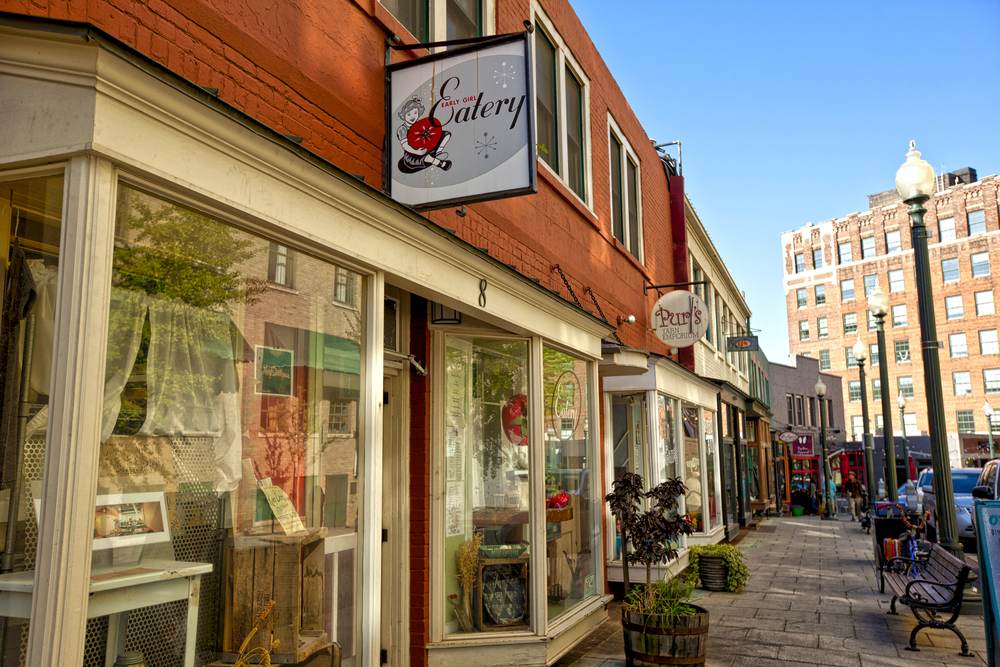 OWL Bakery
Old World Levain Bakery – dubbed OWL Bakery for short – is another quick stop for breakfast in West Asheville for those looking for a bite to eat before a busy day of hiking, shopping, or brewery hopping!
Known for their coffees, teas, and breads, OWL's drink menu includes the Barista's choice where a portion of the proceeds is donated to a different local organization or cause working for a more just and equitable world. Feel good about your contribution to society while sipping on your Macchiato, London Fog, Buttered Chai, Cappuccino or other beverage.
Make sure to checkout the menu before you go because every day offers something different! Set daily breads include Country, Baguette, Rye, and Wheatless squirrel loaf, but on rotating days you'll find everything from Ciabatta, to Milk Bread to Raisin Flax to Einkorn.
Pair this with their extensive pastry list and savory foods – including Cardamom Buns, Almond Rose Croissants, Everything Danishes, Coffee Walnut Strudel, and Seasonal Quiches. Once you've decided on your drink and food of choice, head outside and enjoy the weather as you enjoy one of our favorite breakfast places in Asheville!
Tupelo Honey
It doesn't get more southern than Tupelo Honey for one of the best breakfast spots in Asheville. With multiple locations, Tupelo is a local favorite and has an incredible rewards program that regularly offers discounts and even free meals!
Head towards Arden, NC for breakfast in South Asheville and order the Debutante cocktail to start with, a delicious beverage made with house-made lavender lemonade. Sip on while you munch on the MASSIVE biscuits, served with whipped butter and blueberry jam. Money earned from these "Biscuits For a Cause" go towards the Tupelo Honey Relief & Development Funds that aid Tupelo employees in need!
You can't have a southern breakfast and not try the Fried Green Tomatoes, served over goat cheese grits with a red pepper sauce! Round out your meal with one of the delicious southern entrees including the "Old Skool Breakfast Bowl" featuring parmesan & rosemary potato cracklins, Mac-N-Cheese Waffles with Asheville Hot Fried Chicken, Sweet Potato Pancakes, or the Divine Swine Benny Bowl with pork shoulder slow cooked in duck fat.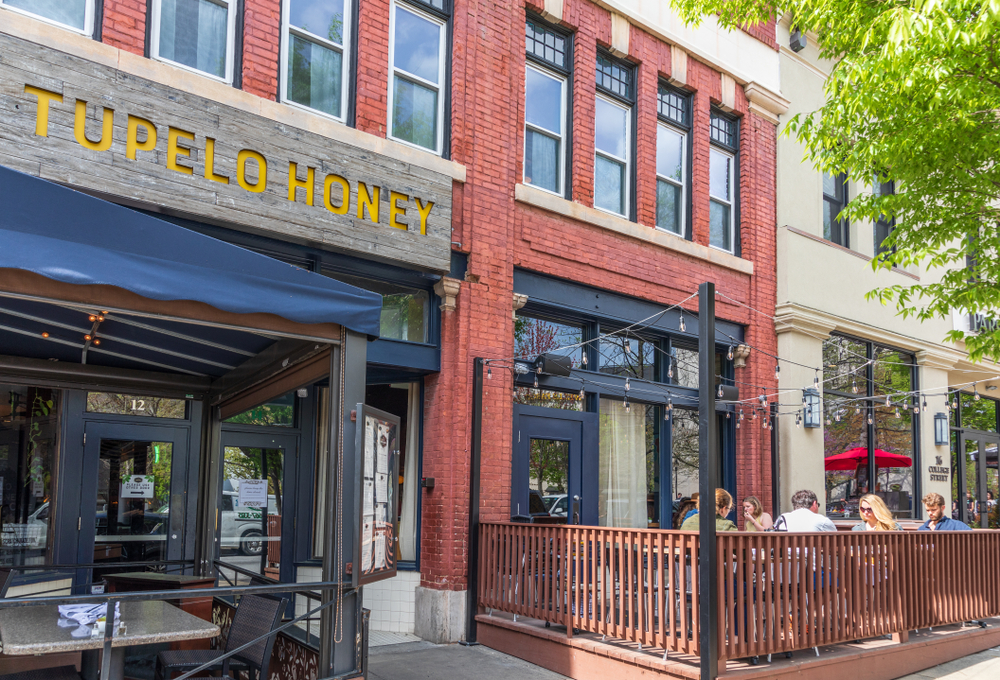 RosaBees
As their saying goes, savory Hawaiian meets sweet Asheville at this local Asheville brunch location. Rated the 2021 Gold Best Take Out and Silver Best Brunch, you will be hard pressed to find another spot as unique and delicious as RosaBees!
Featuring atypical menu items, RosaBees was actually featured on Season Two of Netflix's Sugar Rush! The next time you're looking for breakfast in Asheville, stop in and try the Ahi Poke, Okonomiyaki (savory Japanese Pancakes), or Lumpia (Crispy Filipino Spring Rolls) for an appetizer!
Make sure to save room for the main course. Choose from a more traditional plate like Banana-Nut French Toast or the Kalua Hash, or try something adventurous and go for the Ube Scallops or our personal favorite, the Waikiki Breakfast – Two Free Range Eggs, Teriyaki Glazed House Made Spam, Coconut Sticky Rice, and Honeycomb Biscuit w/ Honey-Guava Butter!
Bebettes
Want to travel without leaving Asheville, NC? Well transport yourself to our favorite New Orleans Coffeehouse in Grove Arcade and order something sweet from Bebettes!
With daily specials and a fixed menu, guests can have their beignets and eat them too! Choose from classic beignets or try the "fingers" instead – strips of dough instead of squares. Wash it all down with your choice of a Louisiana Latte, made with coffee and chicory along with a variety of house-made syrups!
If coffee isn't your jam, order a tea latte instead. We recommend trying the London Fog with Madagascar Vanilla Bean Syrup.
Try something new and order the Goat of Monte Cristo, a beignet sandwich featuring the classic donuts as "book ends" packed full of Canadian bacon, house-made raspberry preserves, and creamy goat cheese.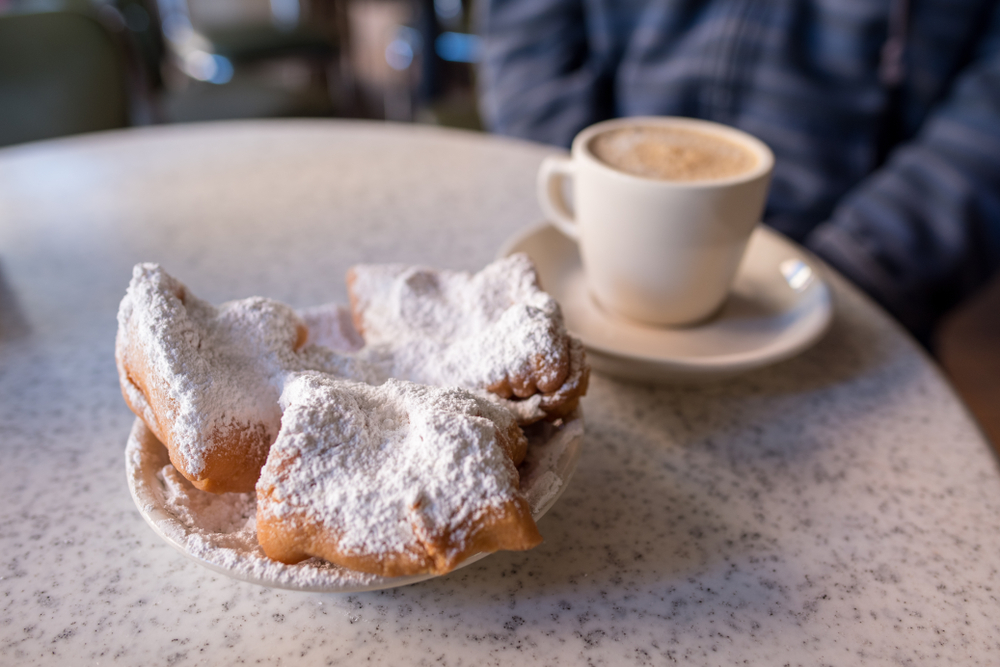 Hole Donuts
For a quick breakfast in Asheville that will satisfy your sweet tooth, try Hole Donuts in West Asheville. Look for the iconic baby blue truck and you will have found the 2021 Silver award winner for Best Donut in AVL!
With only four choices on the menu, Hole Donuts keeps it simple while concocting the most outrageous – and delicious! – donut flavors you will ever try. Place an order for a baker's half or full dozen and get your pick of Vanilla Glazed, Toasted Almond Sesame Cinnamon, Cinnamon Sugar, or that week's seasonal flavor.
Past weekly flavors have included Irish Coffee, Cherry Amaretto, Mezcal Lime Basil, Orange Masala, Pumpkin Sorghum, Honeysuckle, Honey Lavender Earl Grey, and much, much more. Add a cup of 'Jo' provided from PennyCup Coffee Co. or tea from Asheville Tea Company and you round out your morning meal.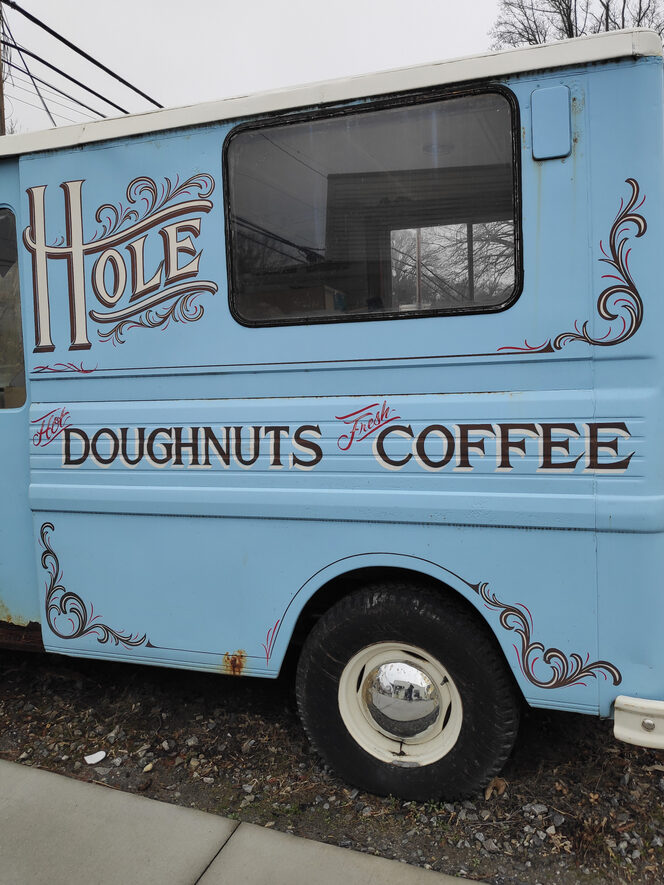 Blue Ridge Restaurant at the Omni Grove Park Inn
Hands down one of the best places for breakfast in Asheville is the famous Blue Ridge Restaurant located inside the Omni Grove Park Inn. Overlooking the mountains, catch the sunrise while you dine in luxury. You don't need to be staying at the Inn to partake in this brunch in Asheville, NC.
This buffet style brunch is served in a massive dining room, with two rooms full to the brim of amazing breakfast choices. Checkout the yogurt bar, omelet station and great gluten free options. Sunday Brunch is even more involved, so make sure to head over on a weekend to get the full experience.
Food options vary depending on the season, but in the past guests have been served dishes such as Carved Beef, Eggs Benedict, Avocado Toast, Scrambled Eggs, Steamed Mussels, Composed Salads, Charcuterie, Oysters Rockefeller, Bread Pudding, and Buttermilk Pancakes just to name a few!
Ivory Road Cafe
Pretend you are in a fairytale and head on over to the quaint cottage that houses Ivory Road Cafe in South Asheville. A hidden gem, Ivory Road Cafe is one of the best breakfast restaurants in Asheville, North Carolina providing you food made with local, fresh ingredients.
Breakfast is served all day at the Cafe with affordable offerings, giving you the option of sweet, salty, or both! Pastries rotate daily but often you can find seasonal quiches, crème brûlée, muffins, donuts, scones, and even homemade clotted cream and jam.
For an entrée, try Bessie's Biscuit Breakfast – homemade rosemary buttermilk biscuits topped with leek jam, cheddar, arugula, and eggs. Lighter fare includes the AVL Parfait – homemade crunchy granola layered with vanilla bean Greek yogurt and fruit.
If you happen to be visiting Asheville during the 1st Saturday or 1st Tuesday of the month, then put on your best party dress and tie and make a reservation early for Afternoon Tea! The Southern-Inspired Tea Service includes two courses, the first offering Scones with all the fixings and Shortbread Cookies. The second course comes out on a tiered platter with everything from Finger Sandwiches to Macarons to Truffles. Tea is served in antique pots and cups for the complete experience.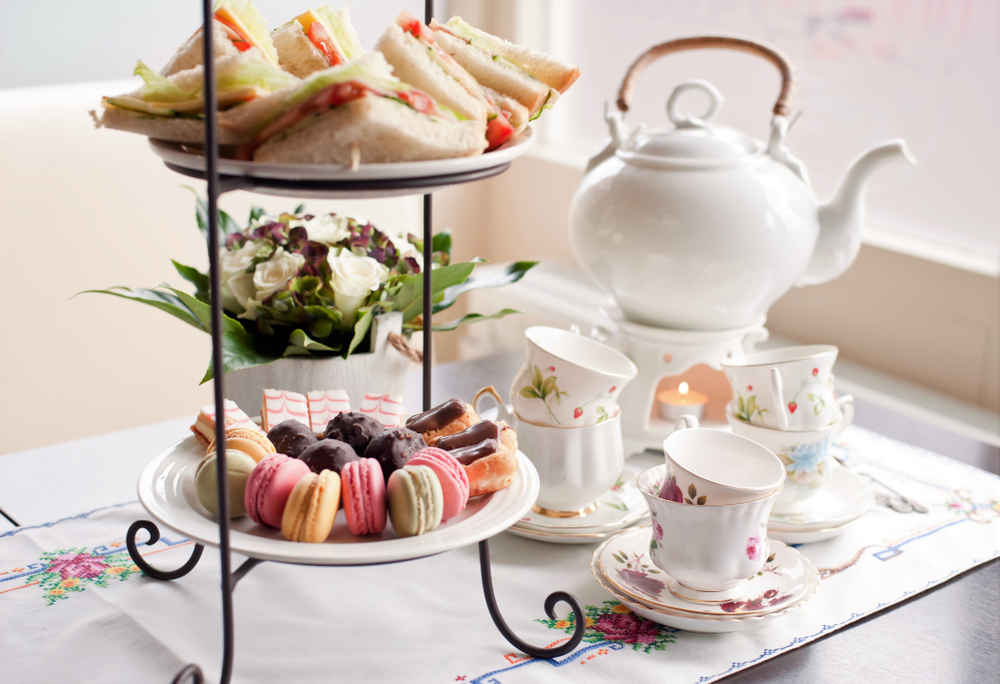 Fork Lore
Another breakfast spot in Asheville that features produce from local growers and farmers is Fork Lore, located in Biltmore Park area! Both daily breakfast and a Sunday brunch are offered at Fork Lore, with a kid's menu for your little ones.
Satisfy your sweet tooth and order a stack of buttermilk pancakes with blueberries, chocolate chips, or banana! Craving eggs? Decide how you want them served as you order a traditional Farm Fresh Breakfast, 3 Egg Omelet, Broken Yolk Sandwich, or Keto Breakfast Bowl. The latter features chorizo, spinach, mushroom, feta sauté, 3 eggs, and grilled avocado.
If you can't decide, we recommend getting fancy and ordering a Bennie, either the traditional with ham or the vegetarian option!
Sunday brunch features most of the daily breakfast offerings, along with sandwiches, salads and burgers to round out one of the best Asheville brunch locations!
Green Sage Café
With locations in Downtown, South Asheville, and on Merrimon Ave, Green Sage Café is a quick and easy breakfast option for anyone on the go looking for healthy food options and great coffee.
Green Sage Cafe is a great option for those looking for organic breakfast places in Asheville, NC. With a philosophy focused on serving food that promotes health and supports a vibrant community, their food is nutrient-rich, chemical-free, 95% organic, and thoughtfully-sourced.
Leave time to read their extensive menu items, with smoothies, breakfast bowls, salads, sandwiches, omelets, and pancakes just to name a few. Try the plant-based Tigris Bowl with falafel fritters, hummus, cherry tomatoes, lemony kale, brown rice, tabbouleh, avocado, red cabbage, carrots, chickpeas, lemon tahini dressing, and toasted sunflower seeds.
We also like the Huckleberry Bowl, a dish featuring housemade coconut chia pudding topped with granola, bananas and wild blueberries. The Love Shack smoothie – a blended mix of banana, chocolate sauce, almond butter, maca, and almond milk – satisfies any sweet tooth while remaining relatively healthy!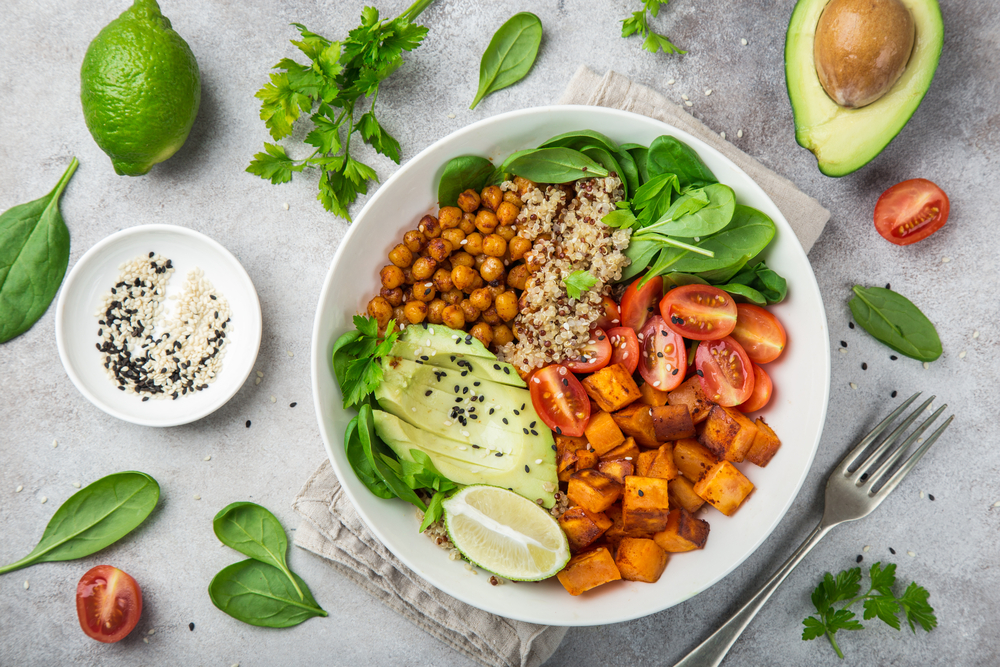 Isa's French Bistro
Another great spot for breakfast in downtown Asheville, Isa's French Bistro is located in the Grove Park area with a lively sidewalk patio perfect for people (and dog!) watching.
Transport yourself to France when you visit this intimate restaurant with complimentary valet parking through the Haywood Park Hotel next door.
With breakfast on the weekdays and brunch on the weekends, both menus feature items such as NC Chicken & French Toast, Bistro Hash Skillet, Saffron Cinnamon Bun, Eggs Benedict, Chia Yogurt Parfait, Pancakes. If you're headed for brunch, you can expect additional menu items like Lox and Waffles, French Onion Soup, Bottarga Caesar Salad, and Croissant Madame.
No brunch in Asheville is complete without an adult bev. Try the exceptional Isa's Bloody Mary, with Charleston bold bloody mix, celery, shrub bitters, Hawaiian lava salt rim, seasonal pickled vegetables, and your choice of vodka. Looking for something lighter? Get a 3 mimosa flight with orange, lavender-lemon, blood orange, cranberry-grapefruit, or pineapple juice!
City Bakery
Small but mighty, this family-owned bakery and breakfast in North Asheville has been serving locals since 1999 and is an Asheville staple!
City Bakery serves up Artisan Breads, scratch-made pastries, cakes and desserts as well as great breakfast selections, 7 days a week. With over 10 artisan bread options to choose from, some local favorites include Country Sourdough, Ciabatta, Challah, and Focaccia.
Many of the breads can be found on the breakfast menu, with offerings including the Veggie & Goat Sandwich, Breakfast Torta, Sausage, Egg & Cheese on a Cheddar Scallion Biscuit, Quiche, and Avocado + Lime Salt Toast.
Fresh basked pastries include Scones, Croissants, Cinnamon Rolls, Sticky Buns, Muffins, Danishes, and more! Top of your meal with coffee from Dynamite Roasting Co., a local favorite.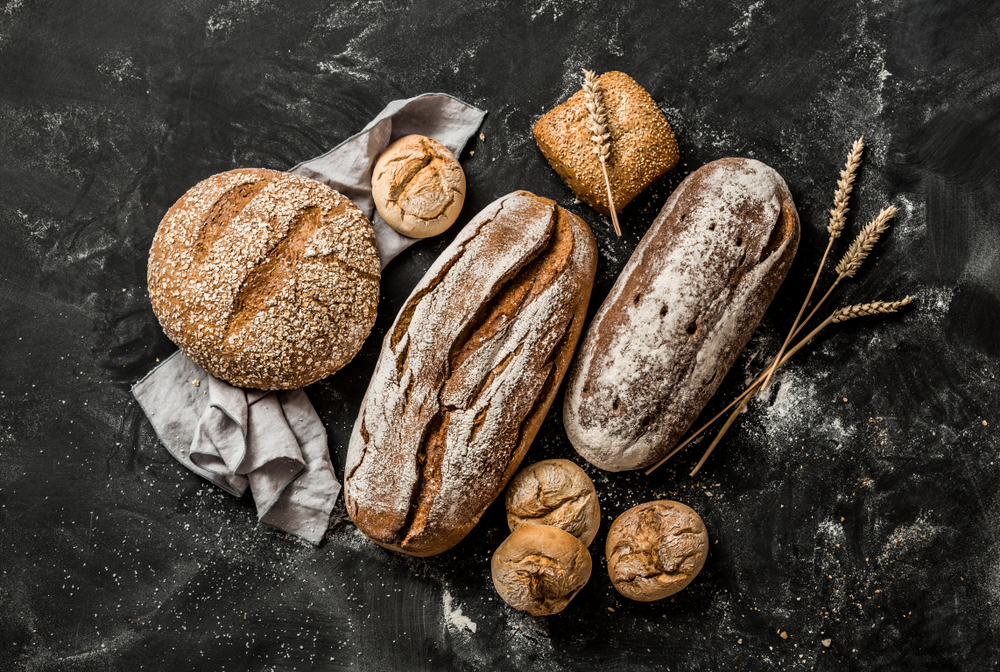 No matter where you choose to break your fast, know that you are never far from a delicious Asheville brunch or breakfast spot in Asheville and will receive quality service from the quality residents of this mountain town.
More tips for your trip to Asheville: