Are you ready to hit the waves and looking for the best beaches near Atlanta? You've come to the right place!
When you think of Atlanta images that come to mind are probably historic buildings, Centennial Olympic Park, and sports teams. While there are lots of fun things to do and see in the city, sometimes you just need to take some weekend getaways from Atlanta, and sometimes those getaways are to the beach.
Whether you're looking to dip your toes in the ocean or cannonball into a lake, there are a wide variety of beaches near Atlanta that you can visit.
Does Atlanta Have Beaches?
Located at the foothills of the Appalachian Mountains, Georgia's capital city of Atlanta is landlocked. So no, there are no real beaches in Atlanta. Originally a railroad town, it's now a city of mansions, museums, and highrises. To go swimming in the city, a pool is probably your best bet.
However, the state of Georgia is on the Atlantic Coast, where there are many beautiful beaches near Atlanta waiting to be explored. There are also freshwater lakes around the state that provide an easy Atlanta beach getaway! This is truly one of the best free things to do in Atlanta and nearby too!
How Far From Atlanta To The Closest Beach?
Depending on what kind of beach you're looking for, the closest beaches near Atlanta will be at least an hour's drive away. These beaches are located within nature parks that are just outside the city of Atlanta. They make an excellent family getaway if it's a hot day and you just want to go jump in a lake and build sandcastles!
To reach the ocean, however, you will need to drive at least four to five hours until you hit a coastal beach. Ocean beaches near Atlanta can be found in Georgia, but also in the neighboring states of South Carolina and Florida. An ocean beach getaway makes for a great weekend trip.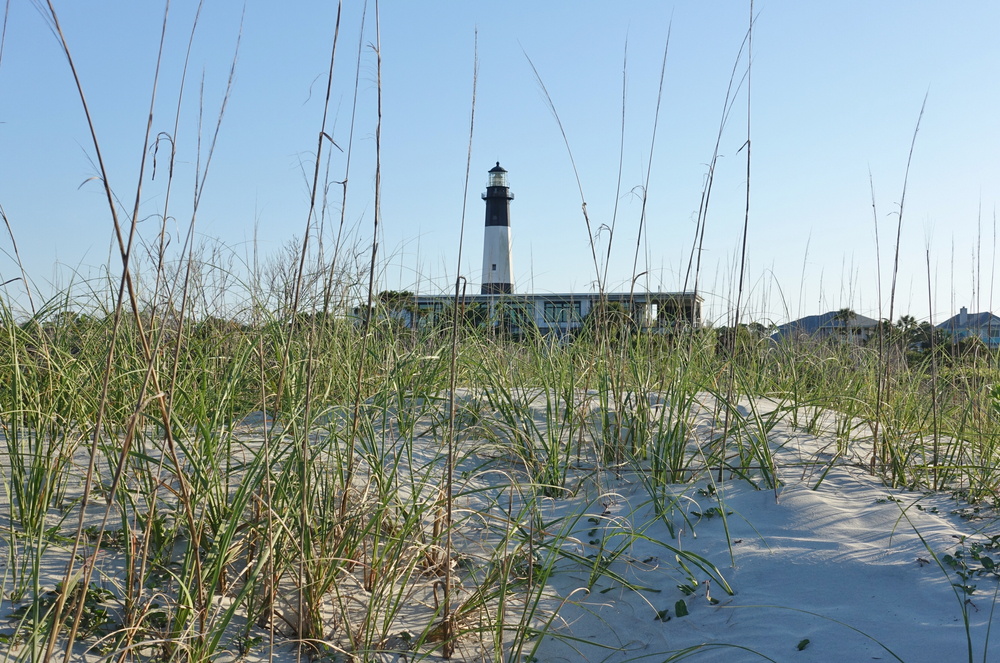 Best Atlanta Beaches You Should Visit
Acworth Beach at Cauble Park, Acworth, Georgia
One of the closest beaches near Atlanta is within an hour's drive north in Acworth Georgia. Located on the north shore of Lake Acworth, Cauble Park has 25 acres that include a lovely white sandy beach. It's incredibly popular during the summer, so if you're going on the weekend try to get there early!
Acworth Beach has everything you need for a family-friendly beach day near Atlanta, including restrooms, a changing station, and showers. There are also two playgrounds for those with little ones! However, be aware that there is no lifeguard on duty at Acworth Beach.
If you prefer a more active beach day, on the east side of the park, there is a boat ramp where you can put a kayak in and go for a paddle around Lake Acworth. Kayaks and paddleboards can be rented from the park.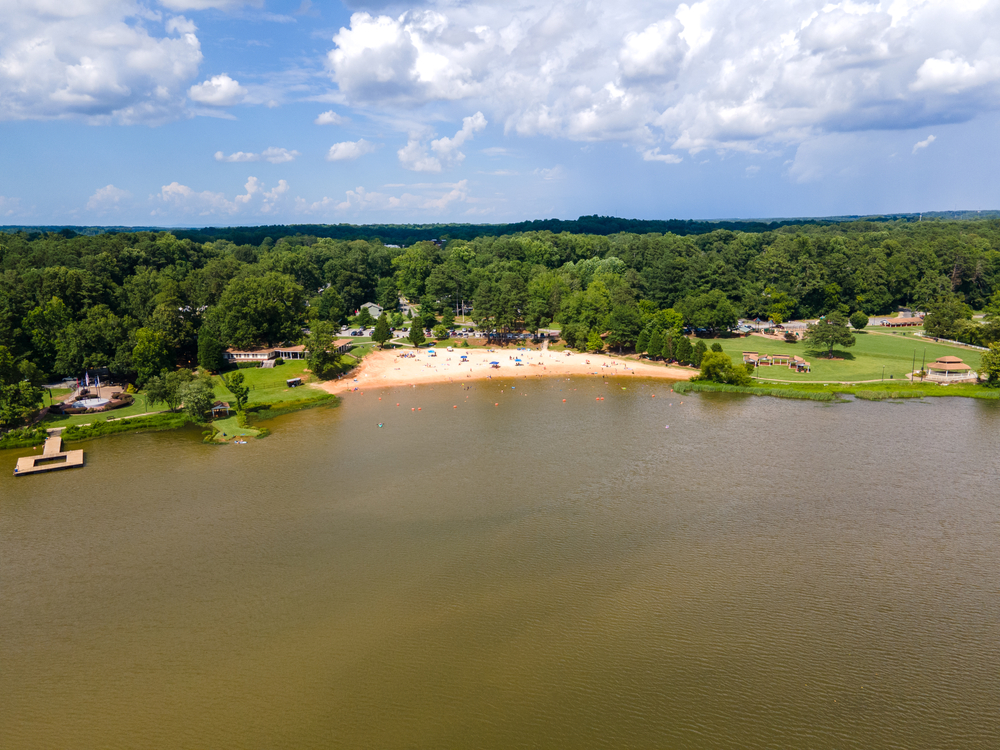 North Beach, Tybee Island, Georgia
Some of the closest ocean beaches near Atlanta can be found on Tybee Island. Located outside of Savannah, Tybee Island has some of the prettiest beaches in Georgia and is a popular weekend getaway spot.
North Beach is one of the most loved beaches on Tybee Island, as it doesn't get as crowded as the southern end. Enjoy a clean, white sand beach sprinkled with seashells as you sit under a rented beach umbrella. North Beach also has Georgia's oldest and tallest lighthouse.
If you're looking to get away for a fun beach weekend, Tybee Island has a wide variety of vacation rentals, hotels, and bed & breakfasts. It's a great place to spend time with the family or to take a romantic getaway with your significant other. This is truly one of the best beach towns in Georgia!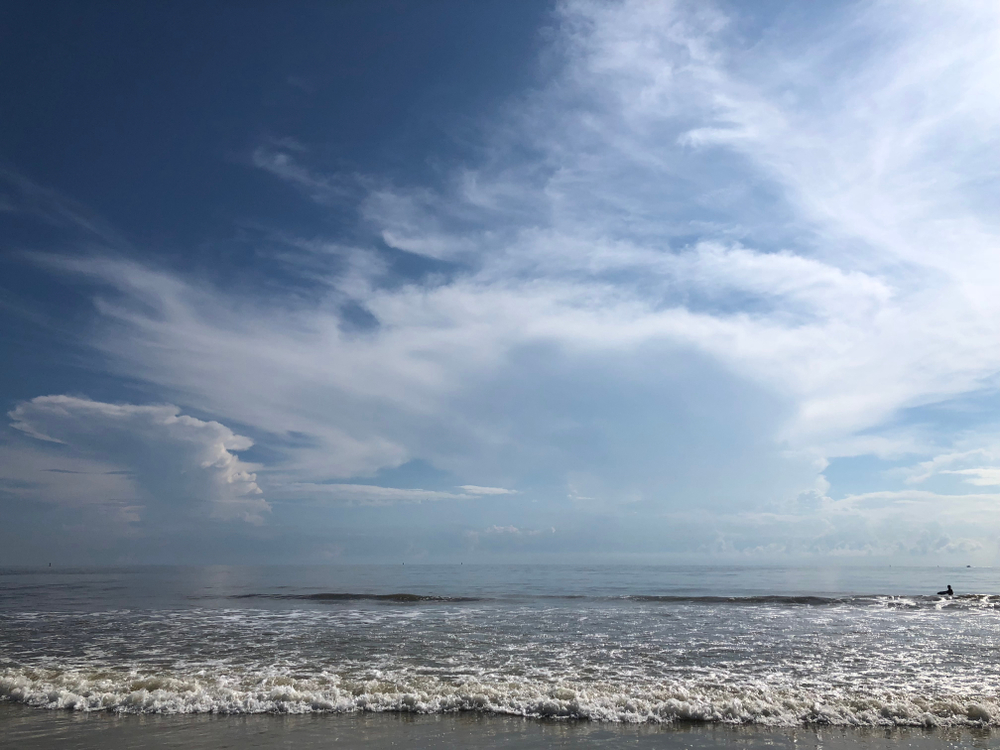 Panama City Beach, Florida
One of the closest Florida beaches near Atlanta is Panama City Beach. A little over five hours in the car will bring you to the Gulf of Mexico, where you can find warm gulf breezes blowing along miles of white sand beaches.
The waterfront town of Panama City Beach makes a wonderful weekend getaway. With different public access points along the beach, the ocean waves are just a few steps away, no matter where you wander along the stretch of land.
With ample parking, it's not far to carry your cooler and beach chairs down to the water and set up a spot to watch a magnificent Florida sunset.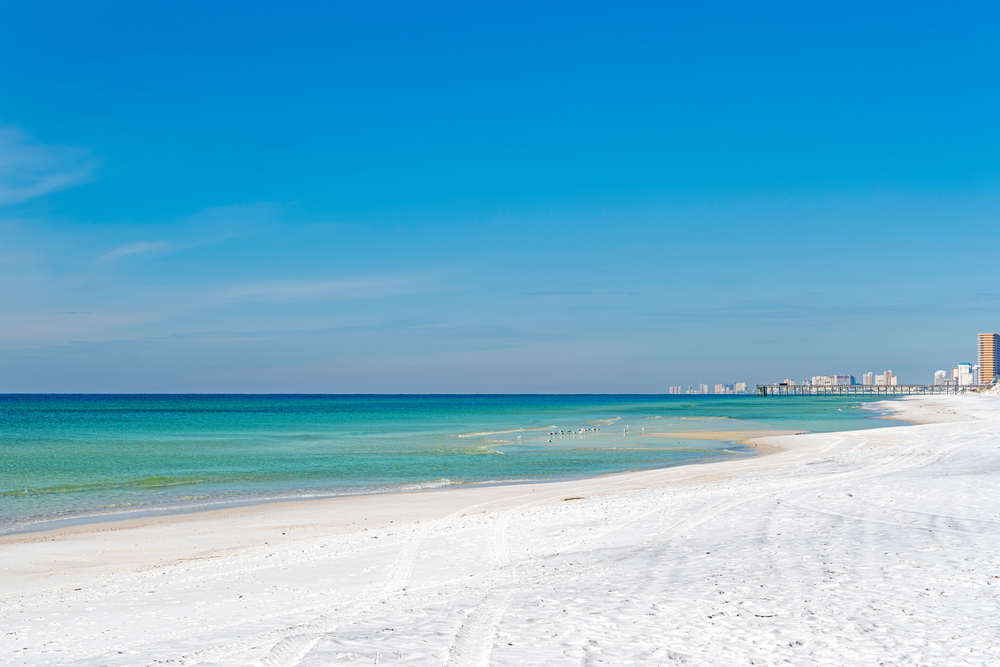 Red Top Mountain State Park Beach, Acworth, Georgia
Another of the closest Atlanta beaches is located in Red Top Mountain State Park. Just an hour's drive north of Atlanta, this state park offers a calming respite from the hustle and bustle of the city.
Red Top Mountain State Park offers a swimming beach on Lake Allatoona, nestled amongst the trees. Even though it's named for the rich, red color of the soil, Red Top Mountain's beach is clean and clear.
Visitors who want an outdoorsy weekend can rent campsites or cabins, or even a lakeside yurt. Allatoona Lake is a popular spot to paddle and fish. There are more than fifteen miles of trails to hike, including a paved four-mile loop that offers pretty views of the lake.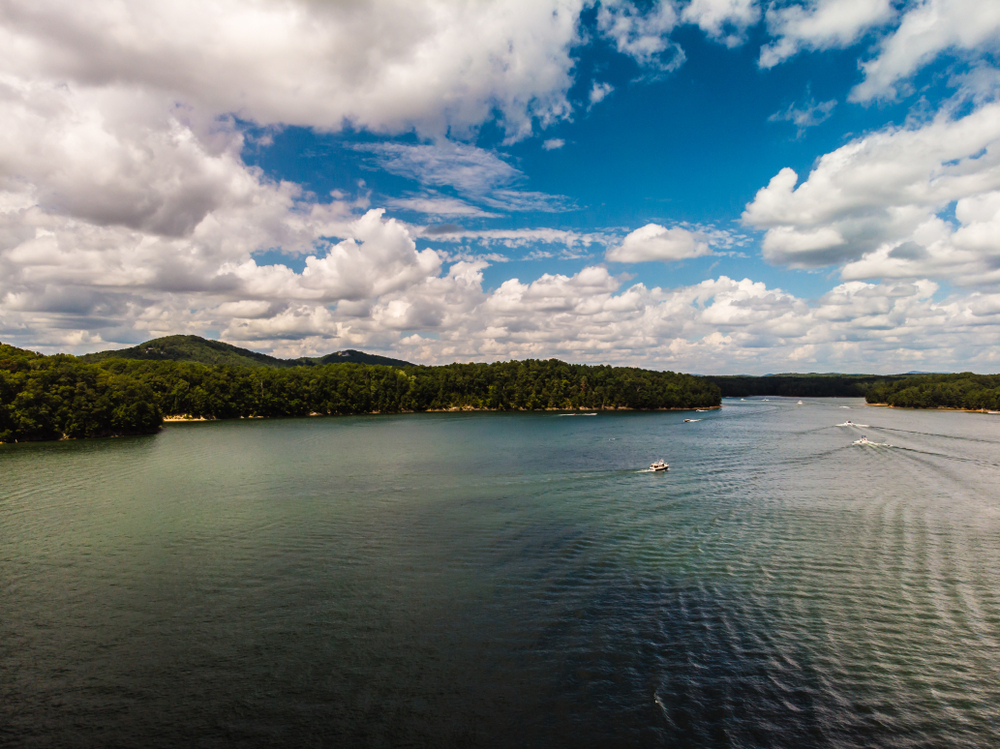 Driftwood Beach, Jekyll Island, Georgia
One of the prettiest ocean beaches near Atlanta, Driftwood Beach on Jekyll Island is absolutely worth the five-hour drive. Located on the north end of Jekyll Island, Driftwood Beach offers a romantic getaway as well as some really unique photos.
As its name suggests, Driftwood Beach is known for the ancient driftwood trees along the shore. The sea and wind-worn branches of the driftwood trees create fun visual elements for photos, especially at sunrise.
Stroll along the beach and gaze at the trees hand-in-hand with your loved one and/or your four-legged friend, as Driftwood Beach is dog-friendly!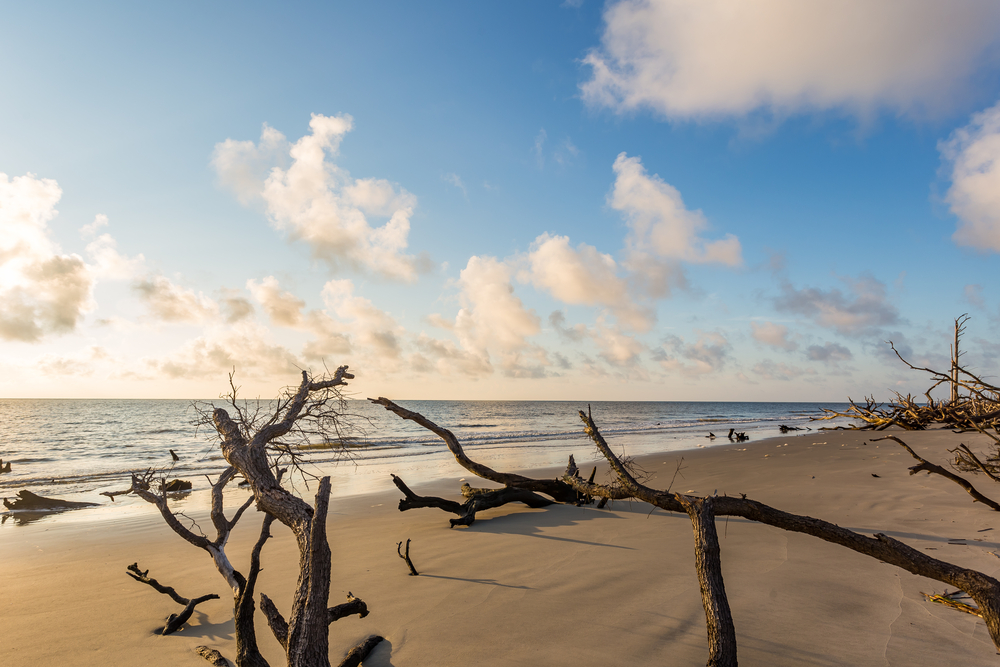 Coligny Beach Park, Hilton Head Island Beach, South Carolina
Another weekend getaway option for ocean beaches near Atlanta is Hilton Head Island. This island on the coast of South Carolina has some beautiful beaches and world-class golf courses. Hilton Head has been named the #1 Island in the U.S. by readers of Travel+Leisure Magazine for several years.
The drive from Atlanta to Hilton Head can be four to five hours, but there are plenty of ways to relax once you arrive.
Coligny Beach Park has a relaxing atmosphere but can get busy during the summer. The sand is clean and the water is a near-perfect temperature! During low tide, the sand is hard-packed enough to bike along the shore. Beach equipment can be rented nearby.
Kids will love the circular sprinkler fountain at the entrance, and both kids and adults alike will enjoy watching the sunset from some of the beach swings!
There are so many amazing places to see, make sure to check out our Favorite Beaches In Hilton Head!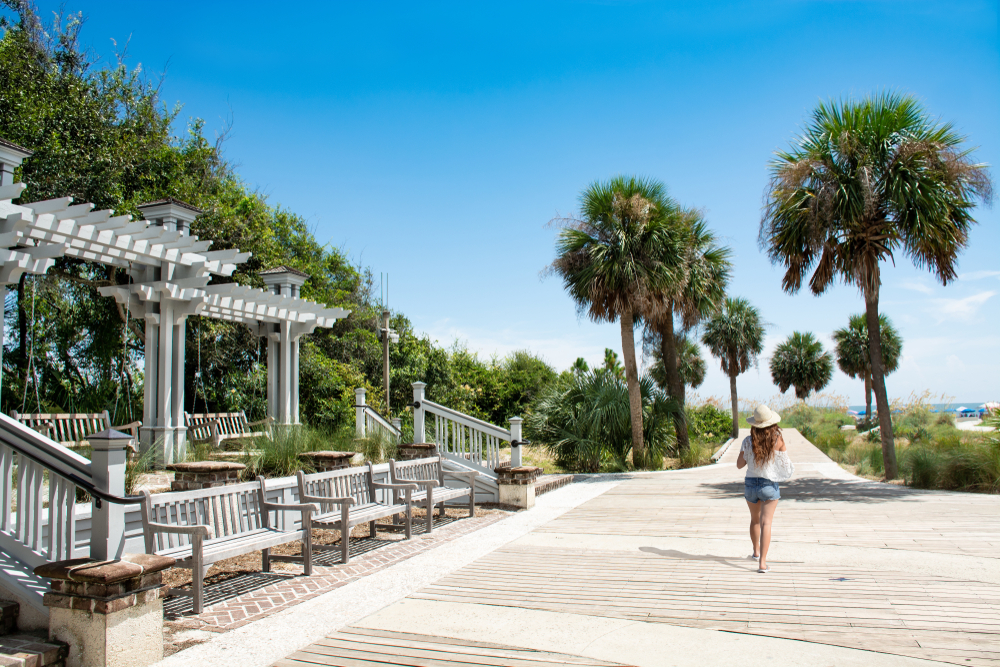 Fort Yargo State Park Beach, Winder, Georgia
Between Atlanta and Athens lies the 1,816-acre Fort Yargo State Park, and they have one of the closest beaches to Atlanta. The large lake there offers plenty of public beach swimming access, and it's only an hour and a half drive from Atlanta.
During the summer months, Fort Yargo State Park is a popular outdoor recreation spot. Visitors can rent canoes, kayaks, paddleboats, and stand-up paddleboards. There are miles of trails to hike or mountain bike.
If you wish to stay longer but don't want to necessarily "rough it", you can stay in a glamping yurt, with furniture, a wooden floor, and canvas siding. (You just have to bring your own sleeping bags or linens.)
Henderson Beach State Park, Destin, Florida
One of the best Florida beaches near Atlanta can be found in Henderson Beach State Park. Located a little over five hours from Atlanta, the city of Destin is the perfect place to stay for a weekend getaway.
At Henderson Beach State Park you'll be greeted by large, white sand dunes, and the warm waters of the Gulf of Mexico. The Emerald Coast of Florida is aptly named for its beautiful emerald green waters. Fishing and nature trails lie off the beach boardwalk.
Known for its nature conservancy, when visiting Henderson Beach State Park you might be lucky enough to spot dolphins off the shore!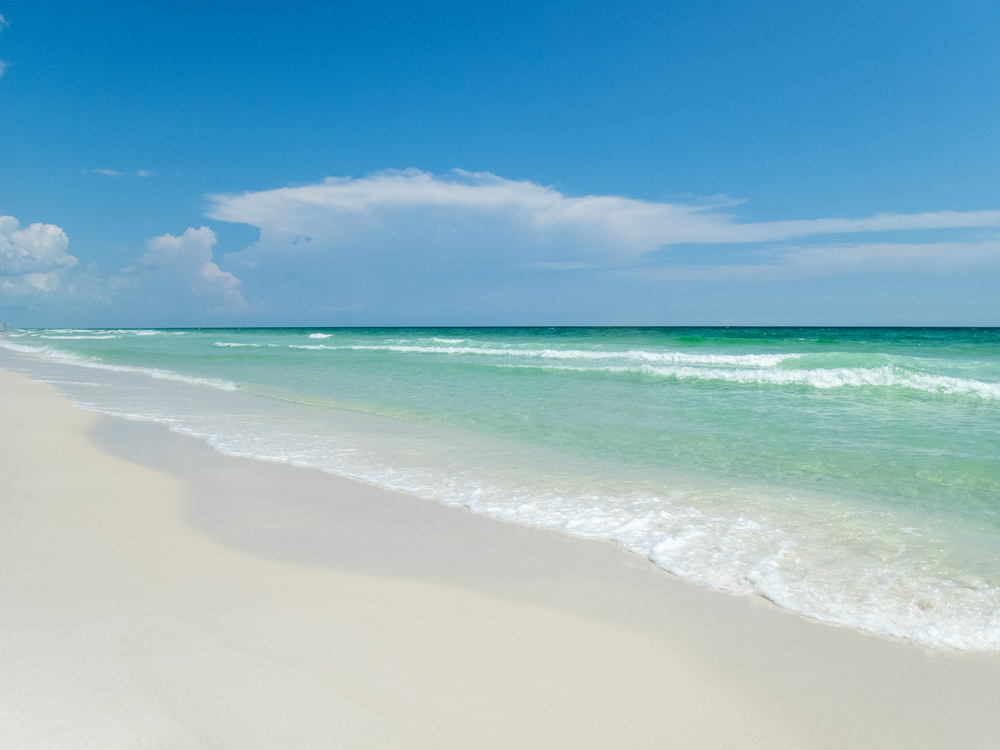 Callaway Gardens Robin Lake Beach, Pine Mountain, Georgia
For those looking for a quick getaway, but aren't into camping, check out Callaway Gardens Resort and Gardens. Located just over an hour's drive from Atlanta, you can enjoy fresh air, nature, and one of the best lake beaches near Atlanta.
You don't have to be a resident at the resort to be able to visit the property, but you will need to purchase a daily admission ticket. Callaway Gardens Resort has 2,500 acres of trails and natural beauty. There is a Discover Center and a Butterfly House, and many walking trails.
During the warmer months, Robin Lake is available to swim in. Play in the sand, challenge your family members to a game of put-put or take a stand-up paddleboard out on the water. Robin Lake is one of the best beaches for families close to Atlanta.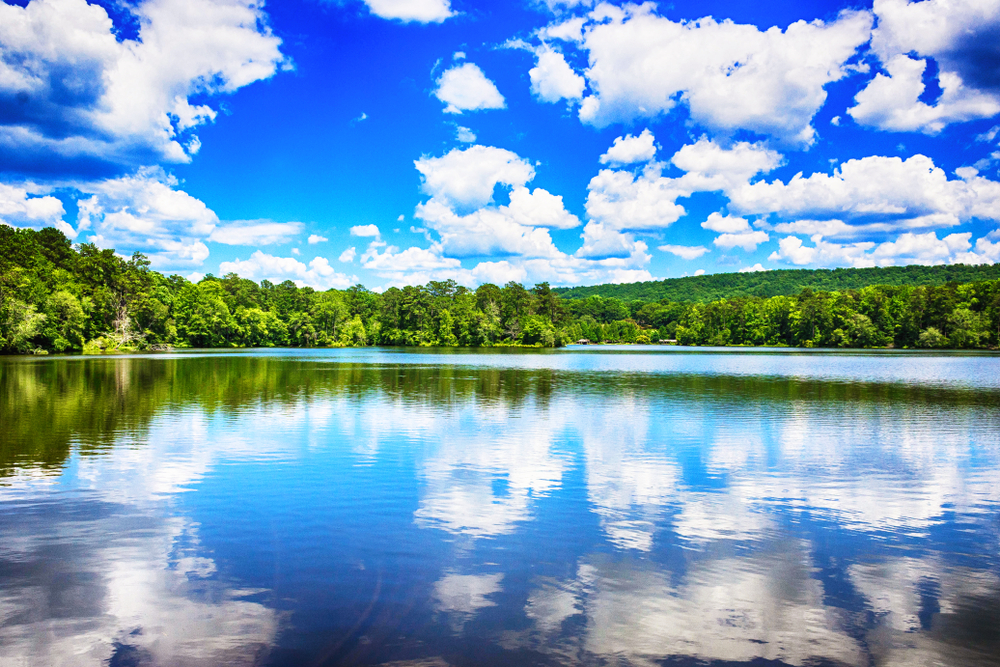 Main Beach Park, Amelia Island, Florida
More of the popular Florida beaches near Atlanta can be found on Amelia Island in Florida. Known for its high-end hotels and golf courses, Amelia Island also has 13 miles of beautiful beaches. It's worth the five-and-a-half-hour drive from Atlanta for a relaxing getaway in the Florida sunshine.
While there are different public access points spread along the beach, the city of Fernandina Beach's main beach park has everything you need for a great day on the sand. With bathrooms, showers, picnic tables, and a boardwalk, the main beach at Amelia Island is the quintessential ocean beach.
Keep an eye out for tortoises and fossilized shark teeth in the sand!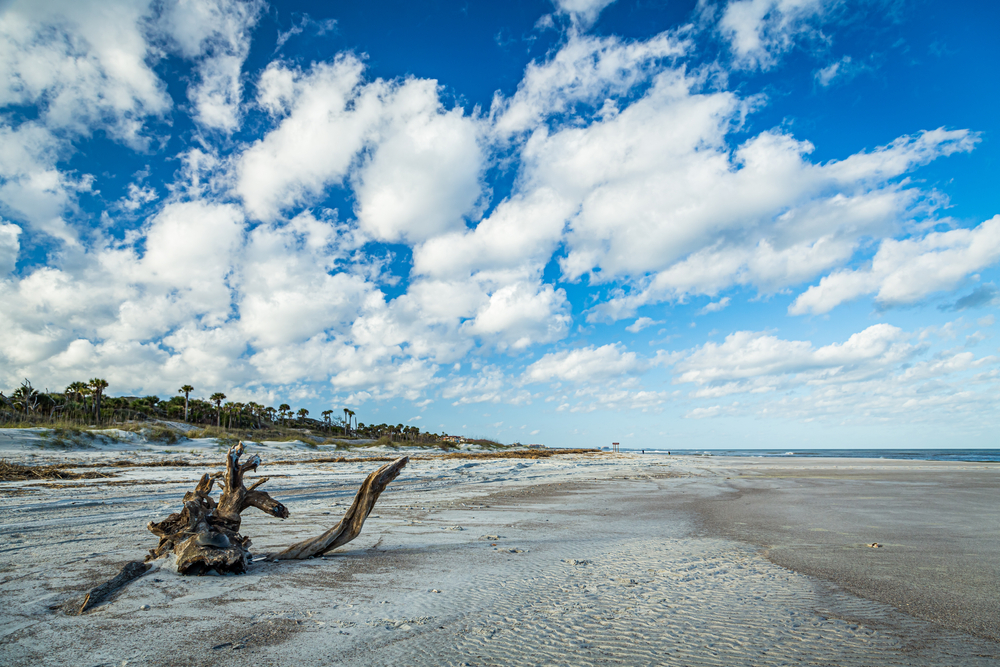 Sandy Creek Park Beach, Athens, Georgia
Just an hour and a half drive away, in nearby Athens, lies one of the closest beaches to Atlanta. Sandy Creek Park Beach might not be as big as an ocean beach, but when it's a hot day, jumping in the creek will feel just as good!
Sandy Creek Park is a wonderful place to bring little ones. They'll not only enjoy making sandcastles, splashing in the shallows, but there is also a playground, shaded picnic areas, and a lakeside trail. For slightly older kids there is also a disc-golf course.
The beach is open year-round, but be aware there is no lifeguard on duty.
East Beach, St Simons Island, Georgia
One of the best ocean beaches near Atlanta is just under a five-hour drive away, on St Simons Island. As part of Georgia's Golden Isles, St Simons offers some of the best beaches in that state.
"East Beach" refers to the strip of shore that runs along the east side of the island. The most popular section of it is called the U.S. Coast Guard Station, named for the station that once stood there which is now the World War II Home Front Museum.
The hard-packed sand creates an ideal surface for beach biking. Plus East Beach is pet-friendly, so your canine companion can enjoy running up and down the shore with you!
We have put together this Ultimate Guide To St. Simon's Island with things to do, restaurants, where to stay, and more! If you are planning a visit, check it out.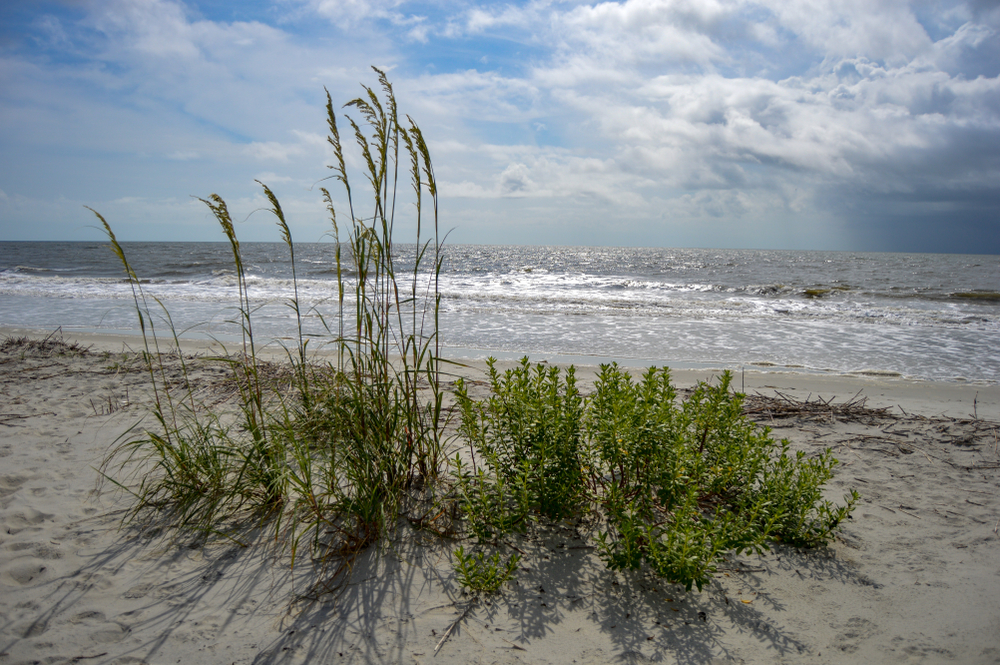 We hope you enjoyed this list of beaches near Atlanta, and that you are able to take a dip, whether you can get away for the day or for a weekend! Which beaches close to Atlanta do you like to visit?