Are you looking for the best Outer Banks campgrounds? If so, you have come to the right place! We have done all the research and broken it down to the greatest when it comes to Outer Banks camping! The Outer Banks region is a collection of barrier islands along the North Carolina coast. There are three main regions: Northern Beaches, Roanoke Island, and Hatteras Island and all offer their own charm!
Unlike other east coast tourist cities like Atlantic City and Tampa, the Outer Banks are unique because of their lack of attractions! With no boardwalks, theme parks, or neon lights, camping in outer banks is truly camping in nature. The natural beauty is on full display with no hotels lining the beaches blocking the view. Of course, don't forget to check out the best Outer Banks Restaurants!
With over 300 miles of coastline, North Carolina has a plethora of great beach towns! In addition to the beach towns are the beautiful islands to explore! Campgrounds in Outer Banks are a blend of both and a must see!
Outer Banks camping on the beach has the setup for all campers! RV campers have their choice of places to park. Or you can have your pick of places to pitch a tent and unroll your sleeping bag. There are so many ways to camp, but the fundamentals are always the same.
The campfire to keep you warm when the night chill sets in. Waking up to the sounds of birds chirping (and waves crashing in this case!). Spending lots of time outside with friends or family. Time to slow down and enjoy life. Getting home and feeling refreshed (and very excited for a shower).
Grab your camping clothes and make sure all your portable chargers are ready to go as we dive into the best in OBX camping!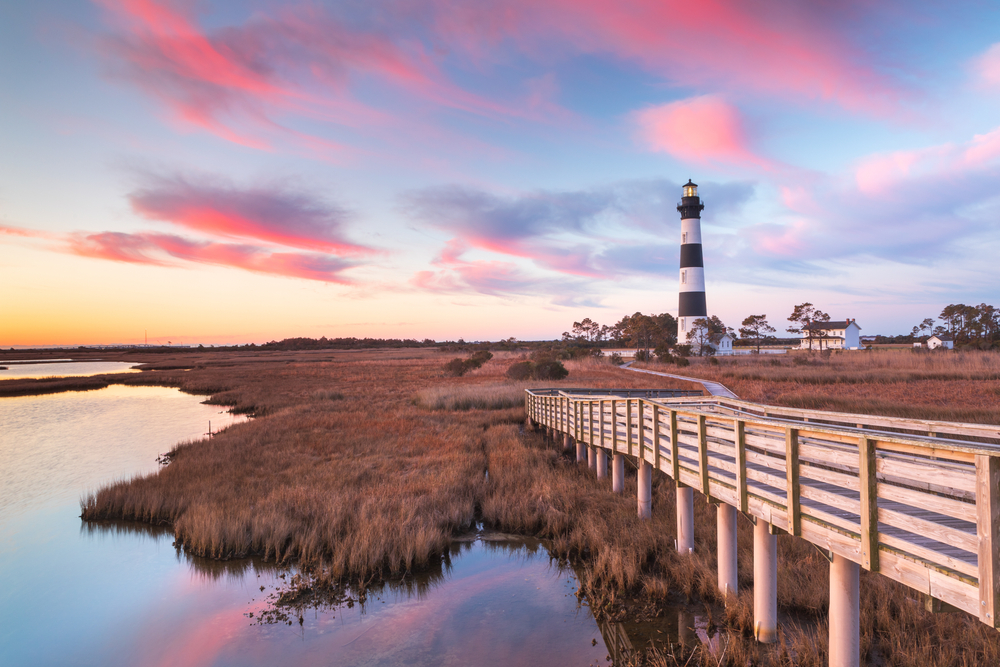 10 Best Outer Banks Campgrounds You Must Visit
The Refuge at Roanoke Island
One of our favorite Outer Banks RV campgrounds is The Refuge at Roanoke Island! When camping in Nags Head, their fifteen nightly rental sites are equipped with 30 amp and 50 amp electrical services while accommodating vehicles up to 45 foot long. The campground also has a fully capable bathhouse, coin operated laundry facilities, and heated or air conditioned bathrooms, depending on the season!
During the warm summer months, The Refuge also has a pool onsite! You can spend the day relaxing in the lounge chairs and occasionally dipping in the pool to cool off. For those looking for more adventure, the beach is close with access to the canal. You can kayak or canoe through the canal for an active way to enjoy the views of Roanoke Island.
For day campers, there are picnic tables available in the pavilion for your use! The Refuge is one of the great dependable RV campgrounds in Outer Banks!
While you are at it, check out our list of the Best Campgrounds in North Carolina beyond the Outer Banks!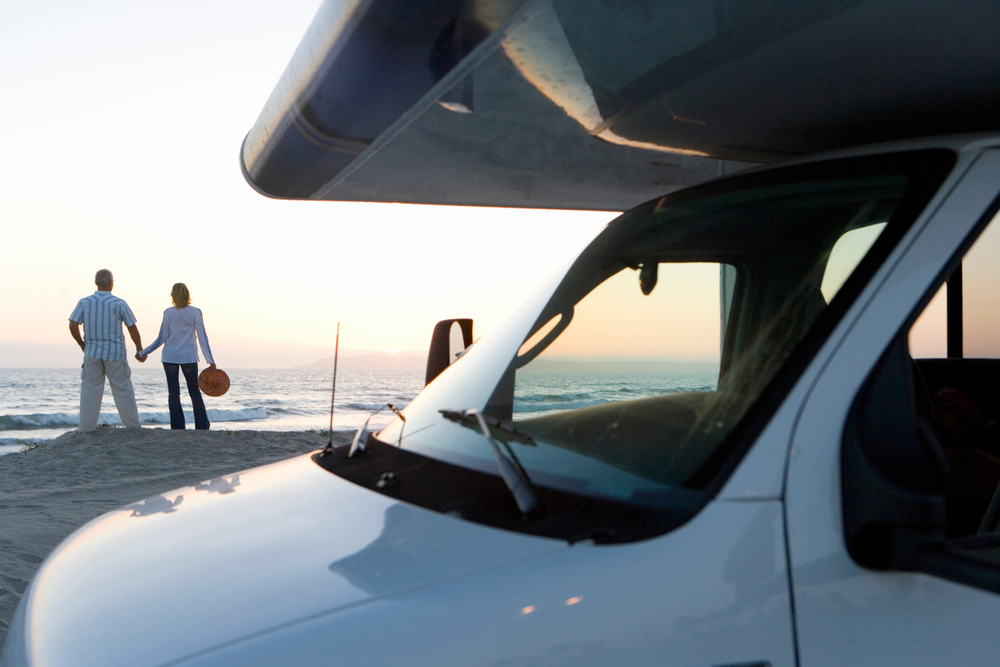 Rodanthe Watersports & Campground
A great Rodanthe campground is the Rodanthe Watersports & Campground. Right on the water, this campground is a wonderful way to escape the busy city life!
With electricity and water hookups, RV campers will get to experience the outdoors while having all the comforts of home! Tent campers will have the convenience of a bathhouse with hot showers! This family run campground offers both tent and RV campers waterfront spots!
Close to so many things, Rondanthe Watersports & Campground is walking distance fishing pier, skate park, restaurants, and shopping. Now what are these watersports?! Well, you have plenty of options! You can go swimming, kayaking, fishing, kiteboarding, windsurfing, surfing, paddleboarding, or beachcombing!
For RV campgrounds in Outer Banks, Rodanthe Watersports & Campground is one of the best and a must visit!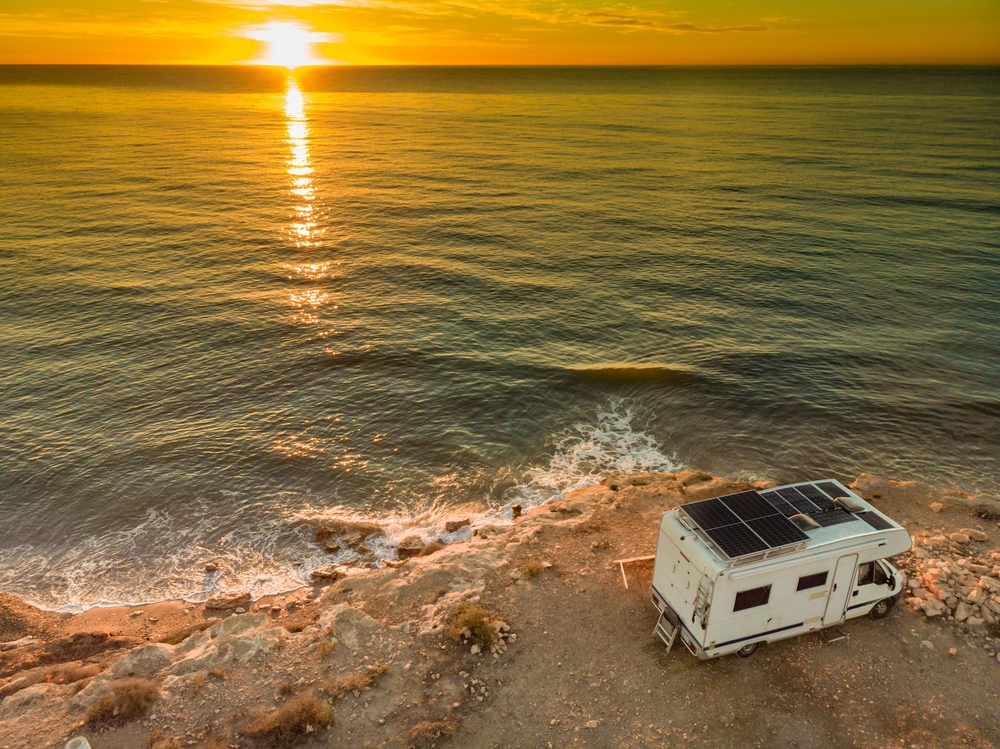 St. Clair Landing
St. Clair Landing is a great Rodanthe campground for families! Open for overnight camping from April 1st to November 30th, this is the perfect place to bring your tent, or an RV and spend a few days, a weekend, or a week getting quality time with family!
St. Clair Landing offers both Soundfront and Soundside camping sites! Their facilities include Wi-fi, laundry, a bathhouse, outdoor showers with hot water, and an on-site dump station. This campground is the perfect home away from home!
When camping on the beach in Outer Banks, it would be difficult to find better than St. Clair Landing. The amenities plus the access to beachfront and stunning sunset views make St. Clair Landing one of the prime Outer Banks campgrounds. One of our favorite things about this campground is that pets are welcome! They must be leashed at all times!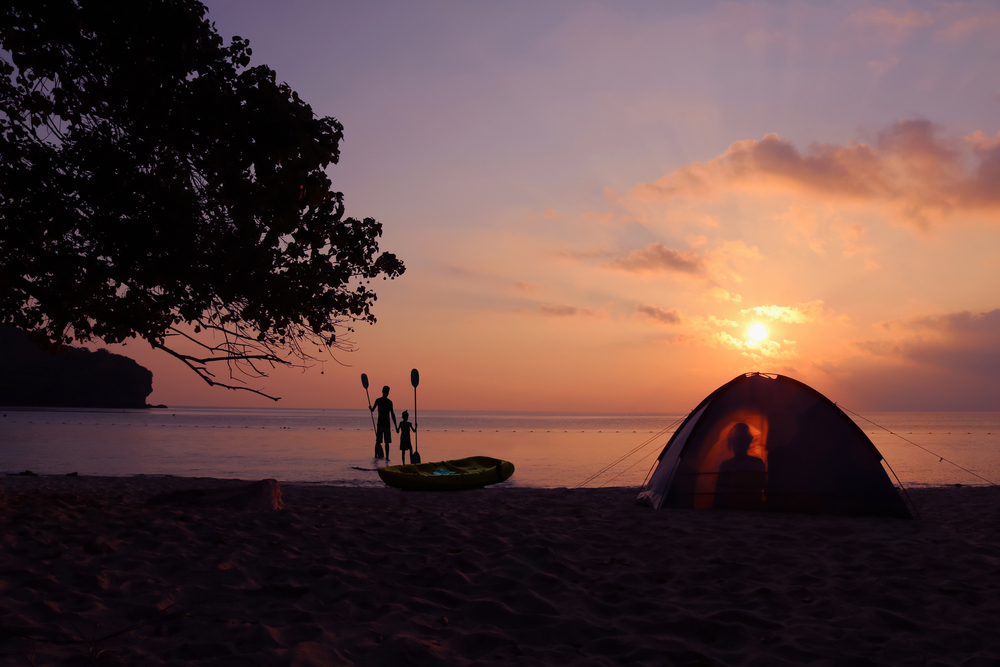 OBX Campground
For OBX camping, we have to recommend OBX Campground. Located right behind Wilbur & Orville Wright Monument this campground is one of our favorite Outer Banks campgrounds. With easy access to historical sites, the water, and so much more it is a prime location!
Offering nightly and weekly rates, OBX Campground is one of the great RV campgrounds in Outer Banks! Unfortunately they are not set up for tent campers. There are almost 60 space for RVs! Each site has a 10X35 gravel trailer pad, hookup for water and sewer, and 30 amp and 50 amp electric service. This campground is truly perfect for RVers!
OBX Campground also has a bathhouse with showers, coin operated laundry facilities, picnic tables, dump station, dock, and a playground. With all of these amenities, you will not need to worry about the details but can just enjoy the Outer Banks! Also, pro tip, there are not many mosquitos out in June! Whether a trip for the family or a friends trip, OBX Campground is one of the best Outer Banks RV campgrounds!
North Beach Campground
For Outer Banks camping on the beach you cannot beat North Beach Campground! It is no secret that the Outer Banks main attraction is the beach and this campground puts you right on it! There are permanent and nightly rental campsites! Perfect for both RV and tent camping, we cannot recommend this gem enough!
For camping in Duck, this place has it all. Close by is the North Beach General Store where you can pick up groceries, get gas for your vehicle or boat, and pick up other goods you might need like extra sunscreen!
Conveniently enough, that is also where you check in. This family friendly campground also has a pool on site and showers in the bathhouse. If you run out of clothes, there is a laundry facility on site as well!
Considered an Outer Banks RV park, you are able to stay long term in their permanent campsites. If you are planning on camping on the beach in Outer Banks, you must check out North Beach Campground!
Make sure to check out our list of best restaurants in Duck you must visit!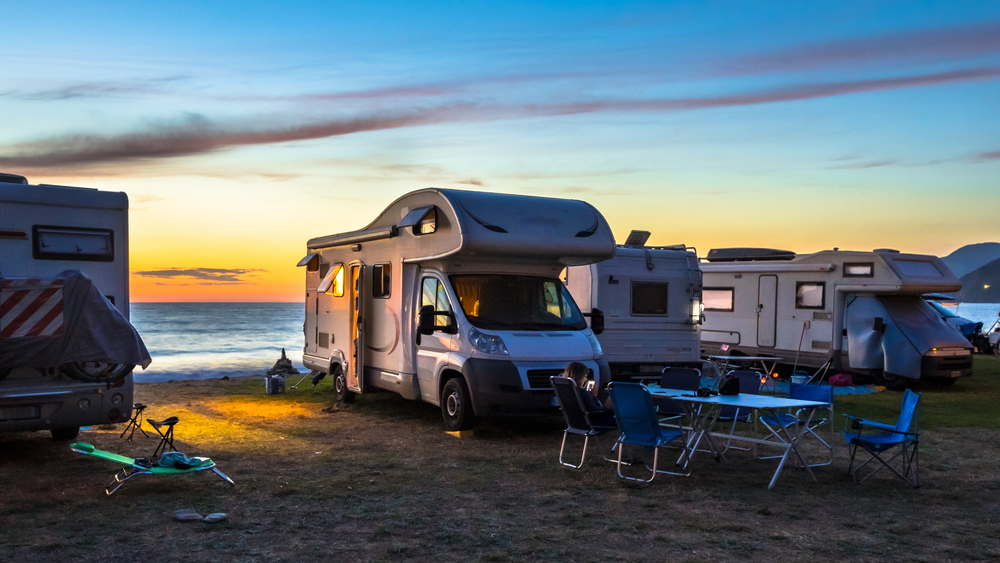 Kitty Hawk RV Park
An obvious choice for one of our favorite campgrounds near Kitty Hawk is the Kitty Hawk RV Park! With a more stripped down setup, Kitty Hawk RV Park is still a wonderful place to spend a vacation. One of the more simple RV campgrounds in Outer Banks, this site cannot accommodate tent campers, has no Wi-Fi, showers or toilets. Fires of any kind are not allowed on site.
All that being said, all RV sites are full hookup which includes water, sewer, electricity and cable television. Pets are allowed so bring your pup along for the adventure! The beach is directly across from the RV sites so save for camping directly on the beach, you can't be closer! The stripped down amenities means one of two things. Either you will have a more relaxed vacation with friends or family, enjoying the outdoors, the beach, the fishing, time to read or play a card game. Or, you can explore the many things to do in the Outer Banks!
Whether you are looking for a relaxing vacation or want to explore what the Outer Banks have to offer, Kitty Hawk RV Park is one of the best outer banks RV campgrounds!
Adventure Bound Campground
Switching gears a little bit, one of our favorite tents only Outer Banks campgrounds is Adventure Bound Campground! Located on the edge of the maritime forest coastal reserve are of Kitty Hawk, this is another one of our top campgrounds near Kitty Hawk! Tent campers will have their pick of the site that suits their fancy. Adventure Bound Campground offers wooded, shaded, and open grassy sites.
With an elite list of amenities, this campground includes a wonderful bathhouse with hot showers! Perhaps what sets Adventure Bound Campground as one of the great campgrounds near Corolla is the property includes a shuffleboard court, horseshoes, and volleyball! You are allowed free use of the beach stuff as well as the crab fishing gear. Unfortunately this site does not allow pets, so Buster will have to sit this trip out.
The upside to a tent only campground is there will be a lot less noise and you will be able to hear the waves crashing a lot quicker. Although RV campgrounds offer their own perks package, that low hum of electricity interrupts the sounds of nature. We love Adventure Bound Campground for Outer Banks camping!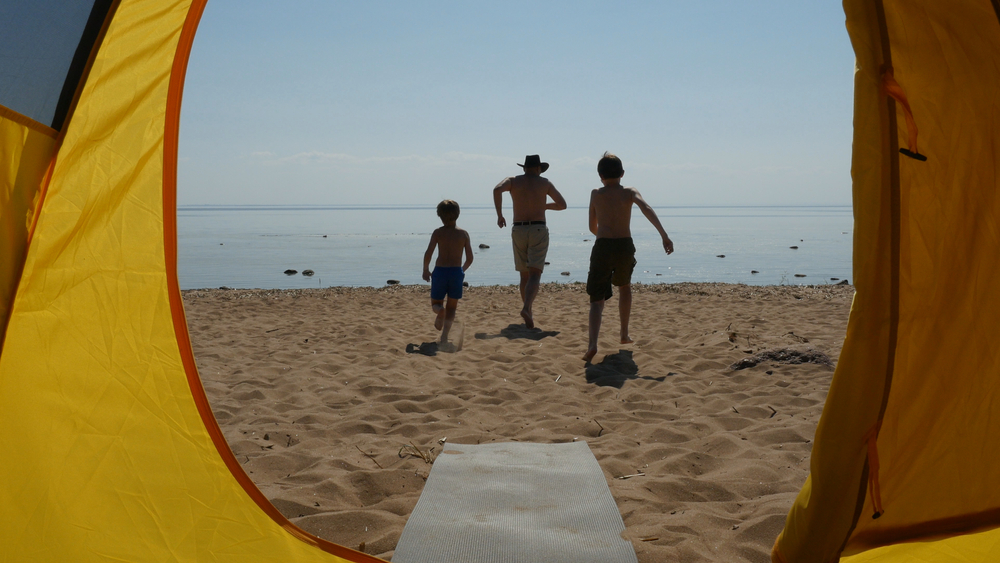 Frisco Woods Campground
If you are planning on camping on Hatteras Island, Frisco Woods Campground has it all! Located on the Pamlico Sound on the Cape Hatteras National Seashore, Frisco Woods is one of the premier spots for waterfront camping. Setup for everything from family trips, a romantic weekend getaway, or a couple days with friends, Frisco Woods is sure to have the perfect accommodation.
For the most adventurous campers, there are secluded spots to pop a tent and sleep surround by nature under the stars. For those looking to get away, while remaining in the comfort of their home, they have plenty of RV sites available. Park the RV, hook up the water, sewage, and electricity and you will be set! Lastly, for those looking to glamp, there are cabins available.
In addition to all of that, the property also includes a pool for your use! There are also kayak and paddle board refills. The Camp Store on site has all of your ice, beer, food, and other supplies that you might have forgotten, run out of, or gotten a craving for! Frisco Woods Campground is one of the best Outer Banks campgrounds!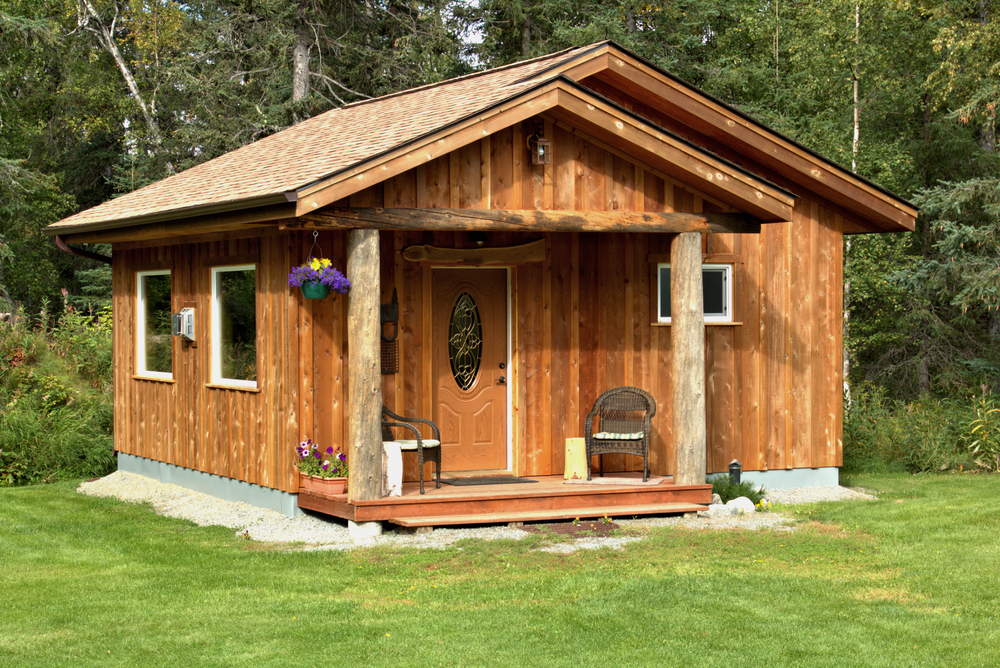 Outer Banks West / Currituck Sound KOA
The Outer Banks West / Currituck Sounds KOA (we will call it KOA OBX) is one of the supreme Outer Banks campgrounds! Located on the Northwest side of the peninsulas, this resort has a half-mile of private coastline as well as fishing piers and boat access! Located only 40 minutes from the Outer Banks, it is a quick drive or you can take the free water taxi!
KOA OBX offers all inclusive amenities which includes laundry facilities, clean bathrooms with hot water, WiFi, a KOA store and playgrounds. Some sites include cable which is perfect for an afternoon break or sitting inside cozy during a summer storm. Dogs are allowed and there is an enclosed area specifically for them to run around safely!
Much like Frisco, there are different ways to stay at KOA OBX. For RV users, there are back in and pull through spaces with full hookups. There is also an area for tent campers if you want to be a little more outdoorsy. Lastly, there are deluxe cabins available for rent as well as you can rent an RV! The cabins are pretty spectacular. They include a furnished screened porch with beautiful views of the Currituck Sound.
More amenities include kayaks to explore the Sound, paddle boards, pedal boats, rowboats, fishing rods, and so much more. When they say all inclusive, the mean it! KOA OBX is one of the best campgrounds in Outer Banks!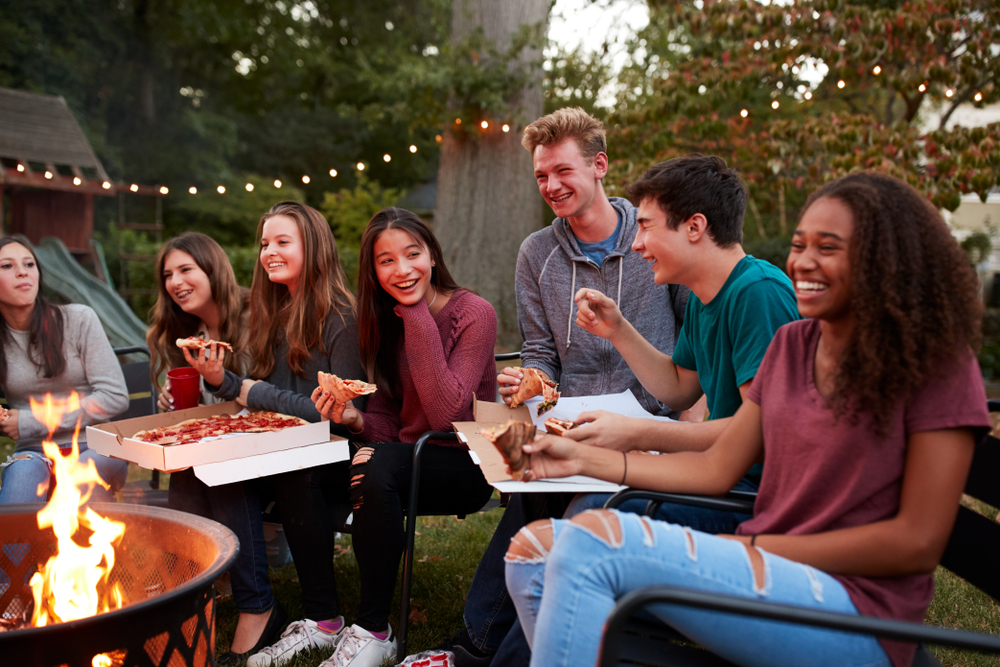 Cape Point
Another one of our favorite places to go camping on Hatteras Island is Cape Point. Known as the pinnacle of fishing on the Outer Banks, Cape Point is a favorite for locals. They will tell you about their big catches and near misses! The reason this spot is legendary for fisherman is because it is the center of Hatteras Island and therefore is the only place big game species that usually can only be found in the Gulf Stream miles away!
The campground is a National Park Service campground and has over 200 sites for tents, campers, and RVs. This campground definitely focuses on fishing, so if that is what your camping trip is all about, you will be like a kid in a candy store! There is a boat ramp and public restrooms available.
Cape Point is one of our favorite places for camping in Outer Banks and a must see if you fish!