Are you looking for a list of the best restaurants in Asheville North Carolina? We have you covered with delicious restaurants you must try!
Asheville is one of our favorite mountain towns that has a mix of everything you could want. From amazing restaurants, art and culture, breweries and outdoor adventure there is something for you to do whether visiting Asheville for a weekend getaway or for a longer vacation.
Planning your trip to Asheville last minute?
Make sure to book your hotels and tours in Asheville in advance to ensure availability! The longer your wait, the more difficult it gets. ESPECIALLY during Fall Foliage! Here are our top picks for Asheville:
Top Places To Stay In Asheville:
Top Experiences And Tours In Asheville:
Something you will notice with most of the restaurants in Asheville is they all try and locally source in-season produce. They use local farms and offer a farm-to-table experience showcasing what North Carolina has to offer, with rotating seasonal menus.
From amazing downtown Asheville restaurants serving up Southern classics, to Biltmore Village Restaurants offering up a romantic fine dining, to Mexican, Italian, French and Chinese there is a restaurant for every craving here in town.
Whether you are looking for amazing breakfast and brunch restaurants to began the day, or a quick lunch between activities, to casual or fine dining dinners this list has all the best places to eat in Asheville North Carolina.
Make sure to check out our list of the Best North Carolina Mountain Towns you must visit!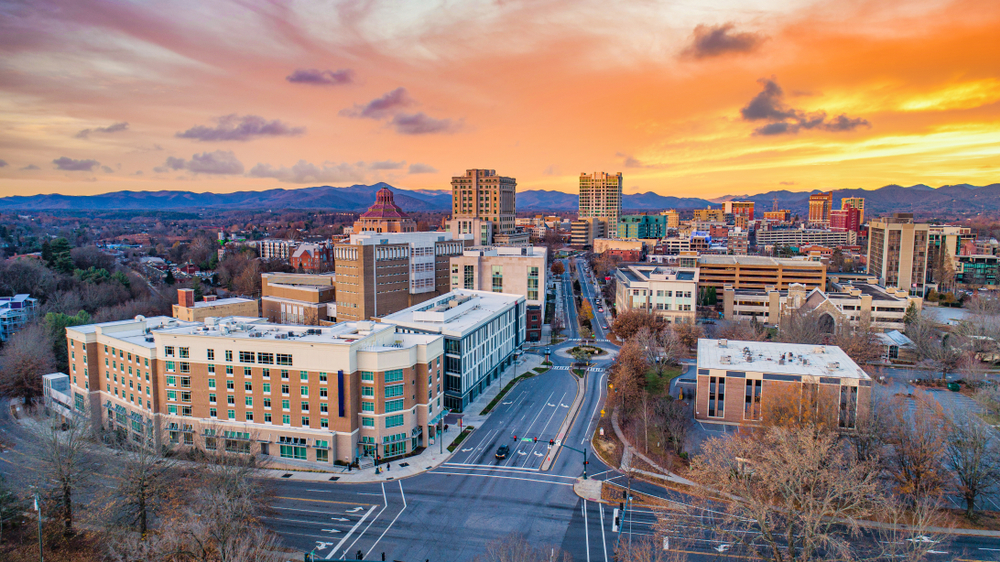 15 Best Restaurants In Asheville NC You Must Try
Tupelo Honey
Tupelo Honey Cafe is one of the best downtown Asheville NC restaurants for Southern comfort food. The entire menu is made from scratch and features brunch, lunch or supper, as they call it in the South. It is also on our list of best places for Breakfast in Asheville!
The restaurant uses locally sourced ingredients to keep quality high and dishes tasting delicious. Lunch is served daily until 4 pm, with a weekday $13.50 lunch combo. Choose between a variety of sandwiches like spicy avocado and chopped egg, picnic chicken sandwich or grilled pork, salads like mixed green or beet salad and a side!
Supper is served build your own style with a protein and two fresh sides. Southern favorites include buttermilk fried chicken, glazed meatloaf, cast iron pork shoulder, or country catfish. Par with grits, Brussels, collards, potatoes, green beans and more!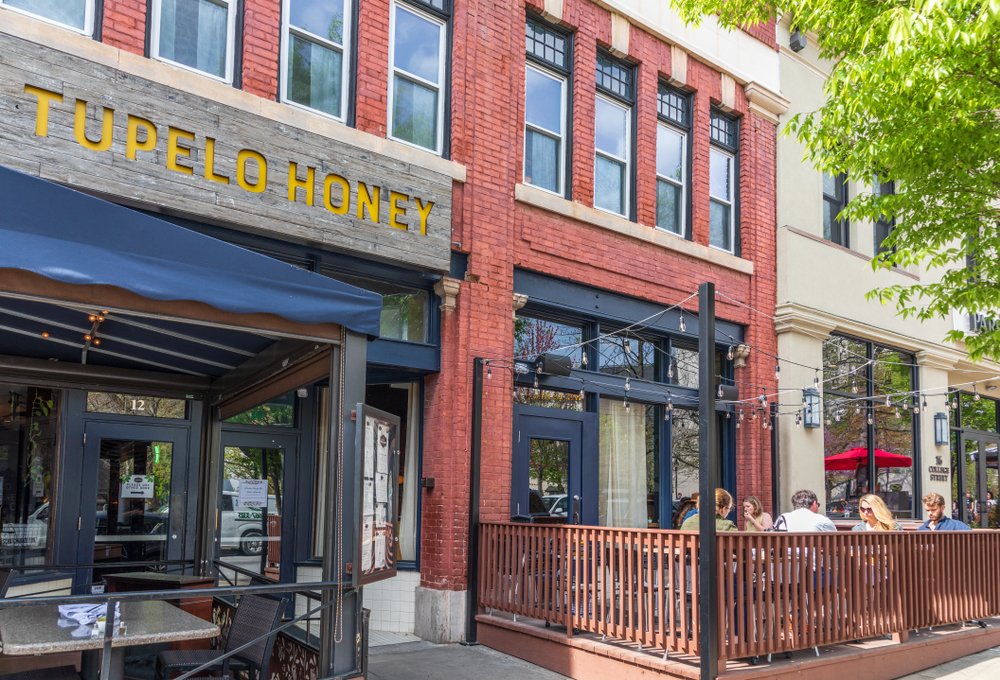 Bouchon
As the first green dining destination in the United States, Bouchon is one of the top restaurants in Asheville in terms of food and environmental impact. Chef Michel had created farm to table experience focused on French cuisine with a southern twist. They open daily at 5 pm, and source all their ingredients locally!
On the traditional French menu you will find Assiette de deus Pates or plate of two pates made in house, Quiche of the day, Steak Tartare on Thursdays, Mussels and Fries, or Escargot ( snails) in a delicious butter and garlic sauce!
Main entrees they serve everything from Bouef Bourguignon a classic beef stew, Poulet Cordon Blue, Salmon Dijonnaise or Salmon in a creamy mustard sauce, Steak and Fries or with a peppercorn sauce and Duck in an orange glazed rubbed with coco powder.
Make sure to leave room for one of Chef Michel desserts. From the chocolate mousse, Pain Perdu a homemade French bread pudding, creme brûlée or end the meal with one of the French inspired cocktails.
The Admiral
First opened in 2007, the Admiral burst onto the scene as one of the best local restaurants in Asheville. They focus on serving delicious and indicative food in a casual setting. Then menu here changes weekly but is posted to their website.
Choose from starters such as charcuterie plates, grilled octopus, beef tartare or snapper crudo. If in the mood for salads try the pear and cucumber salad, or little gem. Entrees include a grilled flat iron steak,faro verde with asparagus and zucchini, a pork chop with grilled peaches, trout in a butter chili sauce and cavetelli pasta with broccoli.
Limones
Limones Restaurant is one of the Mexican restaurants in Asheville NC. If looking for an elevated and upscale places to eat in Asheville head here! They are open Tuesday to Saturday from 5 pm to 9 pm, and reservations can be made for parties of 5 or less. Chef Hugo dishes are a fusion of intense Mexican and French flavors with a California twist.
On the menu at this downtown Asheville restaurant you will find ceviche sampler , Lobster nachos, Oaxca Cheese and Potato Flautas, avocado tartare or street corn.
For main dishes Chef Hugo offers Angus filet with lobster Mac and cheese, Shrimp and Stone ground grits with salsa and corn, Rack of lamb with adobo eggplant purree, duck carnitas enchiladas , or Ginger Saffron Shrimp Bowl.
Don't forget about desserts try the house made cinnamon brown sugar churros with chocolate dipping sauce, Vanilla and Orange flan. Or get one of the craft cocktails such as Organic Mexican coffee with tequila, Kahlua and whipped cream, or any number of their house margaritas.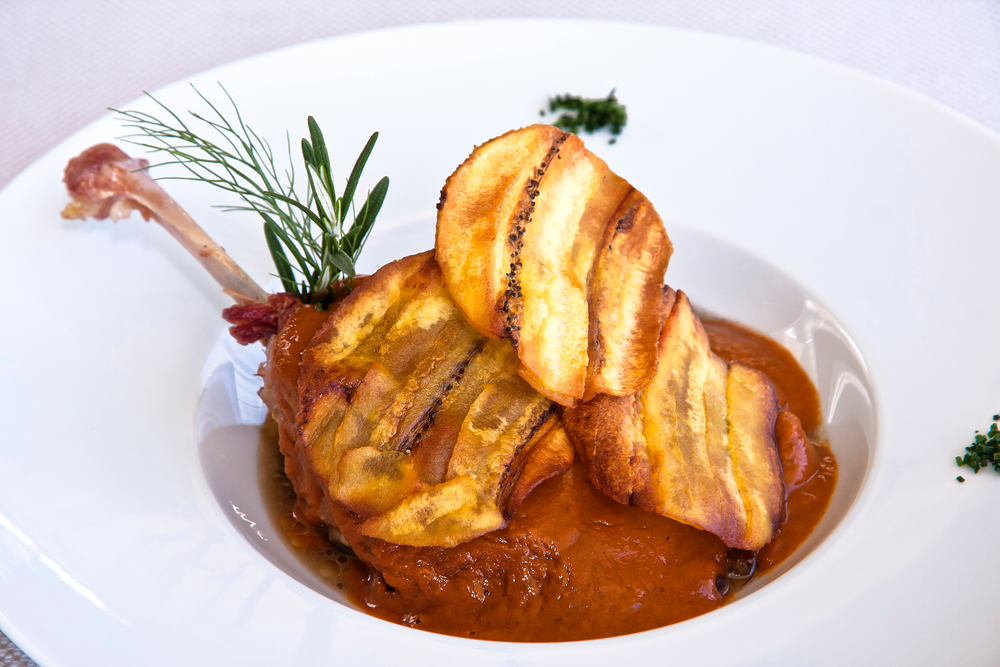 Corner Kitchen
If you are visiting Biltmore and looking for Biltmore Village restaurants head to Corner Kitchen. The restaurant is housed in an old Victorian cottage and served Southern American cuisine with a farm to table concept.
On the lunch menu is served weekday from 11 am to 3 pm. At this Biltmore Village Asheville restaurant you will find started like watermelon gazpacho or crispy calamari. Main courses include fried green tomato sandwich, vegan veggie wrap, Biltmore Rueben, grilled chicken salad, pecan crusted trout and more.
Dinner at Corner Kitchen is served daily from 5 pm until close. Start with a locally sourced charcuterie board, roasted cauliflower, corn fried oysters and more. Entrees include peppercorn crusted Brass town strip steak with balsamic carrots, Citrus Fennel roast duck salad, Mousers Vindaloo with summer squash and southern brined stuffed chicken breast with pimento cheese.
Posana
Posana Restaurant is located in the historic area of Asheville and serves contemporary American cuisine. They source ingredients from over 65 purveyors around the area and meaning the menu changed based on availability of ingredients. They are open Wednesday through Sunday from 5 to 10 pm.
They strive to make every dining experience special, from the dishes, atmosphere to the service and cocktails. You can even dine one the large outdoor patio space that has been fully renovated. For those looking for gluten free restaurants in Asheville the entire menu is Gluten free!
On the dinner menu you will find homemade soup of the day, sherry roasted beets , quinoa hush puppies and hickory porkbelly tostones.
For main courses try the pan seared tofu with noodles in mushroom sauce with crispy peas , Joyce Farm chicken with squash, Brasstown short Ribs with cauliflower putter or Sunburst Farm Trout with lemon sauce.
Pasty chef Renee Hill's menu features strawberry mousse, banana pudding and a S'mores tort or one of the wines or custom craft cocktails.
Curate
Curate is one of the hip restaurants in Asheville North Carolina that took over a former bus depot from 1927. If you are craving a Spanish tapas style dinner in Asheville, this is your place. This tapas bar, also features a bodega and a wine club in addition to a restaurant. Closed on Mondays, Curate is open for dinner from 4 pm to 10:30 or 11pm depending on the night. Reservations are required or you can order take-out.
The menu is divided into snacks such as fried almonds, pan con tomate or toasted bread with fresh tomatoes, or fried almonds. Small plates at Curate include house made spicy chorizo, fried eggplant drizzled in honey, stuffed peppers with goats cheese, shrimp in a sherry broth with garlic, and meatballs with a Spanish twist.
Large plates include paella featuring seasonal vegetables ( this dish does take 40 minutes to prepare), Truncha al horno a charcoal grilled trout, lamb skewers a rotating cut of dry aged beef. Desserts include a dark chocolate custard, gin soaked grapefruit with a torched merengue or a basque style cheesecake.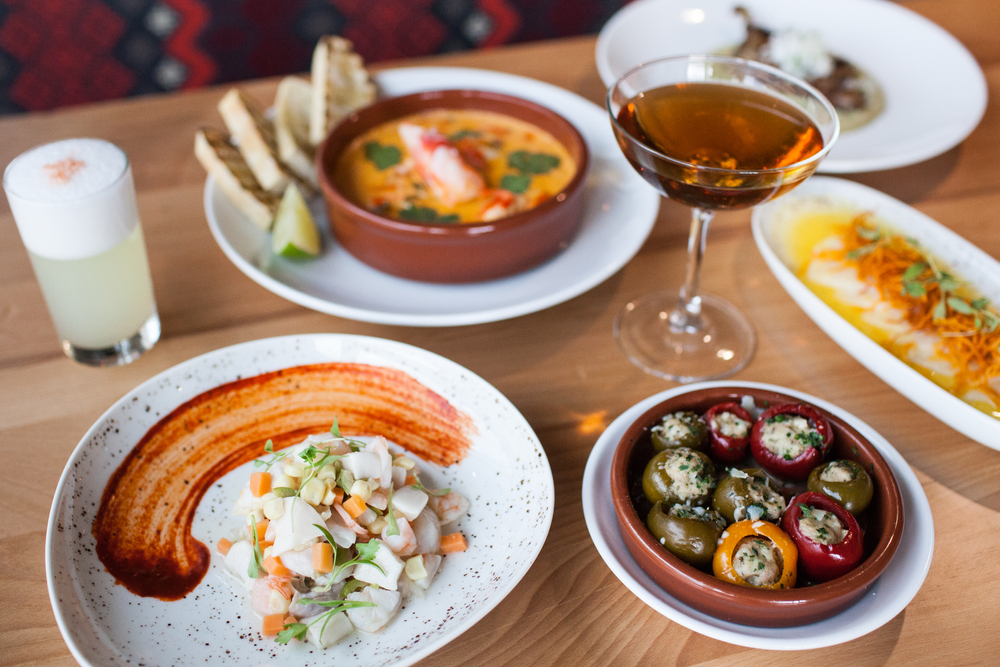 Farm Burger
Farm Burgers is the place to go if looking for a healthy lunch in Asheville. A quick service counter service restaurant that serves grass Hickory Nut beef without any antibiotic or hormones , Ice cream from the hop and local beers from around Asheville. Come between 11-3 pm for $8.99 burger lunch special.
On the blackboard burger menu choose from 7 styles. A house made vegan patty to the farm burger with aged cheddar and Carm Ali Ed onions, chorizo patty melt with pimento cheese, chicken burger with smoked Gouda and bacon, and a seasonal burger. Or you can build your own.
If in the mood for something a little healthier try the farm or superfoods salad with kale, squash, sunflower seeds and nutritional yeast! Don't forget to pair your burger with hand cut fries, and a local beer!
Zambra
Zambra is one of the best places to eat in Asheville if craving tapas and wine. The traditional Mediterranean menu features dishes with a contemporary twist served in a romantic setting.
If looking for a weekend brunch in Asheville they are open on Saturday and Sunday. The menu features the most popular dishes from main menu with addition of egg dishes, mixed fruit, and shrimp and grits.
The menu at Zambra features locally sourced ingredients and incredible wine selection from around the world. The menu is divided into several areas: snacks, plates, cold and hot tapas.
On the snacks menu you will find deviled eggs, Spanish olives, and Chorizo crusted dates. In the plates section you will find beef with chickpea fries, trout with asparagus, and pan roasted scallops with potatoes.
The cold tapas menu features yellowfin tuna crudo, Imported Spanish Cheeses with honey, and Chicharonnes with pickled onions. For hot tapas like patatas bravas, pomegranates braised pork spring roll, grilled chimuchurri shrimp, octopus fried rice and stewed chick peas.
Plant
Plant is perfect for those looking for all vegan restaurants in Asheville. For those who are not vegan, Plant offers flavorful dishes with eclectic flavors. Over 90% is organic, and is locally sourced and gluten free. There are only a few dishes that can't be made gluten free.
The dinner menu features a variety of veggies with wonderful spices. From cauliflower with a tahni and grilled lemon sauce, to harrissa rubbed carrots topped with pistachio, Plant Cheese an aged cashew "cheese" served with pecans and roasted almonds and garlic on house bread, Bok Choy Ramen with tofu croquette and grilled veggies, and a stuffed tamale with tempeh grilled mojo veggies or lasagna cruda a raw tomato dish.
Dessert features a saffron creme brulee with hibiscus poached pear, a blackout pie with pretzel crust served with chocolate peanut butter fudge and ice cream and an ice cream tasters.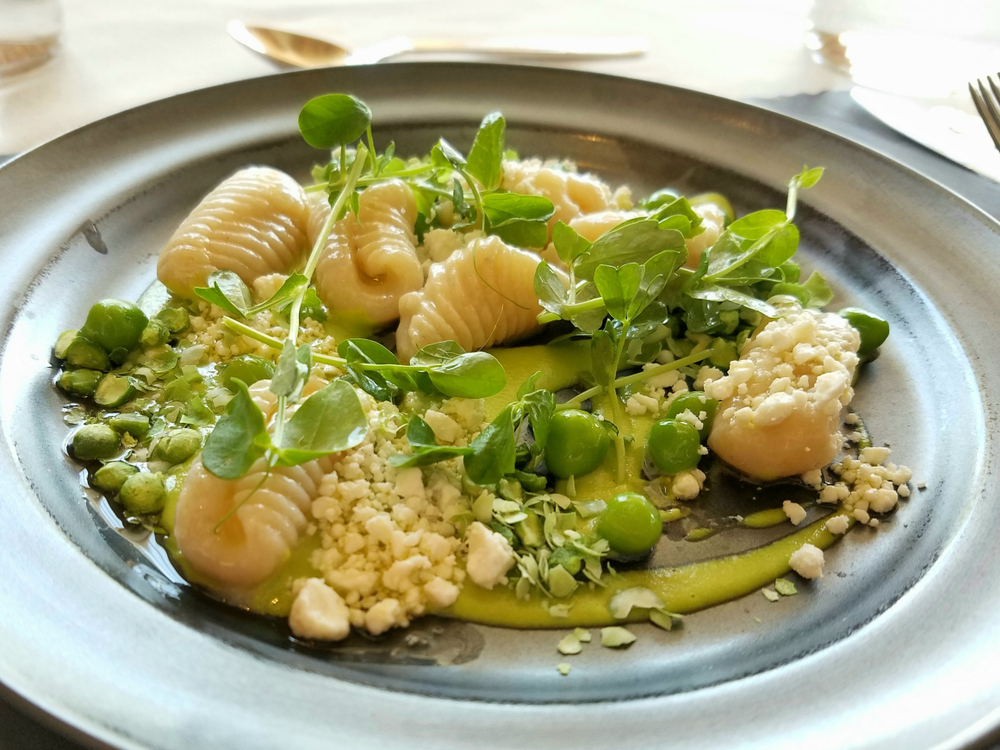 Sunny Point Cafe
Sunny Point Cafe is a great choice for breakfast in Asheville. They are open Sunday and Monday from 8 am to 2 pm, and Tuesday to Saturday from 8 am to 9 pm. They are open for indoor dining, take out or offer free delivery in Asheville.
The breakfast menu is served counter style, where you order your food and enjoy it at one of the outdoor tables or the patio tables. While dinner is served table service style.
They serve dishes such as Huevos Rancheros or Hevos Fucheros ( meatless option), Biscuits and Gravy, a wide assortment of Omelettes such as southern with pimento cheese and bacon, or mushrooms with brie. Griddle options include the amazing stuffed toast with sausage and cheese, carrot hotcakes or very french toast.
House specials include North Carolina Shrimp and grits, chicken and waffles, a warm chicken salad, and pecan crusted tomatoes for those looking for more savory dishes.
Biscuit Head
Biscuit Head has three locations around Asheville and the Biltmore area. Right now you can order takeout or delivery only. They serve up southern breakfast and lunch cuisine. As the name suggest if you are wanting delicous made from scratch biscuits this is your place.
Choose from either regular or gluten free, and add your choice of gravies. From fried chicken, pork sausage, red eye, veggie or sweet potato coconut. Next add your sides from eggs, bacon, ham, pulled pork, pimento cheese, home fries and more. They also serve biscuit donuts and french toast or choose from full egg breakfast dishes, egg sandwiches served on biscuits.
For lunch try the fried chicken brunch box, with biscuits, fried chicken, sriracha slaw and hot sauce and pair it with a mimosa kit.
Forestry Camp
Forestry Camp is split into Forestry Camp Restaurant the indoor dining where reservations are required, and The outpost at Forestry Camp a more relaxed dining experience where reservations are not needed and you dine on rooftop deck or covered outdoor areas. They are open for Tuesday to Sunday until 10 pm.
Chef Mike Achberge has created a romantic restaurants in Asheville, where you can share plates that feature local and seasonal ingredients. Small plates include ground beets with chevre foam, red snapper ceviche, a caharcuterie and cheese board with house cured meats, and little neck clams.
Large plates range from Ricotta gnocchi with braised beef and mushrooms, to a pan seared grouper with lentils, and a mushroom Agnolotti with blue cheese mousse. For those looking to share an entree try the whole smoked trout in a white wine sauce or a Ribeye with beef jus and salad.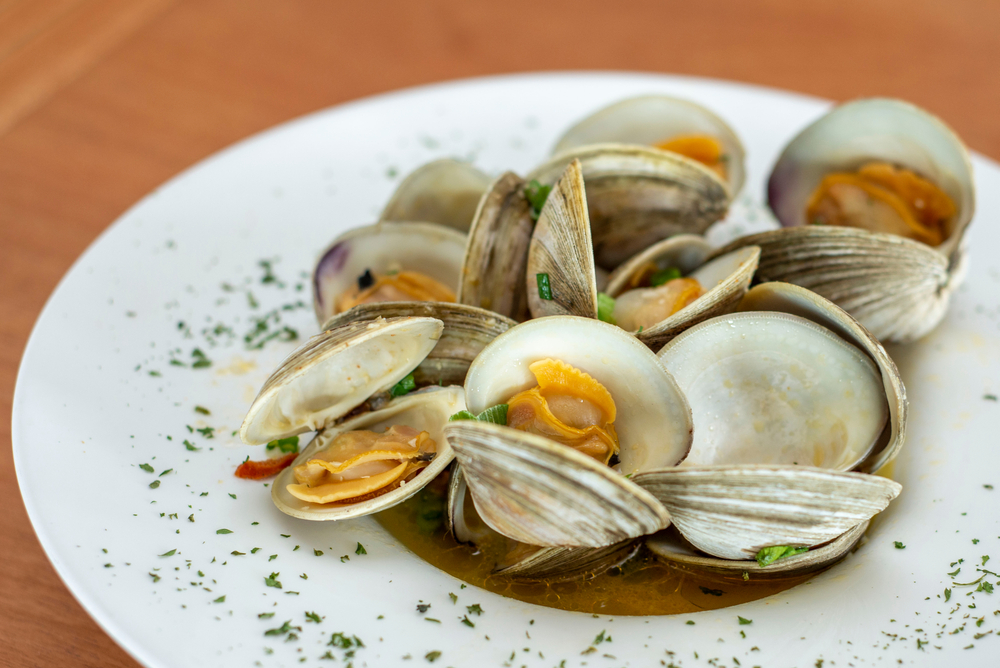 Vinnie's Neighborhood Italian
If you are craving old school New York style restaurants serving Italian in Asheville head to Vinnie's Neighborhood Italian. They make everything from scratch in house using chef Eric Scheffer's family recipes and are open for dinner from 5 pm to 9:30 or 10 pm, except for Tuesdays.
Weekly specials include Monday's 1/2 priced wines, Wednesday house made Gnocchi day, Thursdays is Chef's past day and Friday is $6 Martini night and Sunday Chef serves up Lobster ravioli.
Traditional Italian fare includes calamari fritti, Uncle Sal's meatballs, steamed mussels, Octopus a la planca and Italian wedding soup to start. Pasta dishes are served either individual or family style. From Sunday gravy, carbonara, sausage peppers and onions, linguini with seafood or a bolognese sauce. Vinnie's specials include twice baked lasagna, eggplant parmigiana and pan seared scallops.
If you are looking for pizza in Asheville they serve a full pizza menu. From a cheese, meat, proscuitto or veggie or you can create your own.
Red Ginger Dim Sum and Tapas
Red Ginger Dim Sum is a Chinese and Sushi fusion Asheville restaurant that serves Chinese style tapas and Dim Dum. Chefs Ben Chen and Kevin Jiang aim to source ingredients locally and served in an interactive dining experience. Thy area great option for both lunch in Asheville and dinner.
There is a wide variety of vegetarian dishes like home style tofu sticks, Buddah bean curd rolls, mushroom dumplings, house veggie rolls, steamed eggplant, and vegetable chow fun noodles.
Meat dishes include Szechuan wontons with shrimp and pork, pork short ribs, sticky rice with chicken, Gua Boa or pork belly Chinese pancakes, yakitori with beef and marinated steak. Seafood dished include crispy calamari, tropical ocean nest roll with tuna and salmon with fried leaks, curried soft shell crab, assortment of sushi rolls, and grilled Chilean sea bass.