If you are looking for the best things to do in Maryland you are in the right place! Here you will find ample things to do on your trip. Although Maryland is one of Americans smallest states, it is jammed pack with so many things to do! First of all, Maryland is known for the Chesapeake Bay, epic waterways, and it's capital city Baltimore!
Be sure to swing by Annapolis where the future men and women are training to become future Sailors. If you are an outdoor lover there are quite a few different state parks to check out on this list of the best things to do in Maryland as well.
Ocean City is another very popular city to check out. You can spend your days lounging on the beach and then head out for an amazing night out. There are casinos or family-friendly restaurants, it all just depends on what you are looking for!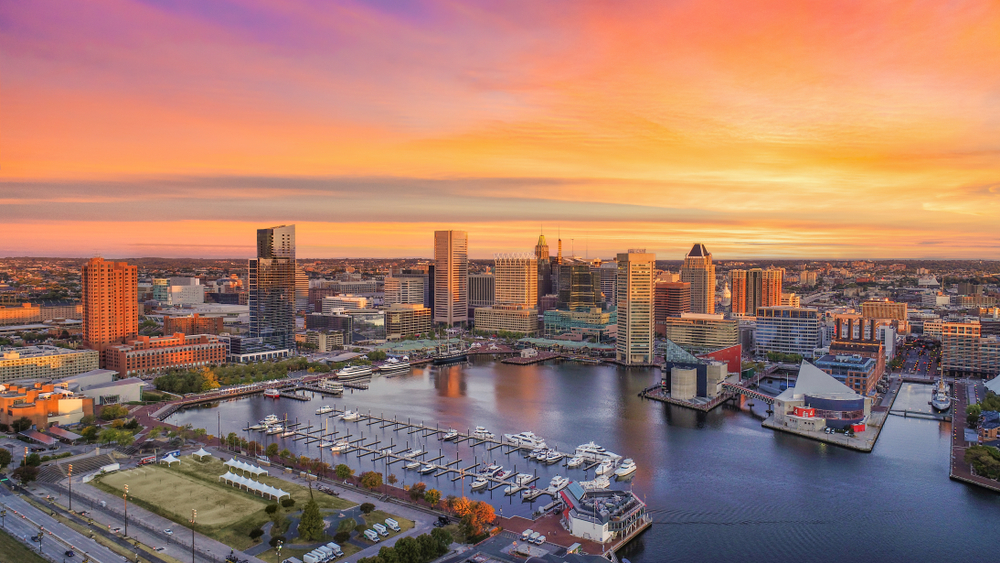 15 Best Things to do in Maryland You Shouldn't Miss
National Aquarium in Baltimore
First up is the National Aquarium. If you are looking for something fun to do inside this is one of the best things to do in Maryland! You can visit the Australian river gorge display where there are 70 species and over 1000 different animals. There is also an Upland Tropical Rain Forest that will show you what the South American rainforest is like.
This is a great place to add as a stop on your Weekend In Baltimore Itinerary!
Or maybe Shark Valley is more your speed. You can get up close and personal in the 225,000-gallon exhibit. There are also a few different places to grab food inside the National Aquarium all of them use eco-friendly methods for cooking and plating.
Make sure to check out our list of the best restaurants in Baltimore for your trip!
The opening hours vary with the month, but the most common hours are 9 to 4. It should take you a few hours to walk around so you must get there at least 90 minutes before they close to enter.
This is truly one of the best things to do in Baltimore and should top your list!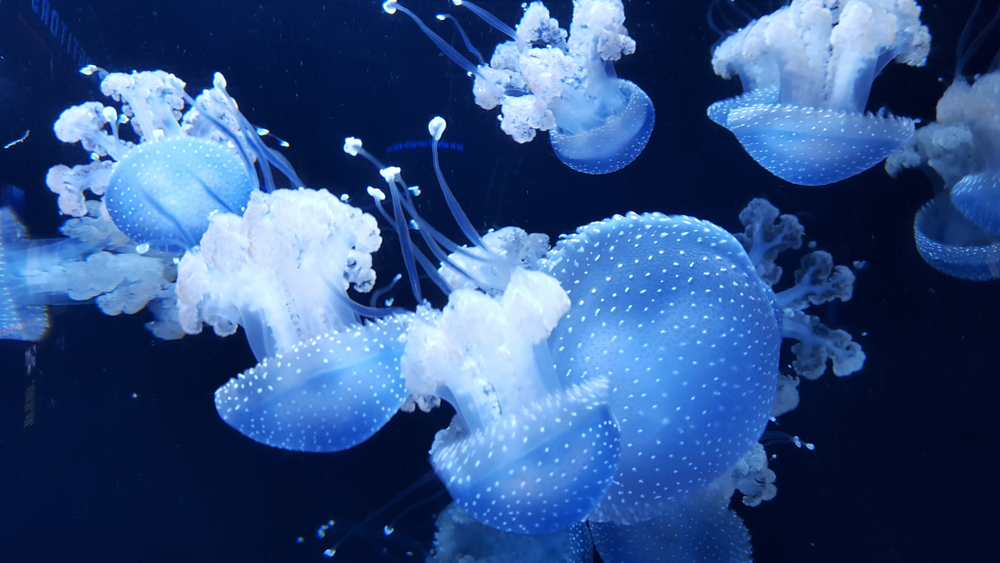 Ocean City Beach
If you are looking for what to do in Maryland you need to check out Ocean City Beach! It was recently voted one of the top 10 beaches in all of America by TripAdvisor. One of the reasons is that there is so much to do. People enjoy fishing, surfing, canoeing, and even kayaking. You can also stroll down the 10 miles of beautiful, sandy beachfront.
After you have had your swim, surfed, or just walked around you need to check out the boardwalk. This is a wooden boardwalk filled with so many of the best attractions in Maryland. People of all ages line up for the amusement park rides and historic carousel. There are restaurants of all kinds serving up all the best Maryland foods.
Ocean City Beach also has plenty of free things to do in Maryland. You will never have to pay to enter the boardwalk it is always free and open to the public. Every weekend there are free events put on by the city that are normally aimed at children. These events include how to build a sandcastle, kite flying shows, and so much more. Check their website for the most updated activities on your weekend.
This is truly one of the best beaches in Maryland!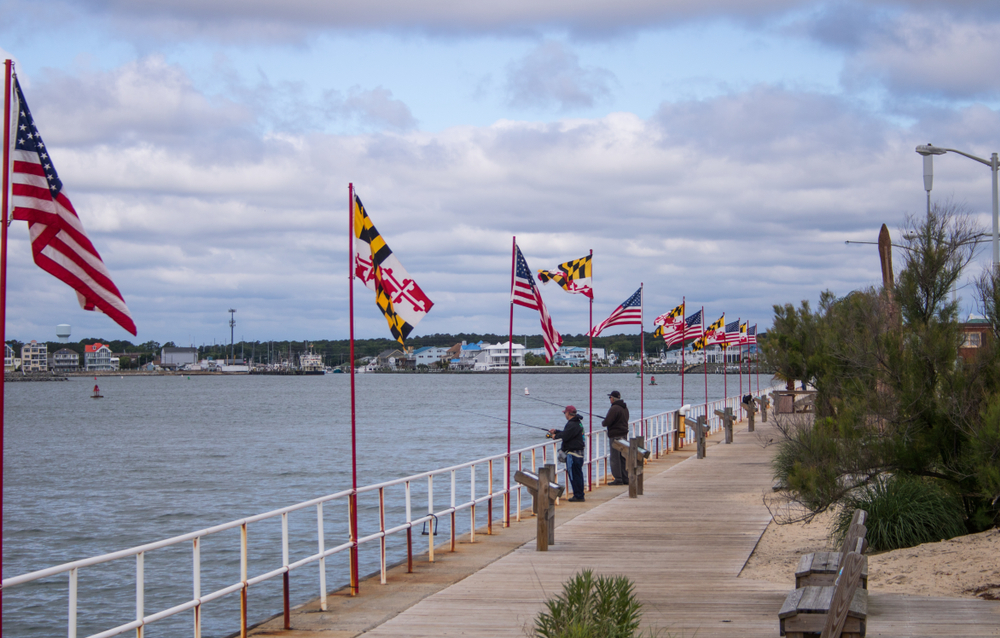 Fort McHenry National Monument
Visiting the Fort McHenry National Monument is one of the best Maryland activities. The fort is best known for its part in the war of 1812. Back then Fort McHenry was all that stood between the British from gaining control of the Baltimore Harbor. This is the triumph battle that inspired the writing of the National Anthem.
The outdoor park is open from 9 am to 6 pm and is always free to visit. For a self-guided tour of the historic sections, it is recommended to purchase your ticket at least 7 days in advance. Be sure to check out the visitors center for more information and to purchase souvenirs.
You can also download the NPS app before your trip. It will help you get the best route and ensure you can see all the attractions. You do not want to miss out on visiting Fort McHenry it is one of the best things to do in Maryland.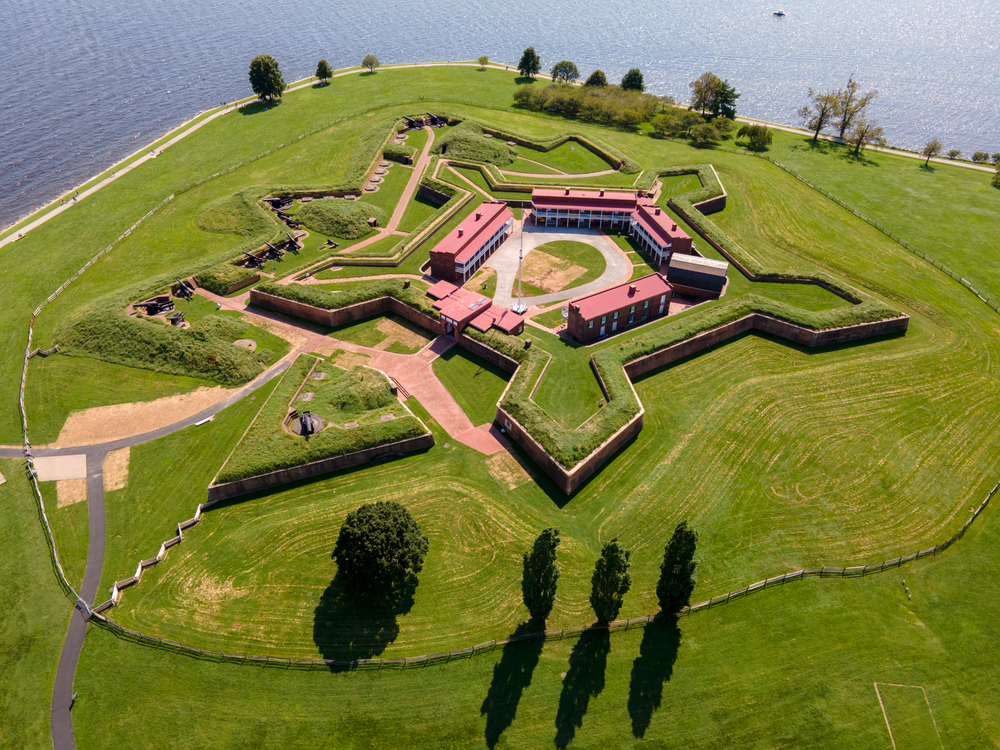 Assateague Island National Seashore
Assateague Island is one of the barrier islands off the east coast of Maryland. There are so many things to do once you get on the island you may never want to leave. Start your island trip with a tour of the old lighthouse from the 19th century. Then head over to the 37 miles of beachfront to cool down. The beaches are safe for swimming and there are always lifeguards on duty during the summer.
Some of the most popular outdoor activities include hiking and biking through the trails and horseback riding on the sand. You can also try crabbing or check out the ranger-guided programs if you are traveling with children.
And the best thing about the Chincoteague National Wildlife Refuge is that it is home to wild Chincoteague ponies. If you looking for fun things to do in Maryland you have to head to the National Seashore.
This is also one of our favorite Weekend Getaways In Maryland you should plan!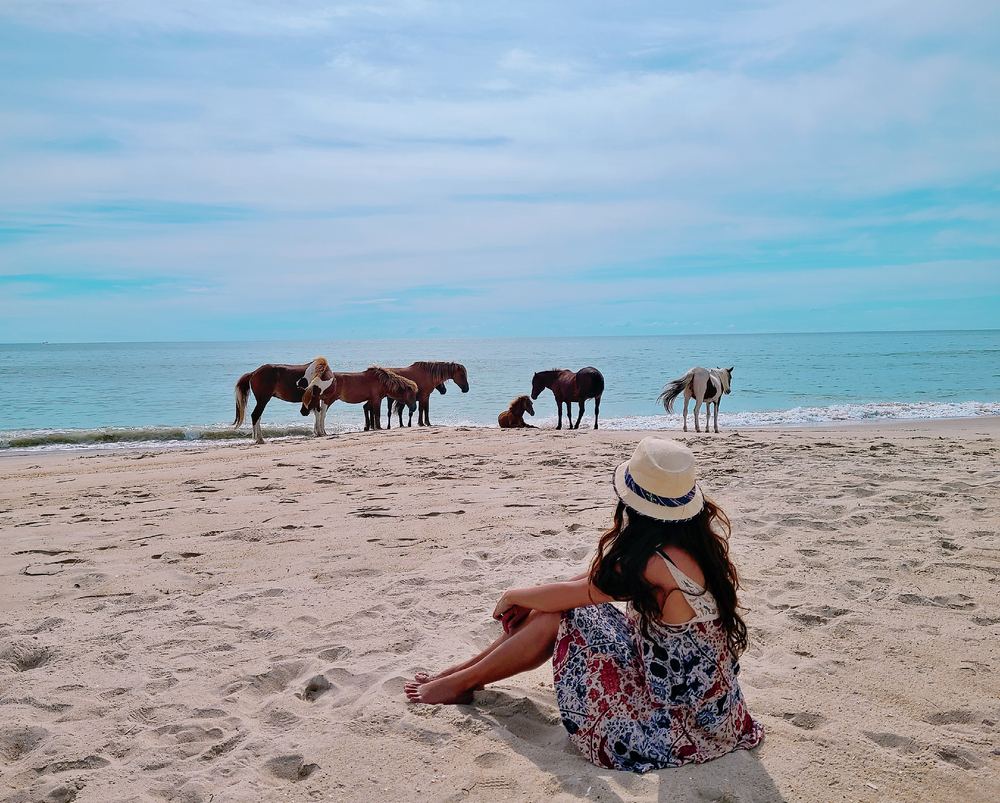 Oriole Park at Camden Yards in Baltimore MD
Checking out Oriole Park at Camden yards is one of the best things to do in Maryland with kids. This is the home stadium of the Baltimore Orioles and is one of the best baseball parks to visit in America. The home team is in town from March to October and they play over 200 games making it easy to catch a game.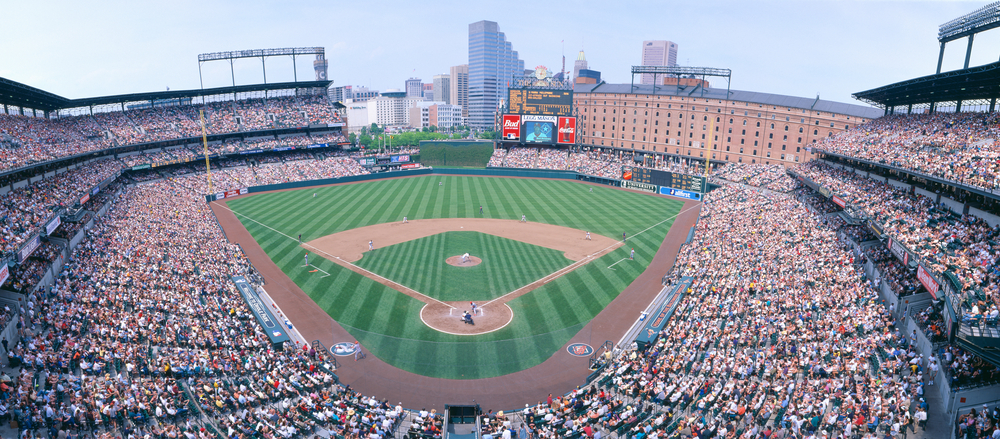 Eat Blue Crabs and Crabcakes
If you are looking for things to do in Maryland at night you should head out and eat blue crabs, Maryland is famous for them. The blue crabs are native to Maryland and live in the Chesapeake Bay. You can order them so many different ways and most seafood restaurants will have them in stock. The freshest season to eat them is the summer, but you can order them all year long.
The most common way to eat a blue crab is in a crab cake, or you can order them whole. If you have never picked a blue crab before it is best to order the cake. Unless you are ready to dig in and get dirty. Maryland blue crabs are always seasoned with Old Bay so be sure to specify if you do not want any! This is one of the best ways to eat just like a local.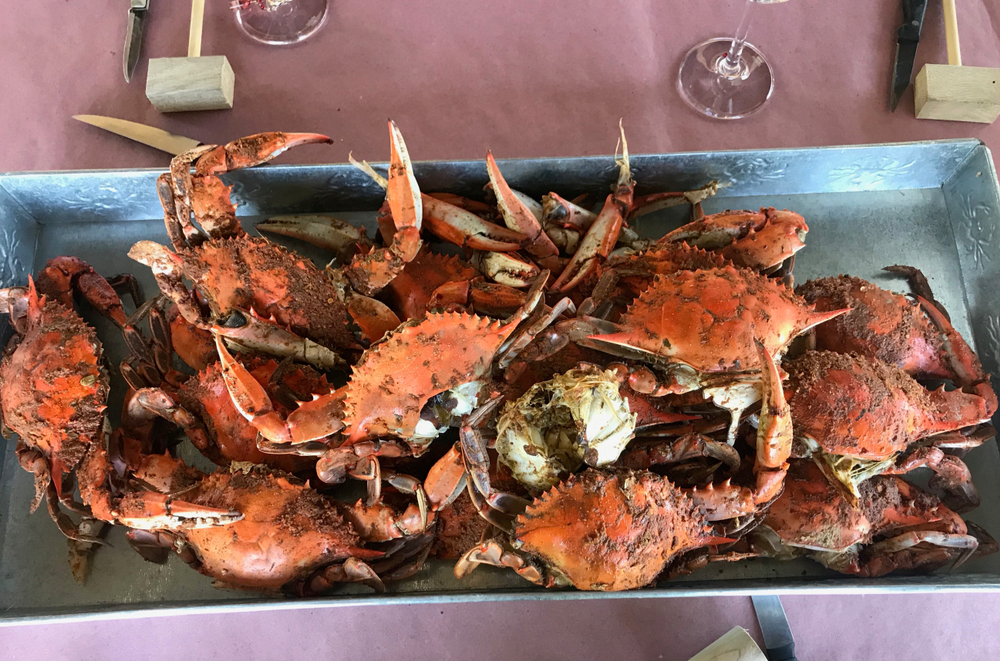 Visit the National Harbor
No matter what season you visit Maryland you have to go to the National Harbor. It has some of the best activities in Maryland. There is shopping at small boutiques, waterside trails, and the Capital Ferris wheel to ride, or you can take a ride in a boat around the harbor. Plus, it is only a 20-minute drive away from Washington D.C.
You will love the luxury Gaylord National and MGM hotels on the water. The MGM is also a casino that just opened back in 2016 and has all the luxury touches you are going to love. Be sure to check out the art sculptures all around the grounds, the most famous one is the awakening. It is a big hand that looks like it comes right out of the water. The National Harbor is so beautiful you could spend hours here and still not want to leave.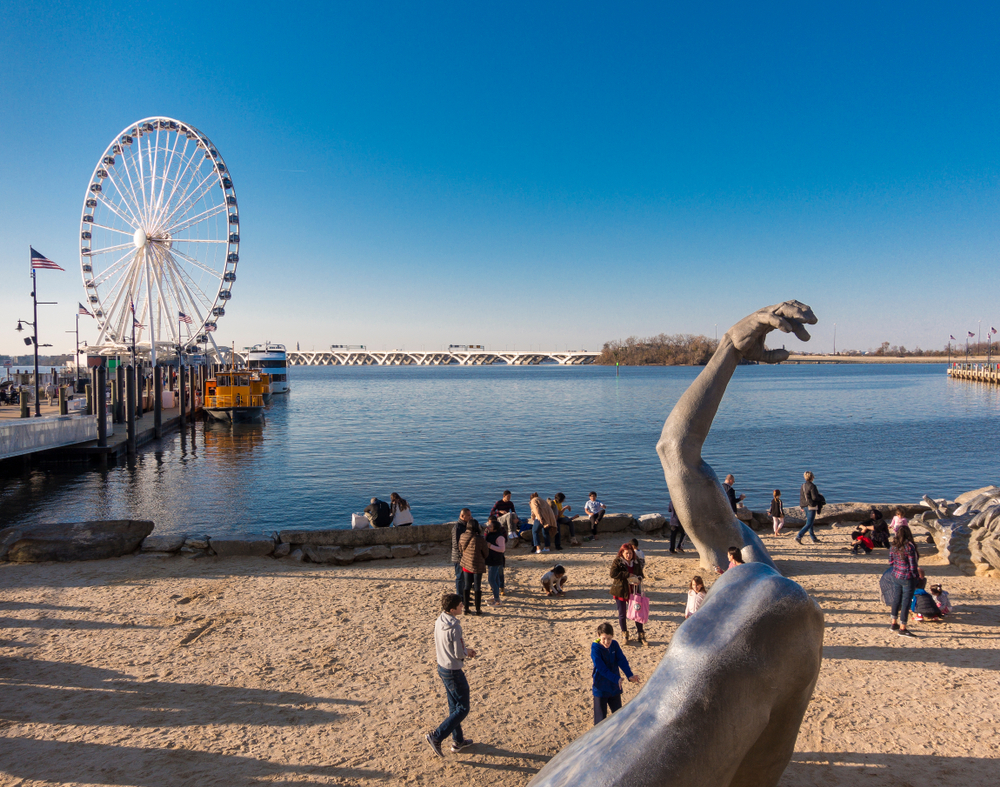 Check out the Naval Base Annapolis
One of the most popular places to visit in Maryland is the naval base Annapolis. This is the campus of the USNA or the United States Naval Academy and it is open for tours. The best way to tour the grounds is with a group guided tour. They will explain and take you around the 2 story museum explaining all the interesting history of the base.
You can always tour the grounds independently too. Do not miss out on the informational movie The Call to Serve, it restarts every 15 minutes. You can visit from 9 am to 4 pm Monday thru Friday and on the weekends they stay open one hour later. If you are thinking about visiting Annapolis as a recruit they have daily briefings at 10 am and 2 pm. Be sure to check out their website for further information on that.
This is truly one of the best things to do in Annapolis you shouldn't miss!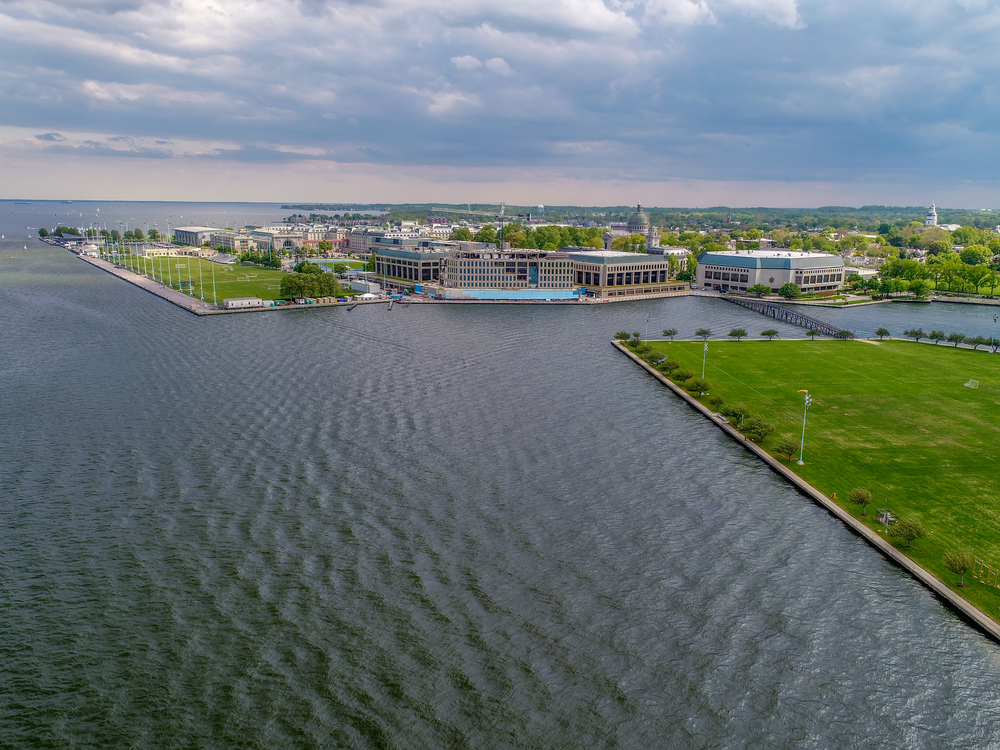 Maryland Science Center in Baltimore
The Maryland Science Center has been one of the top attractions in Maryland for kids since 1976. There are over 8 rooms where they can learn and explore at the same time. Check out the dinosaur mystery room if life-size dinosaurs and excavation sites are your things. Or head over to the life beyond Earth study. Here you can study the science behind life beyond our planet.
There is also an amazing planetarium to check out that is great for any age. The Maryland Science Center is open Wednesdays to Sundays from 10 to 4. You will find them conveniently located in the Baltimore Inner Harbor. If your children love exploring this is one of the top things to do in Maryland with kids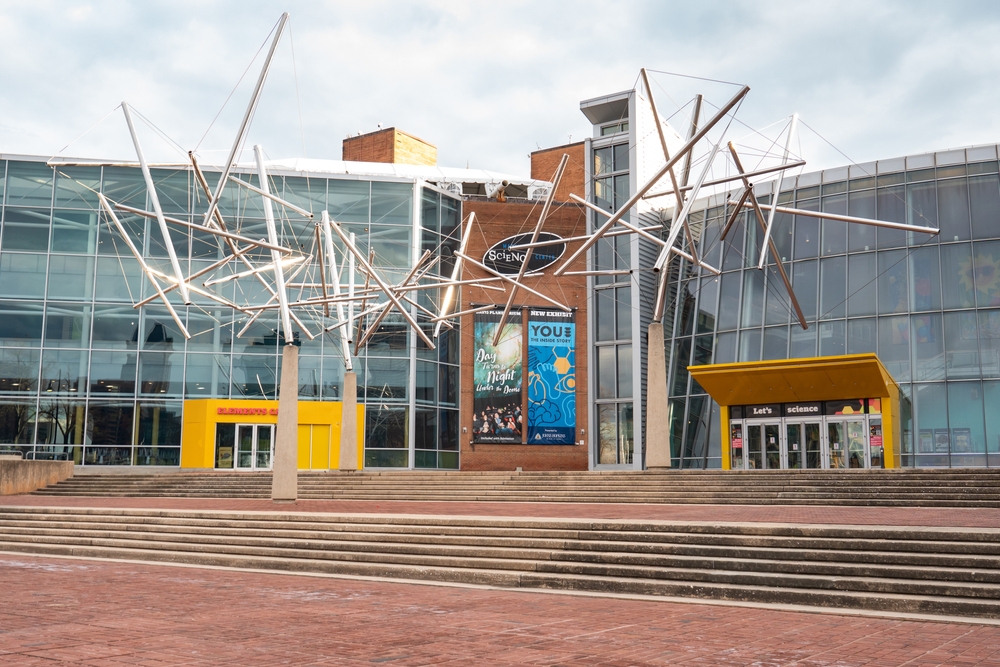 Take a Trip to Kent Island
Up next is to visit Kent Island. Coming to this small beach town is one of the best things to do in Maryland for couples. Imagine spending your day or weekend on a beautiful island in the Chesapeake Bay. There are two pretty public beaches to visit and plenty of outdoor activities.
Take your pick between two hikes. There is the cross-island and south-island trail to explore. You will also find two fishing piers and a nature park. The sunsets here are amazing and many people like enjoying them at Libby's Coastal Kitchen which is right on the water. Spending a few days on Kent Island would be so relaxing and romantic!
This is truly one of the cutest small towns in Maryland!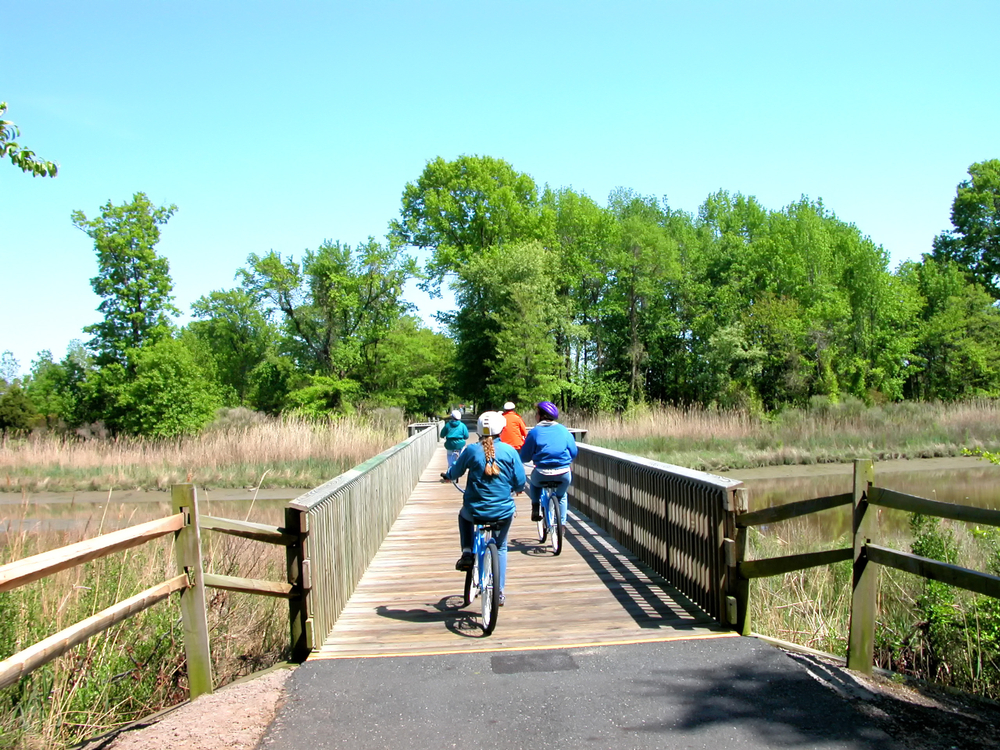 Drive the Scenic Byways Throughout Maryland
If you are looking for the best things to do in Maryland for adults you could always the highway. One of the things that Maryland is known for is its beautiful Scenic Byways. There are 19 to be exact and they all have their own special stops. There are mountainous routes, cape-to-cape byways, and plenty of historical highways.
Almost all the routes have pit stops along the way with beautiful landscapes or places where historic events took place. These scenic byways are not the fastest way to get around Maryland, but they are the most fun.
Great Falls National Park
Up next is the epic Grand Falls National park. Here you will be can explore an 800-acre park with fast rapids and waterfalls right along the Potomac River. One of the most popular viewing sites is the three falls overlook. From here you can pick from three different overviews.
All of which have amazing views of the Potomac rushing through rock formations. Overlook one has the best views but all are worth checking out. The last two trails are wheelchair and stroller accessible so everyone can see the beauty. Great Falls park is always free to enter and is one of the best things to do in Maryland. Plus it is only a short 20-minute drive, without traffic, from Washington D.C.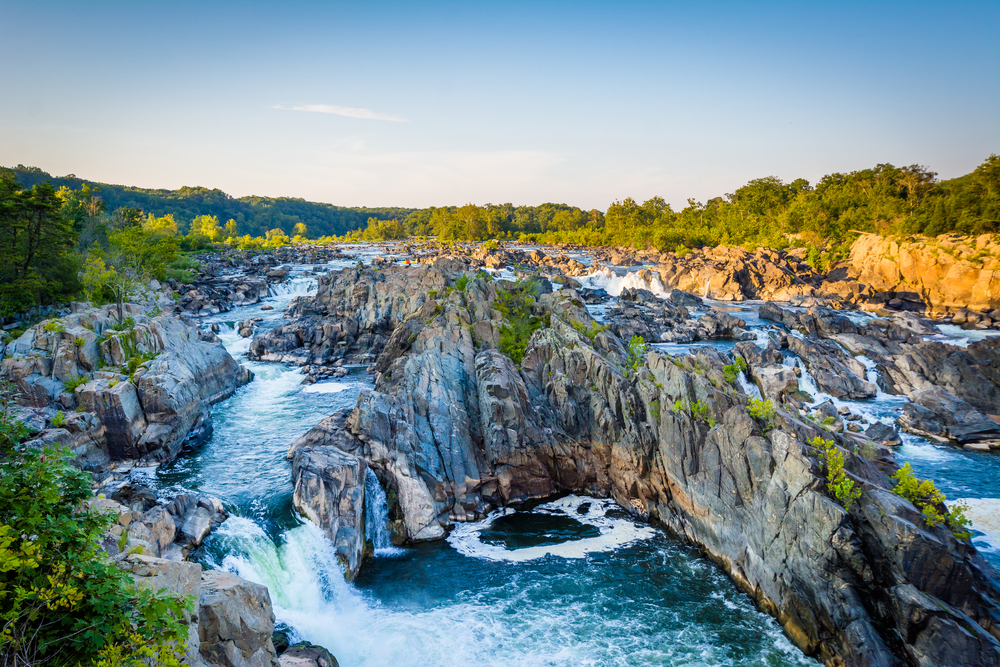 Visit the Harriet Tubman Underground Railroad National Historical Park
If you are in the South of Maryland you should make a stop by the Harriet Tubman Underground Railroad National Historical Park. Located in the small town of Dorchester County, Maryland you can view the grounds where Harriot Tubman, born Araminta Ross, lived. This is also the grounds where she became inspired to free over 70 enslaved people.
There are self-guided tours available from Tuesday through Sunday starting at 10 am and ending at 4 pm. Be sure to check out the visitors center for the film on her life. It is one of the best free things to do in Maryland and is a great place to learn more about the legendary conductor of the underground railroad.
Swallow Falls State Park in Maryland
Up next is the beautiful Swallow Falls State Park on the Youghiogheny River near Oakland, Maryland. Here you can find hiking trails and a 53-foot waterfall! People come from all around to check this wonderful park out because of the famous traveler's website. One summer Henry Ford, Thomas Edison, and Harvey Firestone set up 2 two-week camps at Swallows State Park!
You too can come to camp here, and you can even try to reserve the same campsite if you wanted to! Check the official Swallow Falls State Park website before you head out because you must reserve a site beforehand. If you are looking for outdoor fun things to do in Maryland you cannot miss Swallow Falls State Park.