Are you planning on having breakfast in Gatlinburg, Tennessee but not sure where to go? We've got you covered! There are so many amazing restaurants in Gatlinburg you must try!
Located in Eastern Tennessee, the small mountain town of Gatlinburg sits on the threshold of the Great Smoky Mountains. Gatlinburg has become a popular tourist destination due to the natural beauty of the Smokies and the Appalachian Mountains.
Originally Cherokee land, Gatlinburg became a bustling town in the 1800s with the invention of the band saw. The logging industry in the Southeastern United States began booming, and local Gatlin residents started renting out lodging to the loggers.
Tourists began to visit as well, after reading about the natural wonder of the Appalachia. By the early 1900s there was a push to create national forests, to keep the area from being further cut down. When the Great Smoky National Park opened in the 1930s, Gatlinburg became a tourist hotspot.
Today, Gatlinburg offers many tourist attractions, celebrating the mountains. These include Ober Gatlinburg, the only ski resort in Tennessee, and the Gatlinburg Space Needle, where an observation deck provides 360-degree views of the Smokies.
However, one of the best things about Gatlinburg? Pancakes! There are some great places to eat breakfast in Gatlinburg where you can order stacks of traditional pancakes.
Even if pancakes aren't your go-to breakfast food, check out this list of some of the best breakfast places in Gatlinburg.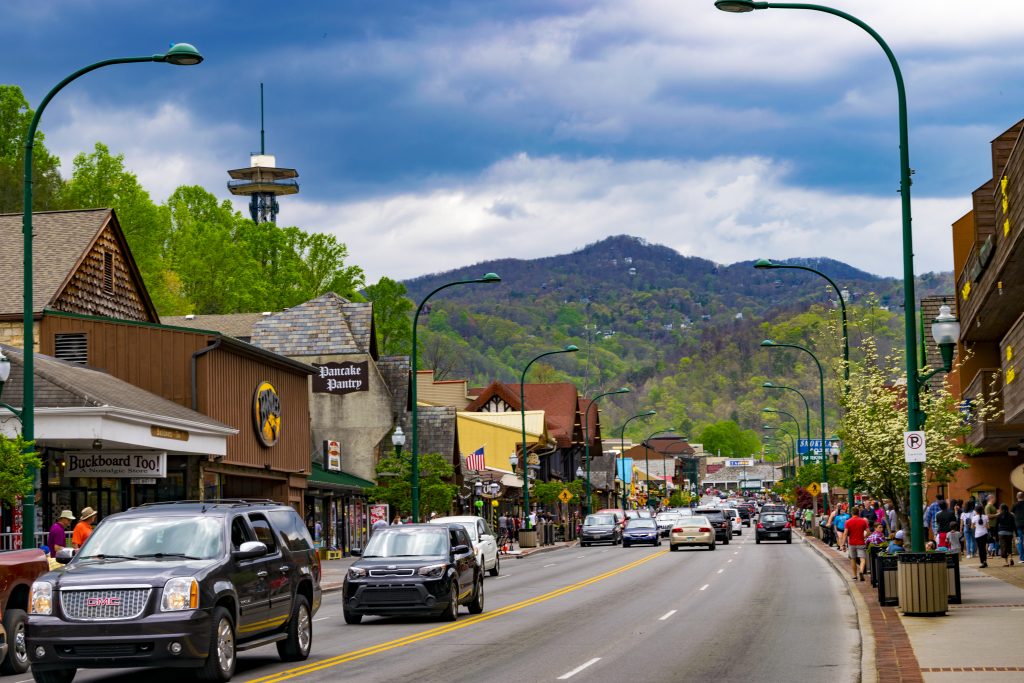 Why are pancakes to popular in Gatlinburg?
No one can say for sure why pancakes are so popular in Gatlinburg! Having a variety of pancake houses in town is just part of life in this small Tennessee town. There are a couple of theories though, as to why pancakes are so popular in Gatlinburg.
The first theory goes back to Gatlinburg's logging history. Lumberers would need a hearty breakfast before heading out for a hard day's work. Pancakes were easy to make and not as heavy as some other breakfast options.
Another theory is that the pancake market in Gatlinburg grew as the tourist industry grew. Hikers would want a big breakfast before hitting the trails of the Great Smoky Mountains. Families vacationing in the area would go out for breakfast, and kids usually love pancakes.
Plus, eating pancakes for breakfast is, well, technically eating cake for breakfast!
Whether you call them pancakes, flapjacks, or griddlecakes, you can find them for breakfast in Gatlinburg.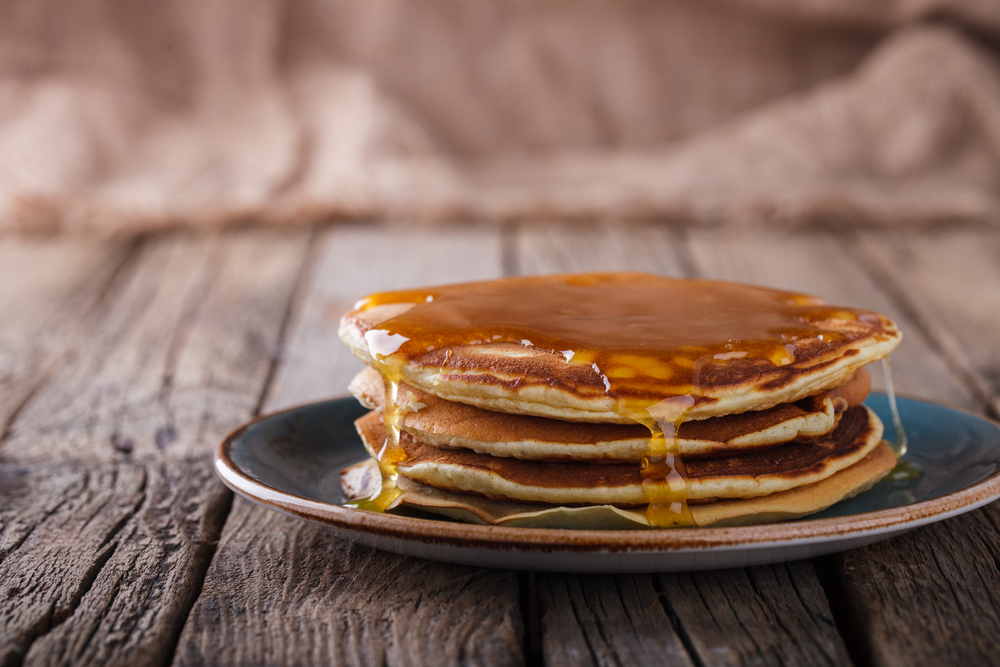 9 Best Places for Breakfast in Gatlinburg, TN
Little House of Pancakes
Located at 807 East Parkway, Little House of Pancakes has everything you could want for breakfast in Gatlinburg. As their name would suggest, they are known for their scrumptious, fluffy pancakes. (People particularly love the blueberry pancakes!)
While it may look like just another roadside restaurant, Little House of Pancakes offers excellent service and a friendly atmosphere. They're able to accommodate large groups, even when they get busy on the weekends.
For something a little different, try their delicious pecan pancakes. However, pancakes aren't the only thing Little House makes well. They also serve up some of the best biscuits and gravy in Gatlinburg! When you are fueling up for the best things to do in Gatlinburg, this is the place to be!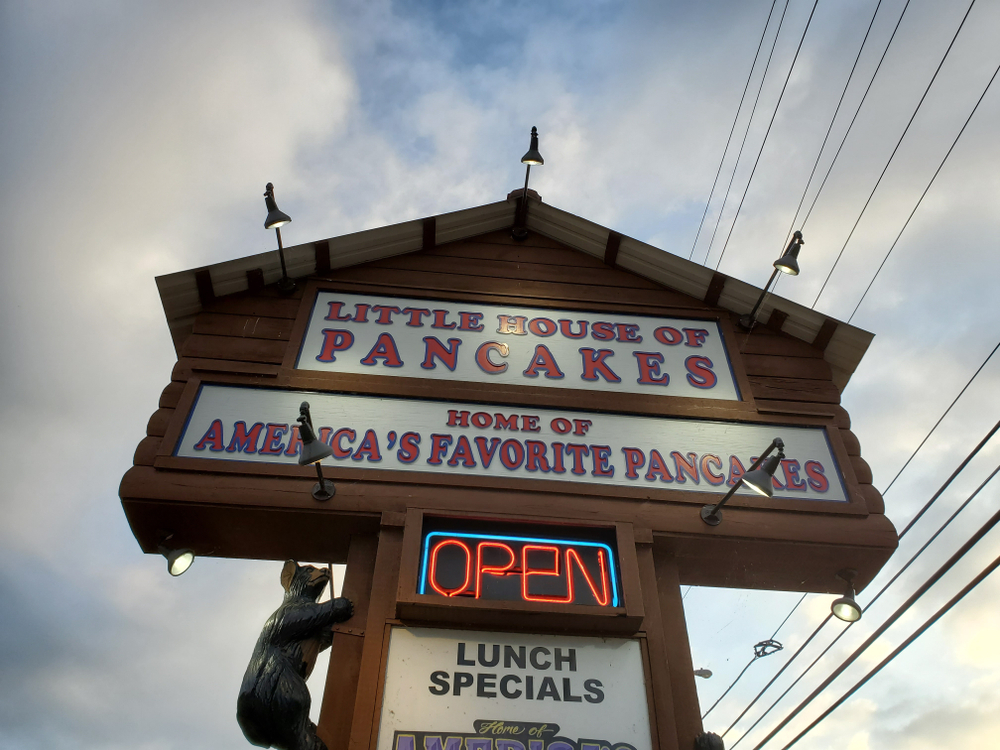 Ruby's Sunshine
If you're looking for something other than pancakes, try visiting Ruby's Sunshine for brunch in Gatlinburg. Owned by the same folks who own the Ruby Slipper Cafe in New Orleans, Ruby's Sunshine brings a fun Louisiana twist to breakfast and brunch classics.
Ruby's Sunshine serves up classic brunch drinks like mimosas and award-winning Bloody Marys. Start with their French Toast bites, then move on to their various types of Eggs Benedict.
One of their signature dishes is a combination of two beloved Southern meals. Try the Sweet Heat Chicken, tossed in Mike's Hot Honey Glaze, served on top of the French Toast bites.
Since it is a popular spot, consider making a reservation if you plan on Ruby's Sunshine for brunch or breakfast in Gatlinburg.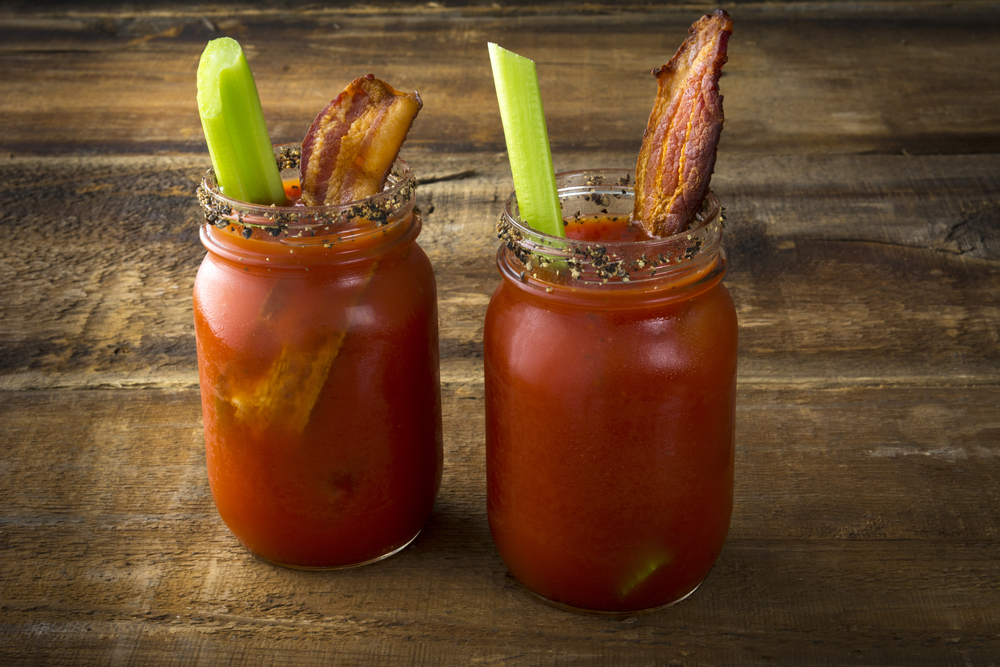 Pancake Pantry
The Pancake Pantry prides itself on being the first pancake specialty restaurant in Tennessee. If you are looking for one of the original spots for breakfast in Gatlinburg, head to the Pancake Pantry. They've been serving up pancakes for over 60 years!
If you want pancakes in Gatlinburg, the Pancake Pantry is one of the places to go. They have 24 different kinds of pancakes and crepes, from old-fashioned buttermilk pancakes to Swedish lingonberry crepes.
The Pancake Pantry also makes some wonderful waffles and omelets.
They used to be a cash-only restaurant but have recently started accepting debit and credit cards.
With its recognizable slate roof, the Pancake Pantry is located within "The Village", a collection of shops and restaurants in Gatlinburg. The Village has an Old World/European style to it and makes for a great spot to walk off your full tummy.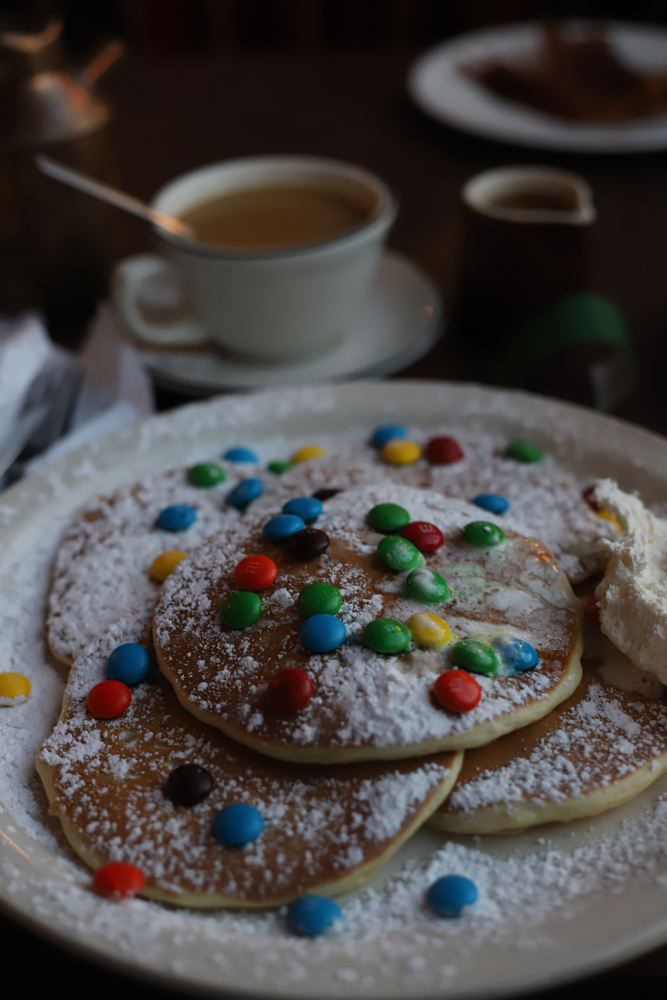 Log Cabin Pancake House
For some of the best pancakes in Gatlinburg, try the Log Cabin Pancake House. With its real fireplace, you'll really feel like you've stepped into a log cabin in the woods. Located just off the main road, they serve up some of the best breakfast in Gatlinburg.
Each of the pancake options at Log Cabin Pancake House comes with four pancakes, and you can add blueberries, chocolate chips, or nuts to any of them. Options include a variety of different kinds of pancakes, from whole wheat, to cornmeal, to buckwheat.
Folks also really love the Spicy Apple French Toast, which is served with hot-spiced apples and two sausage links.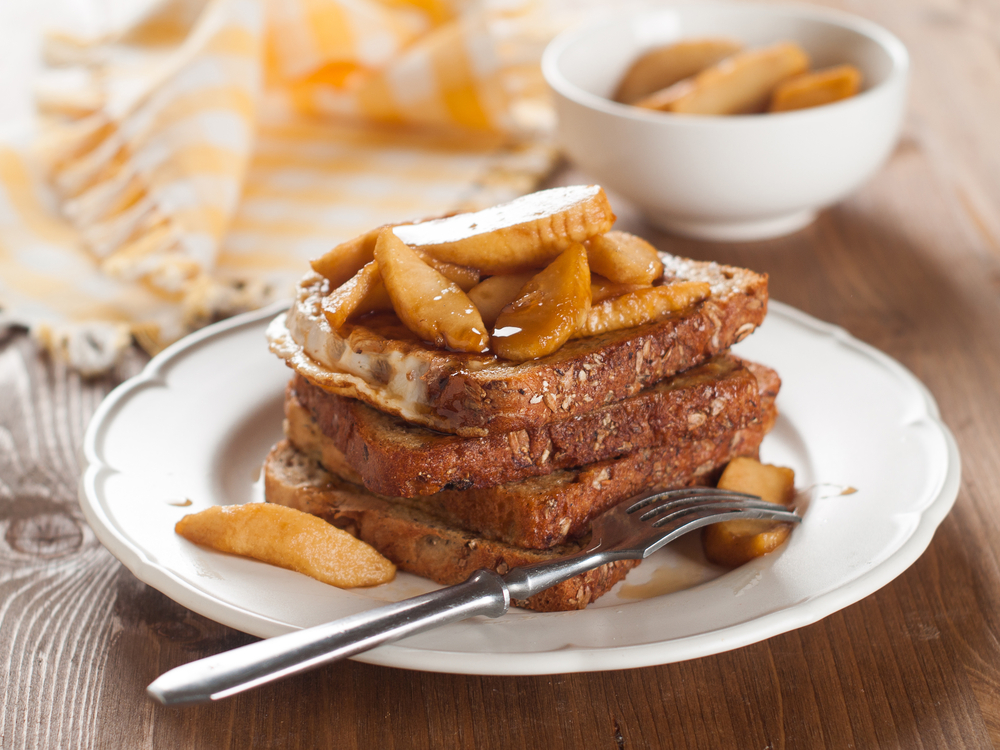 Tennessee Jed's
Considered a hidden gem of Gatlinburg, Tennessee Jed's is a great place for breakfast in Gatlinburg away from the crowds. (Their name is a nod to the 1972 song, "Tennesee Jed" by the Grateful Dead.) There you will find a laid-back brunch spot and a friendly staff.
Open for breakfast and lunch, Tennessee Jed's surprisingly isn't a place for pancakes in Gatlinburg! They do have an excellent egg and cheese sandwich, however. Their breakfast sausage is fresh and locally made and a great addition to your breakfast sandwich.
The most unique dish at Tennessee Jed's is actually a "Frito Pie"! A classic Frito Pie is just Frito chips, chili, and cheese, but you can get it loaded with sour cream, tomato, and onion.
Flapjack's Pancake Cabin
Flapjack's Pancake Cabin has been providing breakfast in Gatlinburg for the past twenty years! Originally started in one log cabin, welcoming hungry hikers, Flapjack's has grown and now has three locations in Gatlinburg. You can find them 478 E. Parkway, 146 Parkway, and 956 Parkway.
Like many of the Gatlinburg pancake houses, you can find all sorts of pancakes at Flapjack's Pancake Cabin. In 2012 they introduced their sticky bun pancakes, a delicious mix of cinnamon, pecan, and cream cheese frosting. Kids will love the "Bear" pancakes, layered and drawn with chocolate to create a bear smiley face.
Flapjack's Pancake House also serves up some great gluten-free pancakes!
If you're particularly hungry, order one of the breakfast skillets- they come with two pancakes as well as hash browns, eggs, and your choice of breakfast meat.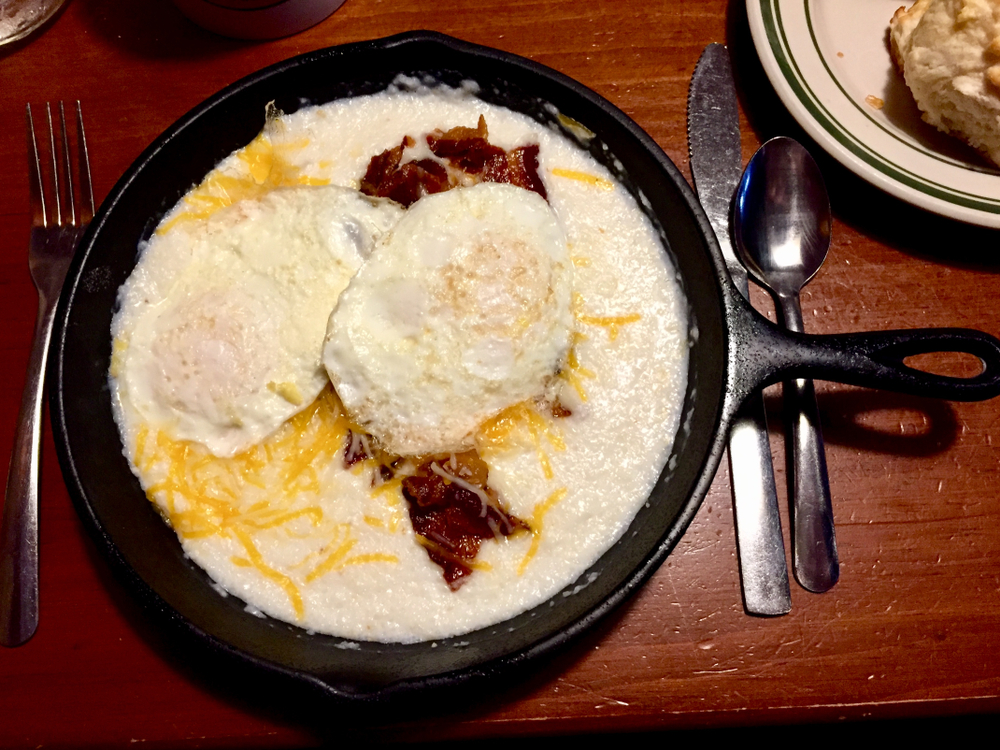 Crockett's Breakfast Camp
Named for a local mountain, Crockett's Breakfast Camp is one of the best places for breakfast in Gatlinburg.
After being honorably discharged from the Ninth Tennessee Cavalry in 1865, David C. "Crockett" Maple and his wife ran a supply store in the Smoky Mountains. Crockett and his wife were known for serving some of the best breakfasts in the area.
When Crockett got stuck in a blizzard after leading a salesman through the mountains, he lost both his legs to frostbite. However, he fashioned himself his own pair of wooden feet, and with the assistance of canes, he lived an active life until he passed away at the age of 88.
Crockett's Breakfast Camp honors his legacy with delicious, Southern food. Try their Huntcamp Skillets, featuring steak and eggs, or ham and bacon, with a biscuit and gravy, grits, potatoes, and a griddlecake.
They're also known for their fried cinnamon rolls, which are worth the calories!
It does get busy at Crockett's Breakfast Camp, especially on the weekends, so be sure to call ahead.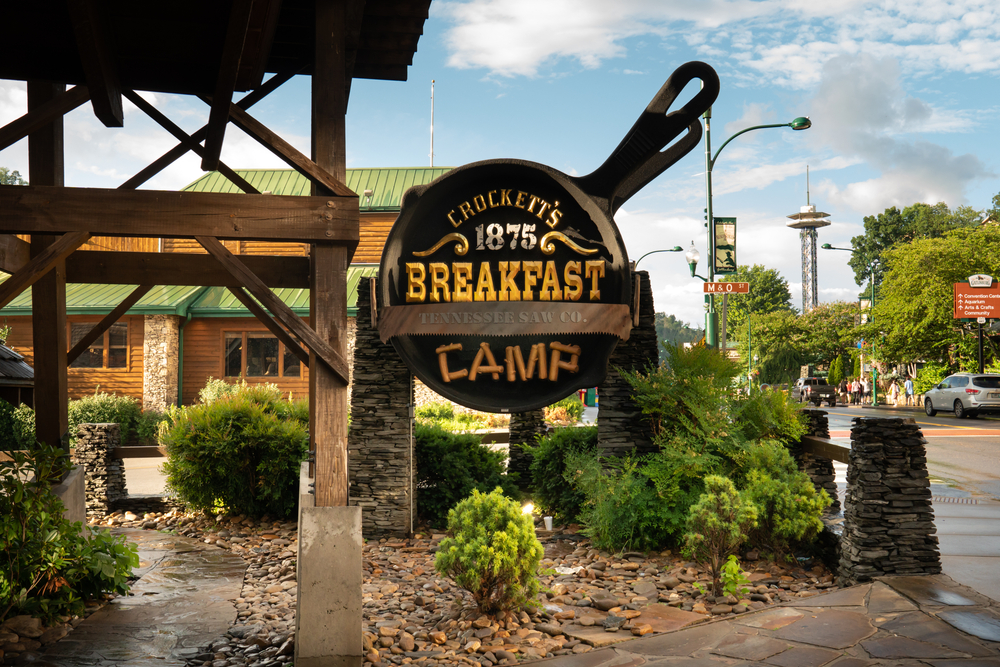 Atrium Restaurant
Located inside the Windmill Towne Shopping Center you will find The Atrium Restaurant, a no-frills, family-friendly place for breakfast in Gatlinburg.
The Atrium has been serving pancakes in Gatlinburg for over twenty years. They make their own syrup and are known for their home fries. If you're up for a challenge, try the "Mountain Man Platter" which includes two pancakes, two eggs, and an eight-ounce ribeye.
In addition to breakfast, you can also order classic burgers, fries, or sandwiches for lunch.
Enjoy your breakfast or lunch looking out at their beautiful waterfall!
Timber's Log Cabin Restaurant
If you are looking to have breakfast in Gatlinburg with your four-legged friend, head over to Timbers Log Cabin. They have a pet-friendly wooden patio off their log cabin!
Timbers Log Cabin is owned and run by Gary and Judy, and you can find them not only checking on, and chatting with, their customers, but cooking as well.
For breakfast, they of course serve up excellent pancakes and French Toast. Beyond breakfast, Timbers Log Cabin is known for their awesome cheese grits and biscuits and gravy. In true Southern style, be prepared for large helpings.
Timbers Log Cabin is located outside the main drag in Gatlinburg. They're located along the Gatlinburg Arts and Crafts Trail, so if there's a wait you can wander around and check out the work of local artisans.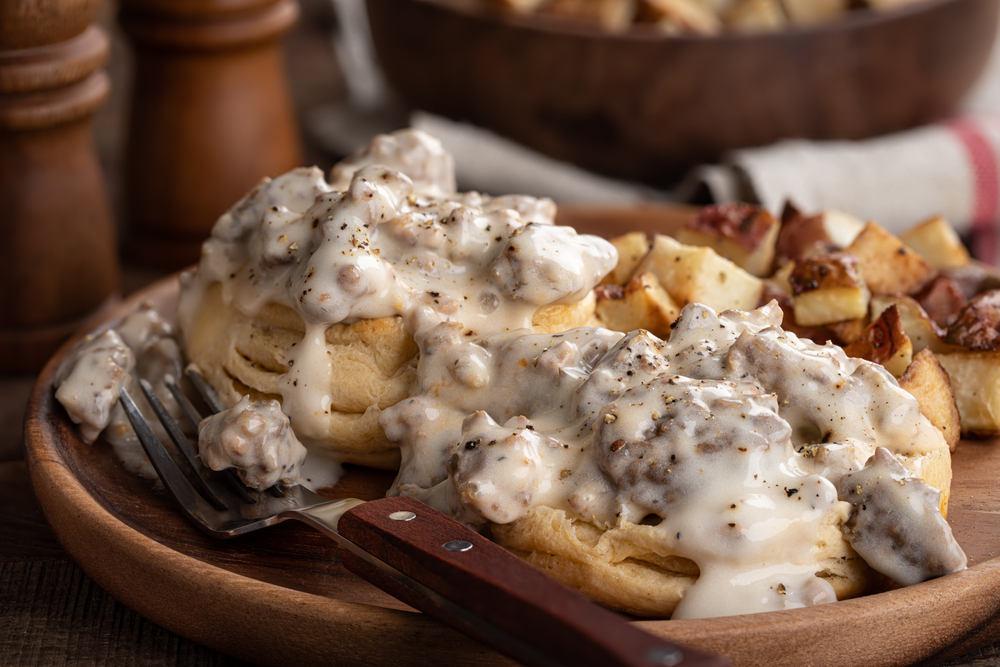 We hope that reading this list of delicious places to eat breakfast in Gatlinburg has made your mouth water! Whether you want old-fashioned pancakes, a breakfast skillet, or a Frito Pie, you're sure to find something at many of these breakfast places in Gatlinburg.