In the mood to visit some of the most scenic waterfalls in the America? Well, be sure to check out these breathtaking north Georgia waterfalls! While peaches, apple picking, and college football may be what the state is known for, these waterfalls are definitely worth a visit.
Located at the base of the Appalachian Mountain range, north Georgia is full of stark elevation changes that can produce some wonderful waterfalls. With a temperate southern climate, these waterfalls in north Georgia are the perfect vacation spot any time of year. Whether you are looking to cool off in the summer or find the perfect winter getaway.
Visiting these north GA waterfalls will bring out the adventurer in anyone. Whether you want to go hiking in north Georgia waterfalls, swimming, or just bask in the natural beauty, these spots are sure to delight. Make sure to check out our list of the best North Georgia Cabins!
15 Best North Georgia Waterfalls You Shouldn't Miss
Amicalola Falls
If you love superlatives, this is one of the best waterfalls in north Georgia to visit! At 729 feet tall, Amicalola is by far the tallest waterfall in the state. This long drop creates a beautiful whitewater fall that, paired with the sound of rushing water, make for one of the most scenic waterfalls in northern Georgia.
While Amicalola is amazing all times of the year, this waterfall is one of the best places to experience fall in Georgia. Amicalola is located right in the sweet spot for fall. It is southern enough that it is not too cold, but it is northern enough that all of the leaves change color.
Amicalola is the perfect spot for hikers. The Amicalola falls trail takes you all along the beautiful Chattahoochee national forest, and the 3-mile trail gives amazing views of the falls. If you are comfortable with stairs and changes in elevation, Amicalola is one of the best spots for hiking in north Georgia waterfalls.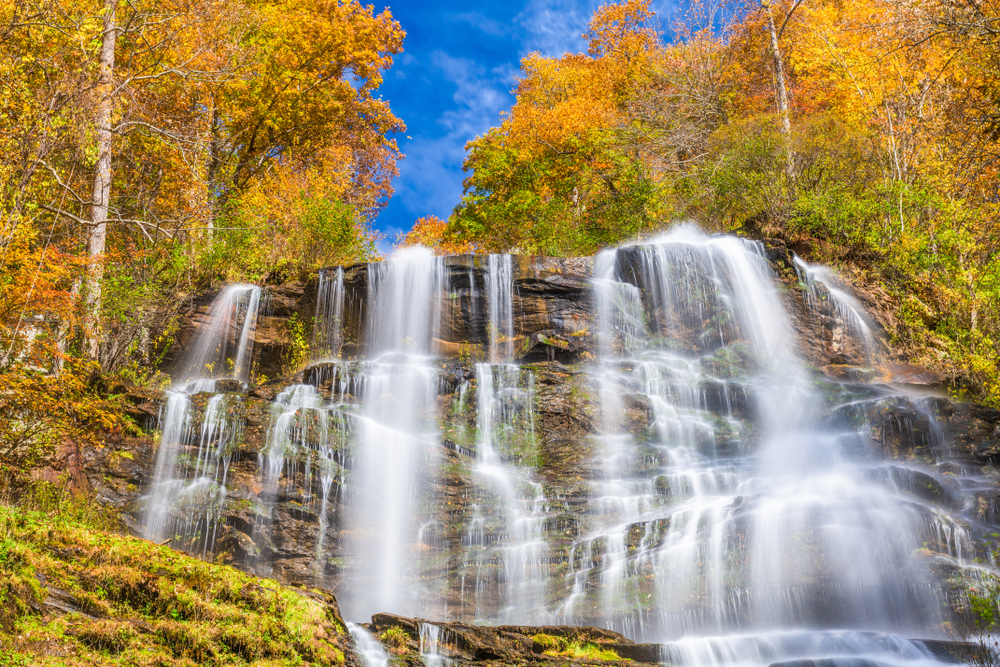 Jacks River Falls
Jacks River Falls is one of the more secluded north GA waterfalls, tucked deep within the Cohutta Wilderness. However, this waterfall is well worth the trek. The rocky terrain and remote location give Jacks River Fall a sort of rugged beauty that you do not want to miss. This is truly one of the best things to do in North Georgia!
Getting to Jacks River Falls is an accomplishment in itself. Located 9 miles north of the Jacks River Trail trailhead, you may want to bring some snacks for the hike over. Also be sure to bring a good camera, as this trail takes you across many picturesque locations before you reach the waterfall.
While the trip may seem daunting, chances are you won't have to take it alone. Jacks River Falls is the most popular spot in Cohutta, and people from all over flock to one of the most beautiful north Georgia mountain waterfalls. The secret is out on this remote waterfall nestled deep in the forest, and people are finally giving Jacks River Falls the attention it deserves.
Toccoa Falls
Believe it or not, Toccoa Falls is actually a taller freefalling waterfall than Niagra! With a sheer 186-foot drop, Toccoa is truly a sight to behold.
If hiking has never been your thing, Toccoa is perfect for you. Located in the middle of the Toccoa Falls College campus, this waterfall is very accessible. No need for all that hiking gear, the beauty of this waterfall is only a short walk away.
With all your extra time, be sure to check out the beautiful city of Toccoa. You can spend the morning marveling at the beauty of one of the best waterfalls in north Georgia, and then you can head down to the Historic Ritz Theatre to catch a show.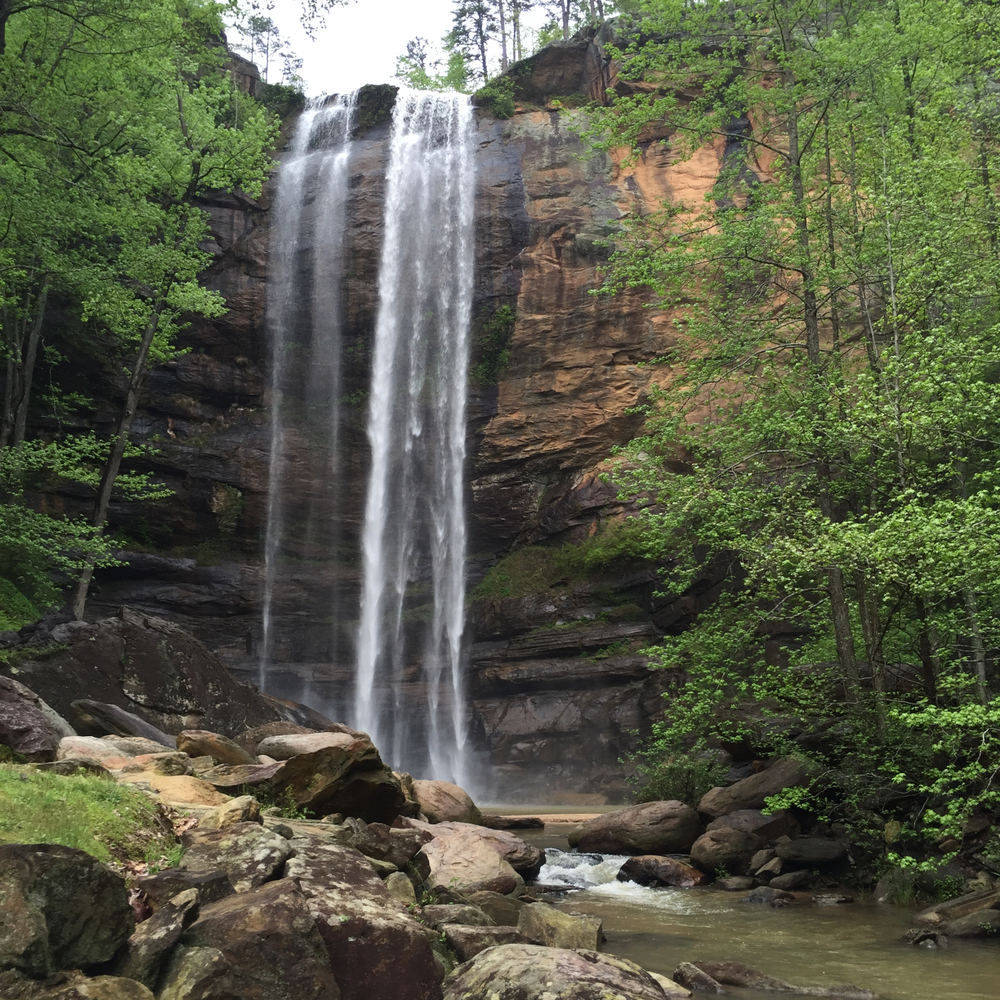 Long Creek Falls
Located on the Appalachian Mountain range, Long Creek Falls is one of the more scenic north Georgia mountain waterfalls. The gentle, mile long hike is perfect for all skill levels. If you are looking for a perfect family nature getaway, be sure to check out Long Creek Falls.
The gentle cascade of the water along the rocks is one of the most soothing sites in all of nature. Long Creek Falls is the perfect place to relax and immerse yourself in the natural beauty. The luscious greenery surrounding the falls only adds to its calming aura.
While you are here, make sure to check out some of the Best Wineries In Georgia! Yes, Georgia has wineries, some really cool ones too!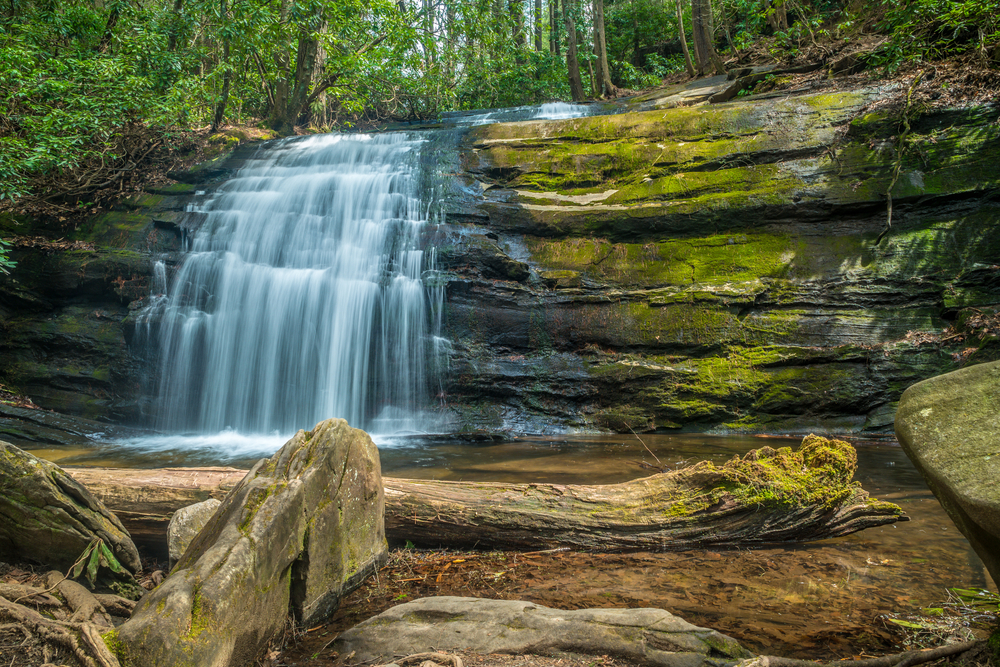 Anna Ruby Falls
If you're ever in Helen, Georgia, be sure to check out Anna Ruby Falls. Anna Ruby is one of the most beautiful waterfalls near Helen, Georgia, and only adds to this small town's charm.
Anna Ruby is actually a combination of waterfalls stemming from Curtis Creek and York Creek. That means that this waterfall is double the fun! The roaring rush of water combines with the stillness of the surrounding forest makes for one of the coolest things to do in Helen, Georgia.
Situated in a trail-laden area of the Chattahoochee National Forest, avid hikers will love this spot. There are many challenging trails in and around Anna Ruby Falls, including the 4.6-mile Smith's Creek Trail. Be sure to look out for wildlife, as northern Goergia boasts an abundance of forest-dwelling creatures. Don't forget to check out some of the best places for camping in Georgia while you are at it!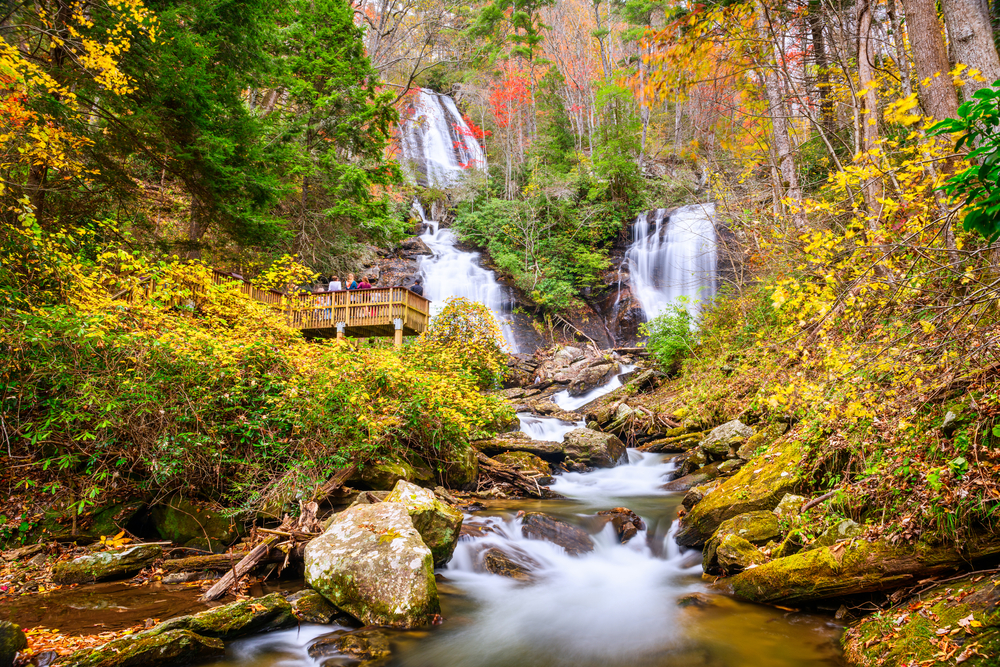 DeSoto Falls
Another one of the many beautiful waterfalls near Helen, Georgia. DeSoto Falls was named after 1500s conquistador Hernando DeSoto, as they found a piece of his armor while excavating the falls. While you may not find any historical artifacts, this waterfall is still sure to please.
The 2-mile hike to DeSoto Falls makes it one of the more accessible waterfalls in Georgia. That makes DeSoto Falls perfect for a day out hiking in north Georgia waterfalls with the family! They even feature picnic tables with a great view of the falls, so you can grab a bite while enjoying the beauty of nature.
If you're looking to cool off on a hot summer day, DeSoto was made for you. The water crashing down from both upper and lower DeSoto Falls creates a fine mist that will be sure to cool you off. There is also ample treetop shade, perfect for a little rest and relaxation.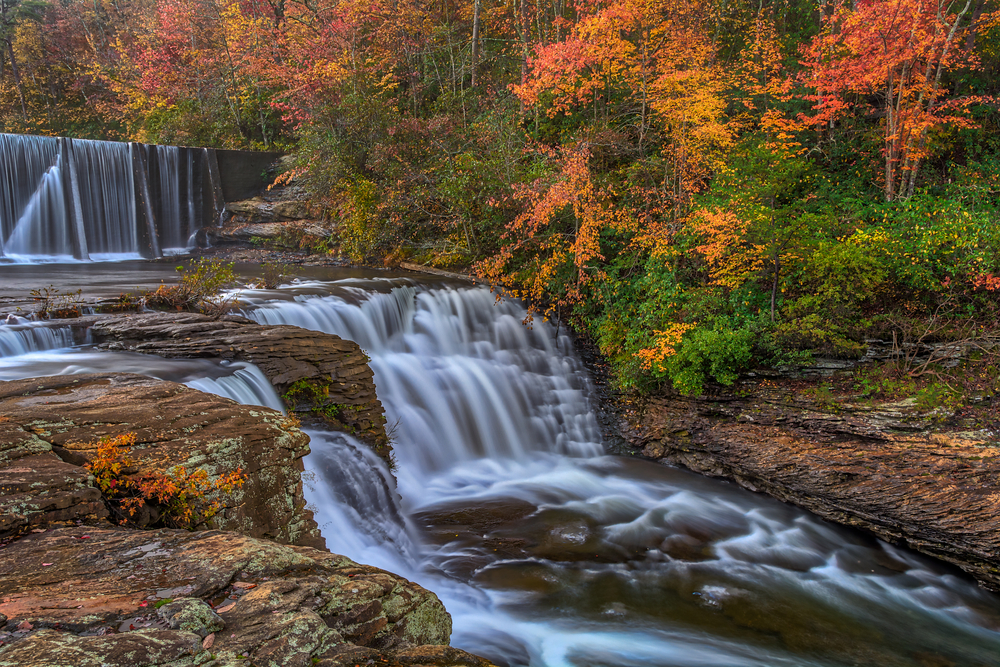 Dukes Creek Falls
Looking to take a dip in a waterfall? Well, unlike many others, Dukes Creek Falls features a swimming hole at its base. Bring your bathing suit and cool off in one of the best north Georgia waterfalls.
The swimming hole makes Dukes Creek Falls a summertime favorite. Since the water is constantly moving, it is much cooler and much more refreshing than your average pool. The spot is even pet friendly! Your dog will love the nature walk and dip in the water.
Dukes Creek Falls is another of the many great waterfalls near Helen, Georgia. Luckily, there are some fantastic places to stay in this small town, so you have enough time to explore all of the falls. The Riverbend Motel & Cabins are a great rustic getaway that will tie right in with your waterfall hunting adventures.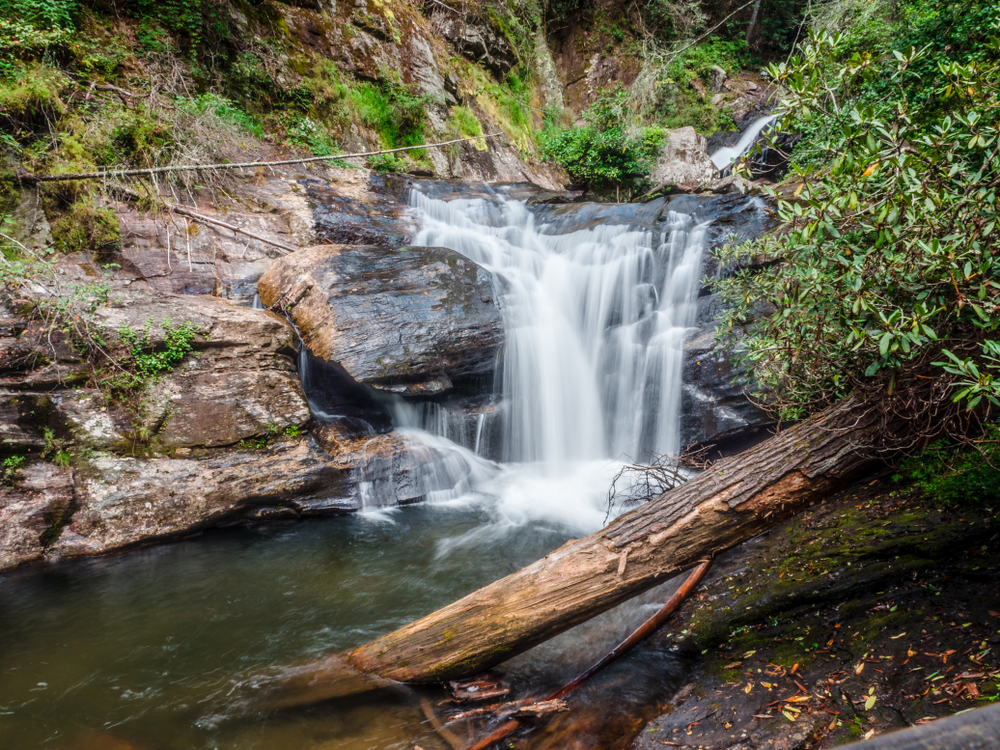 Raven Cliff Falls
Raven Cliff Falls is a truly stunning display of nature. This waterfall tumbles down a valley of rock and looks like something straight out of a movie. Raven Cliff Falls will truly drop your jaw.
The waterway accompanying Raven Cliff Falls is a noted trout hotspot. Be on the lookout for a school of trout on your hike up to the falls. Trout will not be the only animals you see, though, as the Raven Cliff wilderness serves as the perfect home for many woodlands creatures with its shaded mossy canopy.
As one of the most popular north GA waterfalls, you are sure to make some friends during the trip. The natural beauty of Raven Cliff Falls attracts tourists year-round.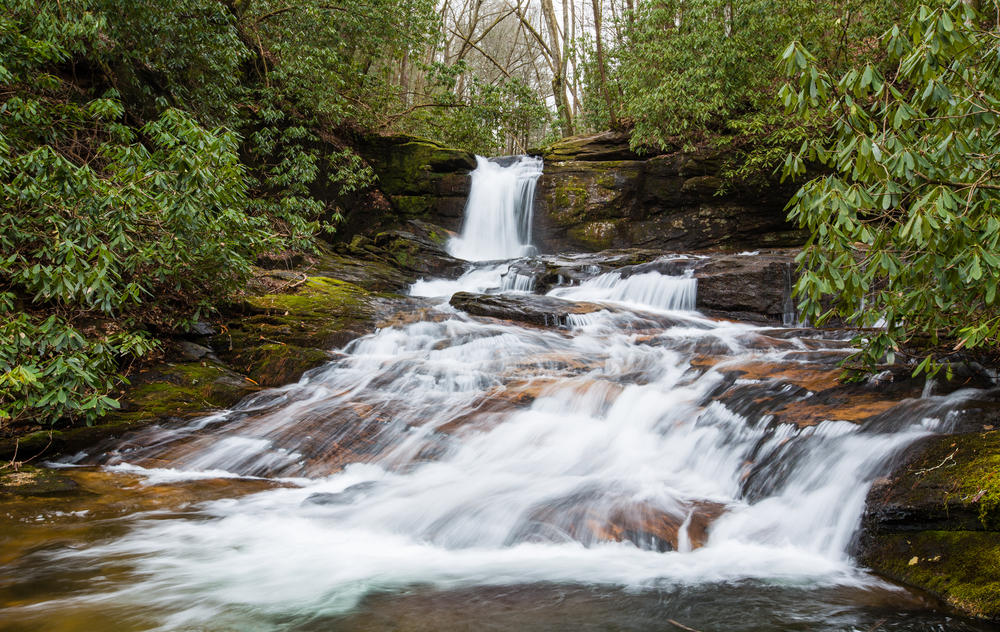 Horsetrough Falls
Supplying water directly into the Chattahoochee River, Horsetrough Falls is an important part of the natural ecosystem, and is one of the keystone waterfalls in blue ridge Georgia.
In addition to its utility, Horsetrough Falls is beautiful. Nestled high up in the Blue Ridge Mountain range, it is a bit of a hike. However, the views of a mountaintop waterfall are well worth it, and the hike is not technically difficult and can be completed by any skill of climber.
Angel Falls
A tapestry of gently cascading water, dense greenery, and beautiful rock formations, Angel Falls is one of the prettiest north Georgia mountain waterfalls. After just one trip, you will see why they named it Angel.
Located in Rabun, Georgia, Angel Falls is a must see for anyone in the area. The water flows across a 50-foot-long decline, and the water has gently eroded the rock into a smooth path. However, there are still some rough edges that cause the water to spray out in new, interesting ways.
This is also a great waterfall to camp out at. The surrounding park features ample grounds, and there is even a nearby beach! The Angel Falls area would be the perfect weekend getaway for any outdoorsman.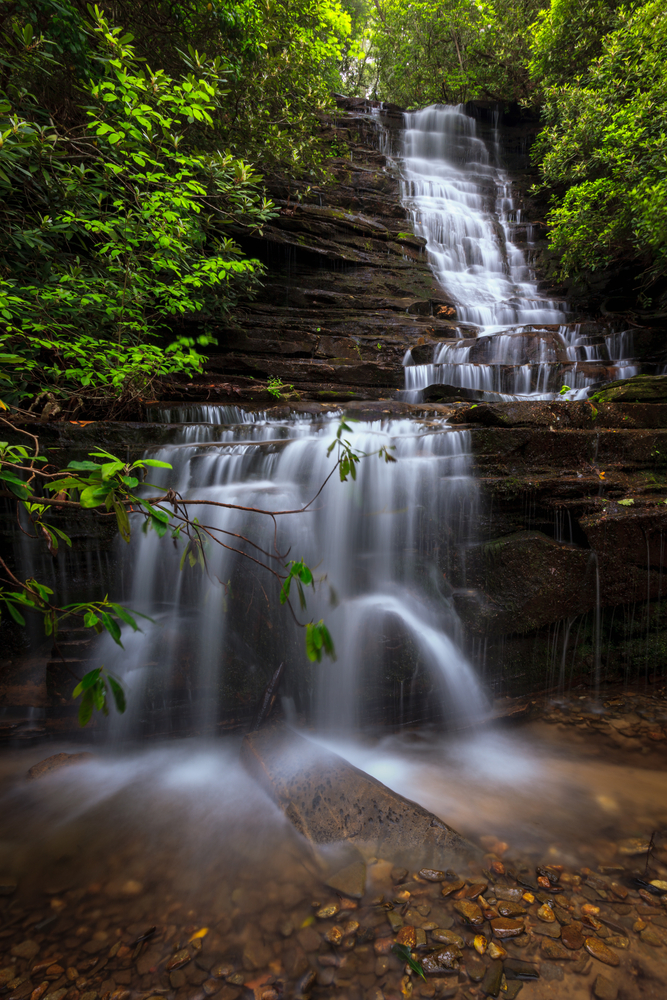 Cascade Falls
Cascade Falls is actually a series of waterfalls. Water cascades down these miniature waterfalls into a large pool, hence the name.
One of the best features of this waterfall are its many pools. These pools are full of clear, refreshing spring water. While it may not be deep enough to swim, it is definitely worth dipping a toe in the cooling waters of Cascade Falls.
Located in F.D. Roosevelt State Park, Cascades Falls is clearly a highlight of any visit. Be sure to come after a downpour, where the water pressure of the falls is at its peak.
Hemlock Falls
Forget just north GA waterfalls, Hemlock Falls has been praised as one of the prettiest waterfalls in all of Georgia! With a gorgeous 15-foot drop into the pool, it is easy to see why people speak so highly of this waterfall.
On top of a great waterfall, there are a number of small waterfalls you will see along the trail. These "bonus waterfalls" only add to the beauty of the area and the Hemlock Falls experience.
Be sure to leave early! Hemlock Falls is a popular hangout spot in north Georgia, and it is easy to lose track of time exploring the area and making new friends. To get the full experience, you will need to spend a day at Hemlock Falls.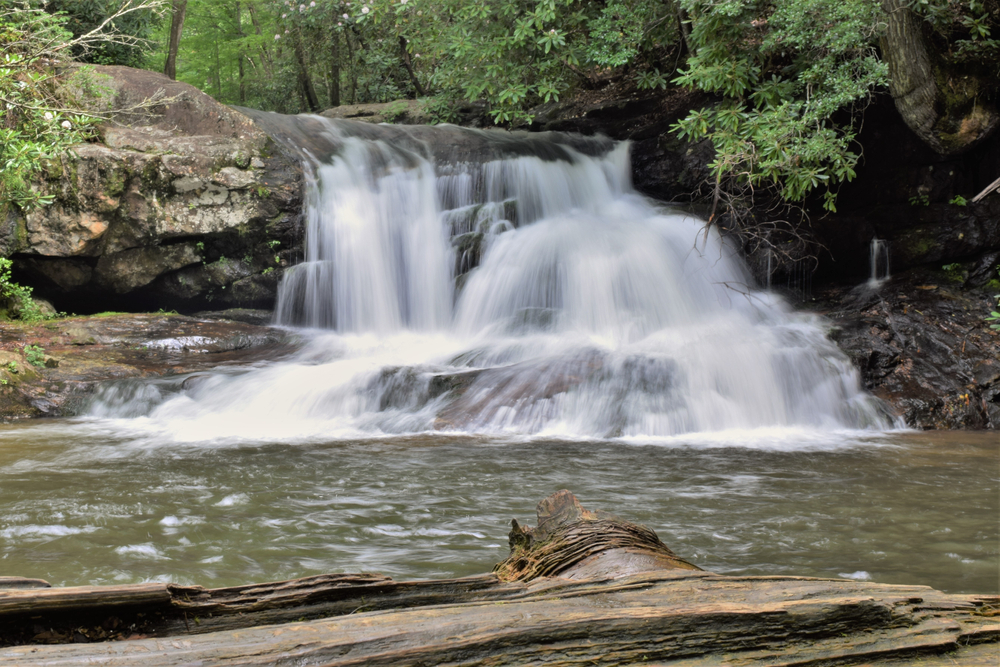 Blue Hole Falls
As the name suggests, the water at Blue Hole Falls is flawless. The crystal-clear water also doubles as a mirror, if you feel the need to check your reflection while out on the trail.
The waterfall itself is only a short walk from the start of the trail. Easily accessible, Blue Hole Falls is another spot perfect for a day out with the family exploring one of the best north Georgia waterfalls.
Blue Hole Falls is also perfect for the rugged camper. The area is littered with a few primitive campsites, with only a fireplace. If you are looking to test your survival skills, be sure to check out Blue Hole Falls.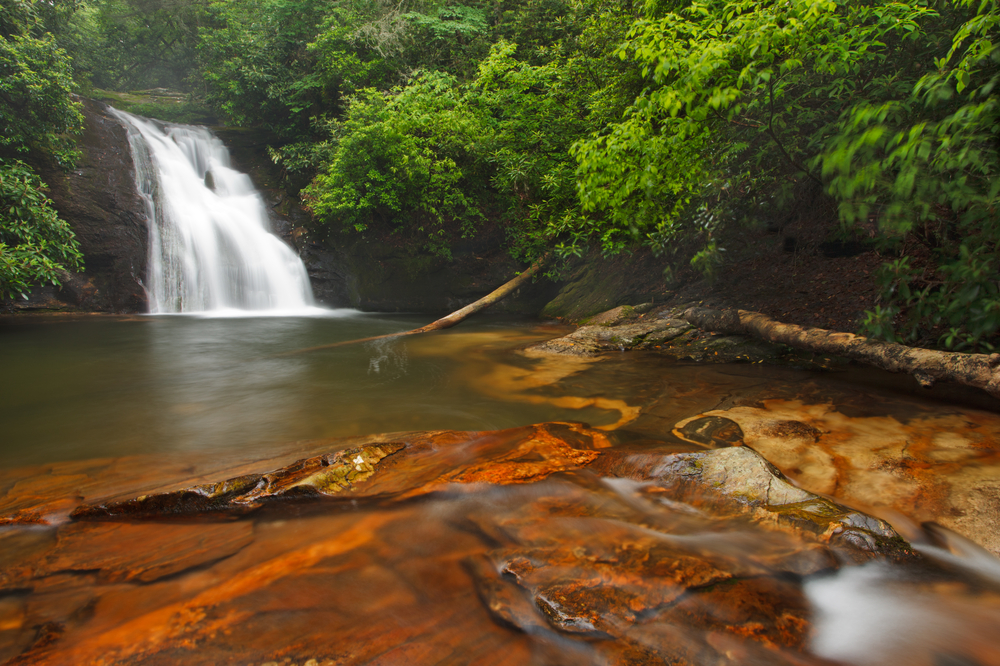 Becky Branch Falls
Becky Branch Falls is perfect for your four-legged friends! This relatively short, relatively flat loop course is the perfect daytime excursion to treat your pet to.
However, if you want a longer hike, Becky Branch Falls is only the first stop on a much longer trail. If this wonderful north GA waterfall does not satisfy your need for natural beauty, be sure to hop on the next trail and see what adventure awaits you.
The waterfall itself is gorgeous. Becky Branch Falls features a few different rock levels, so every step of the waterfall produces some whitewater. After a rainstorm Becky Branch Falls turns into a splash zone that any kid or pet would love.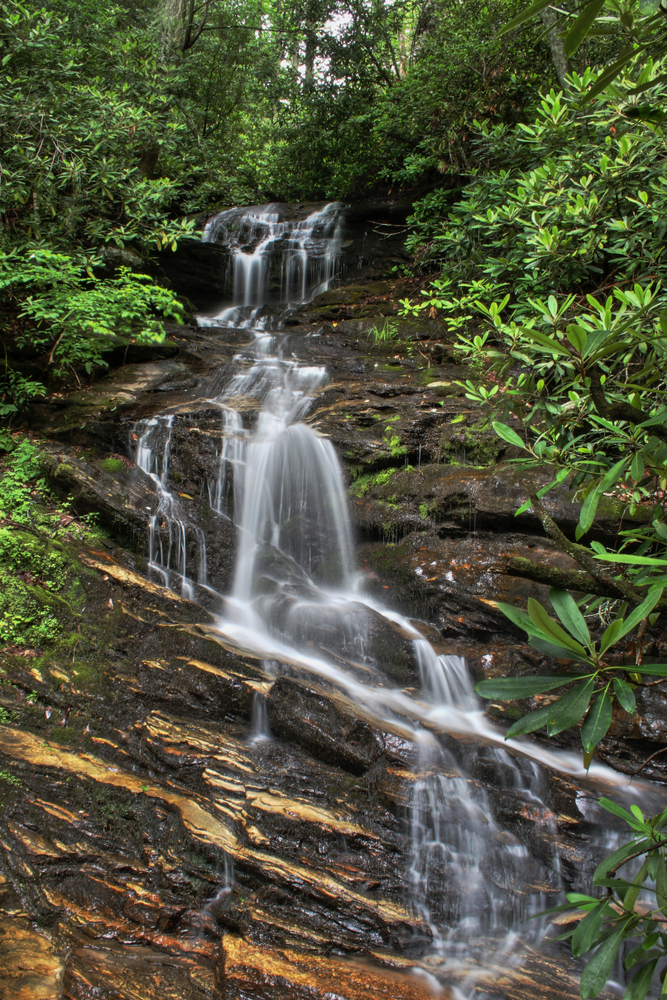 Minnehaha Falls
More than just a fun name to say, Minnehaha Falls is one of the best waterfalls in north Georgia for a short trip out.
The short, relatively easy hike to Minnehaha Falls results in a beautiful waterfall that towers over its counterpart in Minnesota. While the Minnehaha falls is Minnesota is a mere 50 feet long, the one in Georgia almost doubles it.
It is great that this hike is short, because Minnehaha Falls is located in the beautiful Rabun, Georgia. There is ample time to explore this waterfall, explore the small town, and get to even more waterfalls! However, no one would blame you if you spent all your time at this quaint little spot.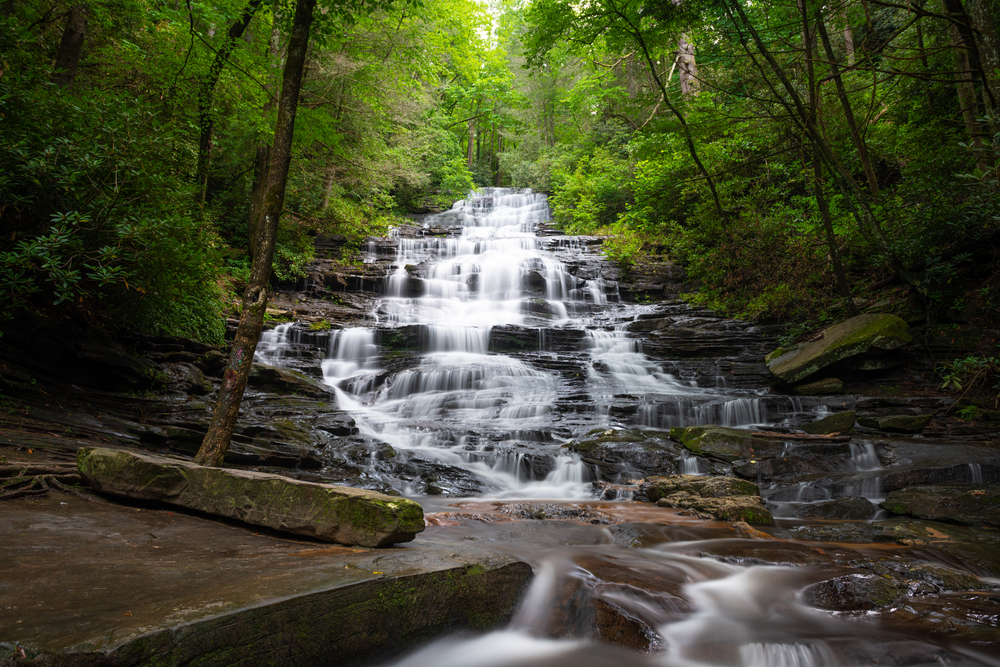 North Georgia is one of the best places in America for waterfall enthusiast. Waterfalls in North Georgia come in all shapes and sizes, from steep drops to gentle cascades. There are so many fantastic spots to explore in this area, and this is just the start if your amazing journey to the best north Georgia waterfalls.