Are you ready to visit some of the best lakes in North Carolina? These lakes are perfect for all of your favorite outdoor activities. These lakes will help you plan your trip and guide you on your way to finding the best picnic spots, the best boating and fishing conditions, and of course, the best lake beaches to sunbathe on!

If you're looking for a mountain getaway, you can find lakes throughout the western part of the state in the Blue Ridge Mountains and the Smoky Mountains, if you're looking for a clean lake, a huge lake, a cool lake town, or anything in between, you can find what you're looking for in the Tar Heel State! With the variety and number of lakes in the state, your main issue will be deciding which one to visit first. So, keep reading and get inspired for your next trip to one of the best lakes in North Carolina!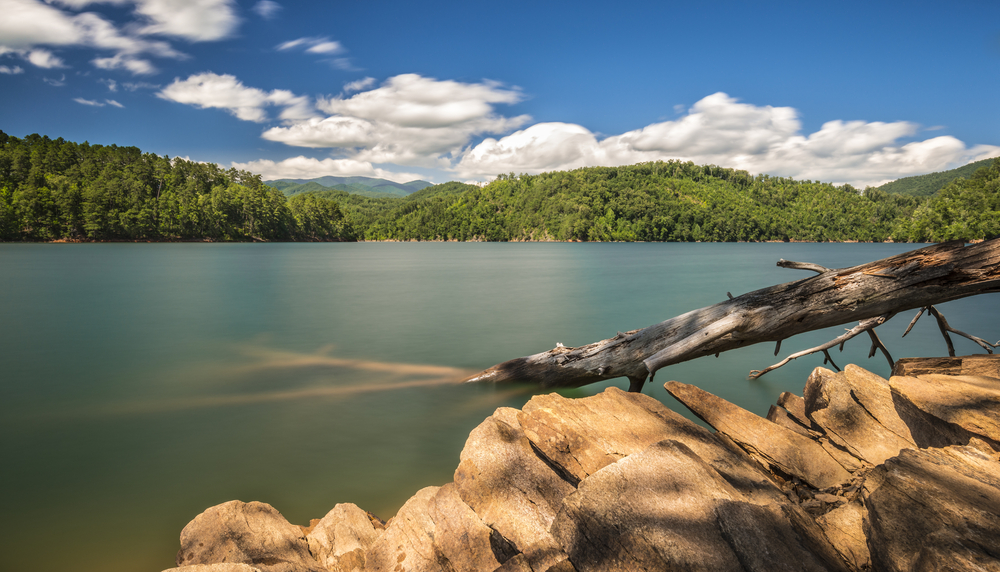 Best Lakes In North Carolina (Mountains, Asheville, and more!)
Lake Lure
Of all the North Carolina lakes, Lake Lure is one of the most popular! This stunning lake, shockingly, is man-made. It's hard to believe as normally such stunning features out in nature aren't human-crafted. The water is tucked into the foothills of the Blue Ridge Mountains in the Hickory Nut Gorge. At Lake Lure, you will be nearby to all the popular areas of interest in the area. If you plan on spending time in Asheville and exploring everything that the city has to offer, you will be just twenty-seven miles from Lake Lure!

If you enjoy a good hike, the famous Chimney Rock offers great views of the lake and the gorge below. You can walk on the boardwalk at any time of the year and enjoy the beauty of the area, picnic by the lake, enjoy the restaurants and shopping opportunities nearby, and even look for filming locations. (The most popular movie filmed at Lake Lure is Dirty Dancing!)

There is also an expansive sandy beach at the lake that is perfect for everyone visiting in the warmer months. You will find everything you need on-site such as changing rooms, restrooms, picnic tables, a snack bar, and even a water park! You'll also find opportunities for hiking, mountain biking, golfing at the Lake Lure Golf Club, wakeboarding, fishing, and more! If you're traveling with kids you may also want to check out the Right Track Toy Train Museum. (All proceeds go to the Pancreatic Cancer Action Network.) Lake Lure is definitely one of the best lakes in North Carolina!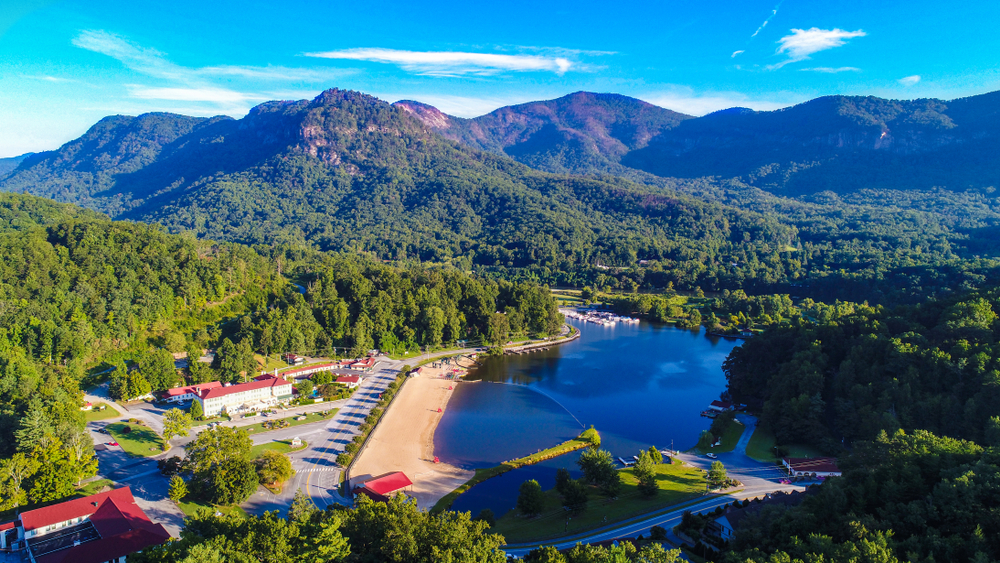 Lake Norman
Have you been looking for lakes near charlotte? Check out Lake Norman! The lake is less than an hour from Charlotte and is one of the best lakes in NC! This is a great area of the state for a short trip, perhaps a weekend getaway to Charlotte is just what you need? For those travelers that love to explore an area on foot, you're in luck! Lake Norman is surrounded by the towns of Cornelius, Davidson, and Huntersville.

The towns have historic streets packed with restaurants, galleries, and interesting boutiques. You can enjoy all of this while taking in the beautiful scenery! In Huntersville, you will find the crown jewel of the town, Birkdale Village. This is an area made popular for its shopping opportunities, which people come from all around to enjoy. You can start your day in the area with a coffee from the Red Rocks Cafe before you shop until your heart's content in the village, enjoy the beauty of the area, grab a bite to eat from Midwood Smokehouse, and enjoy something sweet from the Buttermilk Sky Pie Shop!

Huntersville is without a doubt one of the best lake towns in North Carolina, but there is more to be seen out on the water. Boating, hiking, biking, fishing, and more are all options for you while you're in the area. If you want to spend most of your time out on the water, you can find boat and jet ski rentals, chartered cruises and more in the area. Plus, Lake Norman is the largest man-made lake in North Carolina so there is plenty of room for everyone to enjoy a day out on the water!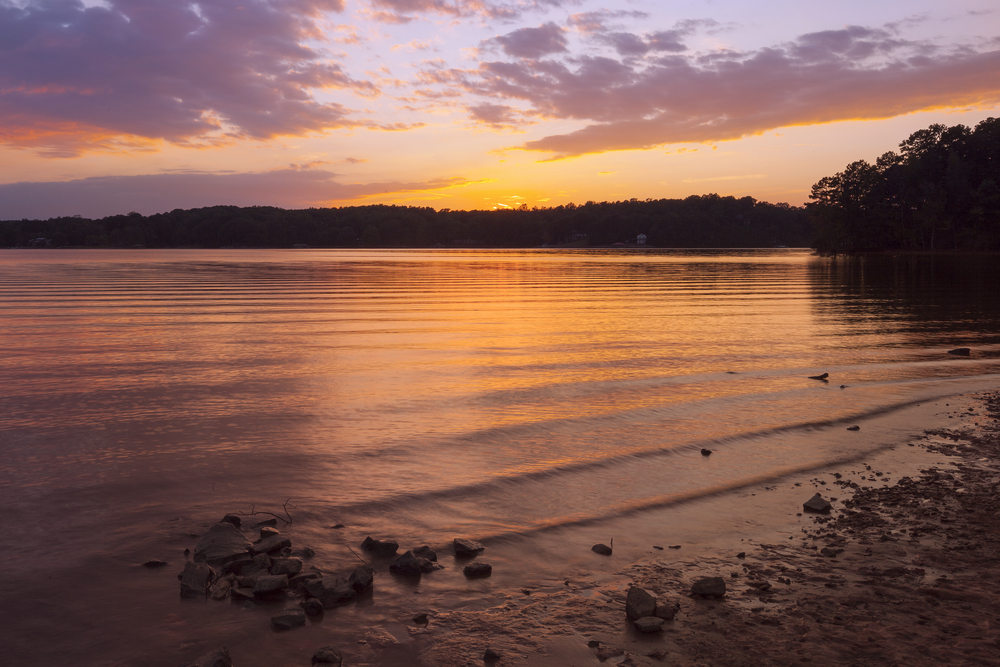 Bear Lake Reserve
You will find Bear Lake Reserve in Tuckasegee, North Carolina. This lake is a place where you can go to be truly surrounded by nature. Mountain lake life is at its best at the Bear Lake Reserve. You'll find that the lake is less than an hour and a half from the city of Asheville. This is another choice for you if you are looking for mountain lakes in NC! There are truly so many things to do in Asheville.

Don't be shy, get out on the water! The marina is full-service and offers pontoons, paddleboards, and larger motorized craft rentals as well. There's nothing better than spending your day on the water on your pontoon, fishing, enjoying lunch in the warm sun, swimming in the cool water, showing off your water skiing skill, and just enjoying the stunning beauty of Bear Lake. You are sure to fall in love with this little slice of paradise!

Of course, if swimming in the lake isn't for you, you can go to the Lake Club and take a dip in the hot tubs or pools instead. There's also a golf course and an overlook on site for you to enjoy the area even more. In the nearby towns of Cashiers and Highlands, you will find yummy restaurants like Table 64, White Side Brewery, and the Canyon Kitchen. Cashiers and Highlands also have shopping, a day spa, and hiking opportunities as well!
Lake James
An hour from Asheville, you will find Lake James in the rolling hill country of North Carolina. Lake James is 6,812 acres with clear waters and beautiful scenery. At Lake James State Park you will find twenty-five miles of hiking trails. There are short trails like the Holly Discovery Trail which is educational and has child-friendly activities and longer trails like the Overmountain Victory Trail which is historical and more difficult.

You can camp during your visit to Lake James as you have a few options to choose from. The Catawba River Area has twenty campsites which are walk-in sites, many with lake views. However, if you are looking for more family-friendly camping, you can check out the Paddy's Creek area which has thirty-three drive-in sites. For true adventure lovers, the Long Arm Peninsula has a remote campground that you can only reach by boat. Although not as easy to get to, it can be magical to paddle in or take a small boat over to your home for the night.

Canoes, paddleboards, and kayaks are available for rental at the Paddy's Creek Area from May to September Although the lake is beautiful no matter what time of year you will find that most outdoor activities at Lake James are best enjoyed from May to September. Of course, it has to be mentioned that mountain biking is wonderful in Lake James State Park. There are three major loop trails in the park, the West WImba, East Wimba, and the Lower Tindo Loops. (Fifteen of the hiking trails are open for mountain biking.) Don't forget to check out our list of Best Things to Do In North Carolina!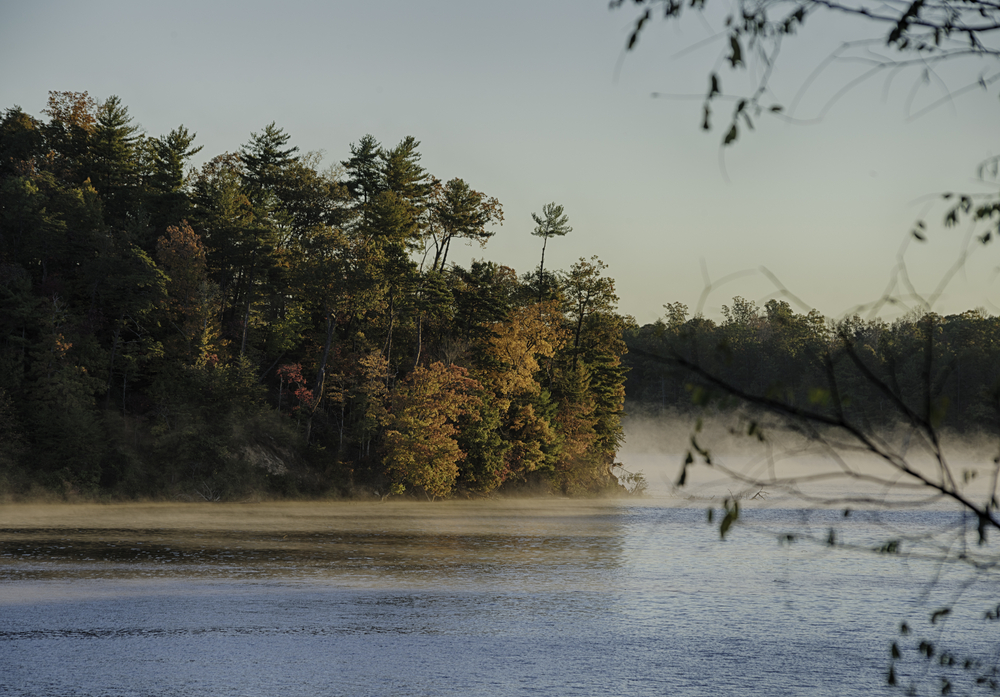 Jordan Lake
Boaters at your ready! Jordan Lake is among the best boating lakes in North Carolina! The marina on Jodan Lake is at the Crosswinds Boating Center. It's there that you can find pontoon, kayak, fishing boat, and paddleboard rentals. You will also have everything you need at the facility for a day out on the water: ice, snacks, bait, gas, public restrooms, and storage for your things while you're out on the water.

You will be blown away by all of your camping options around Jordan Lake. For avid campers, you can relax knowing that you will have plenty of choices and you are unlikely to struggle to find a campsite during most times of the year. The best places to camp are at the Crosswinds Campground, Parkers Creek Campground, White Oak Recreation Area, and Poplar Point Campground. However, if these campgrounds are full you can find camping in Pittsboro at the Vista Point Campground.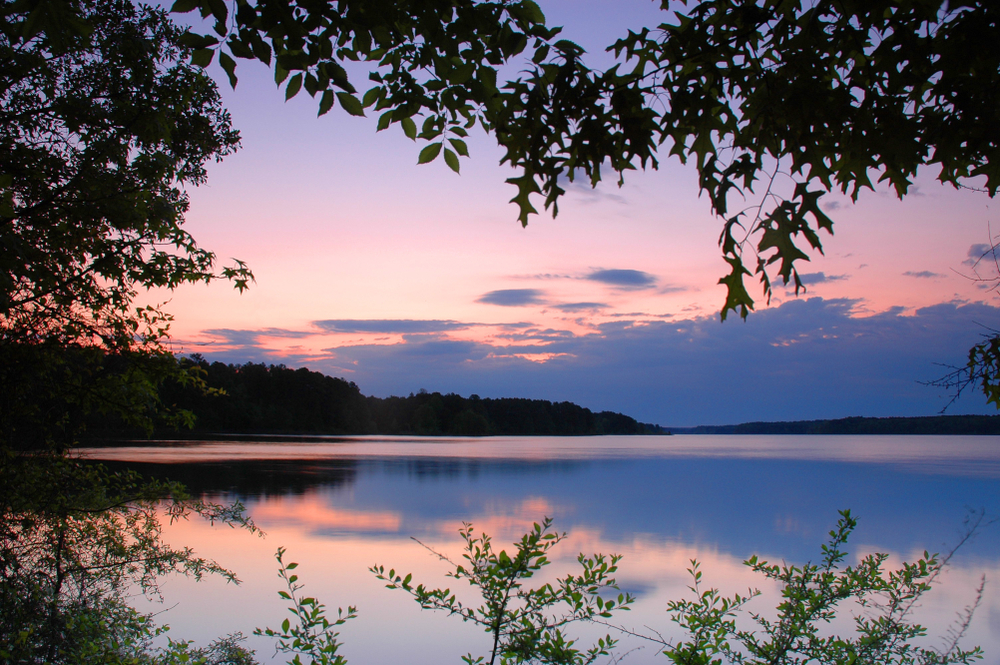 Lake Glenville
This pristine reservoir is only eight miles from the town of Cashiers and is one of the greatest mountain lakes in North Carolina. Located in the mountain rainforest of the Tar Heel State, the lake has two miles of shoreline and is at an elevation of 3,494 feet which is the highest lake east of the Mississippi River. The Signal Ridge Marina on Highway 107 rental easy-to-operate boats for you to explore the water on. You can rent watercraft by the hour or for days at a time, it's up to you! This is a great convenience for anyone looking to try out a boat for a short period of time.

Tubing, skiing, and swimming are all fun activities you can take part in as well. This is particularly enjoyable in July and August when the water in the water temperature is around eighty degrees every day! If you rent a boat, keep an eye out for waterfalls as Lake Glenville has three. Hurricane Falls, Mill Creek Falls, and Norton Falls are all along the edge of the lake surrounded by lush plant life, and make for great areas to stop for a picnic or just enjoy the views over the lake.

The best beach is at the Pines Recreation Area where you have a lovely sandy mountain beach to enjoy, a swimming area, picnic tables, bathrooms, picnic tables, and a fishing pier. Sadly, pets aren't allowed, but the area is free to enter. This lake is stunning in the fall! Renting a boat in October to drive out into the lake to enjoy the fall colors is a really cool experience.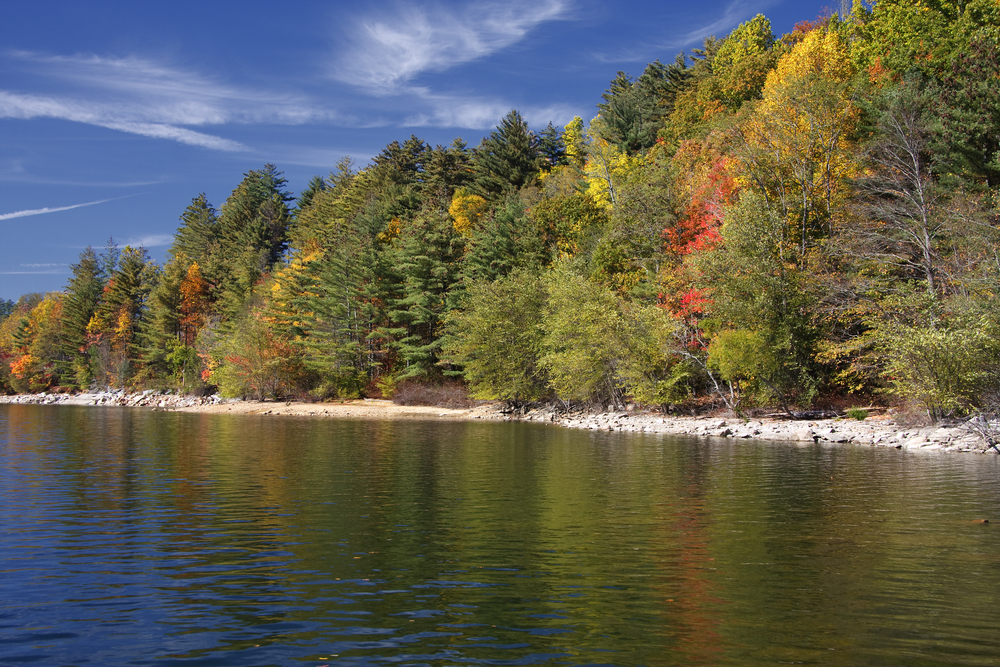 White Lake
It may seem like all of the lakes in the state are reservoirs or man-made features, but this simply isn't true. White Lake in Bladen County is among the best natural lakes in NC. The lake is 1,200 acres and is beyond beautiful. And it can't go without mentioning that White Lake is also one of the cleanest lakes in North Carolina. The conditions are perfect for swimming, boating, and other water activities! When you arrive at the lake and first lay your eyes on the area, you will quickly see why it is so popular.

The lake has a white sandy bottom and the water is crystal clear! We have the subterranean springs that feed into the lake. Adults and children both will find this lake and its beaches to be a beautiful and safe paradise. Family travelers can truly relax knowing that there are no tides, currents, depressions, or any big dangers in the lake at all! (It's quite possibly the nation's safest beach!) If you are visiting in May, be sure to check out the White Lake Water Festival that is held on the third weekend of the month. Of course, being gorgeous isn't all this lake offers to its guests. There are also many vacation rentals, RV facilities, and a variety of restaurants where you can get seafood, breakfast, pizza, and more.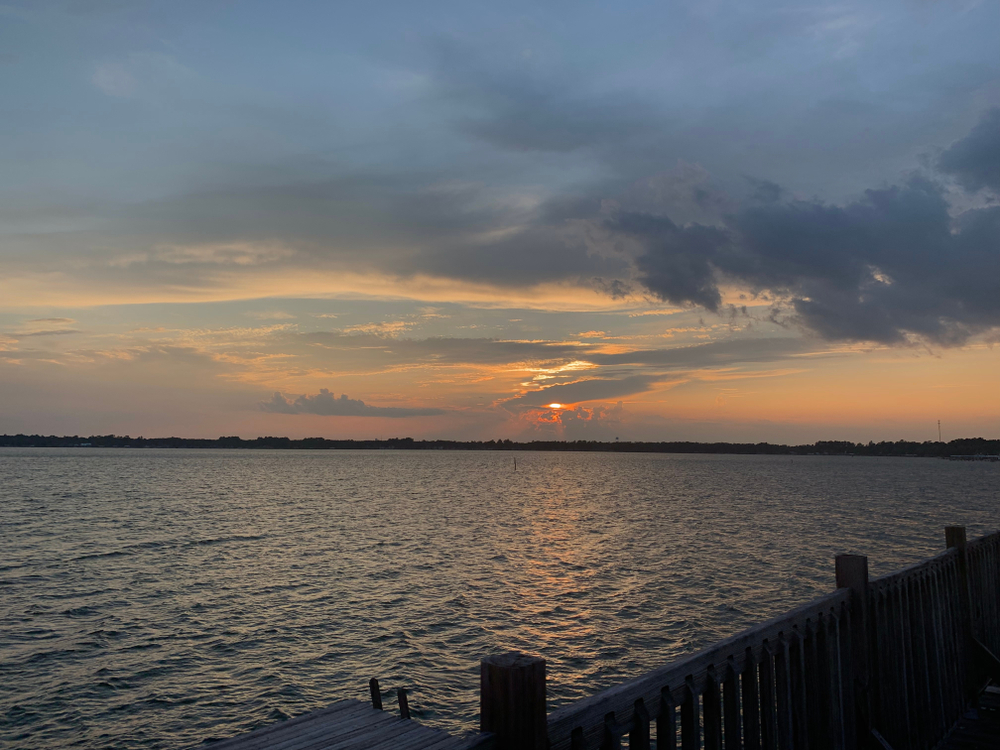 Falls Lake
Falls Lake Recreation Area in the Wake Forest area has all of your summer fun needs! You can find camping in the area at the B.W. Wells Campground, Holly Point Campground, and the Shinlead Campground. Falls Lake is a 12,000-acre reservoir with more than three hundred campsites ranging from primitive sites to group camps and RV hookup sites. It's unlikely that you will be fighting for personal space as there are five swim beaches, multiple boat ramps, a network of mountain biking trails, and a separated impoundment that is ideal for paddling, swimming, and even fishing as you can stay away from the boat wake.

If you plan on hiking while at Falls Lake, get ready for this! The Falls Lake Trail is an exciting chance for adventures, to go hiking, and truly immerse yourself in the nature surrounding this lake. The trail goes along the south shore of the lake from the Nuese River all the way to the Eno River and beyond. Also, as experienced hikers in the area will know, there is a trail called the North Carolina Mountains-to-Sea Trail that connects recreation spots in the state. This trail is also in areas of this park so hopping onto it can be super cool as you will be on a trail that stretches from the mountains all the way to the coast in the Tar Heel State!

If you're traveling with kids, check out the Beaverdam Kids TRACK Trail. This trail is 1.2 miles round trip and takes you through a pine forest, along the edge of Beaverdam Lake, and to a wildlife viewing platform overlooking the cove. For mountain bikers, the Inner Loop may be a better choice for you. The Beaverdam bike trails include three trails ranging from easy to difficult. (The inner, outer, and south loop trails.) No matter what outdoor activities you do while there, it'll be easy to see why Falls Lake is one of the best lakes in North Carolina!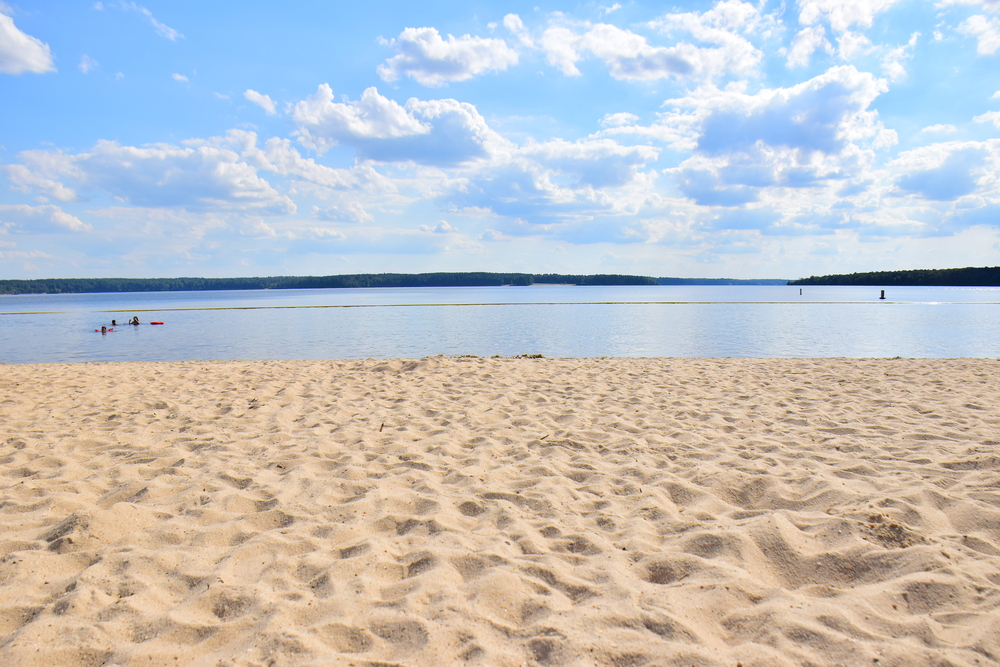 Price Lake
When it comes to lakes near Boone, it doesn't get much better than Price Lake! Blue Ridge mountain lakes are beautiful no matter what time of year you visit, but I think it goes without saying that in October, they will knock your socks off! When staying in the area you have the option of staying in awesome treehouses, cabins, hotels, or campgrounds. You've got to love that variety, right? Since the lake is less than a half-hour from Boone, you also have a lot of restaurants just a short drive away.

You can find chicken and waffles, Italian cuisine, upscale dining, southern American delicacies, and more at restaurants in Boone! Although you are sure to find yourself enamored with the beauty of Price Lake, you may find yourself wanting to hike and explore more of the surrounding area. If that's the case, you can go waterfall hunting! One of the prettiest and most popular waterfalls near Boone and Price Lake is about an hour's drive from the lake and is called Crabtree Falls. The trail is only 2.5 miles and will love you awestruck by the cascading seventy-foot waterfall.

While at Price Lake you can rent canoes, rowboats, kayaks, and fishing gear to make your visit to the lake even cooler! (Keep in mind that swimming and motorized boats aren't allowed at Price Lake.) If you plan on visiting during the winter months, you will find the area is deep under the snow. You can use this as an opportunity to take a ski tour that winds around the shore of the lake.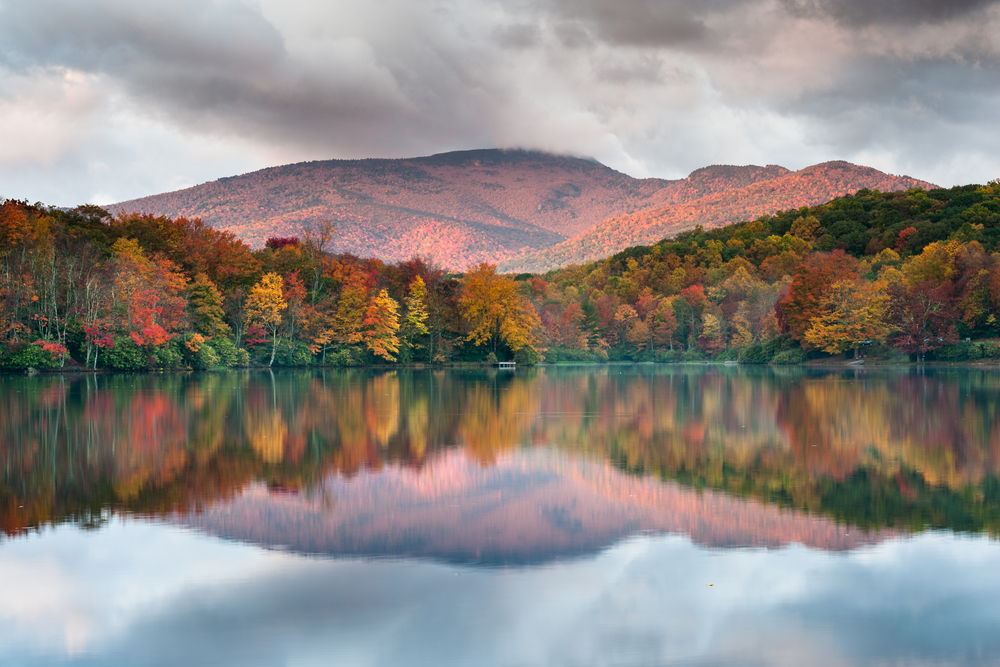 Kerr Lake
Kerr Lake is one of the best lakes in North Carolina! And it's also one of the big lakes in North Carolina that you should check out if you have the chance. The lake is 55,000 acres and is a great place for swimming and relaxing in the summer months. You will find the lake near the Virginia-North Carolina border in Vance and Warren counties. Grab your floatie loungers, paddleboards, and fishing poles because it's time to enjoy the water!

One of the best things about Kerr Lake is that it is the perfect place to truly relax. Thanks to it being such a large lake you don't have to worry about overcrowding and instead can just enjoy some fun in the sun. If you plan on visiting the Triangle area of North Carolina, this lake is in a great location to make a day trip. Only about forty-five minutes from Durham and just over an hour from Raleigh, you can enjoy some time at the lake during your stay in the Triangle.

This lake has more than 850 miles of shoreline and sets just about three hundred feet above sea level. You will find a whopping nine recreation areas within the Kerr Lake State Recreation Area so you are sure to find an area to park your boat to enjoy the surrounding natural beauty or a place to swim while you're visiting. If you plan on fishing while you're visiting, you have the opportunity to catch White Perch, Catfish, and Bass! There's also a lot of hiking opportunities as well, with the Big Poplar Trail and the Plantation Trail being two of the most popular.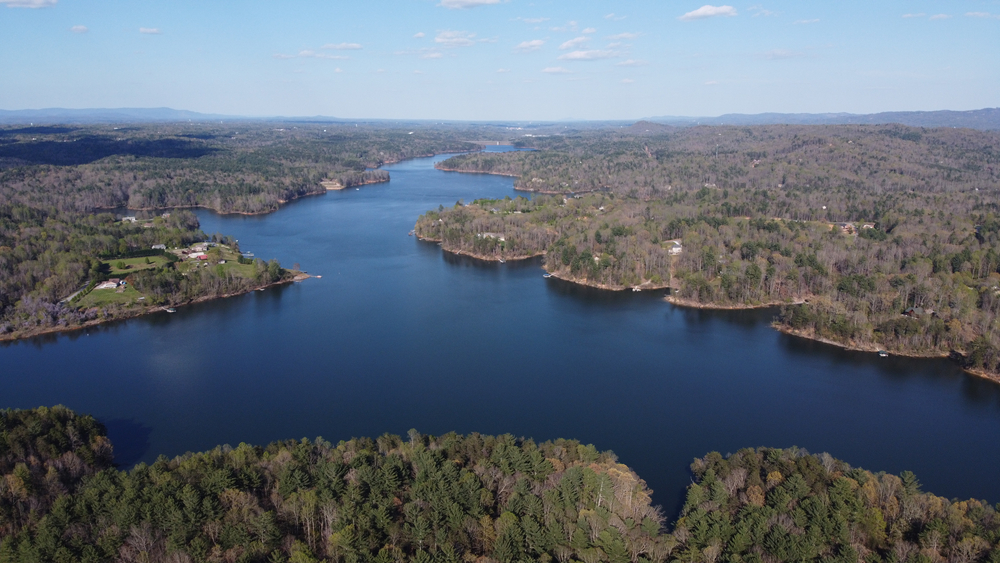 High Rock Lake
High Rock Lake in Lexington, North Carolina was created in 1929 and is the second largest man-made lake in the state after Lake Norman. With 15,180 acres and 365 miles of shoreline, you won't have to worry about being crowded on top of other lake-goers! This lake is actually in the Uwharrie Mountains and gets its name from the tallest mountain in the range, High Rock Mountain.

The lake is spread across both Davidson and Rowan counties and has a lot to offer its visitors. High Rock Lake is known as being one of the best fishing lakes in North Carolina and as such, you may want to jump on the opportunity to head to the marina and rent a pontoon to do some fishing during your visit! If you want to venture out from the water you can enjoy some time spent in Lexington or the nearby city of Salisbury. You can find great restaurants, walking trails and parks, wineries, museums, and more in the surrounding area to add even more fun to your trip to the lake!
Badin Lake
Is Badin Lake one of the best lakes in NC? Yes, it is! In Montgomery County, North Carolina you will find Badin Lake Recreation Area in the Uwharrie National Forest. This is such a beautiful lake, especially in October and November! You will find a little slice of paradise where you can camp, picnic, hike, fish, hunt, boat, swim, and more. There are multiple picnic sites, fishing piers, and campgrounds around the lake for you to explore and choose from. There's also a swimming beach!

You can find free camping opportunities in the Uwharrie National Forest at primitive camping sites. Then, you also have fee sites at developed campgrounds. You have the choice between Arrowhead Campground and Badin Lake Campground, Canebrake Horse Camp for horseback riders, and Badin Lake Group Camp for large groups of campers. At the developed sites you will find all the amenities you want from a campsite, including showers, toilets, grill rings, and lantern hooks.

Hikers, don't worry about finding a could place to lay boots to dirt, you have a lot to choose from around Badin Lake! The most popular trail is arguable the Badin Lake Trail which is 5.6 miles and is rated as an easy hike. There are also several easy trails of varying lengths under three miles. You'll also find OHV trails in the area as well, ranging from easy to difficult. Then, if you are feeling extra brave you can take the Daniel OHV trail which is only 2.1 miles but is ranked as being extremely difficult!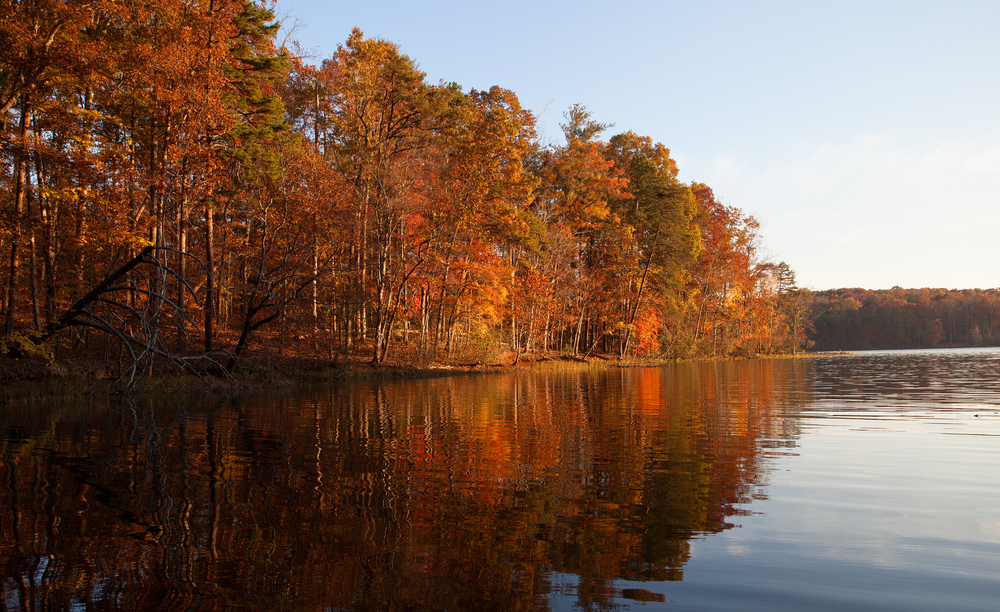 Lake Hickory
When looking for lakes in the NC mountains, Lake History should be on your list! This lake has 105 miles of shoreline and is a total of 4,200 acres. Luckily for us visitors, the lake is fully recreationally meaning that we are welcome to go boating, swimming, sailing, skiing, or take out a jet ski if we please. Boaters will be happy to know that there are sixteen public boat launches and marinas so you have some choice and space to in the launch process.

Lake Hickory is a particularly attractive North Carolina lake because they have high water clarity, a constant water level as it is maintained by Duke Energy, and its stunning natural shoreline. The lake has crystal blue water and a sandy bottom instead of the typical brown water and clay lake floor. This makes it especially more desirable than other lakes in the state.

For fishing, Lake Hickory is renowned for its Large Mouth Bass and Striped Bass. You can also find Crappie and Channel Catfish in the lake. You can find what you need at the marina store; batteries, live baits, and more are available to you to purchase. Whether you're renting a boat, soaking in the sun, swimming, or spending your day at the tiki bar, you are sure to fall in love with Hickory Lake!
Fontana Lake
Fontana Lake is among the best lakes near Asheville. The lake is undeniably visually appealing and on top of that, it's also the biggest lake in the western part of the state. The water sites down in a valley in the Great Smoky Mountains which is not only beautiful but also gives you an opportunity to explore some of the activities that the Smokies have to offer as well. There are several lakes in the North Carolina mountains, but Fontana Lake really shines!

The lake is home to the Fontana Dam which is the highest dam east of the Rocky Mountains at 480 feet. The Appalachian Trail that goes from Maine to Georgia crosses over this NC dam!
When visiting the lake you are in a great position to visit the Great Smoky Mountains National Park and the Nantahala National Forest. If you want a birds-eye-view of the lake you can take a little drive along the Indian Lakes Scenic Byway which has overlooks that highlight the beauty of the lake below.

One of the coolest things about this lake is that if you go out on a boat, you can reach remote portions of the Smoky Mountains. This is something that is totally unique and would make an amazing North Carolina bucket list item! If you don't want to drive a boat around the lake yourself you can take part in a tour with the Fontana Guide Service where you can book half or full-day trips. Enjoy the views, sunset, waterfalls, fishing, swimming, and natural beauty around you on a guided tour of the lake!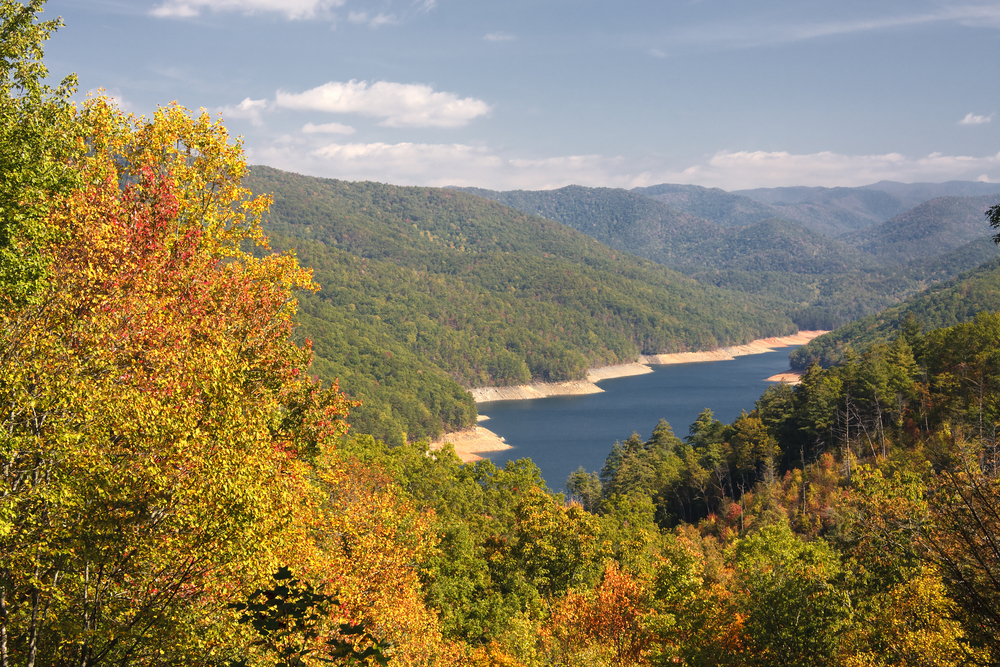 With all of these stunning lakes in North Carolina, how will you narrow down your list on which one to visit first? One thing is for sure, whether you're looking to lay in the sun all day, find a good swimming beach, spend your days hiking along a lakeshore, or fishing in a remote area of North Carolina, you can find a place at a beautiful lake to do just that! So, which lake will you visit first?
More tips for your trip to Asheville: