Are you looking for gardens in Georgia? We have you covered. In this article, we will walk you through botanical gardens in Georgia, Georgia flower gardens, and public gardens in Georgia.
There are so many Georgia gardens to visit it's hard to know which to visit. From beautiful flower gardens to gardens created with rocks Georgia has it all. 
Whatever kind of Georgia gardens you visit you will not be disappointed. There is nothing like a stroll through nature to soothe the soul and make you feel like you don't have a care in the world.
These Georgia gardens not only keep important habitats thriving but they educate us and help us appreciate the things we often take for granted. Walking through plants, beautiful gardens and the smell of flowers is just such a beautiful way to spend a morning or afternoon.
So if you fancy spending some time on your vacation doing something peaceful and relaxing be sure to visit some of these gardens listed. While the list is of course not exhaustive it includes a varied list of gardens of all types for you to enjoy.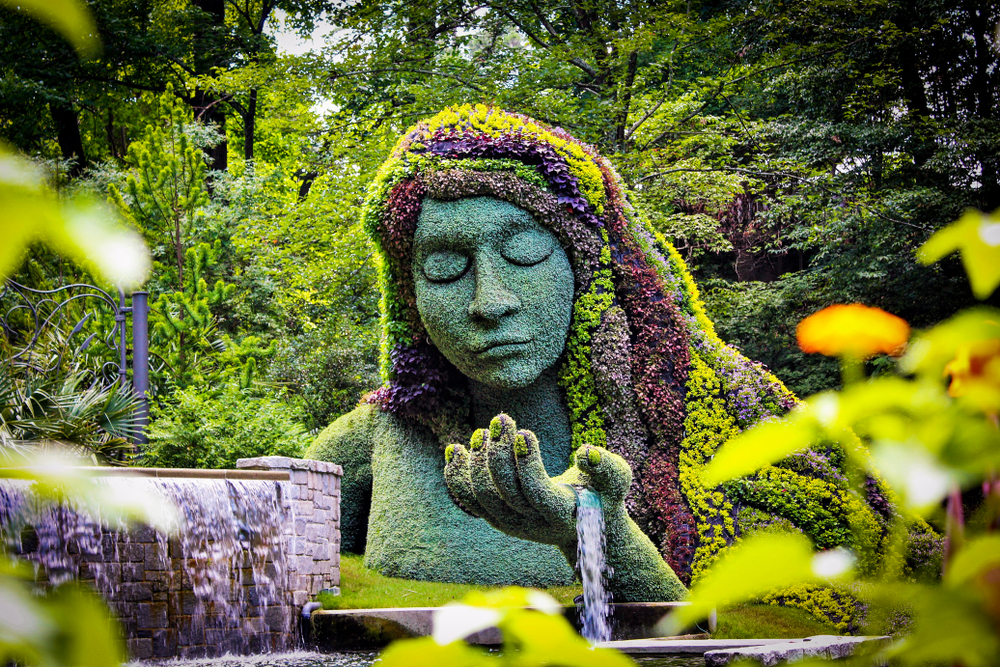 12 Best Botanical Gardens In Georgia You Must See
Atlanta Botanical Garden
If you are looking for botanical gardens in Georgia then look no further than Atlanta Botanical Garden. One of the largest woodland gardens in the country it's home to so many plants and flowers.
The garden is split into different areas the most impressive in our opinion is the indoor Fuqua Orchid Center. Here you will find an incredible waterfall surrounded by orchids and moss logs. It looks like a fairy garden might.
There is also the Japanese Garden, the Rare Conifer Garden, and the Hydrangea Collection. But what most come to see is the Cascades Garden watched over by a magnificence Earth Goddess with her outstretched waterfall hand.
It's hard to describe how unusual and incredible these gardens are. It's the sort of place you really have to see to believe. It's the best botanical garden in Atlanta and one of the most beautiful gardens in Georgia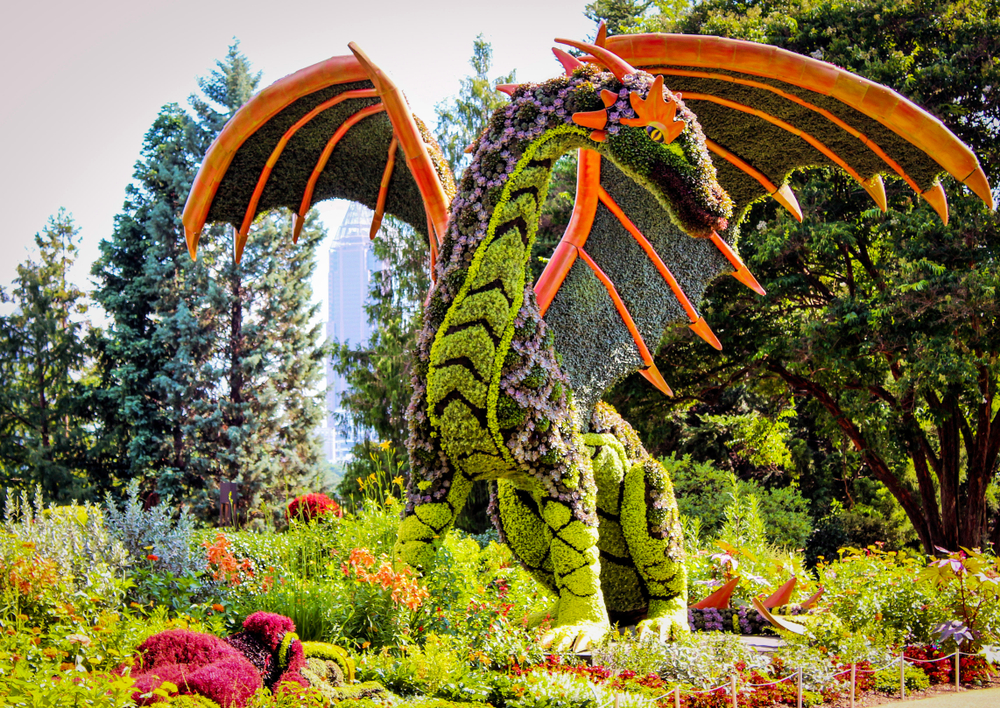 Callaway Gardens
This botanical garden in Georgia offers you seven miles of nature trails a lake and 20,000 azaleas. The wildlife here is also incredible.
The garden tour begins at the Callaway Gardens Discovery Center in Pine Mountain and from there you follow the trails and explore the 2,500 acres as you wish.
Callaway is the world's largest, public, self-guided woodland garden. And there are lots of others things to do and see here such as the Butterfly House and The Discovery Pavilion.
The best time to visit is in Spring when thousands of azaleas bloom and the floor is awash with vibrant reds to pinks and creams. It's a sight you will never forget.
When it comes to Georgia flower gardens they don't get much better than this.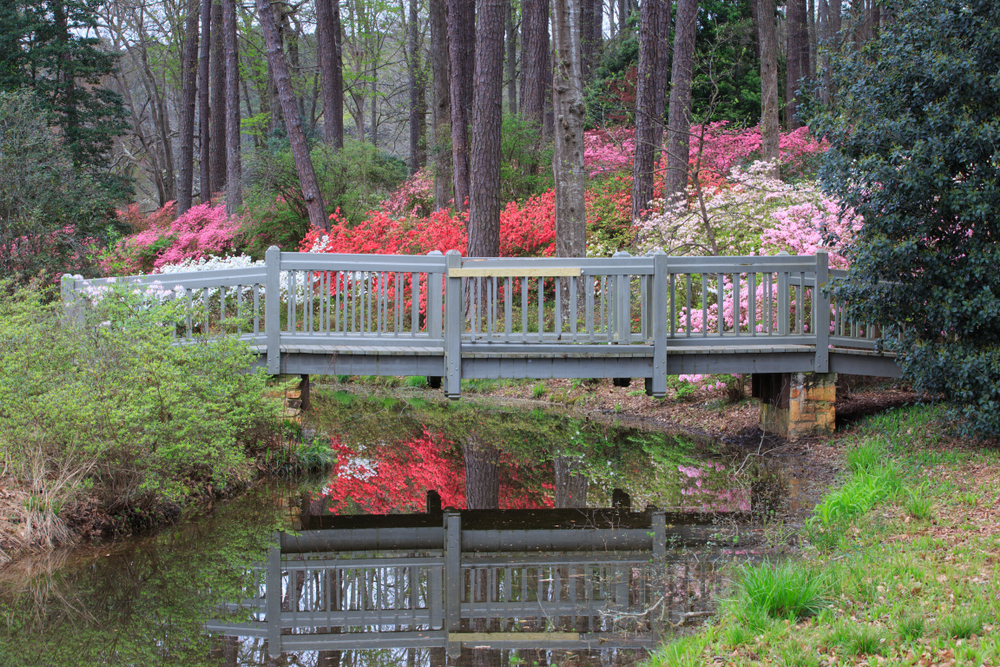 State Botanical Garden of Georgia
In Athens, the State Botanical Garden of Georgia is one of the best Georgia botanical gardens. Here you will find colorful dogwoods, azaleas, and magnolias bursting into life everywhere you look.
The State Botanical Garden of Georgia does something a little different though and really puts an emphasis on educating its guests, with a Tropical Conservatory and a Herb & Physic Garden.
It's beautiful and educational and always has something going on that you can join in and learn from. It's one of the best botanical gardens in Athens.
Botanical Gardens In Savannah
This is one of those picture-perfect gardens so much so it's a very popular wedding destination. It's one of the best botanical gardens in Savannah.
The garden is split into 23 areas and centered around the 19th century historic Reinhard House.
The trails here are winding often intimate and you are led through nature beckoned by plants and flowers beyond. Among the features, you will find a two-acre pond, archaeological exhibits, roses, perennials, and herbs
And the best bit is that this is one of the public gardens in Georgia where the entrance is free.
Gibbs Garden
About an hour north of Atlanta you have a 220-acre estate to explore here. It's one of the largest garden estates in the country.
It's one of those gardens that really is different depending on when you visit. The season starts in February when the garden explodes with over 20 million daffodils in 100 different varieties. It's an extraordinary sight.
The rest of the year gives way to azaleas, rhododendron, and rose. The Japanese garden looks particularly stunning in the fall.
You will also find all sorts of hidden gems around like ponds, trees, sculptures, waterfalls, and Monet-type bridges.
This is one of those beautiful gardens in Georgia that you will want to visit again and again. Every visit holds different vistas, different plants, and different experiences.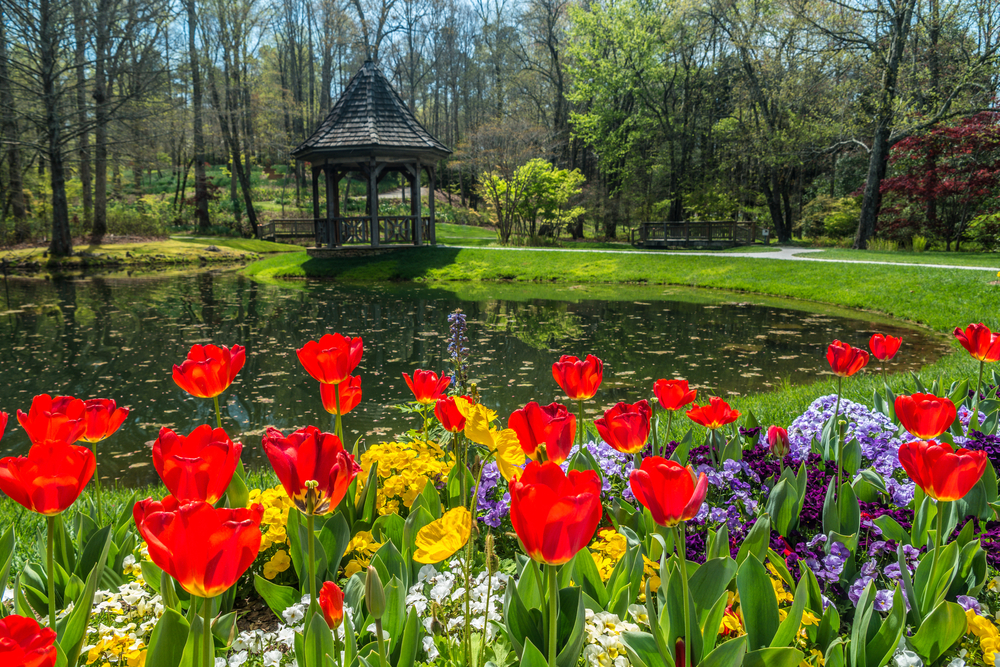 Rock City Gardens
More than a garden Rock City is a botanical and geological wonder that compares to nothing else. Here you will get to see ancient rock formations, over 400 native plant species, and breathtaking panoramic views.
Located atop Lookout Mountain, just 6 miles from downtown Chattanooga and is unlike any other garden on this list.
The woodland paths lead you through countless species of plants, trees, and shrubs of all colors and textures. Spring sees the woods bloom and fall is just breathtaking.
You will also find many babbling brooks and the thundering waterfall at Lover's Leap. Local art and sculptures are also dotted around adding to the already incredible surroundings.
A visit here is a must as it is unlike anything you have seen before. It's one of the Georgia gardens to visit.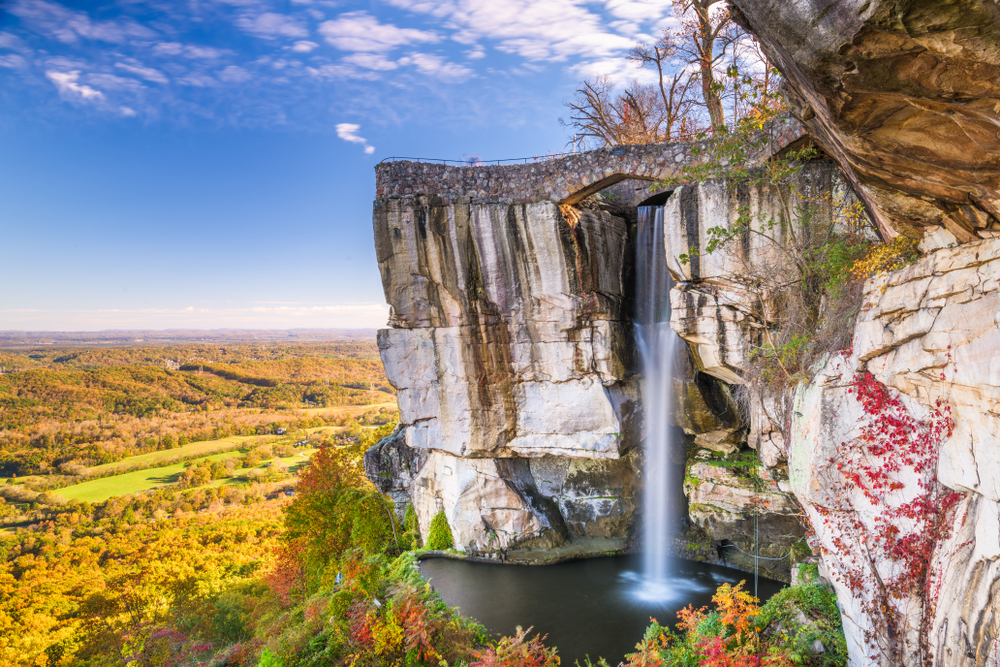 Calhoun Rock Garden
This really is a garden with a difference. Here the flowers and plants are a backdrop to incredible miniature towns and buildings created and decorated with thousands of tiny rocks.
The Calhoun Rock Garden is filled with more than 50 miniature castles, churches, and other structures. Honestly, this place will take your breath away it's truly stunning.
The miniatures are crafted from tiny stones, shells, broken glass, wire, cement, and other craft materials all built by was DeWitt "Old Dog" Boyd, one of the members of the Calhoun Seventh Day Adventist Church. His family all help him build the sculptures today.
The gardens can be found behind the Calhoun Seventh Day Adventist Church on 1411 Rome Road and are free to enter. It's the best botanical garden in Calhoun.
Barnsley Gardens
Situated on the grounds of a historic former manor house Barnsley Gardens has a lot to offer. Near Adairsville, there are more than 3,300 acres to enjoy here.
Set in Barnsley Resort the gardens are part of a much larger estate with a resort spa hotel and things like golf, horseback riding, fishing, kayaking on offer.
There are lots to see in the gardens here like the ruins of the nineteenth-century Italianate villa overlooking the garden or the formal garden.
In spring the lower and upper gardens come alive with azaleas, irises. lilacs, roses, cherry trees, and more.
There is an entrance fee and it's best to call in advance because they often host events and weddings and timings may change. This is the best botanical garden in Adairsville.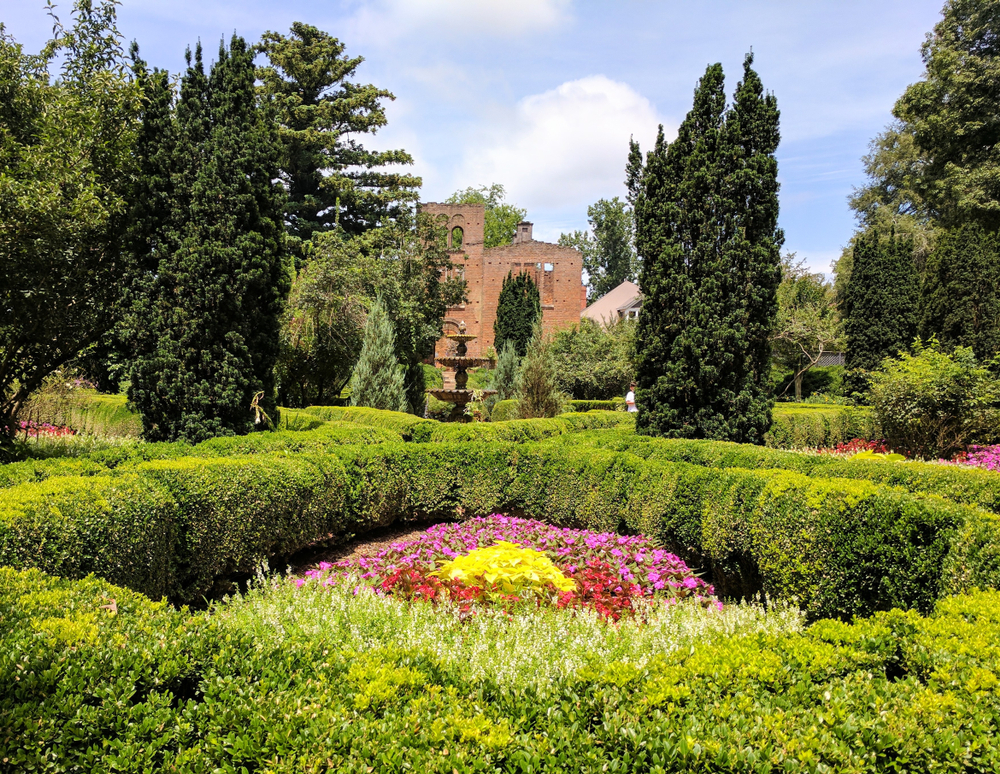 Coastal Georgia Botanical Gardens
In Savannah, the Coastal Georgia Botanical Gardens is home to 6 different gardens and plant collections. The collections range from Chinese pistachio trees to exotic camellias.
It's a beautiful peaceful garden with lots of places to sit and relax and take in the beautiful sight sounds and smells. It's also home to the historical bamboo garden first planted more than 100 years ago.
You will also find a 50,000-gallon water garden, centered around a 9-foot cascading waterfall, with some incredible water lilies. And a recent edition is the Shade Garden which provides a welcome spot to escape the midday sun.
The garden is best known for its camellias which flower from October through March, it is one of the most diverse and unique collections of species of camellias in North America.
This is one of the best botanical gardens in Savannah.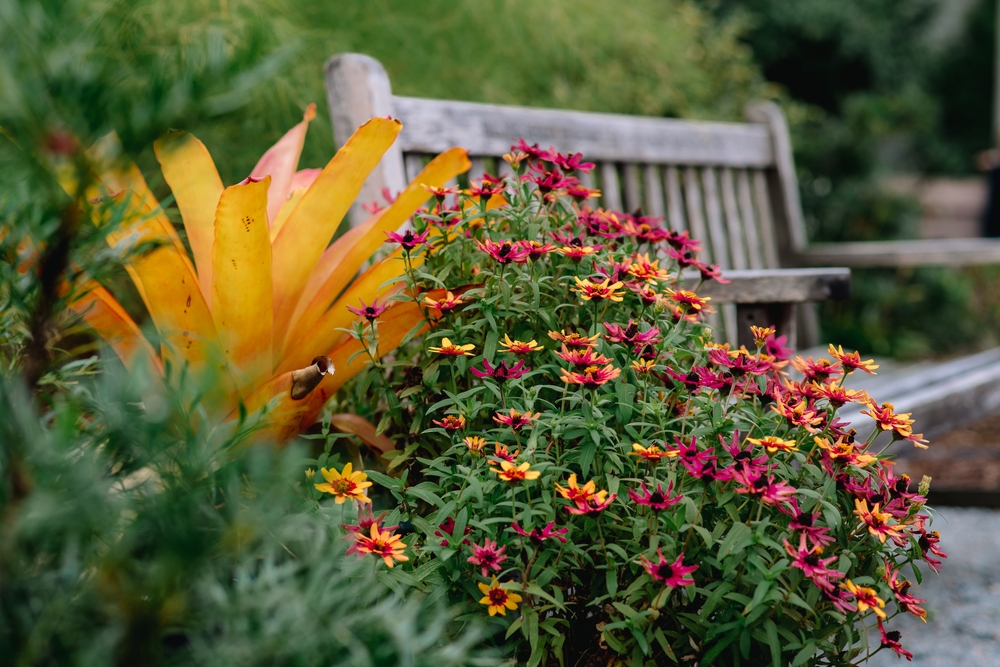 Hamilton Gardens at Lake Chatuge
In the north Georgia Mountains of Hiawassee, these gardens are somewhat of a hidden gem. Here you will find the largest rhododendron collection in the state of Georgia and the only domestic yellow azalea is known to exist.
The mile-long garden trail leads visitors through cherry trees, dogwoods, lady slippers, magnolias, and much more. Nature is the main character here and this place is somewhat of a peaceful oasis to just enjoy life.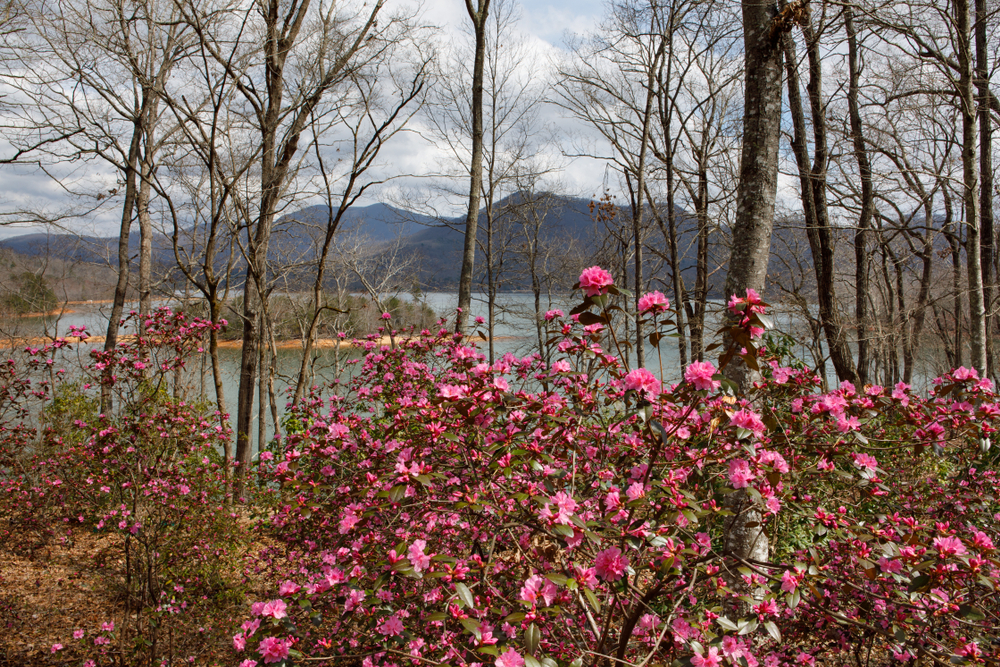 Dunaway Gardens
This is another one of those picture-perfect wedding destinations gardens. Just south of Atlanta you have 25 acres of historic gardens at your disposal.
The gardens were named after actress Hetty Jane Dunaway and restored in 200 after falling into disarray.
The garden really is beautiful with areas like a great pool with a cascading waterfall the somewhat mythical-looking sunken gardens and the hanging gardens. The most unusual features are the four Arrowhead Pools surrounding a 60-foot totem pole carved by Chief Sawtee.
It is one of the best botanical gardens in Atlanta and well worth a visit.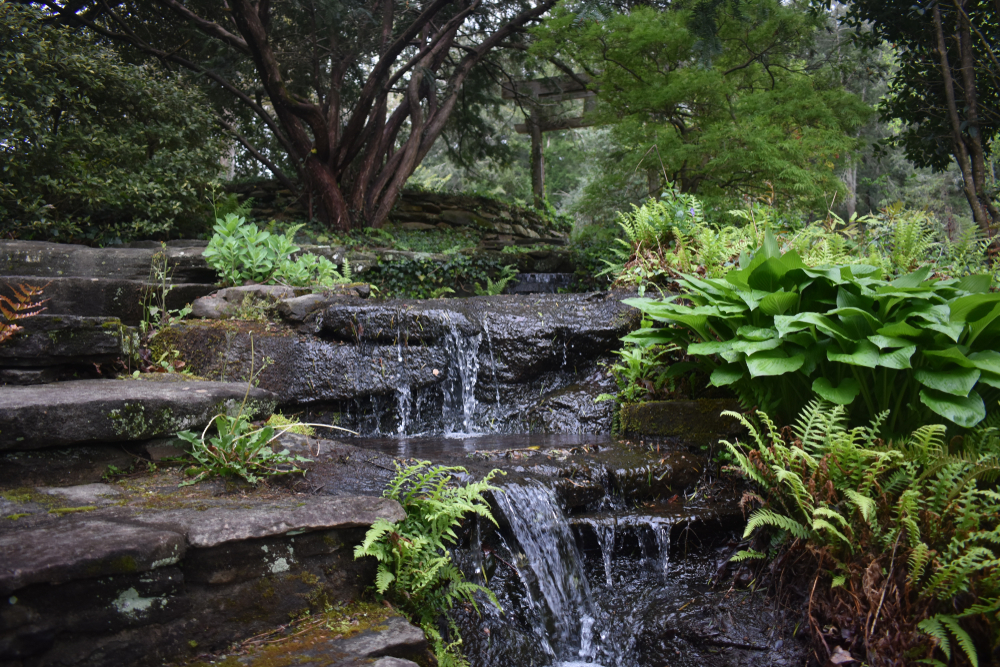 Garden of the Coastal Plain
In Statesboro within the grounds of Georgia Southern University, this is a garden with a mission. It's here to promote knowledge of native plants, enhance the communities quality of life, and inspire environmentally responsible behavior.
The garden is home to more than 11 acres of woodlands, an arboretum all on the early twentieth-century farmstead of Dan and Catharine Bland
The site is home to 20 of the state's protected species with so much to see and do. From woodland trails, a native azalea collection, a children's garden, and the complex of early 20th-century farm buildings you won't get bored here.
While of course, the garden is a research facility for the staff and colleagues of the university it really is an interesting place to visit offering the public so much to see and do. It's a place you come to see and learn and the best botanical garden in Statesboro.
As you can see when it comes to gardens in Georgia, there are so many to choose from. We know whichever you choose though you will have an enjoyable time.
The botanical gardens in Georgia really are incredible and we have included in this list some of the most beautiful gardens in Georgia. We do hope you enjoy your day out and please come back and tell us all about it.