If you're looking for the best places to visit in Kentucky, we've got you covered! There are so many amazing things to do in Kentucky. The state is known for its Bluegrass, the kindness of its citizens, beautiful mountains, horse country and racing, Bluegrass music, and more! The state is often overlooked, but it shouldn't be!

You can find exciting adventures, lovely beaches, romantic wineries, hiking experiences, waterfalls, intriguing museums, and fun cities to explore in the fantastic southeastern state. What's so wonderful about Kentucky is that there truly is something for everyone. No matter what type of travel experience you are looking for, rest assured, you can find it in Kentucky. Keep reading to discover these amazing places in Kentucky! Which will you visit first?
Make sure to check out our list of the best resorts in Kentucky for more inspiration for your Kentucky vacation!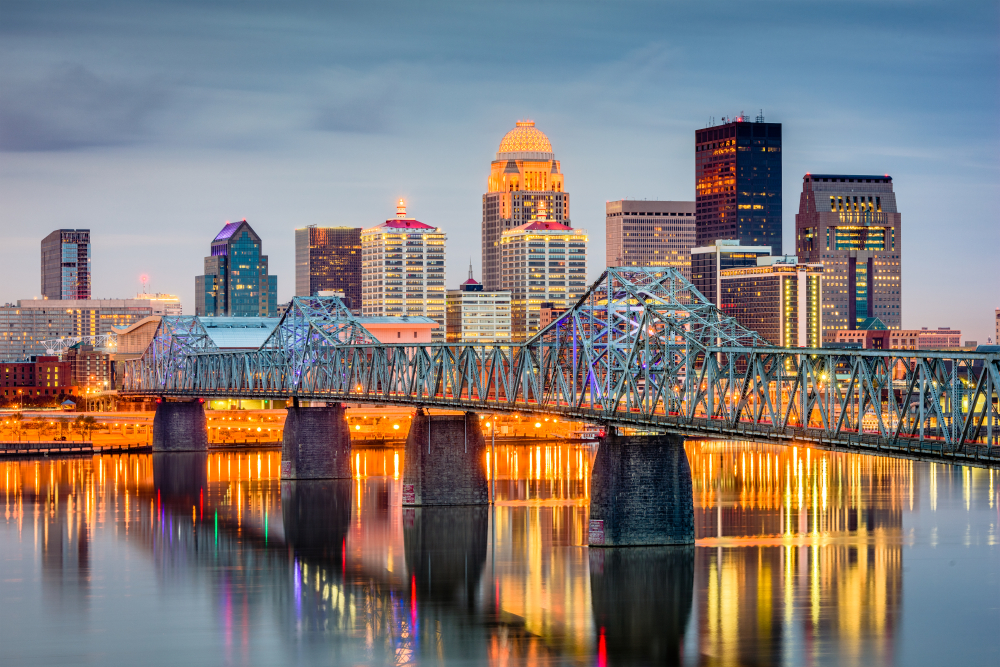 17 Best Places To Visit In Kentucky
Grimes Mill Winery
When visiting The Bluegrass state you may have a few bourbon distilleries on your list of things to do. The bourbon in Kentucky is amazing, however, make sure that you don't overlook the wineries in Kentucky! Grimes Mill Winery is one of the best. This winery is located in Lexington, Kentucky and it has an amazing tasting room. You can find a complete menu of cheeses, salads, appetizers, and entrees. Having a large selection of food to choose from is always a plus when you are traveling to a new destination!

Grimes Mill Winery is one of the coolest attractions in Kentucky because not only do they have fantastic wines, they also have events and entertainment while you are there. You can enjoy happy hour every Friday from 2-4 pm where you can get 50% off glasses of wine. You will also enjoy the grounds of the winery as they have two bocce ball courts and a farm that is complete with burrows, horses, and other animals that make your time spent at Grimes Mill a memorable one. This beautiful winery is one of the best places to visit in Kentucky!

Where to stay: Downtown Townhouse Near Rupp Arena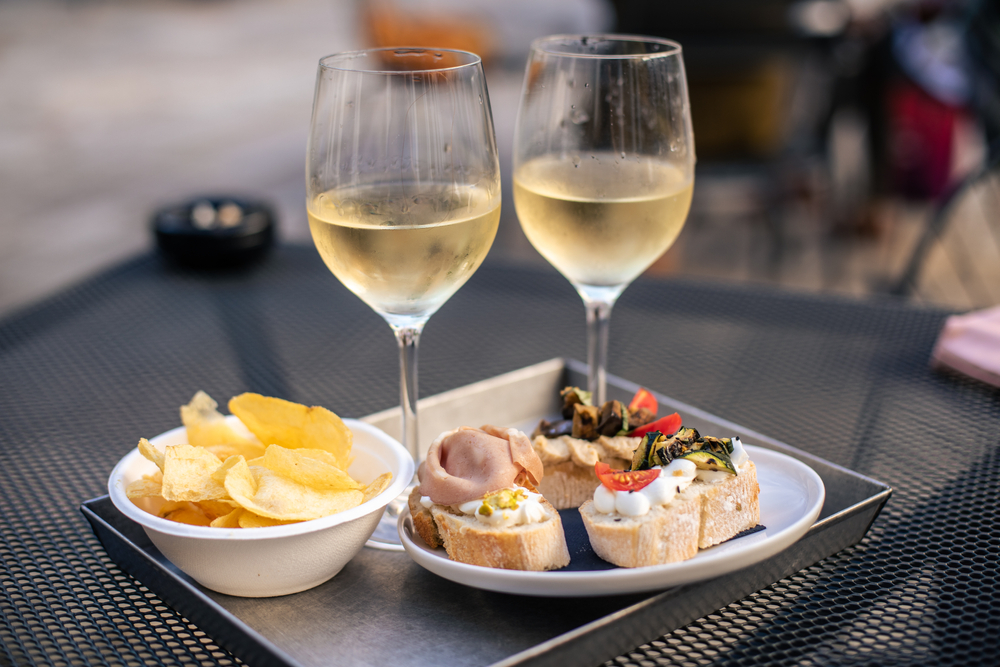 Louisville Slugger Museum and Factory
Of all the things to do in Louisville, KY, the Louisville Slugger Museum and Factory is arguably the most popular attraction in the city. When it comes to unique places to visit in Kentucky, watching baseball bats be made would definitely be at the top of that list! Just a one-minute walk from the popular Frazier History Museum, The Louisville Slugger Museum and Factory can't be missed. The huge statue of one of their baseball bats sits outside of the museum and can be seen from down the street.

Louisville Slugger baseball bats are used by more than 15% of MLB players and the factor produced around 1.8 million bats each year. The museum is one of the best places to visit in Kentucky because it is a place where you can learn about the history of the Louisville Slugger bats and also see how they are made in real-time. Forbes has called this museum "one of the greatest sports museums in the world."

Some of the most exciting parts about your visit to the museum will be holding pieces of history. You can hold bats that have been used by some of the greatest players in baseball history. Bats used by Derek Jeter, Mickey Mantle, Johnny Bench, and David Ortiz can all be held at the museum, along with bats from other past and present players.

Where to stay: Germantown Getaway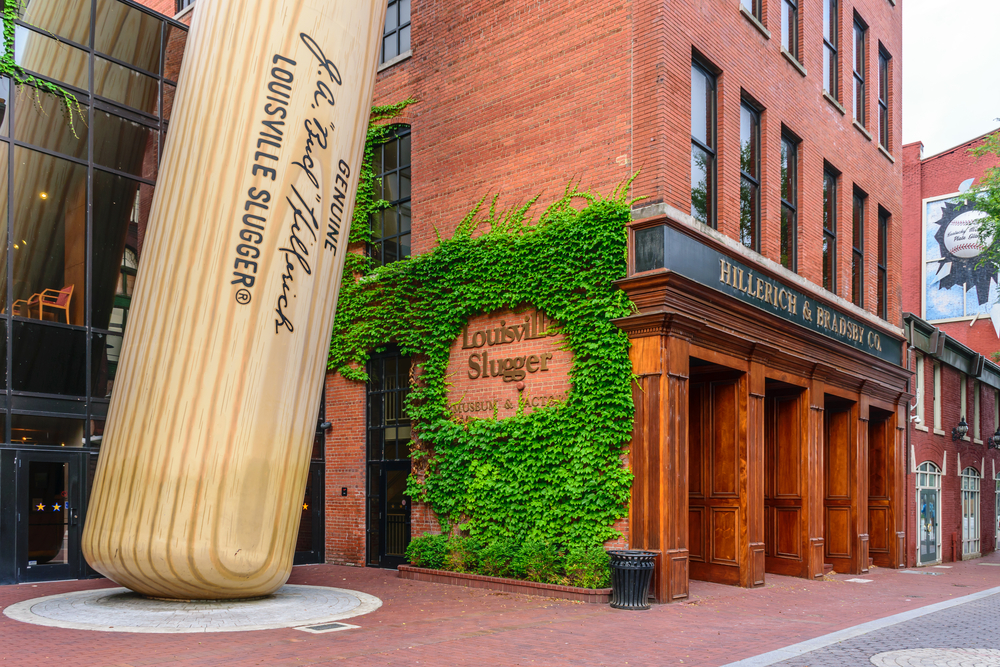 Waverly Hills Sanatorium
Are you looking for haunted places in Kentucky to visit? Are you the kind of traveler who thinks of haunted locations when researching vacation spots in Kentucky? If so, the Waverly Hills Sanatorium is one of the best places to visit in Kentucky for you! It's not only one of the most haunted places in Kentucky but in the world! Waverly Hills was opened in 1901 as a hospital to help tackle tuberculosis. More than 63,000 people died in the hospital! There were so many deaths in the hospital that they created tunnels to help get all of the bodies out.

Many of the patients at Waverly Hills were subjected to terrible procedures and many didn't survive them. Ghost hunters and supernatural enthusiasts say that many of the tortured souls that lost their lives within the walls of the sanatorium are still there roaming the halls to this day. People who visit the Waverly Hills Sanatorium have reported seeing black shadows, hearing voices and whistles, as well as being touched by something or someone that they cannot see. For those who love the supernatural, there are few places to visit in Kentucky that are better than the Waverly Hills Sanatorium.

Where to stay: Relax and Put Your Feet Up!
Raven Run Nature Sanctuary
When it comes to things to do in Lexington, Raven Run Nature Sanctuary is a must-see! The Raven Run Sanctuary is one of the best things to do in Kentucky. If you are looking for the best Kentucky tourist attractions as someone who loves to spend time in the great outdoors, you should definitely check out the Raven Run Sanctuary. In the sanctuary there are seven trails that you can spend time exploring and enjoying being in nature, making it one of the best places to visit in Kentucky!

The area that is now known as the Raven Run Sanctuary was owned by the Prather family during the 1800s. You can see their original homestead on the grounds to this day. Within the sanctuary, their homestead, along with the Moore Grave, Evans Mill, and the Kentucky River Overlook are among the most prominent features. The mill was a central point for local farmers who used it to mill their corn back in the day. While you are at Raven Run you will want to be sure to stop at the overlook to enjoy the beautiful Kentucky River Palisades.

Where to stay: The Kentucky Bourbon Suite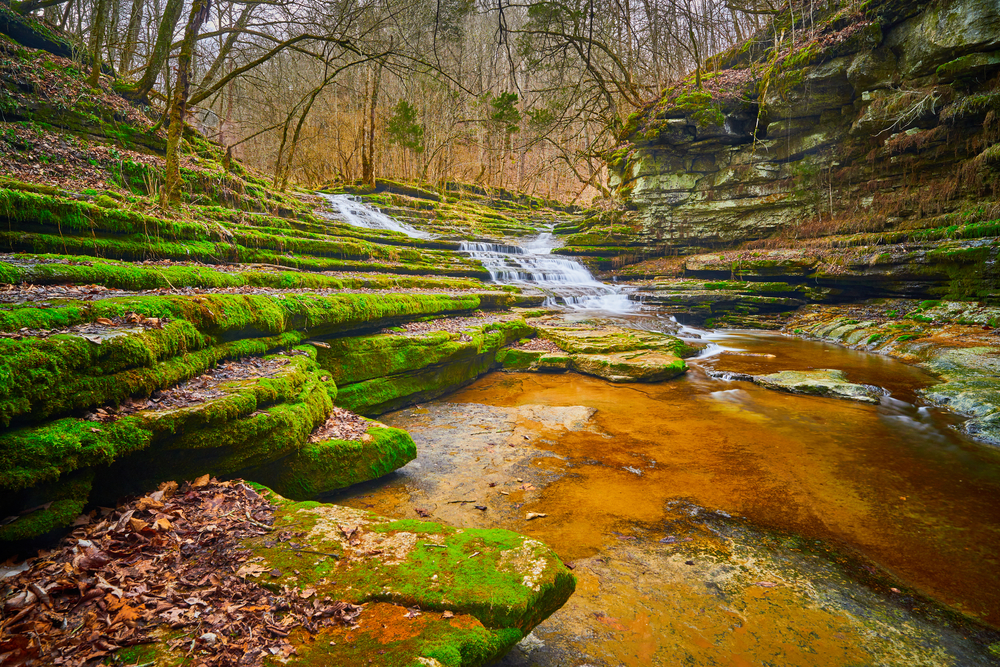 Green River Bluffs Route
Hiking in Kentucky is so much fun! The world-renowned Mammoth Cave National Park is one of the best places for hiking in Kentucky. In the park, you will find the Green River Bluffs Route. This trail is one of the best in the national park. The Green River Bluffs Route consists of a combination of different trails within the park, Many of these trails are short and you can combine them in whatever way you wish to make an experience tailored to your needs as a traveler and as a hiker. This fun option for personalization makes this one of the best places to visit in Kentucky! (This is also a fun opportunity in Kentucky for couples!)

A popular route along the Green River Bluffs Route involves taking the Green River Bluffs Trail, Echo River Springs Trail, Sinkhole Trail, and Heritage Trail. The loop is four miles long and features geological features and of course some of those outstanding Kentucky views. Along the way, you can see Dixon Cave, natural sinkholes, and a bright blue bubbling river!

Where to stay: My Old Kentucky Hideaway- Lakeview Cabin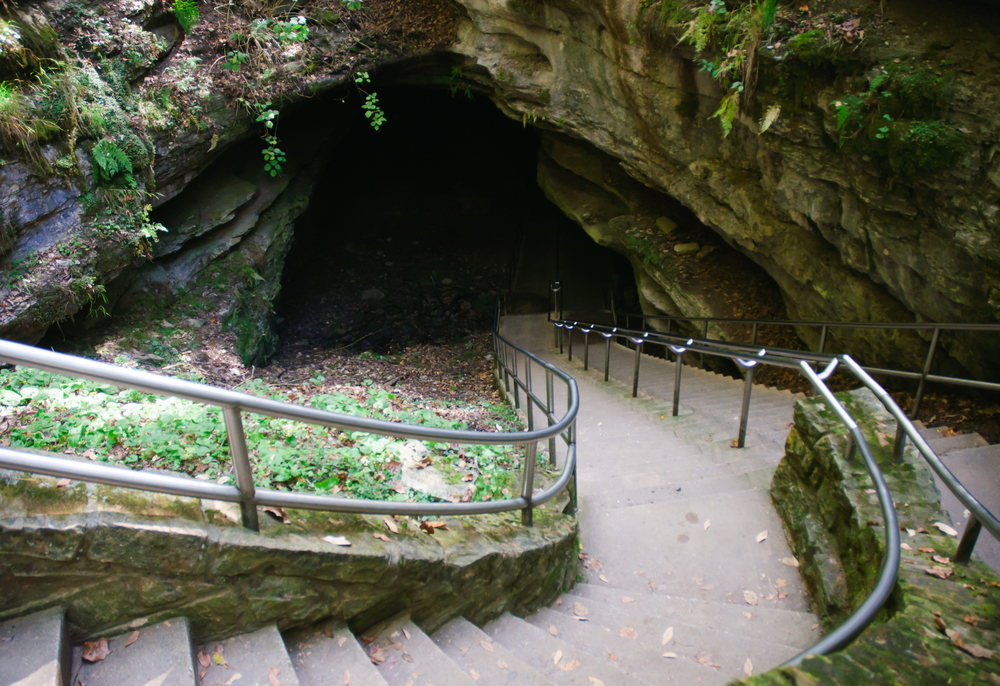 Forest Edge Winery
The Forest Edge Winery is another one of the amazing wineries in Kentucky! Located in Shepherdsville, the Forest Edge Winery is roughly a half-hour from Louisville and is one of the best places to visit in Kentucky! At this winery, you will find award-winning wines for the low price of just five dollars! They also offer assorted cheeses made from Kentucky Proud products.

If you are traveling with dogs or children, Forest Edge Winery is the winery for you as they are friendly to non-drinking family members. There is a playroom complete with toys and a TV to entertain kids while you enjoy. Although this is not a restaurant, you are encouraged to bring a picnic blanket and basket with a meal to enjoy with your wine. If you love wine and are excited to explore The Bluegrass State, the Forest Edge Winery is one of the best places to visit in Kentucky!

Where to stay: The Clubhouse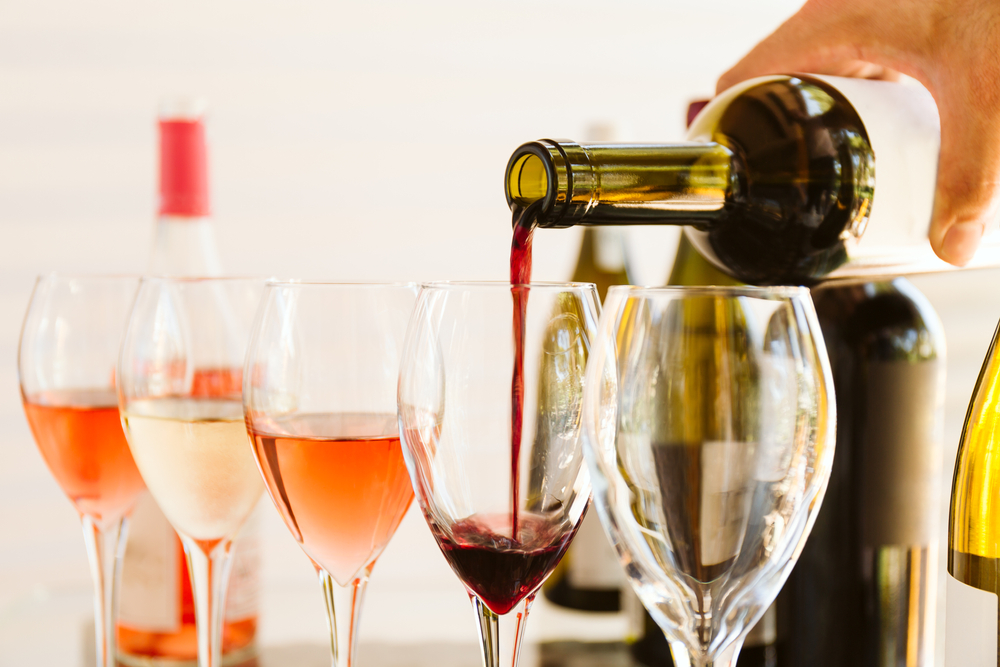 Cumberland Falls
Cumberland Falls is one of the best waterfalls in Kentucky! When looking for places to go in Kentucky, the Cumberland Falls State Resort Park should make the cut! Cumberland Falls is the most iconic waterfall in The Bluegrass State.
The park is a Mecca for outdoor adventurers. Whether you're into hiking, fishing, swimming, camping, white water rafting, canoeing, or horseback riding, you can do them all at Cumberland Falls. The views in the park are to die for and between 800,000 and one million people visit the falls each year. This is also one of the best places to see Fall Foliage In Kentucky!

At certain points in the year, you can see moonbows above the falls. Moonbows are like rainbows at night. They are seriously beautiful and the rare and exciting nature of moonbows draws visitors in droves when they are present. There are various hiking trails, beaches, and viewpoints in the park where you can get different views of Cumberland Falls. At night time you can also catch a glimpse at the bats that fly away from the bridge in the park as they like to sleep in the cracks during the day, then come out to play at night. Cumberland Falls is one of the best places to visit in Kentucky!

Where to stay: Lake Retreat at Lake Cumberland Resort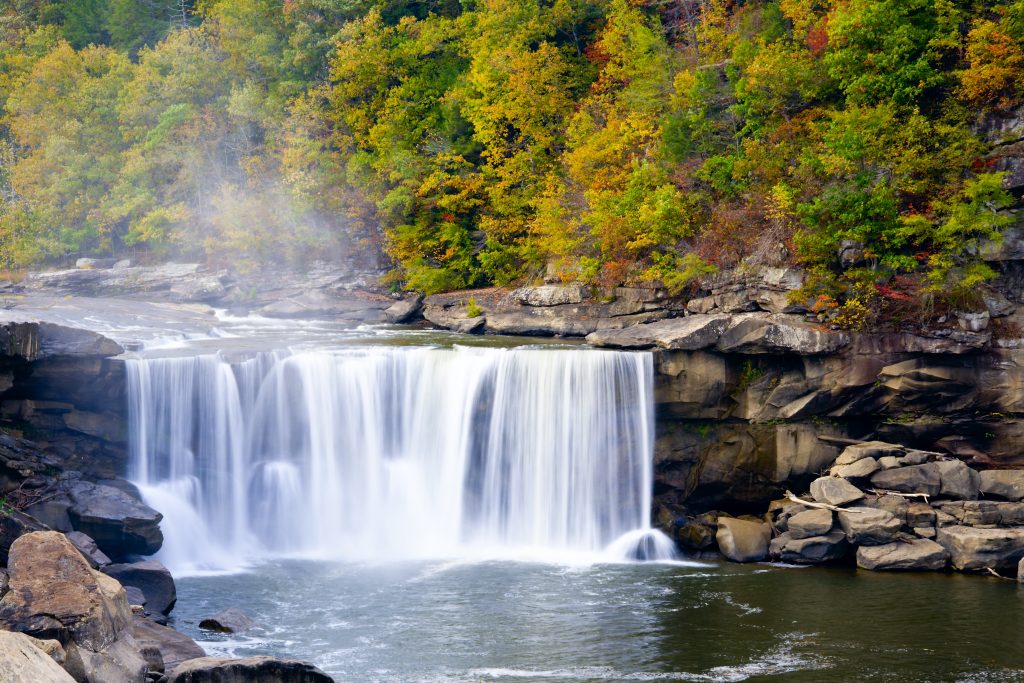 Cumberland Gap National Park
Cumberland Gap National Park is one of the best places to experience fall in Kentucky. The Cumberland Gap is one of the cool places to visit in Kentucky as it is so striking visually and is also full of thrilling history. You can camp, backpack, hike, and take guided tours in the park. Also, guided tours of the caves and settlements are available to visitors as well. For those who like to hike, there is every type of trail available to you. You can find short trails that have little to no elevation gain as well as more strenuous trails.

This park is particularly beautiful in the fall when the orange and red fall colors are popping on the trees. The viewpoints in the Cumberland Gap offer some of the best views of the fall colors in the whole state. The entire park actually covers ground in not only Kentucky but Virginia and Tennessee as well. Around the park, there are a few museums that would great additions to your Kentucky bucket list! There is the Little Congress Bicycle Museum which showcases bikes from a bygone era, and the Abraham Lincoln Library and Museum that is the best way to learn about the history of the area.

Where to stay: 1928 Home in the Heart of Cumberland Gap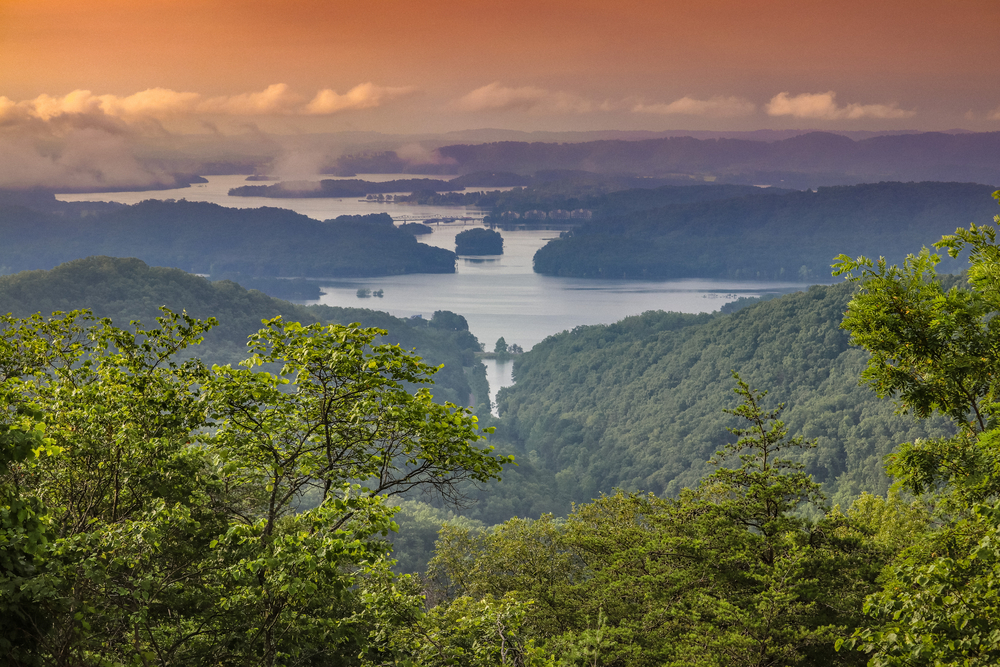 Double Arch Trail at Red River Gorge
For the adventure-loving traveler who enjoys being in nature when traveling, the double arch trail at Red River Gorge is an amazing experience. This trail is one of the very best trails for hiking in Kentucky! The Double Arch Trail is also one of the most amazing places to see in Kentucky it is one of the most beautiful parts of the state and the arches are truly remarkable natural wonders.

It's often that the arches in Arizona and Utah are talked about, but did you know that there are countless arches in Kentucky as well? There are more than 100 arches in the Red River Gorge alone. The Double Arch trail starts on a flat gravel road, then, after descending down stone steps you will reach the Double Arch. Through the arch, you will have a view over the treetops and views of Courthouse Rock and Haystack Rock as well. This hike is great no matter what time of year, but it is particularly magical in the fall months, making it one of the best places to visit in Kentucky!

Where to stay: Shipping Container Cabin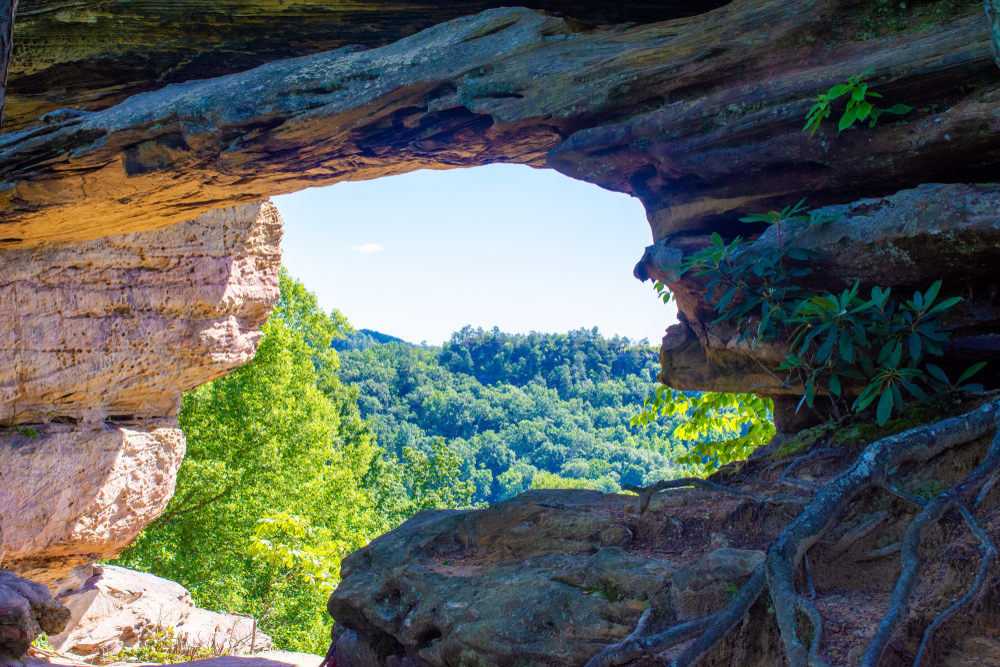 Kentucky Dam Village State Resort Park Beach
When it comes to The Bluegrass State, you probably aren't thinking about beaches. However, there are a lot of cool beaches in Kentucky! The beach at the Kentucky Dam Village State Resort Park is one of the best public access beaches in the state. Kentucky Dam is in Gilbertsville, Kentucky, and has a golf course and restaurant in the vicinity. The restaurant is called Harbor Lights and gives patrons views of the water from the large floor-to-ceiling windows. They have a salad bar, breakfast options, and of course, fried fish.

Of course, you can take part in the usual swimming and sunbathing, but there is more to do in the area. The beach is next to a walking and bike path which is great to get those legs moving after soaking up the sun for hours on the beach. Fishing and water sports such as tubing and water skiing are also popular. This beach is open from ten in the morning to seven in the evening from Memorial Day to Labor Day. You'll also have access to a really fantastic gift shop.

Where to stay: Lovely Home w/View & Private Dock on Kentucky Lake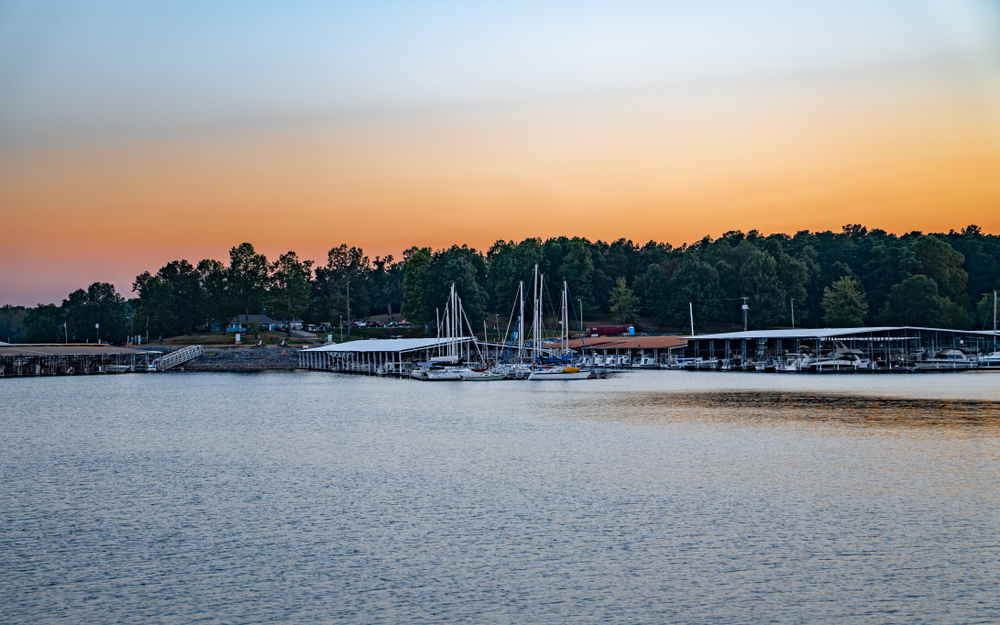 Newport
If you are looking for weekend getaways in Kentucky, Newport is a great option. Located in the northernmost part of the state, Newport is a family-friendly town that is perfect for a weekend getaway.
This northern Kentucky town is one of the best places to visit in Kentucky! Located along the Kentucky and Ohio border, Newport is so fun and offers opportunities to try seriously delicious food and explore family-friendly attractions. The town was founded in 1795 and provides the perfect mix of modernity and history. Since Newport is right on the border with Ohio, it lends itself to a getaway to Cincinnati as well. This is truly one of the best small towns in Kentucky!

Some of the best places to visit in Newport include the Newport Aquarium and walking around at Newport On The Levee. When you're looking for things to do in Newport, most of the exciting things to do can be found on the levee. You can grab a meal overlooking the river, let your kids play at the playground by the river, or try the unique restaurant called Tom + Chee. This restaurant was on Shark Tank and is home to the grilled cheese donut. You can find some mind glowingly good grilled cheeses there and they're the perfect fuel for a day spent walking around Newport.

Where to stay: Farmhouse in the City!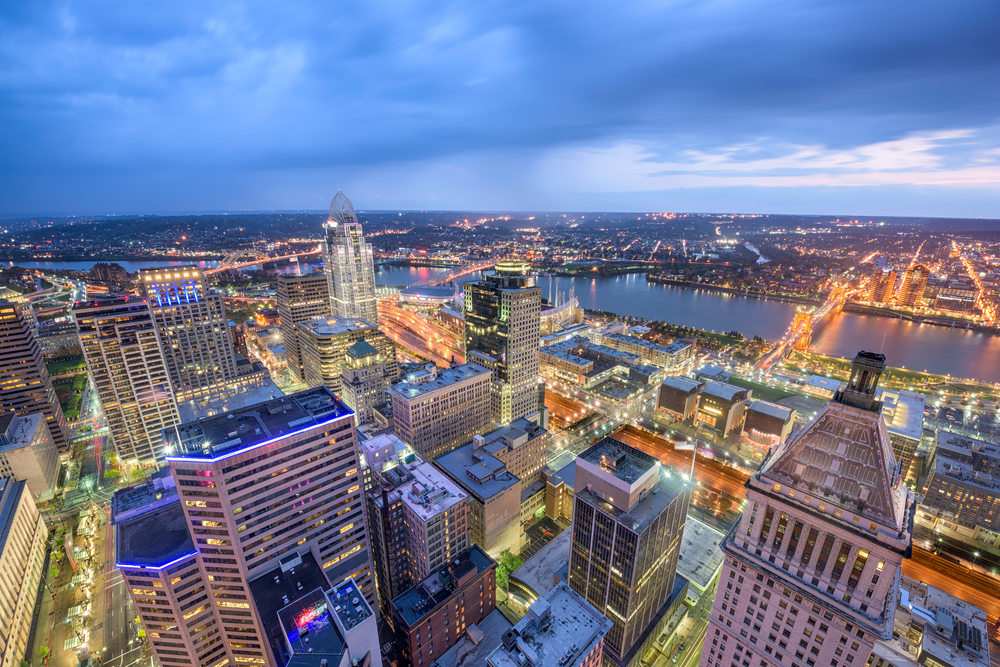 Broke Leg Falls
Waterfalls in Kentucky are plentiful! If you plan on visiting the Red River Gorge, you may be interested in traveling just 20 miles northeast to see the stunning Broke Leg Falls. This waterfall is one of the many beautiful places to visit in Kentucky! Waterfalls and other natural features are so cool to see for yourself, but when you aren't a big fan of hiking, these types of sites can be difficult to experience. Broke Leg Falls is one of the best places to visit in Kentucky as it is only 0.3 miles from your car to the waterfall, making it perfect for those traveling with young kids and those who don't want to hike long distances to see a beautiful piece of Kentucky nature.

You don't need hiking boots for this Kentucky hiking trail. You will be able to see a series of falls once you arrive. The main waterfall drops around 60 feet into the scenic canyon below. An F-3 tornado went through the area around the falls and you can see debris in the area to this day. This powerful display was an example of the strength of mother nature and helps us appreciate beautiful sites like Broke Leg Falls even more.

Where to stay: Cave Run Red River Gorge Cabin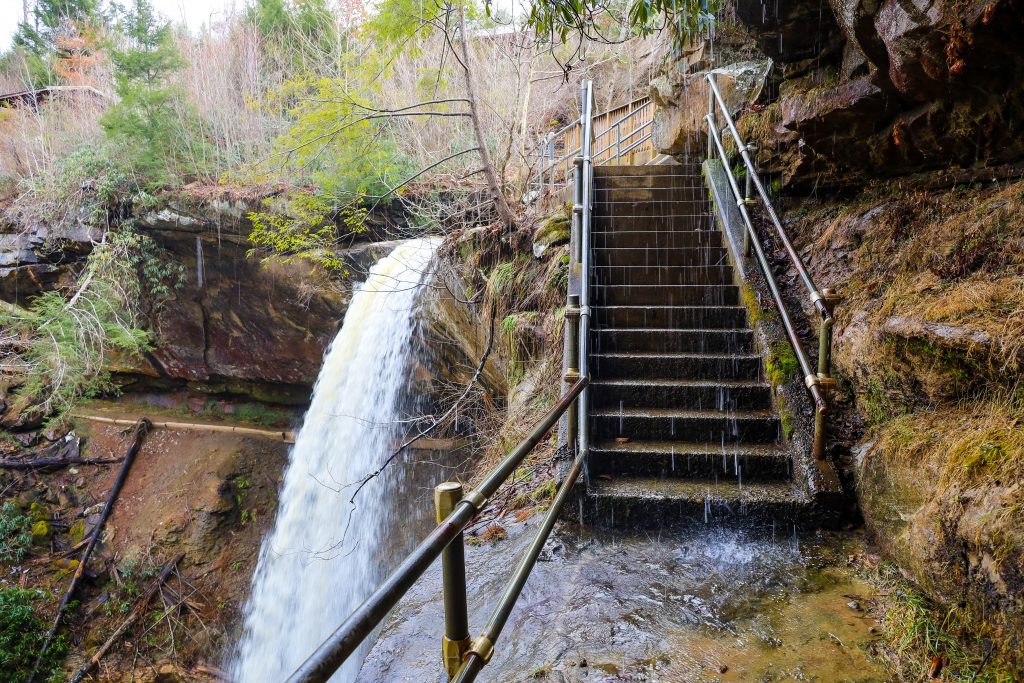 Frankfort
One of the best places to visit in Kentucky is the capital city of Frankfort. A trip to the capital city gives you a dive into the culture, history, and essence of the state that other places just can't give you. Of course, the best way to learn the history of the state is by visiting the historical sites in the area. You can visit the Liberty Hall Historic Site and enjoy its lovely gardens and river proximity, The State Capitol Building to learn about how the state was formed, the Kentucky History Center & Museums to learn about prominent Kentuckians over time, and the Capitol City Museum where there is an abundance of historical information about the city of Frankfort.

If you want to spend some time outside while in Frankfort, check out Cover Spring Park which has around 140 acres of wetlands, waterfalls, streams, springs, and ravines. You can search for waterfalls and hike until your heart's content in this Frankfort park! To enjoy the Kentucky River that runs through Frankfort you can enjoy the views from River View Park or take it a step further and see it up close on The Bourbon Boat with Kentucky River Tours.

Where to stay: Peaceful Farmhouse Retreat Frankfort, Kentucky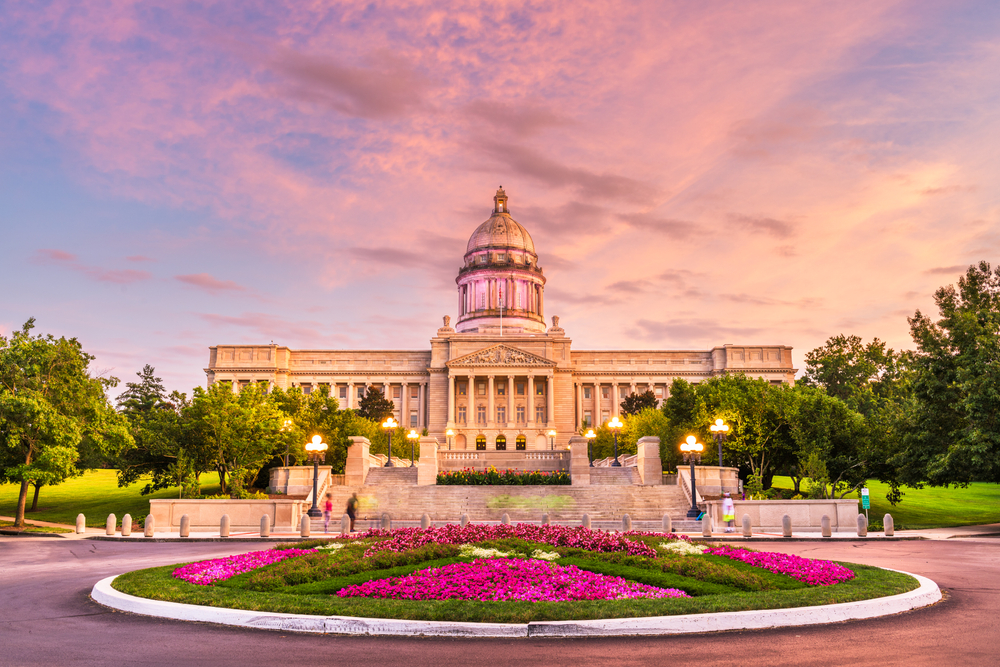 Explore The Bourbon Trail
Kentucky is known for its bourbon and there is no better way to truly dive into bourbon culture than by exploring the Bourbon Trail. There are more than forty bourbon distilleries in Kentucky and they produce more than two hundred different brands.
Some of the most famous distilleries include Buffalo Trace, Woodford Reserve, and Angel's Envy Distillery. There is so much to do on the trail. You can, of course, taste test bourbon, but you can also try cocktails, stay in cute accommodation, take classes and workshops, eat fine dining cuisine, and more, making the Bourbon Trail one of the best places to visit in Kentucky! Don't forget to check out our post about Visting The Kentucky Bourbon Trail as well as the Best Bourbon Distilleries in Kentucky!

There's amazing food along the trail at places like The Garden & Gun Club and the Rooftop Bar & Restaurant in the Louisville area, The Kitchen At BBC, and Star Hill Provisions in the Bardstown area, and Elkhorn Tavern and Beyond Grits in the Lexington area.
To complete your ultimate bourbon experience you will need around 8-10 days. During this time you will learn and experience the rich traditions behind the distilleries, collect bourbon passport stamps, eat outstanding food, and see beautiful landscapes along the way.

Where to stay: Beautiful apartment in the heart of Bardstown, KY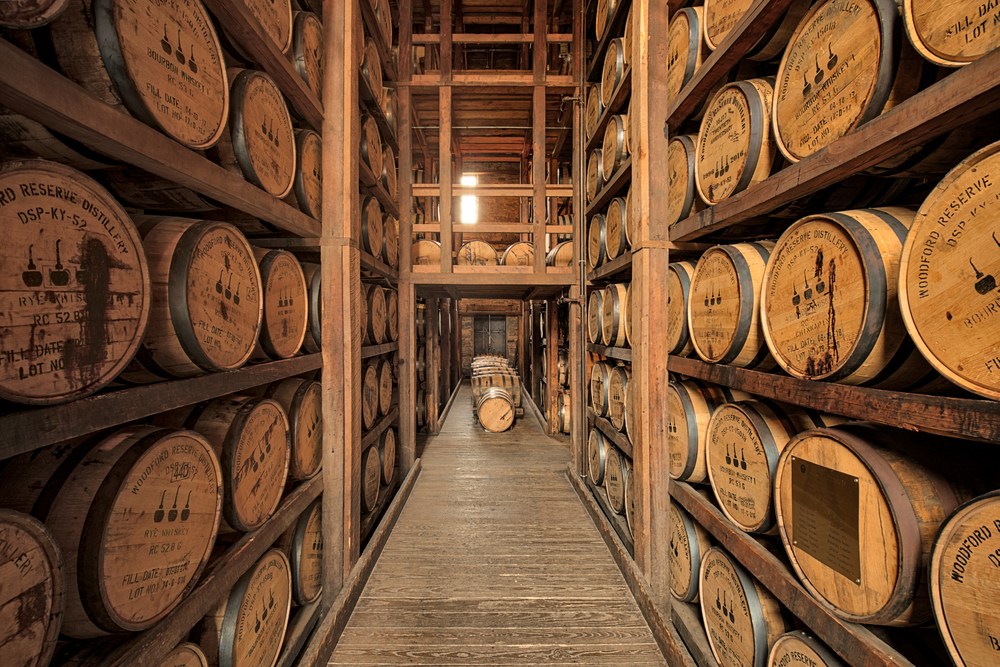 Paducah
Paducah is a town in the far west of Kentucky. Paducah has true small-town charm and will leave you feeling relaxed and renewed after your visit. For family travelers, Paducah is a good option due to the museums and outdoor activities that it has. If you don't have kids, don't let this deter you as the town is very interesting and also has one of the best wineries in Kentucky, the Purple Toad Winery! You will feel as though you have stepped back in time when you are in Paducah as many of the attractions are dedicated to a past life.

This is noticeable at the National Quilt Museum where there are exhibits that show the history of quilt making as well as displays of truly amazing quilts that show the talent of their artists. Another popular site near Paducah is Fort Massac State Park. It is French colonial and early national-era fort that sits on the Ohio River just over the border into Illinois. The Yeiser Art Center is a great option for those traveling as a part of a couple!

If you're traveling with your children you will want to check out the Paducah Railroad Museum where they can check out the locomotive simulator for kids of all ages. The River Discovery Center is highly interactive and is great for kids as well. When it's time for lunch or dinner you can check out some local cuisine.
You will find cajun food at Broussard's, wood-fired pizzas at Max's Brick Oven Cafe, Italian fare at Cynthia's Ristorante, and down-home American fare at the Gold Rush Cafe. Paducah is a city that you never expect to be a top destination in the area then it surprises you with its charm, food, waterfront, and fun activities. Paducah is planted firmly on the list of the best places to visit in Kentucky! Don't forget to check out our list of best things to do in Paducah!

Where to stay: Convenient Cozy & Modern Getaway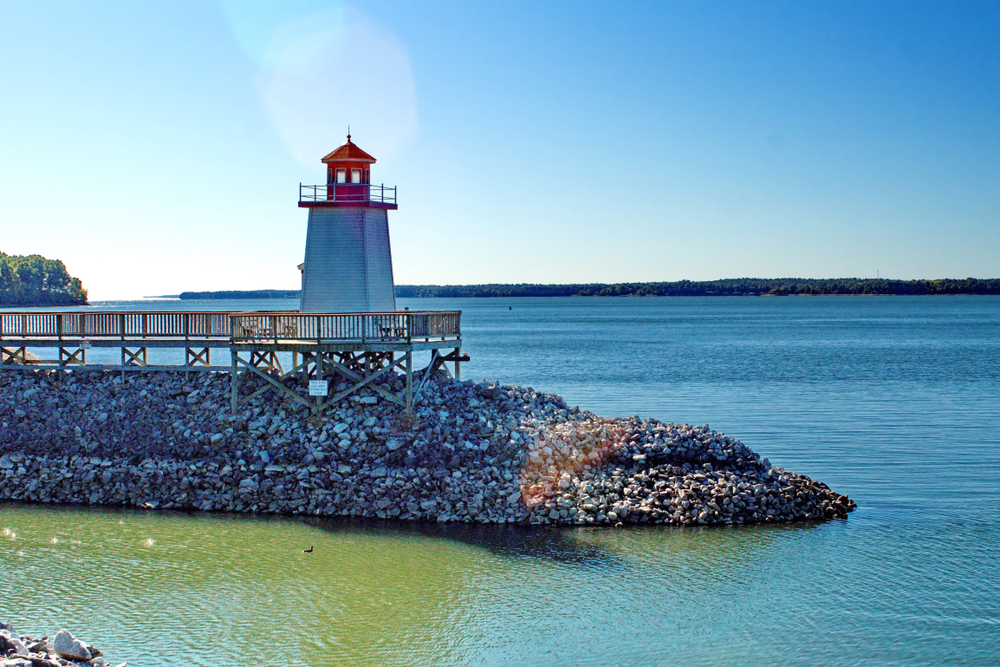 Kentucky Down Under
Kentucky Down Under is an Australian-themed adventure zoo in Horse Cave, Kentucky. It's located in the western part of central Kentucky near Mammoth Cave, Cave City, and just forty minutes east of Bowling Green. If you've ever wanted to feed a kangaroo, roam with emus, have a Lorrie land on your shoulder, or gem for beautiful gems and stones, then you will love Kentucky Down Under. Children especially will love the opportunities to pet animals in the petting zoo and get close to kangaroos and emus in the park.

This Kentucky attraction was started in 1990 by an Australian woman and her American husband who both had a passion for animals. Their dedication to the park and to the animals that call it home can be seen through the fun activities that they carefully set up there to inspire the next generation of animal lovers. The wonderful thing about Kentucky Down Under is that it is so close to other exciting Kentucky attractions so you can easily fill your weekend with tons of fun adventures. Kentucky Down Under is one of the best places to visit in Kentucky for family travelers!

Where to stay: Blue Heron Hideaway Lake House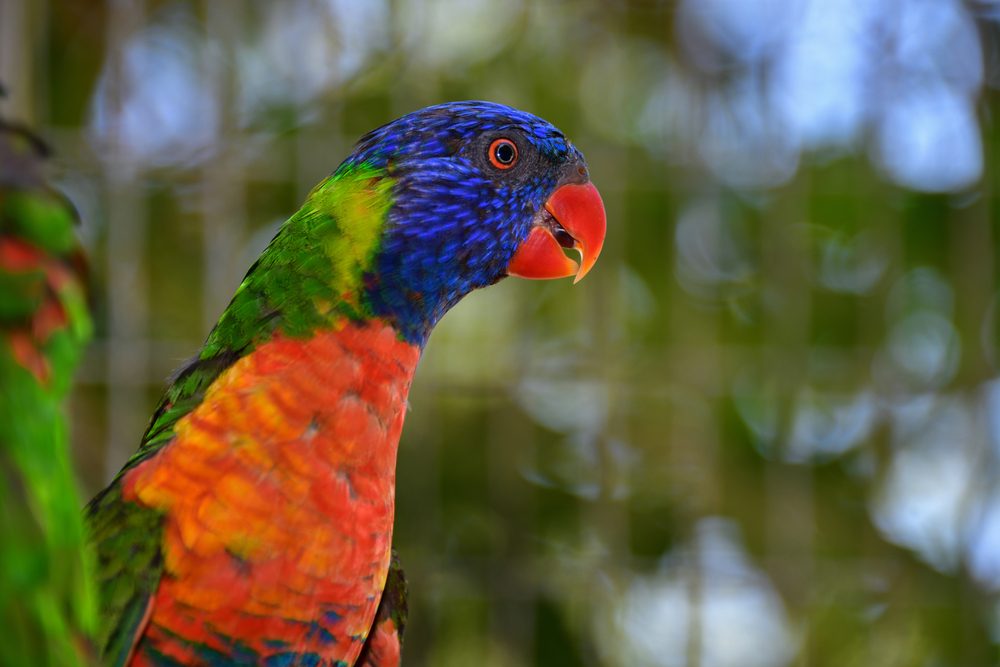 Tour The Worlds Longest Cave
The world's longest caves system is located in The Bluegrass State and is one of the best places to visit in Kentucky! Taking part in a cave tour is must-add activity to your Kentucky bucket list. You have several options to choose from as the National Park Service offers different tours to meet the needs of different travelers. (Keep in mind that there is an accessible tour option!)

One option is the Cleaveland Avenue Tour which provides bus transport, has over 200 steps, lasts an hour, and is super informative for anyone interested in learning in-depth about the cave system. Another popular option is the Frozen Niagra Tour. This is a wonderful option for anyone who doesn't want to do much walking as it's only .25 miles and there are only 12 steps to traverse on the tour. The Mammoth Cave System has 346 miles of cave passageways, with some areas still unexplored. The cave features a dome that is 192 feet high and a pit that is 105 feet deep. The system is simply remarkable and taking a tour of the cave is an adventurous experience!

Where to stay: Gorgeous Cabin on Lake Nolin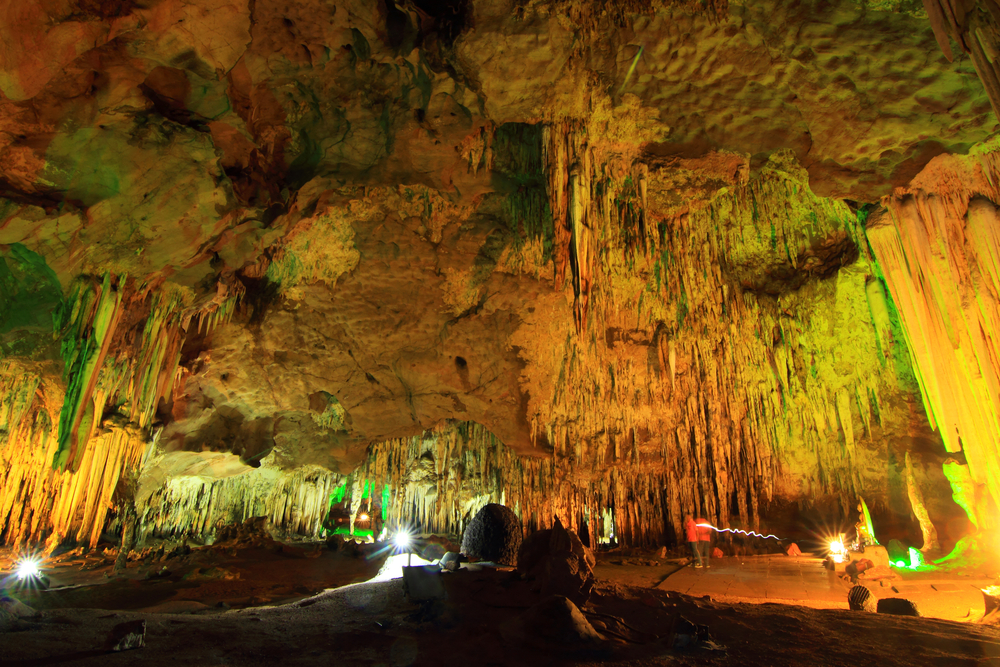 Now that you have learned about some of the best places to visit in Kentucky you may find your Kentucky bucket list to be overflowing! That's okay! Kentucky is a state full of fun music, stunning natural beauty, kind people, and delicious food. Of all the things to do in Kentucky, you are sure to find something to fit your wishlist! Which of these places will you visit first?