Pondering the pros and cons of living in Georgia? The Peach State is a gorgeous part of the United States that has a lot of appeal to those looking to move to the southeastern U.S. The weather, cities, landscape, and southern charm draw millions of visitors a year and it is easy to see why visitors choose to move here once they get a taste of what the state has to offer.

We'll cover some of the most important topics of moving to Georgia, from things to do in Georgia and the best cities to live in Georiga to what to expect when it comes to the state law and other important topics like taxes, schools, and diversity.

Let's get started!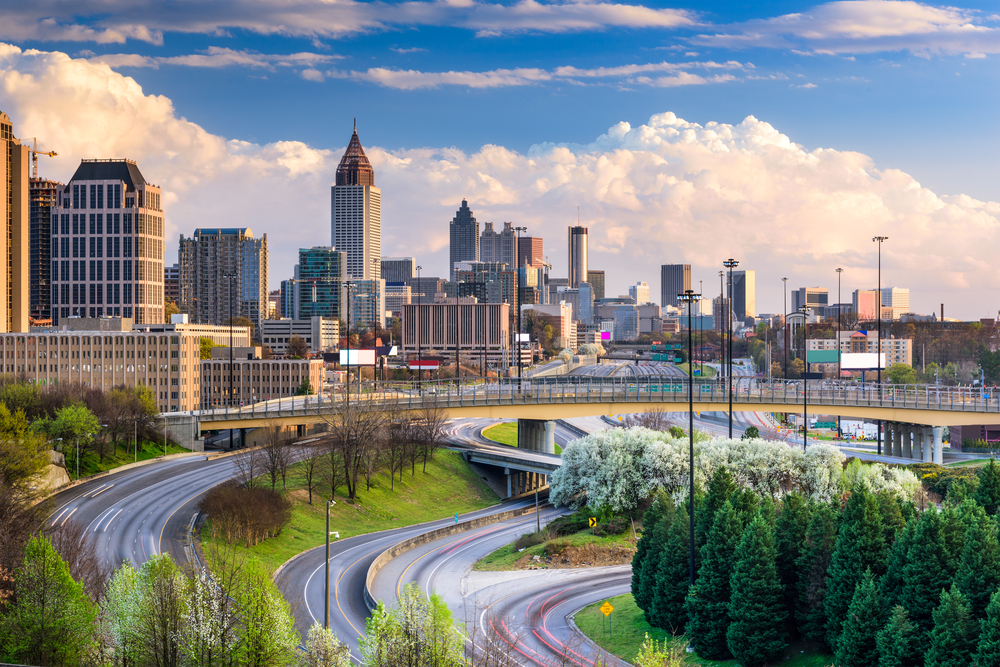 Is Georiga A Good State to Live in?
Have you found yourself asking is Georgia a good place to live? There are advantages and disadvantages to living in Georgia depending on what exactly you are looking for.

If the heat and humidity are something that you can't handle, Georgia may not be for you. However, if the city life in Atlanta and the nature-focused activities scattered around the state are appealing to you, you are sure to love living in GA.

There are many factors to consider when thinking about whether you can picture yourself living in the Peach State. Let's take a look at the pros and cons of living in The Peach State!
Pros And Cons to Living In Georiga
Pro: Mild Winters
One of the biggest benefits of living in Georgia for those who like to be outside is the mild winters. The temperatures in the winter months are not miserable so if you are thinking about relocating to Georgia and you are hoping for tolerable winters, you are in luck!

Nature lovers will be able to continue hiking, enjoying the beach, and playing outdoor sports during the winter. Escpecially if you are in southern Georgia! To make the mild winters even better, there are a lot of exciting ways to enjoy Christmas in Georgia. Festivals, parades, and light shows make this state a great place to be around the holidays.

While you can find mild temperatures in southern and central Georgia during the winter months, you can still find snow and colder temperatures in northern Georgia if that if something you are looking for!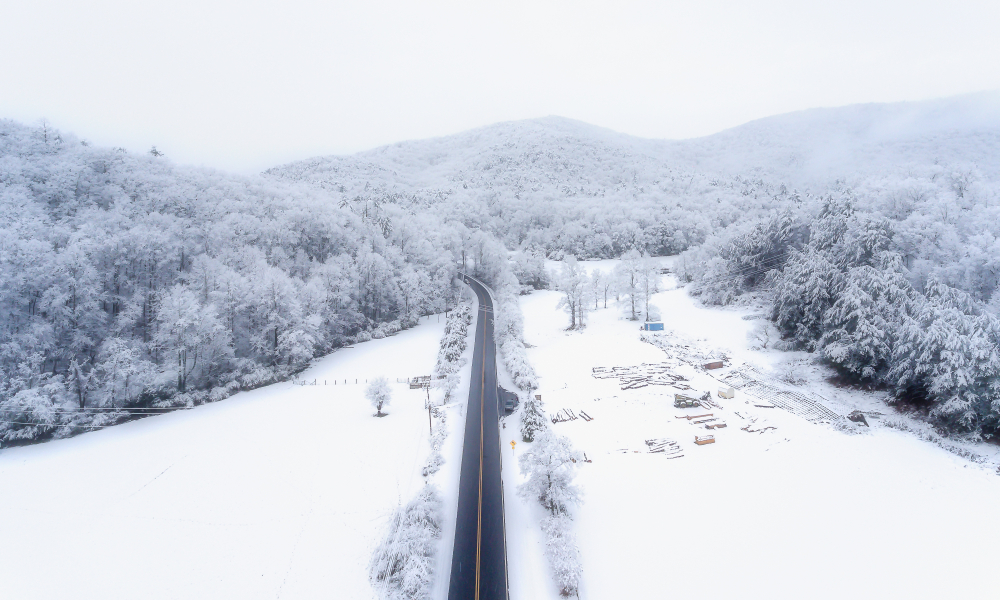 Con: Awful Allergy Season
One of the biggest reasons not to move to Georiga for a lot of people is the awful allergy season.
Oak, Hickory, Pines, and Ash trees, among other allergy-causing plant life, cause big problems for allergy sufferers. While Georiga living can be a dream come true in many ways, those with allergies may not be able to handle the pollen here.

This is particularly true for those who are looking for a place to live where they can spend a lot of time outdoors. GA has loads of activities like hiking, boating, camping, and more. Glamping in Georgia is also lovely, but it may not be the best for those with allergies.
Pro: Diversity
Have you been asking "What are the people like in Georiga?" Well, according to the 2020 Census Data Release, Georgia is ranked 9th in the United States in the US Census Bureau Diversity Index. This means that there is a high probability of two people being chosen at random in Georgia being of different ethnic groups.

If a diverse place to live is high on your list of must-haves when thinking about where to live, then living in Georgia could work for you! If you are interested in visiting black-owned businesses while you are in Georgia, these wineries in Georgia are recommended!
Con: Hot and Humid Summers
While living in Georgia is made easier by the mild winters, the hot and humid summers can be quite bothersome. For example, Savannah has temperatures reaching over 90 degrees in the summer. On top of that, the humidity can be shocking, so this is definitely something to consider if you want to move to Georgia.

If you want to move to GA but you aren't sure if you can handle the heat, consider the northern part of the state. The city of Waycross (which is about an hour and a half from Jacksonville, FL.) is one of the hottest cities in the state and despite its dreamy location close to Florida and Georgia hotspots, it should be avoided if the heat is a big deal breaker for you.

There are ways you can deal with the heat while in the Peach State. To make the most of a hot summer, you can find incredible places to go tubing in Georgia.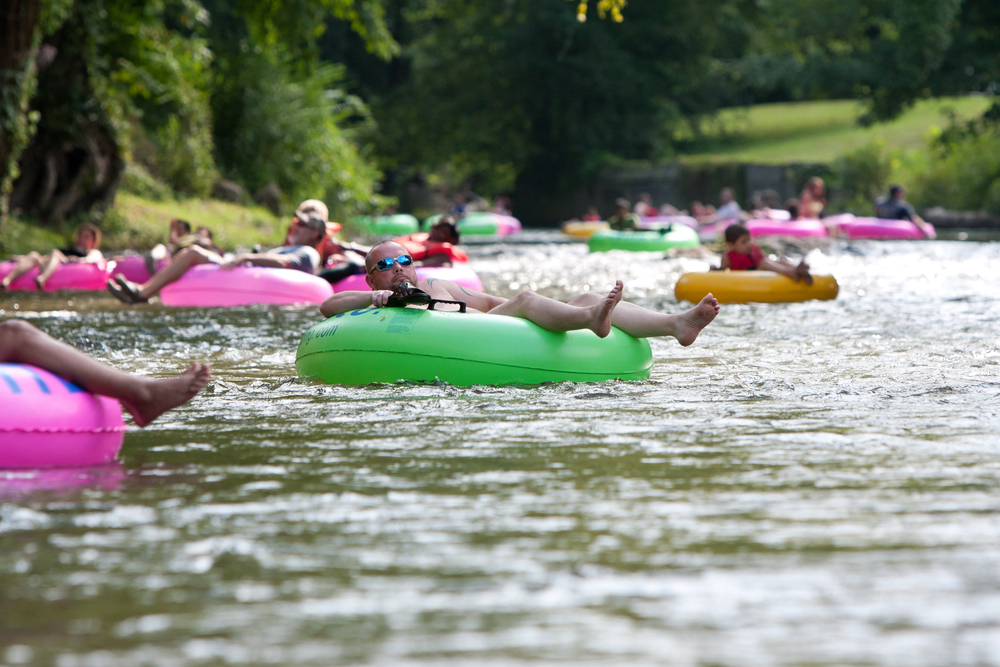 Pro: Housing and Utility Costs
A huge pro to living in Georgia is that the housing and utility costs are both below the national average. If you are coming from one of the country's more expensive states, this will be a huge advantage for you.

The United States Information Administration has reported that the average monthly energy bill in GA puts it in the middle of the pack in comparison to other southern states.

Saving money on things like housing and utility costs allows you to spend money on more exciting things like romantic getaways in Georgia, weekend getaways, or out-of-state vacations.
Con: Threat of Tropical Weather
The threat of tropical weather in Georgia is a huge con for many people considering living in Georgia. Hurricane season is from June 1 until November 30. The southeastern states like Georgia tend to experience the largest threats during the later part of that season.

Of course, tropical storms are also an occurrence in Georgia. If the threat of tropical weather is something that worries you, consider avoiding the beach towns in Georgia and choosing a small town in the mountain up north or something more inland to give you more security from weather coming in from the ocean.
Pro: Access to the Outdoors
The diverse natural landscape makes living in Georgia super exciting. The state is a utopia of natural diversity with woodlands, alpine terrain, and the coastal plain making a shockingly beautiful display of what the southeastern states have to offer.

In the mountains, there are copious hiking and camping opportunities. There are also orchards, museums, vineyards, lakes, and other exciting things to do in the mountains like the Georgia Mountain Coaster and visiting the Chattahoochee Forest National Fish Hatchery.

On the coast, you can find beautiful beaches, stunning beach towns, deep-sea fishing opportunities, historical sites, cobblestone streets, and more. There are also incredible islands in Georgia that showcase the mindblowing beauty that this state has to offer visitors and those who live there.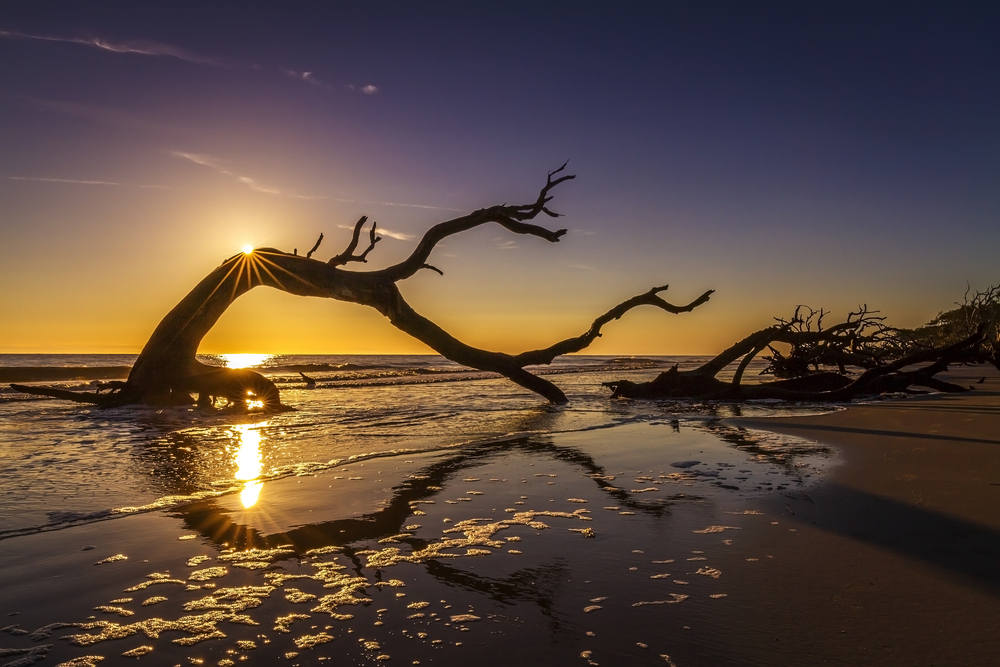 Con: High Crime Areas
Safety is always important when considering a move. And when you start thinking about living in Georgia, you should know that there are quite a few high-crime areas. Some of the most dangerous cities in the state are College Park, Garden City, LaGrange, and Eastman (according to the Southwest Journal).

In contrast, some of the safest places to live are Culloden, Andersonville, Howard, and Bristol (according to Neighborhood Scout). If you have your sights set on living in Savannah, it has the same crime rate as the national average and it can be absolutely lovely if you are looking for a town with history and southern charm.

A couple of laws to know before moving to Georgia; weed is illegal in the state except for medical marijuana and speeding is a misdemeanor charge. Both are important to know before you make the big move.
Pro: Urban Centers
Atlanta, Columbus, and Savannah are among the largest urban centers in Georgia. If you are wondering why so many people are moving to Georiga lately, the urban centers play a huge role in that!

Living in Georgia and working in Georgia are made easier in the bigger cities where you have the convenience of having stores and everything else you need close by. These urban centers are some of the best places to visit in Georgia, even if don't decide to live in one of them.

Atlanta, the capital city and the biggest city by population, is home to a high-traffic airport, sites of major Civil Rights history, major brands like CNN and Coca-Cola, and a thriving hip-hop scene. Living in Atlanta is appealing for many reasons!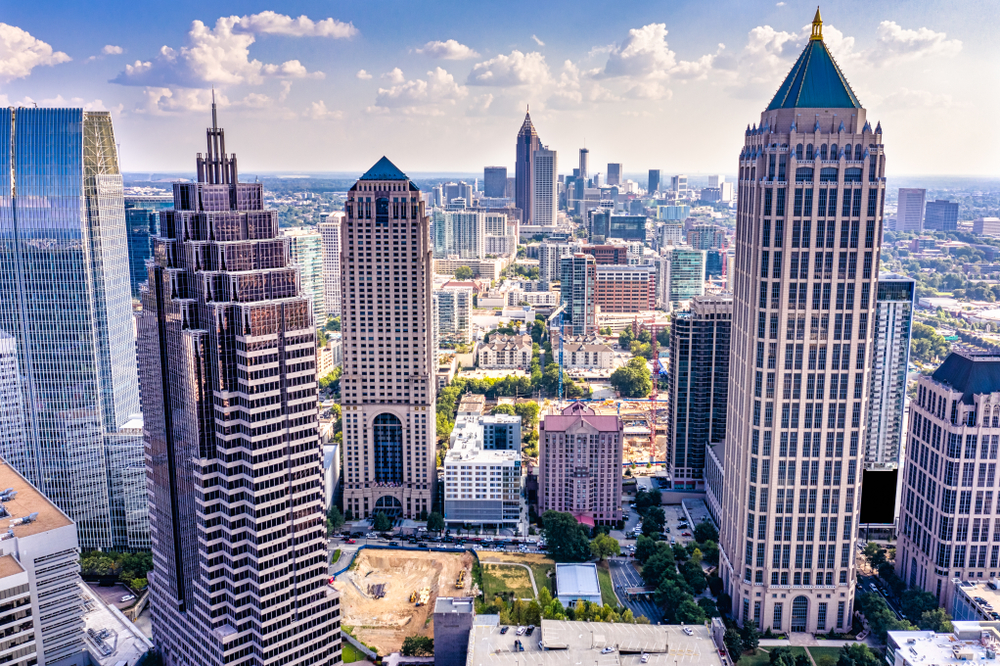 Con: Public Schools
By far one of the worst things about living in Georgia for those with children is that the public schools in Georgia are ranked in the bottom half of states in the U.S. according to Forbes.com. They have some of the worst-ranked schools in the nation with low spending being nailed as the culprit.

Some of the top school districts to live in for those moving with kids include Buford City, Oconee County, and Forsyth County (according to Niche.com). If you decide to move to Georgia with kids, be sure to check out these incredible things to do with kids in Atlanta!
Pro: Tax Rates
A major pro to living in Georgia is the low tax rate. As of 2024, the state is adopting a flat rate tax of 5.49 percent for income. The sales tax is just four percent in GA which is below the national average for sales tax; while the average property rate is less than one percent.

Lower tax rates mean more money to spend on your favorite things like weekend getaways in Georgia and more vacations in The Peach State! When thinking about how to move to Georgia, doing a bit of research on the tax rates is important, especially if you plan on buying property once you move.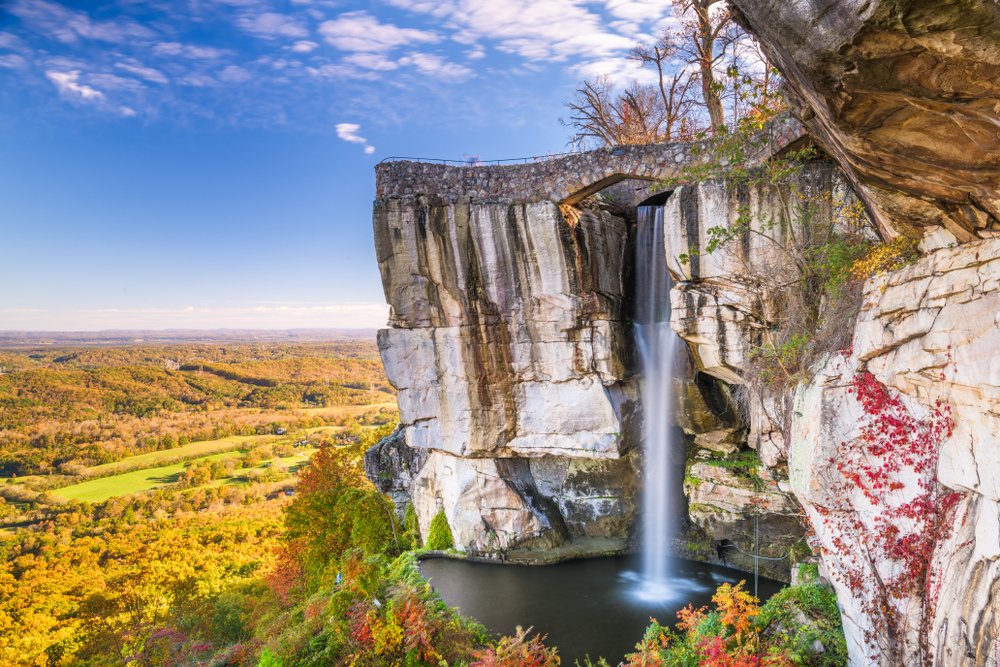 Con: Traffic
Georgia is ranked high on the list of states for congested urban interstates and according to the international study of traffic trends done by the Global Traffic Scoreboard, Atlanta is the 10th worse city in The United States for traffic. The Georgia Sun says that Atlanta drivers spend more than a whopping 70 hours a year stuck in traffic!

There are so many great things to do in Atlanta for adults so it is easy to see why you would want to move to Atlanta. However, if the traffic is a big deal breaker for you, one of the smaller cities or towns in GA may be calling your name a little louder. Some of the best small towns to check out in your research for living in Georgia include St. Marys, Dahlonega, and Madison.
Pro: Growing Job Market
One of the top pros of living in Georgia is the growing job market. The state predicts that total employment will grow by over five million by 2028. This means that we can expect more than half of a million new jobs over the next few years in Georgia. With companies like Delta, Coca-Cola, and Home Depot in Atlanta, there are a large array of job opportunities in the capital city.

If you are in the healthcare field, the top employers in the Atlanta area include Emore University Hospital, Piedmont Atlanta Hospital, and Children's Healthcare of Atlanta. Meanwhile, in Savannah, you can find jobs in the tourism and aerospace fields. Resorts in Georgia are plentiful, not just in Savannah, so there are a lot of options for managers and hospitality jobs as well.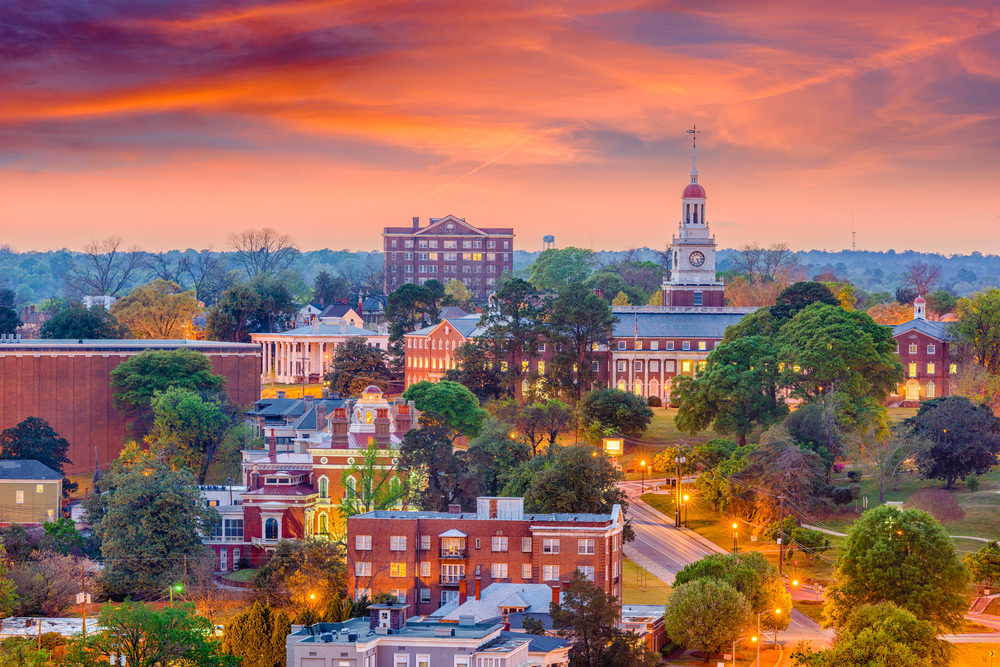 Con: Less Public Transport Than Other States
If you were hoping to move somewhere where you wouldn't need a car to get around, Georgia probably isn't for you. While you could get by without a car in some U.S. states, that isn't possible in most places The Peach State. For those who are used to big city living, one of the cons of living in Georiga for you will be having to get around in your own vehicle as opposed to public transport.

If you are committed to attempting to get by using public transportation, Atlanta, Sandy Springs, and Savannah are your best bets as they have the top percent of their populations using public transport in relation to other GA cities. Still, it is worlds easier to drive yourself.

Speaking of driving, a Georgia road trip is a must on your southeastern United States bucket list. Mountains, lakes, beaches, cities, small towns, good food, history, and more await you on one of the many exciting GA road trips you are sure to take once you move to Georgia!
Pro: Excellent Entertainment
Other than all of the incredible attractions in The Peach State like historic sites, beaches, and city activities, there are also attractions like breweries, lakes, and more that you can enjoy on a daily basis that make life in Georgia exciting. A vibrant and diverse foodie scene along with professional and college sports both play a big role in the entertainment in this southern state.

If you are a foodie, the restaurant options in the Peach State will be one of the biggest pros of living in Georgia for you. Peaches, fried chicken, low country boils, shrimp and grits, pimento cheese, and other iconic Georgia foods can become staples for you once you make the move to Georgia.

A few of the top restaurants in the state include Twisted Soul Cookhouse and Pours, Canoe, and Bones Restaurant!

On top of that, you are sure to look forward to the annual festivals in the Peach State as well. Savannah has a great St. Patrick's Day Parade, there's an International Cherry Blossom Festival in Macon, The Georgia Mountain Fair in Hiawassee, and Pine Mountain has a Hot Air Balloon Glow where glowing hot air balloons take to the sky at sunset and are followed by a fireworks show.

For sports fanatics, Georgia is home to the Atlanta Braves Major League Baseball team, the Atlanta Falcons football team, the Atlanta Gladiators hockey team, and more. Most of the teams have home stadiums around the Atlanta area, giving your even more reason to stick around the capital city!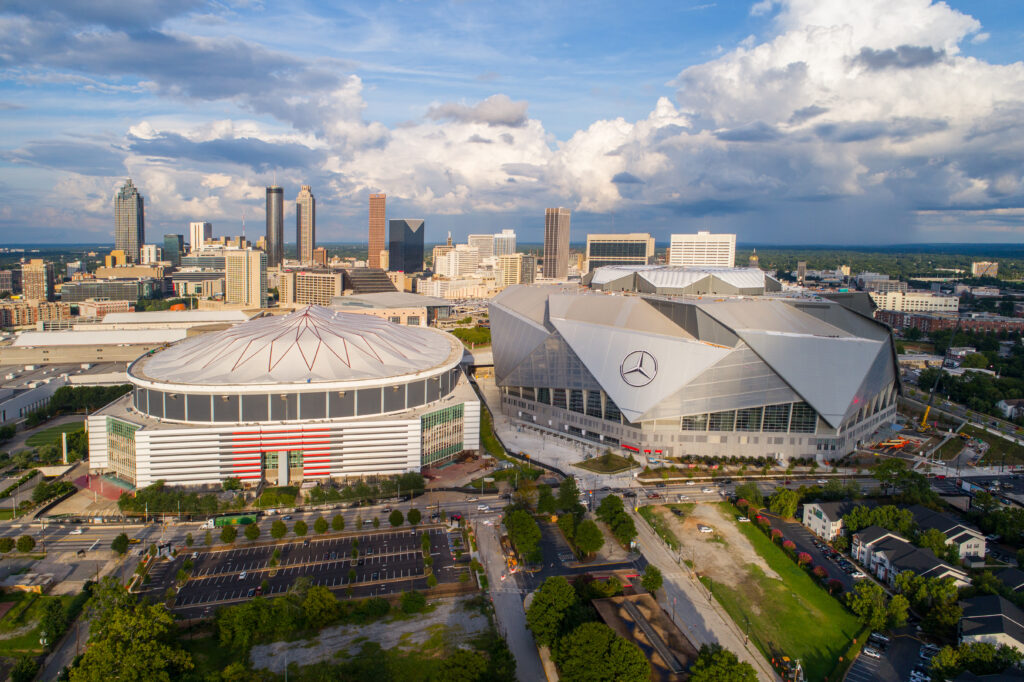 The moving to Georiga pros and cons cover everything from the enviable tax rates and home prices to the traffic and weather threats that the state faces. As always, moving is a big endeavor. However, educating yourself on what to expect before