Are you wondering what it is like living in North Carolina? You are in the right place.
In this article, we will walk you through the pros and cons of living in North Carolina and everything you need to know to decide if this state is right for you. By the time you have finished reading, you will know whether moving to North Carolina is a good move for you or not.
There is so much to do in North Carolina and so many things to see. From the North Carolina lakes to the North Carolina mountains if you love the great outdoors this is the state for you. It's a state that really does have something for everyone.
You have probably got questions like, 'What are the people like in North Carolina?' or '"Are there reasons not to move to North Carolina?". Oh and if you are thinking about laws to know before moving to North Carolina it is illegal to consume, possess, grow, or sell cannabis and you can open carry guns.
So take a seat, grab a drink, and let's get these and all your other questions answered. The only question you will have left is how to move to North Carolina.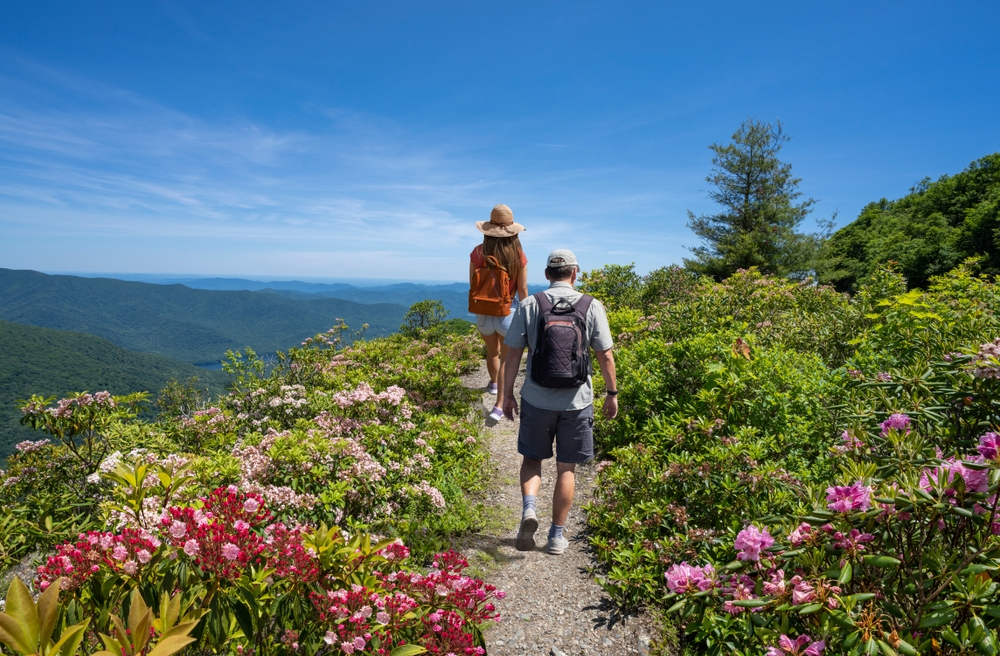 Is North Carolina A Good State To Live In?
Whether or not you should be moving to Carolina is a question only you can really answer. What we can say is that it is a place that caters to all needs and desires. Whether you crave the energy of a bustling city or prefer a more relaxed lifestyle, this state has it all.
It's a very welcoming state and wherever you move from you will find a warm welcome and a friendly face. Southern hospitality shines everywhere you go.
It is also a very diverse state attracting people from all regions with the urban centers offering a plethora of options for food, entertainment, and cultural experiences. There is also a very strong sense of community, so if you are thinking about relocating to North Carolina be prepared to be social and make friends.
The climate in the state is diverse featuring milder winters in the east and colder winters in the west due to the presence of the Appalachian Mountains so choose your locations carefully. The state can be broadly categorized into three main areas: the coastal plain, the Piedmont, and the Appalachian Mountains. Each of these regions possesses its own distinct culture, landscape, weather, and lifestyle.
The cost of living is relatively low compared to other states and the good infrastructure means you can travel fairly easily in a car. This is probably the main reason why so many people are moving to North Carolina.
So to answer your question 'is North Carolina a good place to live?' our answer would be yes however let's go through some pros and cons so you can get crystal clear on your decision-making.
Living in North Carolina is perfect for some but may not be great for others.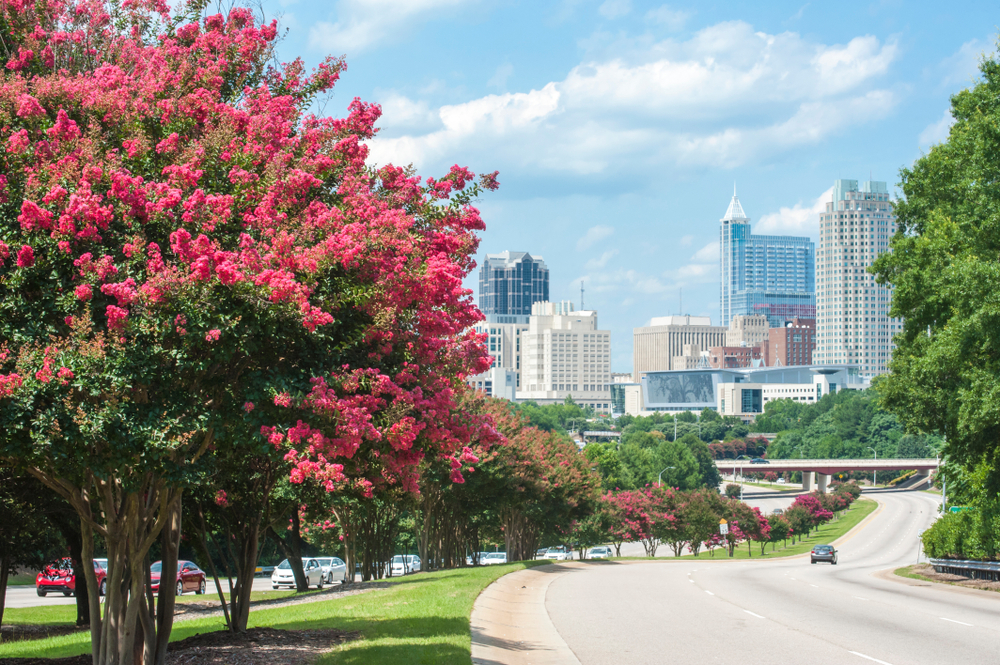 Pros And Cons Of Living In North Carolina
Pro: Cost of Living
One of the pros of living in North Carolina is that the cost of living here tends to be lower, particularly when compared to the northeast or western parts of the country. In terms of overall affordability, North Carolina ranks 24th on US News & World Report's list of the most affordable states.
Housing costs tend to be lower here and the range of options is plentiful. While the median home cost in Boston is $602,600, Charlotte's median home cost is approximately $228,800 which is significantly lower. You will definitely get more for your money here. Utility and transportation costs tend to also be lower. Charlotte is one of the best cities to live in North Carolina.
This lower cost of living allows residents to have more disposable income and enjoy a higher quality of life. This makes this state popular with retirees on fixed incomes, as their retirement dollars can stretch further.
Obviously, costs vary throghout the state but even in the cities like Fayetteville and Lexington, you will find prices cheaper than in most other states.
Moving to the Carolinas will certainly be good for your bank balance.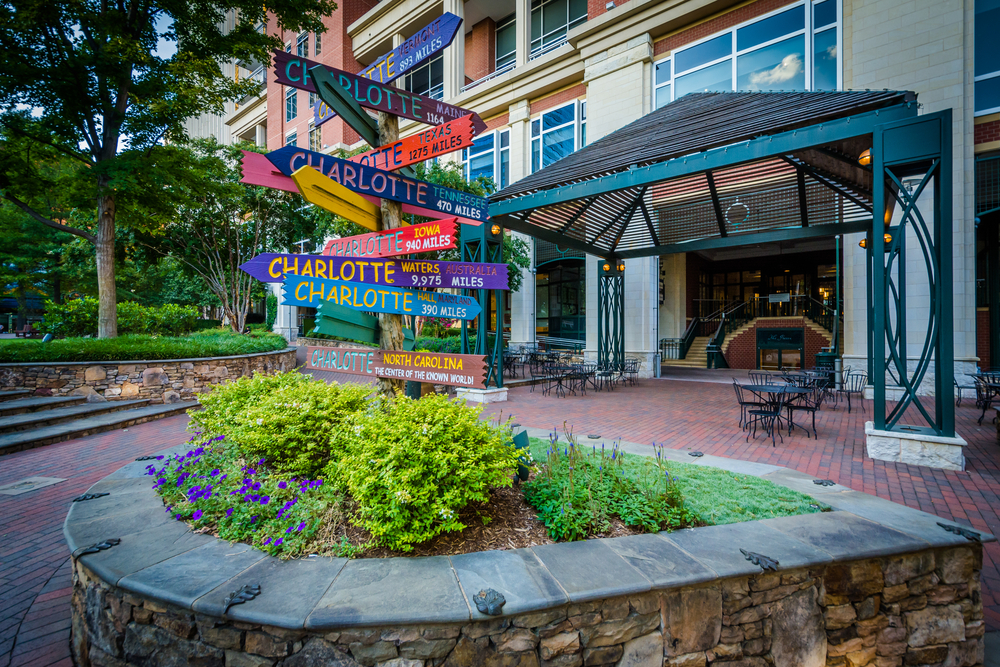 Con and Pro: Tax
North Carolina ranks near the lower one-third of states on the relative size of taxes and while most taxes are below the national average it is still high. One of the cons of living in North Carolina is the taxes.
And like anything it matters what you compare it to. Washington, Tennessee, or Florida for example do not have state income tax and North Carolina does. The property tax here is higher than in neighboring South Carolina and the 7% sales tax is more than in states like Oregon or New Hampshire.
The state does not tax social security benefits which are great for retirees.
So whether you think the tax burden is a pro or con might be dependent on where you are moving from. However, if you are thinking of living in North Carolina this is something you must consider.
Pro: The Food And Drink
If yOu are relocating to North Carolina you are in for a treat. North Carolina's restaurant scene is truly exceptional, offering a culinary experience that is second to none. Whether you find yourself in Raleigh, Charlotte, or Asheville, you'll be treated to a top-notch foodie adventure.
If you're seeking comfort food or a taste of home, North Carolina's restaurants have got you covered. And of course BBQ is King and Queen here.
But it's not just BBQ that has made this state famous, shrimp 'n grits and biscuits are said to be the best here.
North Carolina also has a fantastic craft beer business and some excellent wineries. North Carolina's living really is exceptional.
Con: The School System
While North Carolina boasts some of the most prestigious universities and colleges in the United States, its K-12 education system is considered average compared to other states. North Carolina ranks 32nd best in the K-12 public school system in the nation.
Certain factors contribute to lower education quality ratings, including high school graduation rates, ACT and SAT scores, reading scores, student-to-teacher ratios, and the percentage of residents without high school diplomas. While the state offers exceptional higher education options, the K-12 school system falls behind in some aspects.
So if you are moving to North Carolina with children that are in or will enter the education system you will need to keep this in mind and ensure you find a school up to your standard.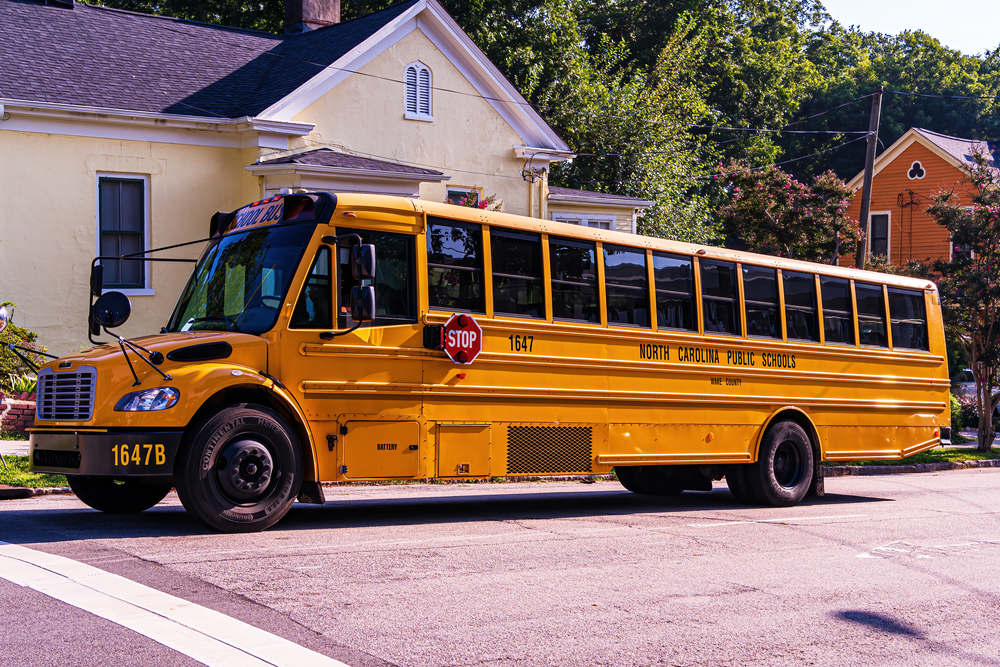 Pro: The Beaches
If living in North Carolina for you is all about beaches you will be impressed. North Carolina has an impressive coastline stretching over 300 miles. The North Carolina beaches are some of the best in the world.
North Carolina's beaches are not only breathtaking, but they are also affordable, allowing you to enjoy a day of sun-soaked relaxation without straining your budget. From surfing and fishing to kayaking, BBQs, biking, and paddleboarding, the state's beaches offer a wide range of activities to suit every interest.
You can't go wrong with any of the beaches you choose to visit. Whether you opt to explore the vibrant port city of Wilmington, take a leisurely stroll through the charming town of Swansboro, or spend a week basking in the renowned beauty of the Outer Banks, soaking up the North Carolina sun will be an experience you won't want to miss during the summer months.
If you love beaches then the beach towns of North Carolina are alone a great reason to move to the Carolinas.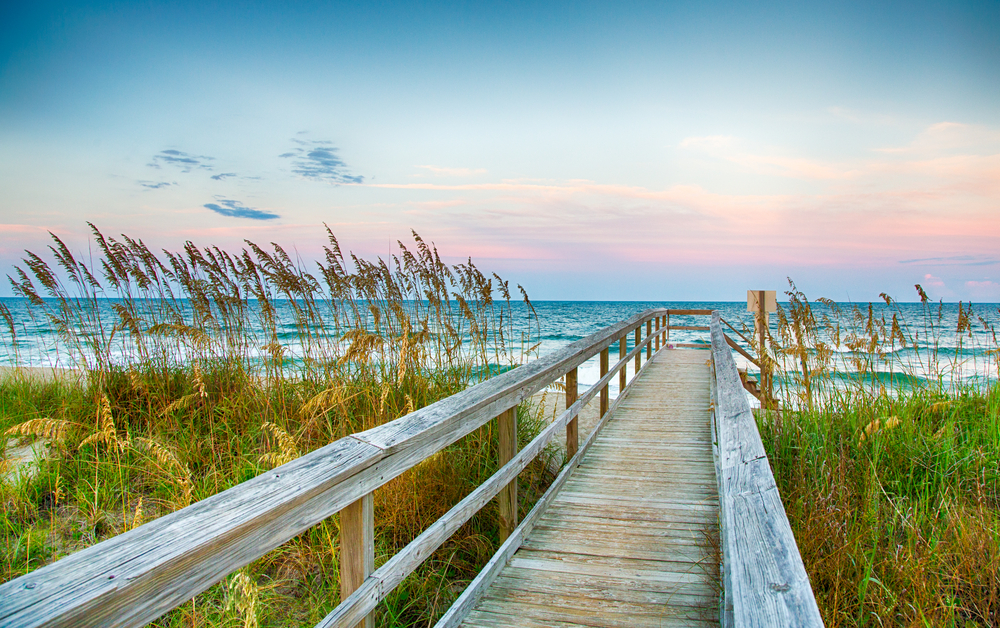 Con: Threat Of Hurricanes
One of the biggest cons of living in North Carolina is that hurricanes are a threat here. The most recent hurricanes were Hurricane Isabel in 2003, Hurricane Florence in 2018, and Hurricane Isaias in 2020.
North Carolina is prone to these powerful storms, which primarily occur during the summer and early fall months.
If the prospect of such weather concerns you and you still want to move to North Carolina consider relocating farther inland, nearer to the mountains. Obviously the nearer the cost you are the more risk.
Pro: The Great Outdoors
Living in North Carolina is all about the great outdoors. For outdoor enthusiasts, North Carolina is a dream come true.
The state is home to some of the most stunning natural landscapes, state parks, and national parks in the country. The Appalachian Mountains, Blue Ridge Mountains, and Great Smoky Mountains showcase the state's majestic beauty.
North Carolina presents endless opportunities for outdoor recreation, including, camping, fishing, outdoor sports, and boating. With approximately 95 miles of the Appalachian Trail within its borders, along with an additional 226 miles along the NC/TN border, hikers will love this state.
You will find breathtaking scenery and an adventure awaiting around every corner.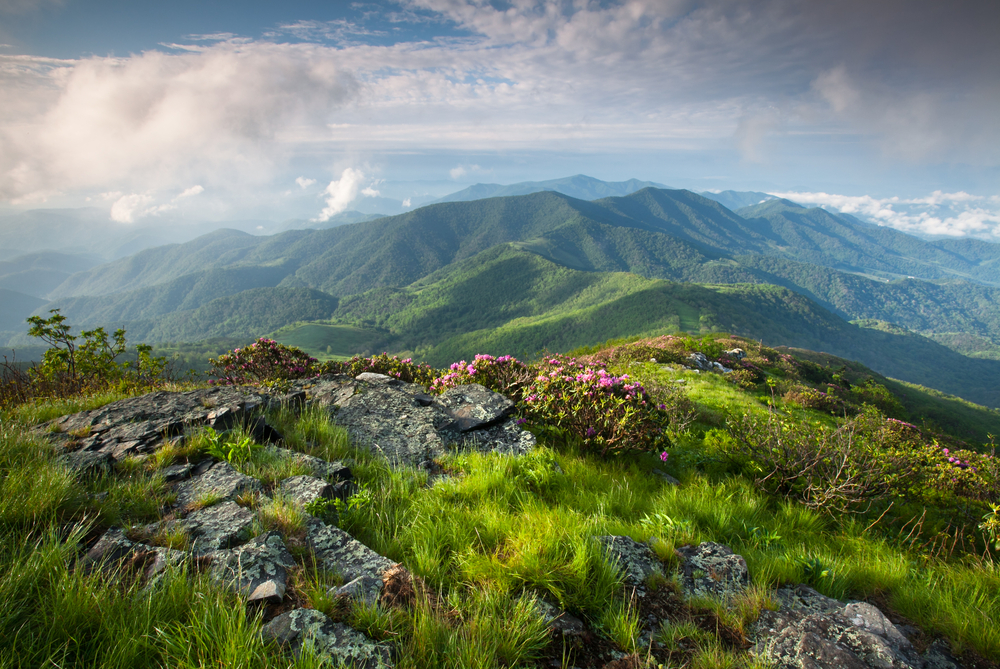 Con: Poor Public Transport
If you are thinking of relocating to North Carolina then you will need a car. North Carolina has limitations when it comes to public transportation.
If you don't have a car, getting around the state can pose challenges, particularly for intercity travel. Even within cities, the efficiency of public transportation systems can be lacking.
It can be difficult to navigate the transportation systems and it's not as extensive or reliable as you might think.
Also of note cell signal and satellite can be patchy so relying on your phone for directions can be a challenge in remote areas. It's best to always have a physical map to hand and allow extra time because it's easy to get lost.
One of the best cities to live in North Carolina when it comes to public transportation is Chapel Hill which ranks 107th in the nation. Living in Chapel Hill is perfect for those without cars.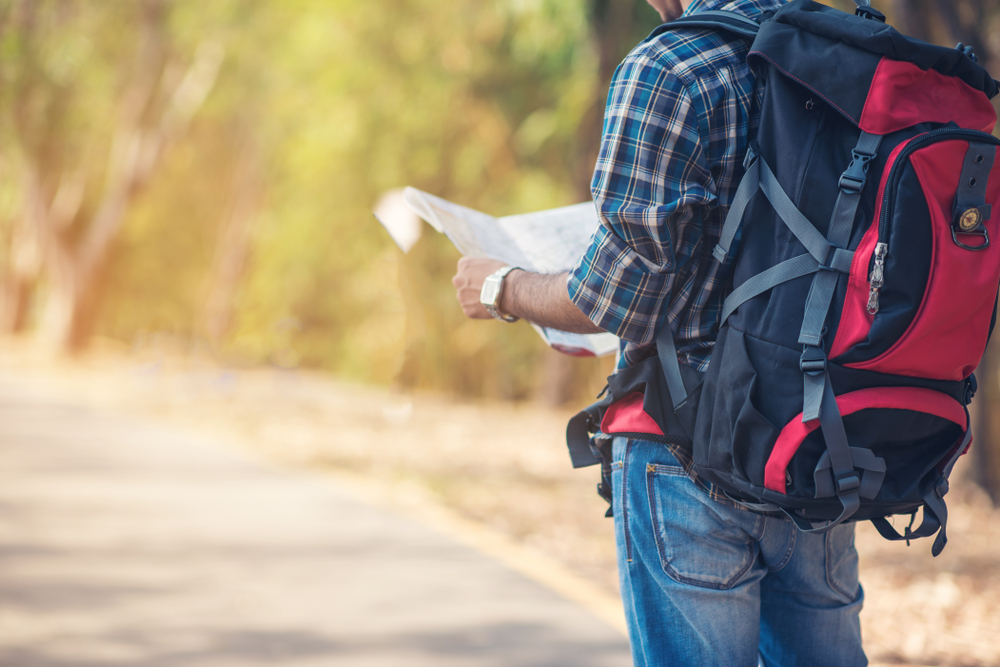 Pro: Thriving Job Market
North Carolina's job market is thriving, offering a range of opportunities for workers across various industries. The state consistently maintains a lower unemployment rate than the national average, indicating a strong and growing economy.
One of the pros of living in North Carolina is the robust job market. The Healthcare and technology industries are particularly thriving. Major tech players like IBM, Cisco, and SAS have established their presence in this region, contributing to the growing demand for skilled tech workers.
Education, manufacturing, and the hospitality industries are also on the rise. The state is highly regarded for its business-friendly policies, attracting new businesses and investments.
Overall, North Carolina provides a favorable environment for both living and working. Its strong economy, diverse job market, and attractive business landscape make it an ideal destination for businesses and workers alike.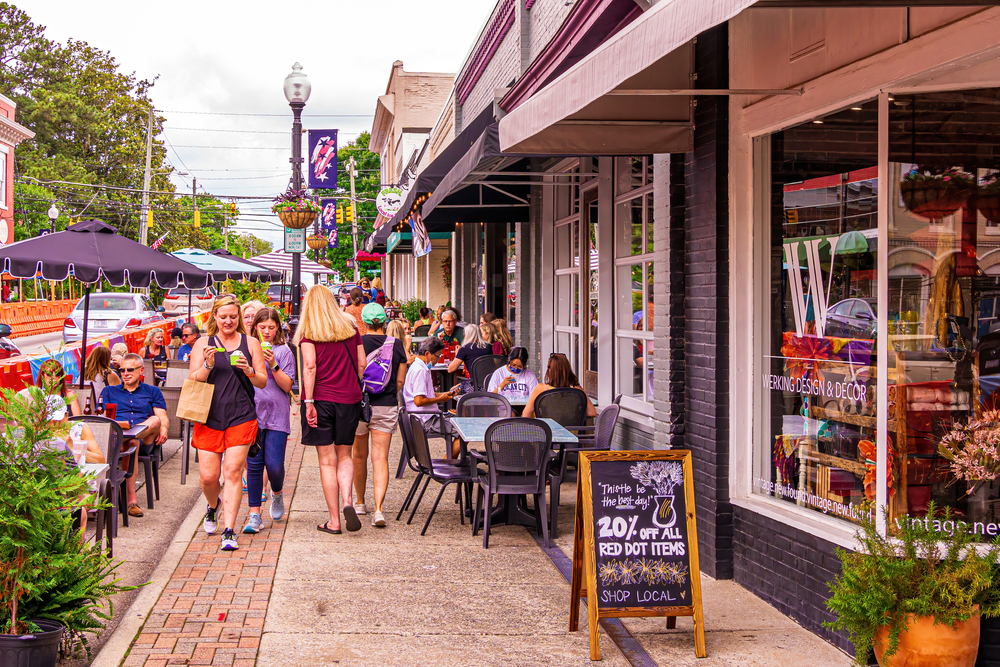 Con: Open Carry State
If you are thinking of living in North Carolina then you might want to know that is a state considered an open carry state, meaning it allows individuals to possess firearms without a permit. For some, I guess this might be a pro but I think most agree open carry is a con.
However saying that when it comes to politics, North Carolina exhibits a level of moderation that distinguishes it from other regions in the country. The state's political landscape is primarily shaped by an urban/rural divide, with the city centers leaning more towards liberal ideologies, while the rural areas tend to be conservative.
Cities and counties retain the authority to establish their own regulations in regard to gun control so this might change in regions. If this is an issue you feel strongly about then choose the area you go to and check their regulations.
Pro: Great Sense Of Community
If you're seeking a sense of belonging and a place with a deep-rooted history, North Carolina is an excellent choice. As one of the original 13 colonies in pursuit of independence, the state exudes a patriotic atmosphere and a real sense of community.
Wherever you go in North Carolina there just seems to be a sense of togetherness and community with clubs and societies abound. If you move here they expect you to be part of the crowd.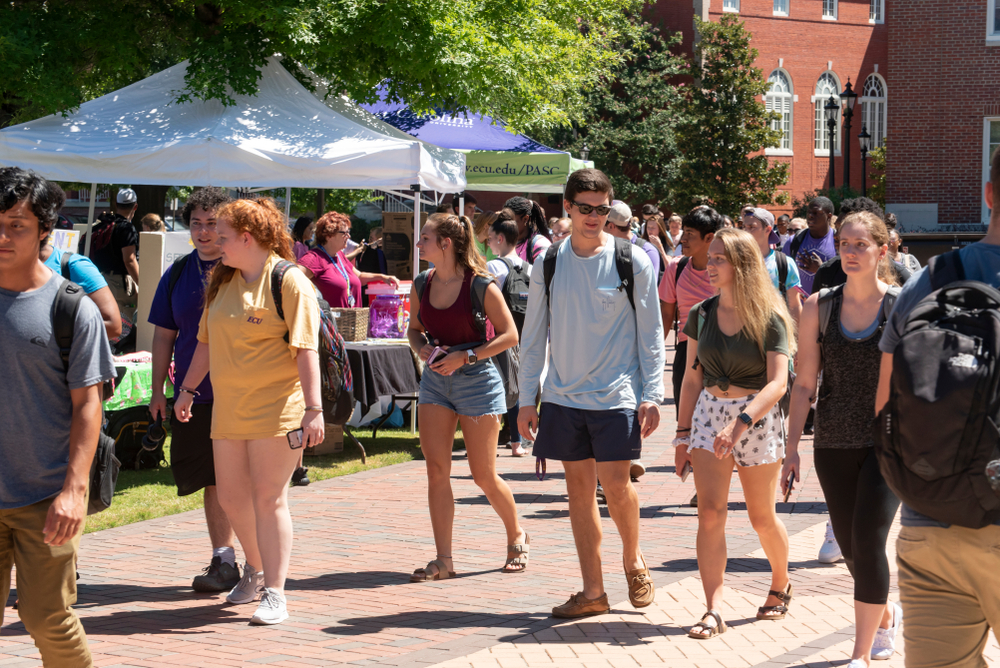 Con: The Summers Are Hot
One of the pros and cons of living in North Carolina is the hot summers. For some, it might be just what they are after but for others, the sticky humid weather is too much.
With temperatures regularly reaching 90 degrees or higher for extended periods, this state may not be ideal for those sensitive to high temperatures.
However, if you're set on living in North Carolina and wish to escape the summer heat, consider relocating closer to the mountains in the western part of the state, where temperatures are generally cooler. And of course, there is always air conditioning.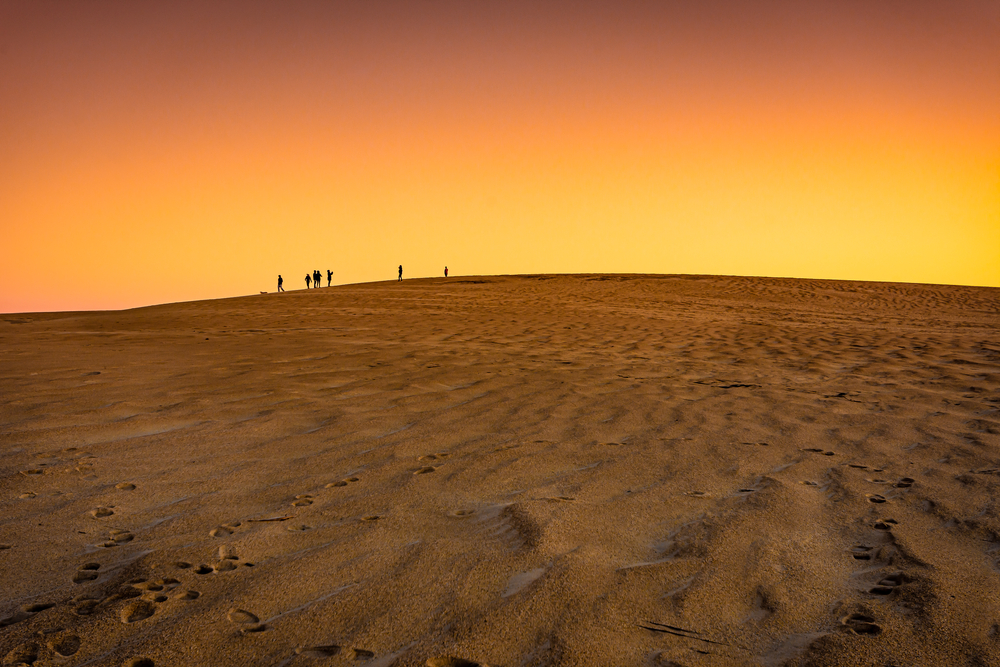 Pro: The Weather
If you are looking for traditional four-season weather then North Carolina might not be for you. The weather here is unique but it might not suit everyone.
You won't find it chilly in autumn and early winter and there is little snowfall other than the mountains. Summers tend to be very hot and the transition through the seasons is less dramatic than most.
If you are looking for hot summers and mild winters though North Carolina living will be perfect for you.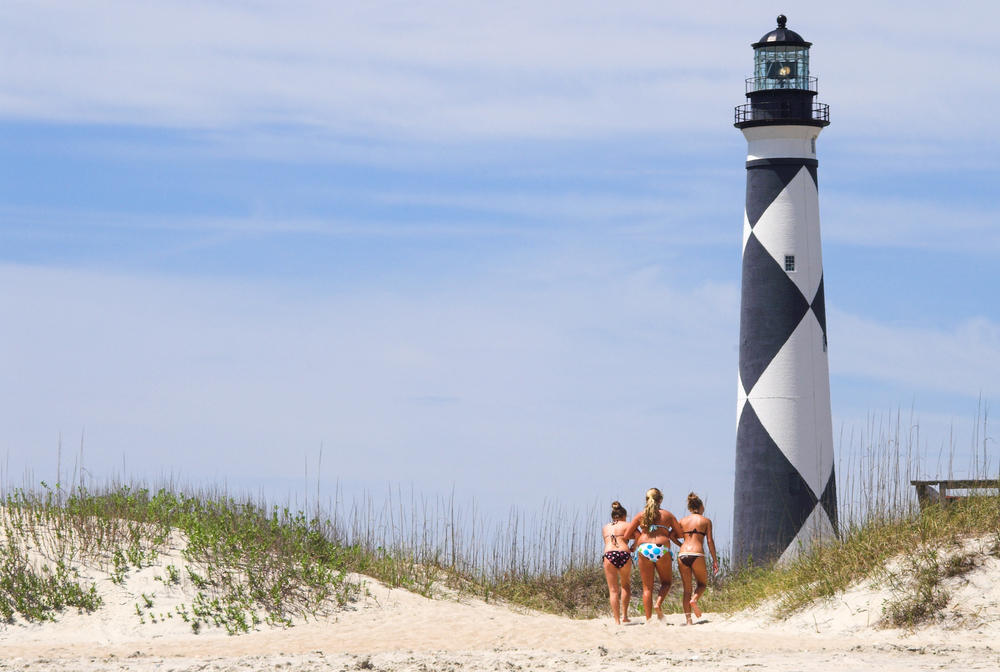 Con: Crime Rate
North Carolina, like any state, has its share of crime something that anyone thinking of moving to the Carolinas needs to be aware of. The crime rate in the state as a whole is above the national average.
The average rate is 2,489 crimes per 100,000 residents in North Carolina which rises to 2,729 crimes per 100,000 residents. However, when it comes to violent crimes it is the 28th lowest. Larceny and property crime are high here with it being the 8th highest for burglaries.
Obviously, crime rates change dramatically throughout the state so do your research. Pineville is the highest crime area but this mainly relates to property crime. When it comes to violent crimes Wadesboro leads the way.
While this might be one of the reasons not to move to North Carolina, despite these statistics, this state still offers plenty of safe places to live.
Pro: Diversity
If you are moving because you want to live in a more diverse population than North Carolina has you covered. North Carolina has a diversity score of 71 out of 100 and is a fairly diverse state.
Charlotte and Raleigh-Durham are some of the most diverse regions in the state. The least diverse areas are located in the northwest parts of North Carolina.
With a diverse population comes a vast array of options for food, entertainment, and culture. We also feel diverse communities make people more tolerant and understanding It is great for children to grow up surrounded by other cultures, customs, and ways of living.
Living in Charlotte really is a cultural explosion.
As you can see when it comes to living in North Carolina there are many reasons why it might be right for you and some as to why it might not.
Think carefully about what is important to you and do your research on the area you want to move to. We hope this article has answered some of your most pressing questions now all you have to figure out is how to move to North Carolina.