Are you looking for the best places to stay in the South? We have you covered with these dreamy airbnbs in the south!
The southern USA is comprised of Florida, Georgia, South Carolina, Alabama, Arkansas, Mississippi, Kentucky, North Carolina, Louisiana and Texas.
These dreamy airbnbs in the south range from gorgeous treehouse, beautiful cabins, luxury homes, beachfront homes, all inclusive condo's. From small romantic couples vacations in nature, to large homes in Florida that can sleep 30, to airbnbs perfect for families there is a place to stay for everyone on this list!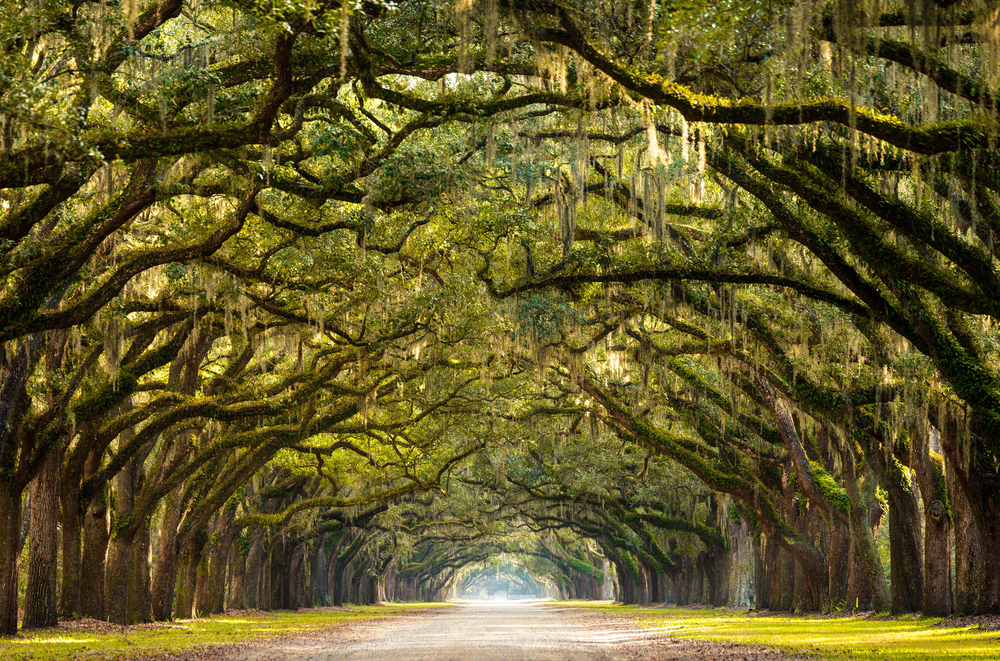 20 Dreamy Airbnbs In The Southern USA
Lake Martin Escape
Lake Martin Escape is a great place to kick back and relax in Alabama. The property has stunning views of the lake, a private dock, and all the comforts of home. It is truly one of the best Airbnbs In Alabama!
The home can accommodate up to 12 guests, perfect for groups of friends, or families traveling together. There are 5 bedrooms, 4 of which have kings, and 1 bedroom with 4 single beds. The property also has 4.5 bathrooms.
With a large open living plan and full kitchen, as well as a bunk room, game room, and outdoor seating overlooking the lake this is the perfect place to come and unwind for a few nights! There is even a dock that you can use to jump into the beautiful Lake Martin.
To Book: Check rates at VRBO.com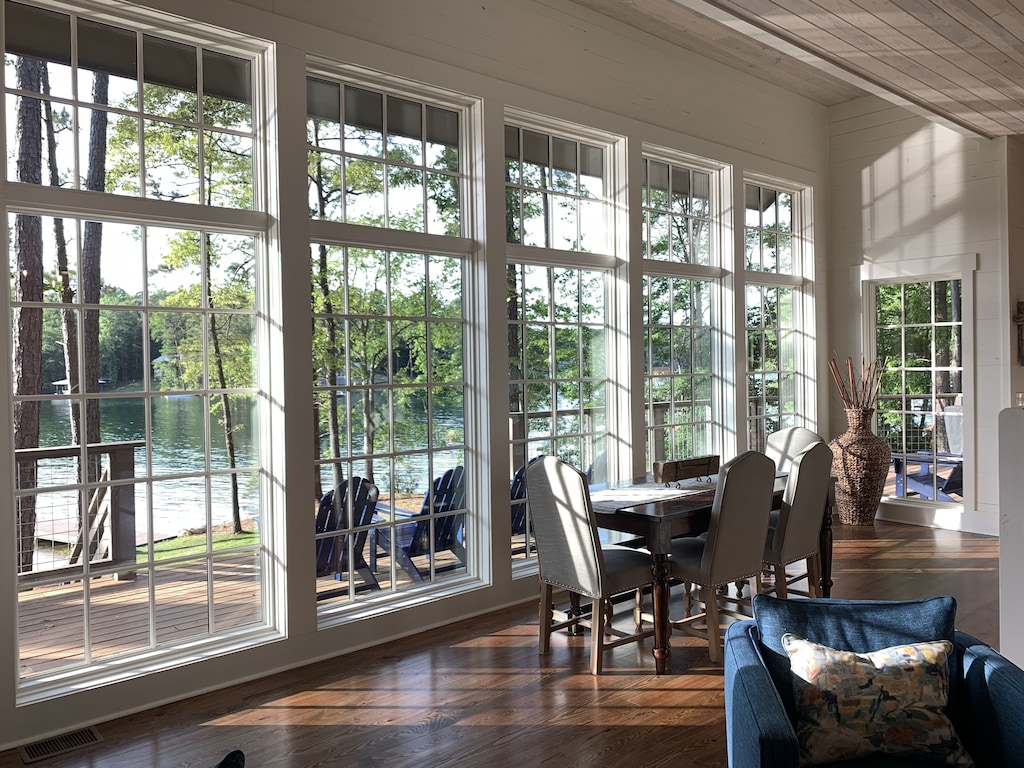 The Back Porch A-Frame
The Back Porch A-Frame is a newly built A-Frame home near Blanchard Springs Caverns in Mountain View, Arkansas. Located in the beautiful Sylamore Creek Valley this is a great place to explore nearby springs and nature.
The home has two bedrooms both with queen beds and one bath and can accommodate up to 6 guests. The home is bright and airy with an open living concept with a kitchen, living room, and dining area.
You have to check out the bathroom, with cedar plants and a large oversized soaking tub. Outside there is a fire pit surrounded by chairs and an outdoor back deck with seating.
To Book: Check Rates at VRBO.com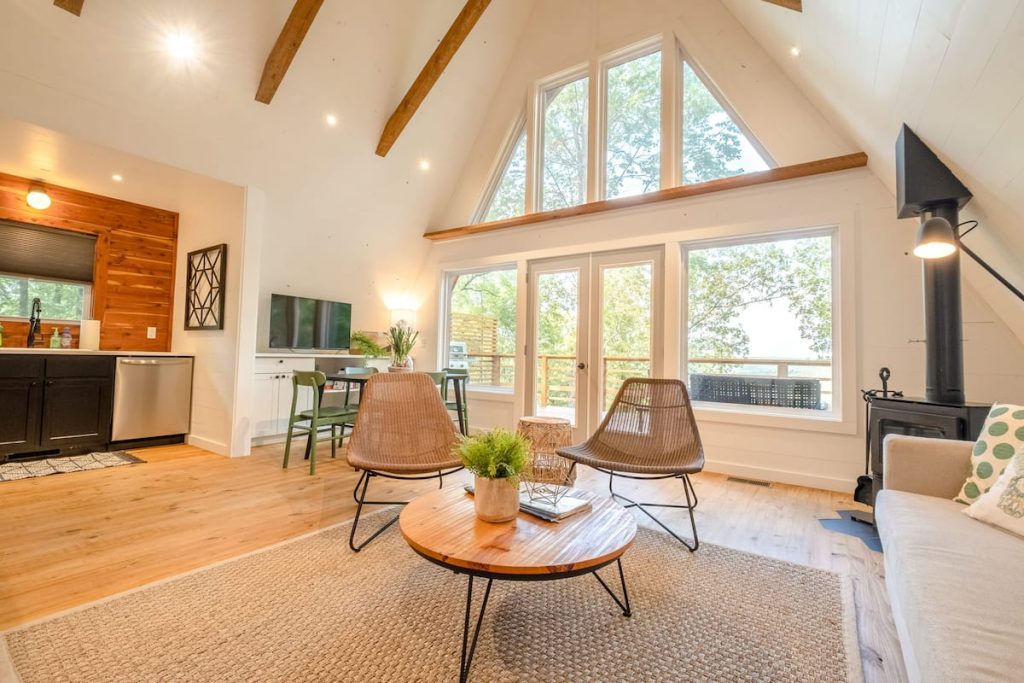 Miami Cottage
There is a reason Miami, makes the list of one of the most popular destinations on a trip to Florida.
If your perfect vacation involves staying in cozy cottage, this is the VRBO for you! This is one of the best southern vacation rentals for cottage lovers.
The cottage has 2 bedrooms and 2 full bathrooms. It can sleep up to 4 guests. The adorable backyard and sweet cottage decor make this a really special find.
This cottage is located about a mile from the Miami Downtown shopping district and Bayfront Park. We love the idea of combining a beachy miami vacation with a homey cottage stay. This is a truly unique entry on our list of southern vacation ideas.
Check Rates: VRBO.com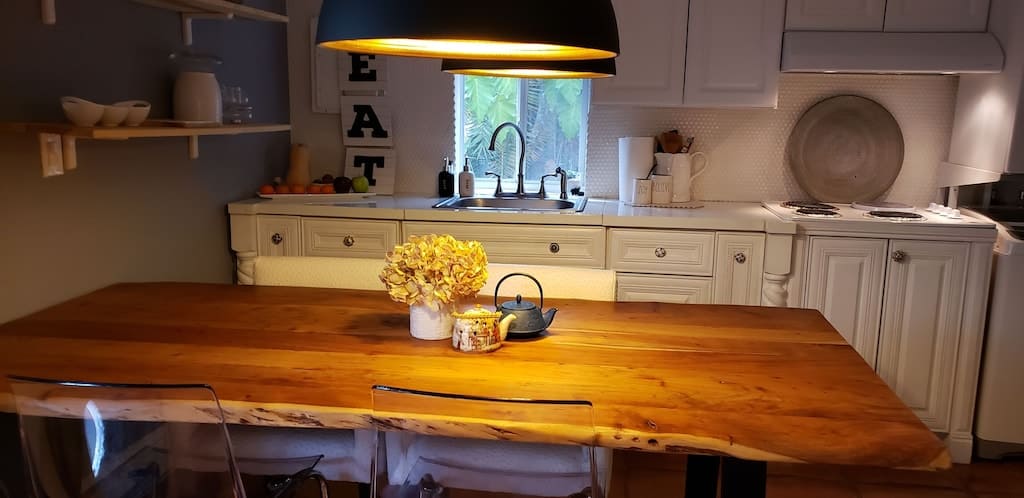 Mountaintop Luxury Treehouse
This might be one of the best mountain top luxury treehouse vrbos in the south! It is located in Fannin County, Georgia an area known for activities like wineries, hiking, and whitewater rafting!
This treehouse boasts truly spectacular views of the Blue Ridge mountains. The cabin is 750 square feet with 1200 square feet of outdoor deck space so you can really take in those mountain views. Guests will love all the custom built-in touches, including the super cozy built-in bunk beds.
The treehouse has only 1 separate bedroom area but can comfortably sleep up to 6 guests. A truly unique feature of this treehouse Airbnb is that it has an indoor bathroom including a shower and toilet. This is a rare luxury in treehouse vacation rentals!
The fresh Blue Ridge Mountain air and adorable wildlife are sure to make this one of the southern vacation rentals you'll never forget!
To Book: Check Rates at VRBO.com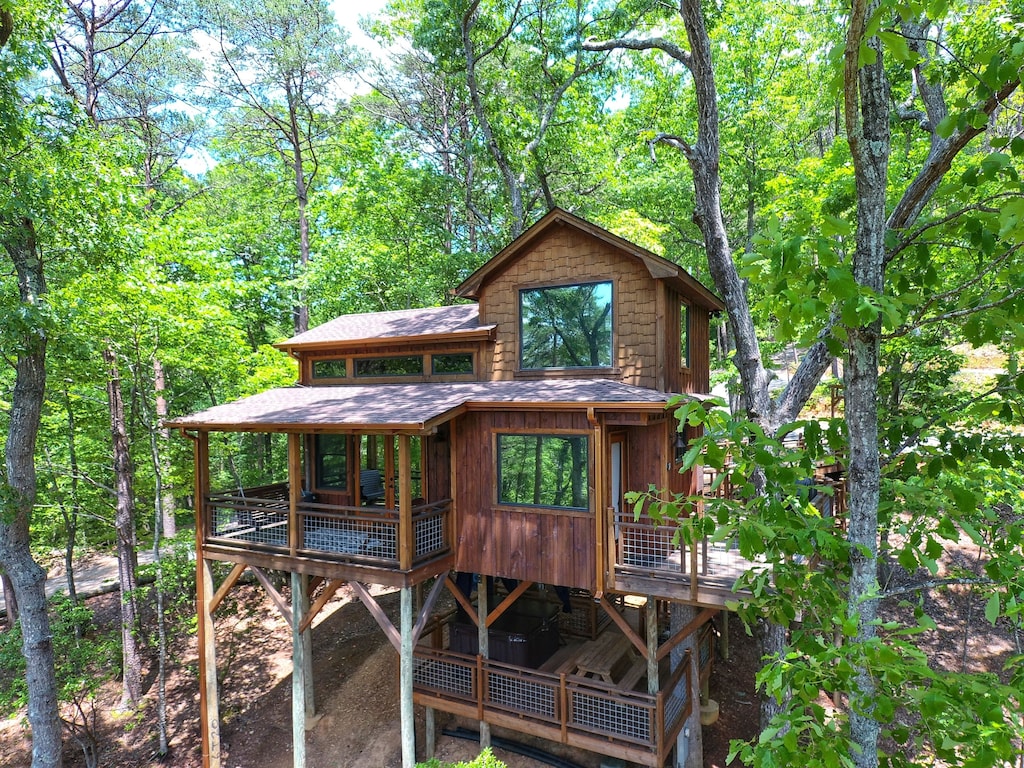 Restored Antebellum Church in Nulu
The Restored Antebellum Church in Nulu is just minutes away from downtown Louisville, Kentucky. If looking for luxury airbnbs in the south, check out this Airbnb plus property for an amazing stay.
The property has 4 gorgeously and uniquely decorated bedrooms, 3 bathrooms and can accommodate up to 8 guests. With bright colors, beautiful tiles, statement artwork pieces, and indoor plants this home is a true oasis.
Head outside and relax under the covered terrace or head out back to the gravel yard for a table and chairs to relax under the open air sky! Perhaps enjoy a drink from nearby local Nouvelle Wine Bar located next door or Rabbit Hole Distillery. .
To Book: Check rates at Airbnb.com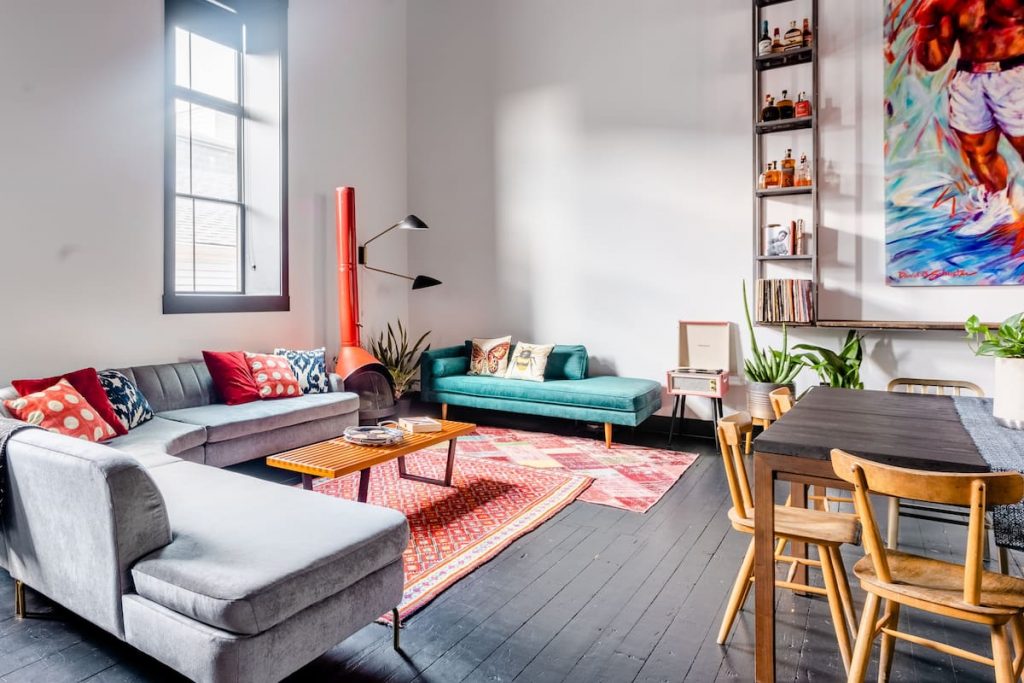 Victorian Penthouse on Bourbon Street
If you are in New Orleans and looking for the best vrbos in the southern USA, you must check out Elisabeth House located right on the streetcar line in New Orleans, Louisiana!
This large 1890s mansion provides a truly luxurious experience for its guests with incredible vintage details. There is epic wallpaper, crystal chandeliers, hardwood floors, and canopy beds. You're sure to feel like a Bridgerton while staying here!
This little slice of history can accommodate up to 10 guests with 6 bedrooms. There are 5 charming vintage bathrooms. The host describes it as a magical dollhouse and we feel sure you'll agree. Come soak up the history and culture of New Orleans from this special VRBO.
To Book: Check Rates at VRBO.com
Beach House at the Bay
Beach House at the Bay is one of the Airbnbs located in Bay St. Louis, Mississippi. This large home is perfect for large families or friends groups as the home sleeps 10! Please note that this is NOT a party house!
This brightly colored airbnb has 5 bedrooms and 4 baths, a large above-ground pool, a covered outdoor cabana bar with seating and ceiling fans for those hot summer days, a screened-in porch overlooking the canal with hammocks, chairs, and couches.
Inside you will find two living rooms, a large kitchen perfect for spreading out and enjoying your time just minutes from the Jourdan River and Bay!
To Book: Check Rates at VRBO.com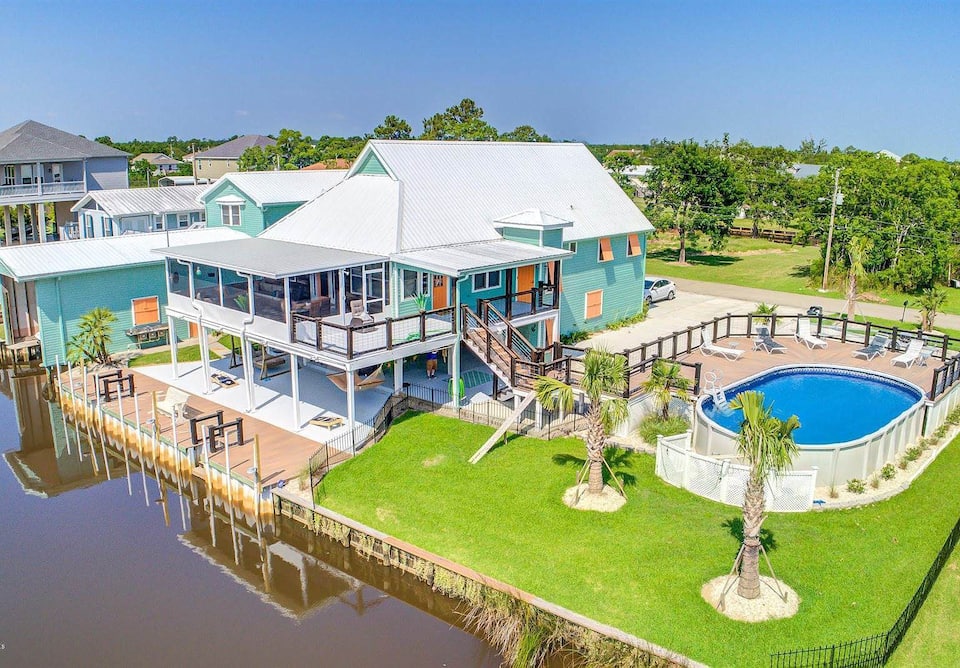 Lakefront Oasis
If you're looking for a place to stay in the Southern USA, check out this stunning Lakefront Oasis! It features an open floor plan, wood flooring, and several outdoor spaces including a balcony and a dock. Located in Kill Devil Hills, near the outer banks of North Carolina.
The beach house accommodates up to 12 guests with 5 bedrooms (with 9 beds), and 3.5 baths. Amenities include a full kitchen, living room, dining room, washer and dryer, family room, and patio with seating. There is also a waterfront dock that looks like the perfect place to catch a sunset and relax.
The entire place is pristine and the decor is tasteful and cozy. This VRBO in North Carolina is moderately priced for the size, location, and style. Local attractions include the Wright Brothers Museum, Avalon Fishing Pier, Jockey's Ridge State Park, and Forbes Candies.
To Book: Check Rates at VRBO.com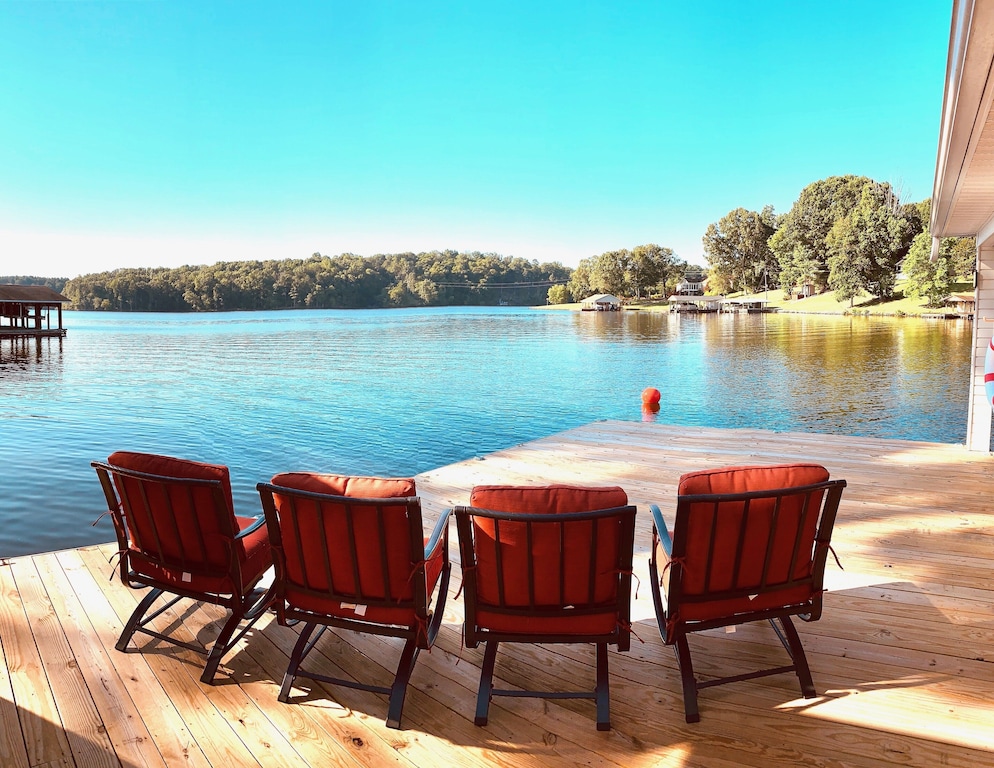 Historic Savannah Townhome
If looking for a weekend getaway to head to Savannah, Georgia a popular destination to visit in the southern USA. This historic condo is a dreamy place to stay. This is a 4 bedroom, 4.5 bath unit that sleeps 10 guests. It is perfect for a family or friend group getaway.
This historic townhome is decorated in a feminine, vintage-chic style. One of the reviews states it was the perfect setting for a classy bachelorette gathering.
The location is in the Historic District of Savannah, close to Forsyth Park and the City Market. Renting this townhouse also gives you access to an amazing heated pool, so don't forget to pack your swimsuit!
To Book: Check rates at VRBO.com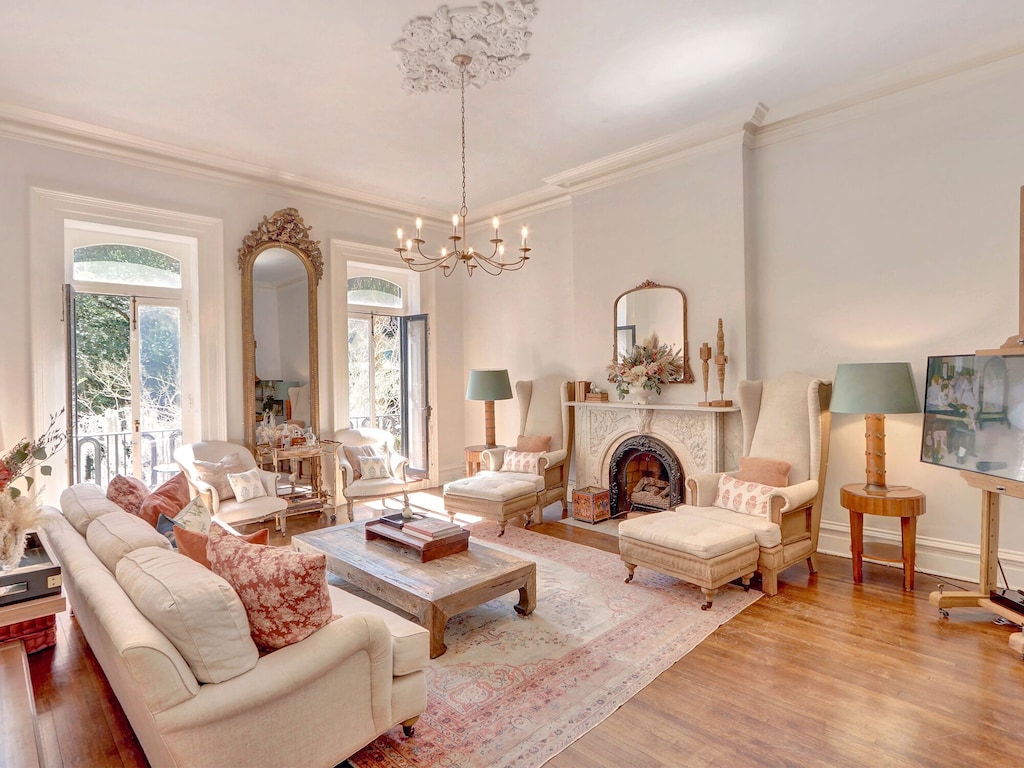 Summer Place
The beachfront home at 1 Summer Place is one of the best Airbnbs in the south. Located in South Carolina on Folly Beach one of the barrier islands off the coast, the home features 180-degree views of the ocean and sleeps up to eight guests. It is perfect for large families, or groups of friends traveling together! Once you arrive you might not leave since you are only a step away from your own beach paradise!
This house is large and open with multiple decks for sunbathing and relaxation. Volleyball and other lawn games provide a chance to play outside right next to the beach. You can grill on the deck, or enjoy the fire pit or make use of the full kitchen. At sunset, watch the ocean water change color on the large deck and you might even get lucky and spot dolphins. This is easily one of the best vacation places to stay in the south!
To Book: Check rates at VRBO.com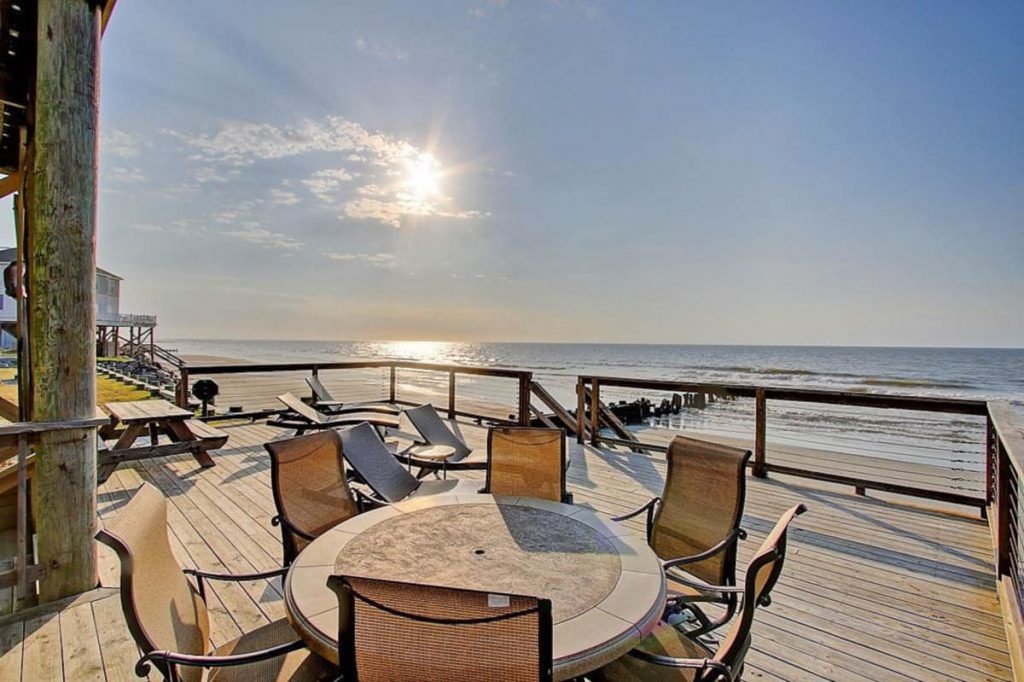 Panoramic Downtown Nashville
If you love city life and gazing at the sparkling lights of city skylines and are looking for one of the best places to stay in the south, check out this Nashville, Tennessee Airbnb!
This newly constructed Panoramic Downtown Nashville vrbo is a 4-level home that is quite incredible and unique! The stunning interior design creates a very luxurious atmosphere. The first level contains the main bedroom and bath. Then, the second level features a modern dining room and the top of a line kitchen.
Followed by the third level where you will find the 2 other bedrooms, bath, and washer and dryer. Last, but certainly not least, the fourth floor is the epic rooftop living space.
This is definitely one of the luxury vrbos in south that you will never want to leave! It can accommodate up to 6 guests with 3 bedrooms, 3 beds, and 4 baths.
To Book: Check Rates at VRBO.com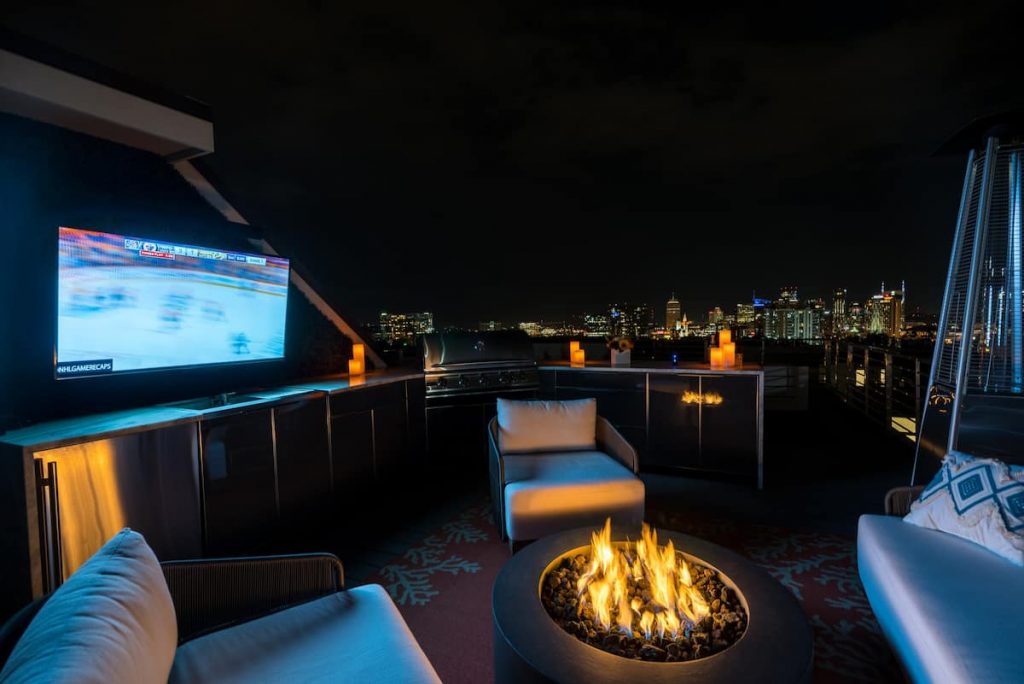 Mountain View Secluded Log Cabin
If you are looking for a luxury secluded cabin Airbnb experience in Tennessee with amazing views of the Great Smoky Mountains National Park this is the place for you!
Enter the Mountain View Secluded Log Cabin to find a large space full of windows and natural wood. There is a large living area with a stone fireplace, a large dining table, and a full kitchen.
Follow the French doors out onto the beautiful porch that wraps around the back of the house. There you'll find plenty of seating and a hot tub. The luxury and beautiful views make the Mountain Side Luxury one of the best Airbnb's in the South.
Towards the back of the cabin, you'll find a bedroom with a queen-sized bed and a full bath. In the upstairs loft, you'll find another bedroom, this one with a king-sized bed, and a jacuzzi tub that has a beautiful view of the Great Smoky Mountains.
To Book: Check Rates Airbnb.com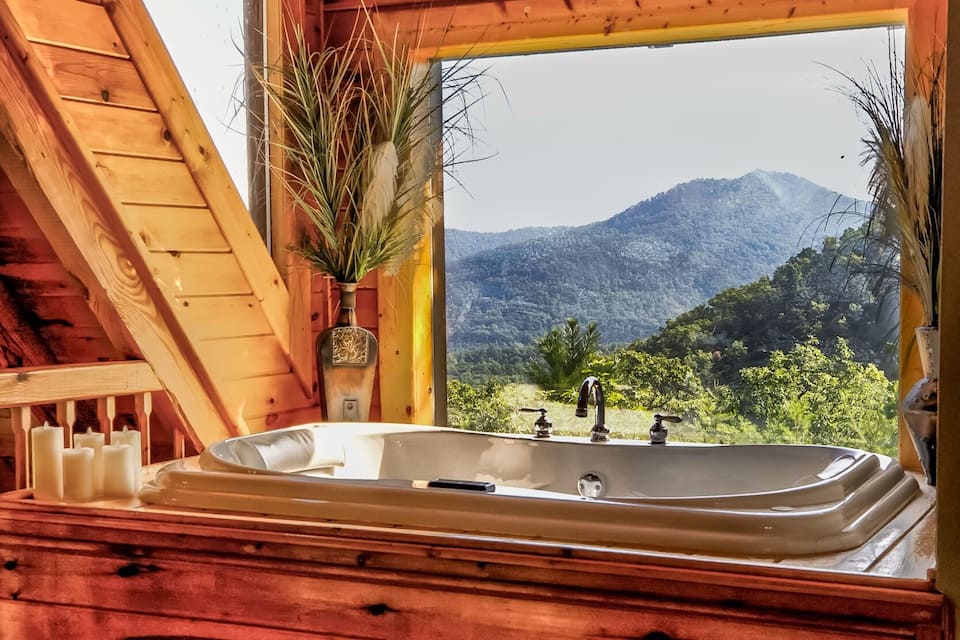 Texas Year-Round Oasis
This vacation rental in Texas is an absolute treasure, with indoor-outdoor living and stylish finishes. The home's proximity to Barton Springs Pool takes it to a whole new level.
Barton Springs Pool makes up three acres of Zilker's Park. The underground spring feeding the pool means it is strikingly blue and holds constant at 68-70 degrees Fahrenheit year-round. This property is 379 steps away from this epic natural pool.
Because the temperature of the pool is always the same, Barton Springs Pool is open year-round. There are many paddleboard and kayak rentals close to the property, or you can just come swim and relax by the blue water. As it is located in Zilker Metropolitan Park access to the pool is free. This amazing park also has miles of hiking trails and many seasonal special events that you should plan to check out.
This luxury home is very large, so you can definitely bring your friends and family to Barton Springs with you! The retreat can accommodate up to 10 guests with 8 beds in 5 bedrooms, and 4 bathrooms.
The vibe is luxury boho-chic all the way! The interior design is inspiring and the outdoor deck space overlooks peaceful Zilkers Park. You're sure to have an unforgettable time at this southern vacation rental.
To Book: Check Rates at VRBO.com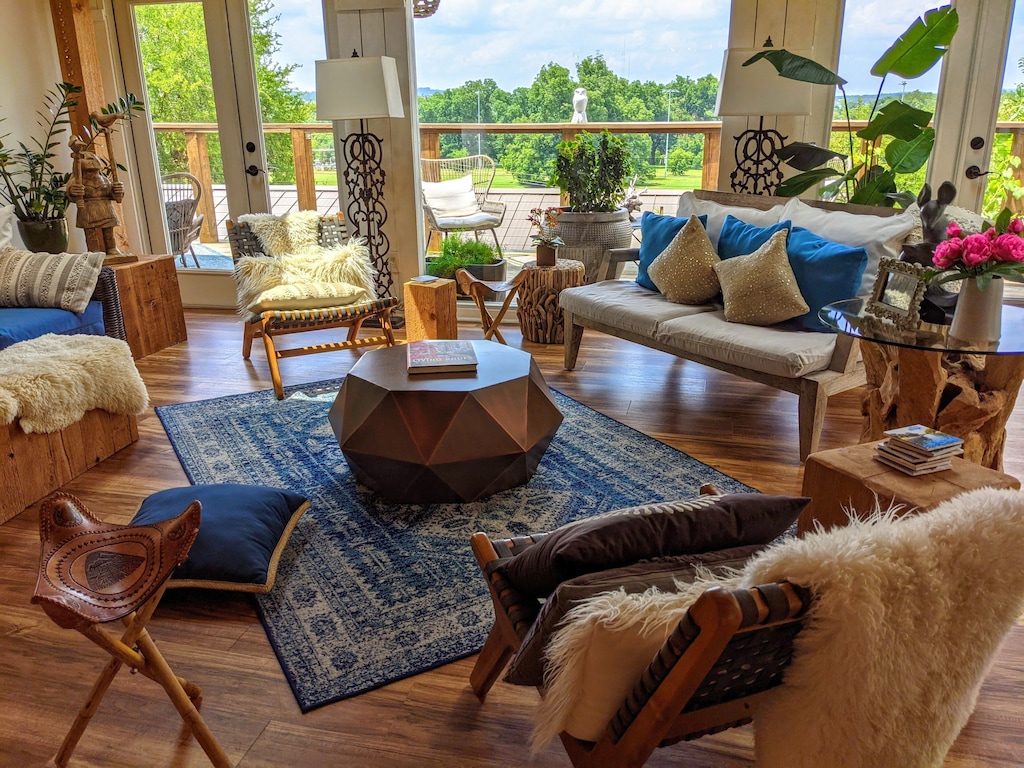 Extraordinary Dallas Treehouse
Staying in a treehouse is a great way to disconnect from the busy Dallas city life! Now, this Extraordinary Dallas Treehouse is truly worth checking out because it has such a special ambiance and is one of the best Vrbo's in Texas!
The living room is the centerpiece of the home with floor-to-ceiling windows overlooking the trees creating a private oasis for you to call home. There is an oversized sofa, and wood-burning fireplace and is beautifully decorated with artwork from around the world!
This Southern USA Airbnb accommodates up to 4 guests with 2 bedrooms one with a king bed and one with a queen, and 2 bathrooms. Other amenities include a kitchen, living room, dining table, patio deck with seating, indoor fireplace, jetted bathtub, and a footbridge with pond.
Don't miss out on this extremely sophisticated treehouse; this is one of the Airbnbs in the south that you must see all of the listing photos! Just note that you must be over 27 to book unless otherwise receiving permission from the host!
To Book: Check Rates at VRBO.com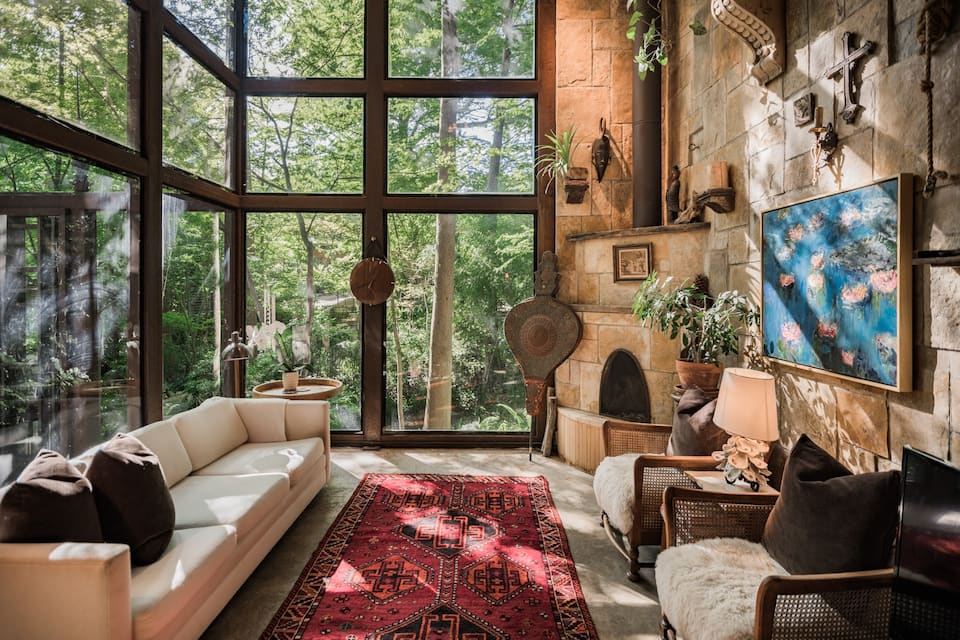 Luxury Glamping Dome at Lake Lure
Are you looking for an epic place to stay in the South? If so, check out Glamping Dome at Lake Lure! This airbnb is located in Hendersonville, North Carolina is an elevated clamping dome located on a private and secluded pond. Perfect for a romantic couples getaway.
You can roast more at your fire-pit while enjoying all the comforts of home like AC, heat, full bathroom, kitchenette, wifi, and outdoors you can relax under the pergola with your own hot tub and hammock!
With beautiful white walls, wood floors, a king bed in the center of the room, oversized comfy furniture, a glass-enclosed shower, and large bathroom, and a viewing wall from within the dome to see outdoors! Just make sure to book well in advance, as they are already full through summer!
To Book: Check rates at Airbnb.com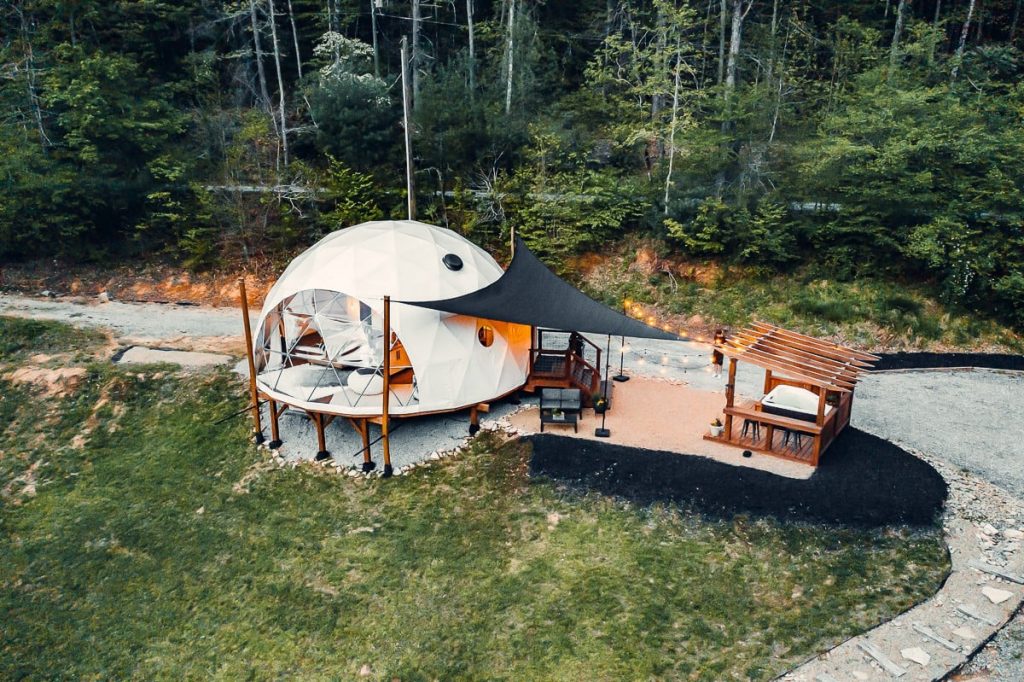 Pura Vida Cottage
This one of the vrbos in the south perfect for those who don't like stairs! This adorable cottage in Georgia will make all your white picket fence dreams come true.
Folks in the south love their porches. This property gives you the chance to live that relaxing Southern porch lifestyle with beautiful front and back porches. The back porch is shaded by an epic old-growth tree! This cozy cottage can sleep 4 guests. It boasts two bedrooms and 2 full baths.
The cottage is located only 3 blocks from 12th Street beach, one of the best beaches in Georgia. Click here to learn about more our favorite Georgia Beaches. You'll have a great time staying at this beachy cottage on Tybee Island in Georgia.
To Book: Check rates at VRBO.com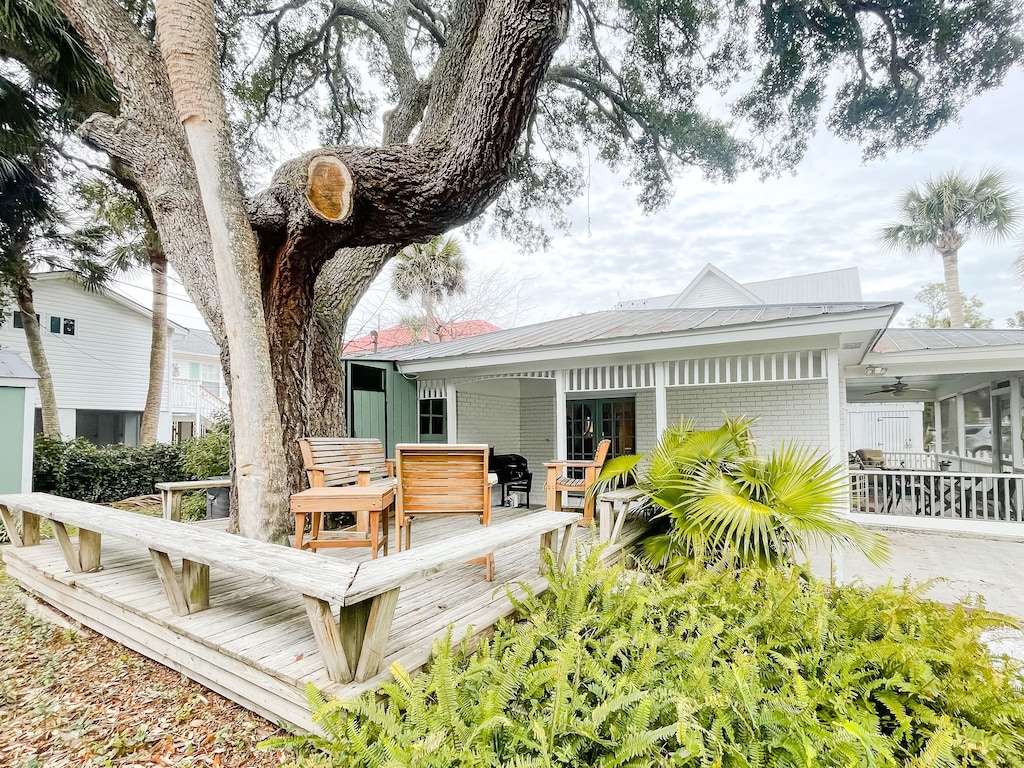 Luxe Mansion with Lazy River
There is a reason that Orlando is the most visited city in Florida! The area may boast some of the world's top theme parks, but this home is a destination in itself! This mansion is 14 bedrooms and has over 25,000 square feet.
There are 14 bedrooms all with their own bath, and can accommodate up to 30 guests! There is a rooftop pool and a private lazy river that goes around perfect for relaxing under the Florida sun.
From a bowling alley with two lanes to a basketball court, squash court, pool table, arcade room, private gym, and several kitchens this is the ultimate vacation home! This is an Airbnb in the South perfect for an unforgettable large group getaway.
To Book: Check rates at VRBO.com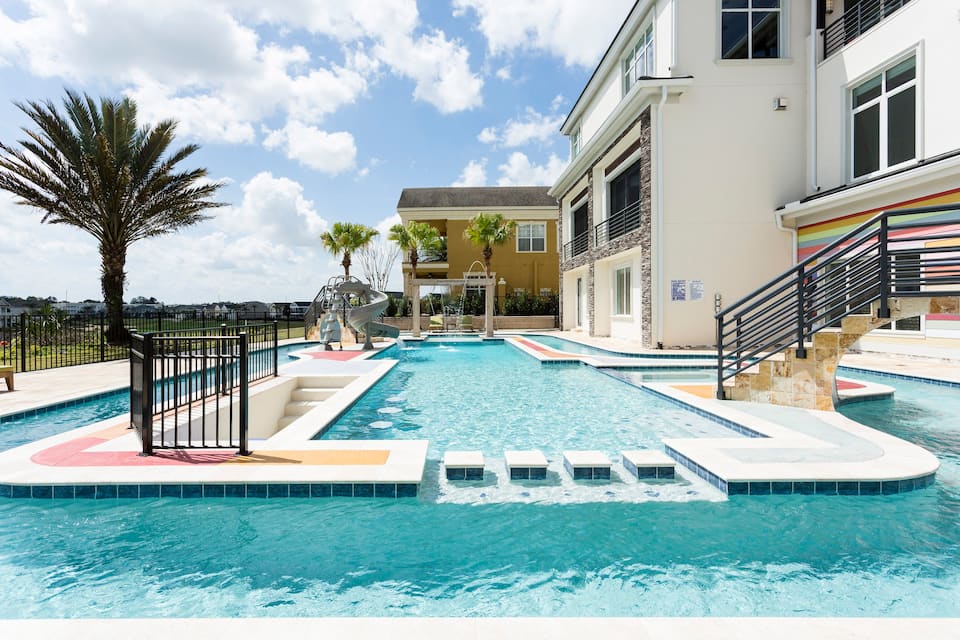 Sunset Hideaway
If you find yourself in Gulf Shores, Alabama looking for epic Vrbo's in the south, this is the place for you! This is a lovely private home in Fort Morgan, Alabama.
This spacious 2,750 square foot home can sleep 15 guests. It has 5 bedrooms and 10 beds. The property has 4 bathrooms. A perk to staying here is that you are far from any public beach access, so the sands behind the home will be much less crowded than other Gulf Shores beaches. If the beach isn't your thing, the property has a lovely private pool for you to enjoy.
This is a very reasonably priced option if you're hunting for the perfect oceanfront Vrbo's in the South. You're sure to make lots of memories here at the Sunset Hideaway VRBO!
To Book: Check rates at VRBO.com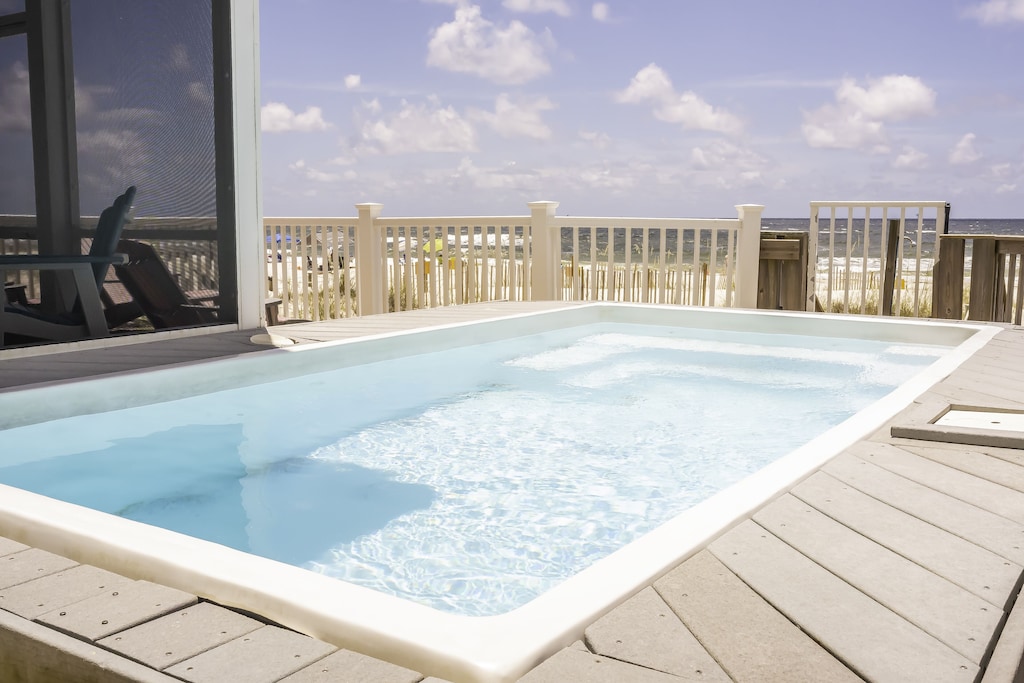 Kentucky Captain's Cabin
Are you looking for southern historic charm? Do you want to live your cottage core or Little House on the Prairie fantasy life on your southern vacation? Then this is the entry on our list of the best Vrbo'sin the south for you!
This adorable property has so much historic flair without sacrificing any modern comforts. This cabin is full of quirky antiques but also has a luxurious sleep number bed, hand-crafted soaps, bath salts, and hot breakfast delivered every morning of your stay. The vintage clawfoot bathtub looks so inviting, and the rocking chairs on the front porch are the perfect spot to watch the sunset.
The Captain's Cabin is located only 17 minutes from bustling Louisville, Kentucky. Here are our best tips for making the most of your Louisville trip! You can get your fill of the city life and the comforts of a cabin when you choose to stay at this amazing Vrbo in the south.
To Book: Check rates at VRBO.com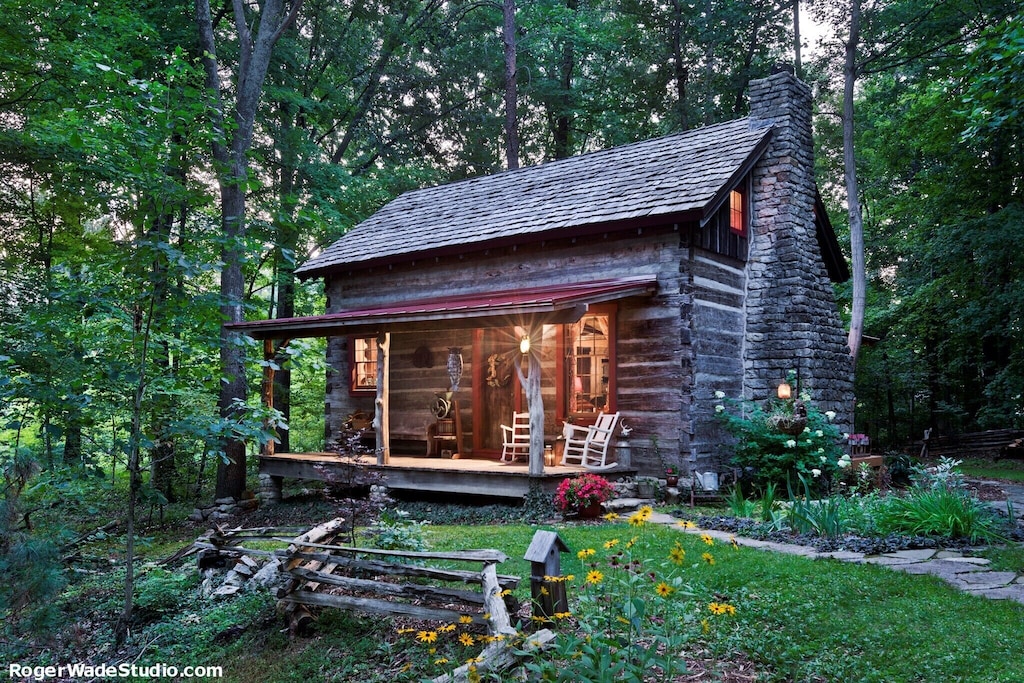 The Nest
If you are looking for a place to stay in the south and find yourself in Biloxi, Mississippi you will want to check out the Nest, a waterfront cottage. When you arrive at this property you will be greeted by a home upon stilts across the road from the beach.
it's a large porch with ample seating, a big kitchen, and a living room with a fireplace. There are two bedrooms and two baths perfect for a family or couples vacation.
You can enjoy the beautiful gulf sunsets from this property while being just minutes from bars, restaurants, and shopping. The home is located in Long Beach, just 10 minutes from the downtown area.
To book: Check rates at VRBO.com