Are you looking for a list of the best places to visit in Georgia? We have you covered with the most beautiful places to go in Georgia!
Each year over 100 million visitors discover all that the Southern state of Georgia has to offer. Whether you are looking for Georgia tourist attractions in Atlanta, road trips through Blue Ridge Mountains, National, and State Parks, or looking for off-the-beaten-path cool places to visit in Georgia you will want to continue reading! The list of places to visit and stay in Georgia is endless.
From the beach to mountain vacations, weekend get-a-ways, big vibrant cities, to small towns, Georgia has somewhere for everyone to visit! Explore our list and choose your next unique vacation destination!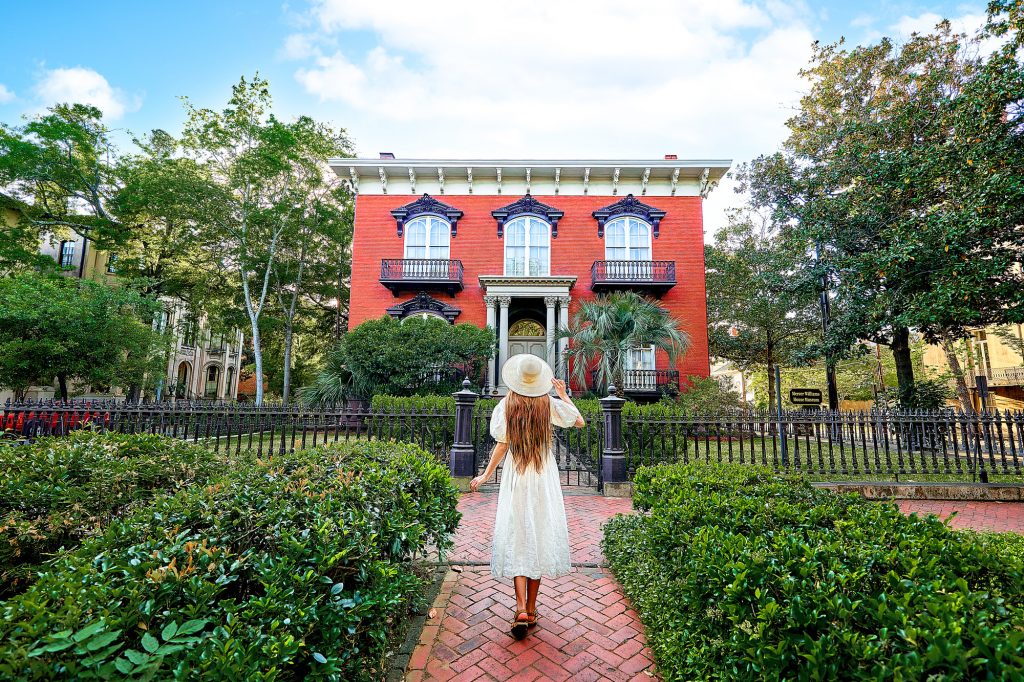 16 Best Places To Visit in Georgia (+ Unique Vacation Spots!)
Providence Canyon State Park
One of the awe-inspiring places to travel in Georgia is Providence Canyon State Park. For outdoor lovers, this is one of the Georgia destinations that needs to be on your vacation bucket list. Known as the Grand Canyon of Georgia, the red clay canyons and gullies make for an impressive backdrop against the green trees of West Georgia.
You might be asking, where it is located? Providence Canyon makes a great day trip from Columbus and is one of the best things to do when visiting the city! The cost to visit is just a $5 parking fee as with all Georgia state parks, otherwise, there is no other entrance fee. Explore the over 10 miles of trails all departing from the visitors center taking different paths down the canyons. The most popular is the 2.5 mile Canyon Loop Trail, where the two-hour route will take you to see explore canyons 1 through 9.
Park staff will limit capacity on crowded days, so it's great to arrive early especially during summer and weekends. It is one of the best places to visit in Georgia for those who love camping and hiking. Pioneer campsites allow dogs and include a grill, fire ring, and picnic table. Just make sure to make a reservation in advance.
Where to stay: Charming Country Home near Providence Canyon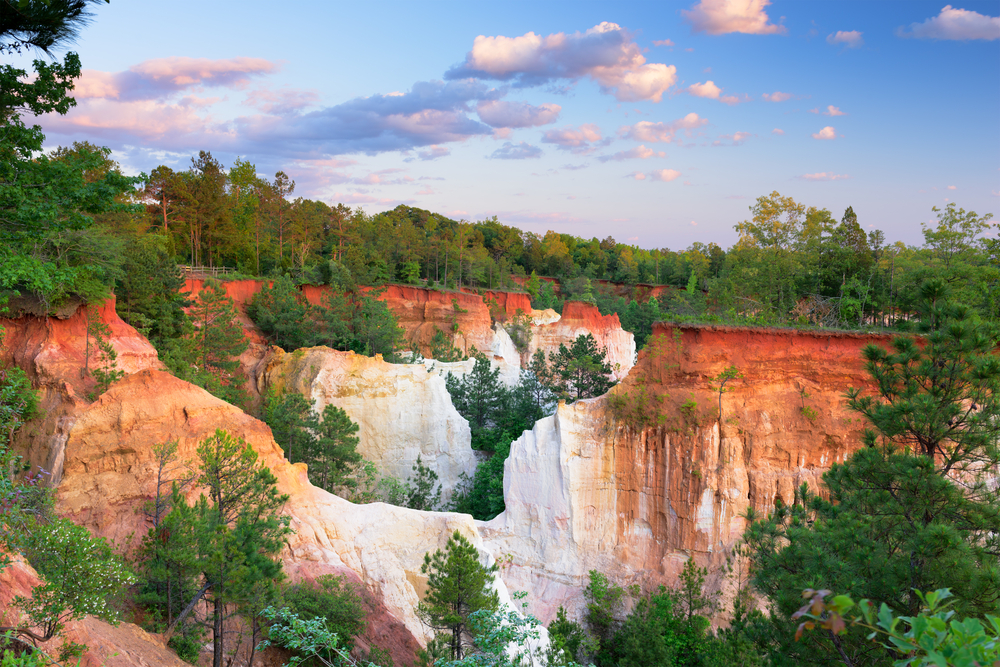 Exploring Atlanta
Atlanta is not only the state capital but also the city most visited in Georiga. This city has something for everyone from all the Georgia tourist attractions, day trips to the beach, we have put together an epic 3 day itinerary for your visit! While an extremely walkable city, public transportation is an easy way to get around and make the most of your time in Atlanta.
From visiting all the main attractions such as the Aquarium (the largest in the world) and World of Coca Cola to Centennial and Piedmont parks all in the downtown area. Bike along one of the popular Beltway trails stopping in at one of the popular food halls, and historical buildings like the National Center for Civil and Human Rights. Jump on the streetcar and head to the historic King District. It is here you will explore Ebenezer Baptist Church, the Memorial Rose Garden, Martin Luther King Jr. National Historic Park
Kids will love the zoo and botanical gardens. Round out your visit with a trip out to Stone Mountain. Stone Mountain is known as Atlanta's backyard and offers over 15 miles of hiking trails and a 1.5-mile hike to the summit where you will be awarded with amazing views of downtown Atlanta city.
Where to stay: New Modern Home near Atlantic Station with Balcony and Rooftop Deck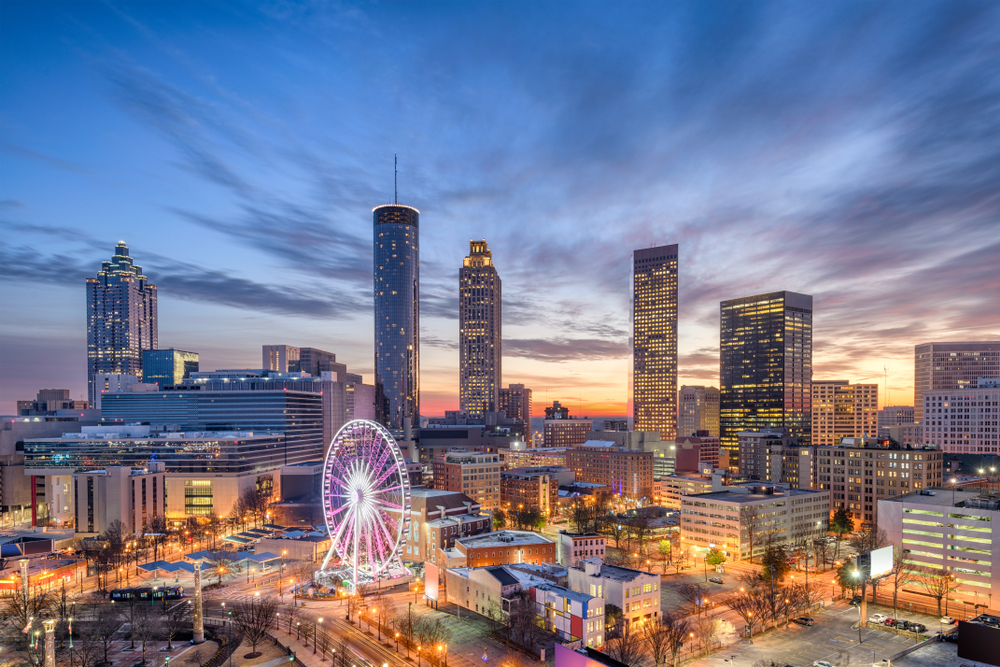 Wormsloe Historic Site
The Wormsloe Historic Site is about 20 minutes outside of Savannah making it a great day trip from Savannah. It is best known for its picture-perfect oak tree-lined road. Visitors will be greeted by a 1.5 miles long tree tunnel. While a beautiful destination, it is important to remember that the Wormsloe Plantation, had enslaved peoples working on it.
It is the home of the oldest standing structure in Savannah and you can take tours of the nature trail that is set up to show Colonial life at the time. But be wary of its dark history, and keep that in mind if it's something you don't feel comfortable experiencing.
The Moon River District is the closest place to stay, where you will be surrounded by nature and history in an area that's a little off the beaten tourist path.
Where to stay: Savannah Cottage – 5 mi to Wormsloe Historic Site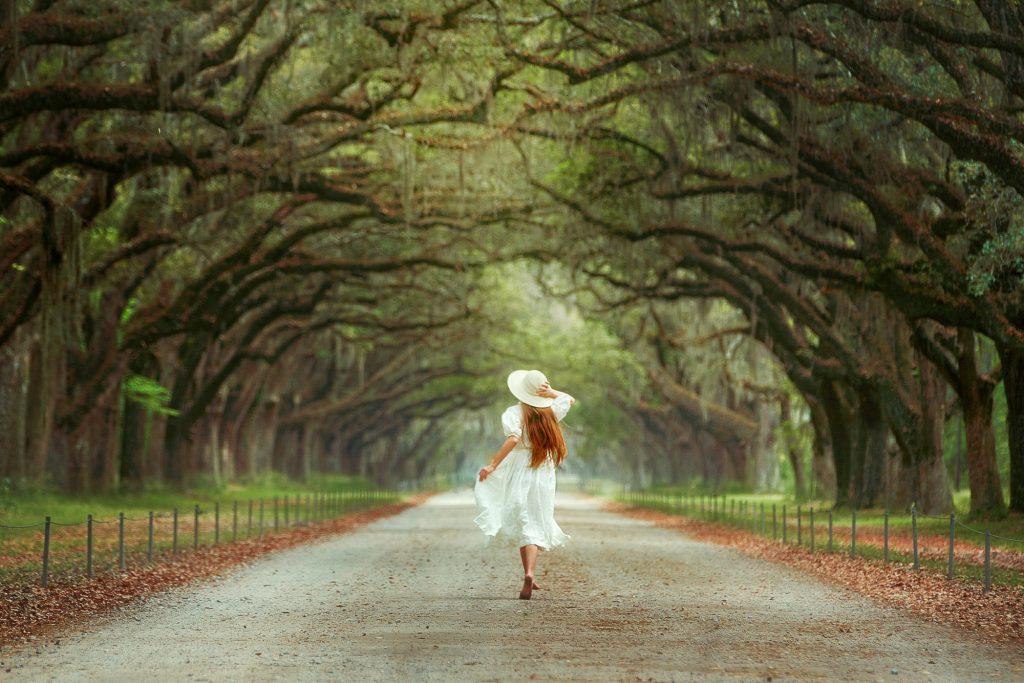 Jekyll Island Driftwood Beach
Located between Jacksonville and Savannah(perfect for a day trip!) you will be transported to one of the most beautiful places in Georgia. Jekyll Island Driftwood beach is one of the prettiest beaches in Georgia and is named one of the most romantic beaches in America. A visit here will feel like you are transported to a magical destination, with ancient driftwood trees dotting out of the sand and water.
Located on the north end of Jekyll Island, Driftwood Beach is part of the Golden Isles. There is public parking off the beach lot, or you can walk down from the pier area, and best of all it is dog friendly! Make sure to visit during low tide so all the trees are visible giving you the full experience. It is the perfect beach vacation for those looking for a stunning backdrop for photos, or a romantic walk on the beach.
Where to stay: Tabby Getaway-Beach Club 435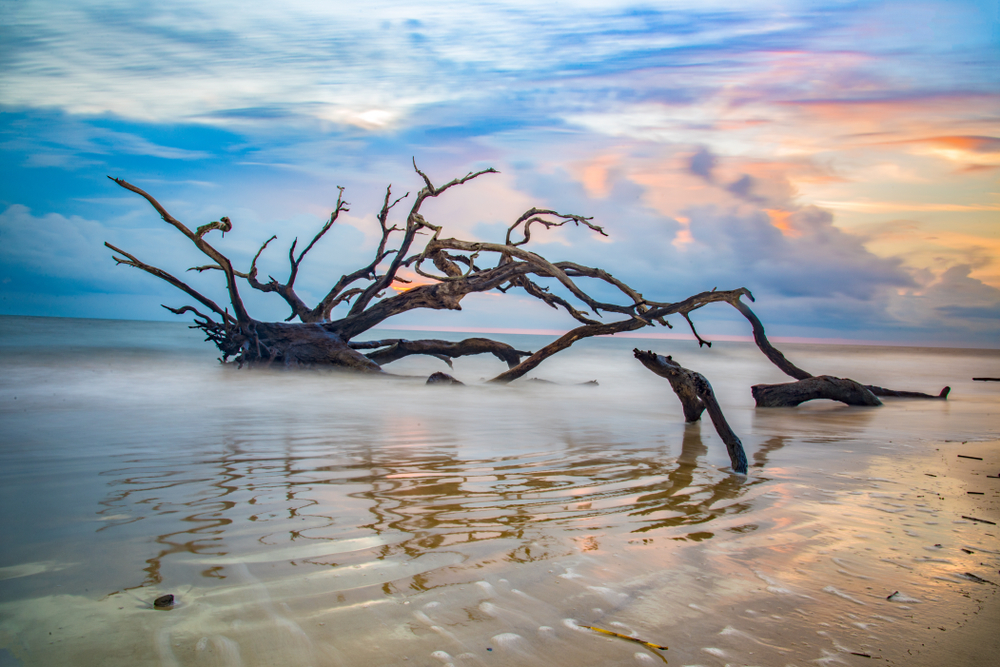 See Cherry Blossoms in Macon
If you visit Georgia during the springtime head to Macon the Cherry Blossom capital of the world. Macon is just one of the pretty places in Georgia to see cherry blossoms where 350,000 beautiful trees are on display for visitors throughout the city! Best of all Macon is located just 80 miles from Atlanta, making it perfect for a quick day trip, or a weekend Georgia vacation spot.
Every March, Macon hosts an annual Cherry Blossom Festival during peak bloom season, where visitors are delighted with the city turned a magical color of pink! At the festival, you will find music, food vendors, and more. Those looking to shy away from big crowds can take a self-directed driving tour through the best cherry blossom viewing areas around Macon.
Make sure to all stop into Waddell Barnes Botanical Gardens where you can view Cherry Blossoms during blooming season. Or make it a cherry blossom road trip with a trip to nearby Conyers, and then make your way back to Atlanta to the Governor's Mansion.
Where to stay: Historic Cherry Street House Downtown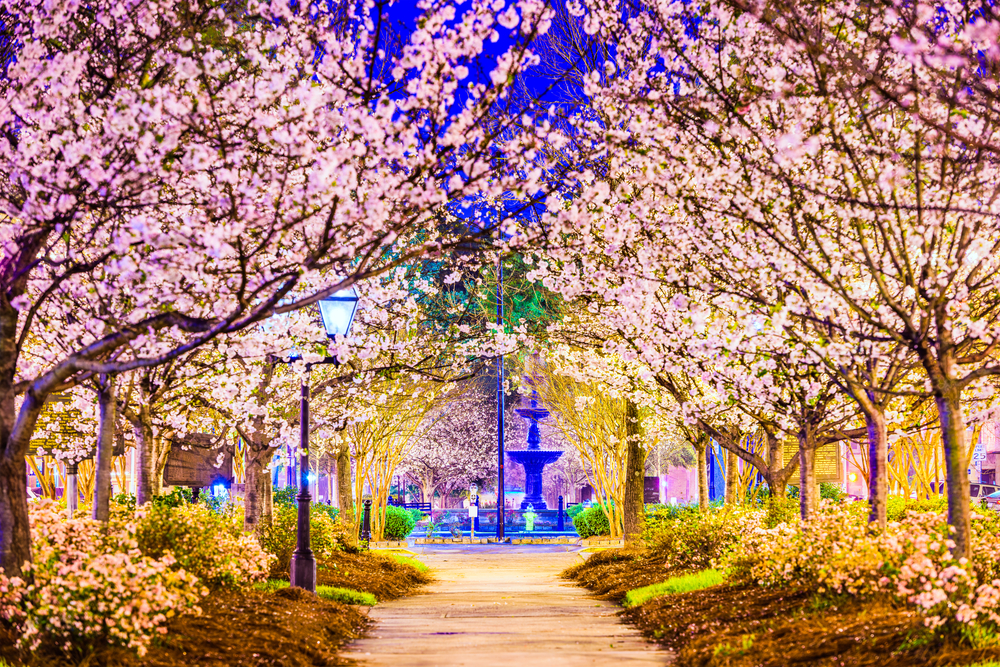 Experience a German Town in Helen
Are you looking for one of the places to go in Georgia for the weekend that will transport you to Germany? Helen is that place! A list here will transport you back in time as it is modeled after a charming Bavarian village. The town is just 2 miles and is extremely walkable with restaurants ranging from German to southern cuisine, more than 200 shops, and more all highlighting the region's natural beauty and its German history.
The Georgia attractions here range from outdoor hikes, waterfalls, the Chattahoochee River, wineries, Blue Ridge Mountains, and more. Helen has it all plus the addition of true Southern charm. Visit during fall to experience one of the pretty places in Georgia for fall! For those looking for a magical Christmas experience.
It is easy to see why it is the 3rd most visited city in Georgia! For an authentic stay in one of the cutest German towns, book one of the whimsical cabins around the area. Helen is one of the best Georgia vacation spots for Christmas. Experience the Christkindlmarkt, a traditional German Christmas market with food, shops, and decorations!
Where to stay: Stylish Helen Gem W/ Three Decks, Free WiFi, Full Kitchen & Firepit – Near Town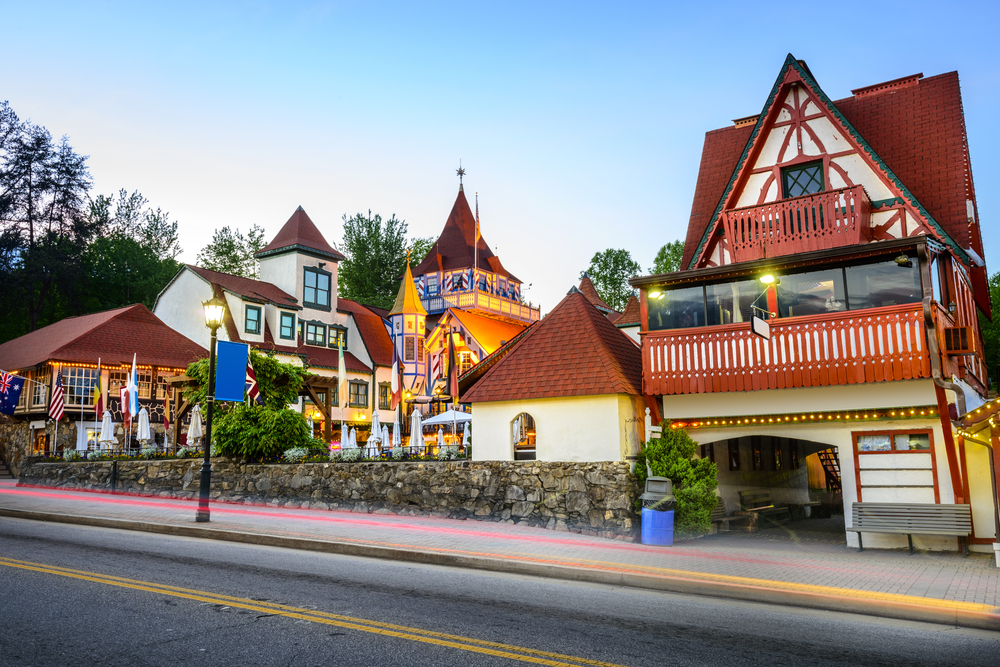 Explore Savannah Historic District
Savannah is a quintessential Southern city full of historic charm and one of the most instagrammable vacation spots in Georgia. Often ranked as one of the top places to go in Georgia for the weekend, check out our suggestion for the Ultimate 3 day itinerary that takes you through the historic district, the riverwalk, town squares, churches, museums, and more!
Savannah offers something for everyone from parks, an extremely walkable historic district with restaurants serving mouthwatering food, rooftop bars with views of the city, and shops bordered by the gorgeous Riverwalk area.
As one the most haunted cities in American, make sure to take one of the ghost tours, food tours, or free walking tours of the historic district. Many of the Georgia attractions here are free, making it an inexpensive vacation for sightseeing. There are several areas to choose from where to stay in Savannah so we have made a list of the best vacation rentals and bed and breakfasts choose from!
Where to stay: Southern Manor on Jones Street w/ 2 Parking Spaces by Lucky Savannah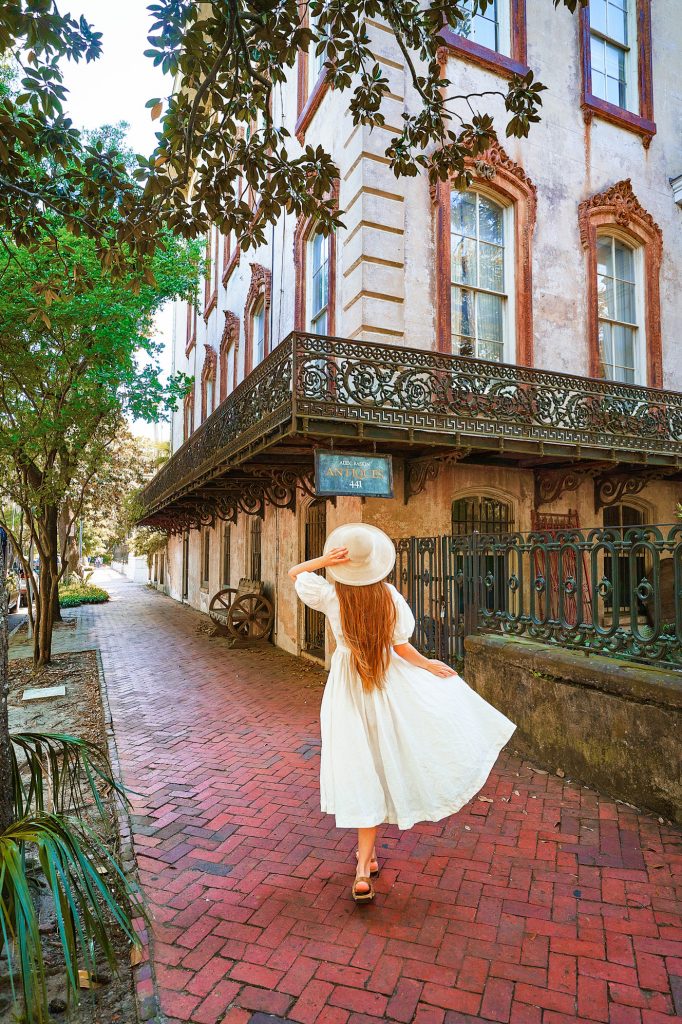 Apple Picking at Mercier Orchards
If you are looking for beautiful places in Georgia to visit during fall, nothing screams fall like apple picking at Mercier Orchards in Blue Ridge Georgia! Open 9 AM to 5 PM daily, Mercier Orchards is one of the most stunning apple-orchards in Georgia. This 4th generation family-run orchard opened in the 1940s and still welcomes visitors to come u-pick apples and explore all the fresh-baked treats! We've got you covered on some of the best restaurants Blue Ridge has to offer.
Start your visit apple picking with a tractor ride to the orchard, where the helpful staff will guide you on picking the best apples! Depending on the season you visit you can also u-pick berries grown on the farm. For those that prefer a more leisurely visit, take the tractor tour giving the history of the 300 acres of the orchard and farm.
You can not miss the indoor market, where you can find gift baskets to take back home as well as freshly baked treats. On weekends they also have a food truck serving mountain tapas. For those 21 and over stop in to try Mercier's hard cider or one of the fruit-flavored wines.
Where to stay: Moonlight Retreat – 10 minutes from Downtown Blue Ridge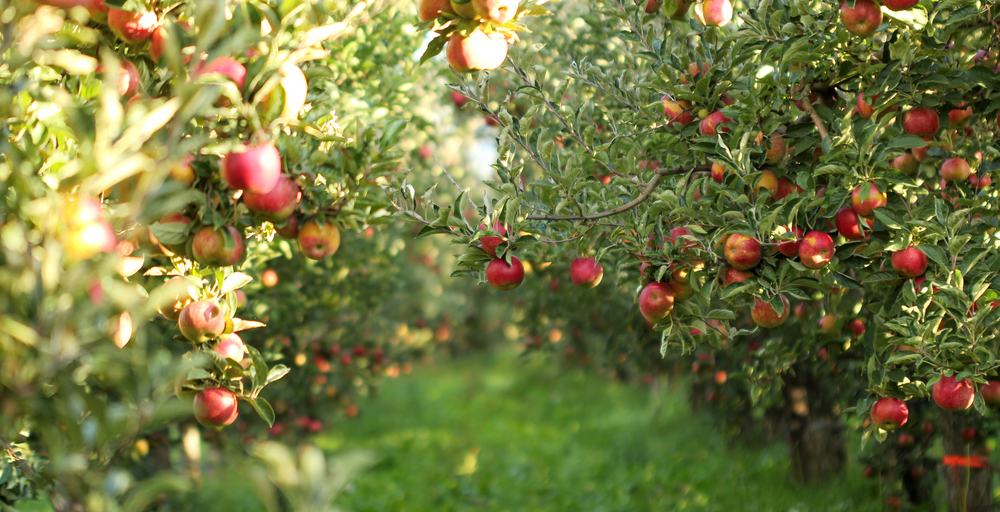 Visit Walking Dead Filming Location
As one of the most-watched television series in cable history, it's no surprise that fans want to visit and experience all the filming locations shown in the Walking Dead. For all zombie apocalypse TV show buffs, this road trip takes you to some off-the-beaten-path and cool places to visit in Georgia. Because of one of the most aggressive tax rebates, Georgia is home to many tv and film productions.
Your journey will take you all over Atlanta visiting the hospital where in the first episode Rick wakes up from a coma following the zombie apocalypse. Other Atlanta sites include Jackson Street Bridge and Cobb Performing Arts center down to Jekyll Island where fans will remember Tara washes up on the sand at Driftwood Beach.
Where to stay: Close to 'The Walking Dead' territory, our Rockaway Hideaway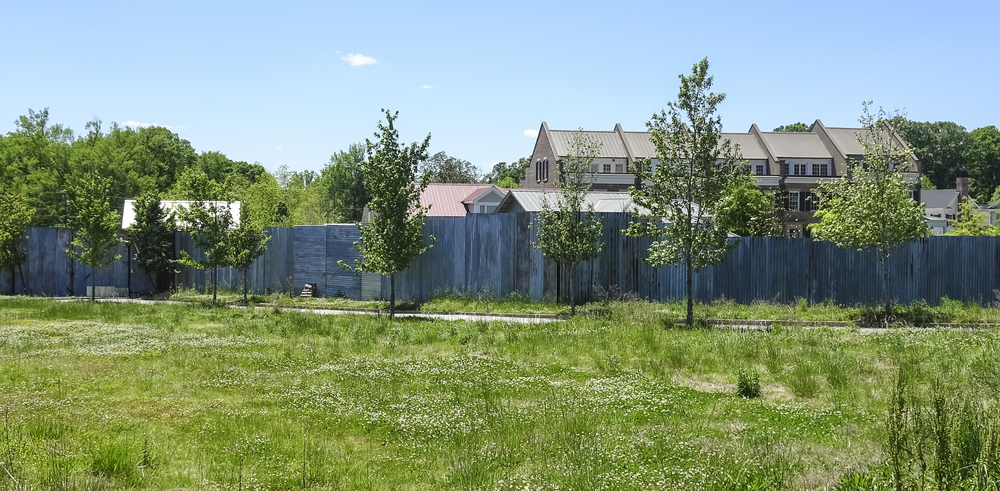 Tour the Jimmy Carter National Historical Park
Jimmy Carter National Historical Park is one of the best of the best National Parks In The South! This is one of the best places to visit in Georgia for history buffs. The historical park is spread out through several locations showcasing the birthplace of Jimmy Carter the 39th President of the US who is the only president born in Georgia.
Most visitors start their journey at the visitors center located at Plains High School. This is where Jimmy graduated from in the early 1940s. Next, make your way to the farm that shipped Carter's life as a boy where corn, cotton, and peanuts were grown. End your visit in the Plains Historic District still home to the Carter's, and do a bit of shopping and dining in this peaceful Georgia town.
History lovers looking for places to go in Georgia for the weekend can make a road trip out of the National Parks in Georgia. Pair your visit to Jimmy Carter National Historic Park with Chattanooga National Military Park, Kennesaw National Battlefield and Ocmulgee Mounds historic park.
Where to stay: Parrott Georgia Farmhouse-style Retreat on 4 acres of Towering Pines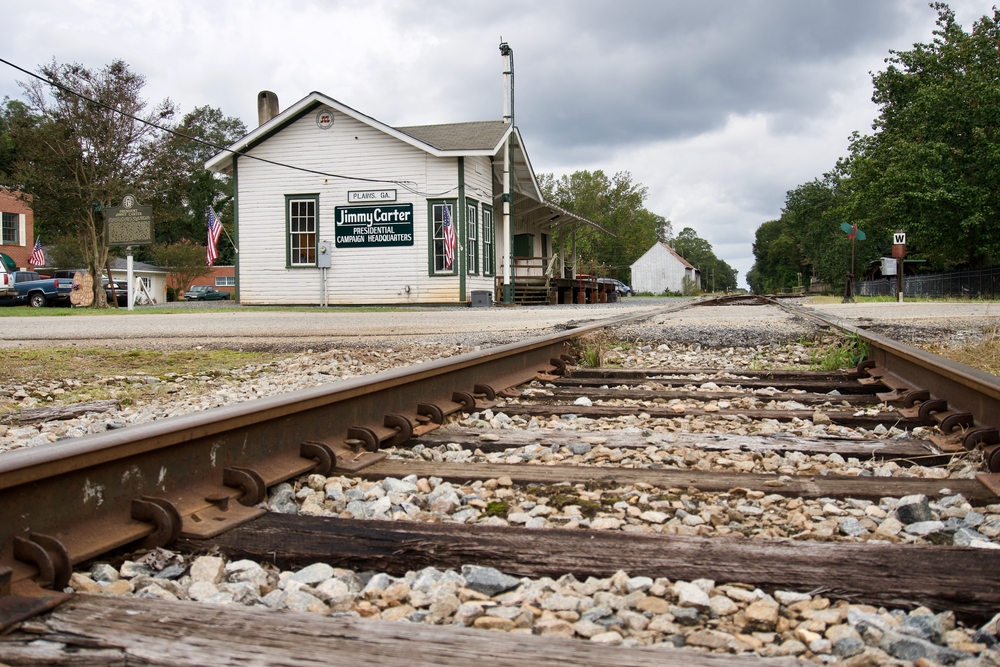 Augusta – More than Golf
While Augusta is synonymous with the Master's Golf Tournament this is one of the Georgia destinations that has tons more to offer! Located right on the Savannah River, Augusta is teeming with historic houses, art-filled museums, natural wonders, and amazing restaurants to explore!
Museum and art lovers alike will not want to miss the Augusta Museum of History, or the Morris Museum of Art the premier museum for American South art. Next, take a walk on the spooky side, a visit to Magnolia Cemetery one of the most unique places to visit. Visitors with children will want to head to Pendleton King Park, a bird sanctuary inviting visitors to immerse themselves in nature.
The Partridge Inn should certainly be on your list for romantic vacation spots in Georgia. Not only for the famous Sunday brunch but the 100-year historic charm.
Where to stay: The Partridge Inn Augusta, Curio Collection by Hilton Partridge Inn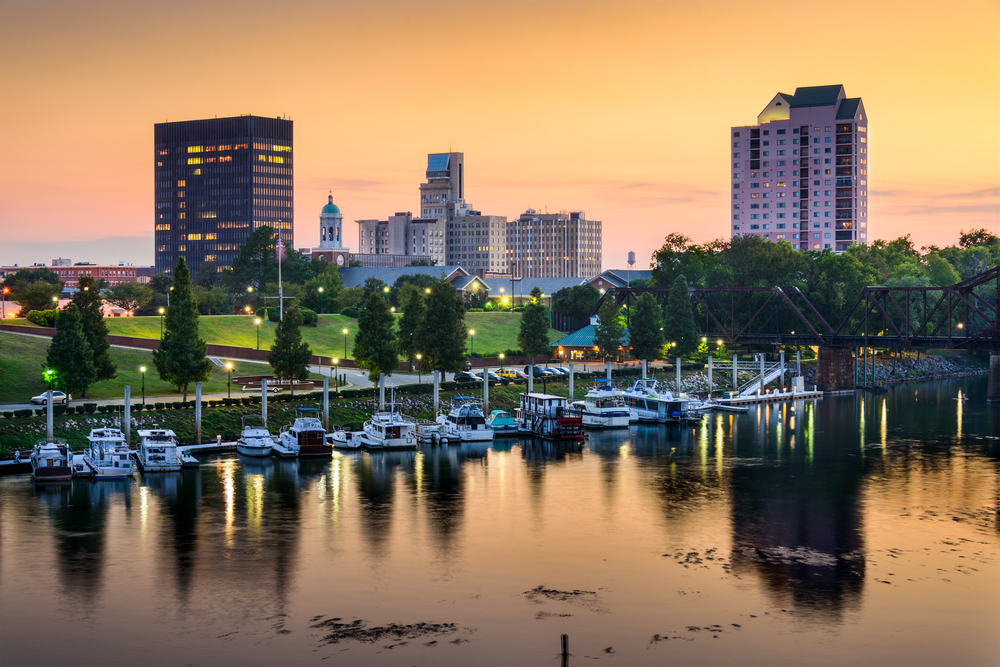 Visit Amicalola Falls
Amicalola Falls is one of the best places to visit in Georgia if you want to experience gorgeous waterfalls! Not only is it one of the most popular waterfalls it is actually the tallest waterfall in the state! The water spills over a 730-foot cliff onto multiple layers of rock that create the beautiful outdoor Georgia attraction outside of Ellijay.
You can reach this Georgia waterfall from the Amicalola Falls Trail which is located in the Chattahoochee National Forest. The Amicalola Falls State Park is one of the most popular state parks in Georgia, and visitors frequent this park during any season.
From snow in the winter to leaves in autumn, or the bright sun of the summer, this waterfall is a top pick for many hikers. When it is time to find a place to stay, check one of the dreamy Georgia treehouses.
Where to stay: The Bee's Knees of Big Canoe! North GA Mountain Cabin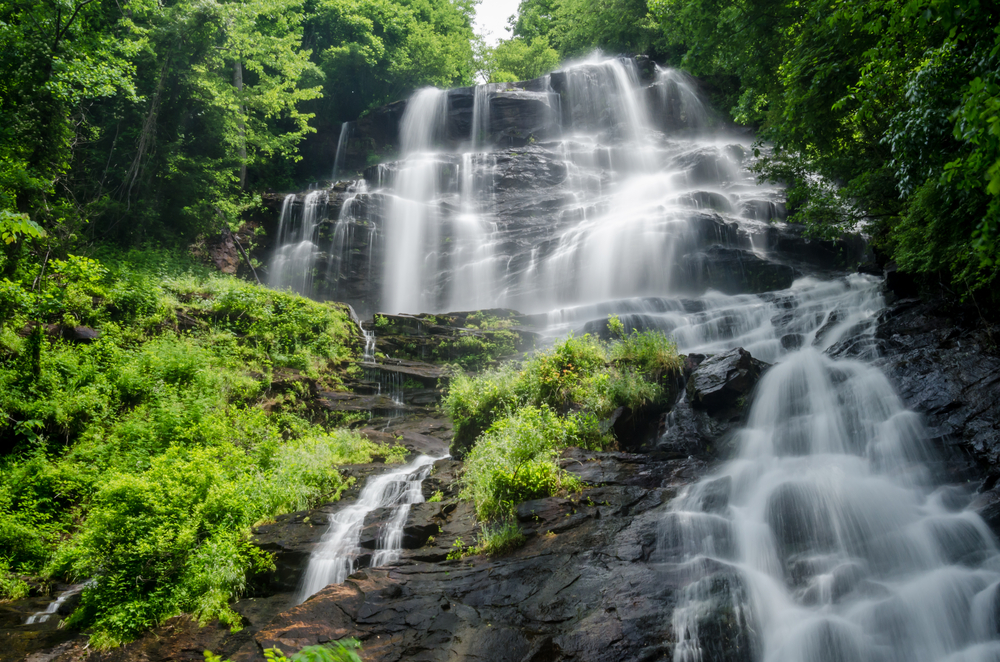 Romantic Getaway at Château Élan Winery & Resort
Château Élan Winery & Resort has to be on every wine lover's list of places to visit in Georgia! It is a fabulous destination for a luxurious romantic weekend getaway in Georgia or perfect for a girl's vacation. It's tucked into the North Georgia mountainside, 45 minutes northwest of Atlanta, and is one of the most awarded wineries on the East Coast.
A perfect blend of elegance and southern hospitality since opening in 1981. Complete with spa services, a golf course, fine dining, cooking classes, and of course the winery! The winery offers both tours and seven wine tastings open to the public even if you're not staying at the resort.
Enjoy a tour of the entire process from grapes to glass and then sample the wines with a tasting selection of five winemaker-selected vintages. For more special occasions, opt for the Grandeur semi-private tasting of premium wines led by a trained Winery Staff member including a pairing cheese plate.
Where to stay: Château Élan Winery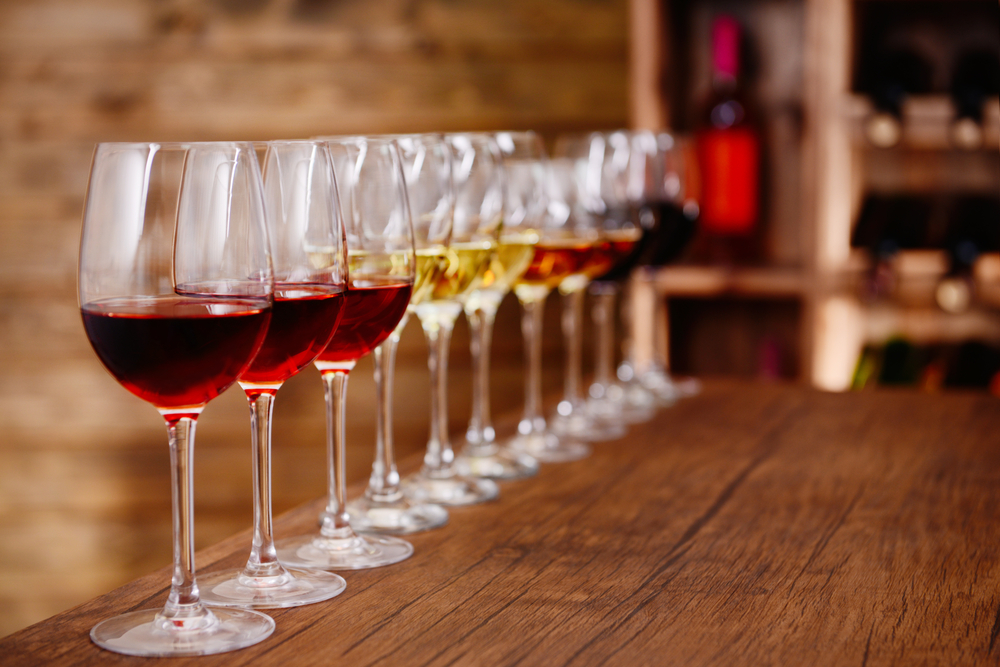 Cumberland Island National Park
Cumberland Island National Park is a must-visit Georgia vacation spot for those looking to experience an undeveloped natural island landscape. Located just over the Florida border in St. Mary's Georgia, this is one of the best places to visit in Georgia if looking for a nature retreat.
This pristine place has been natives, missionaries, and enslaved African Americans. Cumberland Island is accessible by ferry, and Dungeness Beach is a must-visit while here! It is the perfect place for a stroll or bike ride while touring an 1880s mansion. It is the perfect place for shelling and hunting for shark teeth. Keep an eye out for the wild horses that have roamed around the island since the 1500s.
Where to stay: The Goodbread House Inn situated in historic downtown Saint Marys, Georgia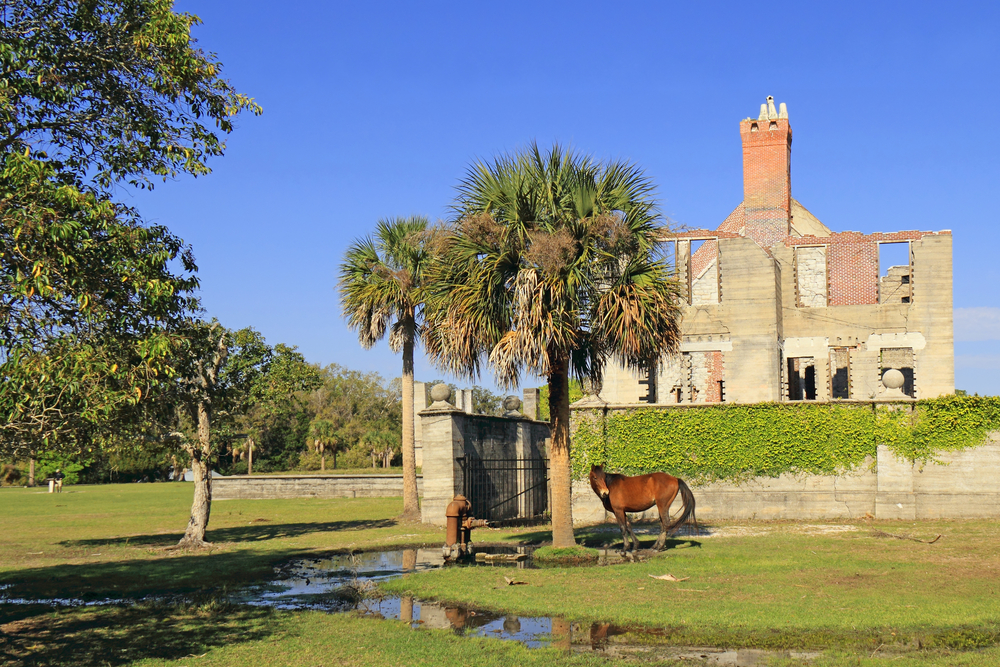 George L. Smith State Park Covered Bridge
Georgia is home to some of the most beautiful covered bridges in the southeast, which are must-visit for those who love historic structures. Located in Twin City, one of the prettiest covered bridges is the George L. Smith State Park Covered Bridge. It is a refurbished Parrish Mill and Pond that was built in the 1800s and includes the covered bridge, a gristmill, Watson sawmill, and dam.
Whether you want to take a paddleboat around the pond, take a tour and learn about the estuary the mill sits on, or walk on one of the trails you will have plenty of space to roam in the 1,634-acre Georgia state park. Keep an eye out for rare wildlife like the Blue Heron and White Ibis.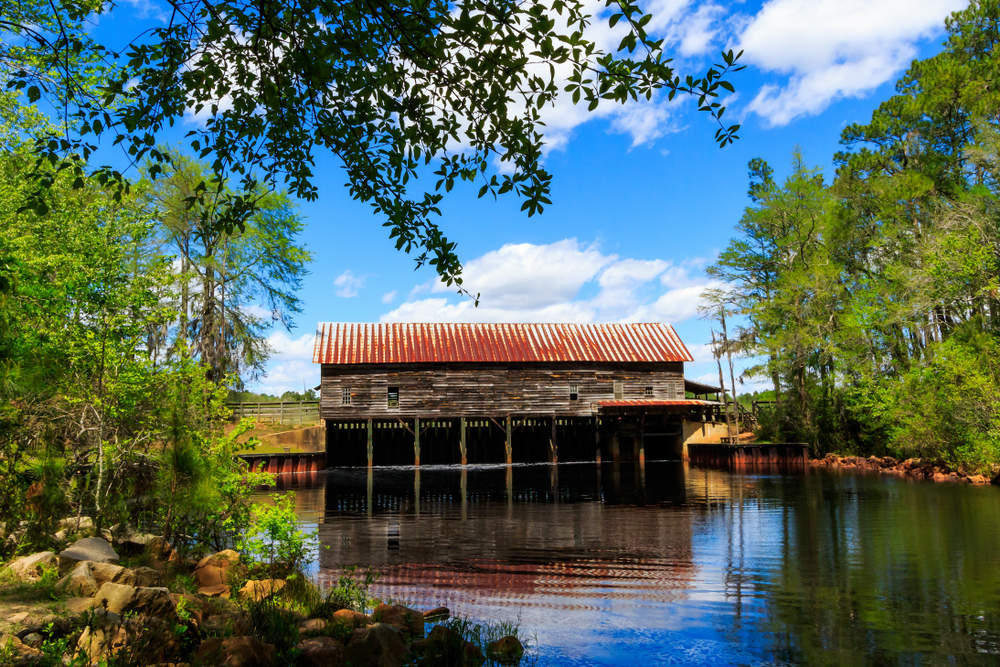 Blue Ridge Scenic Railway
Are looking for a unique and fun family vacation? If so, Blue Ridge Scenic Railway, which is one of the best places to visit in Georgia with kids. What better way to experience the Blue Ridge Mountains than setting out on a mountain adventure by train!
The railway offers specialized rides for all seasons including the Fall Foliage Tour, Holiday Express, and Summer Railway to make the most of your ride, no matter the time of year! Making it the perfect summer or winter vacation! Just make sure to book in advance.
The train ride is a four-hour excursion through the Georgia countryside with stops in the charming towns of Georgia. Guests will be awarded with stunning forest landscapes while getting to explore small towns along Blue Ridge.
Where to stay: Romantic Getaway, Hot Tub, Amazing Views! Horses in pasture! Thorough Cleaner!! Farm Stay