Are you looking to choose between visiting Savannah or Charleston? We have put together a list to help you choose in your decision between Savannah vs Charleston!
These two southern cities are often referred to as sister cities. Both have a deep history dating back to the 1600 and 1700's playing a role in shaping the history of both Georgia and South Carolina. Each city brings gorgeous views of the water, cobblestone streets, moss-covered trees, and southern hospitality with beautiful hotels and a wide variety of delicious restaurants.
Both cities have a walkable historic downtown, and the best part is they are only two hours apart so you can visit both Savannah and Charleston and see which you like best!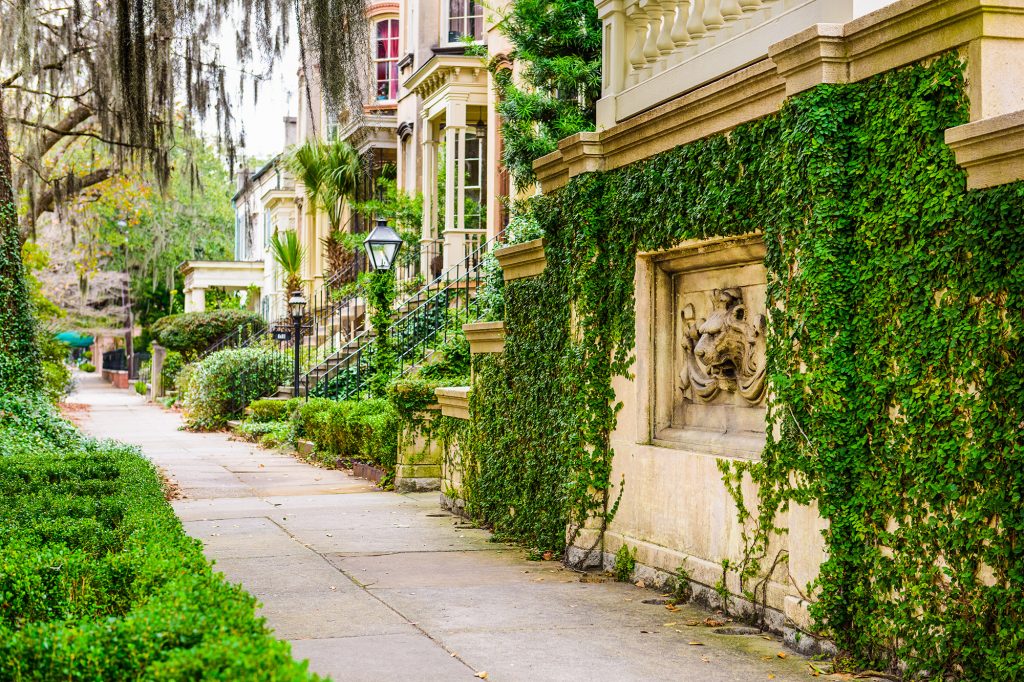 How Far Is Savannah to Charleston?
How Far is Savannah to Charleston is a popular question! The cities are just over 100 miles away from each other with Charleston being located north of Savannah. The driving distance between the two cities is just about 2 hours, depending on which highway you take! Meaning you can visit both on the same trip and see which you like better!
Why Choose Either Savannah Or Charleston?
When it comes to choosing between Savannah or Charleston you can look at factors like time and distance. If you are coming from Florida, Savannah will be closer while if coming from North Carolina, Charleston will be closed. Accommodation costs can be higher in Charleston, while in Savannah you can find lower cost hotels. The dining scene in Charleston is more varied but Savannah is beginning catching up. Savannah is known for more of a bar and nightlife scene while Charleston has several craft breweries. Or choose based on your interests both offer walkability downtown ,historical sights and museums.
You May Love Charleston If…
You may love to visit Charleston if you are looking for a costal city where you can enjoy the beaches just a few minutes from downtown, amazing dining and restaurant scene, a big city feel while still having tons of history in this southern town.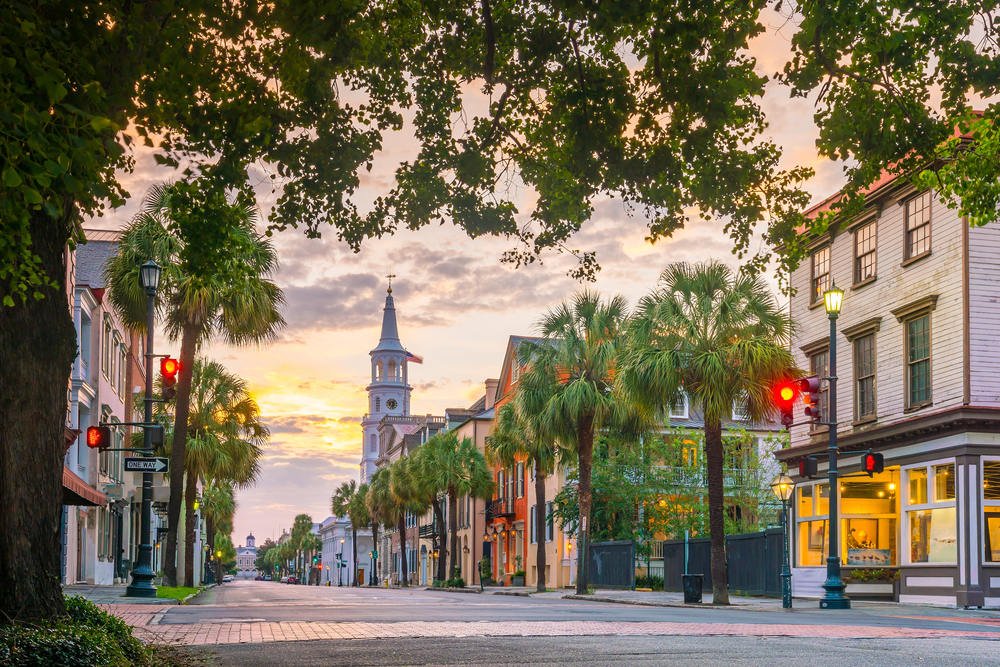 You May Love Savannah If…
If you are looking for a city that has southern charm, a walkable historic downtown area and riverfront, plenty of bars and restaurants this is the city for you! There are numerous museums both of historical importance and art, as well as nearby Tybee island for a beach escape!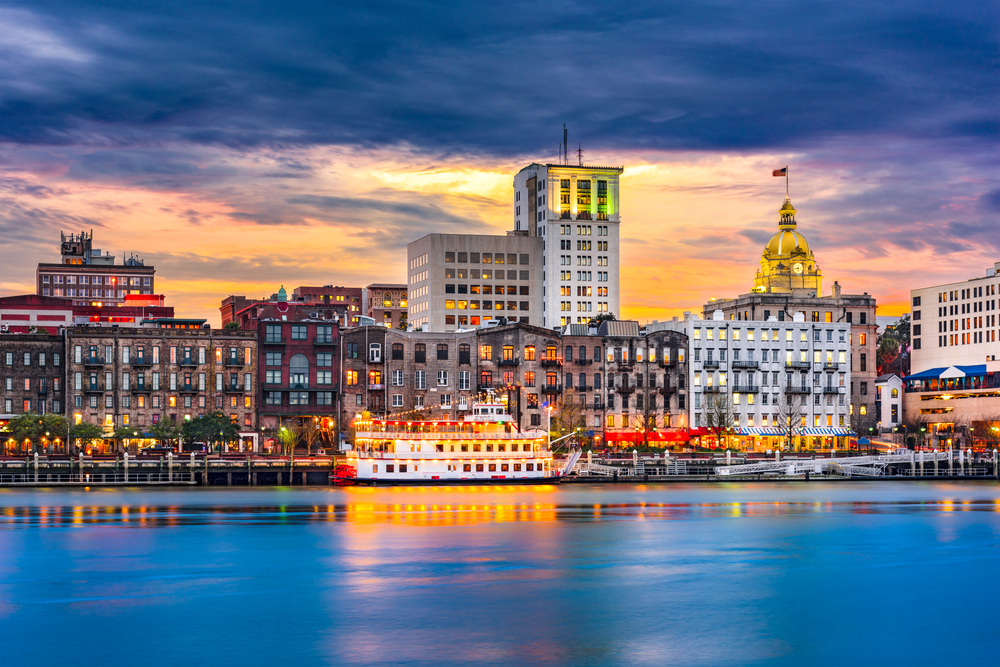 Food In Savannah
While Savannah didn't used to be known as a foodie destination, in recent years the city has stepped up. James Beard award winning restaurant The Grey is known for modernizing southern cuisine. The city cuisine expansion has exploded. The area near the river is known for its restaurants as much as its known for its bars ( making it a great city for those looking to drink and eat!)
From popular Olde Pink House, The Grey, Original Crab Shack, mrs. Wilkes Dining room are a few of the most popular in town! There are also so many cute places for breakfast in Savannah as well as coffee in Savannah!
Food In Charleston
Charleston is considered one the premier foodie destinations in the South with a large variety of cuisines offered! With a rich culinary history, James Beard Award winning restaurants using fresh and local ingredients Charleston wins the award for best city to go if looking to eat in the "Low country".
From popular Jackrabbit Filly, Rodney Scott BBQ, Husk, Fig, Ordinary, and are a few of the favorites in town!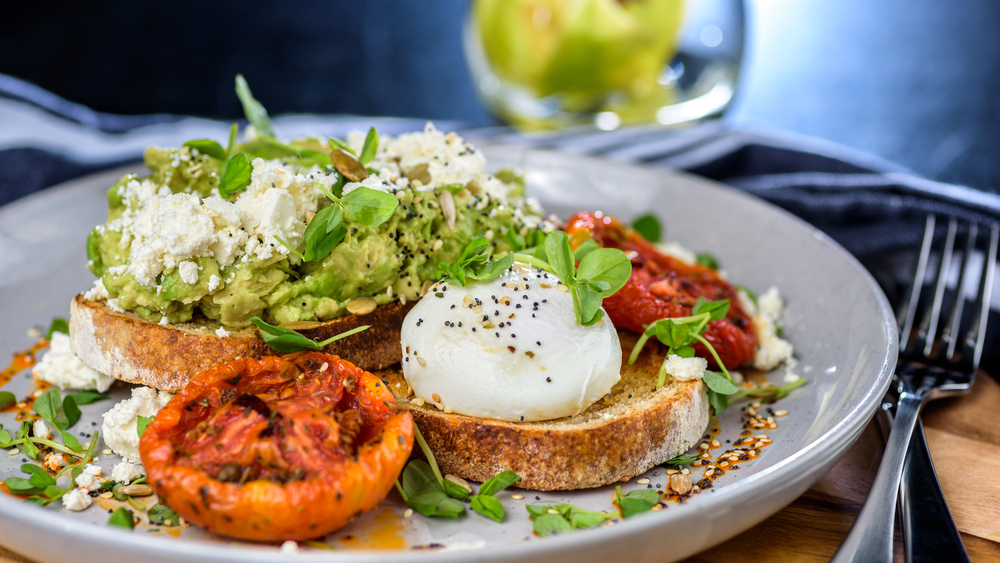 Things To Do In Savannah
Savannah is a great city for history lovers, outdoor enthusiasts, foodies, shoppers and art lovers alike! Everyone can find something in Savannah they enjoy.
For those who love history explore the numerous historical town squares and parks some with historical statues like popular Forsynth park, Wormsloe State Historic Site, Bonaventure cemetery or the Cathedral of St John the Baptist. If you are looking for outdoor activities you can stroll along the riverfront, walk through the historical district admiring the architecture and gorgeous moss covered trees and cobblestone roads.
For foodies and shoppers headed to Broughton Street or the River Street where shops and restaurants line the roads! Or take a drink to go while shopping or just wandering around Savannah.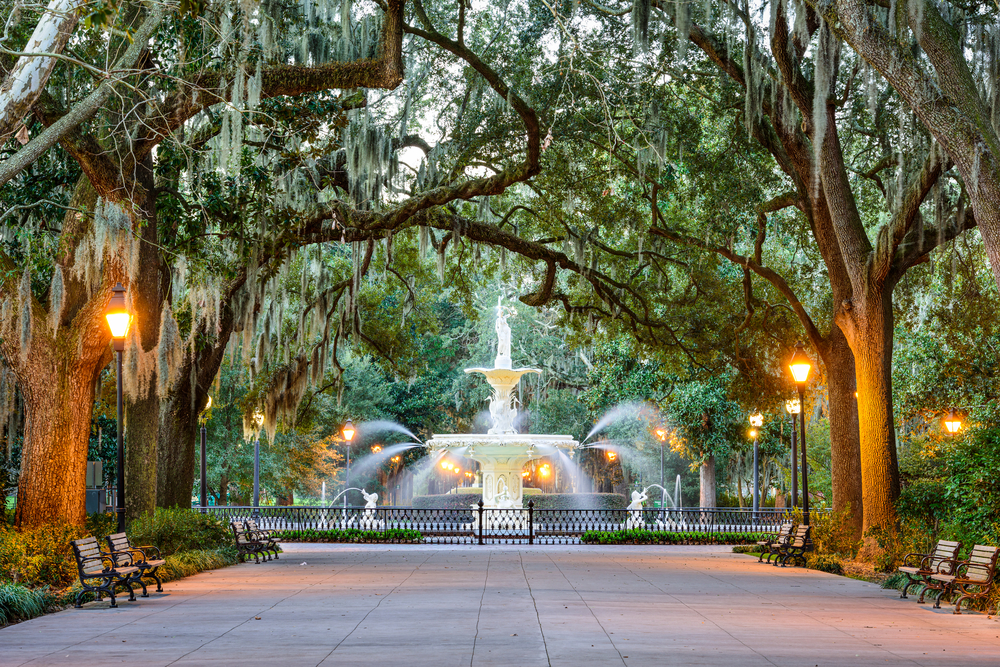 Things To Do In Charleston
Charleston is a quintessential southern port city! With gorgeous views of the harbor, beaches galore nearby, historic homes and museums plus it's considered on the premier food destinations in the United States!
Take a walk around the battery on the southern tip of the harbor for amazing views and historical homes, head to angel oak tree one of the most photographed spots in Charleston, visit one of the craft breweries in town or indulge in a few meals at some of the restaurants in town! Or visit one of the many museums or historical sights located throughout the downtown area.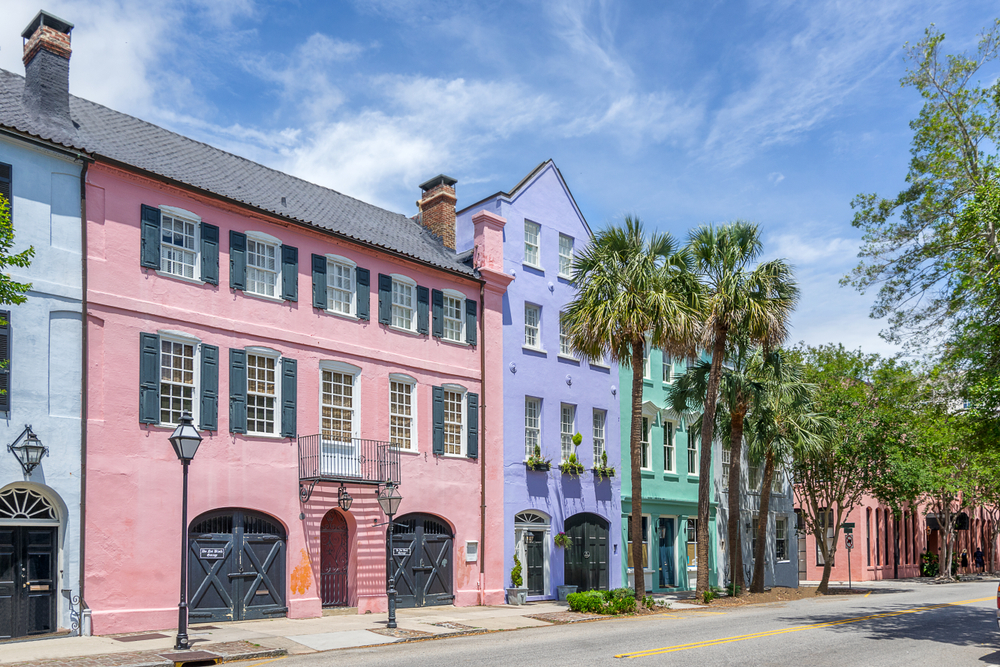 History and Museums in Savannah
Savannah was "founded" in 1733 when General James Oglethorpe ship Anne landed on the Savannah River naming Georgia the final 13th colony. The first city in Georgia had a stories history as America's first planned city – which you can notice in the plethora of cities squares and easy to follow grid street system.
As one of the oldest cities in the US, Savannah has a diverse history over the last almost 300 years. Head to Wormsloe State Historic Site to see the oldest structure in Savannah, the Telfair arts museum, Jepson Modern Art Museum, the Davenport house that shows 19th century Georgia living, and the Savannah history museum with artifacts dating back to 1733. If you head out to Tybee Island make sure to visit Old Fort Jackson.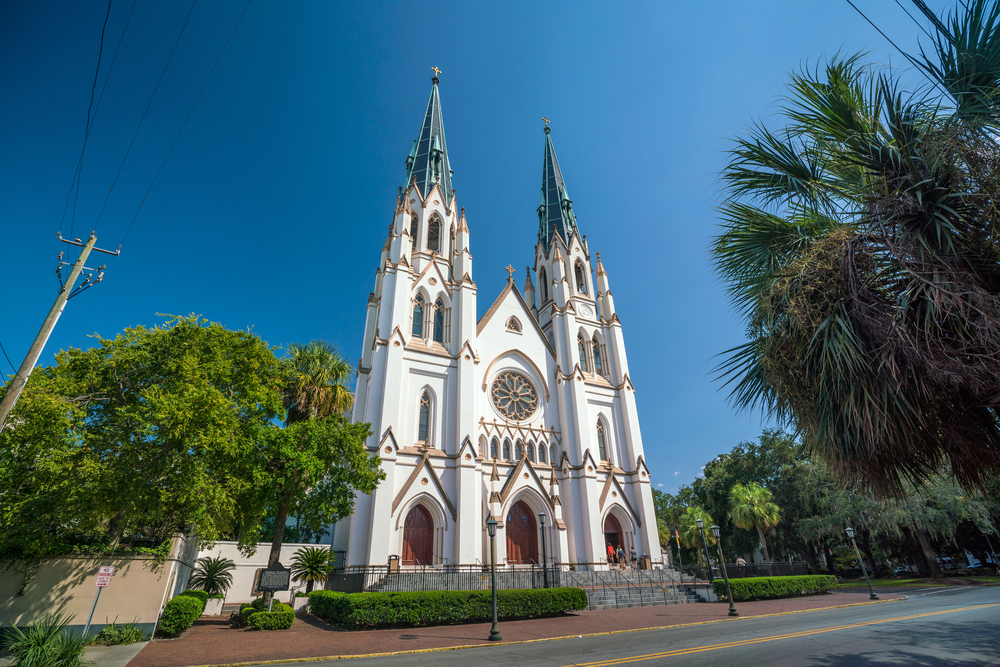 History and Museums in Charleston
Charleston is one of the oldest cities in the US. It was in 1670 that captain Joseph West landed at Albemarle Point in South Carolina and was named Charles town after King Charles II. The city I softened referred to as a living museum with a stories history over 300 years old as a flourishing port town through history of Revolutionary and Civil Wars.
Start with a visit to the Charleston museum where you can fully immerse yourself in the history of Charleston with artifacts dating back to 1733 you can continue with a visit to the Old Slave Mark Museum where slaves were bought and sold after the slave ban of 1808. Or visit Fort Sumter National Monument.
Visit one of the historical homes such as Nathaniel Russell to view what life was like in Charleston during Antebellum period or take a visit or the Aquarium that showcases local South Carolina aquatic life. Or visit the Gibbs Art Museum one of the oldest in the country. In a battle of Charleston vs Savannah Charleston wins for having a more stories history and a plethora of museums.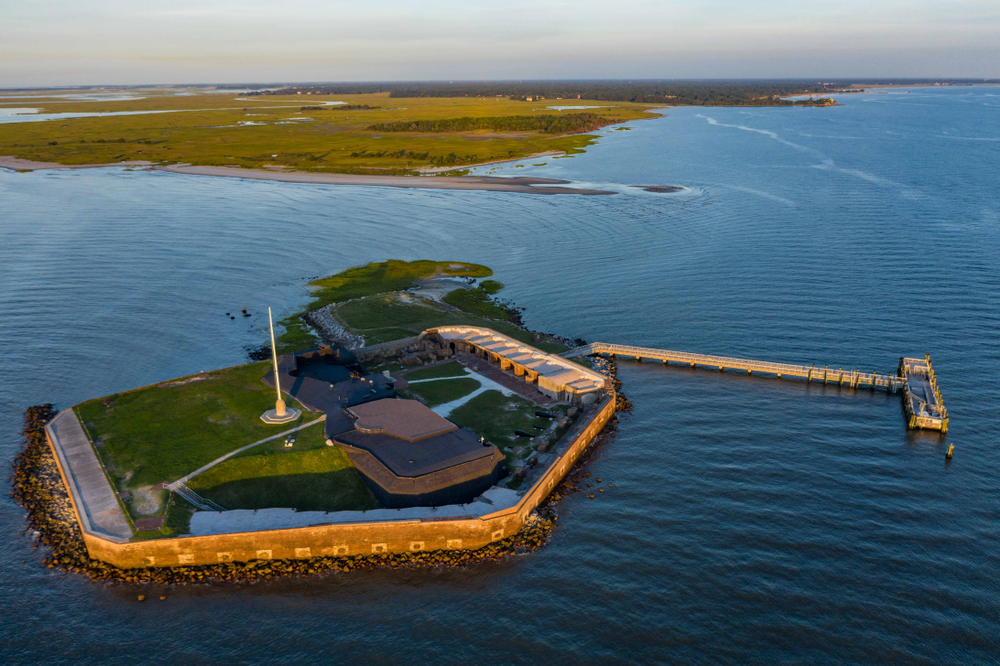 Beaches Near Savannah
In just about 30 minutes from downtown Savannah you can be on the beach. Tybee Island is a barrier island with over 5 miles of oceanfront beach making it the perfect place for a day trip when visiting Savannah.
A little further from the Savannah area is Hilton Head Beach in South Carolina just an hour away! Hilton Head is considered one of the best family friendly beaches in the country and like Tybee Island is a barrier island.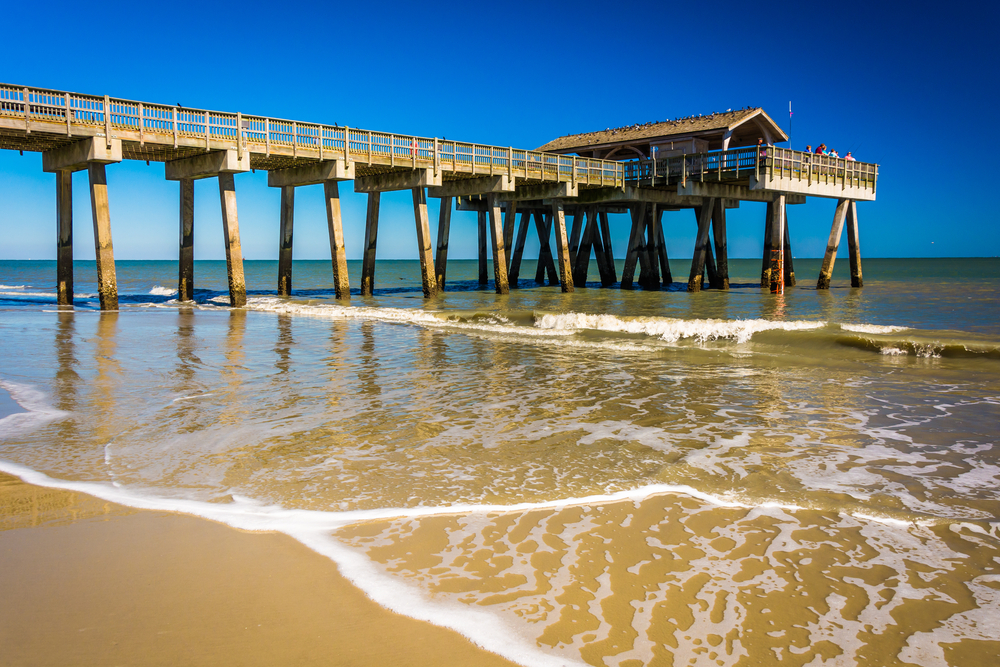 Beaches Near Charleston
If beaches are what you are looking for when trying to decide between Savannah or Charleston, Charleston wins! Charleston is located on the coast and has 5 beautiful beach towns all within a short drive.
This area of South Carolina connects you to Kiawah Island with over 10 miles of unspoiled beaches and untouched nature preserves, Folly beach is the closest beach to downtown Charleston and perfect for families, Sullivan's Island, Isle of Palm is just 12 miles and has beautiful golf courses near the beach and Seabrook Island.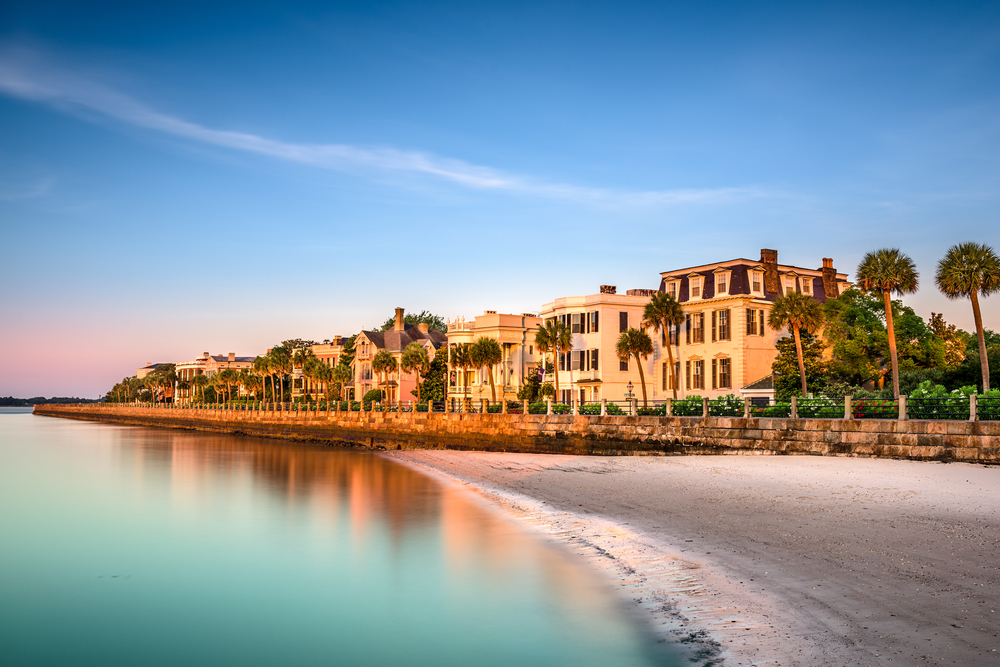 Day Trips from Savannah
If looking to head to the beach, popular day trips from Savannah include a visit to nearby Tybee Island just 30 minutes away or Hilton Head beach just an hour away.
At just two hours away you can also visit nearby Charleston on the South Carolina coast. Another popular day trip is to nearby Beaufort known for one of the first Civil War cemeteries and many Antebellum homes. The the is a wildlife refuge park about 20 minutes from downtown and admission is free!
Day Trips from Charleston
Some of the most popular day drips from Charleston include Kiawah Island. While Charleston is located on the coast, Kiawah is a golf and spa lovers dream! Or you can always drive two hours south to explore Savannah!
If looking for a small town head to Wadmalaw Island just a 30 minute drive where you can visit a tea plantation and winery. Or head to Columbia the state's capital and also home to Congaree National park the only national park in South Carolina.
Hotels in Savannah
The hotels in Savannah are mostly congregated around the historic downtown area and riverfront or in the area around Forsynth park. Almost every major hotel chain has properties located within the historic downtown area.
For those looking for more boutique hotels you are in luck, from luxury boutique properties from the major hotel chains, to smaller local properties there is a hotel at every price point. For the truly budget-conscious traveler you can stay near I-95 and drive into town!
Hotels in Charleston
When comparing the hotels scene from Savannah vs Charleston, Charleston is a bigger city and thus more spread out when it comes to accommodation. From the Charleston harbor across the Cooper River, to the historic downtown area and Charleston waterfront to the beachfront areas there are a ton of options just like in Savannah.
From boutique hotels in Charleston and local inns to major chains there are plently of hotel options in each area at a variety of price points for travelers.
Walkability in Savannah
When comparing which city is more walkable, Savannah or Charleston, Savannah wins. The historic downtown area is more compact at only about a mile and as such you will not need a car ( plus parking is difficult to find or expensive in the garages.)
There are over 20 parks and town squares, a 2 mile paved riverwalk where you can stop in and shop and eat a variety of restaurants, as well as the added benefit of being allowed to roam with open container of alcohol.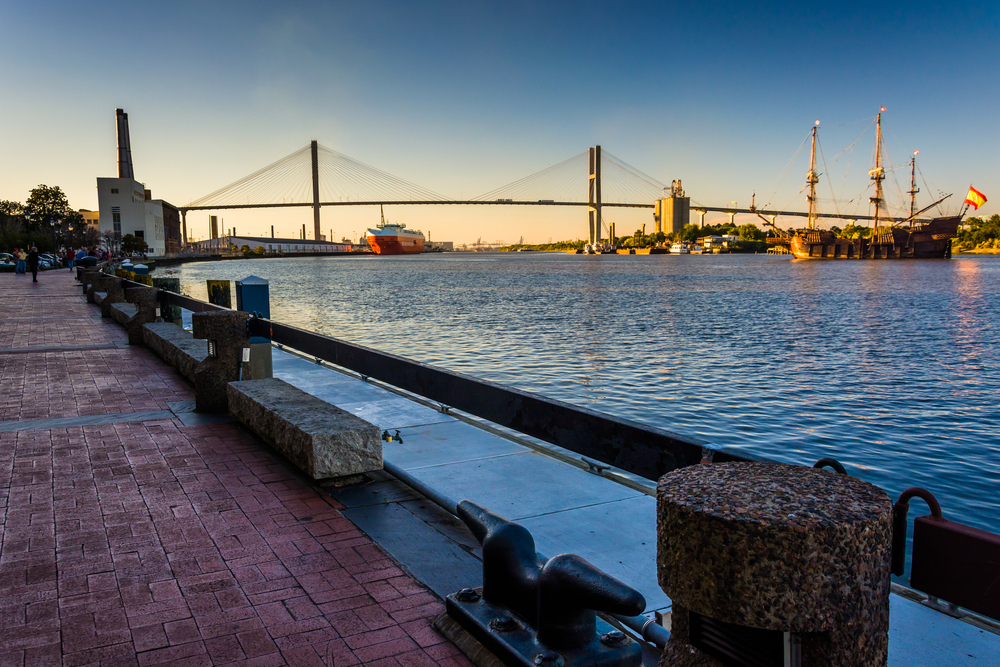 Walkability in Charleston
The downtown area of Charleston is extremely walkable, but to explore other areas of the city such as the harbor, or nearby beaches a car is necessary to get around. Or you can always opt for ride sharing options.
While the city is not as compact as Savannah, if you want to stick to the downtown area you can explore different walking routes depending on your interests.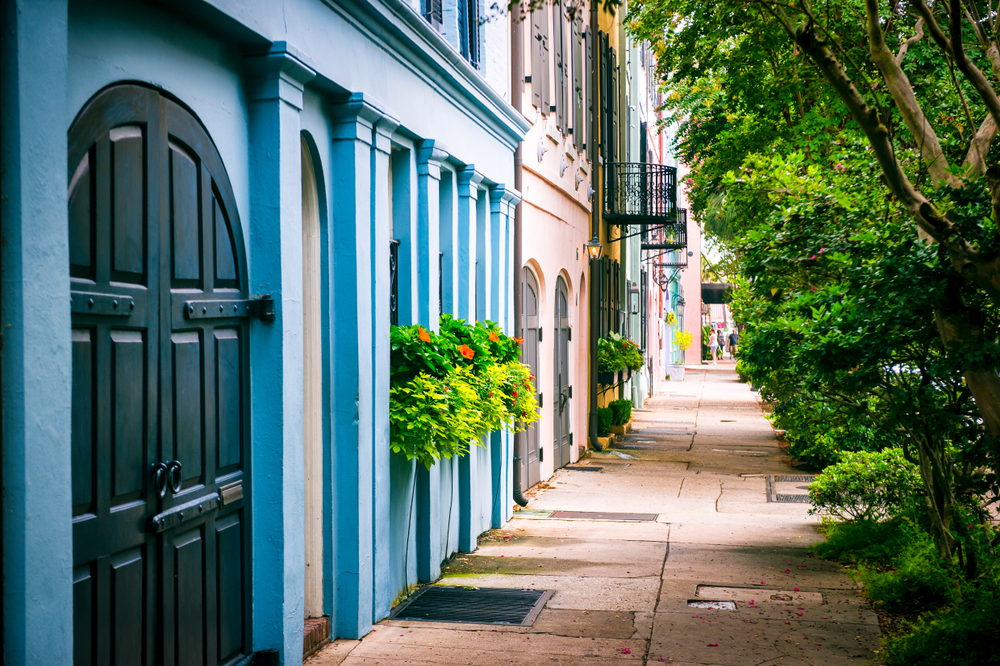 Instagram Spots In Savannah
Savannah has a plethora of instagram spots throughout the city. From the cobblestone roads leading to the river, moss covered trees in the town squares, beautiful historic building, and gorgeous restaurants the options are limitless.
Just one block off the river you will find Rainbow Row a collection of Victorian homes perfect for a photoshoot with its pink shutters and beautiful stairways. If you are feeling in the mood for a French vibe head to the Paris Market on Broughton Street voted one of the prettiest coffee shops in the South! Back to the moss covered trees you must head to Forsyth Park with a beautiful fountain at the center of the park. Or head up to one of the rooftop bars along the river for a beautiful view of the city!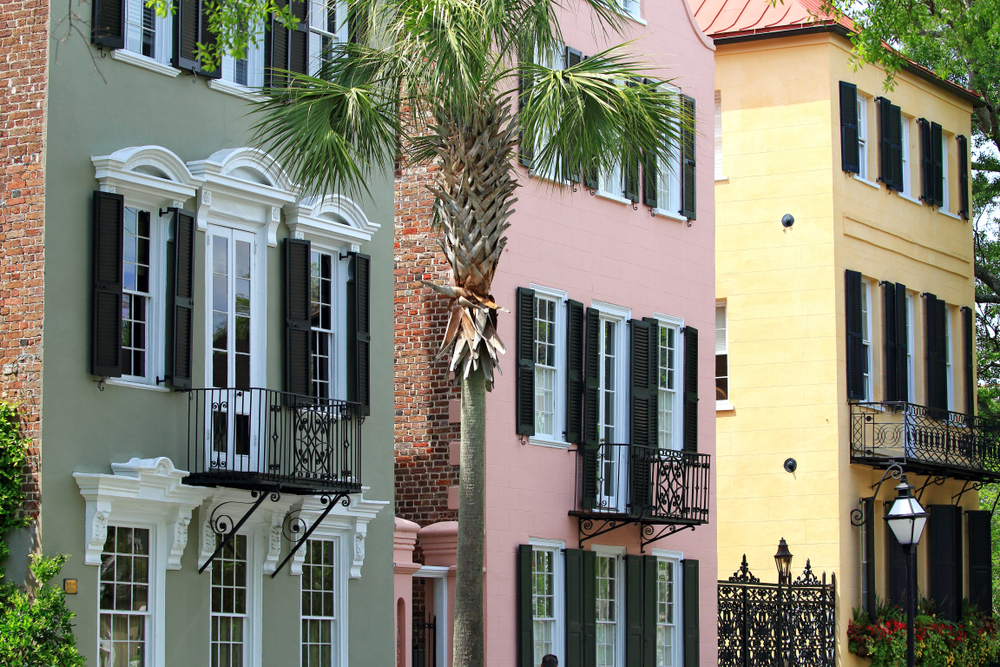 Instagram Spots in Charleston
Charleston is another instagram worth city with plenty of spots to snap those picture perfect photos. From beautiful colored buildings, moss covered trees and southern charm it lives up to its knickname "Charming Charleston".
Head to Waterfront Park for the iconic pineapple fountain with the harbor in the background, or head to the beach and pose under the pier at Folly beach, or visit a 400 year old angle oak tree that is 65 feet high, the Mills pink house or Charleston's own Rainbow Row of Victorian homes.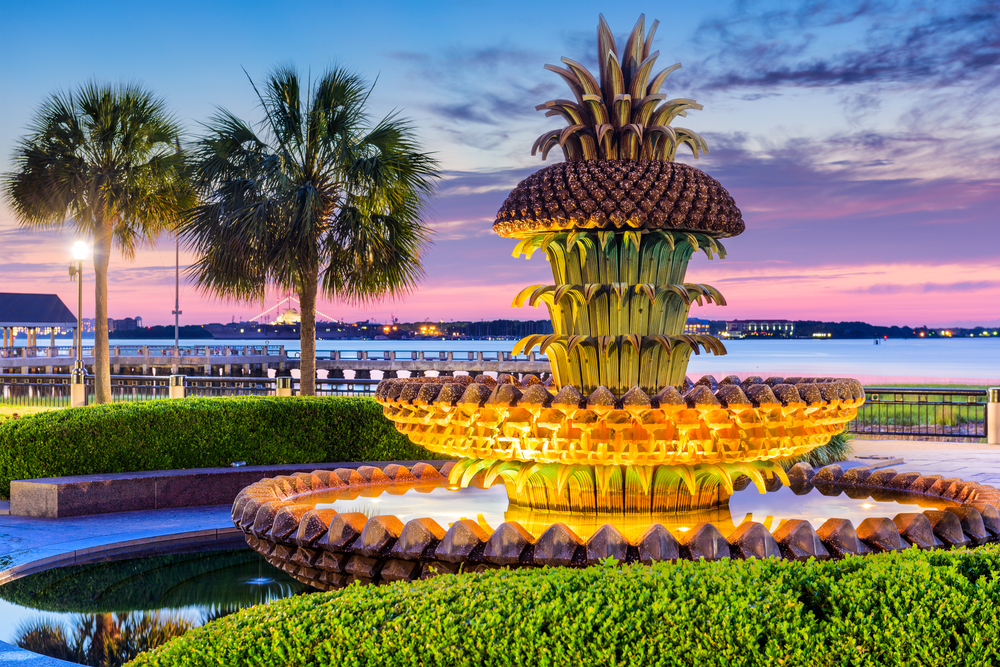 Can You Do Both Savannah And Charleston?
Yes! Of Course! At only about 100 miles and two hour drive apart you don't need to choose between a Savannah vs Charleston vacation, you can visit both and decide which is the better fit for you!
If coming from Florida, Savannah will be closer and if coming from North, Charleston will be closer. But visiting both cities will make for a fun road trip in South!
Final Word On Savannah Vs. Charleston
Everyone always asks the question of how to choose between Savannah or Charleston and everyone has a personal preference! Savannah wins the place in our heart. It is the perfect small town to visit, with a great dining scene, ability to walk around town while having plenty of outdoor historical squares and parks and the ability to explore art museums and learn about the history of America's 13th colony!