There are so many beautiful and unique places to visit in Charleston, South Carolina! If you are planning a trip here, we have put together a list of some of the best Charleson attractions!
If you are deciding where to travel to in the South, you cannot go wrong with Charleston. This historic city is full of gorgeous buildings, delicious restaurants, and picture-perfect scenes down every street and hidden alley.
Planning your trip to Charleston last minute?
Make sure to book your hotels and tours in Charleston in advance to ensure availability! The longer you wait, the more difficult it gets. Here are our top picks for your trip:
Top Tours And Experiences In Charleston:
Top picks for places to stay in Charleston:
No matter what kind of traveler you are or your interests, there are activities in Charleston for you! Photographers will want to hunt down the best Instagram spots in Charleston while history buffs will be memorized by all the historic sites.
There are also a ton of awesome places to stay in Charleston! There are big houses for the extended family or cozy, little bed and breakfasts for couples.
Without further ado, here are the best places to see in Charleston, SC!
16 Best Places To Visit In Charleston (+ Unique Vacation Spots)
Rainbow Row
Charleston is known for its bright and colorful buildings. One of the best places in town to enjoy this quirkiness is Rainbow Row.
Found on East Bay Street, Rainbow Row is a collection of thirteen pastel-colored Georgian houses. The homes date back to 1740. They were renovated and began to don their signature colors in the 1930s.
Today, Rainbow Row is one of the best places to visit in Charleston, South Carolina, for taking photos. The buildings add a pop of color and the palm trees in front are pretty as well. This is truly one of the best places to stay in Charleston. This area is not to be missed.
Book Here: Charleston: 90-Minute Historic City Highlights Tour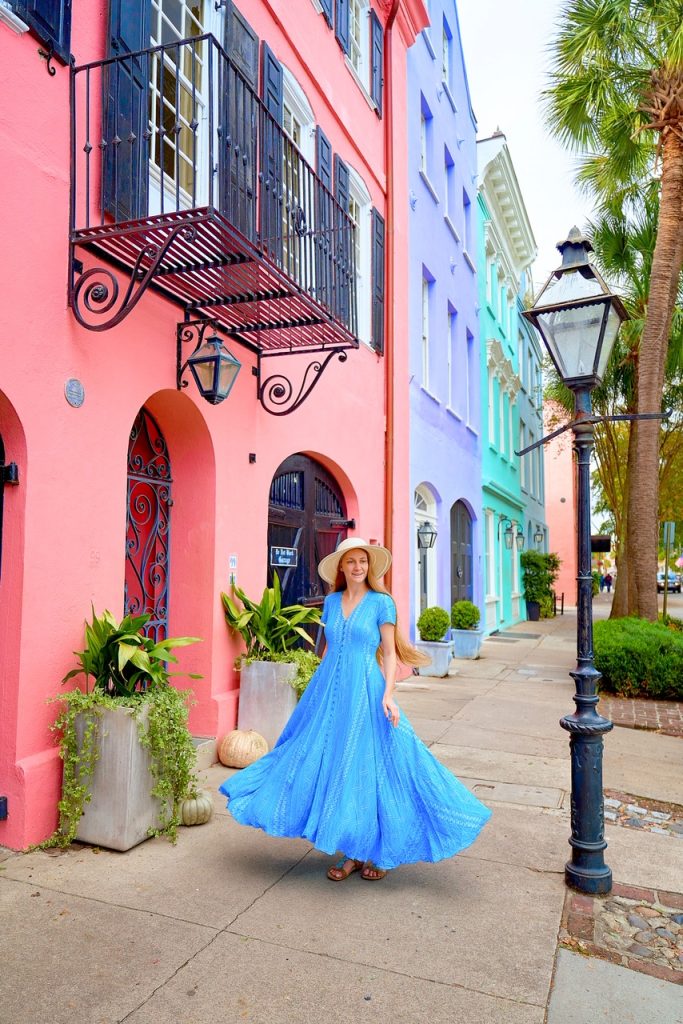 Fort Sumter
Take a 30-minute ferry ride across Charleston Harbor to the small island that holds Fort Sumter. The boat ride itself is a great way to see the city from the water and attractions like the USS Yorktown and the Ravenel Bridge. You might even spot dolphins.
If you did not know, Fort Sumter is where the first shots of the U.S. Civil War were fired. Tour the old fort and learn about its historical significance.
The museum inside has a bunch of artifacts that tell the story of the Civil War in South Carolina. There are plenty of National Park rangers to answer all of your questions as well.
Book Here: Fort Sumter: National Monument Entry Ticket & Ferry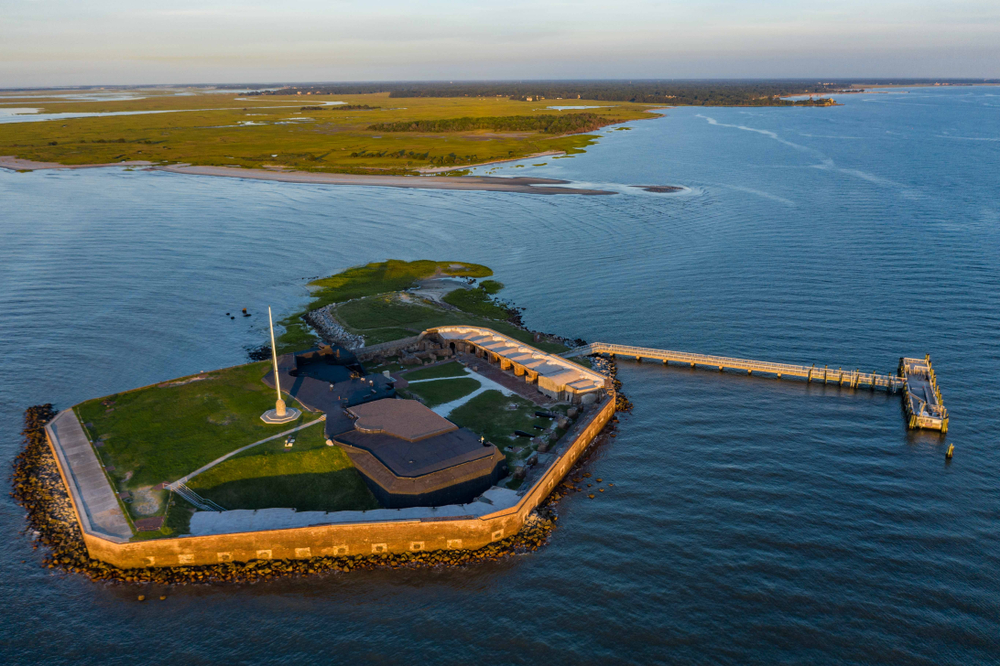 Pineapple Fountain
Head to the beautiful, eight-acre Waterfront Park to find the famous Pineapple Fountain surrounded by pretty flowers. This fountain has stood here since 1990.
Pineapples are a common sight throughout Charleston, and they represent hospitality. It is hard to find a prettier and more classically Charleston scene than this fountain.
Waterfront Park also has a fantastic view of the harbor and is one of the best places to visit in Charleston for sunset. Find a bench to sit and watch boats sail by.
Bring the kids during the day to play in the awesome splash fountain. The pier has cool bench swings and places to fish. There are also events held at the park throughout the year.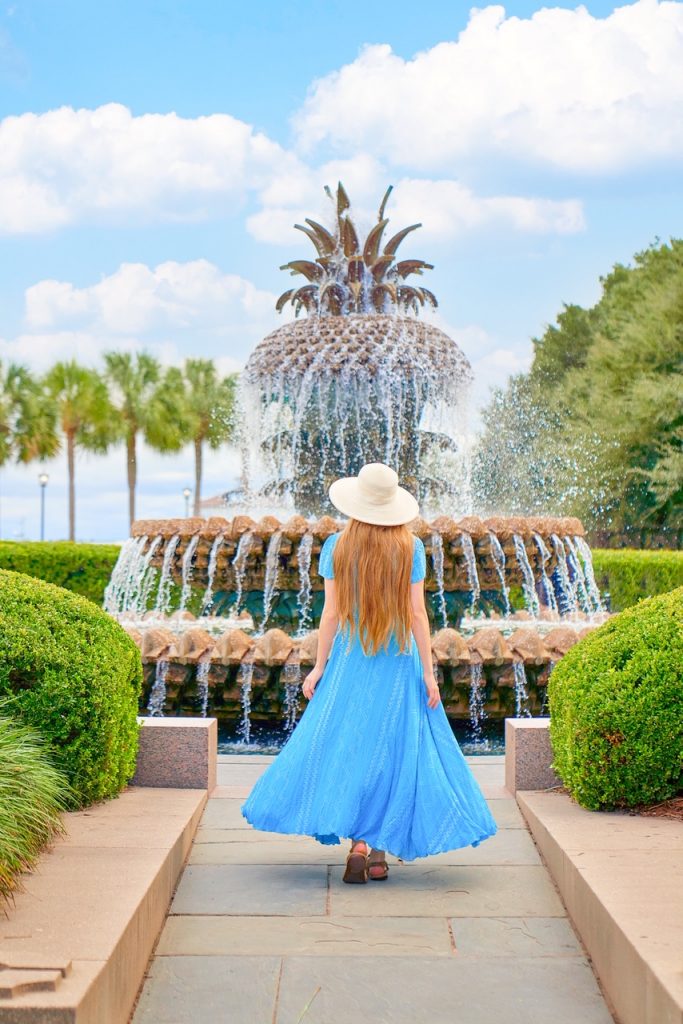 Philadelphia Alley
Philadelphia Alley runs between Queen and Cumberland Streets. This is a great place for photos or a stop on a ghost tour. This innocent-looking alley has quite an interesting history.
Back in the 1700s, this area was known as "Dueler's Alley," and while the duels might be based more on legend than fact, they certainly make for interesting stories. One infamous duel ended in the death of Dr. Joseph Brown Ladd who is said to still haunt the alley under the name of the Whistling Ghost.
Whether haunted or not, Philadelphia Alley is a pretty place for a stroll and is usually not crowded.
Book Here: Charleston's Alleys & Hidden Passages Guided Small-Group Walking Tour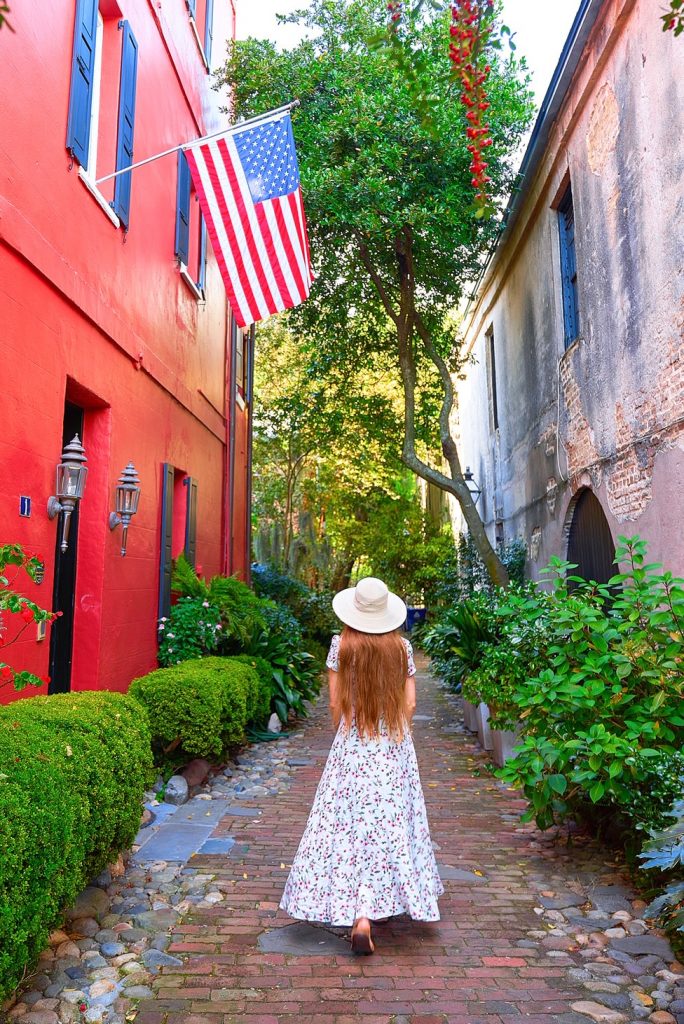 Shamrock Garden
Shamrock Garden is a little, manicured garden surrounded by historic buildings. This boxwood garden is found on Legare Street and is a hidden gem in Charleston. This is a private garden, but it is easy to snap a photo through the black, iron fence.
Along with being one of the best secret tourists attractions, Shamrock Garden should be included as one of the best places to visit in Charleston. It will not be crowded with tourists and you can get a unique photo.
The entirety of Legare Street is pretty as a storybook. There are plenty of overhanging trees, vine-covered walls, and brick buildings.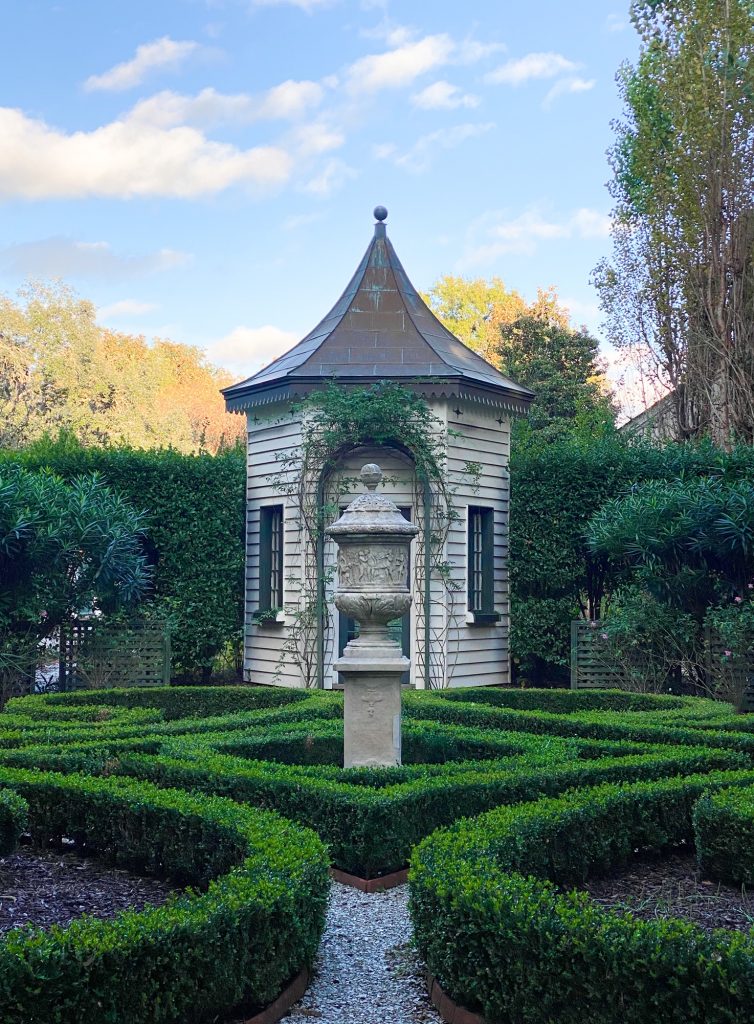 Sullivan's Island
Sullivan's Island is a short 20-minute drive from Charleston and is a great place to escape the city for a day of fun. The island has been kept minimally developed to preserve the natural beauty and small-town feel.
There are beautiful, quiet beaches here for relaxing as well as a nature trail. This is a great place to make family memories or have quality time with your significant other.
Along with beaches, there are historic districts to explore. You can visit Fort Moultrie and photograph the Sullivan's Island Lighthouse.
Also, did we mention there is a castle here? Mugdock Castle has an interesting history that stretches back to the late 1800s. It started off as a church and though it is not super big, it is still cool to see. Don't forget to check out our list of the best Islands In South Carolina if you want to explore more!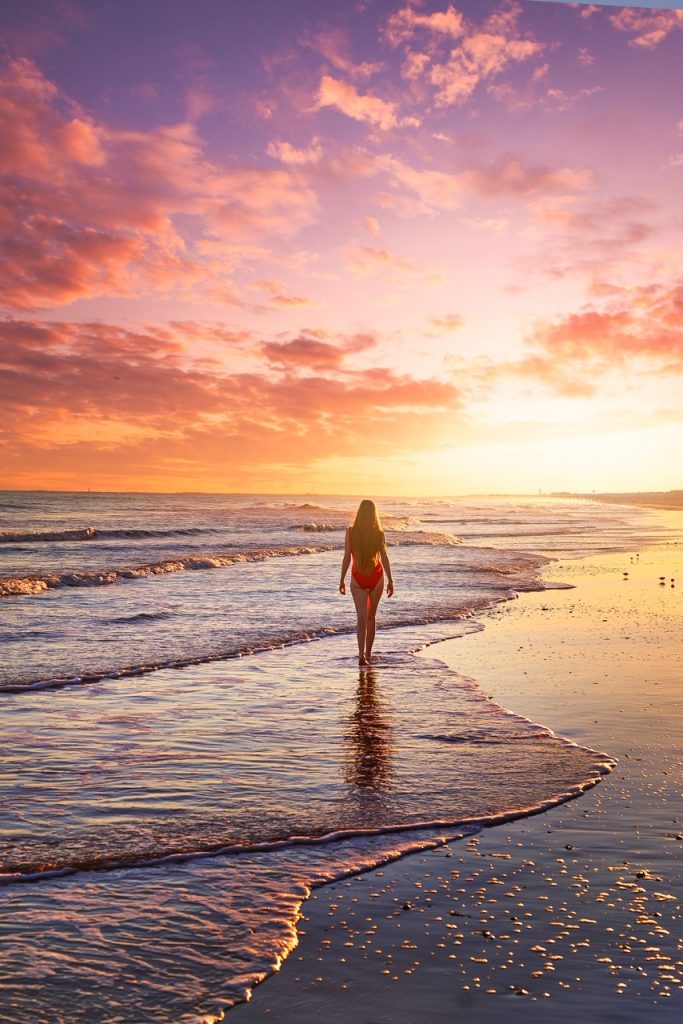 Folly Beach
Folly Beach is one of the best beaches in Charleston. You will find the beach on Folly Island just south of the city. This beautiful oasis is one of the best vacation spots in Charleston!
The stretch of sandy beach is perfect for sunbathing or swimming. Kids will have fun building sandcastles and looking for shells. At low tides, you might even find shark's teeth.
Folly Beach is also known for its great surfing conditions. If you are looking for a place to put your board in the water on the East Coast, this is where you should come.
There are also a ton of great restaurants in Folly Beach where you can enjoy a great meal.
Book Here: Charleston: Folly Beach Stand Up Paddleboard Dolphin Safari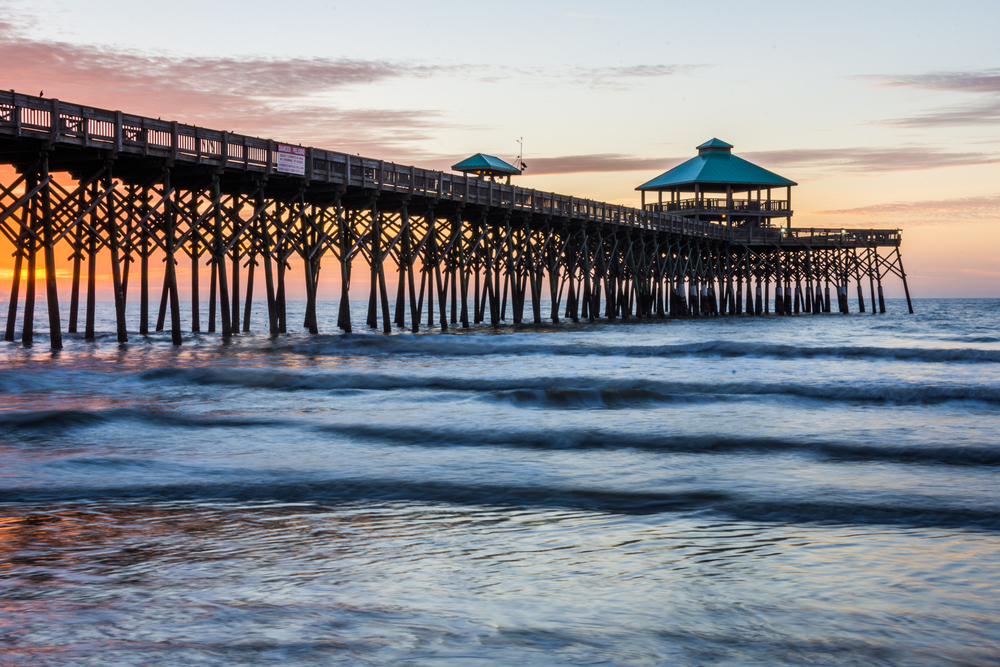 Cypress Gardens
Cypress Gardens is a 40-minute drive north of Charleston and if you get the chance to visit, you will not regret it! This 175-acre swamp garden is absolutely gorgeous and perfectly romantic. So romantic, in fact, that a scene from "The Notebook" was filmed here.
You can recreate the movie scene by hopping in a rowboat and paddling through the tall, cypress trees. You will spot a ton of birds, turtles, and maybe even some alligators.
Cypress Gardens also has a Butterfly House and a Swamparium where you can learn about native wildlife. There are also over three miles of walking trails. This is easily one of the best places to visit near Charleston.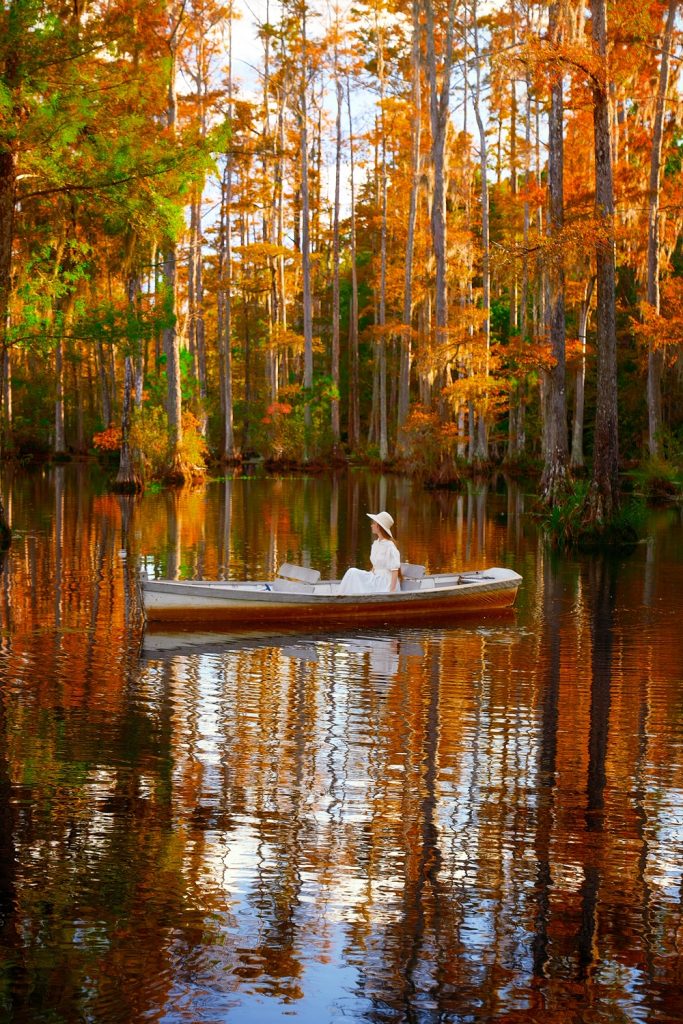 Isle of Palms
Isle of Palms is a great day trip from Charleston. A 35-minute drive will bring you to this upscale, beach resort destination.
The Isle of Palms County Park is a family-friendly place to soak in the sun or go for a dip in the water. Kids will have fun climbing on the playground or playing a game of sand volleyball. Bring a picnic to enjoy and grab an ice cream from the snack bar for dessert.
Rent beach chairs and umbrellas so you can rest in peace while your kids play in the surf under the watchful gaze of the lifeguards. There are also a ton of great eateries along the beachfront.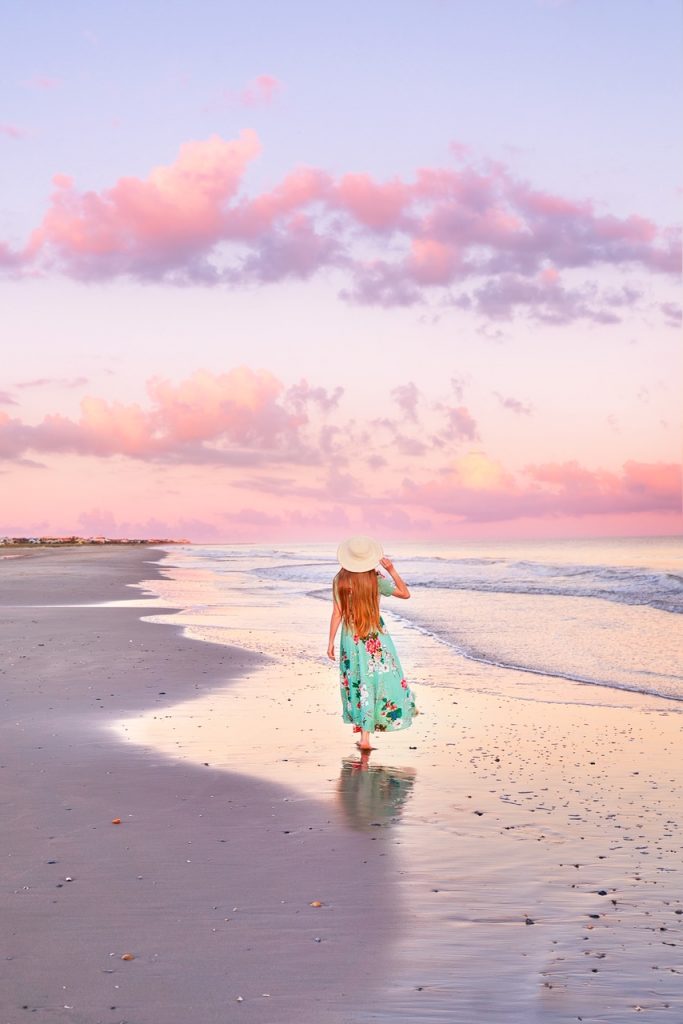 French Huguenot Church
There are a ton of beautiful churches in Charleston and the French Huguenot Church is certainly one of the most photogenic. Even if you are not religious, you can appreciate this church for its breathtaking architecture.
The original church was built in 1687 but was destroyed by a fire in 1796. The replacement was built in 1800 before it was then dismantled and renovated into the Gothic Revival style between 1844 and 1845.
This beautiful, white building is another of the best places to visit in Charleston for photography. It makes a wonderful backdrop for an Instagram selfie, especially with the palm trees in front.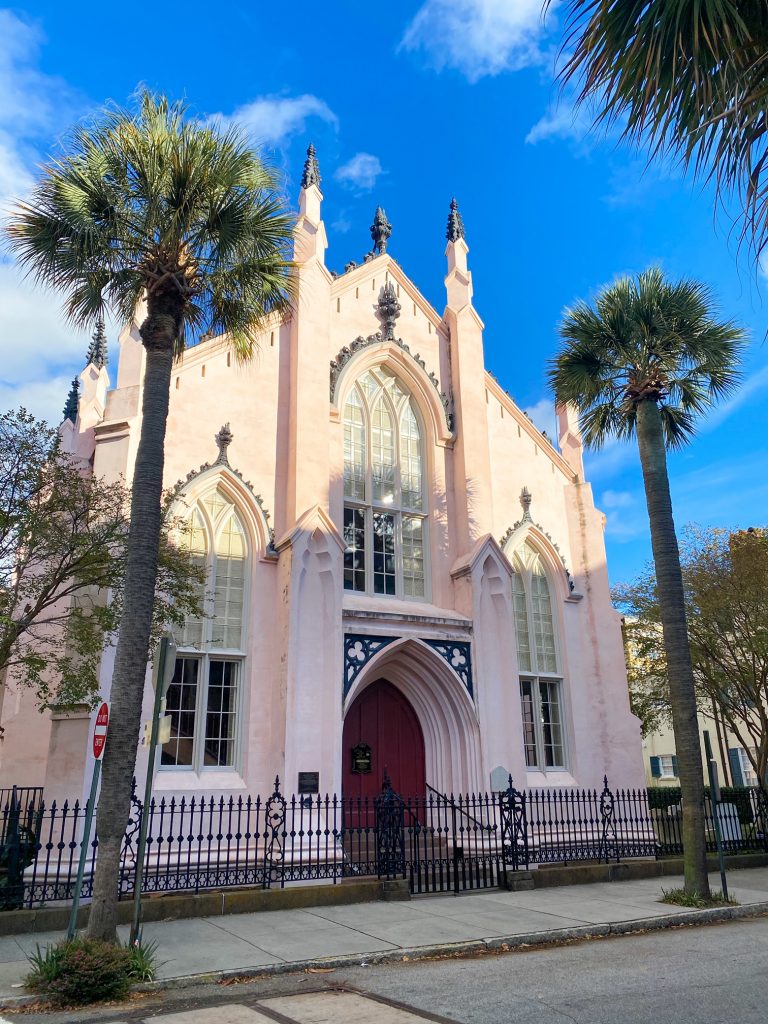 Camellias
Camellias is a pretty, premier champagne lounge found inside the Hotel Bennett. If you feel like treating yourself or want to have a romantic outing, this is the place to go in Charleston.
Enjoy a fancy, afternoon tea or a snack of caviar, charcuterie, or seafood. The signature Camellias Cake is to die for. And of course, the champagne and cocktails are amazing!
This pink-themed eatery was even named the Most Instagrammable Restaurant in South Carolina by Food Network. You are sure to want to snap some photos here!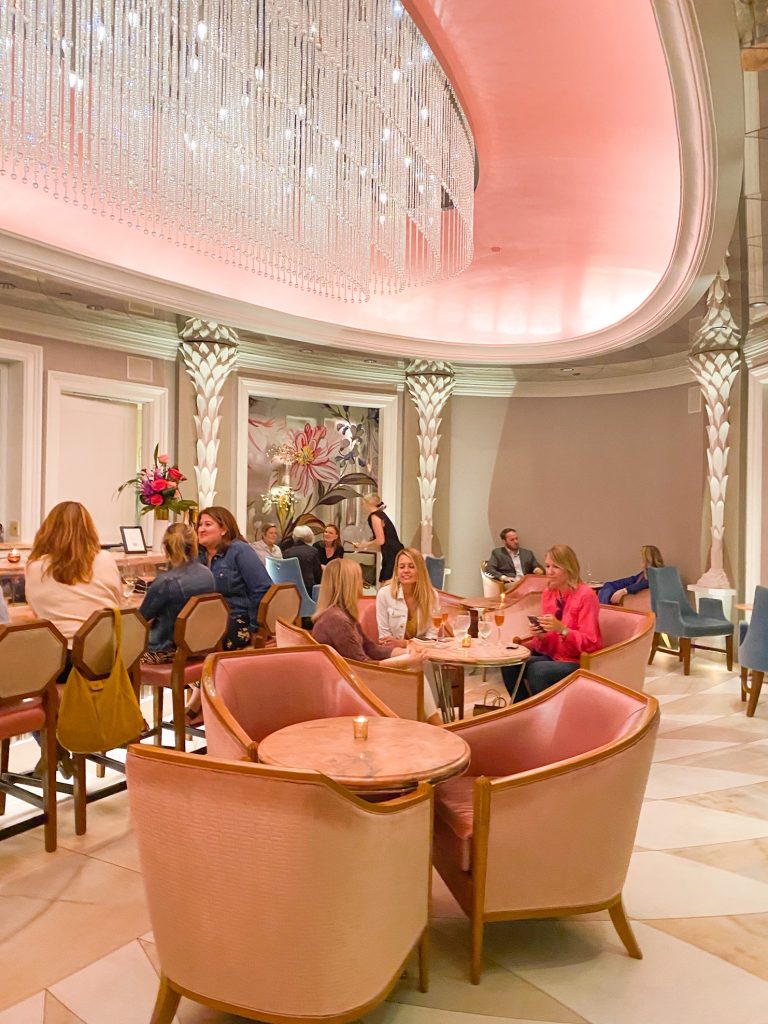 FIG
FIG is one of the best places to eat in Charleston. This beautiful bistro takes classic Southern dishes and elevates them to the next level while using the best, seasonal ingredients.
This delicious restaurant not only has great meals, but also an amazing atmosphere. The staff puts the guests first so they feel taken care of while they dine.
Make a reservation here and enjoy a meal based on seasonal availability. Since the menu is always changing, you can try something new every time you come.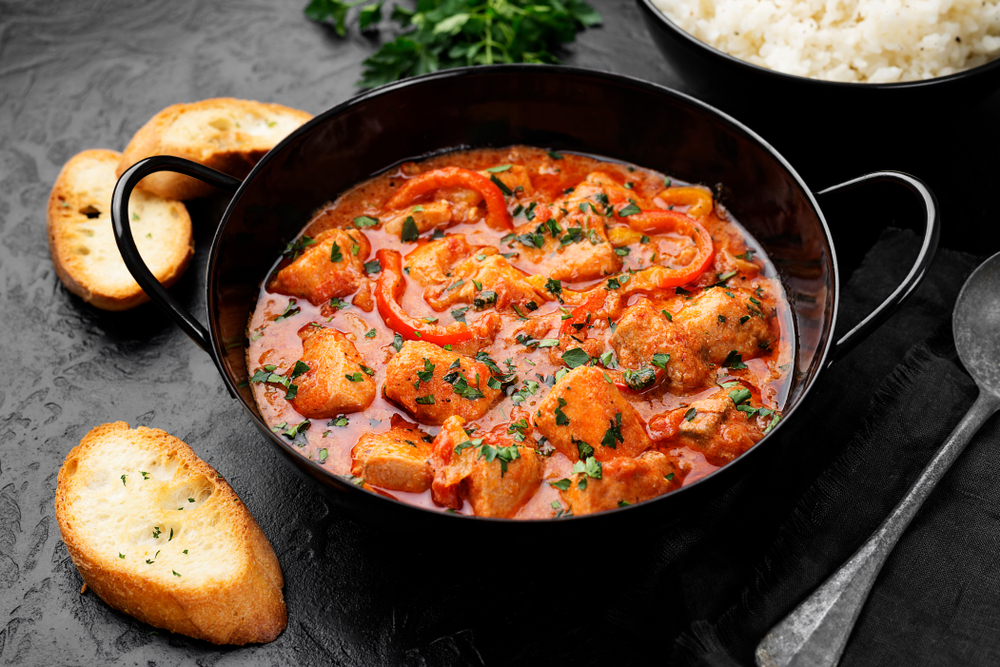 Historic Charleston City Market
If you love shopping mixed with history, then you will think the Historic Charleston City Market is one of the best places to visit in Charleston. The current market dates back to 1841 and is considered one of the oldest in the country.
This is a wonderful place to shop locally since there are over 100 vendors. You can pick up a cool souvenir or buy a tasty treat. The wares sold here include a variety of things including paintings, clothing, jewelry, crafts, specialty foods, and so much more!
There are also great restaurants here where you can enjoy an authentic Southern meal. Even if you do not buy anything, this market is one of the best Charleston tourist attractions for walking around and soaking in the vibe of the city.
Book Here: Downtown Charleston Culinary Walking Food Tour of French Quarter & City Market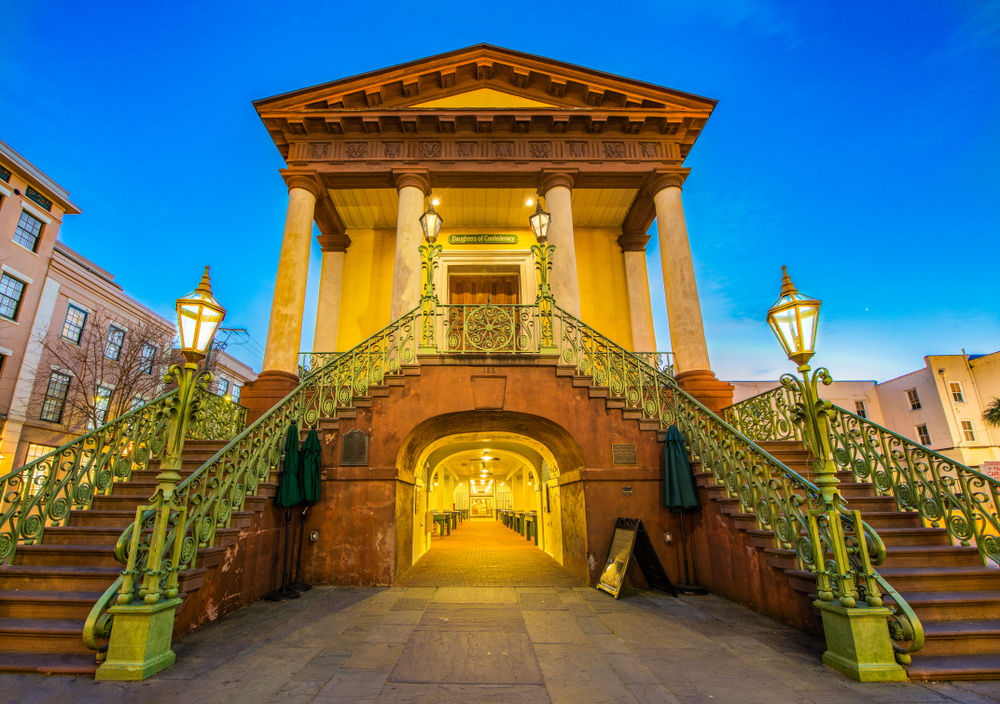 Dock Street Theater
Known as America's First Theatre, the Dock Street Theater opened its doors in 1736 and held the first opera in America. Unfortunately, the original theatre was destroyed in the Great Fire of 1740.
Years later, a hotel was built on the site and the building went through a couple of phases before being remolded into the current Dock Street Theatre and reopening in 1937.
The theatre is owned by the City of Charleston and many performances are put on here throughout the year. Try to catch a show while you are in town or at the very least, come take photos of the beautiful facade.
Book Here: Charleston's French Quarter Guided Walking Tour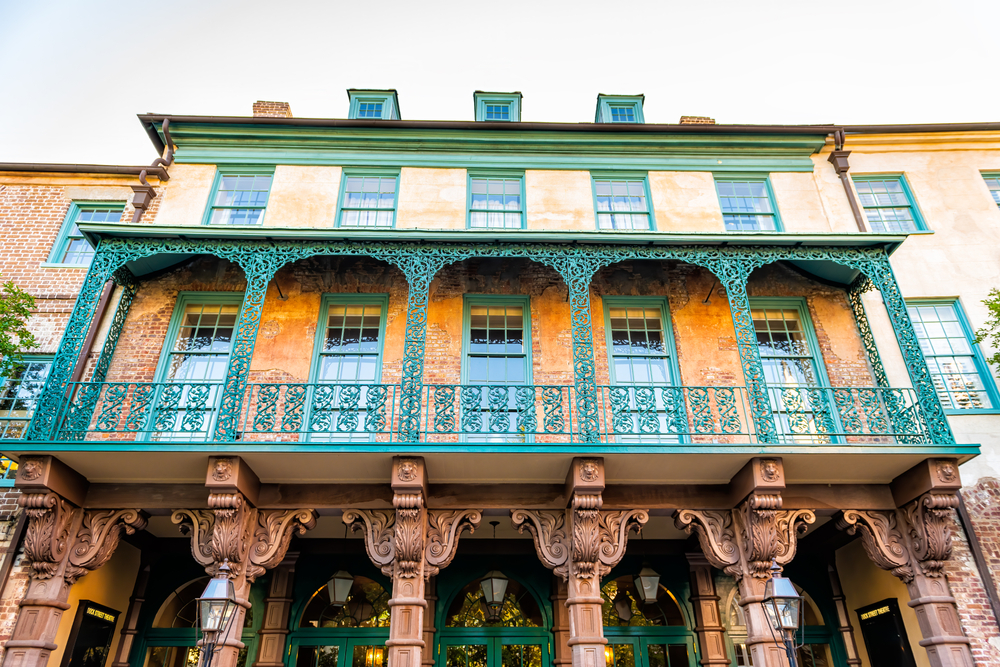 Ravenel Bridge
The cable-stayed Ravenel Bridge connects downtown Charleston to Mount Pleasant. You can drive across, but the best way to experience the bridge and enjoy the views of the harbor is by walking. It is two-and-a-half miles in length, and you can walk as much or as little of it as you want.
If you are looking for the best places in Charleston for photography, then you should come here for sunset or early evening. From the Mount Pleasant side, you can spot the Charleston skyline reflected in the water.
At night, the bridge is lit-up and stunning, making it one of the coolest places to go in Charleston at night.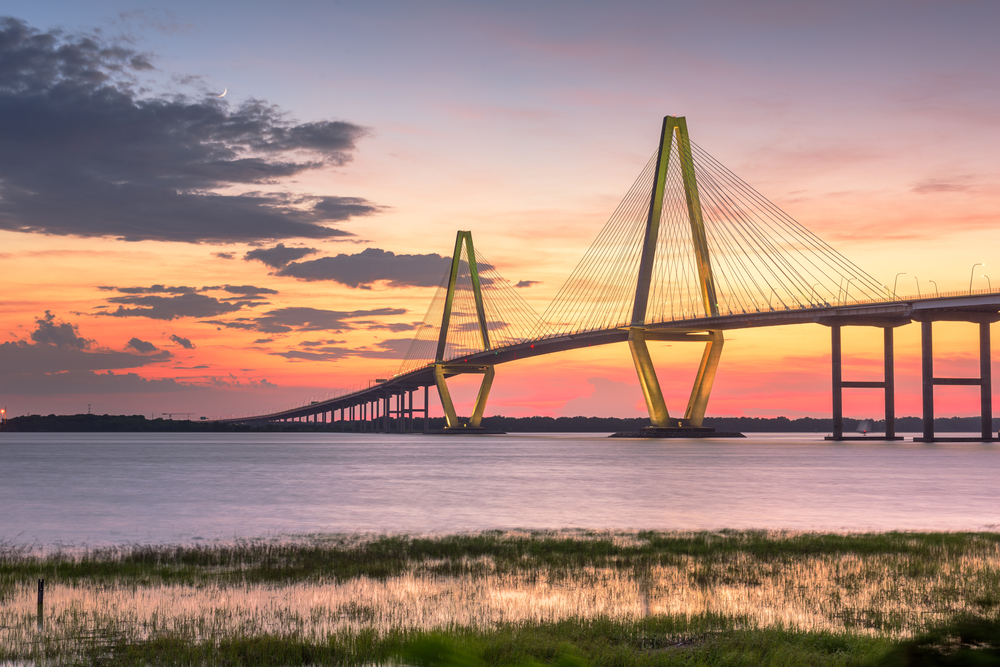 Edmondston-Alston House
The Edmondston-Alston House is one of the many historic buildings found in the Battery along the waterfront. A tour here is one of the best activities in Charleston for stepping back in time.
The house was built in 1825. The informative, guided tour will lead you through opulently decorated and furnished rooms that showcase how the upper-class lived.
Unlike many historic buildings in Charleston that had to be rebuilt after fires, earthquakes, or hurricanes, the Edmondston-Alston House has stood the test of time, making it an invaluable piece of the city's history.
A yearly Christmas event allows visitors to see the home decked out for the holidays. You can enjoy a glass of hot cider while listening to the Charleston Caroling Company.
Book Here: Charleston: The Edmonston-Alston House Walking Tour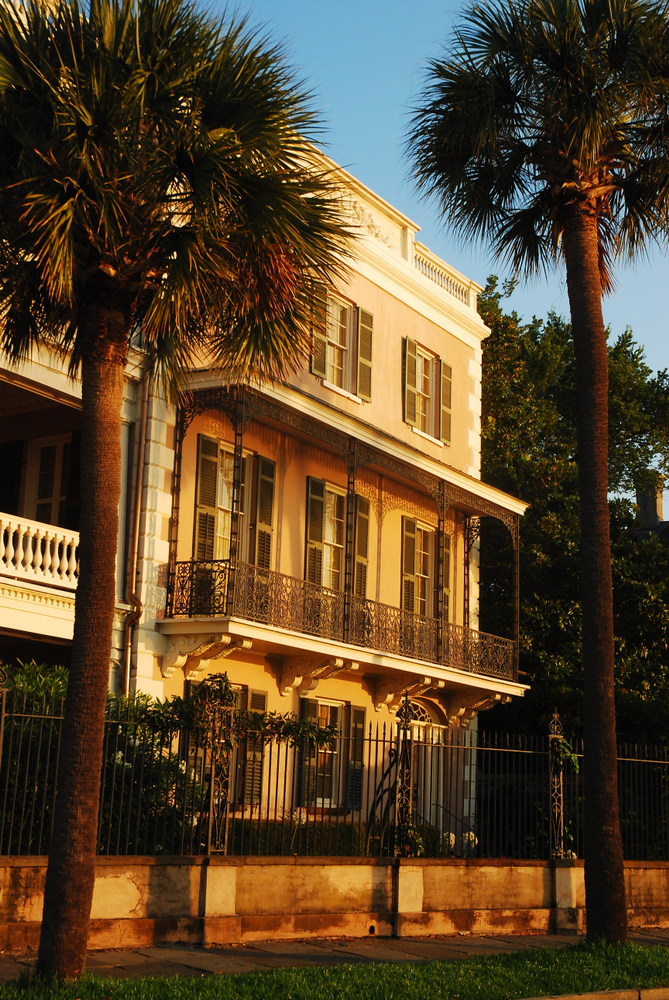 There are so many fun places to go in Charleston from amazing parks to beautiful beaches to historic buildings. No matter which Charleston vacation spots you visit, you are sure to have an epic time in this charming Southern city. It was hard to narrow down this list of the places to visit in Charleston, there are just so many!