Are you planning a trip to the Pelican State and looking for the best things to do in Louisiana? Look no further!
We've come up with the ultimate bucket list of things you can't miss in this memorable state.
As a local Southern girl, I have spent nearly 3 decades traveling around Lousiana and checking out some of the very best.
These are the best activities in Louisiana I would suggest to a close friend, my mom, and now I will suggest them to you!
While the most popular place to visit is New Orleans, it's a big state and there are lots of other fun places to visit in Louisiana.
Louisiana is a melting pot of European, African, and Native American cultures, creating the unique Creole and Cajun cultures. This blend has created distinct music, cuisine, and stories that have been passed down through generations.
The physical landscape of Louisiana is as varied as its cultures. Starting with the Louisiana beaches along the Gulf of Mexico, with the Mississippi River working its way down to the gulf, creates vast areas of swamp and marshland.
Southern Louisiana is known for its bayous (slow-moving or stagnant bodies of water).
Northern Louisiana has woodlands while Central Louisiana has prairies. Each area has a wide variety of wildlife, including alligators, herons, deer, and turtles.
From touring the famous Louisiana swamps to visiting the National WWII Museum, there is something for everyone in Louisiana. No matter where you go, you'll be sure to enjoy some Southern charm (and food).
Let's dive into what to do in Louisiana!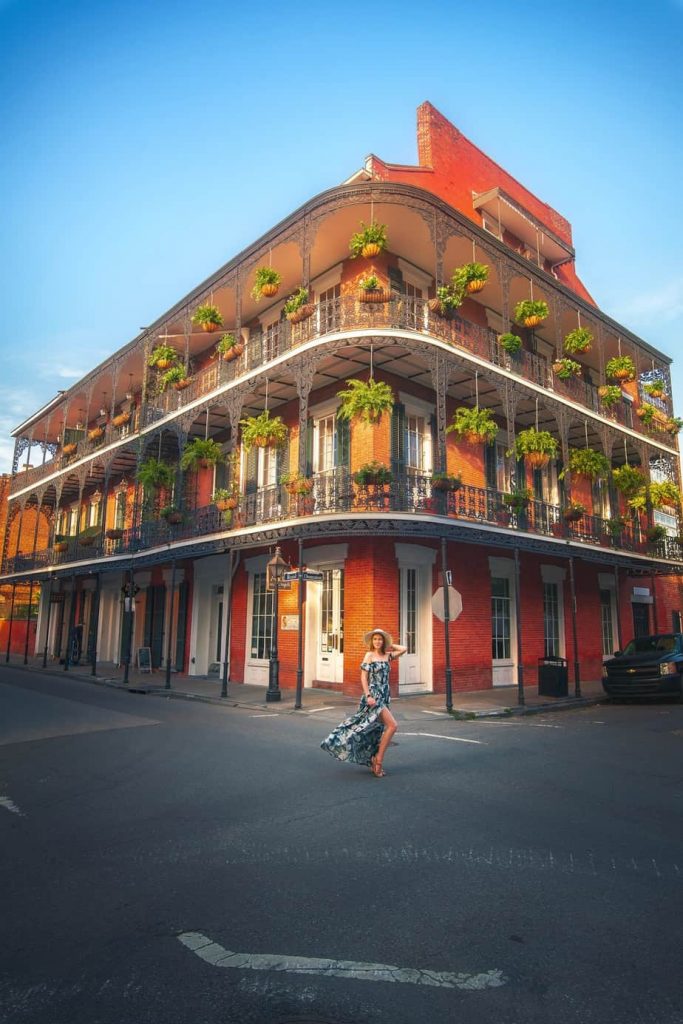 23 Best Things To Do In Louisiana: The Ultimate Bucket List
Explore the Creole Nature Trail
One of the best things to do in Louisiana is to explore its unique landscapes and natural wonders.
The "Louisiana Outback" includes undeveloped marshlands, gulf beaches, and wildlife refuges which are home to hundreds of different types of wild animals.
As one of America's "Last Great Wildernesses," visiting the Creole Nature Trail is one of the best things to do in Lake Charles, LA.
The Creole Nature Trail is a 180-mile natural corridor that was designated an All-American Road in 2002.
This scenic byway allows you to enjoy the scenic Louisiana landscapes from the car, visiting as much or as little of it as you'd like.
If you want to get out and stretch your legs, get out at the Sabine Natural Wildlife Refuge and wander down the Wetland Walkway. From this boardwalk, you might be able to spot alligators and white ibis or roseate spoonbill birds in their natural habitats.
Scenic hiking trails in Louisiana are some of the best ways to see the state.
You could also stretch your legs at any of the gulf beaches along the coast, including Rutherford Beach and Constance Beach. Hunt for shells or dip your toes into the warm gulf water.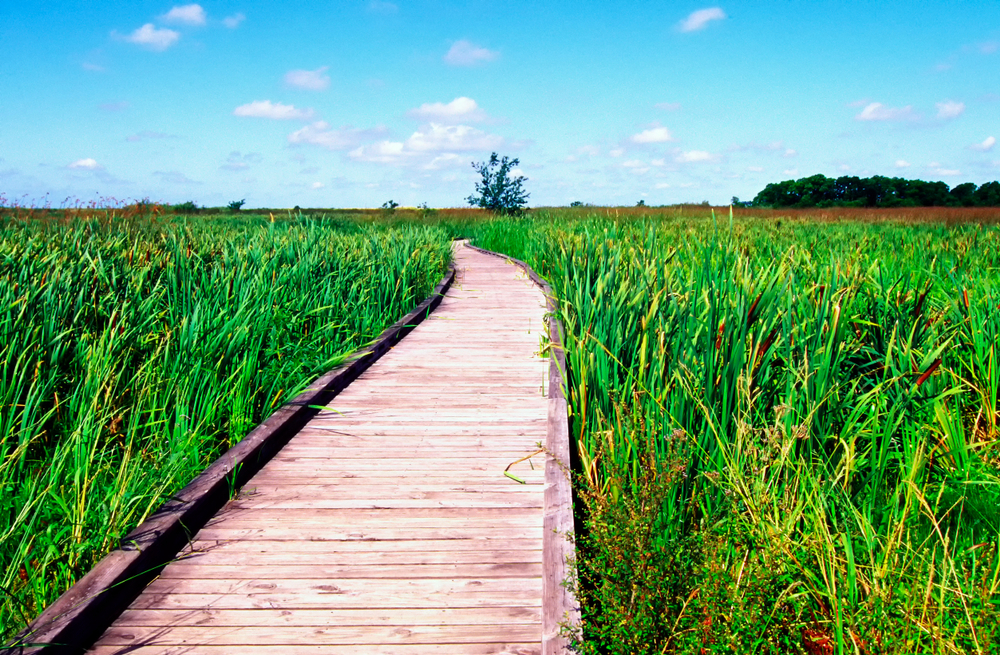 Eat at Li'l Dizzy's Cafe
Since New Orleans is known for its Creole cuisine, one of the best things to do in Louisiana is visit a New Orleans restaurant.
Creole cuisine is a unique blend of African, European, and Native American foods. Li'l Dizzy's Cafe is famous for its classic Creole dishes including gumbo, fried chicken, and bread pudding.
Li'l Dizzy's is located in the New Orleans neighborhood of Treme, one of the oldest African-American neighborhoods in New Orleans, known for its jazz clubs and soul food.
This cafe is black-owned and run by a family coming from a lineage of famous New Orleans restauranteurs.
Originally founded by the son of Eddie Baquet, Sr (of the Eddie's 7th Ward restaurant), it is now run by grandson Wayne Baquet, Jr and his wife Arkesha.
In addition to their famous fried chicken, Li'l Dizzy's serves up shrimp, sausage, and catfish po-boys and seafood platters.
Their food is sure to warm both your stomach and your soul! It is truly one of the best restaurants in New Orleans!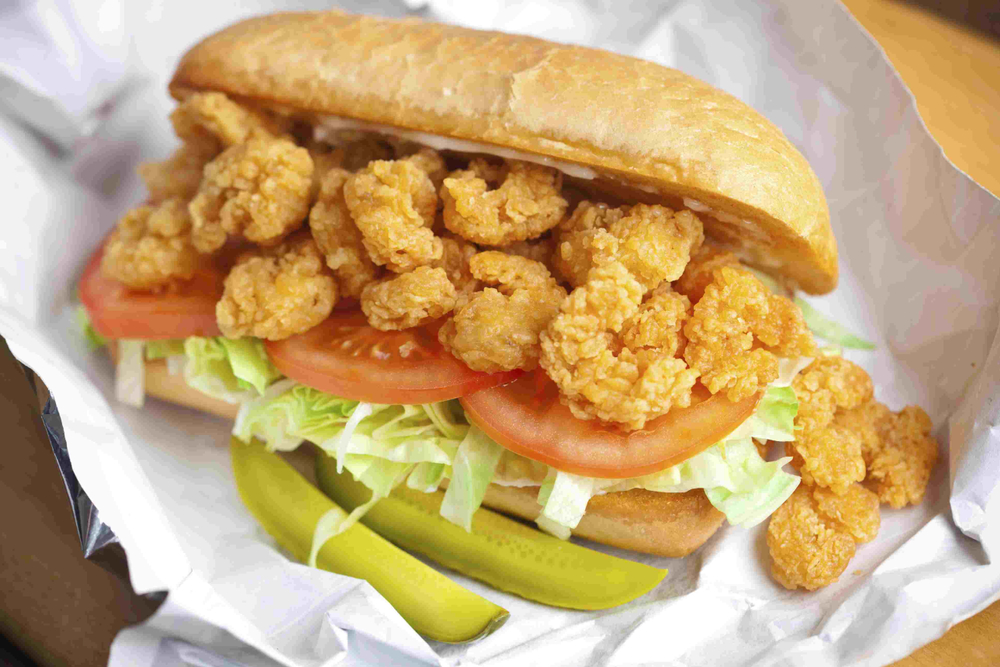 Tour the TABASCO Factory & Museum
Louisiana food is known to have a bit of a spicy kick, partially thanks to Tabasco hot sauce. One of the more unique places to visit in Louisiana is Avery Island, where Tabasco is made and bottled.
Located about a 45-minute drive away from Lafayette, Avery Island isn't an island in the traditional sense, but rather a salt dome surrounded by bayous and marshlands.
It was here in 1868 that Edward McIlhenny first sold his concoction of capsicum frutescens peppers and vinegar. As a result, you can tour the Tabasco Factory and Museum!
Today, peppers are still picked by hand and mashed in oak barrels then aged and mixed with distilled vinegar.
Tour the factory and museum to learn more about how Tabasco sauce is made, and learn about the generations of McIlhenny family that took over the business.
After the tour, stop in the Tabasco Restaurant for a casual, authentic Cajun meal…flavored with Tabasco of course!
This is one of the best Louisiana activities for foodies!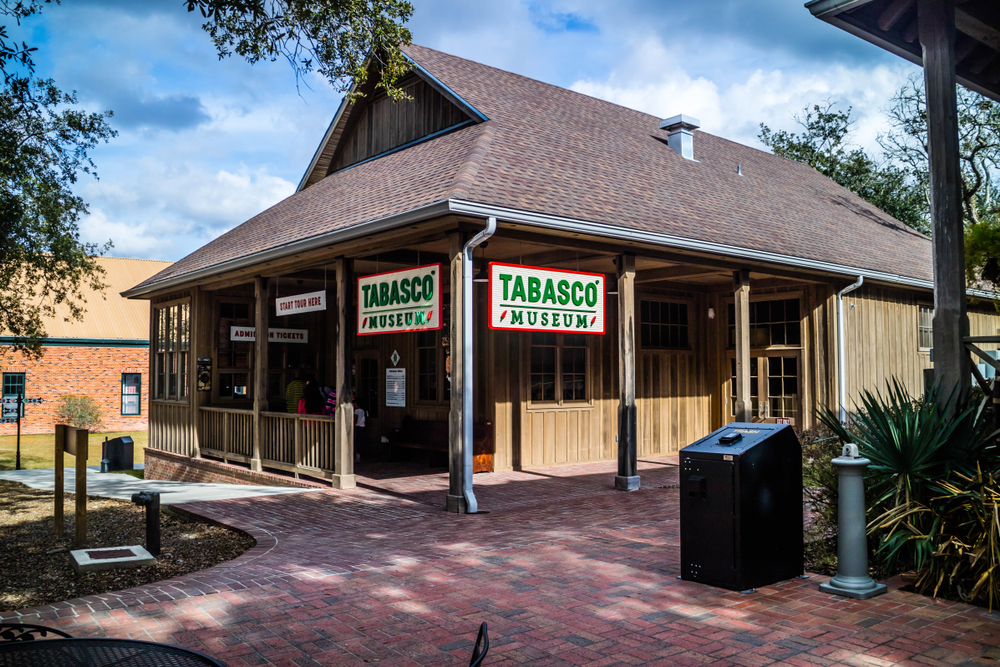 Visit the Louisiana State Capitol Building
Baton Rouge is, of course, the state capital, and surprisingly one of the best things to do in Louisiana is visit the capitol building.
The Louisiana State Capitol Building is the largest state capitol building in all the states, towering above the surrounding area.
Completed in 1931, the Louisiana State Capitol Building is 34 stories, reaching a height of 450 feet.
It's decorated with Art Deco details and topped with a lantern representing the "higher aspirations of Louisiana". In 1982 it was listed as a National Historic Landmark.
The best thing about the capitol building though? It's free to visit! There's an observation deck on the 27th floor, from which you can see miles of Louisiana.
The gardens and grounds are also free to explore!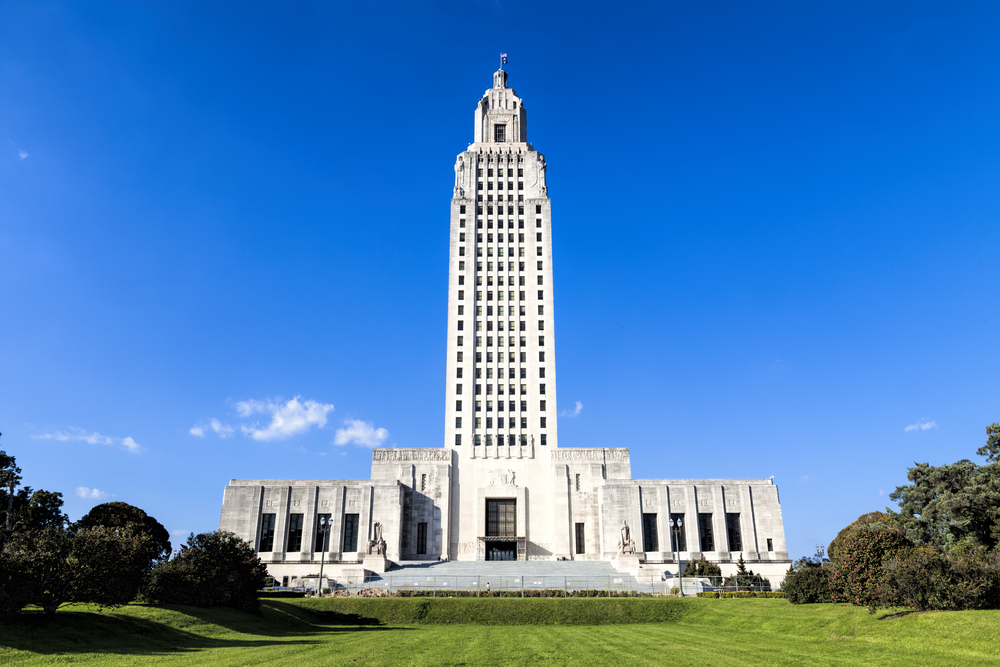 Hunt for Steel Magnolias Filming Locations
While it's a different "LA," Louisiana is a popular spot for filming movies.
From the 1951 classic A Streetcar Named Desire to X-Men's Logan, Louisiana is no stranger to the silver screen. Visiting famous filming locations is one of the most fun things to do in Louisiana.
One of the most beloved Louisiana films is the 1989 hit Steel Magnolias, starring Sally Field, Julia Roberts, Shirley MacLaine, Olympia Dukakis, and Dolly Parton.
Centered around a group of women living and working in Natchitoches, LA, the film (based on the stage play of the same name by Robert Harling) was shot in the real city of Natchitoches.
Many iconic scenes were shot at the Cook-Taylor House, which is now a bed & breakfast. Because of the film's popularity, the house is now known as "The Steel Magnolias House".
Other locations include St. Augustine Catholic Church (Shelby's wedding) and American Cemetery on Second Street (Shelby's funeral).
One of the best things to do in Natchitoches, you'll feel like you've been transported into the well-loved film.
Take a Ride on Steamboat Natchez
Feel like you've stepped back in time when you step aboard the Steamboat Natchez.
This authentic steamboat ride along the Mississippi River is one of the best things to do in Louisiana. Enjoy two hours of live jazz music and a meal as you cruise along the river.
Steamboats were an important part of the development of New Orleans, as they provided larger and faster transport for both people and products.
Operated by The New Orleans Steamboat Company, the current Natchez was built in the 1970s but was modeled after its 19th-century predecessors.
Cruise options above the Steamboat Natchez include just sightseeing, lunch, dinner, or Sunday brunch. Enjoy a cool drink as you take in the sights from the river and the sounds of another age.
Watching the sunset over the water on a cruise is one of the top things to do in Louisiana for couples looking for a romantic date night.
Book Here: New Orleans: Day Jazz Cruise on the Steamboat Natchez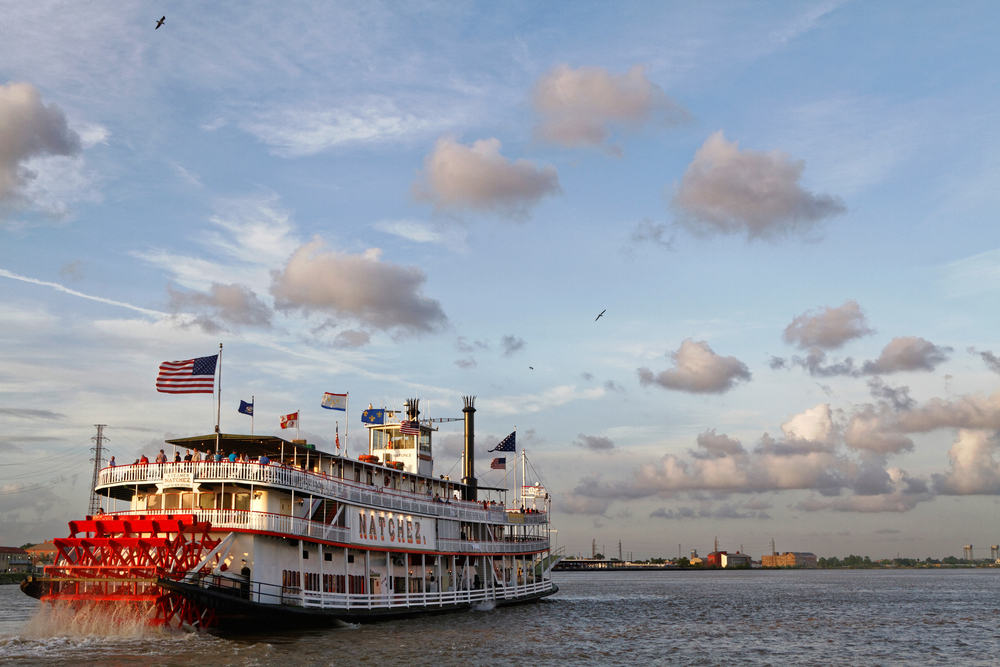 Examine the Poverty Point World Heritage Site
To learn more about some of the first people to inhabit the land, one of the best things to do in Louisiana is to visit the Poverty Point World Heritage Site.
Although named for a nearby plantation, this archeological site dates back to the 18th century BC (aka over 3,000 years ago).
The prehistoric indigenous people who lived in the Lower Mississippi Valley left behind a 402-acre earthwork, including ridges and mounds.
These C-shaped earthen ridges are divided into rows and columns, and at one point were five feet high. Were they foundations for settlements? A religious site?
The on-site museum provides historical and physical information about the mounds with displays and a movie.
When you're ready to explore, you can drive or walk roughly two miles around the mounds.
You can even climb to the top of the largest mound to further grasp the large scale of the place. (Note, some of the mound paths are steep and not wheelchair accessible.)
Visiting the Poverty Point World Heritage Site is one of the best things to do in Pioneer, LA, and is good for all ages!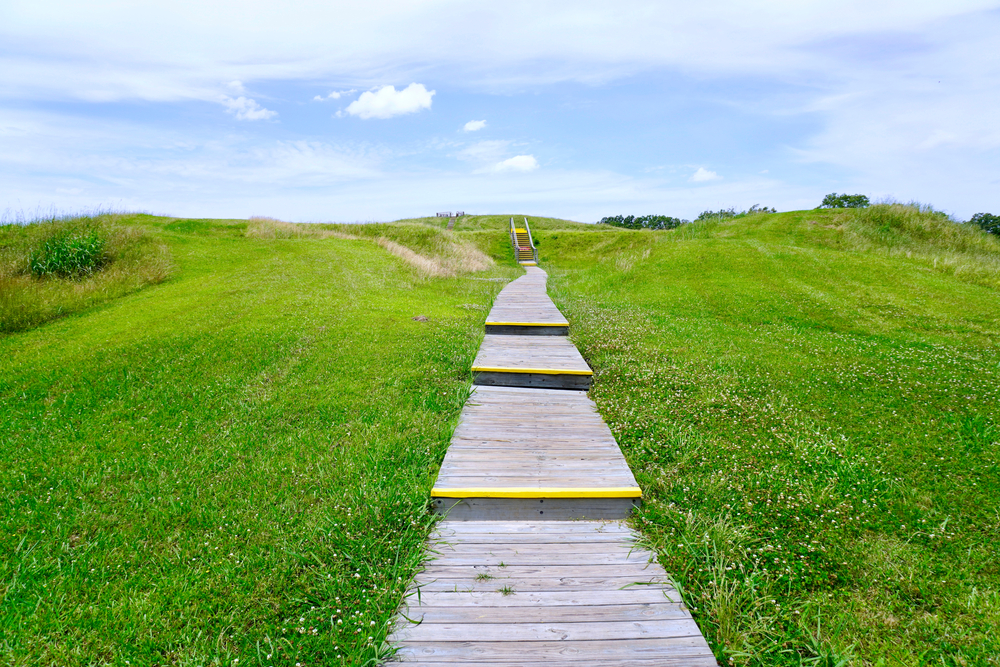 View the R.W. Norton Art Gallery
For art lovers, one of the best things to do in Louisiana is to visit the R.W. Norton Art Gallery.
Located in Shreveport, this lovely museum features works of art by American and European artists, as well as a collection of rare books. It is truly one of the best things to do in Shreveport!
The R.W. Norton Art Gallery holds more than 400 paintings in addition to sculptures and tapestries, spanning from the Renaissance to the Impressionists to today.
Throughout the year they host seasonal special events such as "Yuletide: Christmas Favorites from the Norton". The gallery doesn't charge an admission fee to view the exhibits!
Nor do they charge to visit the beautiful botanical gardens.
Surrounding the museum are 40 acres of grounds and gardens, where paths weave through outdoor sculptures, a stream, and blooming flowers.
The azaleas are the star of the gardens, with over 100 native and hybrid types. Visiting the botanical gardens is one of the best things to do in Shreveport if you want peace and quiet.
Try Local Breweries in Hammond
Located an hour outside of New Orleans, the city of Hammond has a number of excellent local breweries.
Tourists and locals alike stop by for a pint, but also to see live music, grab food, or catch up on conversation.
Visiting breweries is one of the best things to do in Louisiana for adults if you want a low-key, local experience.
Gnarley Barley Brewery opened in 2014 and has since become a Hammond staple. With an open-air taproom, you'll be able to see the inner workings of their brewing.
Gnarley Barley's brews include their versions of pilsner and IPA, but they also have fun special releases like "Imperial Peanut Butter Korova."
You'll have trouble picking what to try at Low Road Brewing as they keep 15-20 of their craft brews on tap in addition to guest taps. With their knowledgeable and friendly staff, Low Road makes you feel right at home.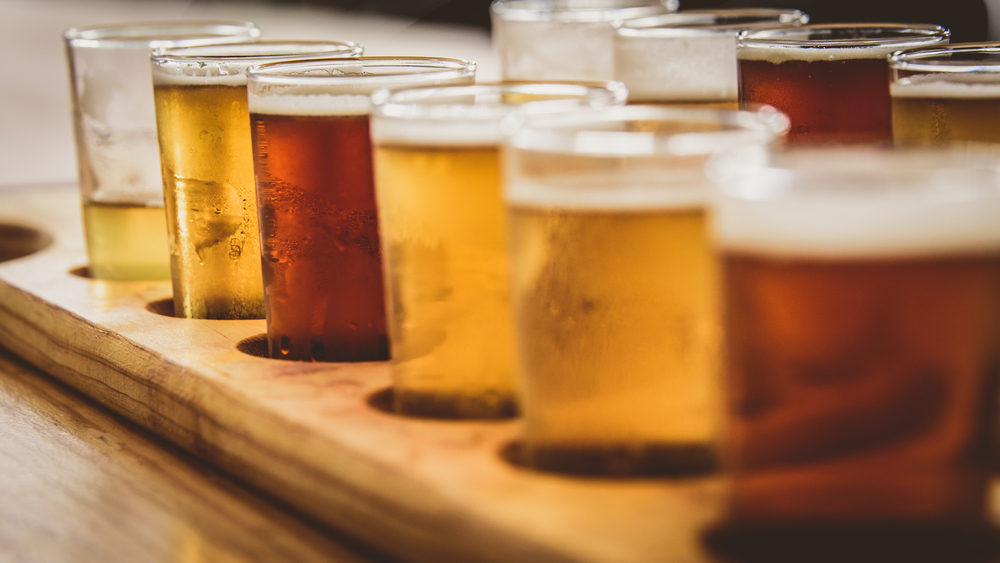 Play at Louisiana Children's Discovery Center
Those much younger than 21 years old (or those just young at heart) looking for things to do in Hammond will enjoy a visit to the Louisiana Children's Discovery Center.
With hands-on exhibits that encourage problem-solving and imagination, it's one of the best things to do in Louisiana with kids.
The interactive exhibits at the Louisiana Children's Discovery Center are like visiting a tiny town.
There is a "restaurant" where kids can pretend to cook and serve food, a "farm" where they can learn about cows and chickens, a "vet clinic" with stuffed animals, and even an ambulance display.
Other fun exhibits include a bubble station and a creation station filled with arts and crafts supplies.
One of the best things about the Louisiana Children's Discovery Center is that you can leave and come back the same day but if you have more time it makes a great Louisiana weekend getaway.
Take a Haunted Cemetery and City Tour
Did you know that New Orleans is one of the most haunted cities in the United States?
It isn't surprising, as it's a city with roots in voodoo and slavery, and for all New Orleans's celebration of life, the ghosts don't seem to want to leave.
Going on a ghost tour should definitely be on your Louisiana bucket list.
New Orleans is full of ghost tours, and it's a fun (and creepy) way to spend an evening. One of the best things to do in Louisiana is to learn about the lively (even in the afterlife) characters and grisly happenings of New Orleans.
Take part in a walking tour that explores the city cemeteries after dark or ride in a mule-drawn carriage through the city's most haunted neighborhoods.
In addition to ghost, crime, and voodoo tours, there are vampire tours as well…if you're feeling brave!
You can even stay in one of the haunted hotels in New Orleans.
Book Here: New Orleans: Cemetery Bus Tour At Dark with Exclusive Access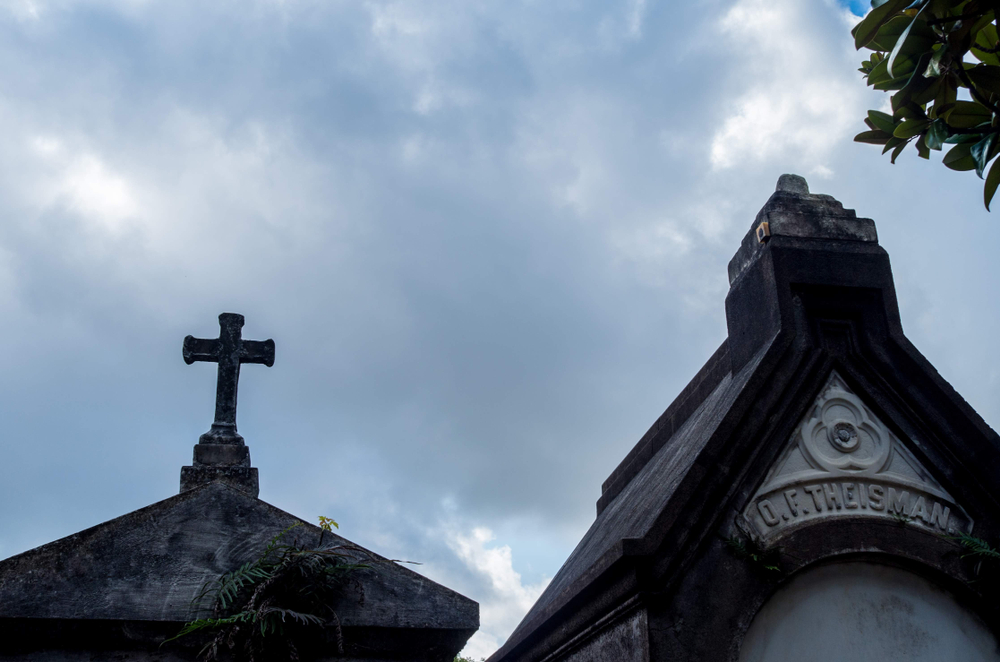 Walk the Louisiana State Arboretum
One of the best things to do in Louisiana is to take a stroll through its unique foliage.
Located in Ville Platte, within Chicot State Park, it's one of the best things to do near Alexandria or Lafayette as it is about an hour's drive from both.
The Louisiana State Arboretum provides easy walking trails and arbor education for all ages.
Stop in the Arboretum visitor center to learn about the many types of flora and fauna before you head out.
Once outside, choose your path through 6 miles of trails as you walk through greenery, over wetlands, and under sycamores. You might even glimpse some four-legged friends as well, such as deer and foxes.
Established in 1961, the Louisiana State Arboretum was the first of its kind in the South. As a state preservation area, please remember to be respectful of your surroundings.
Don't forget to check out some of my other favorite state parks in Louisiana!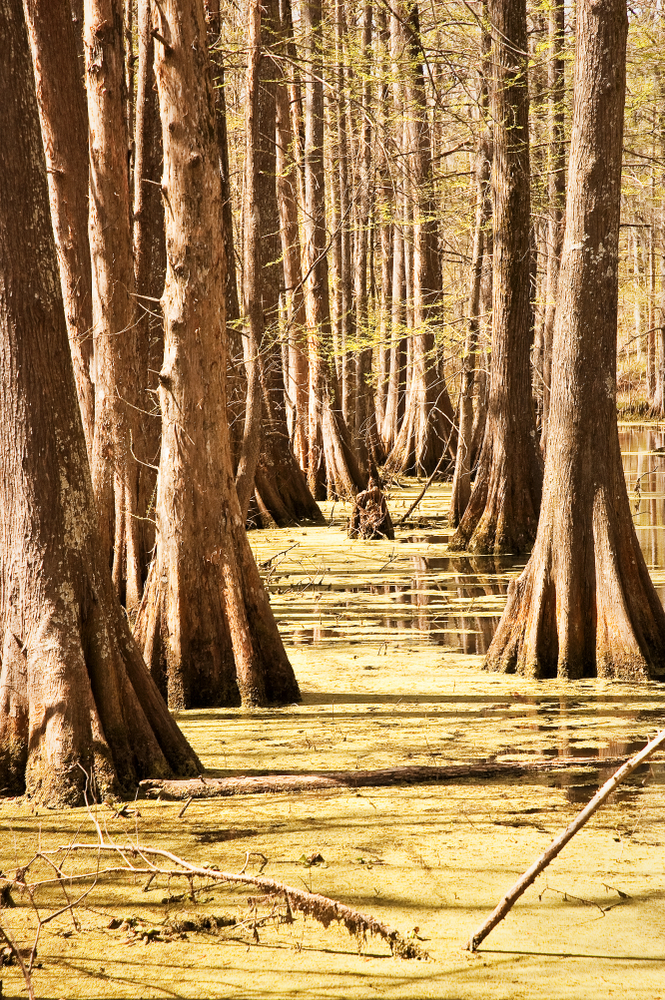 Shop at Kaffie-Frederick General Mercantile Store
For history buffs, one of the best things to do in Louisiana is to visit the state's oldest general store.
The Kaffie-Frederick General Mercantile Store opened in Natchitoches in 1863 and has managed to survive the American Civil War, the Great Depression, WWI, and WWII!
The Kaffie brothers were Jewish-Prussian immigrants who began by selling goods door-to-door. Little did they know that their storefront on Front Street would still be there today.
Now run by the third generation of Fredericks, the store has managed to stay relatively the same, even if the merchandise hasn't.
Kaffie-Frederick even uses the same hand-cranked cash register, now over a hundred years old. Inside the store, you can find housewares, cookware, toys, and gifts.
Whether you're looking to buy anything or not, it's worth a stop in Kaffie-Frederick for the feeling of nostalgia.
Explore the Louisiana Art and Science Museum
Another of the best things to do in Baton Rouge is to visit the Louisiana Art and Science Museum.
Located in a historic railroad depot right on the Mississippi River, the museum is now a great Louisiana attraction for all ages.
Permanent exhibits at the museum include an Ancient Egypt Gallery, with a mummy from the Ptolemaic period, and galleries exploring the solar system and universe.
The Irene W. Pennington Planetarium is the "star" attraction at the museum and features sky shows and movies. Learn about the night sky and celestial events underneath a 60-foot dome.
For those looking for things to do in Louisana with kids, the museum has hands-on exhibits like "Discovery Depot" and "Science Station", where kids ages 7-12 will enjoy learning about sound, motion, and light.
This really is one of the cool places in Louisiana for all ages!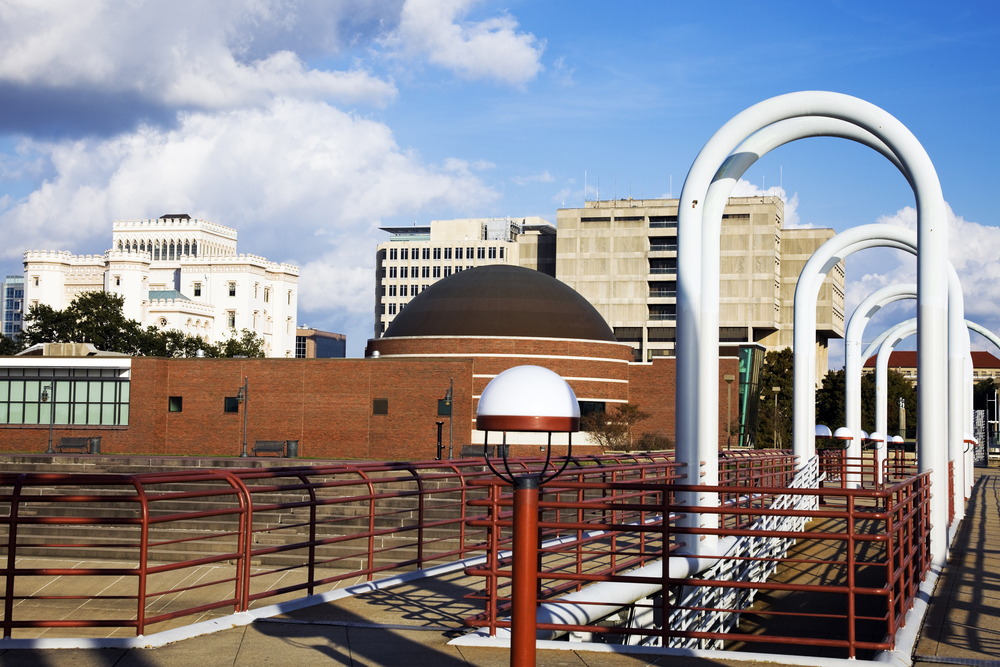 Have a Drink at the Carousel Bar & Lounge
There are so many interesting things to do in the French Quarter of New Orleans, but one of the most unique is grabbing a drink at the carousel bar! And yes, it really does rotate!
Located in the historic Hotel Monteleone, this stunning bar has been spinning since 1949. You'll sit in the same seats as literary greats of the past, like playwright Tennessee Williams who was a regular.
You do not have to be staying at the hotel to enjoy the Carousel Bar, but it does get busy in the evenings so if you are visiting during a weekend in New Orleans, make sure to go a bit early.
Not only is it pretty to look at and fun to ride, but the drinks are excellent as well! The Carousel Bar has an extensive cocktail list, as well as wine and beer.
On Friday and Saturday evenings, they have live music. If you are in New Orleans, add the Carousel Bar to your list of unique things to do in Louisiana.
When you visit the New Orleans French Quarter, you should make a stop here.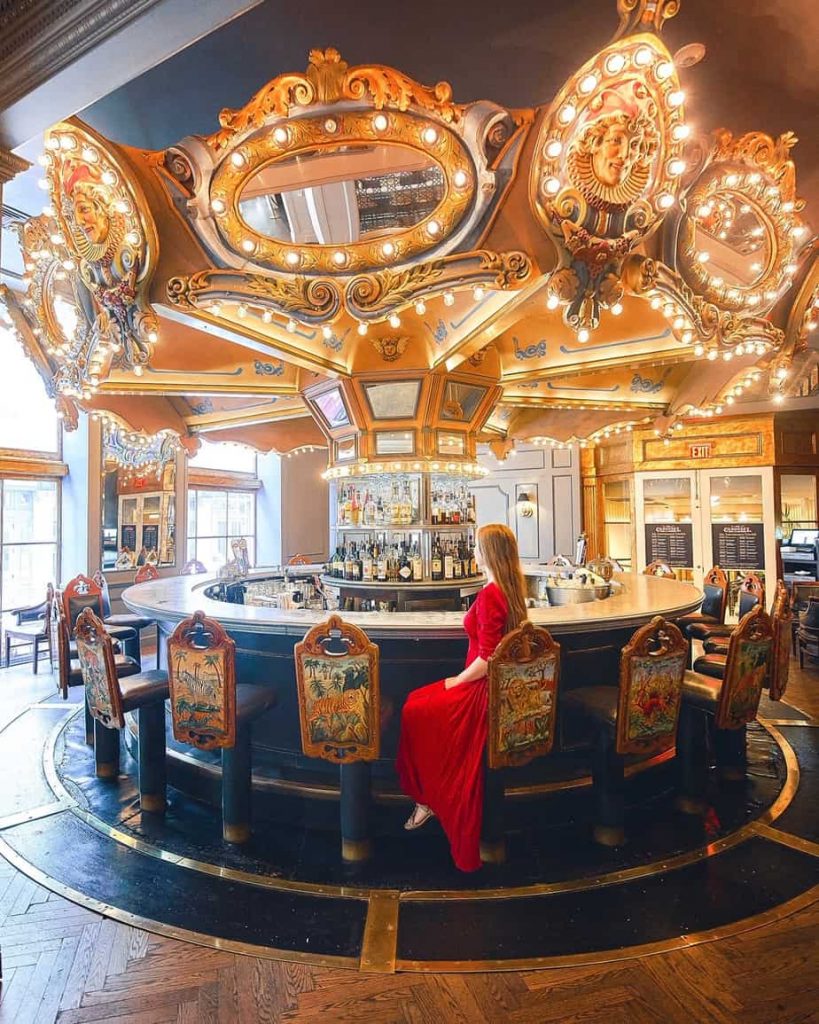 Traverse the Tammany Trace Trail
If you are a cyclist or just looking for a good hiking trail, one of the top things in Louisiana is to explore the Tammany Trace Trail.
Once part of the Illinois Central Railroad, the tracks have been converted to a trail for both cycling and walking, as well as a parallel equestrian trail.
This 31-mile asphalt rail-to-trail conversion spans from a trailhead in Covington to Slidell, passing through Abita Springs, Mandeville, and Lacombe.
Tammany Trace is open year-round, whether you want to go for a stroll, run, or bike ride.
The Trace also acts as a wildlife conservation corridor, connecting different greenspaces. You can observe natural habitats as you cross bridges built on original railroad trestles over streams and wetlands.
The trailhead in Covington is a point of interest in itself if you're looking for things to do in Covington.
Looking like a railroad station, it has a clock tower, a bandstand, and a covered waiting platform. Restrooms are also located at each trailhead.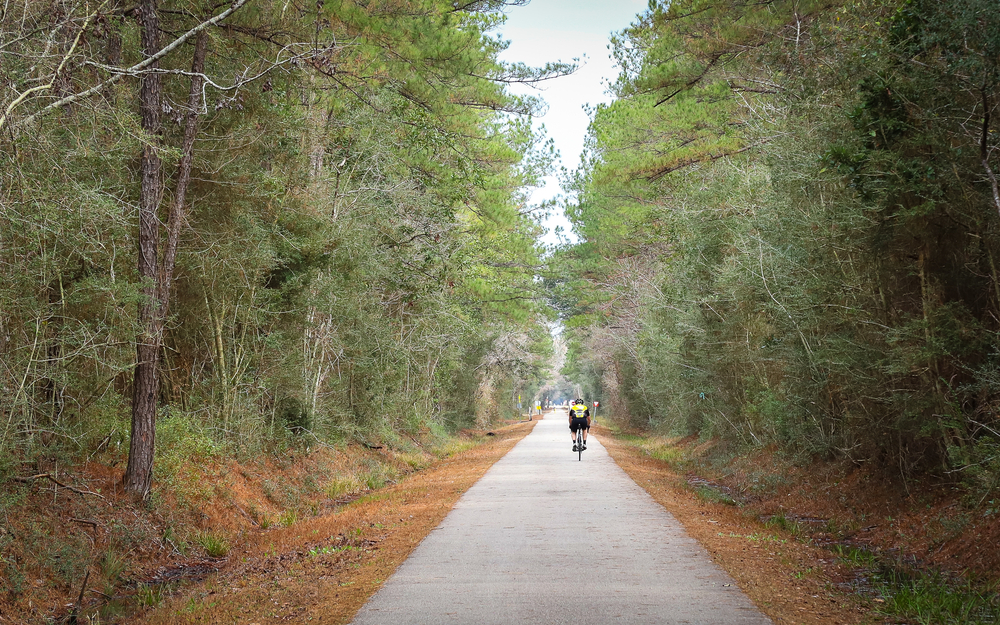 Go on a Swamp Tour
Going on a swamp tour absolutely has to be on your Louisiana bucket list.
Swamps and bayous are such an integral part of the state's history and culture that touring one is one of the best things you can do in Louisiana.
Enter a land of moss-covered cypress trees and alligator-filled waters where turtles sunbathe and herons take off from the reeds.
Your knowledgeable guide captains you through the water and shares what they know about the local wildlife and natural history of the swamps.
When you visit Louisiana, you must do a swamp tour!
Book Here: From Lafitte: Swamp Tours South of New Orleans by Airboat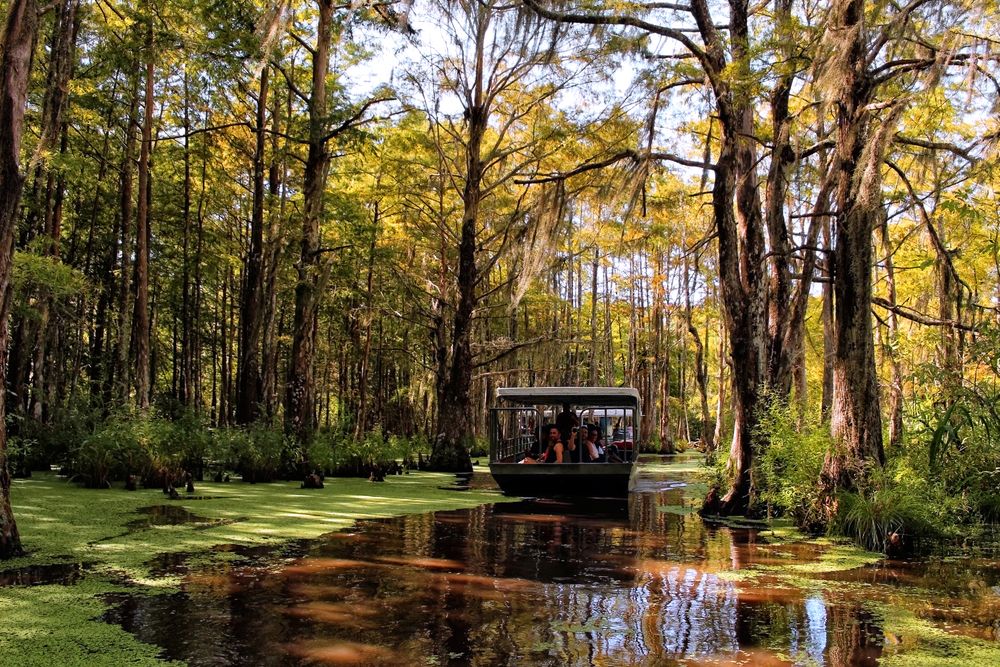 Pay Respects at the National WWII Museum
America's official WWII museum is located in downtown New Orleans, and it is perhaps one of the more somber things to do in Louisiana.
However, the museum does an excellent job of explaining how the war came to be fought and how it was ended, so that future generations might not repeat it.
The National WWII Museum is spread throughout four buildings, each covering different aspects of the war.
Building 1, the Louisiana Memorial Pavilion, focuses on the Home Front and includes the museum's original D-Day exhibit.
Building 2, the Solomon Victory Theater, shows a war story in a 4D experience. Next, Building 3, Campaigns of Courage, takes you through key settings in both Europe and the Pacific.
Lastly, Building 4, the Hall of Democracy, highlights the museum's outreach initiatives.
That said, the WWII museum in New Orleans is large, so you can either take a day to see as much as possible or just pick which buildings sound most interesting.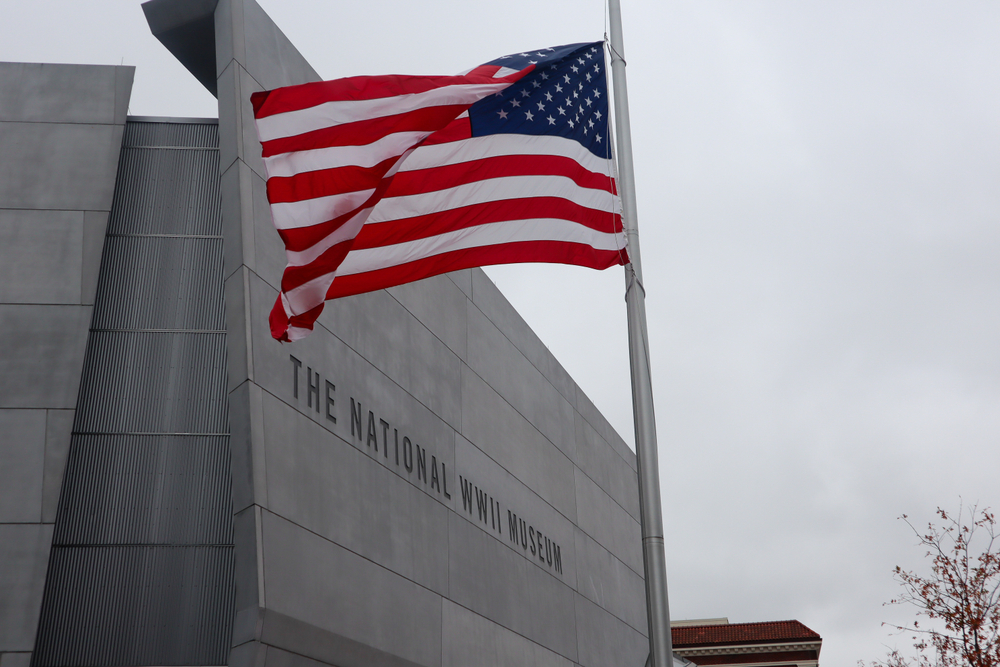 Go Back in Time at Vermilionville Historic Village
Feel like you've stepped into the late 18th century at Vermilionville.
This living history museum is one of the best things to do in Louisiana to learn about what life was like in a bayou village.
At Vermilionville you can learn about the different cultures of Acadian, Creole, Native American, and African people and how those cultures blended into the 19th century.
Vermilionville features historic houses and costumed guides and artisans. Watch as people demonstrate spinning wheels and wood carving. Listen to an Avogal storyteller and tap your toes to a Creole fiddle.
There is live music on the weekends and even dance lessons if you want to join in the weekly Sunday dance. There's also a cooking school as well as a restaurant, La Cusine de Maman, that serves authentic soul food.
Visiting Vermilionville is one of the most unique things to do in Lafayette. In fact, Lafayette used to be called Vermilionville!
If you are looking for hidden gems in Louisiana, this is one of the best!
Relax at the Rip Van Winkle Gardens
If you're looking for stunning grounds and historic buildings, the Rip Van Winkle Gardens is one of the best things to do in Louisiana this weekend.
Located in New Iberia, the Joseph Jefferson Mansion was built in 1870 and sits on 20 acres of land. For a small fee, you can visit both the mansion and the gardens.
Joseph Jefferson was an American actor who played the character of Rip Van Winkle (who famously fell asleep for 20 years) on stage over 4,500 times.
He originally bought the land for hunting and fishing, and soon built what is now called the Joseph Jefferson Mansion on Jefferson Island.
Jefferson Island is home to 200 species of birds (including peacocks) as well as semi-tropical flowers and oak trees that are hundreds of years old.
Stroll the 15 acres of peaceful gardens…but be careful not to fall asleep!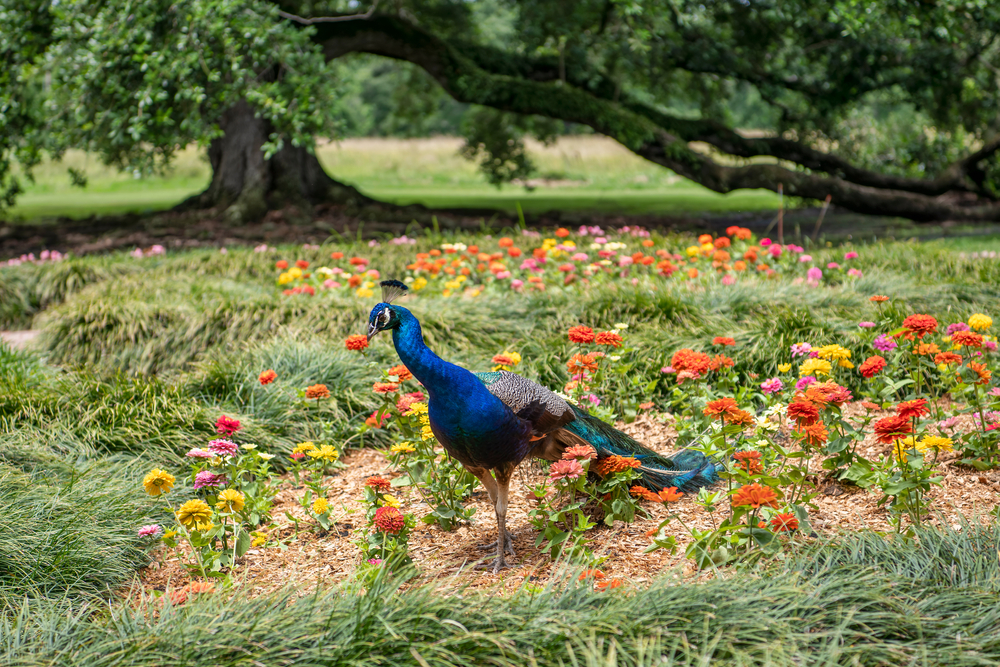 Discover History on the African American Heritage Trail
The Louisiana African American Heritage Trail is comprised of 38 historic sites and museums throughout the state. You cannot explore Louisiana without visiting at least some of these places.
In New Orleans alone, there are six sites. If you spend 3 days in New Orleans, you should check a couple out.
These include Congo Square where enslaved people were allowed to congregate on Sundays, the St. Augustine Church which is possibly the oldest Black Catholic church in the US, and the New Orleans African American Museum.
Other sites are dotted around the state. Stop by art and history museums, universities, historic homes, and more.
Visit the birthplace of Madam C. J. Walker, the first female self-made millionaire in America, in Delta. The Arna Bontemps African American Museum in Alexandria is dedicated to the Harlem Renaissance poet.
Other spots to check out include the River Road African American Museum in Donaldsonville, the Tangipahoa African American Heritage Museum in Hammond, and Grambling State University.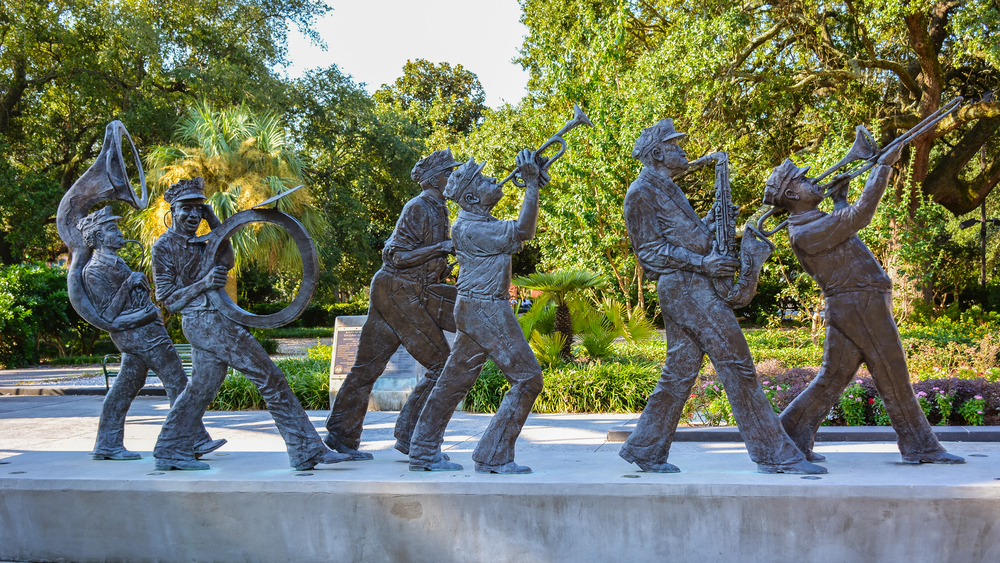 Photograph the St. Louis Cathedral
Head to Jackson Square in New Orleans to see one of the best cathedrals in the US!
The towering, white St. Louis Cathedral with its three steeples is one of the most iconic landmarks in NOLA. Its architectural style is a mix of Spanish Colonial, Gothic Revival, and Renaissance.
There have been three churches on this site with the current one dating back to 1789. It is the oldest cathedral in continuous use in the US.
This church has experienced so much in its long history including a bombing in 1909, a visit by Pope John Paul II in 1987, and damage from Hurricane Katrina in 2005.
Step inside to admire paintings, stained glass windows, chandeliers, and the Rococo-style, gilded altar.
If you visit during Christmas in New Orleans, you can attend free holiday concerts at the church.
This cathedral is one of the best free things to do in Louisiana!
After exploring Jackson Square, you can walk a couple of blocks to Bourbon Street, one of the best places to celebrate Mardi Gras in New Orleans. This is one of the prettiest New Orleans streets.
Book Here: French Quarter Walking and Storytelling Tour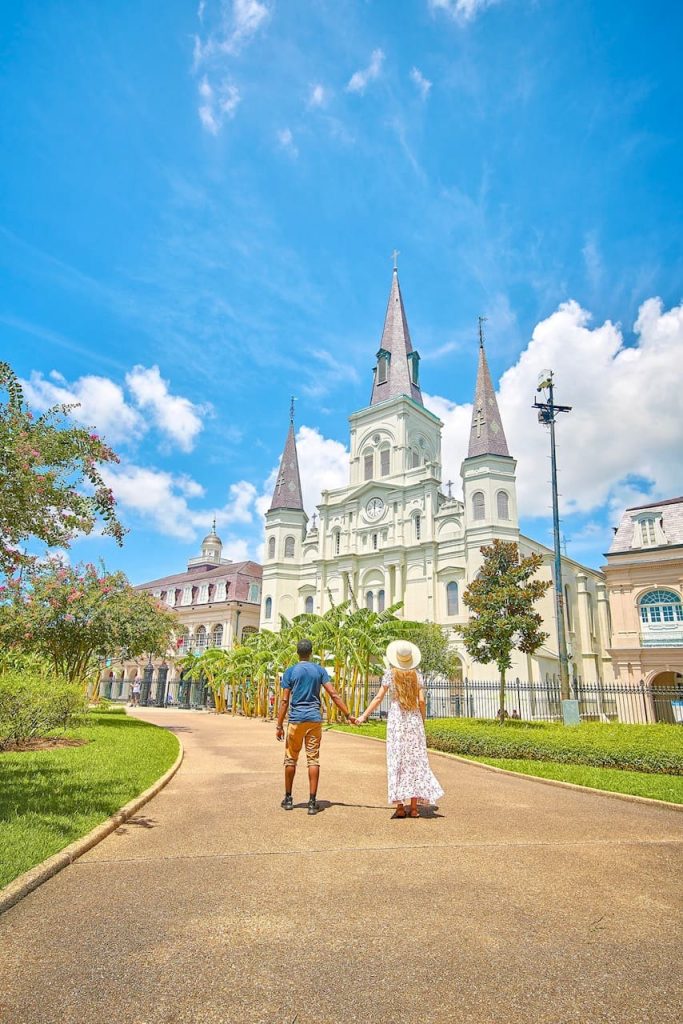 Find Wildlife at Jean Lafitte National Historical Park and Preserve
Just south of New Orleans, the 26,000-acre Jean Lafitte National Historical Park and Preserve has something for everyone!
You will find many historic and cultural sites as well as pristine nature full of wildlife all located on the Mississippi River Delta.
There are three cultural centers dedicated to Cajun life. There are great exhibits as well as music, dancing, and cooking demonstrations.
Anyone interested in American history will want to visit the Chalmette Battlefield and Chalmette National Cemetery.
The 1815 Battle of New Orleans took place here between future president Andrew Jackson and British forces. This was one of the last battles in the War of 1812. It resulted in an American victory.
The wetlands of the Barataria Preserve are the perfect place for wildlife viewing. Keep an eye out for alligators, turtles, snakes, and over 200 species of birds as you explore the boardwalks.
Make sure to stop by the visitors center to learn all about the swamps and marshes.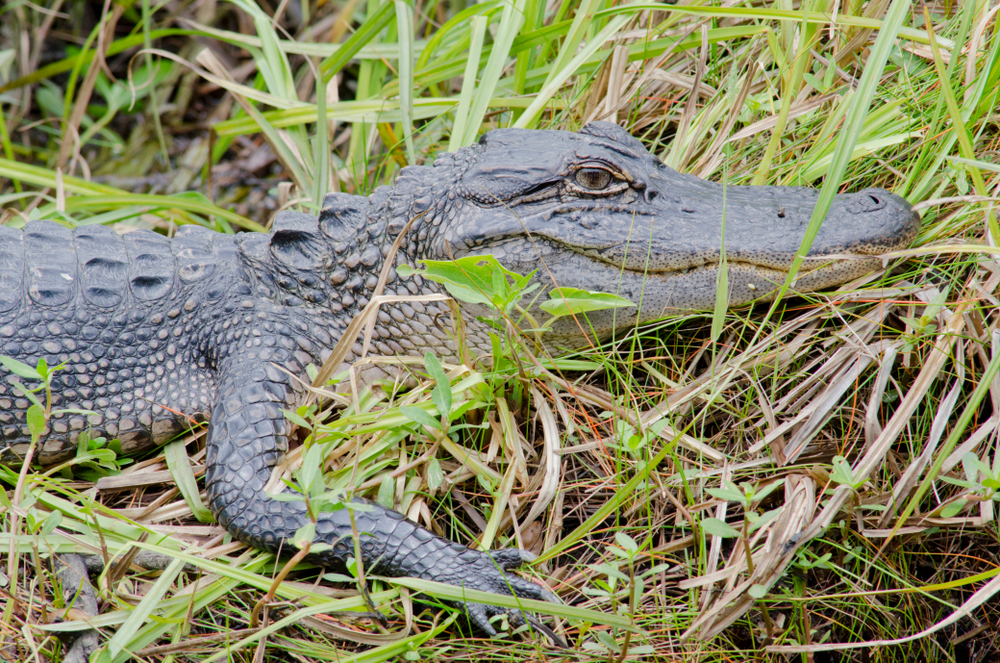 A Note About Visiting Plantations in Louisiana
Many lists of Louisiana tourist attractions include Oak Alley Plantation, Laura Plantation, Whitney Plantation, and Melrose Plantation.
We want to take a moment to say that we recommend against visiting these locations. Based on personal experience, plantations tend to glorify slavery and sugarcoat the enslaved people's experience.
I've been to some of these in the past, and they really are not great.
I agree it is important to learn about the history of slavery and how it has affected our country, but there are better ways to do so.
We encourage you to make your own decisions on visiting Louisiana plantations, but please keep this in mind when planning your trip.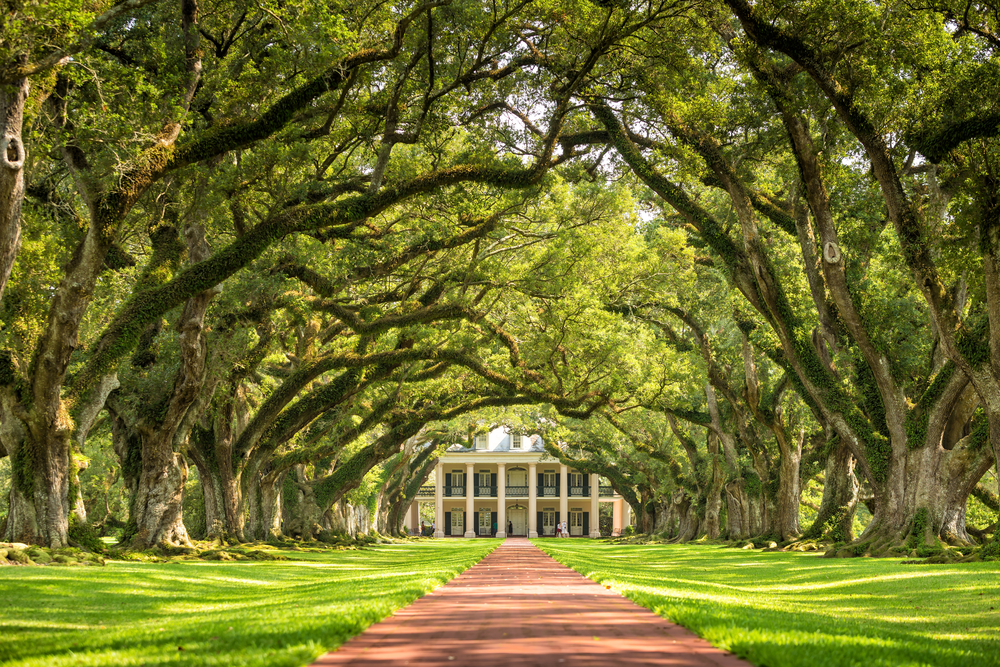 We hope you enjoyed this ultimate bucket list of attractions in Louisiana! Each area is unique, so definitely venture to more than just New Orleans. You'll make some lasting Louisiana memories!
Next, check out my comprehensive guide to where to stay in New Orleans!