Headed to the Blue Ridge Mountains and looking for the BEST camping near Asheville? You have come to the right place.
The options for camping near Asheville, North Carolina are endless. From hideaways in the mountains, to RV parks near downtown, there is something for everyone. Asheville provides the best locations for couples, families, and those looking to escape to the great outdoors for a weekend.
Drive southwest and you will enter the Pisgah National Forest with some of the best rustic tent camping in NC. Follow the Blue Ridge Parkway east and you end up at the highest peak east of the Mississippi River. At 6,684ft elevation, Mount Mitchell State Park is one of the best kept secrets and will give you views unparalleled.
Ready to hit the trails and discover a new Asheville campsite? Grab your coffee, pack your tent or RV, 4-pack of local brews, marshmallows, and a good book. Then read on for tips and tricks for the best camping near Asheville, NC and you may just find your new favorite campsite or RV park! There are truly so many things to do in Asheville.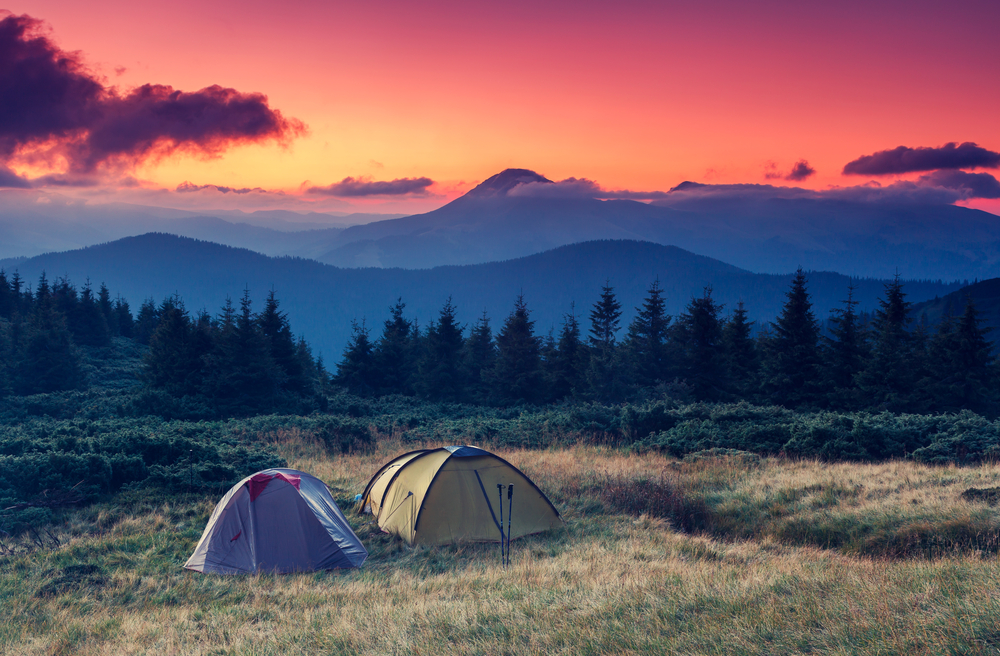 12 Best Places For Camping Near Asheville (Tents, RV's And more!)
Mount Mitchell State Park
Mount Mitchell State Park, sitting at a mere 6,684 feet above sea level is possibly one of the coolest NC mountains camping near Asheville experiences you will get!
As one of the nation's first state parks, visitors to Mount Mitchell State Park can "hike" the easily accessible observation deck for 360 degree panorama views of the mountains. Once you are done exploring the spruce-fir forest, settle down at the state campground for an experience like no other (some days you literally wake ABOVE the clouds!).
Speaking of the campground, set your alarm if you want to secure one of the 9 coveted campsites at Mount Mitchell State Park! Every year, spots fill up quickly and reservations begin in April for the May-October calendar.
Every tent camping spot includes a fire ring, picnic table, and a bear proof food storage box. On site you will find a water spigot and bathhouse for flush toilets.
If you want a more rustic experience, back country hiking and camping is also an option which includes entry onto the Mountains-to-Sea State Trail. Just be sure to pack layers as the temperature at the peak can be much cooler than in Asheville!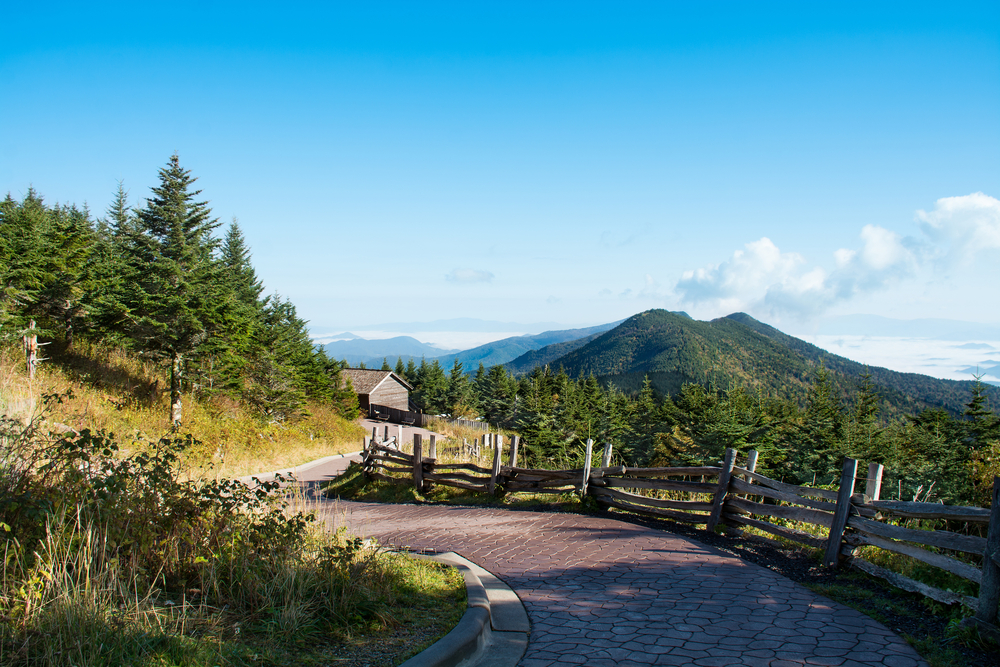 Lake Powhatan Campground
Located in the south district, Lake Powhatan Campground is known by locals as one of the best family-friendly campgrounds in Asheville. These wooden campsites offer privacy while letting you think you've traveled many miles to get away!
Only 10.5 miles from downtown Asheville and it's lively restaurant scene, Lake Powhatan is one of the closest options for going off grid for camping near Asheville.
Boasting tent sites, RV electric sites, AND 12 new glamping sites, Lake Powhatan can meet all of your needs. Most sites include picnic tables, tent pads, lantern posts, and campfire rings with grills, while on-site you can find hot showers and flush toilets in the bath house. Ice and firewood can be purchased on-site as well to further simplify your experience.
What makes this campground unique? Kids and adults alike love swimming and trout fishing in one of the only sandy beaches near Asheville. Hiking and biking trails are located near the campground along with the option to rent a boat and explore the lake from a different perspective.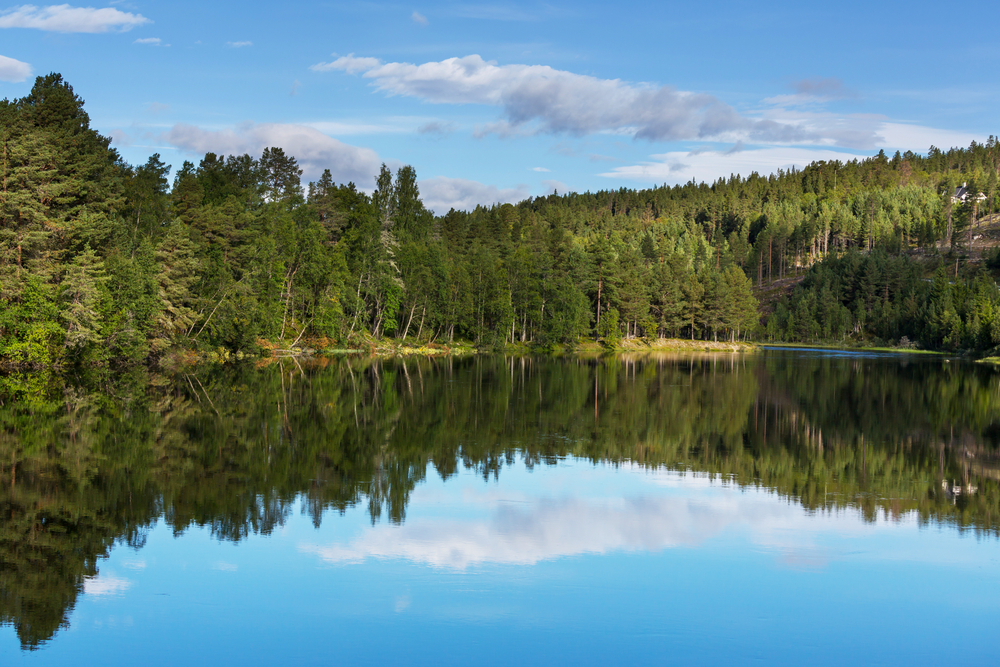 Asheville Bear Creek RV Park
Located in the heart of Asheville, Bear Creek RV Park is only steps away from everything this lively and upbeat city has to offer! Overlooking the Blue Ridge Mountains, the park has 100+ RV sites for you to pull-in, set-up, and relax for camping near Asheville.
Open year-round, Bear Creek is pet-friendly, has a swimming pool for the summer months, 3 bath houses, 2 laundry mats, and FREE cable TV and wifi! Come for the views, stay for everything this park has to offer!
Campers can make reservations on either a daily or monthly basis, with all sites offering a full hookup, electric, water & sewer. As one of the best places for RV camping near Asheville, Bear Creek will not disappoint.
The best part about Asheville Bear Creek RV Park? The ease of access to I-40, I-240 & I-26 for you to explore everything Asheville has to offer! From the wine tasting at the Biltmore Estate to strolling through the Asheville Botanical Gardens, this park gives you the best of both worlds for camping and city experiences.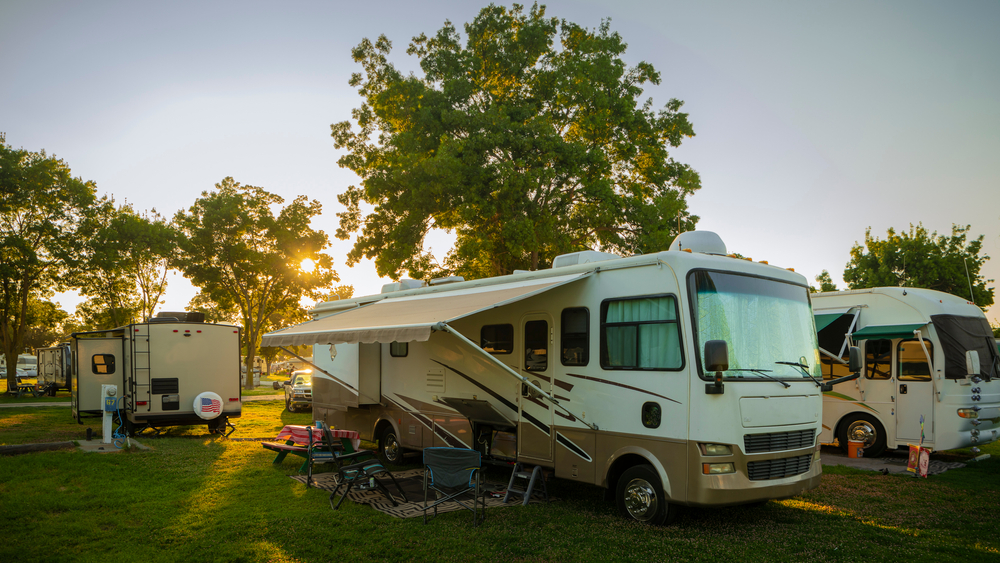 Lake James State Park
If you're looking for one of the best places for camping near Asheville and want a lake setting, look no further than Lake James State Park.
At an hour away from the city, Lake James has 6,812 acres of clear waters and beautiful scenery. You have multiple options for camping including Catawba River Area boasting 20 walk-in campsites, Paddy's Creek area with 33 drive-in sites, or the Long Arm Peninsula for remote camping only accessible by boat.
Lake James truly offers you a "choose-your-own-adventure" experience for families and wanderers alike.
Once you're settled into your chosen campsite, you have many options to play the day away. Lace up your hiking boots or strap on your mountain biking helmet to set foot or wheel on one of the 25 miles of trails. Or, rent a canoe, paddleboard, or kayak to explore the pristine waters that fill Lake James.
Whatever your adventure may be, Lake James is best enjoyed from May to September when the weather is warm and the days are long.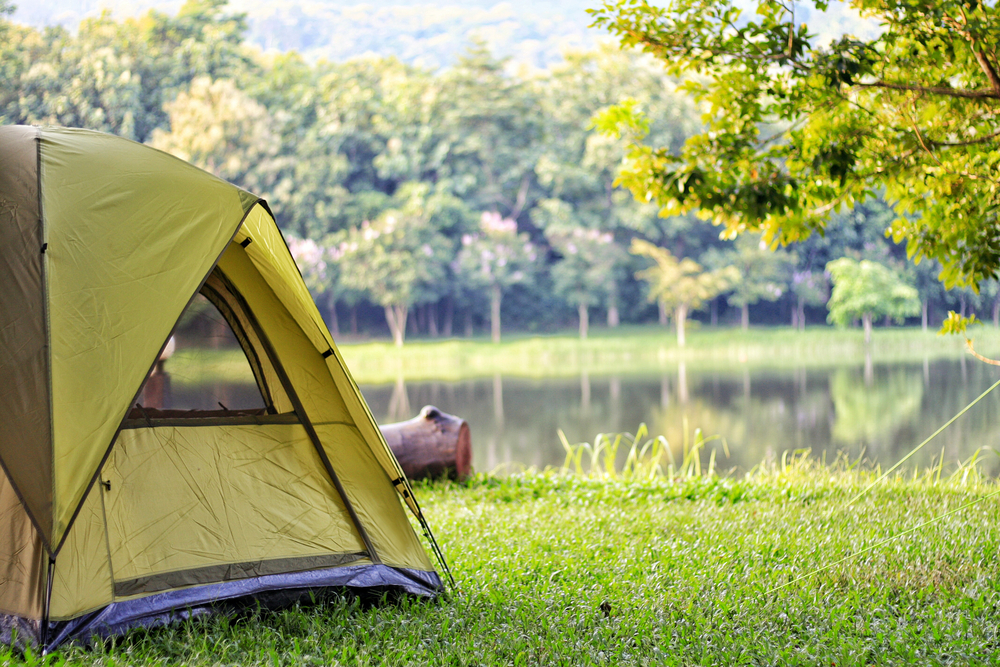 Wilson's Riverfront RV Park
Located directly on the French Broad River, Wilson's Riverfront RV Park is your ideal spot for camping near Asheville, NC! Just 5 miles from downtown Asheville, this family-friendly site has riverside full hook ups available. Concrete slabs are great for RVs while Wilson's also offers tent sites from May – October for some of the best Asheville camping!
Family owned and operated for over 30 years, Wilson's offers many amenities including a bath house, easy access to I-40, I-240, and I-26, monthly rates, and a dog park nearby! It also holds the title as the closest RV park to Downtown Asheville so you won't miss a thing!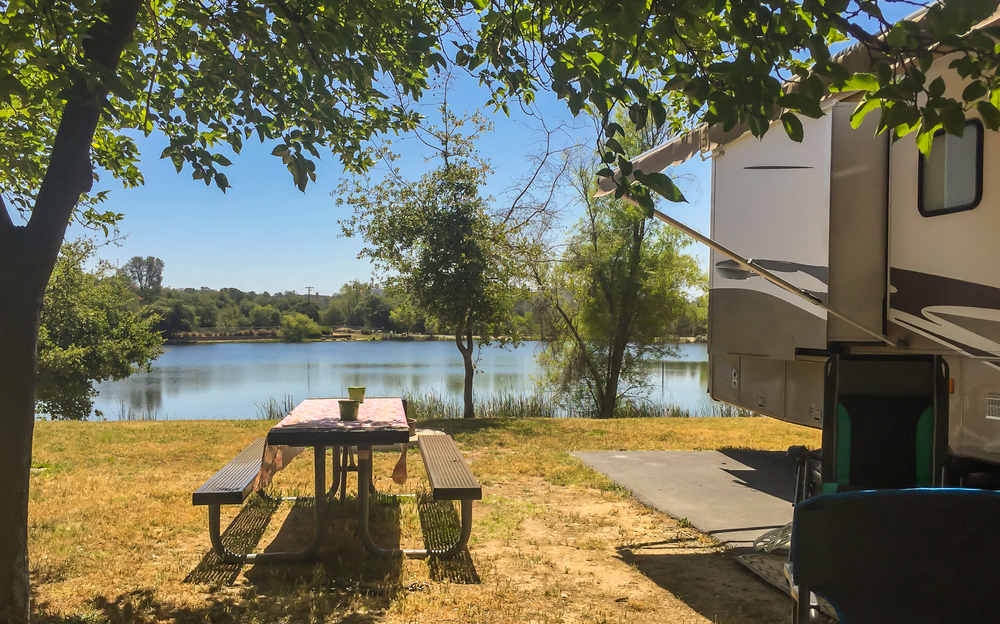 Table Rock State Park
Just over an hour away, Table Rock State Park transports you into a land of babbling brooks and rushing waterfalls. The park, affectionately named after the nearby mountain, is technically located in South Carolina but is a must if you're looking for camping near the NC mountains!
If tent camping is not your thing, Table Rock offers campers the option to spend the night in one of their 14 cabins. The cabins are completely furnished, heated, air-conditioned, and supplied with bath and bed linens. All cabins also include basic cooking and eating utensils, automatic coffee maker, refrigerator, stove, microwave, and include a screened porch and fireplace to enjoy your morning coffee or watch the sunset!
Offering the 36-acre Pinnacle Lake and the 67-acre Lake Oolenoy, visitors have endless options for activities. If an old-fashioned swimming hole is more your scene, Table Rock State Park also offers one with a high-dive that is open during the summer season.
Outside of cabins, the park boasts 94 standard campsites or RV parking on it's 3,083 acres. Bringing the whole family or hosting an event? Reserve the historic CCC-built Lodge available for weddings, receptions, meetings and other special occasions! Along with 4 picnic shelters available for rent, Table Rock State Park is a must for our 12; best camping near Asheville locations!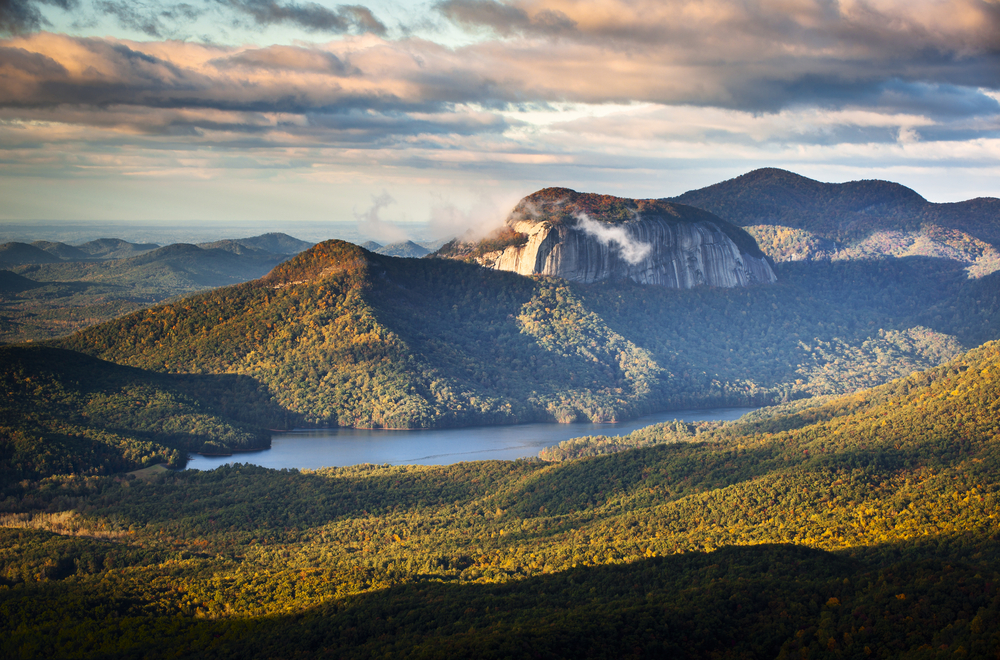 Black Balsam Knob
A while back we published an article on the spectacular Black Balsam Hike, but did you know you can also camp at this stunning location?! At 6,214 ft., Black Balsam Knob is the 23rd highest of the 40 mountains in North Carolina. For some back country aka dispersed camping near Asheville, Black Balsam offers you amazing mountain views and peace of mind.
The hike to the peak via the Art Loeb trail is 0.7 mi from the Blue Ridge Parkway on Black Balsam Road (FS 816). Continue on the Art Loeb trail if you want to reach the summit of Tennent Mountain.
In the Pisgah National Forest, you can tent camp in the NC mountains as long as you are 1,000 feet away from the trail and leave no trace — make sure to bring all trash out with you! Campsites can be found on top of the balds as long as you respect the wildlife and do not trample the vegetation or cut wood in the area.
Weather can change quickly on top of the balds so make sure you are prepared for a variety of weather conditions and dress in layers. Campfires are strictly prohibited in the National Forest, so make sure you bring a camping stove for extra heat and food prep. Speaking of food, commercially-made canisters for the specific purpose of resisting bears is required. Make sure to store all food and human waste safely to avoid any nosy furry neighbors!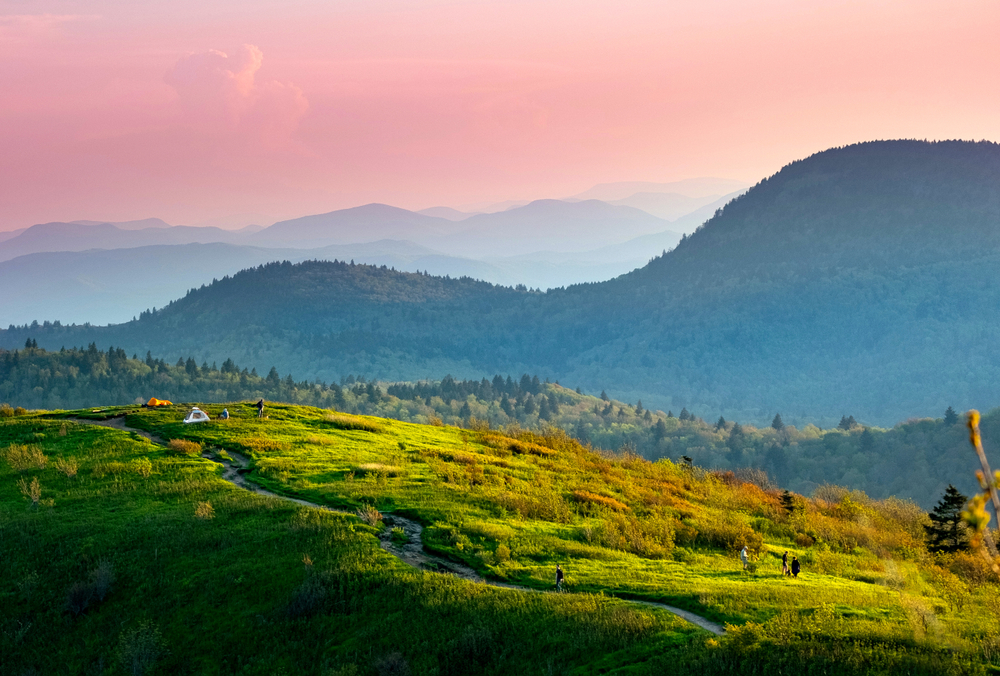 Mount Pisgah Campground
For some of the best tent camping near Asheville head to one of the most popular sites in NC! Mount Pisgah Campground is perched high in the sky on the southern section of the Blue Ridge Parkway. At 4980 feet, hide under the hardwood trees for shade from the summer heat.
RV and tent sites are available at the campground with modern amenities such as flush toilets, drinking water, dump station, and a county store. Every site includes picnic tables and fire rings to watch the stars and roast some hot dogs.
53 sites can be reserved ahead of time but for those of you looking for last-minute plans, 71 sites are on a first-come first-serve basis… perfect for the procrastinator! Arrive early on the weekends to get a site as camping around Asheville fills up quickly in the summer.
Among some of the best hikes can be accessed from the campground including The Frying Pan Trail, Buck Springs Trail, and Shut-in Trail. Fun fact: George Vanderbilt, creator of The Biltmore Estate, used to own part of these trails leading to his private camp house, Buck Springs Lodge (sadly no longer standing)!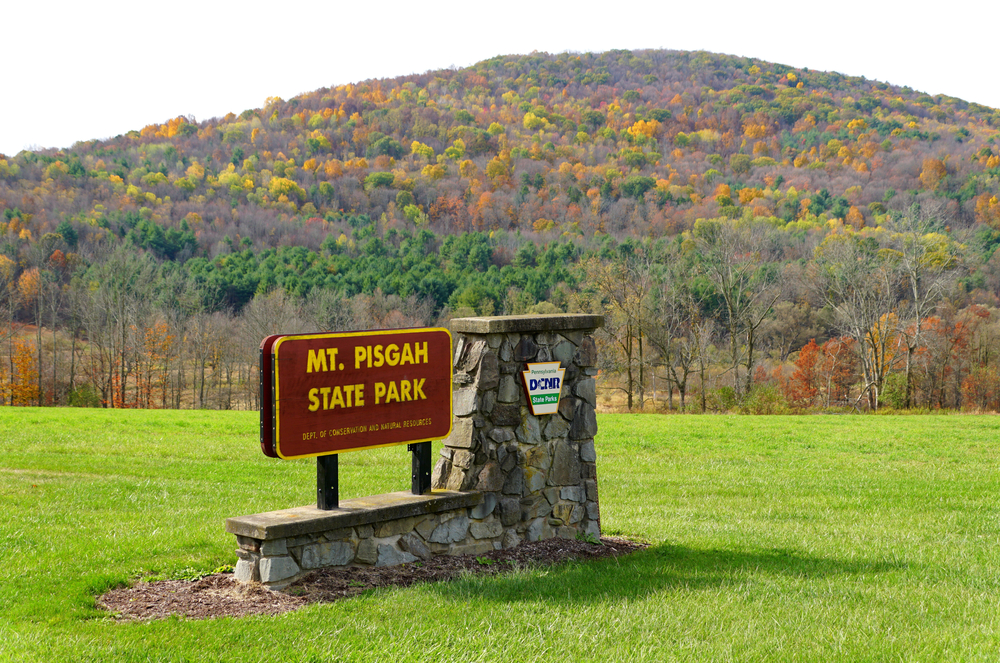 Linville Falls Campground
Near Linville Falls (a must see!) is a privately owned campground with full hook-up sites, water/electric sites, primitive tent area, and log cabin rentals with a grill, fire ring, and picnic table at each site! For camping near Asheville, Linville Falls area offers both shady forests and stunning waterfalls to explore.
Just like the falls themselves, each of the 10 cabins is unique so there is something for every camper. A newly renovated bath house sits on the property featuring hot showers and kids can enjoy the playground! A laundry room and camp store round out this campground, making camping easy and accessible for all.
While you're staying at Linville Falls Campground, look into hiking in Boone and Blowing Rock, two nearby cities with quaint mountain town feels. There is always something fun to do in Boone and Blowing Rock offers delicious restaurants if you're ready for a home cooked meal instead of a hot dog!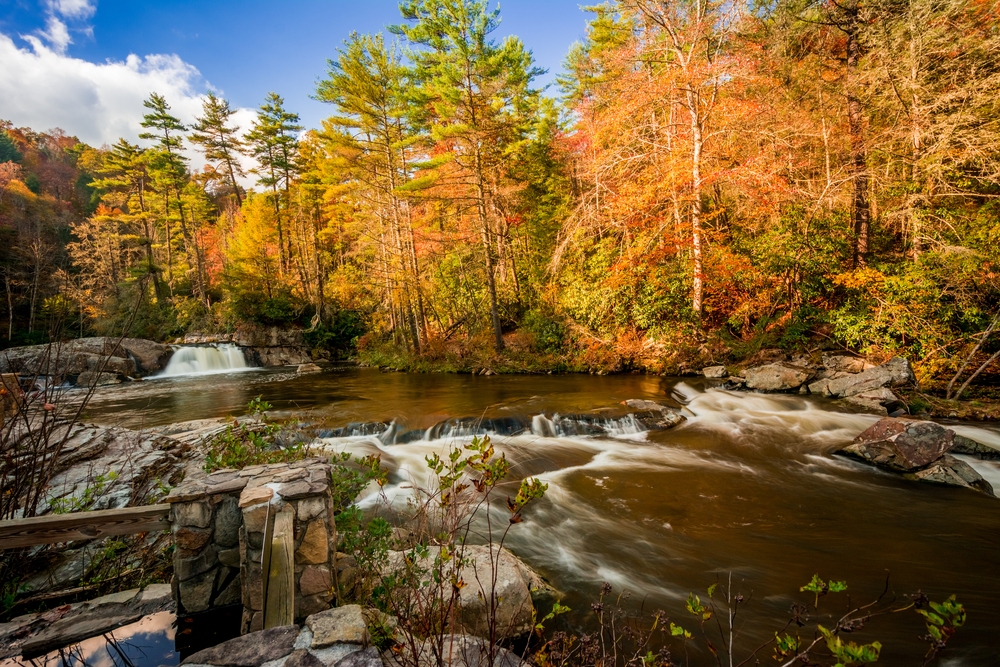 Asheville Glamping
Relatively new to the "camping" scene is something affectionally referred to as glamping, an upscale way to escape to nature while staying in luxury. To live like a queen or king while you're camping near Asheville, try switching it up and explore glamping through Asheville Glamping!
From tree houses to geodesic domes to bell tents, Asheville Glamping has it all. Featured on many popular news shows and in travel magazines, Asheville Glamping is a unique experience like no other set against the Blue Ridge Mountains.
Near Mount Mitchell, the 13 glamping sites can host from 2 – 8 guests and feature unique touches like hot tubs under the stars, INDOOR slides (how cool, right?!), suspension bridges and plush beds.
Some of the sites have their own bathrooms, but for those that do not, each site offers a portajohn that is only for that site's use and access to a shared rustic bath house in the center of the property with hot showers and toilets.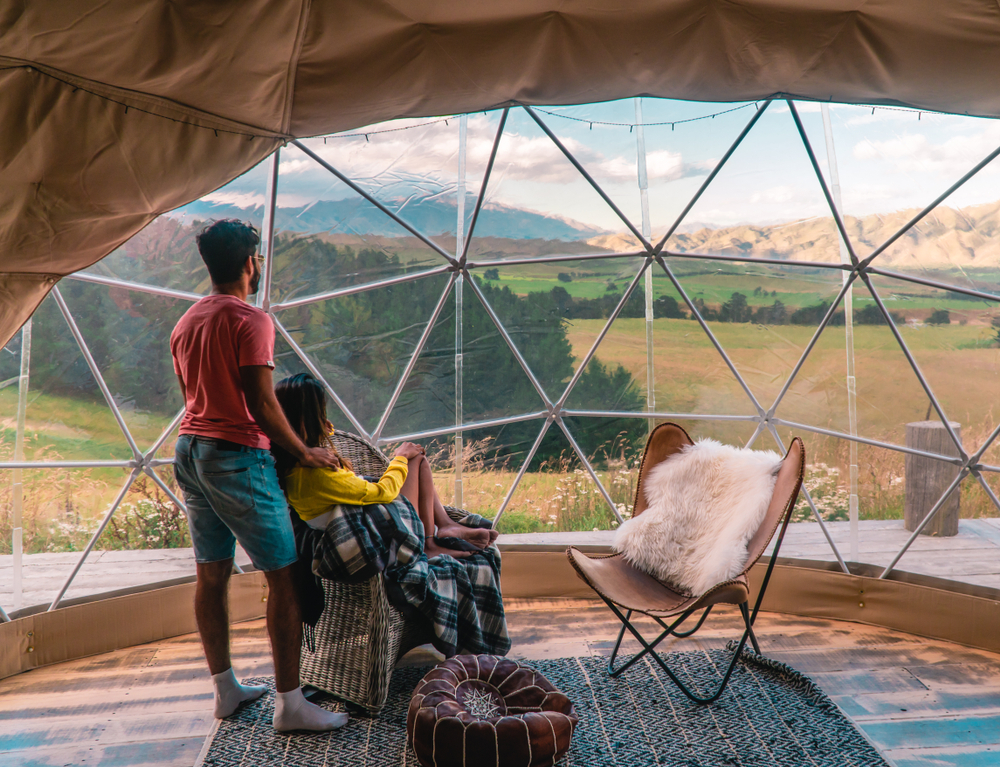 Davidson River Campground
Another campground near Asheville set in the Pisgah National Forest, Davidson River Campground offers camping and outdoor activities for the whole family. Near the popular Looking Glass Falls and Sliding Rock, Davidson River Campground is organized into 8 loops for tent camping near Asheville.
If you are up to it, these are also two of my favorite swimming holes near Asheville! What better way to cool off during your camping trip?
Sites offer picnic tables, tent pads, lantern posts, campfire rings, and grills, and most are shaded. Bring a hammock and chill by the river, or rent bikes nearby to explore one of the many hiking and biking trails accessible from Davidson River Campground.
Hot showers and restrooms with flush toilets are in each loop, and campers are able to purchase ice and firewood on-site. Popular summer activities for those living in Asheville include trout fishing, river tubing and swimming, all which are doable right from your campsite!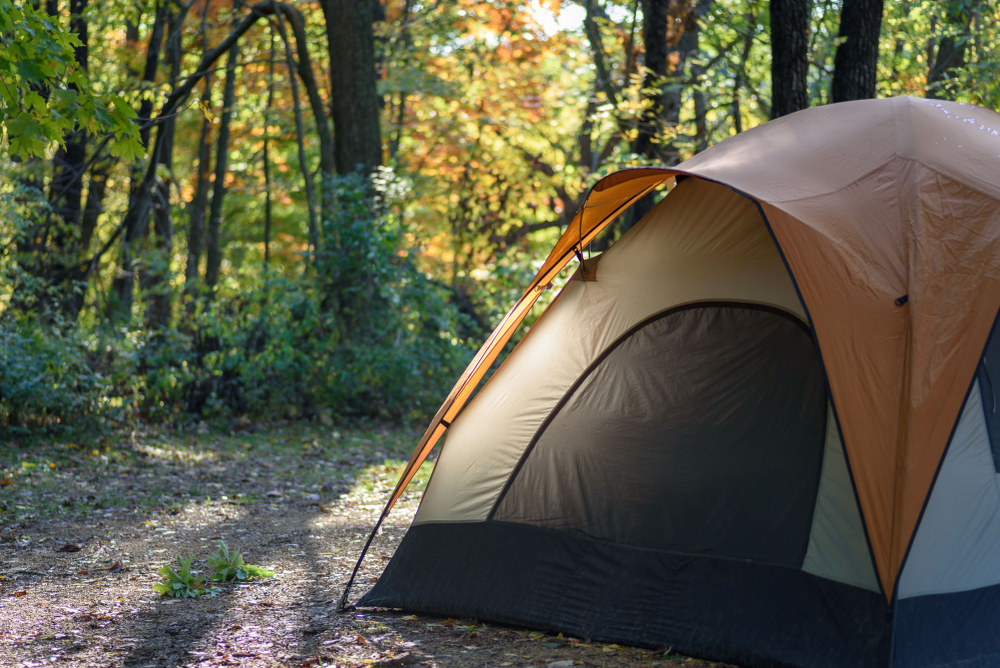 Mama Gertie's Hideaway Campground
Set into the side of a mountain, Mama Gertie's is as distinct as it's name! RV campers and tent campers alike can agree that this campground has views like no other, especially when it comes to the Fall Foliage in North Carolina.
As one of the best campgrounds near Asheville open year-round, Mama Gertie's offers full hookups, water and electric only sites, cabin rentals, and tent sites. Four sites even include private decks with a swing, cafe table, and fire pit for a unique camping near Asheville experience.
Bathroom facilities are located within the campground, along with picnic tables and fire pits at each site. Mama Gertie's, a pet-friendly location, also boasts modern amenities such as a fitness and rec room, library, dog park, camp store, cable tv, wifi, laundromat, dump station, and pavilion.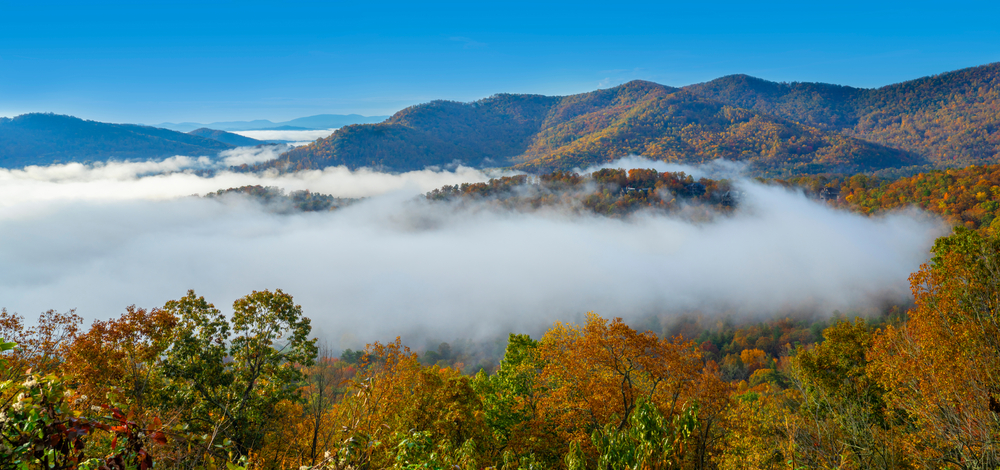 More tips for your trip to Asheville: