This list of gorgeous places to see fall in North Carolina will have you craving autumn all year long! From sunset to sunrise there is no time better than the other to see the changing colors of trees. If you are taking a road trip or vacation in or around North Carolina, you may want to plan it during the autumn months to experience the vibrant colors of fall. Make time to stop and enjoy the scenery a priority! That camera on the shelf and the family photo shoot you've been putting off are calling your name!
Many of these locations will bring you to scenic Blue Ridge Parkway hikes that you do not want to miss! Even if you are looking for a more leisurely adventure, North Carolina holds some of the best places to see the season shift from cool greens to warm oranges and reds. By the end of this list, you will want to map out your quest to stop at each location and you have a hint of the magnificence you will be surrounded by. Seeing is believing so grab a sweater and add these beauties to your must-see list!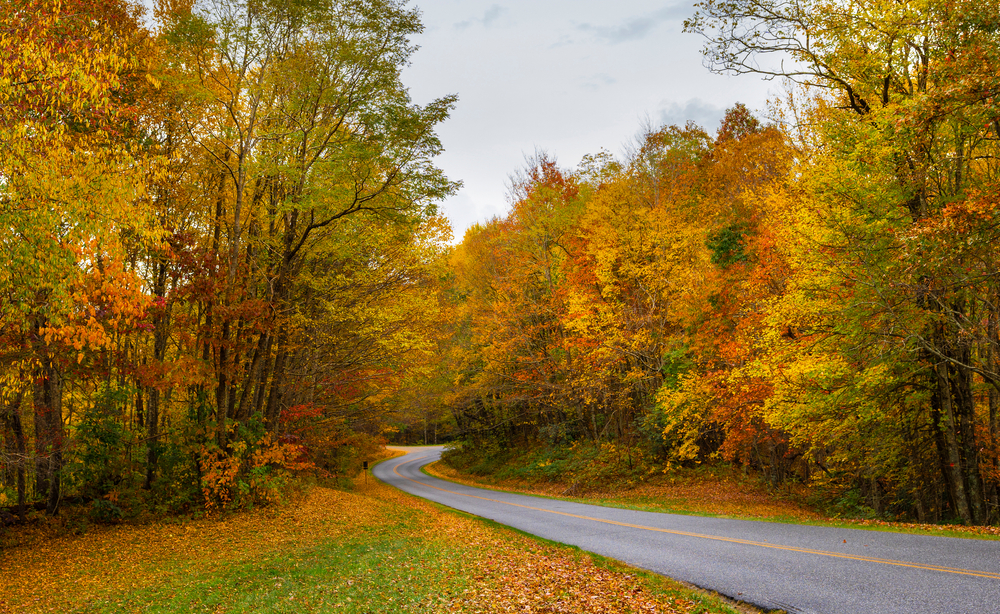 12 Places To See Vibrant Fall Foliage In North Carolina
Linn Cove Viaduct
Bob Ross is great but have you seen Linn Cove Viaduct in person? This is a 1,243-foot concrete bridge that takes you around the infamous Grandfather Mountain in Newland, North Carolina. As this is part of the Blue Ridge Parkway, you will find several hikes that will lead you right through the glorious leaves. Fall in North Carolina can be appreciated at any point of the bridge or surrounding trails. The sea of orange and yellows roll over and under the mountainside to create a picturesque view in the fall.
The bridge itself has its own museum that will dive deeper into one of the most difficult bridges to ever be built. Construction had begun in 1935 and wasn't completed (thanks to many delays) until 1987. The long-awaited bridge is now frequently traveled and adored by visitors seeking history with a view. A one-mile hike starts at the visitor center and takes you underneath the bridge to see its carefully created architecture. This short trail is paved and wheelchair accessible making it the perfect place for everyone to enjoy the forests of Blue Ridge Parkway. You will get a breathtaking view from atop or below the bridge.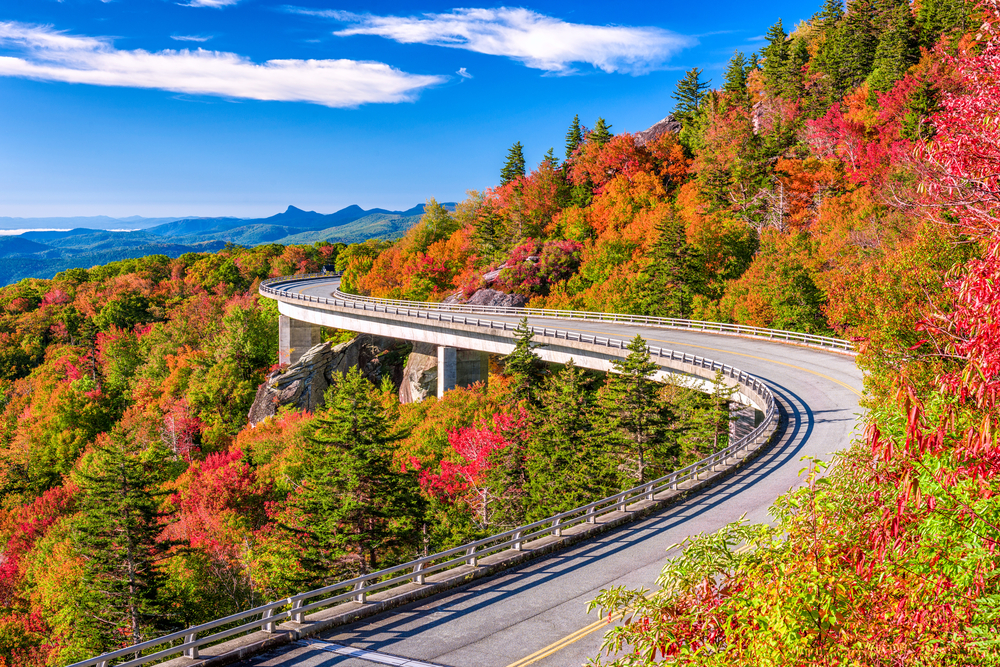 Grandfather Mountain
Towering at 5,946 feet, Grandfather Mountain is a magical place to see vibrant fall foliage near Linville, North Carolina. The diversity of its ecosystem makes this a unique place to savor the fall in North Carolina. Grandfather Mountain is estimated to be 300 million years old. Age means nothing to this lively mountain full of wonder and beauty. See North Carolina in the fall first hand on any of the hikes or exhibits at Grandfather Mountain.
If you are not afraid of heights or looking to conquer that fear, there is a mile-high bridge waiting for you! On the Mile High Swinging Bridge, you will see the foliage from high above the ground. The panoramic view between the two peaks may cause more appreciation of nature! The wind will make the bridge swing so it is fitting for a bit of thrill-seeking! There are 11 trails and over 100 picnic spots which will have you slowing down and taking in nature and its autumn glamour.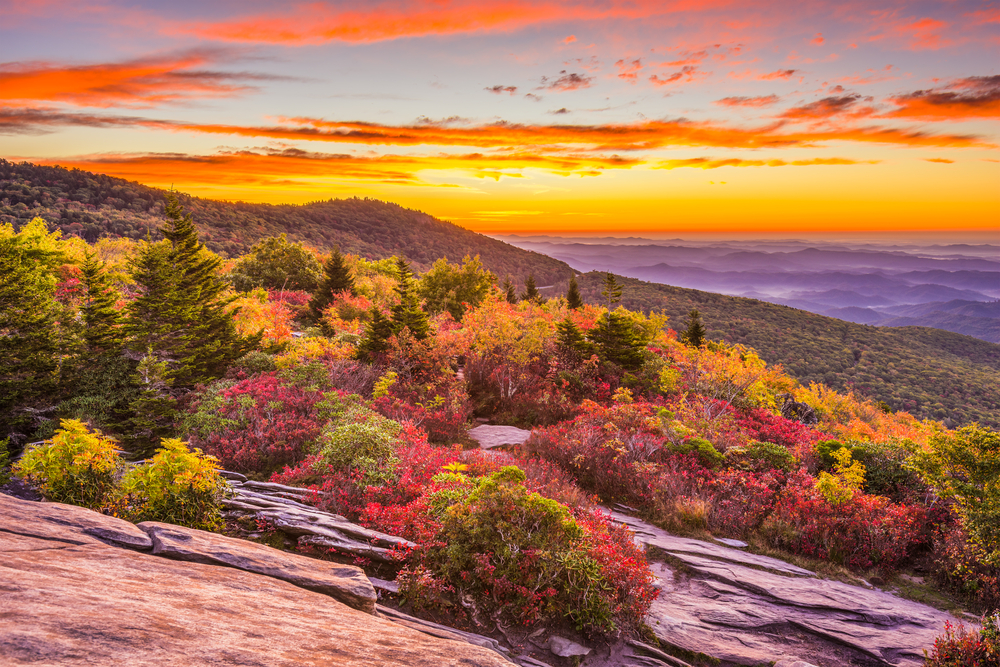 DuPont Forest
For a truly magical fall in North Carolina, head to DuPont Forest! The vast forest has over 10,000 acres of lush foliage in the autumn months. Couple the warm hues with four cascading waterfalls and you get an enchanting hike through this forest located along the Blue Ridge Mountains. You will find DuPont Forest Brevard and Hendersonville, North Carolina. Tourists and locals alike come to view the amazing scenery of DuPont Forest in the fall and check out the places movies such as The Hunger Games have filmed. May the fall colors be ever in your favor!
The Little River runs through the forest creating music with the singing rustling leaves of the forest. Rolling hills and mountains feature exposed granite domes and slabs. If mixing textures and colors is not enough of a reason to add this to your list, the hiking experience will! There are several hiking trails, horseback adventures, and even kayaking that will bring out the explorer in you. Guided waterfall tours are also available in DuPont Forest!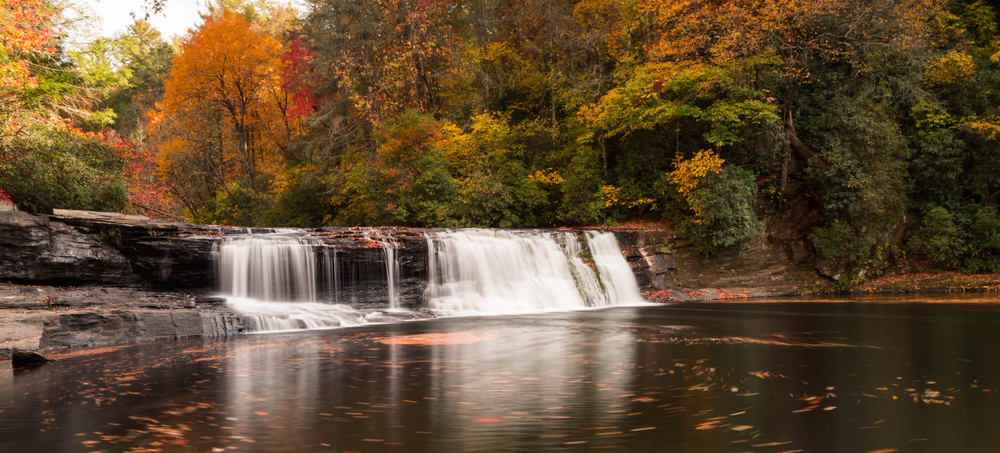 Banner Elk
Visit the town of Banner Elk between October and November for an autumn trip like no other. There are a variety of trees creating a mix of gorgeous foliage on any of the hikes around the town. Kayakers can see the glory of fall in a whole new way on Wildcat Lake. Wineries are available to tour as well and are an ideal place to take in the quaint town surrounded by the lovely landscape nature brings. There are also a number of breweries and delicious restaurants! This small town offers pieces of history including The Banner House Museum that will take you back to the 19th century.
If you are looking for something a bit different, then the Wilderness Run Alpine Coaster is for you! Seeing the photo-worthy fall colors from atop a roller coaster may not be your first thought when going through your options. At Banner Elk, this attraction is open all year, however, the colors of fall are even better as you ride past them on this coaster that allows you to control your speed. What an exceptional way to appreciate the fall foliage in North Carolina!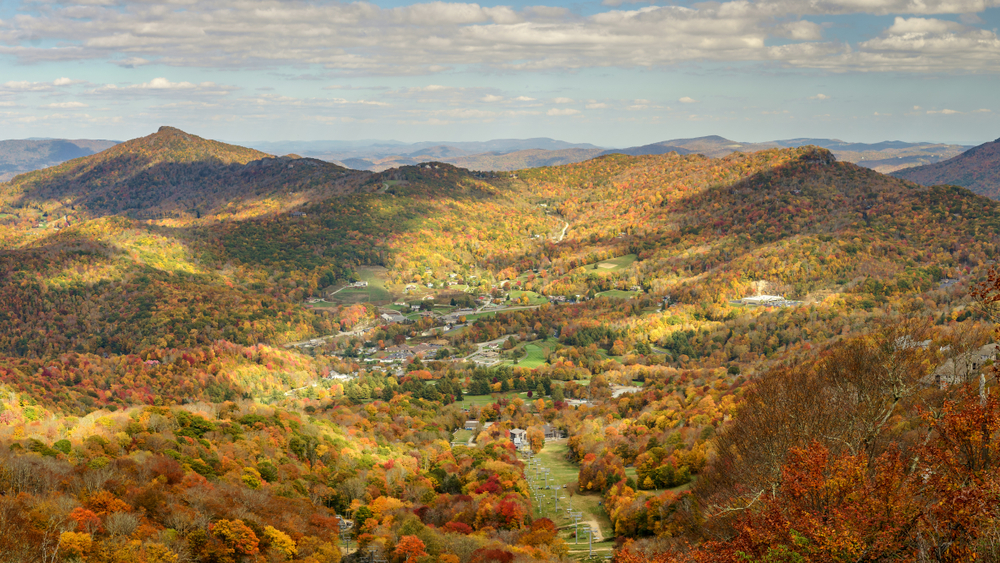 Linville Falls
The massive Linville Falls will be a show stopper as the weather becomes cooler and the leaves begin to turn into warmer shades. Cascading from 45 feet above the Linville Gorge. Linville Falls is mesmerizing. It is a popular spot due to its convenient entrances to Blue Ridge Parkway. Burke County, North Carolina holds this treasure! Whether you choose to make a day trip or stay for a few days, this easily accessible waterfall is well worth the excursion.
Vantage points are located along many of the trails that weave through the jaw-dropping forests and mountains. The panoramic sights of fall in North Carolina atop the overlooks will provide you with a one-of-a-kind way to experience the waterfall. You will see the upper and lower falls, the gorge, cliffs, boulders, and an endless sea of yellow and orange trees from the different points.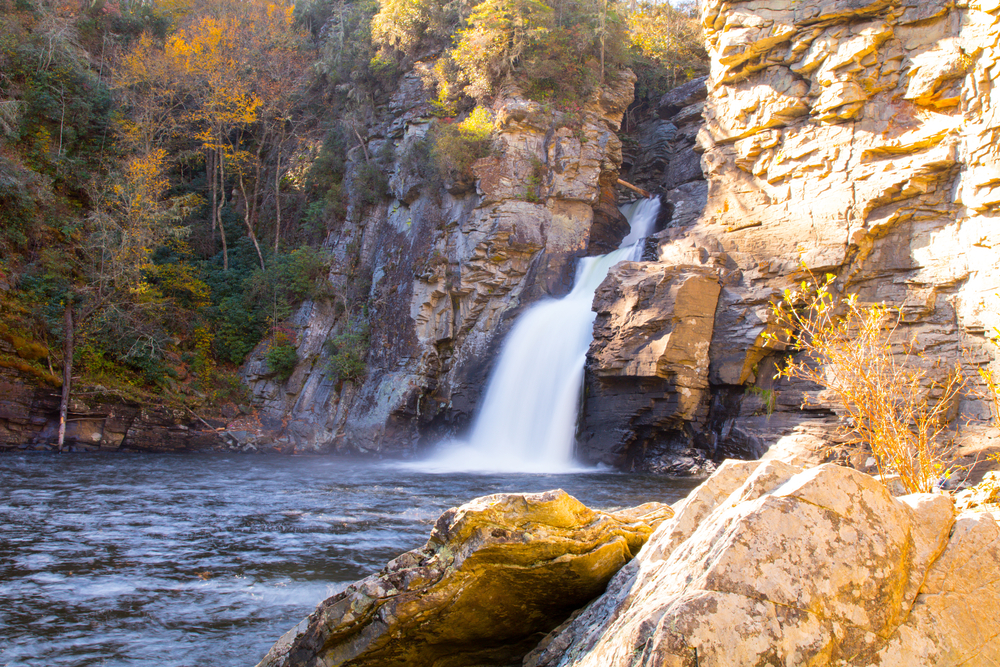 Blowing Rock
The quaint village of Blowing Rock, North Carolina has several features that are great for the whole family! You will have your pick of adventures during the fall in North Carolina. Where will you get one of the best vantage points? At the High Gravity Ariel Adventure! This is a vertical playground for ages 5 and up. It includes zip-lining and obstacles that will physically and mentally challenge you (in a fun way!). That includes adults too! You will be anywhere from 15-50 feet off the ground giving you a fun new way to experience the crisp fall of the Blue Ridge Mountains.
For a more grounded adventure, there are places to fish, hike, hunt, and birdwatching! The hikes include skill levels from east to strenuous, making this the perfect place to walk through the autumn-clothed forests. You can also find Doc's Rocs Gem Mining to feel even more like Indiana Jones! The crunchy autumn leaves are calling for you at Blowing Rock!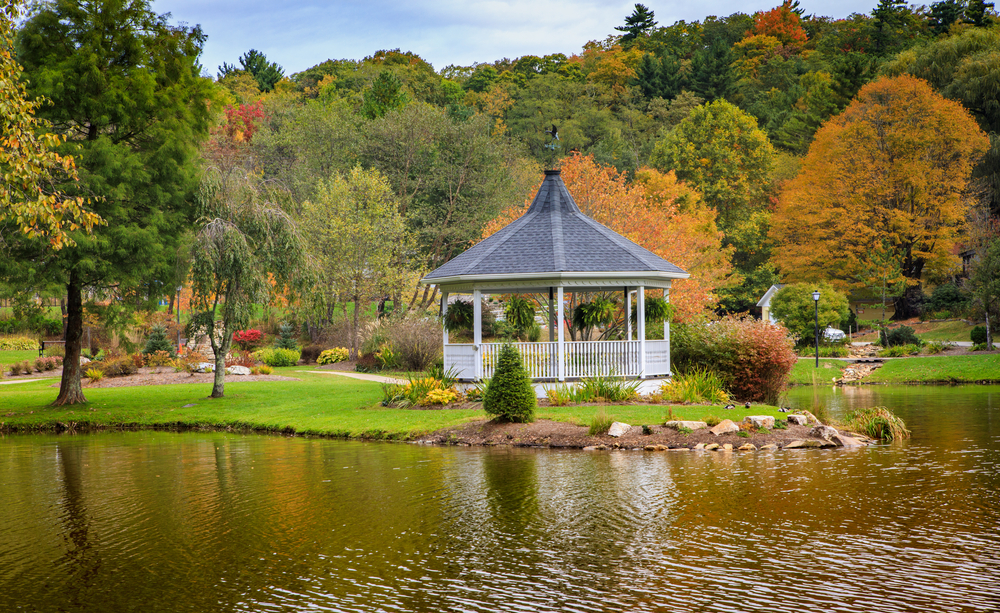 Lake Lure
East of Asheville and in the center of Hickory Nut Gorge you will find Lake Lure. This small town sits quietly at the water's edge of Lake Lure (thus the name of the town). Clear waters filter through rapids coming from The Rocky Broad River. The vibrant fall foliage of the forested hills and mountains that surround the town of Lake Lure is simply captivating. From the vistas to the waterfalls, you will find a unique scene everywhere you turn!
There are places for golfing, biking, and even rock climbing for the daredevils! The town offers several recreational parks that hold picnic tables to slow down the day after your quests. There kayak, boat, and canoe rentals as well! The hiking options abound at Lake Lure that will give you a chance to connect with nature and bask in the beauty of fall in North Carolina.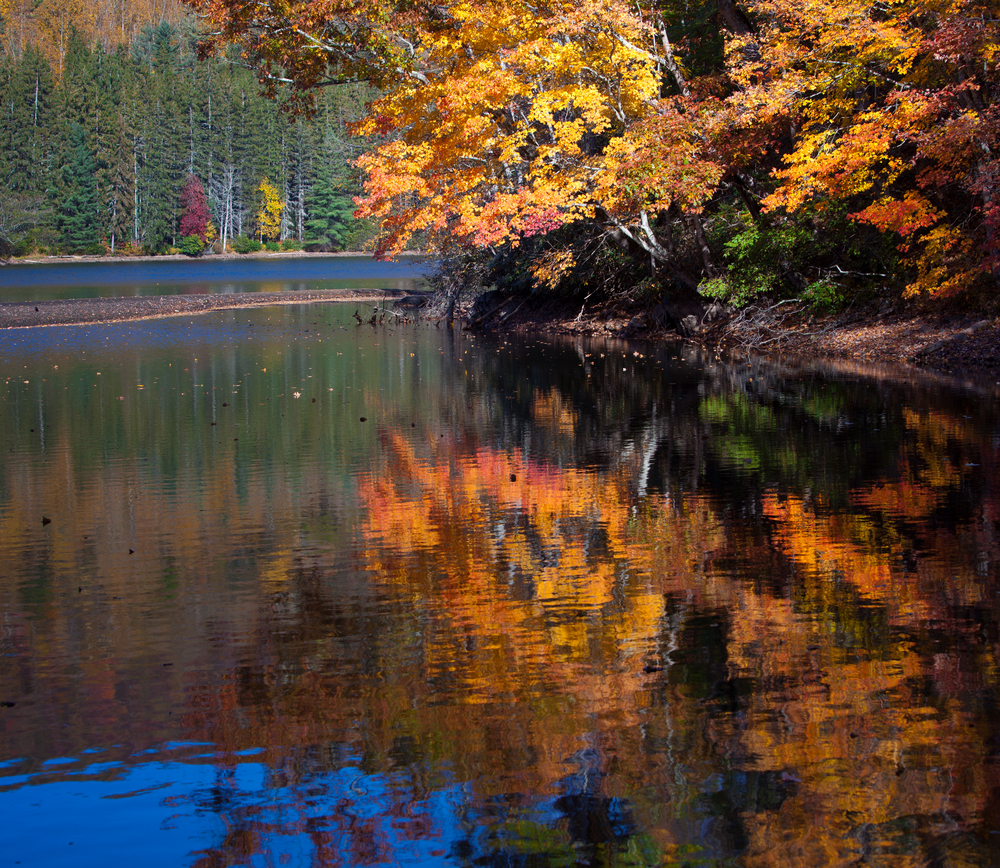 Pisgah National Forest
For the whole get-a-away package, the Pisgah National Forest should be added to your fall vacation list! Getting a break from the hustle and bustle of the city can be just what the doctor ordered. There are several camping sites and cabins to choose from. Each of them will have the serenity of the Appalachian Mountains surrounding you. The cool autumn breeze will flow through your hair as you ride horseback down a trail or do OHV riding!
Views of fall in North Carolina from any of the peaks of trails and mountains will give you a real rush. The hardwood forests make an amazing scene in the autumn months in this part of western North Carolina. Be sure to stop by one of the stunning waterfalls that are held in Pisgah National Forest! Each one will provide you with a unique history and view.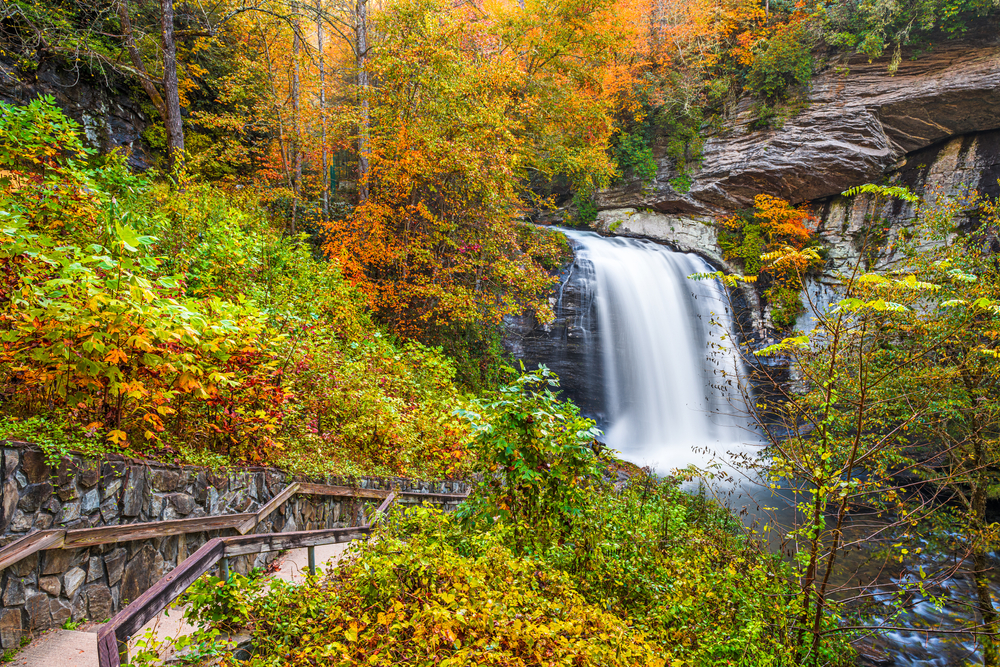 The Outer Banks
No treasure map? No problem! The Outer Banks have everything you could wish for in a trip to the shores of the Atlantic. As exotic as these natural beaches are, they are just a car ride away! Fall in North Carolina just became nautical! You'll find the sandy beaches starting at the Virginia border and they flow south for 120 miles until Ocracoke Island. While the beach may trigger summer vibes, the fall has much to offer at The Outer Banks!
Dive into the shipwreck sites, check out a lighthouse, or head to any of the various state parks for a novel venture. Festivals and cruises can be found in the autumn months for a delightful stay. With so much open beach, you can plan for a calm and relaxing getaway also. Sunsets and sunrises over the horizon are exceptionally grand on The Outer Banks.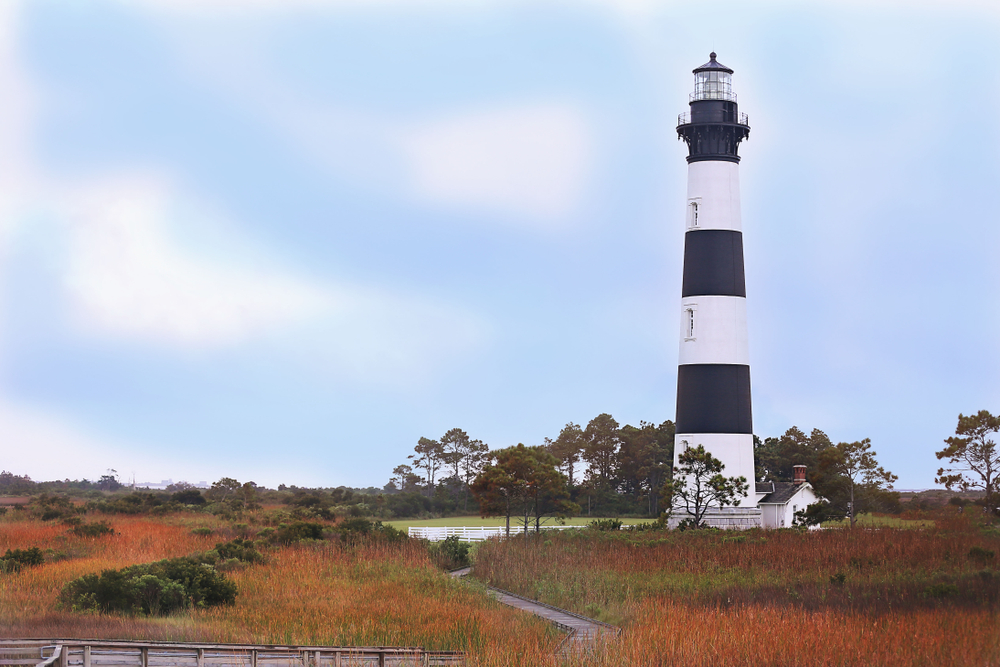 Pilot Mountain State Park
View the fall in North Carolina at Pilot Mountain State Park. Pinnacle, North Carolina has several ways to explore and take in the serene scenes of autumn. Pilot Mountain was mapped in 1751 and holds was a guide for Native Americans and early European settlers. The summit of Pilot Mountain will give you a one-of-a-kind view of the valley below. As you make your way up the mountain, you will be in awe of the rock walls and vegetation that towers at about 1,400 feet over the base of the valley.
Whether your an equestrian looking to gallop through the woods or a novice hiker wanting a peaceful stroll, Pilot Mountain State Park is sure to become a favorite place to visit! Kayakers can also experience the massive mountains from the river banks. Traditional camping and canoe camping are available with grills, tent pads, and tables. Grab your camera before walking out the door because you will adore the superb foliage of fall when you visit Pilot Mountain State Park.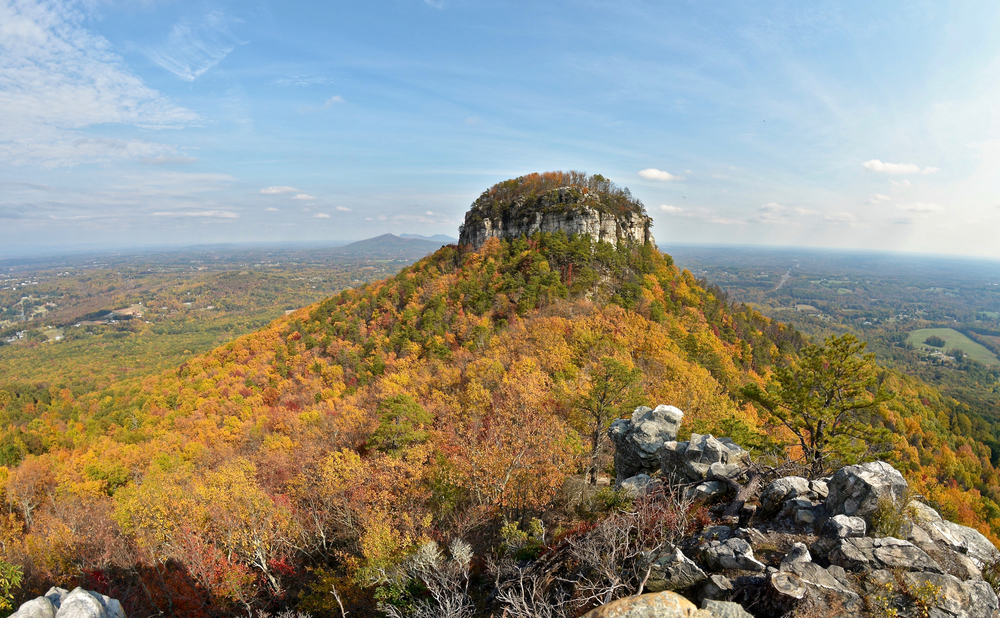 Boone
Nestled in the Blue Ridge Mountains is the marvelous city of Boone, North Carolina. The colorful leaves in autumn gift to you glorious oceans of forest and rolling mountain views. Before the winter wonderland season hits, visit Boone for great outdoor activities like hiking, fishing, and birding. If you want to dip your toes in the water there are places for tubing, kayaking, and rafting!
Tweetsie Railroad is another popular spot for interactive history and family activities. Taking a stroll through downtown is a leisurely event that allows you to encounter specialty shops, breweries, vibrant history, and art. When you think of fall in North Carolina, Boone should be on the list of places to travel to!
Little Switzerland
The quaint town of Little Switzerland can brighten up your day! With the lush forest surrounding the village, you will feel as if you were transported to another time. In the fall you will have a rare view of the Blue Ridge Parkway from Little Switzerland. You can find this gem just an hour north of Ashville. The buildings were inspired by swiss architecture and are adored and visited by people from around the world.
There is a touch of history at every turn. Be sure to head over to The Emerald Village to see the historic mining equipment and pan for gold and gems! The North Carolina Mining Museum has a self-guided tour of an old mine the even offers a Black Light Mine Tour. With a town sign saying there is a population of 46, you will have a precious experience at any of the local shops. Cafes, bookstores, museums, what's not to love?